Where to Stay in Bath: Best Areas & Hotels
The tourist area of Bath is compact, with the historic center of the city sitting inside a hairpin bend in the Avon River. Nearly all of Bath's main sightseeing attractions are easily reached by foot, thanks to level ground and close proximity.
Those who are staying just across the river to the east, in the Pulteney Road area near Sydney Gardens and Henrietta Park, can still easily reach the main sights by foot via Pulteney Bridge, which is close to major attractions like the Roman Baths, Bath Abbey, Sally Lunn's House, and Victoria Art Gallery.
If you will have your own vehicle, be sure to plan ahead for parking at your hotel and any sights you plan on driving to, since there are many streets that are one-way or pedestrian-only, which makes maneuvering around the historic center challenging.
Where to Stay in Bath for Luxury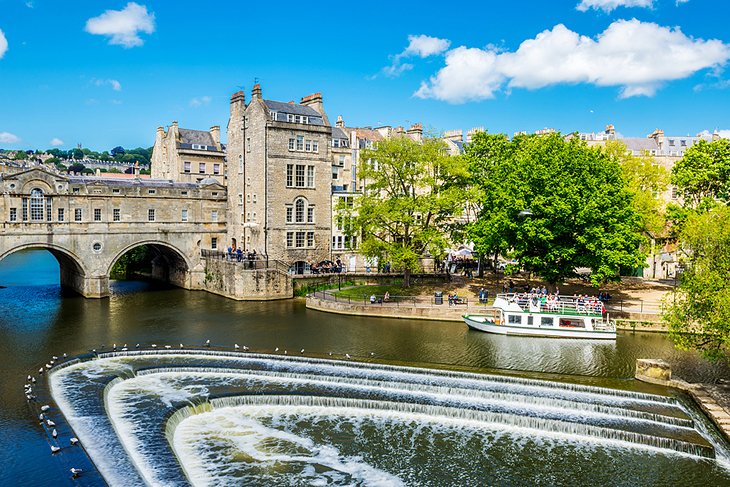 Located just one block from the Roman Baths in the heart of Bath's historic center, The Gainsborough Bath Spa is a five-star luxury hotel with a first-class spa. Amenities include a pool for all ages, as well as an adults-only pool for splash-free enjoyment. A well-equipped fitness center, restaurant, room and laundry service, conference facilities, and babysitting services are also available.
Rooms are equipped with the most updated technology and comforts, like radiant heating in the bathroom floors, iPod docking stations, Bluetooth-connected stereos, and cordless phones.
The bed-and-breakfast-style The Roseate Villa Bath offers luxury accommodations in a converted Victorian townhouse with exceptionally large rooms that are updated and modern with subtle antique touches. Guests are greeted with a welcome tea (or coffee) and cake and treated to a fresh-cooked breakfast made from local ingredients. Many rooms overlook adjacent Henrietta Park, and the Holburne Museum is only a five-minute walk.
Nearby and also east of the Avon River, located directly on Pulteney Road next to the Recreation Ground, the historic landmark, The Ayrlington is a 5-10 minute walk to the center of Bath and its main attractions.
Guests are served a full English breakfast and can enjoy the ambience of the authentic Georgian lounge with its toasty fireplace. There is no elevator to upper floors, but staff members are more than happy to carry your luggage to your room. The Ayrlington welcomes guests over the age of five.
For a luxury boutique experience try the Bathen House Boutique Hotel. The rooms and suites here are done up in a beautiful color palette of rose, white, and beige and feature modern amenities like 4K flat-screen TVs. The bathrooms are a highlight here, featuring lots of marble, separate showers and tubs, and chandeliers hanging from ceilings.
The hotel is about a 30-minute walk from downtown Bath and as such is more affordable than other luxury properties directly in the historic city center. There is a restaurant on-site, and parking is free.
Where to Stay in Bath: Mid-Range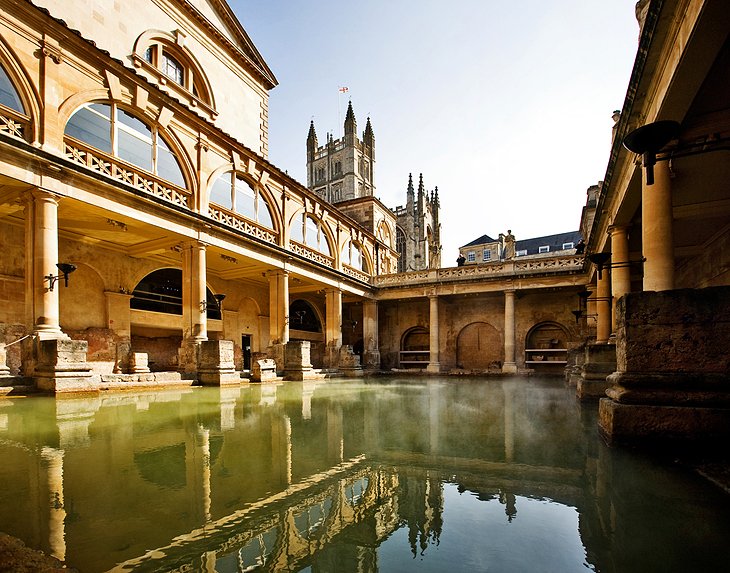 Across the river on Great Pulteney Street near Sydney Gardens, the Dukes Bath offers free parking and a complimentary breakfast that includes traditional British options, like black pudding, kipper, and smoked haddock.
This Georgian townhouse has offered lodgings for more than a century and is furnished with period antiques. Staff members at reception are happy to assist bringing luggage up the stairs to guest rooms as there is no elevator.
The Hotel Indigo Bath is located on a quiet South Parade street that is within walking distance of the city's top attractions, including the Pultney Bridge and the Roman Baths. The 3-star hotel has 166 contemporary rooms and suites, which have been styled to reflect the writers and architects that have made Bath famous over the centuries. Valet parking is available, as is 24-hour check-in. There is a fitness center on-site and a restaurant.
The Queensbury Hotel is located on the northern edge of the city center near the Museum of Bath Architecture and the Fashion Museum, and only five minutes by foot to the Georgian Garden and Royal Victoria Park.
This moderately priced four-star hotel is housed in a series of historic Georgian townhouses and offers a wide range of amenities, including an on-site restaurant, room service, and even shoe shine. Family rooms and suites are available, including a bridal suite, and rooms come with complimentary toiletries, as well as a safe and luxury robes.
Where to Stay in Bath on a Budget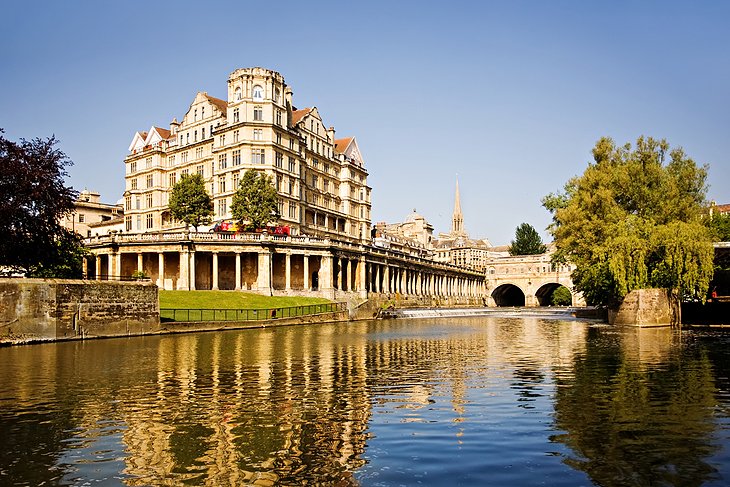 The Z Hotel Bath is in as central a location as you can get, with over a half dozen restaurants within a two-minute walk, the Bath Royal Theater across the street, and just five minutes by foot to the Roman Baths and Bath Abbey.
Rooms are compact, yet the space is utilized efficiently to allow guests to make the most of it. The hotel itself is new and modern with all non-smoking rooms. Amenities include free Wi-Fi and a nightly social hour with complimentary cheese and beverages.
The Premier Inn Bath City Centre Hotel has simply furnished, modern rooms that are surprisingly spacious for a budget hotel, and it offers several wheelchair-accessible rooms. Its convenient location in the historic district adds to the overall value, just steps from Westgate Street shopping and within a half mile of the Herschel Museum of Astronomy, the Roman Baths & Bath Abbey, and the bus/train station.
Just up the street is another good budget hotel, the Travelodge Bath City Centre Hotel, which sits at the edge of the Bath College campus and near bus stops for multiple lines. Rooms are moderately spacious, and although they are no-frills, they are clean and comfortable.
Just across the river from the train station and only a one-minute walk away, the Travelodge Bath Waterside sits near canal lock 8 and a riverside path that leads to Pulteney Bridge. Recently updated rooms feature USB charging plugs near the bed and desk, as well as an electric kettle for tea and coffee. Those bothered by noise should request a room that does not face the river and adjacent train station.
Where to Stay in Bath for Families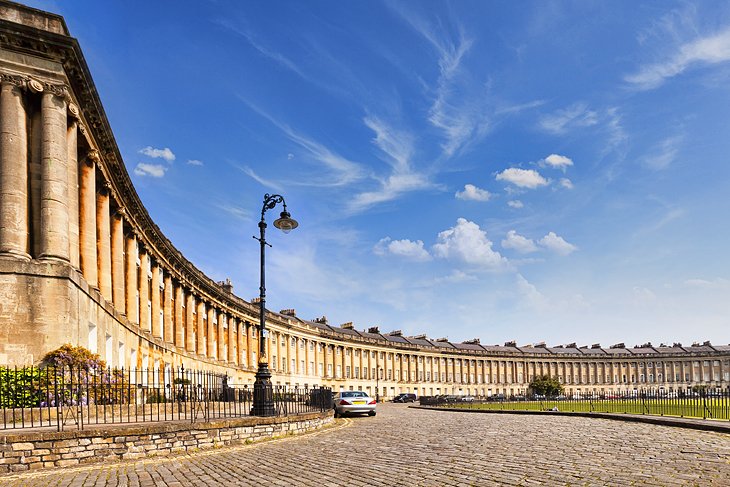 For a luxury family visit to Bath, The Royal Crescent Hotel & Spa has amenities like an indoor heated pool that looks like a traditional Roman bath. The hotel also has a hot tub and fitness center and offers services including babysitting, a restaurant, and a full-service spa.
The property is stunning, from its peaceful gardens with umbrella-shaded tables to the ornate rooms with four-poster beds and ceilings decorated with detailed stucco work and molding. This hotel is located on the north end of historic Bath in the Royal Crescent, close to the Roman Baths and other central attractions.
Harington's Hotel is near Queen Square and surrounded by restaurants and Milson Street shopping. Family rooms and loft apartments are available for larger groups and are perfect for longer stays. Each is uniquely decorated with fun wallpaper. Parking can be arranged by the hotel ahead of time after booking.
Where to Stay in Bath for Romance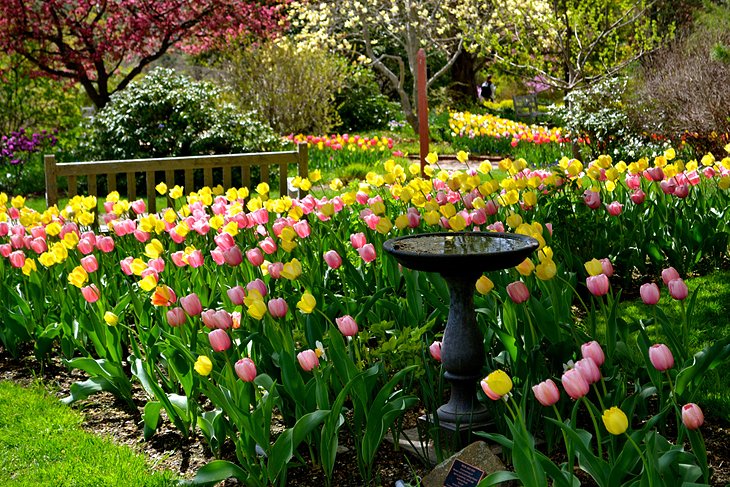 The most romantic spots in Bath are perfect for seclusion seekers, who want to be close to the attractions without the distractions of a bustling tourist city just outside. Just beyond the Royal Crescent and a short walk to Royal Victoria Park & Botanical Gardens, the Bath Priory is a 25-minute downhill walk to the historic center and a short taxi ride back up the hill.
Couples will love every element of this luxury spa hotel, from its ivy-covered stone exterior to the incredibly spacious rooms, which are modern but well balanced with Georgian elegance, including romantic fireplaces. The L'Occitane spa offers a full range of treatments and facilities, including an elliptical steam pod and shower, sauna, pool, and fitness center.
The Apsley House Hotel is located just over a mile from the center of town, walkable for the more ambitious and close to bus stops for the rest of us. Built in 1830 by the Duke of Wellington, this romantic getaway is in a Georgian house made of Bath stone that is surrounded by well-maintained gardens and views overlooking the countryside. Rooms are themed, and the "Romantic Room" features a four-poster bed and a huge soaking tub; all rooms include a freshly cooked full breakfast.
More Related Articles on PlanetWare.com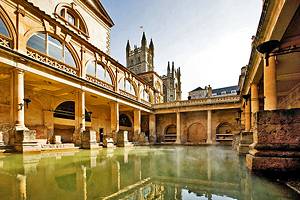 Bath and Beyond: Bath is a wonderful small city to spend a few days. Spend time wandering the streets and seeing the top attractions. When you've had your fill, enjoy day trips to nearby Bristol and Salisbury.