11 Best All-Inclusive Resorts in Costa Rica
We may earn a commission from affiliate links ()
It's easy to adapt to the pura vida life in Costa Rica, especially if you stay in one of the country's best all-inclusive resorts. These resorts offer visitors a one-stop shop for a worry-free vacation, with everything from meals and beverages to activities included in their nightly rates.
With those costs covered, it's simple for guests to sit back, relax by the pool, and gear up for their next adventure to some of the country's best tourist attractions. Whether you're hoping to hike through a dense rainforest, steer through white-water rapids, or surf at the beaches, Costa Rica's best all-inclusive resorts can help make these dreams a reality.
From five-star luxury retreats where staff immediately grant your every wish (fresh fruit by the pool, anyone?) to more affordable resorts with kid-friendly water parks, there are plenty of great options for a fabulous place to stay.
Find the perfect spot for your adventurous vacay with our list of the best all-inclusive resorts in Costa Rica.
Note: Some businesses may be temporarily closed due to recent global health and safety issues.
1. Dreams Las Mareas Costa Rica, Guanacaste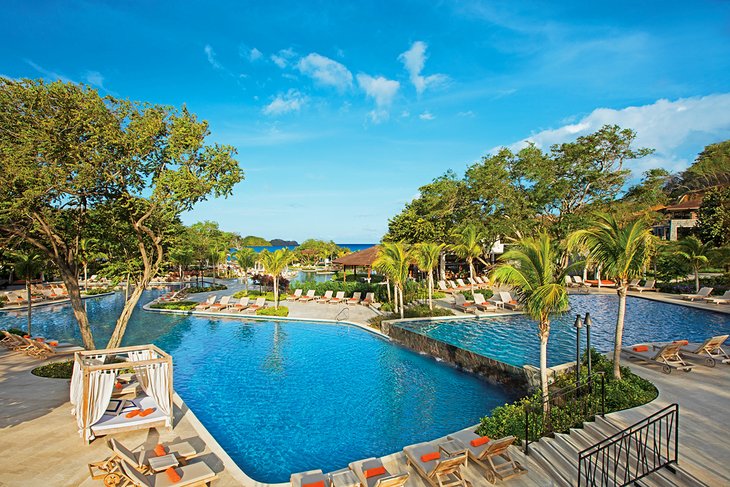 Welcome to the lap of "unlimited luxury." Guests at Dreams Las Mareas will want for nothing.
The scenery is enough to make your shoulders relax: verdant green jungle and mountain peaks pepper the landscape while the resort fronts a pristine sandy beach flanked by waving palm trees. Two pools, a hot tub and the "La Cascada" waterslide and kids' pool make it easy to take a refreshing dip.
Almost everything is included in the Unlimited Luxury® rate, including meals, beverages, mini bar items, day and nighttime activities, the kids' Explorer's Club and Core Zone Teens Club. With eight restaurants to choose from, including five á la carte establishments, you'll never go hungry.
Activities include workouts at the fitness center, non-motorized water sports (like snorkeling and kayaking), Euro-bungee, yoga classes, a weekly beach party, cooking or cocktail classes, dance lessons, beach soccer, movie and theme nights, and Spanish lessons. Take a complimentary scuba diving lesson in the pool or book a spa treatment.
Hoping to add some romance to your vacay? Book a Swim Out Ocean Front Master Suite. These adult-only accommodations include direct access to an adults-only pool, dining room, and living room in addition to a comfy bedroom. The Junior Suites are family friendly, and some offer direct, swim out access to a pool.
Address: Playa El Jobo, El Jobo
Accommodation: Dreams Las Mareas Costa Rica
2. Villa Buena Onda, Playas del Coco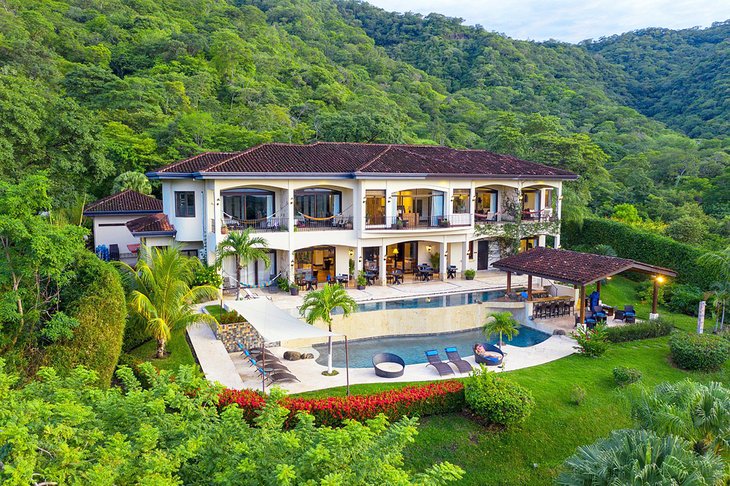 A small boutique resort welcomes adults who are looking for romance, serenity, or both. Villa Buena Onda lies in a quiet hillside location, offering its guests a tranquil vacation surrounded by captivating views of Papagayo Bay. Due to its stellar staff, gorgeous setting, and plush amenities, this has been dubbed one of the best beach resorts in Costa Rica.
With only eight rooms, this beautiful hideaway is an intimate retreat perfect for those who like to avoid crowds. The suites are colorful and tastefully decorated, with private patios or balconies and, of course, exceptional vistas. Some include outdoor showers and ocean views, and the Master Suite boasts a Jacuzzi.
In addition to holding hands while walking along the soft sands of nearby beaches, Playas Ocotal, Hermosa, or Coco, guests can enjoy a couples massage or other relaxing treatment at the Secreto Spa (for a fee). It really is difficult to feel stressed while staying at this retreat. No wonder it receives so many repeat visitors. Plus, having more staff than guests means all of your needs will be catered to quickly.
Lounge in the two-tier swimming pool, and grab a juice from the swim-up bar. Note: Because this resort is so exclusive, you'll have to stay a minimum of four nights. The all-inclusive rate includes á la carte meals, daily housekeeping, Wi-Fi, and activities like cooking classes. Traveling with a large family or a group of friends? Rent out the entire villa.
Address: Del Ancia 200 M Este Y 700 M Sur, Playas del Coco
Accommodation: Villa Buena Onda
3. The Westin Reserva Conchal, an All-Inclusive Golf Resort & Spa, Playa Conchal, Guanacaste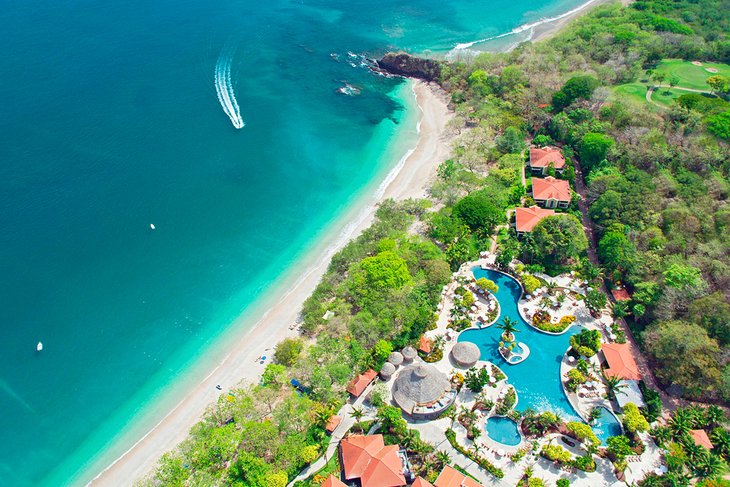 Expect a hefty price tag at this 2,400-acre, eco-friendly resort. It's located in the North Pacific Riviera region of the country, and stretches to the pristine Playa Conchal in Guanacaste. The exceptional service and lavish grounds make a stay worth every penny.
It's hard to beat the lagoon-style pool at the Westin Reserva Conchal, which winds its way along tree-lined patios and is dotted with small islands inhabited by palm trees. It also boasts a kids' pool and hot tub, making it even harder to resist. Build sandcastles on the beach, have a massage in the Heavenly Spa, or play a round of golf (for an extra fee).
Your all-inclusive rate provides all meals, snacks, beverages, non-motorized water sports, entertainment, tennis games, access to the kids' club and fitness center, and fun daily activities. Grownups can also gain access to the adults-only Royal Beach Club section, which boasts a private pool and concierge service.
Eight restaurants make it easy to tempt your taste buds, with food options ranging from pizza to tapas to seafood to gyoza. You definitely won't go hungry. Sleep off your overeating in one of the uber comfy rooms. Those traveling with kids might want to opt for a family suite, which boasts more space to stretch out.
Address: Playa Conchal, Playa Conchal, Guanacaste
Accommodation: The Westin Reserva Conchal, an All-Inclusive Golf Resort & Spa
4. Barceló Tambor, Tambor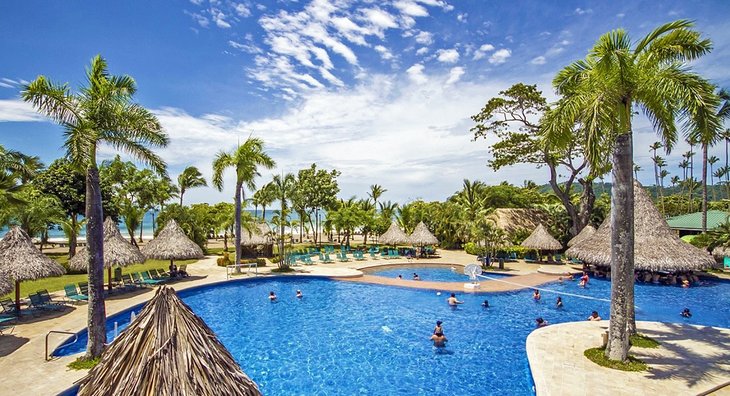 Those looking for more party than relaxation on their holiday will enjoy a stay at Barceló Tambor. A 200-seat amphitheater hosts entertaining performances you won't forget. Multisport fields encourage groups to play a game of pickup volleyball, soccer, or other sports, while guests can also try their aim at archery, kayak on the ocean, play tennis, or try their skill on a giant chessboard.
Two swimming pools add variety for those who prefer to spend their time lounging by sparklingly clear water. They're connected by a magnificent waterfall. A paddling pool is the right size for little ones and includes five jets that are constantly spraying water. Try an aerobics, stretching, or dance class while you're here.
Enjoy a round of golf (or three) at the nearby Los Delfines Golf & Country Club, located just one kilometer from the hotel, or take a load off in the U-Spa.
The property houses over 400 guest rooms, including four luxe suites and 56 premium level accommodations. Each features a private balcony or terrace to help visitors get the most out of the impressive view.
All-inclusive meals are enjoyed at the buffet - guests are also permitted one free á la carte dinner at either El Rancho or Miyako restaurants for every two nights of their stay. The on-site bars also serve snacks daily. Beverages are included, as are snacks in the El Palenque bar.
A family-friendly resort, the Barceló Tambor caters to those with kids. The Barcy Club has an extensive array of activities to keep children from four to 12 entertained, while the Teens' House caters to adolescents aged 13 to 17 with games, computers, music, a bungee jump trampoline, and climbing wall.
Address: Playa Tambor, Tambor
Accommodation: Barcelo Tambor
5. La Paloma Lodge, Osa Peninsula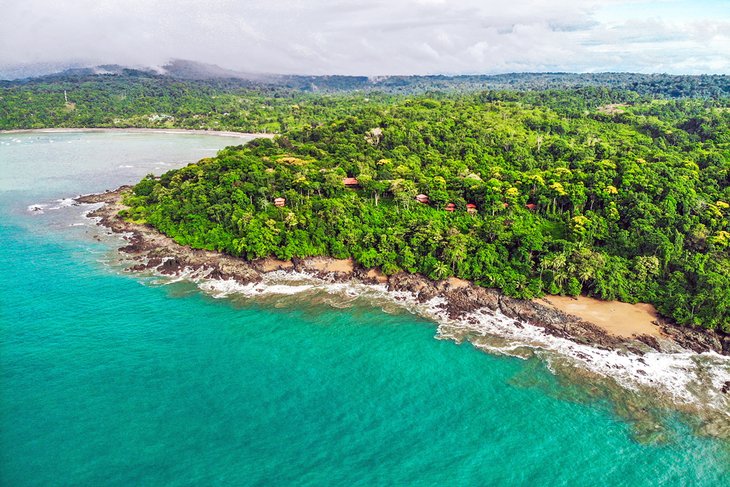 Ever wanted to sleep high above the ground, in the canopy of a rainforest? Book a stay at the captivating La Paloma Lodge. The cacophony of tree frogs, monkeys, and macaws will lull you to sleep, while the dense jungle views from your balcony bring the landscape to your door - literally. Book a one or two-story rancho (a.k.a. private cabin) for extra space, especially if you're touting little ones.
This elegant retreat is a nature lover's paradise, so if you're looking for a giant resort with hourly entertainment and banana boat rides, you've come to the wrong place. If you're hoping to ogle phenomenal views, welcome to nirvana.
This unique retreat is both gorgeous and pricey, situated on a rugged cliff overlooking the magnificent Drake Bay. Included in your package are two unforgettable guided experiences, a hike to the ranger station in Corcovado National Park, and snorkeling at Cano Island.
It takes a while to reach this destination, and each included experience needs about a day to enjoy, so you'll want to stay a minimum of four nights here.
The service at this small, intimate resort is top-notch (including fresh coffee delivery), and meals are served communal style at the large on-site dining room. A beach is just steps away, and the pool is refreshing in both temperature and its serene setting. Borrow a kayak, partake in a night hike with the "bug lady," or take a boat trip through the mangroves.
Address: Drake Bay, Osa Peninsula
Accommodation: La Paloma Lodge
6. Secrets Papagayo Costa Rica, Guanacaste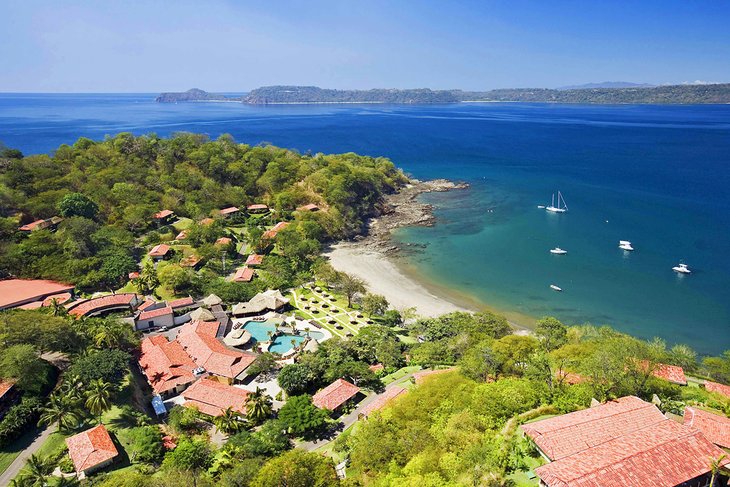 Secrets Papagayo is another adults-only all-inclusive retreat, this time located a short 20-minute drive from Liberia Airport. It features two pools, a fitness center, and a world-class spa, all of which can be accessed under their "Unlimited-Luxury®" package.
There's no need to reserve a table or rifle through buffet selections here. All meals are á la carte and included in your stay, as are beverages, on-site parties, mini-bar refreshments, and an expansive selection of entertainment. Yoga, volleyball, snorkeling tours, tennis, hiking, crafts, water sports, cooking classes, and water aerobics are just a few of the complimentary activities.
There are four restaurants, a café, and multiple bars on-site, but guests are always welcome to enjoy a more romantic dinner setting, like the beach or their room. Room service is included 24 hours a day. After dinner, settle in for a themed show, dance lessons, or karaoke.
A more affordable resort than some others on this list, the rooms at Secrets Papagayo are a mix of contemporary chic and old-world charm with plush amenities. All are spacious suites.
Address: Playa Arenilla, Papagayo, Guanacaste
Accommodation: Secrets Papagayo Costa Rica
7. Occidental Tamarindo, Guanacaste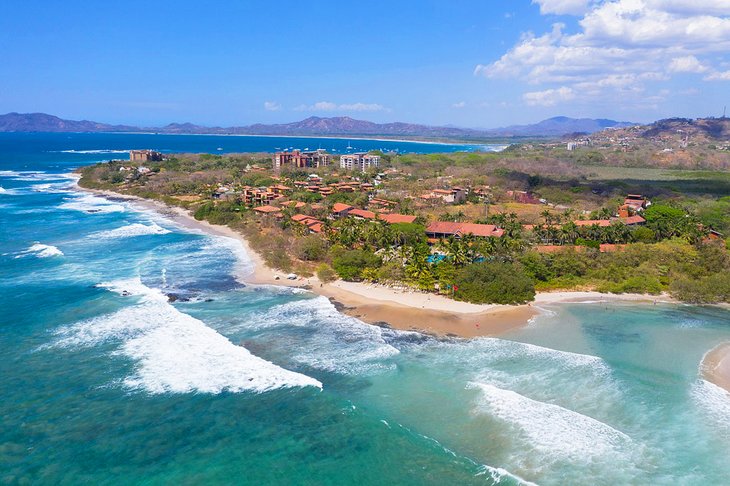 It's hard to beat the Occidental Tamarindo's location, on the white sandy shores of Langosta Beach, just a mile from the center of Tamarindo. Backed by verdant rain forest, this Barceló resort gave its 198 guest rooms a facelift in 2010. Today, you'll find airy rooms with floor-to-ceiling windows, and balconies offering spectacular vistas of the ocean or Marino Las Baulas National Park.
Families spend their time at the beach playing volleyball, surfing, kayaking, snorkeling, or scuba diving. Tennis courts, a giant chess set, hot tub, and swimming pool await those who want a break from the sand. Children's shows are performed between 8:15 and 9:25 pm each evening.
The all-inclusive package includes buffet meals at La Langosta restaurant, snacks at the pool area's Las Baulas snack bar, and beverages at La Tortuga Lobby Bar. Also complimentary are evening shows, the children's park, archery, dance and aerobics classes, and ping pong. Those who prefer an á la carte meal will have to pay extra.
Address: Playa Langosta, Tamarindo, Guanacaste
Accommodation: Occidental Tamarindo
8. Hotel RIU Palace, Sardinal, Guanacaste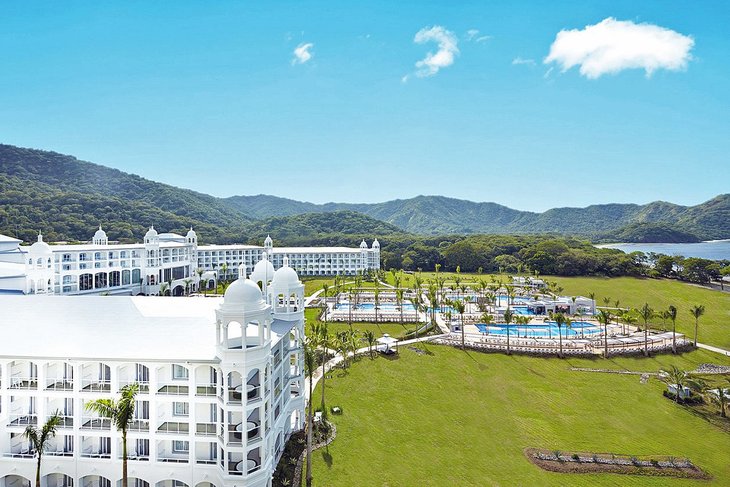 A sprawling resort sits on the lovely Matapalo beach, welcoming travelers of all types - families, couples, and singles - to enjoy its extravagant property and plush offerings. The spa beckons weary travelers with tight muscles, while the children's pool calls out to kids who love to play in the water until their toes wrinkle. Getting them out of Splash Water World water park will be a challenge!
Four other pools welcome guests of all ages and there's a Jacuzzi, sauna, tennis courts, and a fitness center on hand. Head out for a sail, windsurf, snorkel, SUP, or kayak in the Pacific Ocean. Guests can also learn to scuba dive in the pool with a free lesson.
When you've succeeded at getting the kids dried off, sign them up for activities at the RiuLand kids' club (for those aged four to 12). Then you can enjoy a spa experience or enjoy the daytime entertainment provided by the hotel.
All meals and most beverages are included and can be enjoyed at one of four themed restaurants or the buffet eatery. Don't miss the cappuccino patisserie and ice-cream parlor for treats that will please any sweet tooth. Don't want to leave your room? No problem. Room service is available 24 hours a day.
Guests of Hotel RIU Palace are welcome to use the facilities of its sister hotel, RIU Ganacaste (next door), but if you want to eat dinner there, you'll have to pay. As for nighttime fun, evenings are filled with live music, and a discotheque is open six nights a week.
Address: Playa Matapalo, Sardinal, Guanacaste
Accommodation: Hotel Riu Palace
9. Hotel RIU Guanacaste, Guanacaste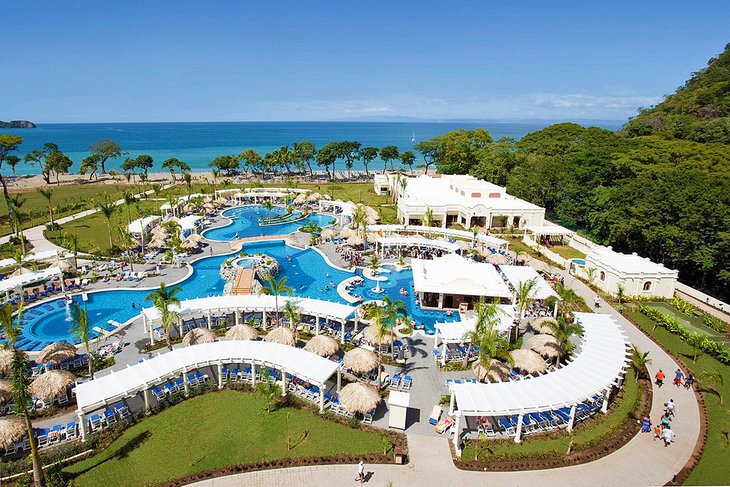 RIU Guanacaste sits right beside the Hotel RIU Palace. A sister resort, it contains all the amenities you'd expect from a RIU resort: tennis courts, three pools, a hot tub, children's pool, fitness center, and spa. It also fronts onto the soft, sandy Playa Matapoalo where guests can busy themselves with a slew of fun water activities.
RiuLand Kids' Club is a haven for youngsters who want to be happily entertained while their grownups partake in a little R&R or alone time. Non-stop entertainment and nightly music make it hard to get bored, but those who dislike engaging in classes, dances, or other performances can easily enjoy other, more solitary activities such as lying prone on a comfortable sun lounger beside the pool.
Snacks, meals and beverages are included at the buffet restaurant, as well as the four themed (i.e. Asian and Italian) restaurants on-site. Be sure to wear your "all-inclusive bracelet," so you won't be charged for your food.
Address: Riu Guanancaste Boulevarde, Playa Matapoalo, Guanancaste
Accommodation: Hotel RIU Guanacaste
10. Occidental Papagayo, Gulf of Papagayo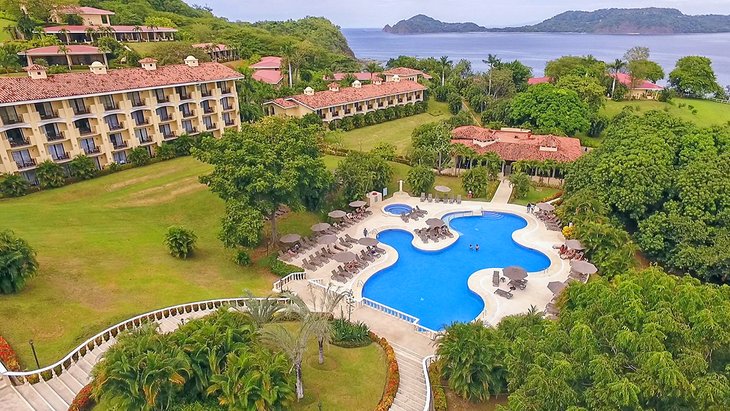 You won't hear the pitter patter of little feet or run the risk of being drenched by a rogue cannonballer at this adults-only all-inclusive resort. The Occidental Papagayo is a Barceló hotel, which means you can expect great service, luxurious facilities, and a fabulous natural setting. The no kids policy means you can also expect tranquil moments by a quiet pool, romantic walks on a secluded beach, and uninterrupted wanders through lush gardens.
Head out for a kayak on the ocean, play a game of volleyball or tennis, try your aim at archery, snorkel offshore, or enjoy a treatment (or three) at the U-spa. Two pools entice those hoping to ease the heat - one boasts aqua aerobics and dance classes, as well as volleyball games, and is conveniently located beside a snack bar. The other, named the relaxation pool, is well shaded and located just off the beach - the in-pool relaxation beds are divine!
Four restaurants offer a variety of food types ranging from Costa Rican cuisine to Italian fare to Oriental dishes. This affordable resort boasts spacious rooms with either a balcony or terrace. Those farther from the lobby come with a complimentary golf cart to make it easier to get around. If you had your heart set on a more luscious, white sandy beach (as opposed to the small, golden one at this resort), there are plenty nearby.
Address: Playa Hermosa, Gulf of Papagayo
Accommodation: Occidental Papagayo
11. Fiesta Resort, Puntarenas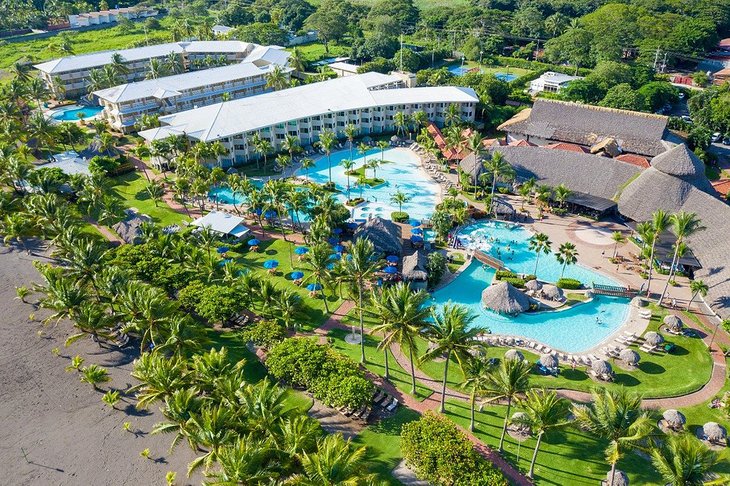 Located on a volcanic beach, Fiesta Resort is one of the best affordable all-inclusive resorts in Costa Rica. The sand is a dramatic ebony color that emphasizes the dramatic azure waves of the Pacific Ocean. It has a spa, as all good beach resorts do, as well as tennis courts, an amphitheater (featuring entertainment for all ages), and five swimming pools.
Tall, waving palm trees line the pathways and add to the lush feel of this unique resort. With 408 guest rooms, there are plenty of options when it comes to where you'll rest your head. Each offers an airy feel and private balcony to help guests appreciate the stellar views.
All-inclusive means you'll be treated to unlimited drinks and meals from four restaurants and seven bars. Activities like aqua aerobics, dancing classes, and water sports are also complimentary.
Traveling with kids? Hook them up with the fun kids' club (ages 4 to 12) to give yourself some alone time. Hydrotherapy treatment at the Heliconia Spa, anyone? Older kids (13 to 17) can hang out at the teens' club to meet some new friends.
Have to work during your vacay? Fiesta Resort makes this easy with its business center and free Wi-Fi.
Address: El Roble, 23, Chacarita
Accommodation: Fiesta Resort