12 Top-Rated All-Inclusive Family Resorts in the Caribbean
We may earn a commission from affiliate links ()
All-inclusive resorts are a great option for budget-conscious families who don't want the stress of counting pennies during vacation, and the Caribbean is home to a huge variety. For any family with children, the most important thing is finding a resort that has something for every age, especially picky tweens and teens.
Many parents, especially those with younger children, seek out resorts that include all-day childcare programs so that they can get some well-earned R&R and quality alone time. Other families look for places that offer a wide range of family activities that the whole group can do together, and most ultimately want a combination of the two. Find a great place to stay on your next vacation with our list of the top Caribbean all-inclusive family resorts.
Note: Some businesses may be temporarily closed due to recent global health and safety issues.
1. Beaches Turks & Caicos Resort Villages and Spa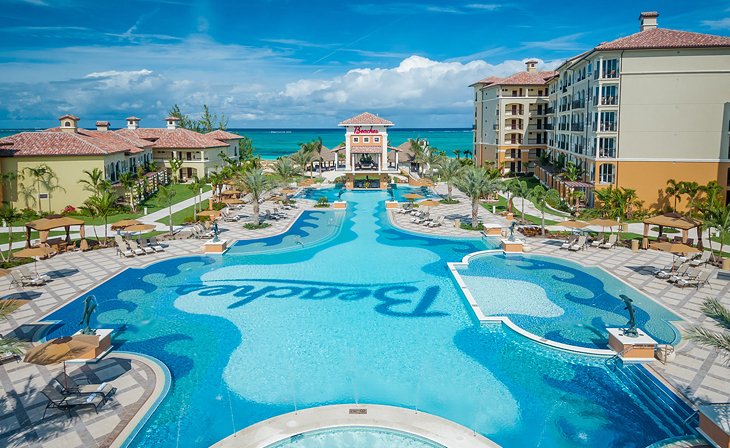 The massive resort complex at Beaches Turks & Caicos is located in Grace Bay in Turks & Caicos, laid out in small themed villages, which include private seaside villas and family suites. The resort's most impressive feature is the 45,000-square-foot Pirates Island Water Park, a large all-ages park that has plenty of ways to cool off, like eight waterslides and a surfing simulator, as well as a swim-up smoothie bar, games room, and a limitless supply of food at the nostalgic 50s-style diner. In addition to the park, there are six pools throughout the property and, of course, a lovely stretch of beach.
Younger kids will be thrilled by the Sesame Street characters, who they can interact with and learn from, with a long menu of activities, including a science fair with Grover, story time with Elmo, and learning about repurposing from Oscar the Grouch.
Supervised childcare and activity programs are available for children of all ages and include age-appropriate activities and even staff trained to care for special needs children. Babysitting is also available in the evenings, so parents can have a special night out. Family activities include the Xbox game room; Voilá theater, with live performances; and an extensive scuba diving program.
Accommodation: Beaches Turks & Caicos Resort Villages and Spa
2. Franklyn D. Resort & Spa, Jamaica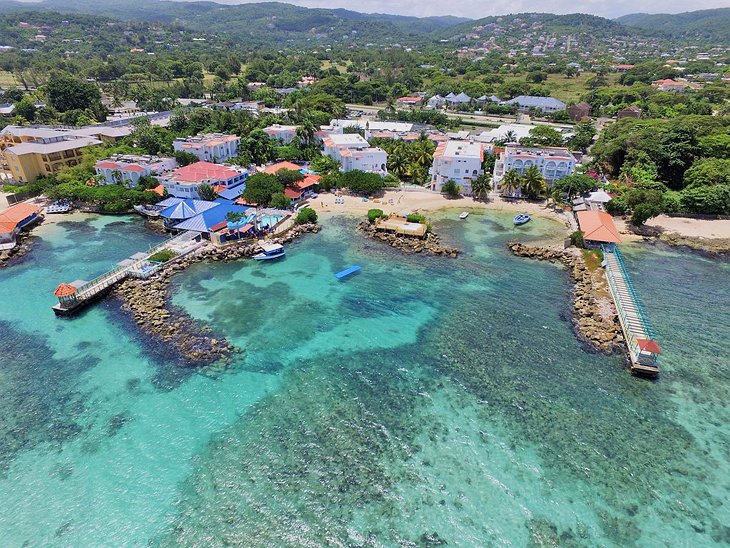 Located in Runaway Bay, Jamaica, on the island's northern shore, the Franklyn D. Resort & Spa's all-inclusive rates include a "Vacation Nanny" whose job is to take care of the kids and keep them occupied while parents enjoy the resort's many offerings. While mom and dad are enjoying a stroll on the beach or a romantic meal at the adults-only Pier Restaurant, the vacation nanny will be making sure that the kids are having the time of their lives.
Younger kids will have a ton of fun at the kid's club, and there are also separate programs for tweens and teens, including reggae dance lessons, diving excursions, and bicycle tours, as well as a teens' game room. Family activities include glass-bottom boat rides, snorkeling, and kayaking, as well as organized games like beach volleyball. The resort also has a playground and pools with a huge waterslide and plenty of lounging room.
Accommodation: Franklyn D. Resort & Spa
3. Windjammer Landing Villa Beach Resort, St. Lucia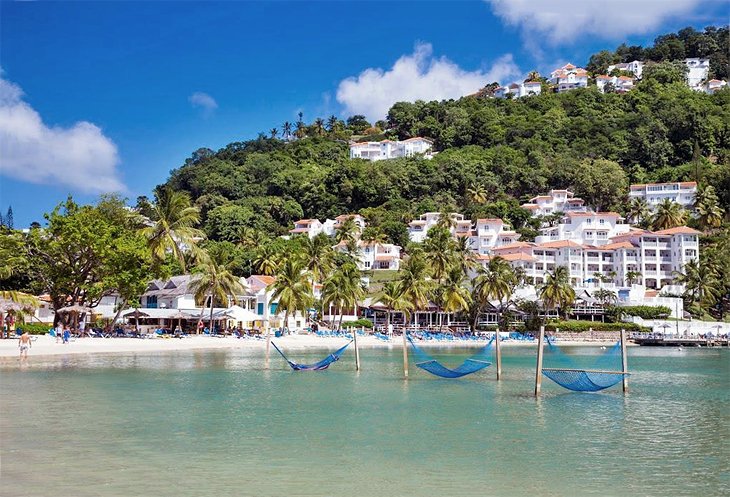 The villas at this sixty-acre seaside resort are nestled in the hills on the northwest coast of St Lucia, providing seclusion while offering stunning views of the ocean. The private villas, which are as large as 3,600 square feet with four bedrooms, have enough room to fit the whole family and are fully equipped with amenities, including kitchenettes and washer/dryers, and some even have private pools. The resort offers an all-inclusive option, which includes meals at any of its five on-site restaurants, as well as room service meals, allowing you to truly indulge.
The resort offers supervised kids' programs for ages four to 12 at the Jacquot Fun Club, which is open from 10am to 4pm and then again at 6:30 pm for evening events. Organized activities include field trips, boat rides, pool parties, tennis lessons, puppet shows, and lawn games, while weekly evening events include movie nights, disco Wednesdays, talent shows, and more. Additional activities and off-site events are available for teens, and the whole family can enjoy water sports like water-skiing and tube rides; fitness classes like beach yoga and aqua aerobics; a wide range of games, from table tennis to coconut bowling; and live music nightly.
Accommodation: Windjammer Landing Villa Beach Resort
4. Jewel Grande Montego Bay Resort & Spa, Jamaica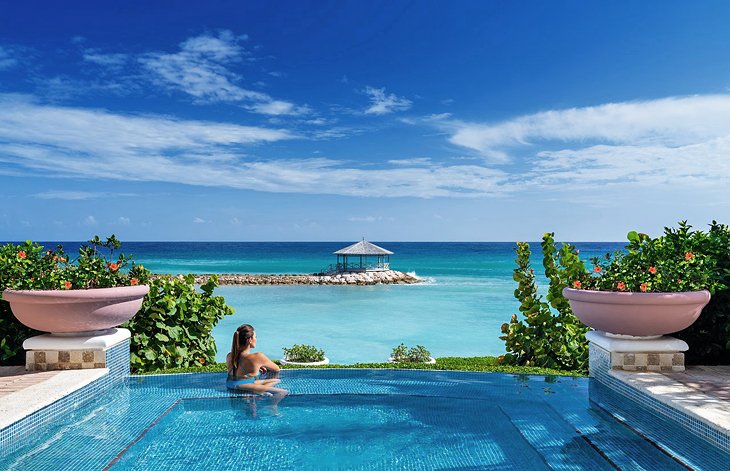 Families can choose between suites, extravagant penthouses, or private three-bedroom villas at the Jewel Grande in Montego Bay, Jamaica. Each features a private balcony with breathtaking views of the ocean or the gardens, and villas offer extra conveniences like washer/dryers and kitchenettes, as well as butler service. The resort's outdoor recreation areas include not only the pool and beach but also a splash pad, playground, and pavilion.
The Kids Club offers a huge variety of activities, including arts and crafts, scavenger hunts, kite flying, and pool time, as well as plenty of games. The Teen Lounge gives the older kids the space they want with ample ways to enjoy their time, including bowling, interactive video games, pool, and foosball. While the kids are having fun, parents can get well-deserved pampering at the Grande Spa, a full-service facility that offers a range of spa and salon services in a tranquil setting.
Accommodation: Jewel Grande Montego Bay Resort & Spa
5. Club Med Punta Cana, Dominican Republic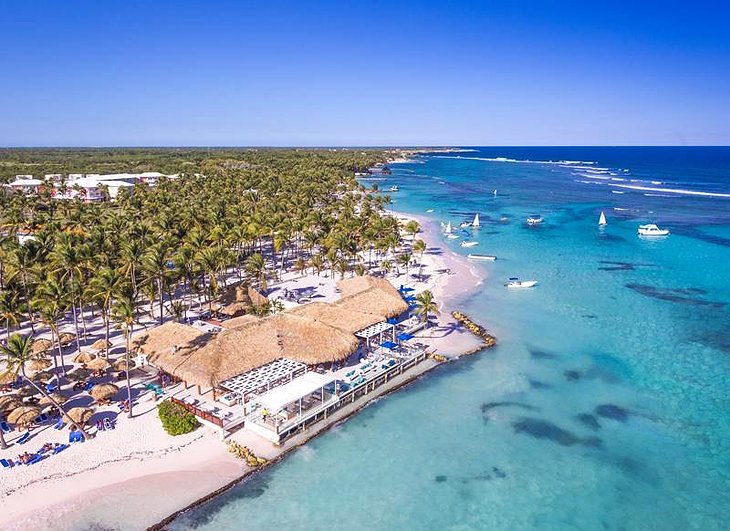 Club Med Punta Cana is the place to go if you have ever dreamed of running away to join the circus. Located on the Dominican Republic's eastern shore, this Punta Cana beach resort is home to a unique Circus School and Creactive, a program created by Cirque do Soleil to teach guests the skills they need to become a daring acrobat or gravity-defying aerialist. Those who just want to test the waters can take a shot at juggling, practice their skills on a tightrope, and even try a swing on the trapeze.
Unlike many Club Med properties, this location caters to families, and kids are well-supervised in the included programs for ages four months and up, much younger than most resorts usually accommodate. For kids, daily activities include storytelling for the little ones, crafts for the slightly older kids, and sports and games for teens. Other family-friendly touches include baby food prep areas in restaurants and the use of strollers.
For adults, available activities range from lessons in archery, to expert instruction in golf, tennis, and fitness. There are also optional on-site spa services, which include packages designed for couples, and other add-ons like horseback riding. For those who just want to kick back, the resort's private section of beach, one of Jamaica's best beaches, is the perfect place to work on that tan.
Accommodation: Club Med Punta Cana
6. Coconut Bay Beach Resort & Spa, St. Lucia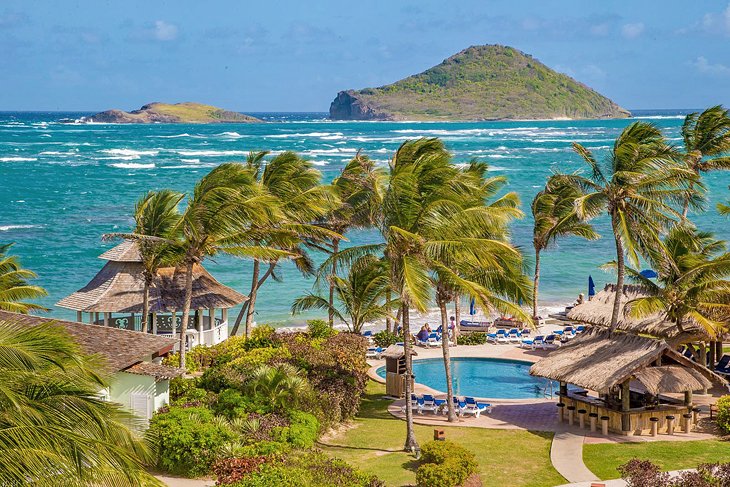 On the southeastern coast of St. Lucia, this 85-acre resort goes out of its way to make sure that the entire family has a memorable vacation. With a dedicated family area, parents don't need to worry about the kids splashing honeymooning couples. Family activities include water sports like paddleboarding, kayaking, kitesurfing, windsurfing, and snorkeling, and the resort's paintball facilities are extensive. The resort has nine restaurants, and there is nightly entertainment, as well as weekly theme nights like Pirate Night.
Coconut Bay is home to the largest water park on the island, which features a classic lazy river, as well as waterslides and splash pads, and there are five pools spread throughout the resort (two are adults-only). The supervised Kids Club offers even more, including a climbing wall; zipline; and an animal sanctuary, which doubles as a petting zoo. Babysitting is also available in the evenings.
Accommodation: Coconut Bay Beach Resort & Spa
7. The Reef at Atlantis, Paradise Island, The Bahamas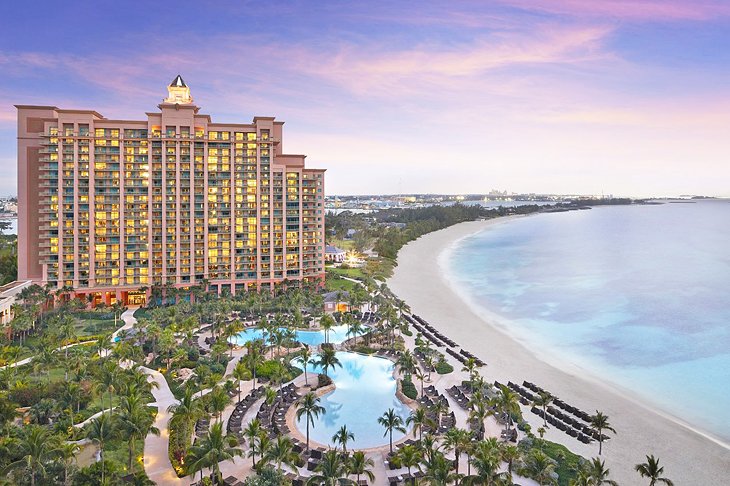 Paradise Island is located off the northern shore of Nassau in the Bahamas and is often referred to as Atlantis because of its idyllic beauty. This high-end resort specializes in suites that are equipped to meet the needs of vacationing families, with full kitchens and comfortable living areas, as well as a private balcony in each suite.
Parents will enjoy the on-site spa, fitness center, and golf course. Family activities include excursions like snorkeling, scuba diving, and rock climbing, or on-site recreation including volleyball and lighted outdoor tennis courts.
The resort's sprawling pool sits along the ocean shore, while lawns and palm-lined paths extend back to the hotel. Kids will especially enjoy Aquaventure, a Mayan-themed water park, which includes wading pools, splash and spray zones, waterslides, and more. Organized kids' activities and babysitting are available.
Accommodation: The Reef at Atlantis, Paradise Island
8. The Buccaneer, St. Croix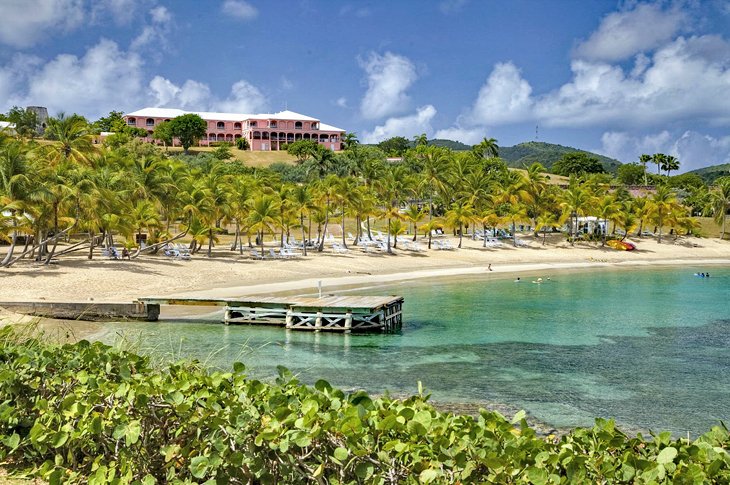 On the island of St. Croix in the US Virgin Islands, The Buccaneer offers a wide range of activities and amenities to families on its 340 acres. Here, you will find two beaches, including the more secluded Grotto Beach and the larger, busier Mermaid Beach, where there is a restaurant, a dock for local sightseeing boats, and the water sports facilities. Many water sports are included in your stay, from free scuba lessons to kayaking. Land sports include golf, horseback riding, tennis, and team sports like beach volleyball. In addition to the beaches, the resort has multiple pools.
The buccaneer offers a kids' day program for ages four to 12, included in the stay. Supervised, age-appropriate activities include beach play like crab races and sandcastle construction, adventures like treasure hunts, and plenty of crafts and games indoors for when the kids need some time in the shade. Families will also enjoy trips out to the nearby Buck Island National Park, a beautiful natural area just offshore.
Accommodation: The Buccaneer
9. Grand Palladium Bávaro Suites, Dominican Republic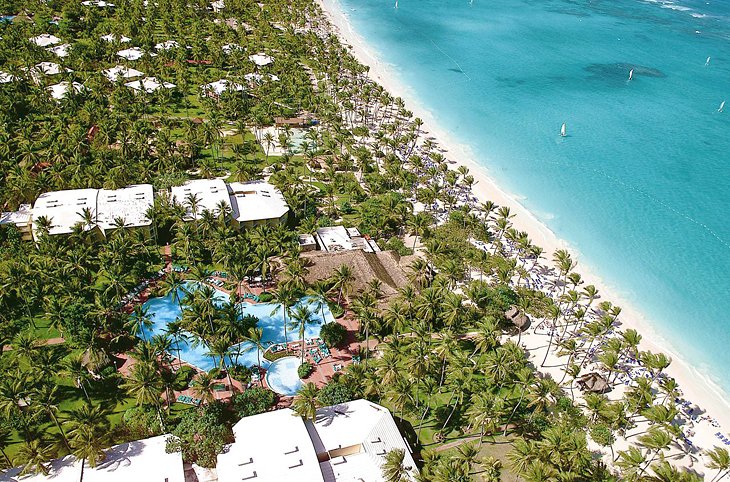 Located on Bávaro Beach in Punta Cana on the Dominican Republic's eastern coast, the Grand Palladium Bávaro Suites offers all-inclusive packages that include windsurfing lessons, kayak rentals, and dining at one if its many excellent restaurants. This all-suite sibling to the adjacent Grand Palladium Resort and Spa has full access to amenities on both properties, with many of its own unique features that set it apart. One of the most fun are the swim-up suites, which can be accessed from one of four pools on the property, allowing you to dive right in from your own back door and swim over to a refreshment stand for a light snack or beverage without your feet touching the ground.
Families will appreciate supervised kids' programs for ages one to 17, and the kids will absolutely love Castillo de Pirata (the Pirate Castle), a colonial fort-themed space with a small water park, games room, theater, and snacks. Of course, there is also an adults-only pool, and the resort's dedicated kids' spaces ensure that grown-ups have their own space as well. The whole family can participate in kayaking, windsurfing lessons, and other water sports.
Accommodation: Grand Palladium Bávaro Suites
10. Sonesta Maho Beach Resort, St. Maarten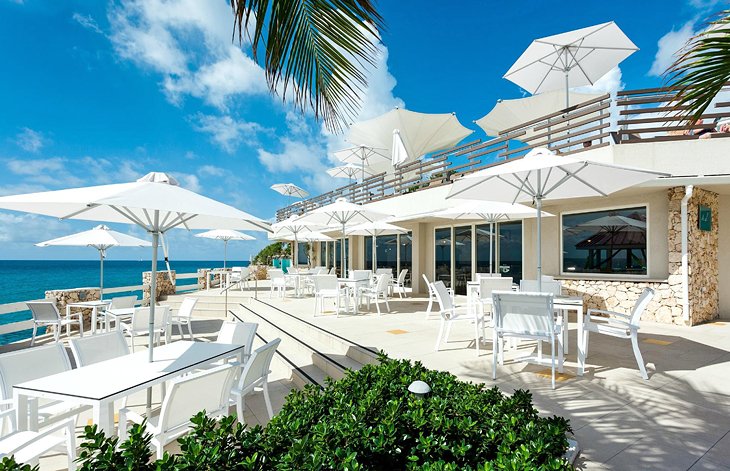 Although the disaster of hurricane Irma was the cause, the Sonesta Maho Beach Resort & Casino on St. Maarten in the Netherlands Antilles has just undergone a complete remodel. The forced renovations have resulted in modern, spacious rooms and all new facilities, including a submarine-themed kids' pool and an impressive water park. This is part of the Maho Bungalo Kids Club, where younger guests will find anything they could want to make their vacation fun. For older kids, the Teen Zone has plenty of games and activities and also hosts weekly events like disco night and pajama parties.
In addition to the kids' pool and water park, the resort has an expansive main pool that features swim-up refreshment stands and plenty of room for sunbathing. The resort is also home to six restaurants, including five full-service and one pizza place for a quick bite.
Accommodation: Sonesta Maho Beach Resort
11. Iberostar Hacienda Dominicus, Dominican Republic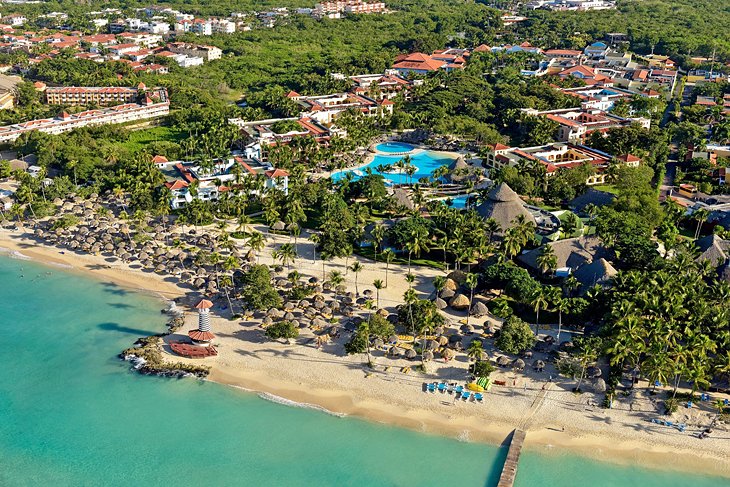 Located on the southeastern shore of the Dominican Republic, between the town of Sámana and the island's largest national park, is Bayahibe Beach, home to the laid-back Iberostar Hacienda Dominicus. This resort welcomes families, as well as couples and groups, providing a dedicated pool area for kids so that others can have some peace and quiet if they like. Among the resort's most popular activities are its scuba lessons, available for ages 12 and up, which take place in the safety of a pool.
Families will appreciate the Star Camp kids' day program, a place where the younger ones (ages 4 to 17) can enjoy a break from mom and dad while the parents relax. Kids get the chance to do crafts, listen to local musicians, and even take Spanish Lessons in addition to the numerous play activities. Tourists may want to ask the hotel about day trips to Sámana or nearby San Pedro De Macoris, the birthplace of more than a few Major League Baseball greats.
Accommodation: Iberostar Hacienda Dominicus
12. Spice Island Beach Resort, Grenada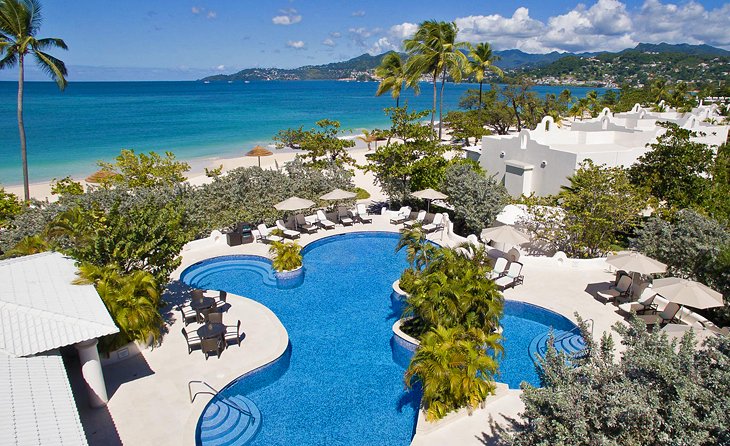 Although this five-star luxury resort is priced at a premium, guests do get what they pay for at the Spice Island Beach Resort in Grenada. While the adults are playing a round of golf, unlimited play included of course, kids ages 3 to 12 are well taken care of in the Nutmeg Pod, the resort's day camp. This fully supervised program has a focus on creativity, and every child who comes here gets to leave their mark - literally, with a paint handprint on the wall. In addition to golf, and of course beautiful pools, the resort has recreational facilities like lit tennis courts and water sports programs including scuba diving.
Accommodation: Spice Island Beach Resort