13 Best Pet-Friendly Hotels in Nashville, TN
Nashville's legendary Southern hospitality extends to your furry four-legged friends. Many of the city's hotels and resorts are more than just pet friendly, they welcome and encourage guests to bring their dog or cat with them.
Dog amenities at Nashville hotels include things like treats on check-in, food and water bowls in the room, and dedicated pet-relief areas, or even on-site off-leash dog parks.
Feline guests get things like scratching posts, catnip treats, and ready-to-go litter boxes in the hotel room.
As always, be sure to check in advance with the hotel about their current pet policy. Some restrict certain dog breeds, some limit the weight of dogs, and some may require proof of vaccinations from a veterinarian. It's always a good idea to confirm your pet-friendly room in advance, as some hotels have a limited number of pet-friendly rooms available.
Find the best place to stay with your furry companion with our list of the top pet-friendly hotels in Nashville.
1. The Hermitage Hotel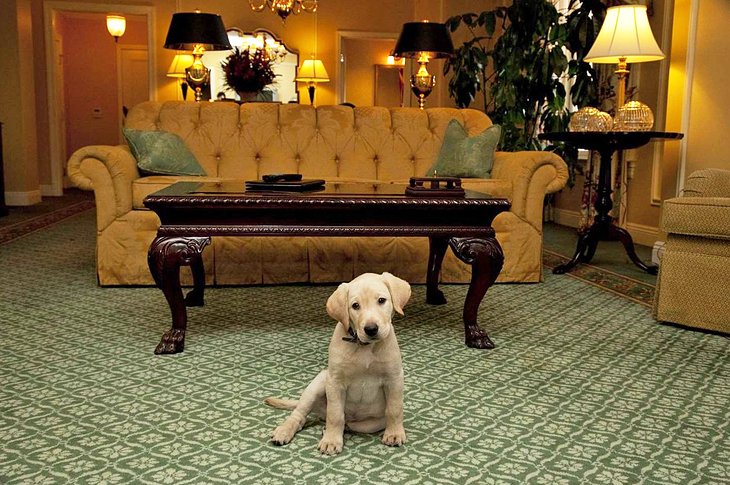 Accommodation: The Hermitage Hotel
Nashville's Grande Dame luxury hotel, open since 1910, is extremely pet friendly. They have something called the Pampered Paws Program, which really makes your pet feel welcome.
When you arrive, your pet gets a personalized welcome letter on check-in (you may have to read it to them) along with an organic pet snack. In the room there's a special pet feeding area (with organic food and bottled spring water) and a pet bed; both are refreshed with the daily housekeeping service. There's a collar and leash, and the hotel offers dog walking (for a fee) and even a pet chauffeur.
The pet fee is $75 per stay. Both dogs and cats are welcome, and other animals are welcome with advance approval. You may have up to two pets per room.
The Hermitage Hotel is beautiful; it's right in the heart of downtown Nashville, and the public spaces retain their striking original Beaux Arts design. Rooms are large with a classic luxury feel.
2. Dream Nashville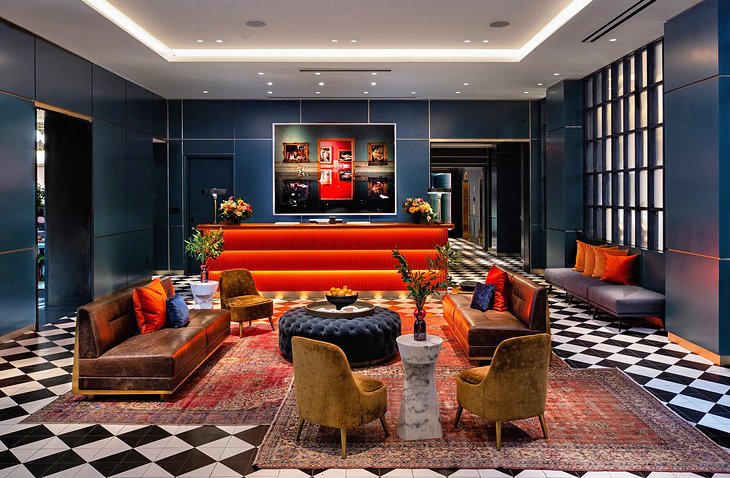 Accommodation: Dream Nashville
This funky boutique design hotel is the hottest new hotel in Nashville. It's on Printer's Alley, in the heart of the historic downtown area. The hotel was created in two landmark buildings and has a very cool vibe.
The 168 rooms and suites are modern Art Deco in style, and the hotel is a social hub for the area, with six different dining and nightlife options on property.
The Dream Nashville gives you some cool amenities, like a complimentary house car (a Lincoln Nautilus), free in-room Wi-Fi, 55-inch Smart TVs and a Peloton bike-equipped fitness center.
Dogs weighing less than 35 pounds are welcome to visit Dream Nashville. There's a $125 pet fee, and the hotel does not allow dogs to be left unattended in rooms.
3. Loews Vanderbilt Hotel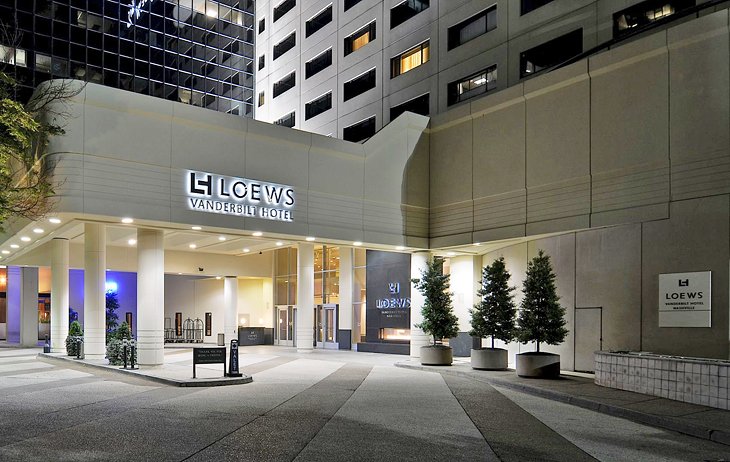 Accommodation: Loews Vanderbilt Hotel
This large, freshly renovated luxury hotel is across from the Vanderbilt University campus in the West End near Midtown. Club-level rooms offer a bit more space and extra amenities, including a free daily breakfast in the lounge. All guests get complimentary Wi-Fi and free car service to anywhere within a three-mile radius of the hotel (which includes most of the downtown area).
Pets (dogs and cats) are welcome; the hotel features the brand's Loews Loves Pets program. This has cool amenities like a special pet room service menu, pet bedding, food bowls, and litter boxes in rooms along with leashes and collars. Beyond the basics, they give you rawhide bones, scratching posts, and catnip treats.
The hotel offers pet walking and sitting services (for a fee) and provides guests with dog walking maps and waste bags. They also give you a brochure with local pet providers like pet shops, grooming, and even vets. Basically, all you need to bring is the pet-Loews takes care of everything else.
The pet fee is $50 per stay and you're limited to two pets per room. Pet reservations must be made in advance, and they do limit the overall number of pets allowed in the hotel.
4. Kimpton Aertson Hotel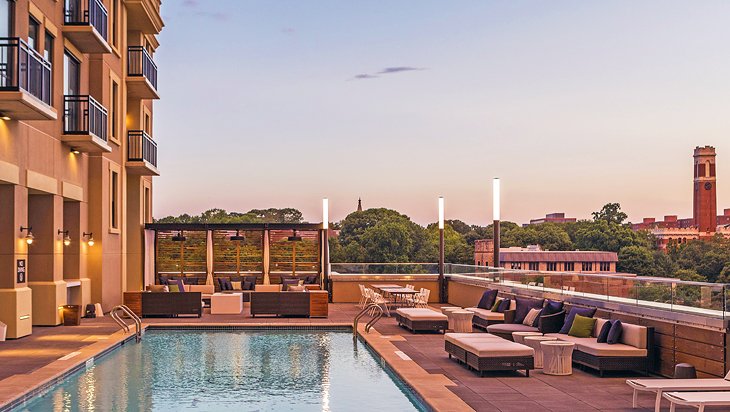 Accommodation: Kimpton Aertson Hotel
The Kimpton Aertson is a new luxury boutique hotel in the heart of Nashville's new Aertson Midtown entertainment district. The rooms and suites are ultra-modern and feel more like loft apartments than hotel rooms.
Henley is the hotel's modern American brasserie, and it's very popular with locals, as well as hotel guests. The hotel has luxury amenities like a full fitness center and a rooftop pool. The Kimpton is partnered with the Woodhouse Spa (located next door) to provide a full menu of spa services to its guests.
Kimpton has one of the coolest and funniest pet policies. If it will fit in the elevator, you can bring it with you. The Kimpton Aertson is a seriously pet-friendly hotel-there are no pet fees, nor are there any breed, size, or even species restrictions.
5. Bobby Hotel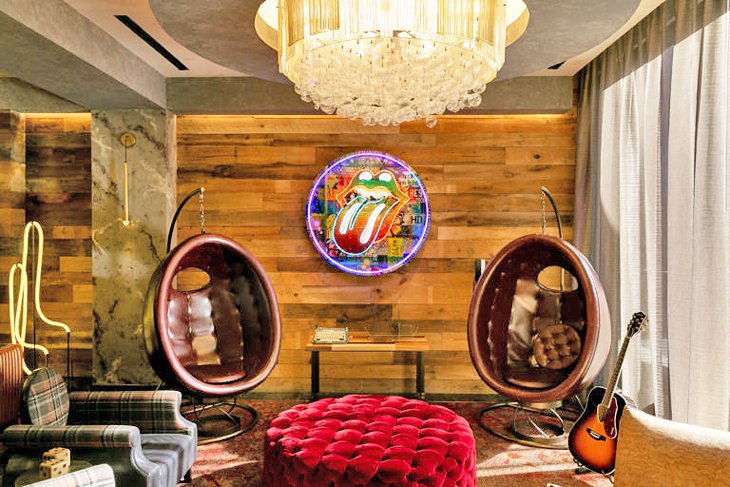 Accommodation: Bobby Hotel
The Bobby is a hip lifestyle hotel, also located on Printer's Row in downtown Nashville's Arts District. The carefully curated rooms and suites are inspired by the owner's international travels, and each is themed after an exotic international destination.
It's all about cool here-there's a cool rooftop pool, and the hotel's house car is a very cool 1963 Lincoln Continental.
The hotel has its own pet ambassador, Sasha the dog, who will probably greet you in the lobby. Each room has a towel with Sasha's face on it, and you can buy one and take it home with you. The hotel donates the $25 price to the local animal shelter, where they got Sasha.
Only dogs are welcome at the Bobby, and there's a $50 fee per dog per stay. You can bring up to two dogs, and there are no size or breed restrictions.
6. Noelle, Nashville, a Tribute Portfolio Hotel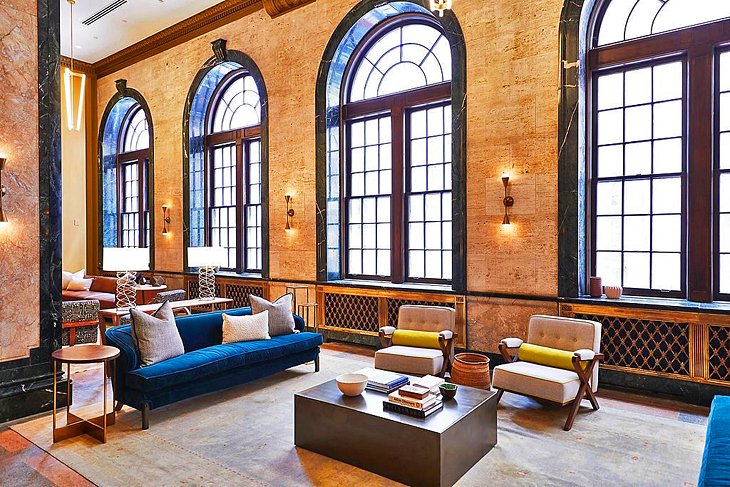 Accommodation: Noelle, Nashville, a Tribute Portfolio Hotel
This boutique property in downtown Nashville calls itself an "experiential" hotel. That means it puts guests in a real, local neighborhood and surrounds them with authentic, Nashville stuff-like local food, art, music, style, and design. It's all about being authentic and local. Noelle is located downtown, next to Printer's Alley and a block from Broadway.
The hotel is art-driven, with local designers and artists creating the entire space and experience, from the lobby to staff uniforms to the stylish guest rooms. Noelle is part of Marriott's Tribute Portfolio of unique, design hotels.
The Noelle welcomes pets of all shapes and sizes at no additional charge. They do ask that you advise them about your pet when making a reservation or before arrival.
7. Residence Inn Nashville Downtown Convention Center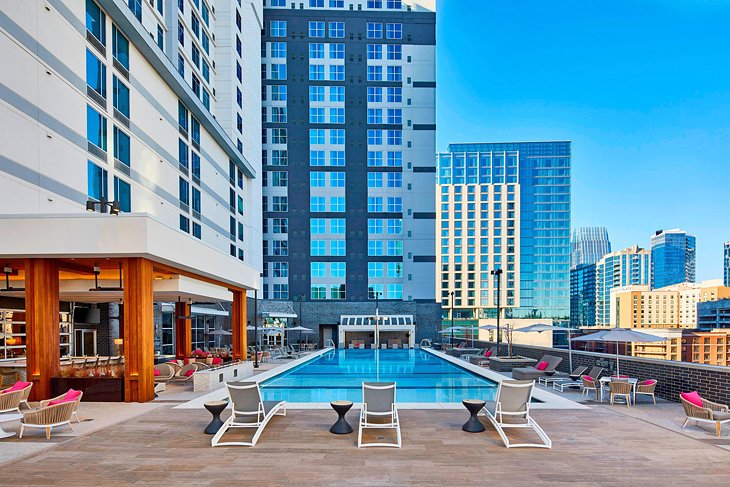 Accommodation: Residence Inn Nashville Downtown Convention Center
This newer, smoke-free hotel offers a budget, boutique all-suite experience in the heart of the downtown area. The hotel is 22 stories tall (upper floor units have great views), but there are only 136 suites. Those large suites have full kitchens. and the hotel offers a complimentary grocery shopping service to fill up your pantry and refrigerator. The accommodations feel more like apartments than hotel rooms.
It's great for country music fans, as this Residence Inn is only a five-minute walk away from the Country Music Hall of Fame and Museum and a 10-minute walk to the Ryman Auditorium.
Basic in-room Wi-Fi is free as is the daily hot breakfast buffet. That breakfast is served in a nice restaurant on the top floor called KV5, which also serves dinner, and the hotel has a tapas bar called the AC Lounge off the lobby.
Pets are welcome with a $100 pet fee per stay.
8. Fairlane Hotel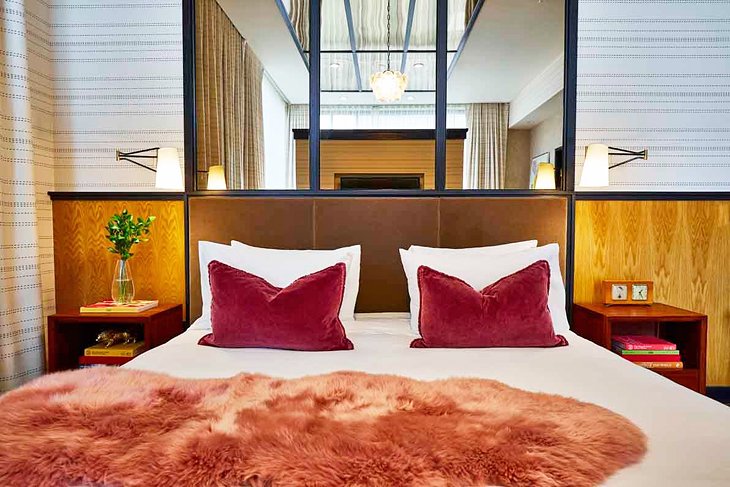 Accommodation: Fairlane Hotel
The Fairlane calls itself a "retro-modern boutique hotel" that is "fueled by nostalgic hints of design and culture." That means it's a newly constructed, very hip hotel, with a lot of old-looking materials and surfaces and an overall cool vibe. Rooms and suites are all unique, with a luxurious yet funky style.
If you really want to pamper your pet, why not stay in the hotel's seriously amazing penthouse. The rooftop unit has more outdoor terrace than indoor space (2,250 square feet outside vs. 1,805 square feet inside) and accommodates 10 people.
The Fairlane is downtown, and you're surrounded by incredible views of the city skyline and surrounding area. Aside from having Nashville's best suite, the hotel is a popular site for parties and events.
Dogs under 50 pounds are welcome at the Fairlane with a $150 (plus tax) fee per stay. Guests should contact the hotel's guest services team in advance to advise them you'll be coming with a pet.
9. The Westin Nashville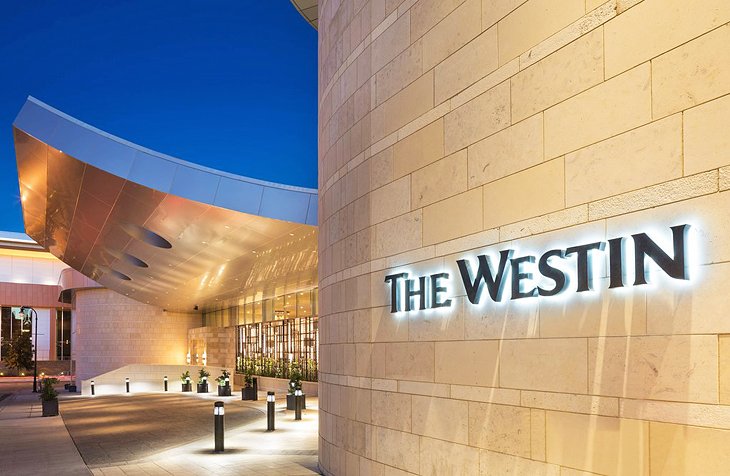 Accommodation: The Westin Nashville
This downtown, recently renovated luxury hotel is close to Broadway and the city's musical epicenter. The hotel aims to be a soothing contrast to the city's high energy, especially with regards to the rooms. Good sound insulation, the Westin Heavenly Bed, and a spa-like bathroom add to the experience.
There's a full spa at the hotel along with a big WestinWORKOUT signature fitness studio. Guests have two dining options to choose from, an excellent steakhouse called Oak along with an American brasserie-style cafe.
There's an outdoor heated "dipping" pool on the roof, and a larger, heated indoor pool as well. You can order food from the rooftop lounge and eat it in the dipping pool.
Up to two pets are welcome to join you at the Westin Nashville. There is a $75 pet fee (they call it a non-refundable deposit) taken when you make the reservation.
10. Sheraton Grand Nashville Downtown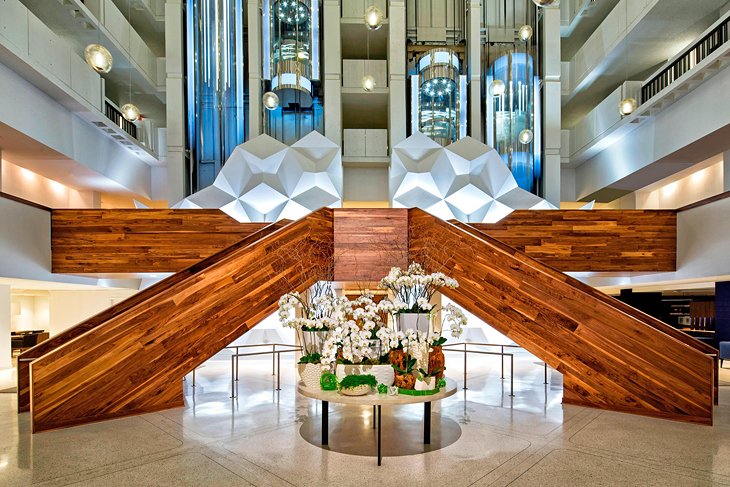 Accommodation: Sheraton Grand Nashville Downtown
The Sheraton Grand is a large, almost-500-room hotel in the downtown Arts District. It puts you within easy walking distance of most of the city's historic and music sites.
Rooms are modern and stylish, some with a view of the classical state capital building. Amenities like luxury bedding, a rain shower head in the bathroom, and 24-hour room service enhance your stay.
The hotel's restaurant serves American fare and is open for breakfast, lunch, and dinner. Broadway Kitchen is the Sheraton's Southern cooking breakfast café, popular with both guests and locals.
Guests may bring up to two pets with them, and the hotel charges a $125 pet fee per stay.
11. Thompson Nashville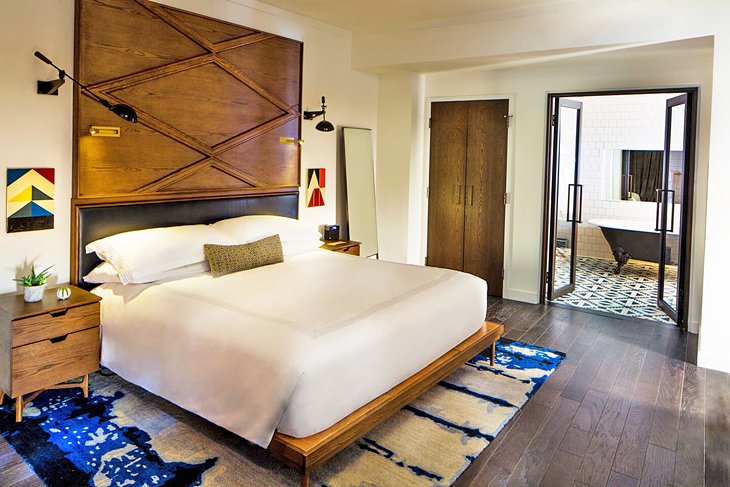 Accommodation: Thompson Nashville
This new neighborhood boutique luxury hotel is the focus of the city's newest cool downtown neighborhood, The Gulch. Rooms and suites at the Thompson have floor-to-ceiling windows with hardwood floors and a cool, mid-century modern design. Most of those rooms and suites have spectacular views, from Downtown to SoBro (south of Broadway).
Foodies love the Thompson, as it's the home of Marsh House, a very popular Southern-focused seafood restaurant that uses exclusively local products and providers.
The Thompson Nashville is extremely pet friendly, with two floors of pet-friendly rooms. There's no extra charge, dogs and cats are welcome, and there are no size or breed restrictions.
12. 21c Museum Hotel Nashville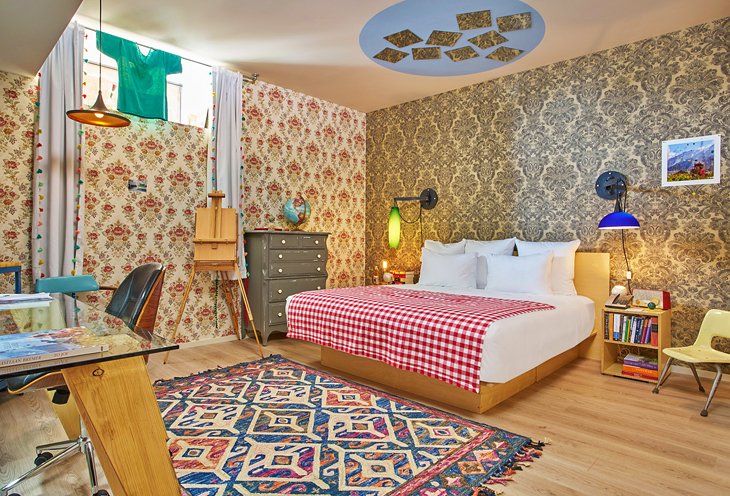 Accommodation: 21c Museum Hotel Nashville
This very cool boutique hotel on 2nd Avenue in downtown Nashville is also a large modern art museum. There are 124 stylish rooms, including 14 suites. The rooms at the 21c Museum Hotel are very sleek and modern, with wood floors and high ceilings. They boast large windows with some great views of the area. There's a 24-hour fitness center, big HDTVs in each room, and free in-room Wi-Fi. Of course they also feature original works of art from the museum's large collection.
The 21c museum has over 10,000 square feet of exhibition space and features a range of permanent and changing installations. It's free and open to the public 365 days a year. Docent-led tours are done Tuesday and Thursday evenings.
The 21c complex is also home to a popular restaurant, Gray & Dudley, named for the vintage-1900 building it's all housed within.
The hotel has some pet-friendly rooms, and dogs under 50 pounds are welcome at the 21c. A $75 cleaning fee will be charged for each stay.
13. JW Marriott Nashville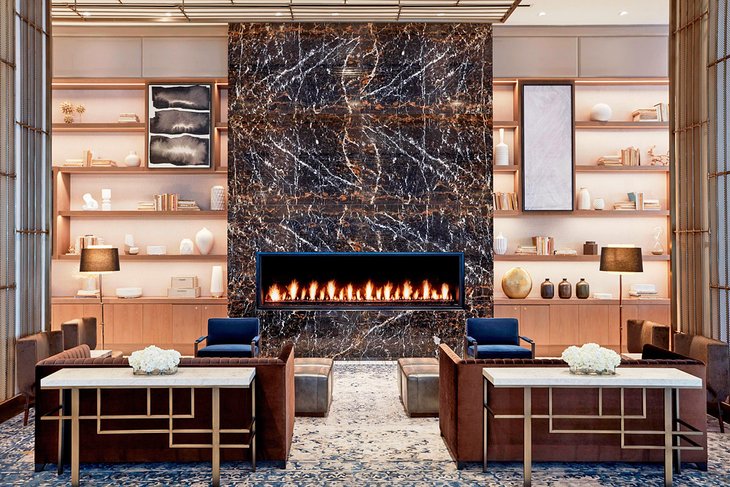 Accommodation: JW Marriott Nashville
In the heart of downtown Nashville, the JW Marriott is located adjacent to Music City Center and just two blocks from Broadway and the Gulch neighborhood. The luxury hotel is in a unique, curvy glass tower building. It has great views from all rooms and suites, but the higher floors offer the very best skyline panoramas. All have stylish and contemporary decor.
Amenities include a fabulous rooftop pool deck with views across the city. Cabana rentals are available, and there is a poolside grill restaurant. It's one of several dining options on-site. The other is the only Nashville outpost of Michelin-starred chef Michael Mina's BOURBON STEAK. Also on the grounds is a full-service spa and a 24-hour fitness center with Peloton bikes.
The JW Marriott welcomes up to two pets per room. There is a non-refundable $100 pet deposit per stay, and there is a 50-pound max weight for dogs.