12 Top-Rated Resorts in Asheville, NC
We may earn a commission from affiliate links ()
Blessed with beautiful scenery, the area around Asheville, North Carolina has long been a popular vacation destination for Americans. The city is also home to some wonderful resorts, making this a great place to spend some time.
Those looking to sample a quintessential Carolinian vacation won't go wrong with any of the great places to stay associated with the magnificent Biltmore Estate in the Blue Ridge Mountain region around Asheville. Here, you can choose from the historic Inn on Biltmore Estate, the elegant Biltmore Village Inn, or even the spacious Residences at Biltmore, each of which offer a high degree of luxury and proximity to this leading attraction.
Also worth considering are the Omni Grove Park Inn and the exquisite boutique-style Grand Bohemian Hotel. Or for something a little more intimate, why not book into the charming Abbington Green Bed & Breakfast Inn & Spa?
Whatever your preference, you'll find the perfect resort to match your travel style with our list of the best resorts in Asheville, North Carolina.
1. The Inn on Biltmore Estate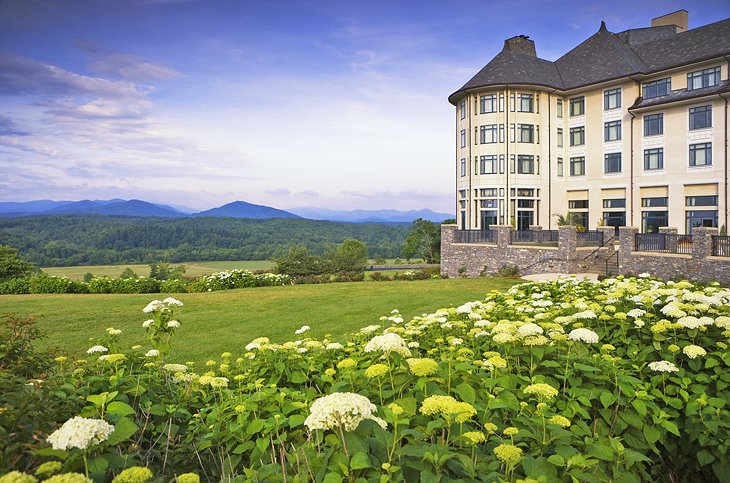 Accommodation: The Inn on Biltmore Estate
The ultimate place to stay when visiting Asheville, The Inn on Biltmore Estate offers a truly unique luxury experience. Built in 1895 as the home of the Vanderbilt family, this 8,000-acre country estate wouldn't look out of place in Europe and is a delight to explore.
A highlight of any stay in this 4-star resort is having the chance to wander the famous Biltmore gardens, and, of course, being pampered! In addition to its 24-hour concierge and room services, guests can enjoy a full-service spa, on-site dining (both fine dining and casual restaurants are available), as well as customized in-room dining options.
Shopping (with room delivery) and a variety of great live entertainment are also available for guests to enjoy. There's also a fitness center and a heated outdoor swimming pool to work off all those extra pounds.
Accommodations consist of a mix of elegantly appointed and stylish hotel rooms and larger suites. Popular choices for couples include the deluxe rooms. These chic units come with a choice of two double beds or a king, or the bright and spacious grand king room with its additional seating area and expanded bathroom with a stand-alone shower and bathtub. For something truly memorable, opt for one of the larger individually named suites.
Address: 1 Antler Hill Road, Asheville, North Carolina
2. The Omni Grove Park Inn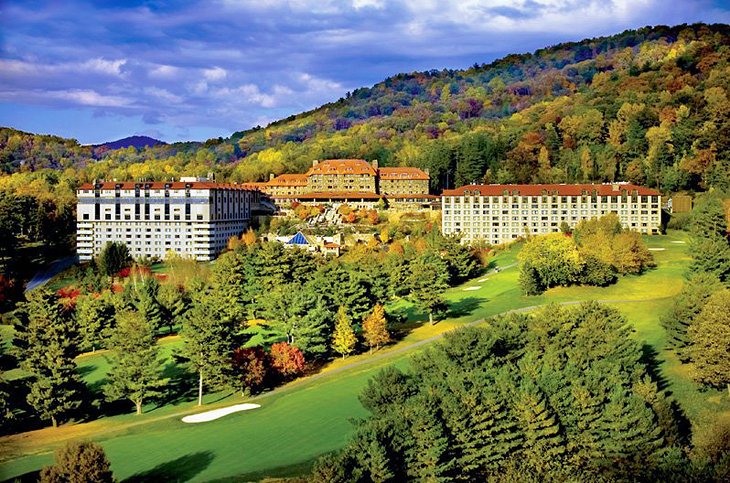 Accommodation: The Omni Grove Park Inn
Omni Hotels and Resorts have a well-deserved reputation for excellence when it comes to guest satisfaction, a tradition that's very apparent at their Grove Park Inn property in Asheville. This elegant 4-star resort has been around for more than 100 years, during which time it has been frequently renovated and expanded.
Today, a stay at this exquisite location includes experiencing bespoke treatments in the huge subterranean spa, enjoying exquisite dining experiences with wonderful views over the Blue Ridge Mountains, and relaxing by the swimming pool.
Those interested in sports and outdoor activities will be kept busy on the resort's six tennis courts (three indoor, three outdoor), the championship golf course, and a sports complex with fitness center. Add to this on-site shopping, and you're all set for a great vacation.
Grove Park Inn consists of 513 well-appointed guest rooms. While all are chic, bright, and spacious and come with mini-fridges and microwaves, why not indulge yourself with a stay in one of the larger suites? Benefits of these roomy units include having access to a private adults-only club area with concierge service, a great complimentary breakfast, hors d'oeuvres, and valet parking.
A large penthouse suite is also available. This comes with additional living space and a full kitchen. Some pet-friendly rooms are available, but be sure to request one when booking.
Address: 290 Macon Ave, Asheville, North Carolina
3. Grand Bohemian Hotel Asheville, Autograph Collection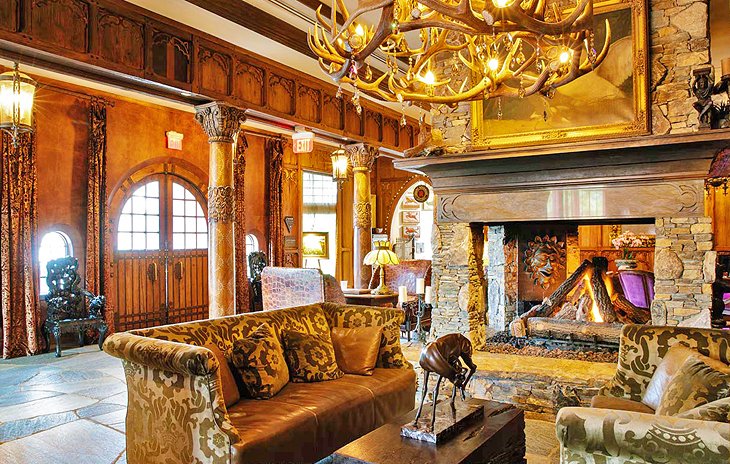 Accommodation: Grand Bohemian Hotel Asheville, Autograph Collection
The luxurious Grand Bohemian Hotel Asheville is located close to the famous Biltmore Estate and is a great choice for those wanting to explore this area of the Blue Ridge Mountains. As part of the Autograph Collection of boutique hotels, standards are high. As a result, guests at this sumptuous 4-star resort can enjoy such inclusions as elegant décor, original art, and upgraded beds and bedding.
Other standard features include spacious marble bathrooms with large soaker tubs and walk-in showers (bathrobes are, of course, included). A number of rooms also come with additional seating areas. Some accessible units are available upon request, as are a few pet-friendly rooms.
There's plenty to do around the resort, too. Notable amenities include a 24-hour fitness center, a full-service spa, and even an art gallery. World-class on-site dining experiences are available, along with in-room and private dining options.
There is also plenty of function space, including a ballroom complete with crystal chandeliers and gold leaf paint, making this a popular spot for weddings.
Address: 11 Boston Way, Asheville, North Carolina
4. Biltmore Village Inn Bed & Breakfast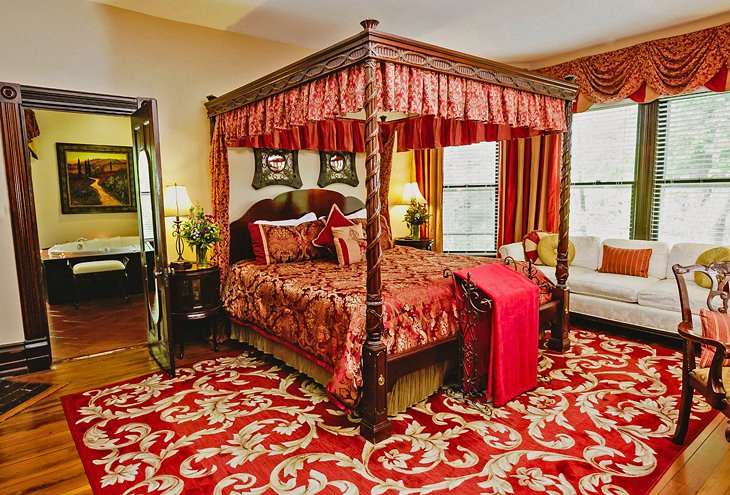 Accommodation: Biltmore Village Inn Bed & Breakfast
Another friendly place to stay for those looking to explore the magnificent Biltmore Estate is the delightful 4-star Biltmore Village Inn Bed & Breakfast. This quaint Victorian-era B&B dates back to 1892 and is close to the estate and popular among couples for its romantic setting and magnificent views toward the Blue Ridge Mountains.
The resort's rooms are luxurious, elegantly appointed, and decorated in a style that reflects the building's illustrious past as the former home of a lawyer to the Vanderbilt family.
If available, opt for the spacious upper-level "Kathleen" suite. Encompassing the building's original tower room, this exquisite inn comes with a king bed, a large bathroom with a separate stone shower, a living room plus seating area, as well as a mini-fridge. Another great choice for couples is the cozy "Wingate Room," which also includes a lovely fireplace.
A highlight of any stay is the delicious full breakfast included with the cost of a stay. Also fun is spending an evening with other guests at the fire pit, or relaxing and enjoying the wonderful views from the large wraparound deck at the main building. Live music is also featured, and the resort has long been a popular venue for weddings.
Address: 119 Dodge Street, Asheville, North Carolina
5. The Residences at Biltmore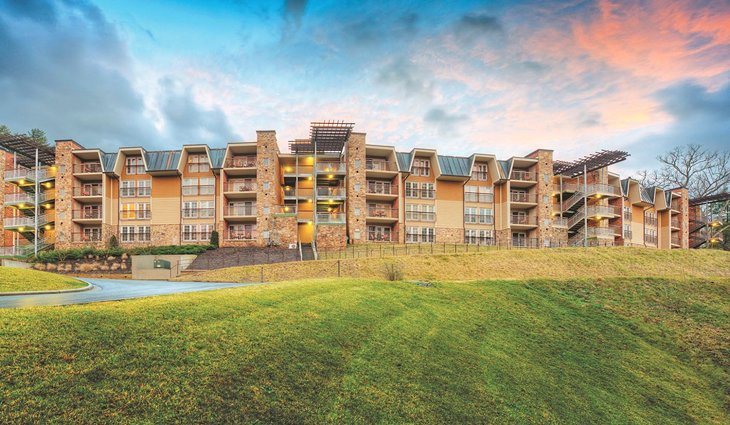 Accommodation: The Residences at Biltmore
The 4-star Residences at Biltmore is a great option for those requiring larger accommodations or longer stays. Accommodations on offer here include everything from cozy studio units right up to spacious three-bedroom suites.
A popular option for couples or parents traveling with a single child are the studios. These charming units consist of a full kitchen with modern appliances, as well as large-screen HDTVs, stone fireplaces, roomy balconies, and pullout couches.
Need additional space? Then why not consider a two- or three-bedroom condo-style unit. These spacious accommodations come with full kitchens, large bathrooms with jet bathtubs, and laundry facilities. Pets are welcome, but expect to pay an additional fee.
The resort boasts a 24-hour concierge service that's on hand to arrange restaurant visits and activities, from golf to horseback riding and white water rafting. Guests will also enjoy discounted admissions to the historic Biltmore Estate.
The property is also within an easy walk of some of Asheville's many attractions, as well as its dining, shopping, and entertainment opportunities.
Address: 700 Biltmore Ave, Asheville, North Carolina
6. The Esmeralda Inn, Restaurant & Spa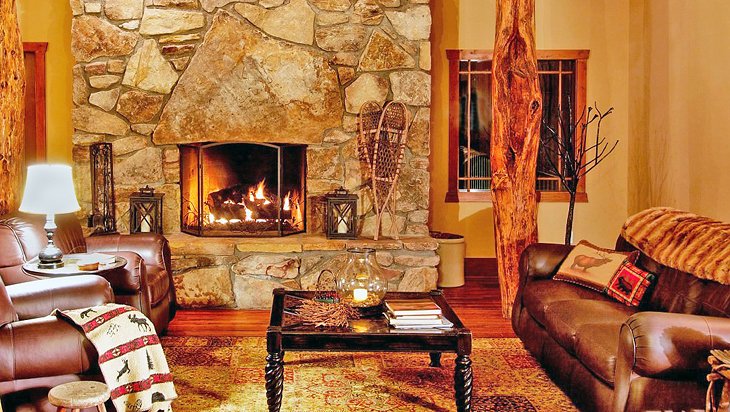 Accommodation: The Esmeralda Inn, Restaurant & Spa
Located in Chimney Rock and just a short drive from Asheville, the delightfully quirky Esmeralda Inn, Restaurant & Spa is a pleasant alternative to the larger hotels and resorts in the area. Built in 1892, many of the original features of this historic inn have been enhanced by renovations and upgrades, including the original hardwood floors used in the hit movie, Dirty Dancing.
A highlight of a stay here is the fantastic food served in this 4-star resort's award-winning restaurants. If you're up for it, be sure to request the wonderful chef's table experience. A hearty breakfast is included with your stay.
Also worth mentioning are the great river and lake views; the recreation area with its billiard table, air hockey, foosball, and board games; and a reading area. There's also a gift shop and full-service spa.
With just 14 rooms plus three stand-alone cabins (including a honeymoon cottage), it's certainly an intimate affair. Standard features include elegant décor and fixtures, genuine fireplaces, spacious bathrooms, and hot tubs. The largest premium rooms come with additional living space, king beds, and direct access to a large furnished private terrace area.
Address: 910 Main Street, Chimney Rock, North Carolina
7. Abbington Green Bed & Breakfast Inn & Spa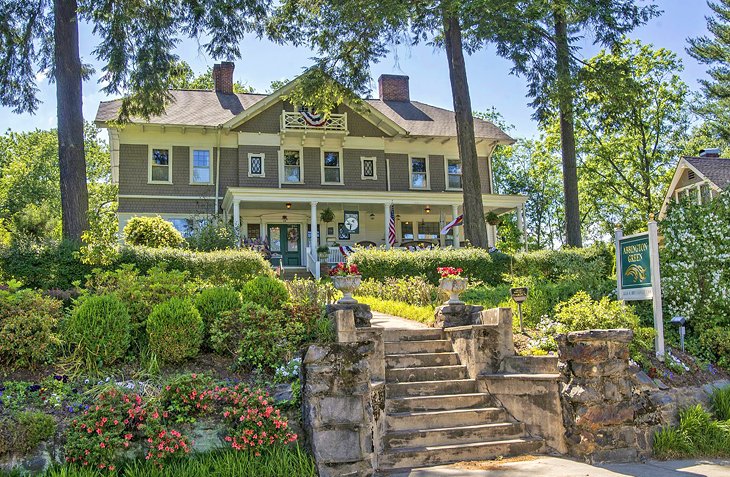 Accommodation: Abbington Green Bed & Breakfast Inn & Spa
Those seeking a more intimate getaway experience in Asheville should give serious consideration to making a reservation at the quaint and cozy Abbington Green Bed & Breakfast Inn & Spa. This London, UK-themed 4-star B&B offers elegantly appointed rooms named after different parts of the city.
Popular choices include the spacious Holland Park suite. This elegant accommodation option consists of five rooms, including a private entry, two bedrooms, plus a sitting and dining room. It also comes with one and a half bathrooms, a full kitchen, fireplace, and a furnished porch (this unit is also pet-friendly).
A highlight of a stay at Abbington Green is the sumptuous breakfast included with your stay. Made using locally sourced ingredients, it's a delightful way to start your day exploring the area. Be sure to spend time enjoying the property's wonderful English-style gardens, too. A variety of spa services are also available.
Address: 46 Cumberland Cir, Asheville, North Carolina
8. Highland Lake Inn & Resort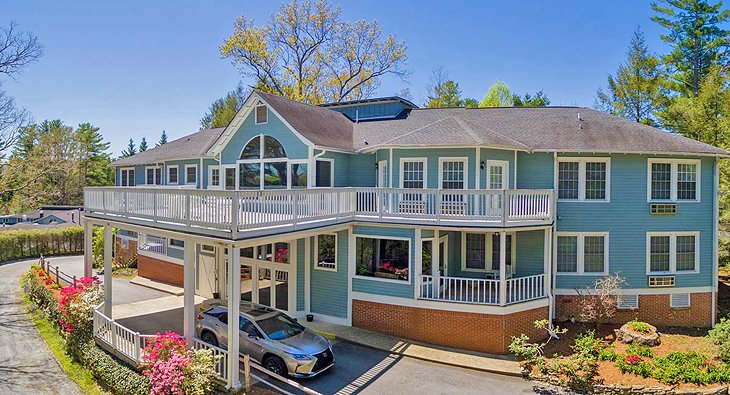 Accommodation: Highland Lake Inn & Resort
Located in the community of Flat Rock just a few miles south of Asheville, Highland Lake Inn and Resort is a great option for those wanting to experience an authentic country vacation in North Carolina.
Set amid 26 acres of hilly countryside and boasting its own private lake, this popular 3-star resort offers plenty of first-class amenities, including an on-site casual dining restaurant that offers in-room dining.
Other amenities include a heated, covered outdoor swimming pool with a sunbathing terrace, as well as a full-service spa that offers in-room massages and couples packages. Also fun are sporting activities such as volleyball, badminton, tennis, horseshoes, and fishing.
A variety of accommodation options are available. These include 16 spacious and uniquely decorated rooms complete with a large bathroom, living room, lobby, full kitchen, library, and sun-room.
The charming cabin rooms are another option worth considering. Set in duplex units with a choice of king or queen beds, they also feature spacious furnished porches. Some pet-friendly units are available.
Address: 86 Lily Pad Ln, Flat Rock, North Carolina
9. Crowne Plaza Hotels & Resorts Asheville, an IHG Hotel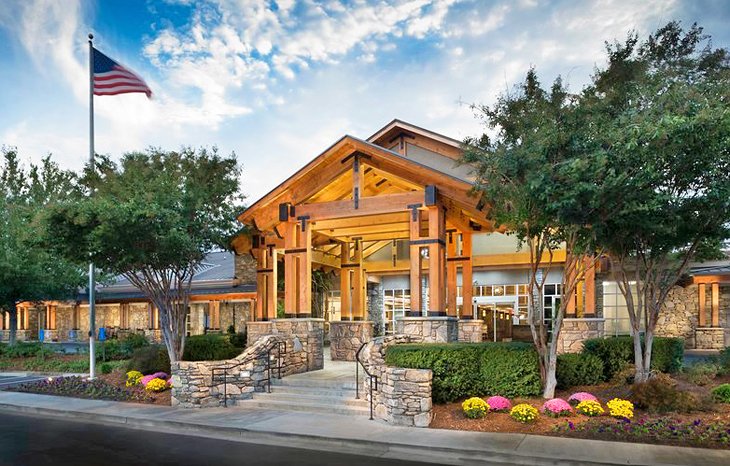 Accommodation: Crowne Plaza Resort Asheville
Boasting facilities such as a fitness center that offers classes and modern training equipment, a fine-dining restaurant, and concierge services, the Crowne Plaza Hotels & Resorts Asheville, an IHG Hotel, is another great 3-star option whatever your reason for being in the area.
Business travelers will respect the inclusion of meeting rooms and a business center, while couples enjoy such luxuries as in-room dining and a great full-service spa. There are also two large heated swimming pools, one outdoors and one indoors.
While only standard hotel rooms are available, they're bright, well-appointed, and clean, and include extremely comfortable beds and bedding. A number of pet-friendly rooms can be reserved, but be sure to notify the resort at the time of booking.
Address: 1 Resort Drive, Asheville, North Carolina
10. The 1927 Lake Lure Inn & Spa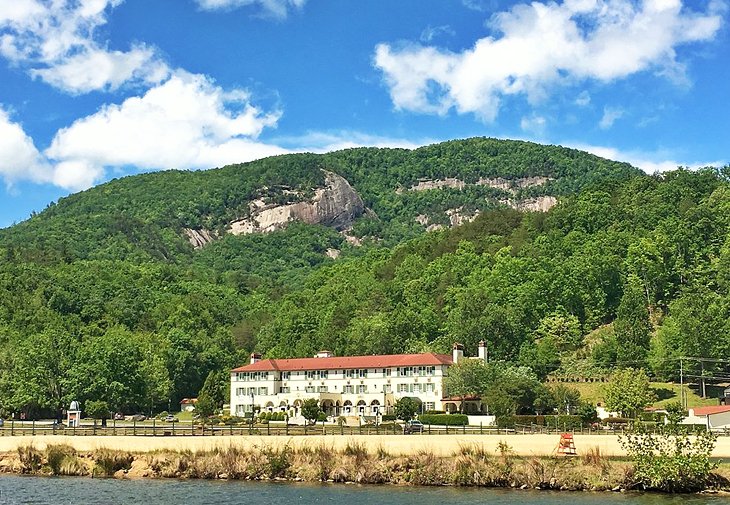 Accommodation: The 1927 Lake Lure Inn & Spa
The 1927 Lake Lure Inn & Spa is another great choice for those who enjoy a cozy and intimate vacation experience in a historic property. This beautiful old inn has maintained much of its original charm and offers a pleasant mix of the new with its modern amenities, and the old, seen everyday with its large collection of antiques.
This 3-star inn is popular for those seeking attractive function spaces and can cater to a maximum of 200 guests. It's also close to the public beach at Lake Lure, making it an ideal location for those who enjoy water sports. On-site dining is available in the popular restaurant as is a full-service spa.
A great choice of accommodation (the inn has 69 well-appointed units) are the spacious Jacuzzi rooms. These elegant rooms come with features such as king beds, separate seating areas, and great views over the surrounding countryside, and are just one of the many reasons it has become a popular wedding and honeymoon destination.
Address: 2771 Memorial Hwy, Lake Lure, North Carolina
11. Rumbling Bald on Lake Lure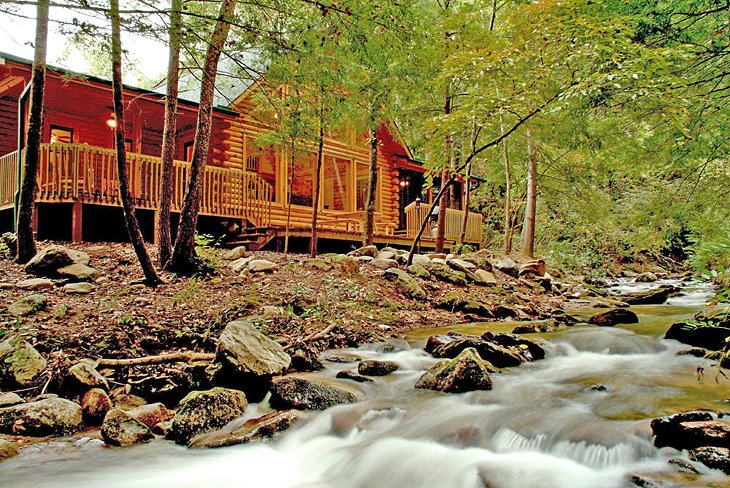 Accommodation: Rumbling Bald on Lake Lure
Named after a nearby mountain, Rumbling Bald on Lake Lure offers guests a charming, traditional getaway in an idyllic setting. A highlight of a stay here is exploring the resort's more than 3,000 acres, which includes many biking and hiking trails, as well as a private beach.
Other amenities of note include a water park for kids, a heated swimming pool, the use of watercraft such as kayaks, two championship golf courses, and restaurants. The resort also offers lunchtime boat excursions on Lake Lure. There's also a gift shop, a hair salon, a spa, a fitness center, and a business center.
While a variety of room options are available, a great choice is the spacious villa unit. This high-end suite comes with a king bed, pull-out queen couch, large bathroom, and handy kitchenette with a range of appliances (including a dishwasher), plus a dining area and furnished deck. There's also a large home for rent, too, which is perfect for larger groups and families.
Address: 112 Mountains Blvd, Lake Lure, North Carolina
12. Homewood Suites by Hilton Asheville - Tunnel Road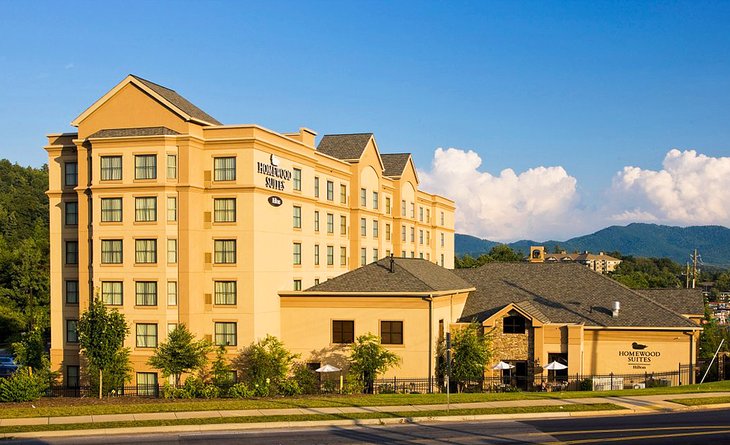 The hotel features spacious studio and one-bedroom suites, and guests appreciate the inclusion of well-equipped kitchens and dining areas with tables and seating, as well as work desks. They also feature handy pull-out couches for those traveling with kids, while the larger one-bedroom units feature separate living rooms, too.
While on-site amenities may not be as numerous as some of the other resorts at the top of this list, they're certainly worthy of a mention. In addition to free parking, guests can make use of the indoor swimming pool, terrace with BBQs, and an exercise room. A complimentary buffet breakfast is included, and snacks can be purchased from the on-site convenience store. A business center and laundry facilities are also available.
Address: 88 Tunnel Rd, Asheville, North Carolina