12 Top-Rated Resorts on Vancouver Island
Author Michael Law has traveled Vancouver Island extensively.
Located a ferry ride away from the BC mainland and the city after which it's named, Vancouver Island is something of a microcosm of all that's great about Canada. Not only is it big – its land mass is just shy of that of Ireland – but it also contains some of the country's most stunning scenery.
And it's a beauty that's easy to explore thanks to wilderness lodges like The Wickaninnish Inn and Clayoquot Wilderness Resort, both located mid-island near spectacular Clayoquot Sound Biosphere Reserve. Accommodation can be expensive in the peak summer season, however many resorts offer a variety of low-season packages worth considering, including some that feature one of the region's most exciting past-times: storm watching.
Those preferring cultural activities and attractions, and fun things to do offered by an urban landscape also won't be disappointed. Victoria, the island's largest city and BC's capital, is where you'll find luxury accommodations at places like Brentwood Bay Resort & Spa and the Oak Bay Resort, each just a short distance from the city's downtown core.
For more on the best places to visit and stay, be sure to read our list of the top resorts on Vancouver Island.
1. The Wickaninnish Inn, Tofino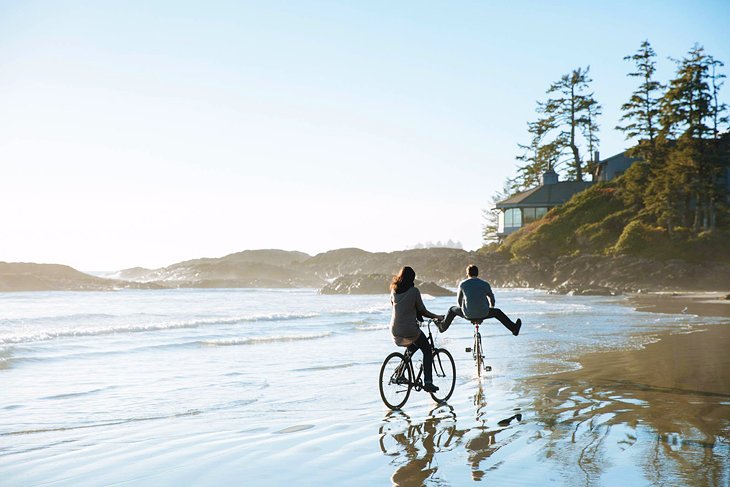 Accommodation: The Wickaninnish Inn
Since opening in 1996, The Wickaninnish Inn in Tofino has been at the forefront when it comes to providing guests with unforgettable Canadian wilderness experiences. Part of the luxury Relais & Châteaux hotel group, this historic inn consists of 75 luxury lodge-style accommodations overlooking the Pacific Ocean and offers a mix of standard rooms featuring spacious bathrooms with walk-in showers and large bathtubs.
For those needing even more space, larger family suites are also available and provide guests with plenty of additional room to spread out. All rooms come with fireplaces along with good-sized balconies boasting great ocean views. Pet-friendly units of all types are available and come with bedding and treats (pet-sitting services are also available for a fee).
There's plenty of fun things to do on-site, too. Highlights include indulging in gourmet dining experiences, enjoying the spa services, plus sunbathing, swimming, and water sports at adjoining Chesterman Beach.
Those venturing a little farther afield can explore nearby Pacific Rim National Park Reserve. Storm watching is another popular activity during the winter months, and The Wickaninnish Inn even provides rain gear to keep guests dry. Kayaks and canoes are also available to explore the stunning coastline, with guided tours available as a fun option.
Note that the Wickaninnish Inn closes each January for about five weeks for restoration and renovation projects.
Address: 500 Osprey Lane, Tofino, British Columbia
2. Clayoquot Wilderness Resort, Tofino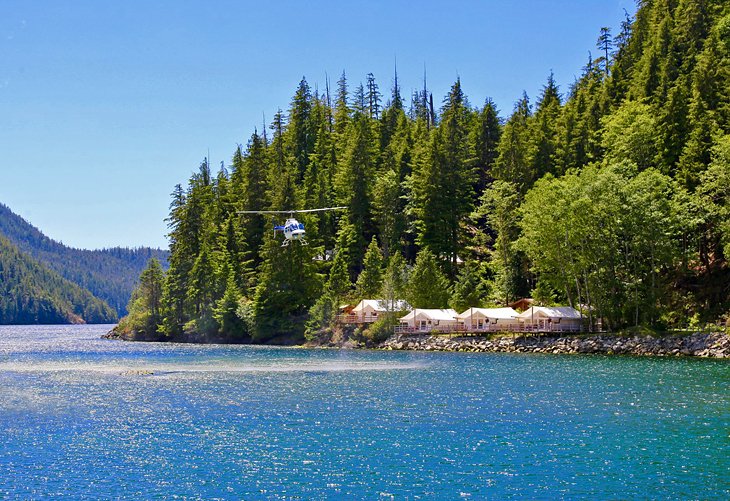 Accommodation: Clayoquot Wilderness Resort
When it comes to wilderness lodgings, few can match the unique accommodations on offer at Clayoquot Wilderness Resort. One of the best resorts in Tofino and boasting magnificent views over Clayoquot Sound, this unique safari-style experience offers guests the chance to spend their vacation in luxury tent-like accommodations. Each of the 25 canvas-covered suites is elegantly decorated and furnished and boasts all the conveniences needed to ensure a memorable stay.
The Clayoquot Wilderness Resort was purchased by the Baillie Lodges group and has recently completed significant upgrades. The resort's renovations include the 25 tent suites, as well as work on the common areas and restaurant, and the Healing Grounds Spa was reimagined.
Notable features include spacious living quarters; large bedrooms with deluxe king beds; and chic bathrooms with heated floors, walk-in showers, and soaker tubs. On-site amenities include a delicious array of freshly prepared meals in the log Cookhouse.
The outdoor adventures included in your nightly accommodation fee are amazing. Some of the highlights are guided rainforest tours, hiking through Clayoquot Sound Biosphere Reserve, kayaking, whale watching, mountain biking, and fly fishing. After all that activity, be sure to book a complimentary 60-minute massage.
Rates are per tent, with a maximum of two persons, and include gourmet meals (breakfast, lunch, dinner, and snacks) and premium refreshments. The minimum stay is three days.
The lodge is not located in the town of Tofino; access is via a 35-minute boat ride from town or a seaplane direct from Vancouver. Transport to/from the resort is not included in the rate. The Clayoquot Wilderness Resort operates seasonally from mid-May until the third week of September.
Address: 1 Clayoquot, Tofino, British Columbia
3. Long Beach Lodge Resort, Tofino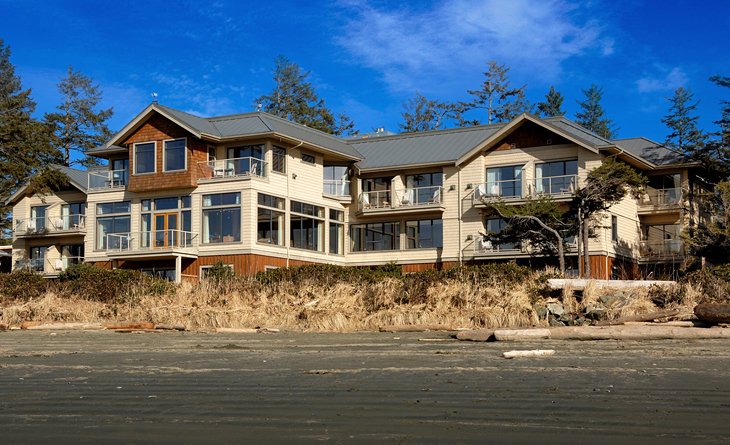 Accommodation: Long Beach Lodge Resort
Tofino's Long Beach Lodge Resort recently celebrated its 20th year in business. It's no surprise that this luxury lodge continues to thrive due to its great service and location.
The resort provides a number of first-rate accommodation options for those seeking a base from which to explore northern Vancouver Island. In addition to the 41 elegantly decorated rooms in the main lodge overlooking the ocean, Long Beach has 20 lovely cottages located adjacent to its beautiful shoreline.
Offering all the amenities needed for larger groups and families, these spacious Rainforest Cottages come equipped with modern kitchens, dining and living rooms, fireplaces, two bathrooms, plus laundry facilities. The oversized decks are another nice feature, especially as they come with private hot tubs.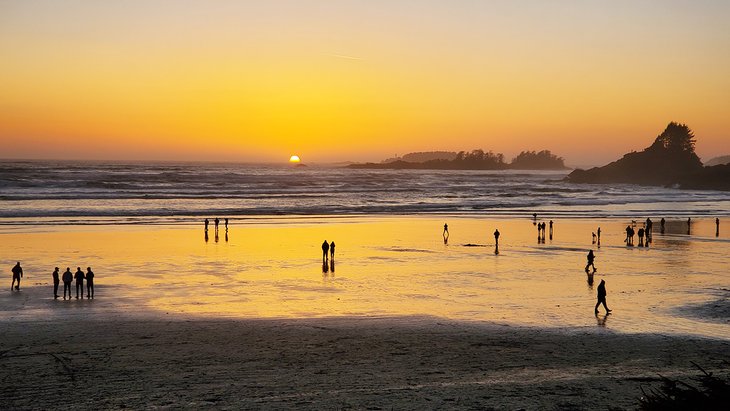 On-site amenities include the comfortable social spaces in the main lodge with its large central stone fireplace. You'll also enjoy the same great views from the resort's dining room.
Outdoor fun includes exploring the resort's eight acres of land; wandering Cox Bay Beach, one of the best beaches in Tofino in front of the resort; and taking advantage of the surf rental facility.
Address: 1441 Pacific Rim Highway, Tofino, British Columbia
4. Pacific Sands Beach Resort, Tofino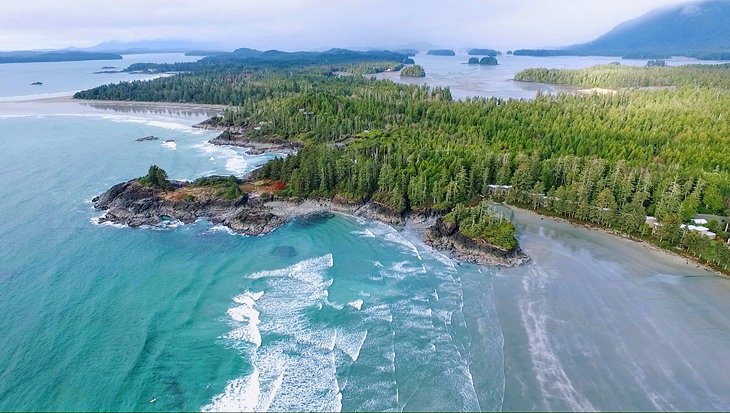 Accommodation: Pacific Sands Beach Resort
Pacific Sands Beach Resort is the perfect getaway destination for those seeking to explore the many natural wonders of northern Vancouver Island, including Cox Bay and Pacific Rim National Park, each just minutes away.
Accommodation options consist of standard hotel rooms, spacious suites, and lovely beachfront cottages able to accommodate families or large groups. These luxury units come with full kitchens, additional living rooms, real fireplaces, and hot tubs.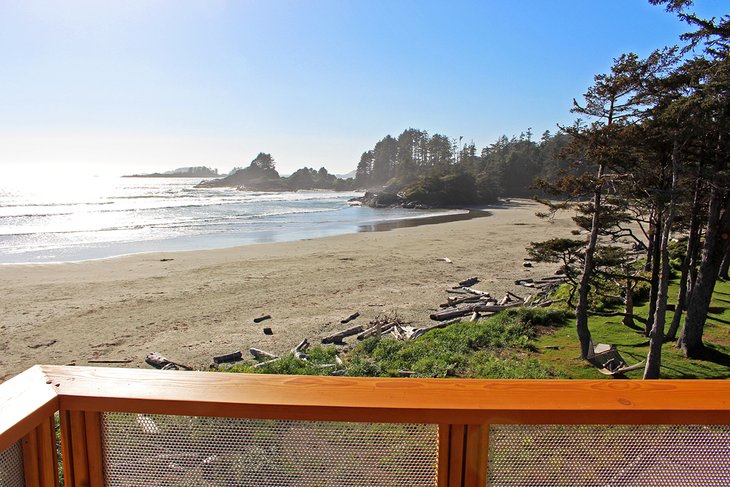 The resort offers plenty of fun activities and things to do for kids and adults alike, including fire pits for marshmallow roasting and sing-a-longs. Surfing, swimming, and water activities are available on the lovely beaches just a short stroll away. Other activities to enjoy include easy access to nearby trails for hiking and biking, yoga classes, whale watching, fishing, golf, beachcombing, and storm watching (an activity that can be enjoyed in all seasons).
The resort's proximity to Tofino, where guests can enjoy great dining and shopping, is also a plus.
Address: 1421 Pacific Rim Highway, Tofino, British Columbia
5. Brentwood Bay Resort & Spa, Victoria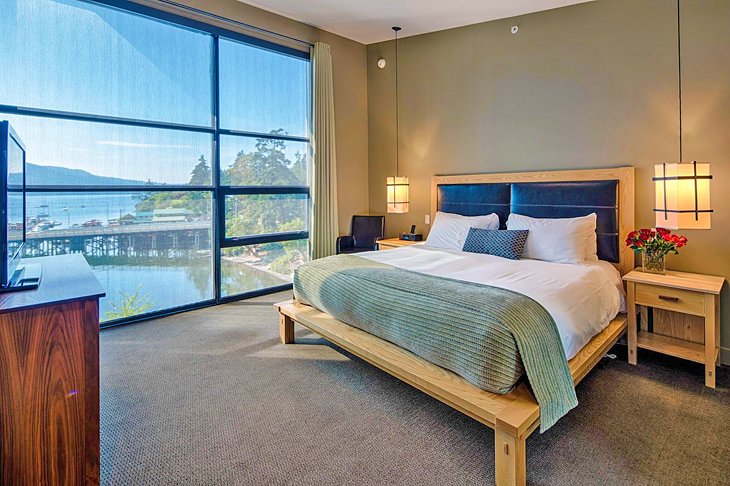 Accommodation: Brentwood Bay Resort & Spa
Brentwood Bay Resort & Spa is the best of both worlds: guests are presented with an unparalleled opportunity to experience some of the best natural and man-made attractions on southern Vancouver Island. Located overlooking Saanich Inlet on the perimeter of Victoria (the views over the water are amazing), this luxury resort provides a choice of attractive accommodations.
Top marks go to the stylish ocean-view suites, which add a high degree of comfort with the inclusion of a fireplace and, a particularly nice touch, matching bathrobes and slippers. If you can swing it, opt for the suite's slightly larger one-bedroom variation, complete with its own hot tub.
On-site amenities include a popular fine dining restaurant, a gym, and a spa. Outdoor amenities include an on-site marina, where guests can rent a motorboat, kayak, or paddleboard — the perfect way to explore the coastal area and its wildlife. Guests regularly report seeing rare eagles, along with marine life such as seals and whales. If time allows, be sure to explore nearby Butchart Gardens and downtown Victoria, one of Canada's prettiest cities.
Address: 849 Verdier Avenue, Victoria, British Columbia
6. Oak Bay Beach Hotel, Victoria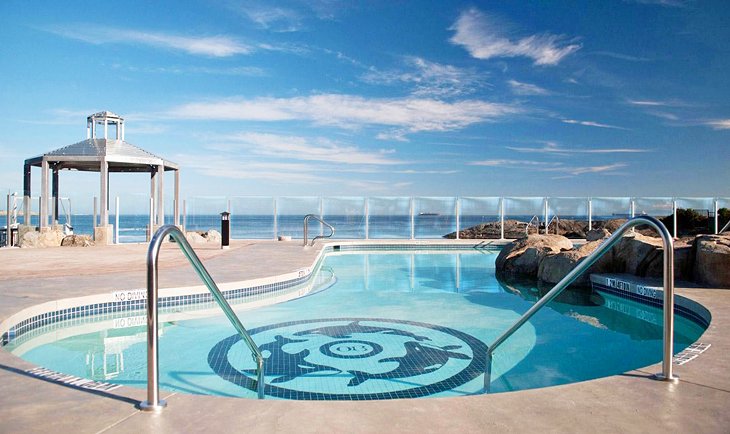 Accommodation: Oak Bay Beach Hotel
One of Victoria's top-rated luxury hotels, The Oak Bay Beach Hotel offers guests a variety of world-class perks. Guests can enjoy such high-end services as chauffeur-driven pickups and drop-offs across the city (leave your car in the free underground parking), concierge services, and in-room dining (be sure to try the unforgettable in-room chef option).
The on-site spa is also worth mentioning and features a eucalyptus steam sauna, a fitness center with optional fitness classes, a large swimming pool, and excellent restaurants plus a café.
This boutique hotel's elegantly appointed accommodations consist of a mix of guest rooms. Popular choices include the sumptuously decorated one-bedroom suites, as well as the super-luxurious and spacious penthouse apartments.
In-room highlights include large bathtubs (plus bathrobes), fireplaces, kitchens or kitchenettes, walkout balconies or terraces, plus nightly turndown service. Some pet-friendly rooms and suites are available.
Address: 175 Beach Drive, Victoria, British Columbia
7. The Francis Boutique Inn, Ucluelet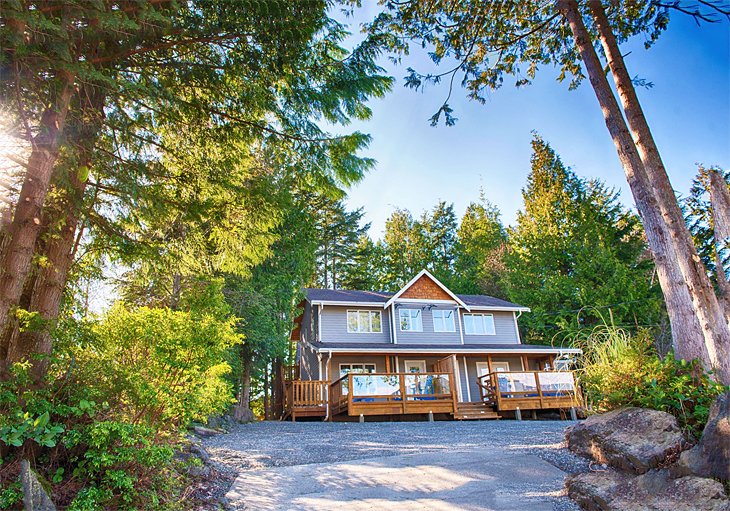 Accommodation: The Francis Boutique Inn
Set amid the stunning scenery of Vancouver Island's west coast, the cozy Francis Boutique Inn in Ucluelet is perfect for couples looking for an intimate getaway experience. Consisting of just four spacious suites, this boutique-style inn offers elegant, comfortable accommodations that come with kitchenettes, king beds, beautiful views over the harbor, and plenty of peace and quiet.
A wide array of outdoor activities and adventures are available for guests to enjoy in this unspoiled area. Highlights include kayaking, whale watching, mountain biking, bird-watching, and surfing.
Other activities that can be booked through local providers include archipelago wildlife cruises along Barkley Sound aboard the Raincoast Maiden; guided hikes along the nearly 10-kilometer-long Wild Pacific Trail; fishing expeditions; visiting nearby Ucluelet Aquarium; or, come winter, partaking in some storm watching.
Address: 536 Peninsula Road, Ucluelet, British Columbia
8. April Point Resort and Spa, Quadra Island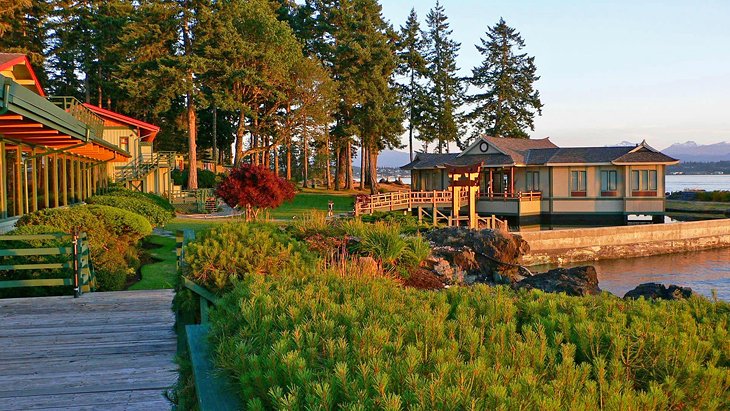 Accommodation: April Point Resort and Spa
Just a short distance off the east coast of Vancouver Island is the smaller Quadra Island, part of a chain known as the Discovery Islands. This unspoiled island paradise, just 10 minutes by boat from Campbell River, is home to April Point Resort and Spa, a family-friendly destination consisting of spacious guest rooms with king and queen beds, plus options including pullouts and separate sitting areas. The resort also offers a number of stand-alone private cabins and cottages with full kitchens, private decks, and hot tubs.
Whatever your choice of accommodations, one thing doesn't change: the spectacular scenery. Whether relaxing in your room or lounging by the pool, you'll enjoy fantastic views over Gowlland Harbour, Discovery Passage, and that endless mountain backdrop.
Amenities include a full-service spa set in a quaint Japanese-style building near the shore; kayak and boat rentals (the resort has its own full-service marina); electric bike rentals; on-site dining; a fitness center; and a gift shop. A variety of great tour packages can be booked, including salmon fishing, whale watching, ocean rapid rides, and the extremely thrilling (and safe) grizzly bear tour.
Address: 900 April Point Road, Quathiaski Cove, British Columbia
9. Qualicum Beach Inn, Qualicum Beach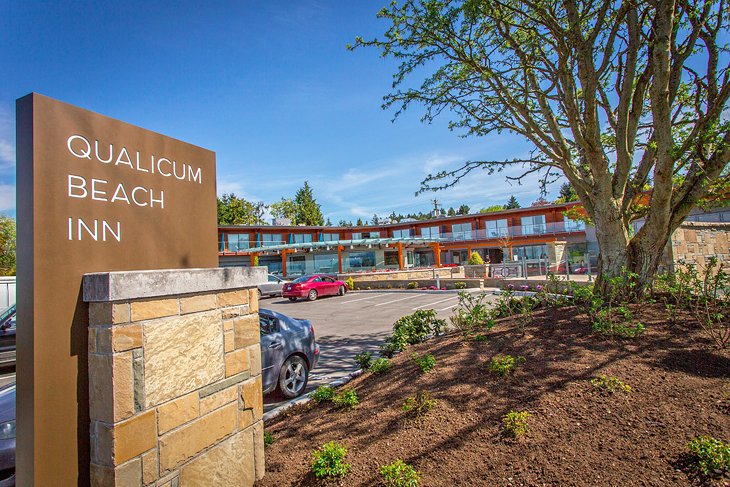 Accommodation: Qualicum Beach Inn
Cozy, intimate, romantic - these are all words that perfectly sum up the guest experience at Qualicum Beach Inn. Comprising just 32 spacious sea-view suites - each with king or double beds, large screen HD TVs, phone chargers, and bathrobes - this historic inn has been extensively renovated yet retains its former charm throughout.
On-site amenities include an elegant dining room, a large heated swimming pool with a patio, a hot tub, and a fitness center complete with weights and treadmills.
In addition to being close to the beach after which the town is named, the inn is just a short walk away from the downtown core. This means guests can easily access an array of fun things to do, including shopping and sightseeing, plus experiencing a great selection of fine- and casual dining.
A number of pet-friendly units are available for those wanting to bring along their four-legged friends (be sure to make your preferences known when making your reservation).
Address: 2690 Island Hwy W, Qualicum Beach, British Columbia
10. Painter's Lodge, Campbell River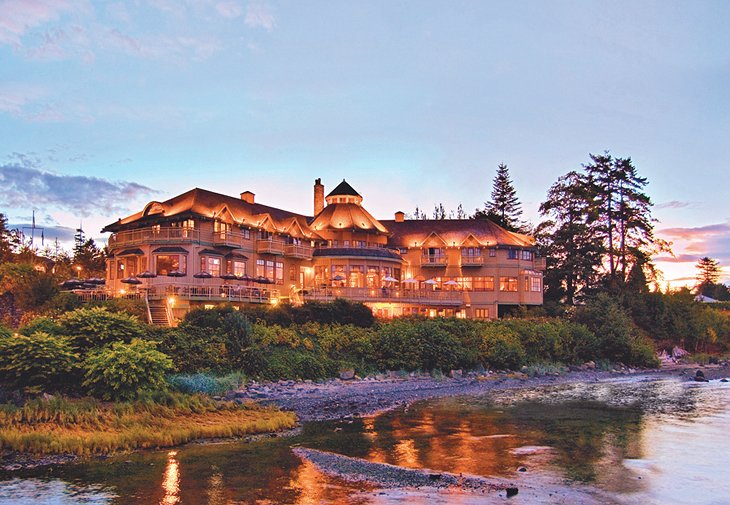 Accommodation: Painter's Lodge
Looking for a great Canadian summer getaway that's close enough to nature yet comes with all the amenities of an urban getaway (great shopping, dining, and entertainment)? Then look no further than Painter's Lodge in Campbell River.
One of BC's leading fishing lodges - the area's known for its fantastic sea fishing, especially for salmon - Painter's Lodge continues to provide guests with great outdoor adventures, along with a comfortable place to lay their heads after all that fun.
And the place is about to get a whole lot better. The lodge undertook a significant renovation in early 2023 to refresh and update the property.
Accommodation options include oversized loft suites, sleeping up to four adults, and couple-friendly queen rooms in the main lodge. Also worth checking out is the tastefully appointed Hospitality Suite, boasting a large patio, loft, three pullout beds, and a shower large enough for two. A number of secluded cabins are also available for larger groups.
Outdoor adventures on offer include guided fishing trips and wildlife tours, whale watching, ocean rapid experiences, helicopter tours, and golf (there are a number of great courses nearby). On-site and in-room dining is also available.
Painter's Lodge is part of the Trademark Collection by Wyndham.
Address: 1625 McDonald Road, Campbell River, British Columbia
11. Prestige Oceanfront Resort, Sooke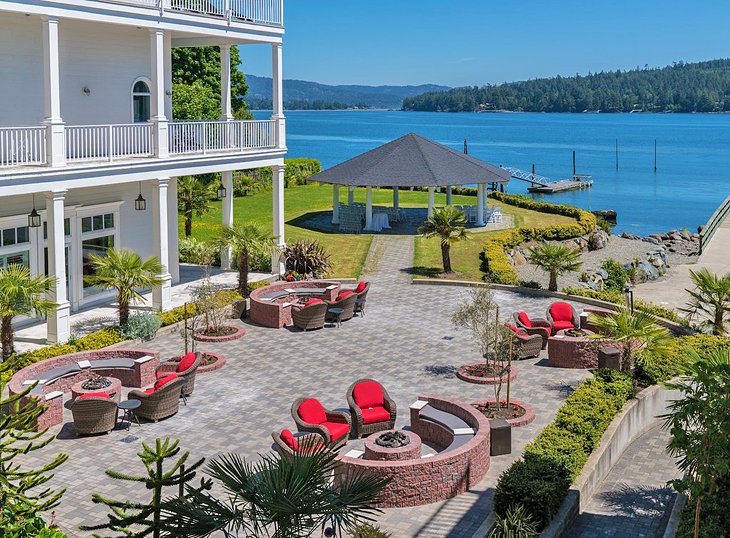 Accommodation: Prestige Oceanfront Resort
Perched overlooking the Pacific Ocean and just a 45-minute drive from downtown Victoria, Prestige Oceanfront Resort is ideal for those looking for a truly luxurious experience.
Despite its proximity to BC's capital and the quaint seaside community of Sooke, this exquisite waterfront resort offers many great reasons for guests to stay put on the property: elegant accommodations, delicious dining experiences, a full-service spa, and plenty of room to find a quiet spot and relax.
Numerous activities and amenities are also available, including a swimming pool and hot tub, an athletic club, and a marina. Popular outdoor activities include scuba diving, as well as a hiking and biking on the nearby trail network (the resort's bikes are free for guests to use). Other fun things to do nearby include ocean fishing, kayaking, and whale watching.
Room options range from good-sized queen rooms to larger king units with kitchens. Waterfront or mountain views are available, as are family-sized suites, pet-friendly units, and wheelchair-accessible suites (be sure to request these when booking).
For those with the resources, why not splurge on the beautiful Pacific Penthouse? This spacious unit comes with two master bedrooms, a large kitchen, and not one but five private outdoor terraces to enjoy. Decadence indeed!
This hotel has one of the best restaurants in Sooke: the West Coast Grill. Slide into one of the comfortable booths, or snag a spot on the sunny patio and dig into one of their famous Mountain Burgers.
Address: 1441 Pacific Rim Highway, Tofino, British Columbia
12. Nimmo Bay Wilderness Resort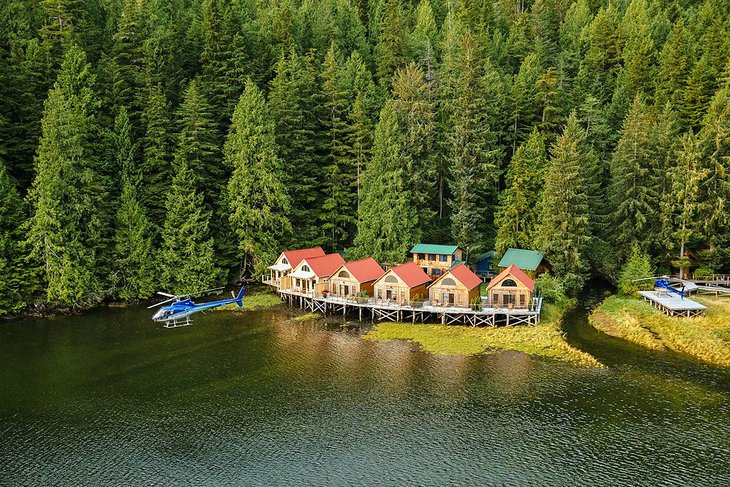 Accommodation: Nimmo Bay Wilderness Resort
Most people have seen the incredible images of luxurious overwater bungalows in French Polynesia but less will have thought of the same concept in the Great Bear Rainforest. Only accessible by special charter float plane from Port Hardy on Vancouver Island, this small family-run lodge takes eco-tourism to a new level. In fact, the lodge is partially powered by a waterfall that cascades down behind the resort.
The resort is perfectly situated on the seashore at the base of Mount Stephens and features nine two-bedroom bungalows, some over the water, others tucked back in the forest.
The lodge is ideally positioned to make the most of the 50,000 square miles of untouched wilderness of northern Vancouver Island. Expeditions are available by kayak, stand up paddleboard, and foot, or you can take it up a notch and climb aboard a helicopter and fly off to places that few others have ever seen.
Map of Resorts on Vancouver Island
When is the Best Time to Visit Vancouver Island?
The answer to the question varies according to the individual. If you like sunny days and mild temperatures, the summer months of July and August are the best time to visit. However, at this time, the crowds are at their peak and accommodation can be scarce and expensive.
A trip in early fall, ideally in September, has the best of everything: less crowds, slightly lower accommodation rates, and sunny days. If you love to surf, the fall has the best waves.
For those who don't mind the rain, wind, and wild weather that the North Pacific can dish out, winter is a good option. Accommodation rates are at their lowest, but be aware some resorts close completely in January.