9 Best All-Inclusive Resorts in Turks and Caicos
Located at the very southern tip of the Bahamian archipelago, Turks & Caicos is a string of white, sandy islands strewn across the jewel-colored Caribbean Sea. Searching for the best all-inclusive resorts in Turks and Caicos can be challenging, seeing as the islands are mostly known for their over-the-top luxury accommodations, but their all-inclusive resorts are just as impressive if you know where to look.
The all-inclusive resorts in Turks and Caicos cater to all types of travelers, whether they are looking for an intimate island escape or a sprawling family complex that doubles as a giant playground and water park. Even travelers who want a dive-centric vacation will find an all-inclusive resort in Turks and Caicos. Plus, these resorts are all within a short distance to the top tourist attractions in the Turks and Caicos islands.
What all resorts have in common are the beautiful Instagram-worthy beaches, crystal-clear water, and gently swaying palm trees that have become synonymous with a Caribbean paradise. Keep reading to get to know the best all-inclusive resorts in Turks and Caicos.
1. Ambergris Cay Resort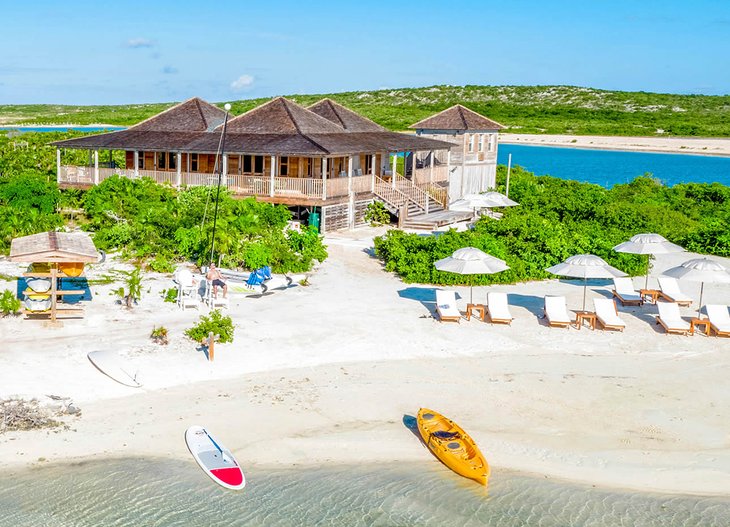 Accommodation: Ambergris Cay Resort
Not to be confused with the Ambergris Caye in Belize, this Ambergris Cay is a 1,000-acre private island right in the Turks and Caicos archipelago. The luxury property is new as of 2018, and it is one of the best all-inclusive resorts in Turks and Caicos. It is part of the luxury Turks and Caicos Collection, with two other resorts on Providenciales: Blue Haven Resort and Alexandra Resort. Guests are invited to island hop with pre- or post stays at one of these sister properties at a special rate.
The design is truly stunning. Picture minimalist beach chic, with plenty of light wood, stone, and sand colors that are accented with subtle, bright pops of Caribbean blues and greens. The best part, however, is that it is all on the private, three-mile island of Ambergris Cay.
Bear in mind, rates here are not cheap. You'll likely be spending several thousands of dollars for a single night. But the price is all-inclusive, even including private plane transfers from Providenciales. Also included in that rate are unlimited private excursions, so you'll never be at risk of developing island fever.
The inclusions really do set this resort a cut above, which is a good thing considering the steep rate. Also included is all dining, non-motorized sports, use of the resorts' Runabout power boats, one 30-minute spa treatment per day, a complimentary deserted island catered lunch experience, and so much more.
Rooms come in either Suites or Villas. Ten suites offer beach and ocean views, surrounded by windows on three sides, as well as outdoor showers and private plunge pools. The resort also has 20 villas that come in three- and four-bedroom configurations. Each has ocean views or oceanfront views, complimentary golf cars, and butler service.
2. Alexandra Resort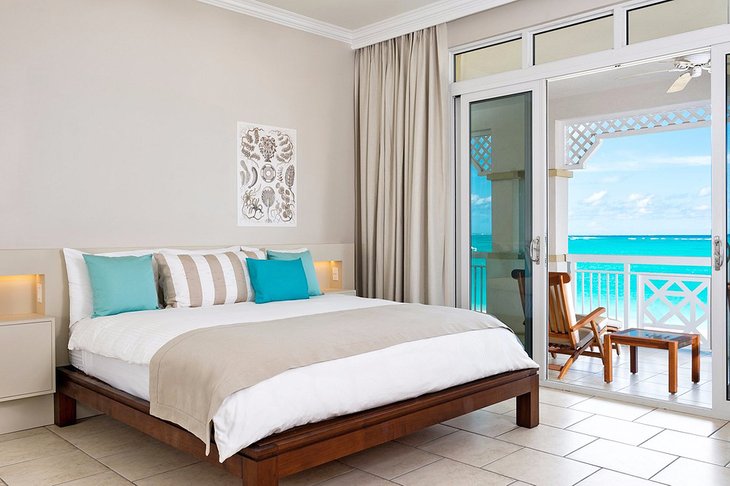 Accommodation: Alexandra Resort
With 90 studios perched directly on gorgeous Grace Bay Beach, Alexandra Resort is one of the best all-inclusive resorts in Turks and Caicos. Guests are welcomed to a beachy-chic arrival, with plenty of light wood and coral accents plus pops of blues and purples.
Guests love the location of the resort because not only is it beachfront, but it is walking distance to the shopping at Regent Village, as well as the dining along Grace Bay Road. Still, the all-inclusive package may make it more tempting to stay on property to eat.
Rooms are condo-style, meaning they come in studios and one- or two-bedroom suites, all with kitchenettes or large kitchens. The decor is a bit run-of-the-mill, but all rooms have balconies or terraces. Most have at least a partial ocean view. If you really want to live it up, the penthouse features four bedrooms and a massive kitchen.
The main reason to love the resort is the location. Not only does it have prime real estate on Grace Bay Beach, but it also has a very attractive, lagoon-style pool with plenty of seating. On the beach, guests can take up non-motorized sports, which are included in the rate. A small fitness center is available, as is a tiny spa.
All meals are included at the Asu on the Beach restaurant. The resort has a pizza bar outside, as well.
3. Beaches Turks and Caicos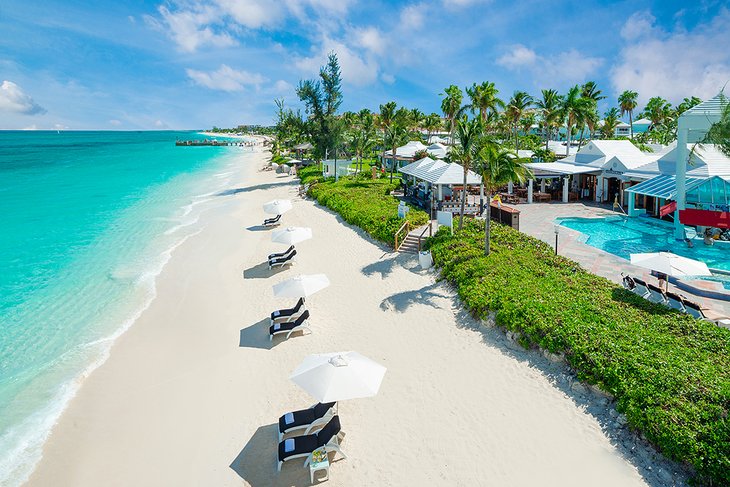 Accommodation: Beaches Turks and Caicos
If you're looking for one of the best all-inclusive resorts in Turks and Caicos for families, you can't do better than Beaches. The resort is a powerhouse when it comes to providing activities for the entire family in a setting that still plays up the natural beauty of the island. But if it's intimacy or seclusion you're looking for, this probably will not be the resort for you as it is the largest resort in Turks & Caicos.
Beaches Turks & Caicos sits on 65 acres, including a stunning slice of Grace Bay Beach, a massive spa, and sprawling 45,000-square-foot water park. Add to that multiple pools, an Xbox Games Garage, and several different "vibes" within the resort, and you could easily spend your whole vacation wandering the property without seeing it all.
The resort has four different "vibe" areas: Caribbean Village, French Village, Italian Village, and the Key West Village. Each has its own set of pools, restaurants, and room categories. The resort has, overall, 20 restaurants serving everything from pizza to Caribbean cuisine to fine French fare.
Room types are spread across 40 different categories, with rooms that start at 398 square feet. The Italian Village has the most expansive rooms, with some that can be up to 1,369 square feet.
The resort has 10 pools - six regular and four whirlpools. It also features the largest fitness center on the island, as well as included land sports, water sports, and scuba diving. A Red Lane Spa has saunas, steam rooms, a salon, nail bar, and treatment rooms.
But at the end of the day, this is a resort for families - you'll be able to hear that immediately upon check-in. It's thanks to all the many offerings for kids, from the massive water park to the lounge for teens, and the Sesame Street camp for kids, which hosts weekly parades and daily activities.
4. East Bay Resort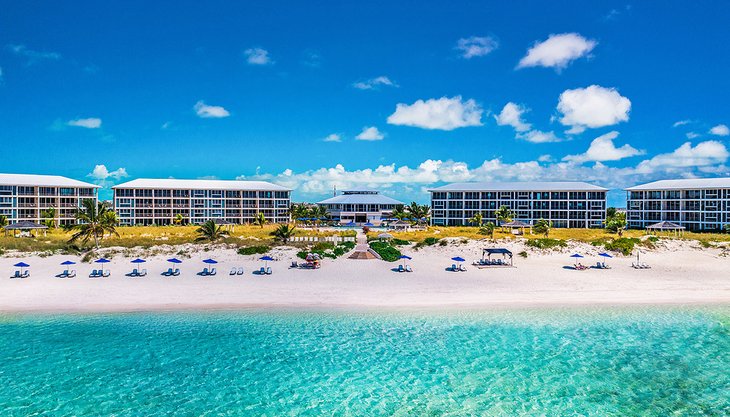 Accommodation: East Bay Resort
Perched on the island of South Caicos, East Bay Resort is one of the family-friendly, all-inclusive resorts on Turks and Caicos. The upscale resort features 86 beachfront suites - all of which are truly beachfront, right on the sugary shores of East Bay Beach.
Rooms are splashed in white, with pops of turquoise to match the eye-catching color palette directly out of each room's ocean-facing window. Gauzy white curtains add to the entire sea-dream effect. Rooms vary, from the studios to the spacious two-bedroom suites. All rooms have a fully-equipped kitchen and balconies or patios, as well as a washer and dryer.
Activities abound, as well. Guests can select non-motorized water sports, like kayaking and paddleboarding. If you're interested in diving, a reef just offshore provides beautiful underwater viewing. Other amenities include a pool and sun deck, fitness center, and spa.
5. Beach House Turks & Caicos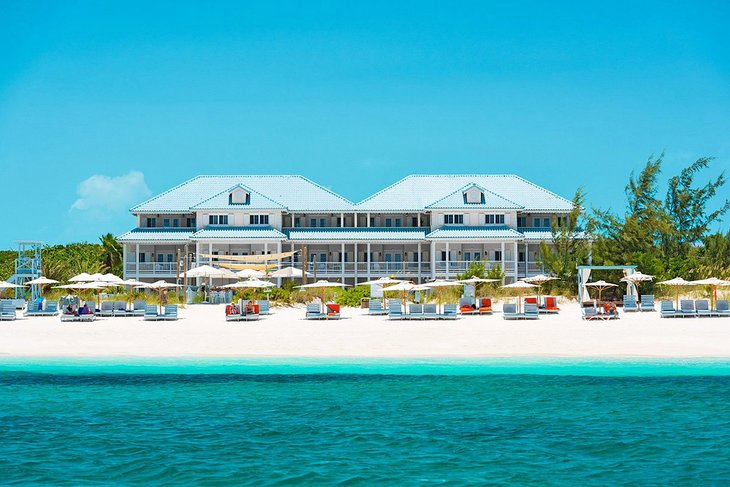 Accommodation: Beach House Turks & Caicos
Charming, adults-only, and all-inclusive - that's the vibe at Beach House Turks & Caicos. The quaint beach resort has a traditional island design, with its white shuttered windows, tropical gardens, and beachfront access. The property is massive, but only has 21 rooms, so you're likely to click into disconnect mode as soon as you check in. Still, you're directly on Grace Bay Beach, so you're never far from anything that happens to be going on.
The 21 suites are positively massive. Rooms have full-sized kitchens, flat-screen televisions, and either a terrace or balcony.
But it's outside the suites where things get really beautiful. First of all, Grace Bay Beach is just out the back. It is arguably one of the most beautiful beaches in Turks & Caicos. Each suite has its own dedicated area on the beach, with lounge chairs, an umbrella, and table. The resort has an on-site restaurant, as well as a deck on the beach for private dining or spa treatments. A gym and small spa are also available, but both may be in need of a refurb.
6. Blue Haven Resort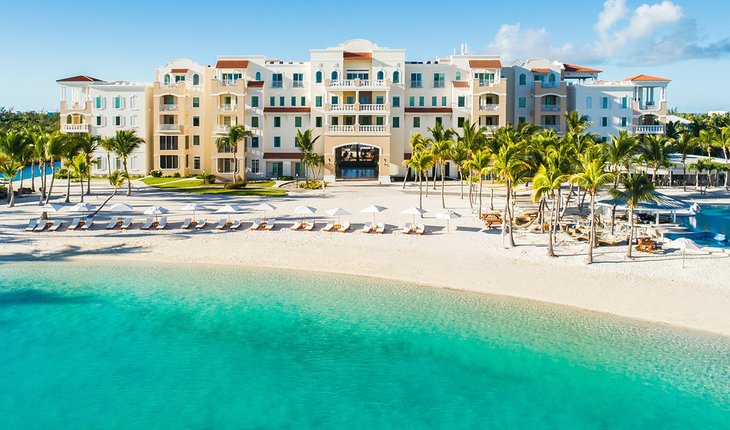 Accommodation: Blue Haven Resort
If you visited Turks & Caicos about a decade ago, you may recognize the space as the former Nikki Beach. But an owner swap in 2013 brought on a name change and, that's about it. The rest of the resort looks remarkably the same.
Today the Blue Haven Resort greets guests with a stunning view over the beach and marina. It is located at the northeastern point of Providenciales, about five minutes from the TCI ferry port. It is about 10 minutes from Grace Bay. Guests may also want to note that the resort isn't exactly beachfront. The hotel has a beach, but it is man-made, and the resort doesn't face the ocean. Still, the water is crystal clear and perfectly safe for swimming.
Rooms are modern and sleek, with dark wood and white and navy accents - perhaps a nod to its marina location. Suites have full kitchens and washer/dryers, as well as large balconies. Studios do not have balconies, which guests may want to note.
Two on-site restaurants are available as part of the all-inclusive package. The resort has an on-site mini mart, as well, should guests want to cook in their suites, but these items come with a fee.
7. The Meridian Club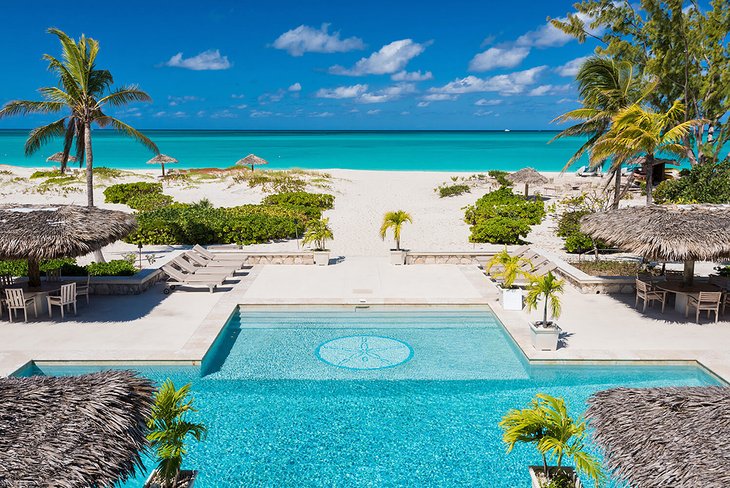 Accommodation: The Meridian Club
Expect elegant private-island surroundings, but with a decidedly more relaxed and approachable vibe. That's what The Meridian Club strives to achieve for its guests: a notion of barefoot luxury. The food at this Relais & Chateaux property is very good. Although there is just one restaurant on-site, the menu changes with each meal. A few different selections are offered at lunch and dinner, both of which are three-course affairs.
The Meridian Club sits on Pine Cay, an 800-acre private island just 20 minutes off the coast of Providenciales. The island aesthetic is what gives The Meridian Club its private island feel - you won't find paved roads, stores, or restaurants here. Instead, it's an unplugged, laid-back environment that comes at a premium for insider-access experiences and upscale style.
Rooms are more homey than glammed up here - think wicker furniture and cottage-style decor. Rooms do not have TVs or Wi-Fi, which some guests consider luxury and others might consider torture. All rooms have screened-in porches and outdoor patios that face the beach, as well as private lounge chairs and umbrellas on the beach. If air-conditioning is valuable to you, consider booking the Premium Beachfront Rooms as they are the only ones that offer AC.
The pool is the focal point of the hotel (as well as the beachfront). The beach stretches for two miles, and you'll often see guests renting kayaks or heading out to the Hobie Cats. Activities include tennis, biking, hiking, and more. The resort does not have a dedicated fitness center.
8. Club Med Turkoise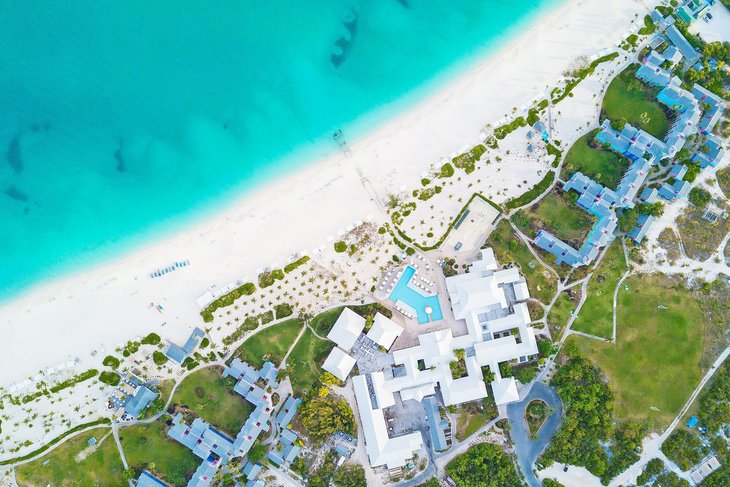 Accommodation: Club Med Turkoise
Club Med Turkoise has some considerable bragging rights: it was the first-ever resort in Turks & Caicos on Providenciales. The resort dates back to 1984, and while some of the facilities may feel like they need a refresh, this is still one of the best all-inclusive resorts in Turks and Caicos, especially for travelers in their 20s and 30s.
The resort is a short drive from Grace Bay Road. It is spread out like a village, with nearly 300 guest rooms and facilities tucked amid foliage that lead out to a stretch of powder-soft beach. The rooms are split between two categories: Club and Deluxe. Deluxe rooms are slightly more modern with slightly upgraded amenities. None of the rooms have balconies.
But the point of Club Meds all over the world is to socialize, so you'll likely be spending most of your time out of the room anyway. The village resort has everything you'd expect - multiple restaurants, shopping, activities, and live entertainment. The pool has beautiful views overlooking the beach.
Activities abound, as well, from the gym and sports courts to free, daily snorkeling, kayaking, sailing, and even the flying trapeze.
9. Bohio Dive Resort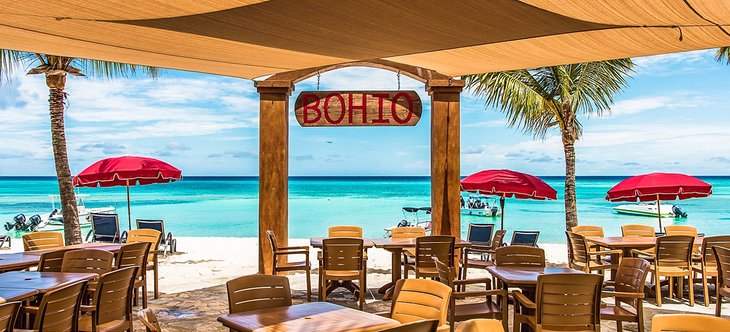 Accommodation: Bohio Dive Resort
Divers will find their own slice of paradise at Bohio Dive Resort, a family-run, upscale dive-centric resort on the island of Grand Turk. Grand Turk is one of the lesser-traveled islands in Turks & Caicos - it is best known for its diving, and that is exactly the interest that Bohio Dive Resort caters to.
Simple and elegant, Bohio Dive Resort offers an airy, beach-chic setting that is perfect for unplugging - when guests aren't diving, that is. Most guests who check in are those who are looking to be out all day on dives or who are looking to become PADI-certified. In fact, the resort has several all-inclusive packages that include multiple dives. As such, the resort is pretty sleepy during the day.
Rooms are sun-drenched and breezy, with plenty of whites, creams, and turquoise. Some rooms have kitchenettes, but all have outdoor ocean-facing balconies.
But the real reasons guests are booking this resort is because of the dive operation. The resort has its own on-site, as well as PADI-certified instructors and dive masters. If others you're traveling with are not divers, they can enjoy the beachfront location and small pool.
Map of All-Inclusive Resorts in Turks and Caicos
When to Visit Turks and Caicos
Turks and Caicos does sit in the Atlantic Ocean's hurricane belt, and between the months of June and November, it is possible to get caught up in a storm. Statistically, most of the hurricanes have hit the islands in August and September, but some years there are no storms. This is also considered the rainy season although again it is easy to go for a week without a storm. Visiting during the hurricane season is also when you will find the best rates at the all-inclusive resorts in this article.
The high season runs from December through March, and rates will be highest during these months. That said, you can usually count on perfect weather, with sunny days and temperatures in the 80s. April and May are two of the best months to visit for good weather, lower prices and fewer crowds.