11 Top-Rated Luxury Safari Lodges in South Africa
South Africa's high-end safari lodges are among the world's finest - and most expensive - hotels. They also offer some of the best game viewing in Africa.
Most of these lodges lie in the private game reserves bordering Kruger National Park, such as Sabi Sands, with abundant wildlife and few other tourists. Expert guides and trackers take you right to the action in open-air safari vehicles, with regular sightings of the Big Five (lions, leopards, elephants, rhinos, and buffalos), as well as an astounding diversity of other wildlife.
Luxury safari lodges are also found in other wilderness areas of South Africa including the parched Kalahari region of the Northern Cape, and the private game reserves in spectacular and diverse KwaZulu Natal province.
Remote and intimate, these exclusive and eco-conscious lodges offer a true small-group luxury wilderness experience, with exceptional service. Rates include mouthwatering gourmet meals and most beverages, often served alfresco, as well as morning and evening game drives. Most also offer walking safaris.
A word to the wise: It's a good idea to split your time between two or more lodges in different areas to maximize the diversity of game viewing. Families will be pleased to learn that many of these camps welcome children.
1. Singita Sabi Sand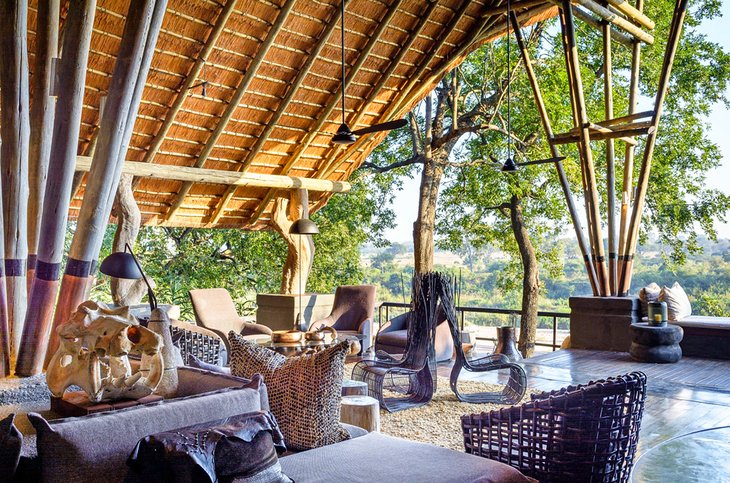 Bordering Kruger, in Sabi Sand Game Reserve, the oldest of South Africa's private reserves, Singita Sabi Sand oozes safari chic. You can choose from three different luxury lodges here: Boulders, Ebony, and Castleton.
Singita Boulders Lodge, on the banks of the Sand River, is one of the world's best lodges. Floor-to-ceiling glass windows encase each luxurious suite, with decor inspired by the tones and textures of nature. Think rustic elegance, with tribal motifs, stone accents, sculptural tree trunk supports, and open-air rooms that bring the outdoors in.
Equally elegant, Singita Ebony Lodge has a tented camp feel with exposed thatch roofs and beige canvas accents. Each of the 12 suites here come with their own private plunge pool, and the two-bedroom suites are perfect for families.
Overlooking a water hole, Singita Castleton recalls a country farmhouse with communal living areas, albeit one with a swimming pool, tennis courts, and spa treatment rooms. Guests here sleep in separate cottages sprinkled around the grounds, and children of all ages are welcome.
The property covers 45,000 acres of wilderness with a high concentration of game, including the Big Five, and frequent close-up leopard sightings.
As well as the twice daily game drives, the lodge offers mountain biking safaris, walking safaris, visits to local villages, and archery for those so inclined. A fitness center with beautiful bush views is also on-site.
2. Royal Malewane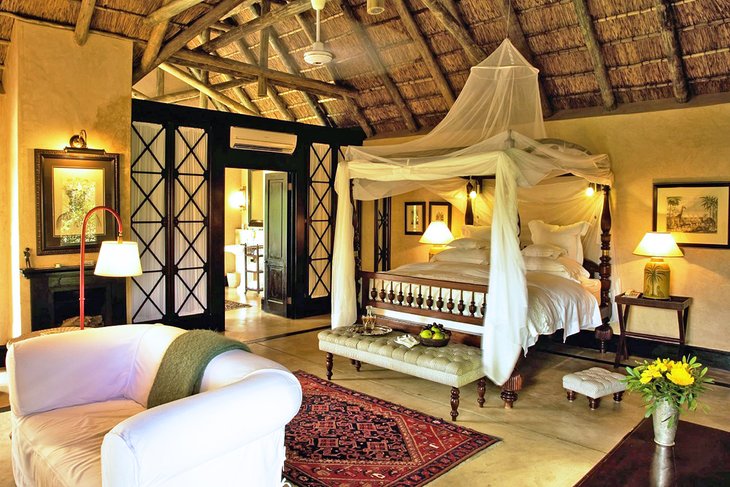 In Thornybush Game Reserve, bordering Kruger National Park, Royal Malewane is not only one of South Africa's best safari lodges, it's one of the top all-inclusive resorts in the world.
A classic old-world feel sets the scene here for a safari that could come right out of Hemingway's journal. Animals roam freely around camp, and this particular reserve, north of Sabi Sand, is known for its spectacular game viewing and abundance of lions.
Decorated in an eclectic colonial style, the eight air-conditioned suites (including two separate two-bedroom Royal Suites) exude a seemingly effortless elegance. Jewel-toned oriental rugs cloak the floors, thatch peeks out between ceiling beams, private plunge pools beckon on expansive decks with views over the bush (and sometimes visiting elephants), and you can wash off the African dust in private open-air showers.
Africa House, a six-bedroom, exclusive-use villa with a private chef, is also available for families and groups.
Expert teams of trackers and guides scour the bush to bring you Big Five action. When you're not watching animals, you can enjoy a pampering treatment at the award-winning bush spa, or work out at the fully equipped gym.
Many guests like to combine a stay here with one of the lodges farther south, such as Singita Boulders Lodge, but book as early as possible, as Royal Malewane often fills up a year in advance.
Children aged 10 years and older are welcome in the luxury suites, and children of all ages are welcome in the Royal Suites and Africa House.
Accommodation: Royal Malewane
3. Ulusaba Rock Lodge and Safari Lodge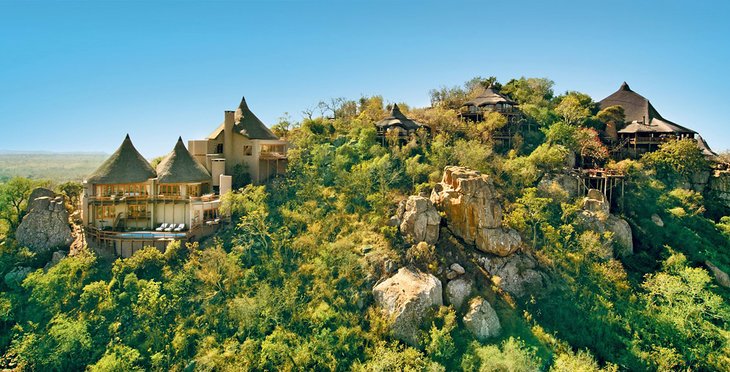 Owned by Sir Richard Branson, Ulusaba Rock Lodge and Safari Lodge lie in spectacular locations at the Western end of Sabi Sand. Game viewing is excellent, with all the Big Five in abundance, as well as wild dog, baboons, impala, cheetah, and many species of birds.
Ulusaba offers unique accommodations in two dramatic settings: Ulusaba Rock Lodge sits high atop a koppie (rocky peak), with breathtaking views over the sweeping wilderness below. Its conical, thatched roofs jutting up from the peak of the koppie evoke a whimsical African-style palace.
Each of the eight rooms is uniquely decorated with textural tribal elements and natural materials, and some are split between multiple levels and come with their own private infinity pools. Rock Lodge also includes deluxe Cliff Lodge suites, which are ideal for families. Book them both, and you score your own private chef, safari vehicle, spa, and gym.
Ulusaba Safari Lodge nestles in a canopy of trees on a dry riverbank, where a parade of animals wanders past to drink at a nearby waterhole. At Safari Lodge, some of the rooms are built like treehouses, perched high on stilts among the leaves. Rope swing bridges connect some of the rooms to the common areas, creating a sense of adventure as soon as you step out the door.
Spa treatments, tennis, workouts at the gym, and pool time fills the post-safari hours. Guided walking safaris are also available, and guests with a social conscience also have the option of volunteering at local schools and villages.
Children aged 12 years and older are welcome at Safari Lodge, and kids of all ages are welcome at Rock Lodge.
4. Singita Sweni and Lebombo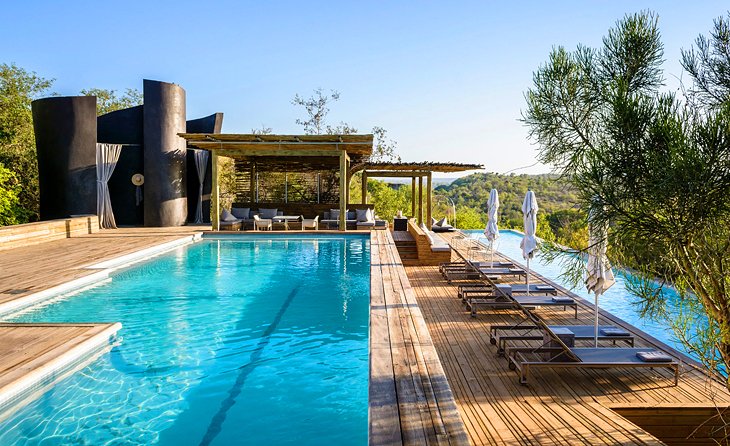 Near the border with Mozambique, Singita Sweni Lodge and Singita Lebombo Lodge are, like their sister lodges in Sabi Sand, eco-sensitive and extraordinarily beautiful.
The lodges occupy a 33,000-acre exclusive concession on the southeastern side of Kruger National Park, meaning the density of guests here is extremely low. The area spans four different ecological zones, creating fantastic opportunities for diverse game viewing. All the Big Five are in abundance, as well as four big prides of lion.
The two lodges here occupy spectacular locations. Suspended in the canopy along the Sweni River, Singita Sweni Lodge is a series of light-filled luxury treehouses wrapped in glass for prime viewing of the animals along the river below. The interior tones and textures blend seamlessly with the environment, and expansive decks jut out into the wilderness. The main lodge includes an inviting pool, spa, gym, and the Singita Boutique & Gallery.
Perched on a mountain above the N'Wanetsi River, and inspired by the eagles' nests found up high here, Singita Lebombo Lodge overlooks the magnificent wilderness below. It has a contemporary yet textural and earthy feel and offers 13 open-plan suites and a fully-staffed villa on the riverbank. Perfect for groups, the villa comes with two interlinked two-bedroom suites that share a pool and kitchen.
Other highlights at Lebombo include a panoramic roof terrace with a library, an espresso bar, help-yourself deli, inviting pool, and expansive indoor/outdoor decks.
As with all of Singita's lodges, conservation is paramount, and the company strives to leave the lightest possible footprint on the Earth. Children 10 years and older are welcome.
5. Londolozi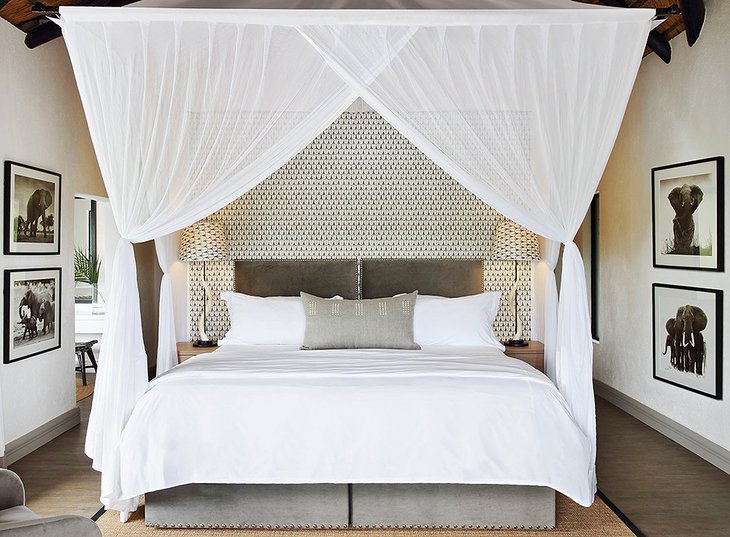 Set along the Sand River in Sabi Sand Game Reserve, family-run Londolozi has welcomed guests for almost a century and is one of the most famous safari lodges in South Africa. It lies within the Greater Limpopo Transfrontier Park, a wilderness area of six million acres that also incorporates Kruger National Park.
White rhino and lion live here in some of the highest concentrations found anywhere in Africa, but Londolozi is best known for its leopards, one of Africa's most elusive predators. Londolozi is a Zulu word meaning, "protector of all living things," so it's not surprising that conservation is a focus here, with features like open-air, electric safari vehicles.
You can choose between five different camps, all of which boast prestigious Relais & Châteaux status. The adults-only Londolozi Private Granite Suites is the most luxurious, while Londolozi Tree Camp and the nostalgic and romantic Londolozi Pioneer Camp are not far behind. Stylish decor, abundant glass, large living rooms, spa-like baths, and private heated plunge pools, are typical features.
Londolozi Founders Camp, along the banks of the Sand River, and the venerable Londolozi Varty Camp are larger and more family-orientated with features like thatched roof bungalows, interlinked "skywalk" rooms, and private outdoor pools.
Besides game drives, other activities available here include walking safaris, yoga classes, massage therapies, and workouts at the fitness center.
Both of these camps, as well as Pioneer Camp, welcome children six years and older.
Accommodation: Where to Stay in Londolozi
6. Lion Sands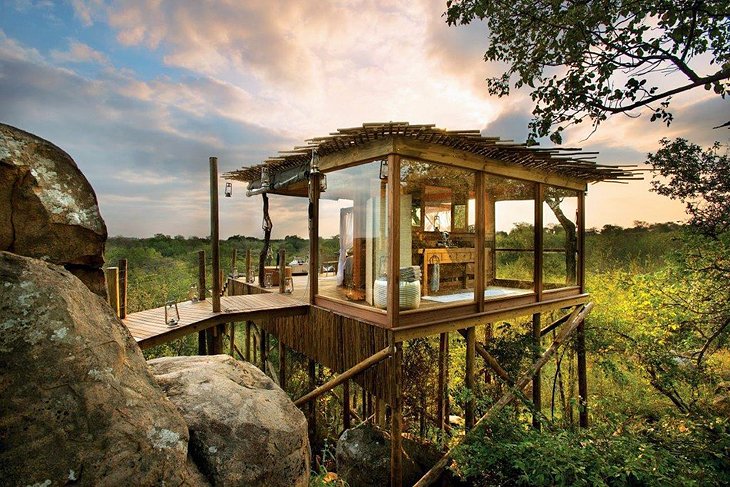 The only lodge with access to the perennial Sabie River, Lion Sands, in the Sabi Sand game reserve, offers a collection of sumptuous safari lodges, each with its own inspiration and style.
Game viewing is excellent in this game-rich area, and the lodge boasts one of only four master trackers in the world to help you find the best sightings.
A unique feature at Lion Sands is the opportunity for guests at the lodges to combine their visit with a romantic overnight stay, sleeping under the stars in one of their luxurious treehouses. Guests snuggle up in plush four-poster canopied beds on towers raised high above the wilderness.
Each of the luxurious Lion Sands lodges has a unique personality, from organic chic to mid-century modern, so you can choose a lodge that matches your style.
Lion Sands River Lodge is the largest, with 20 thatched rooms dressed in soothing textures and tones of creme and white.
Overlooking the Sabie River, the villas of Ivory Lodge are grounded in an eco-minded, mid-century-modern aesthetic, incorporating tribal touches and natural materials such as thatch, steel, wood, and sand. Light streams in through the walls of glass, and the two-bedroom Fish Eagle suite comes with its own private Land Rover, pool, spa, and gym.
Tinga Lodge on the Sabie River has a "contemporary colonial" theme, and Narina Lodge has a treehouse feel, with nine villas suspended high in the canopy and linked by raised walkways.
Typical features at all the lodges include personal butlers; luxury bathrooms, some with outdoor showers; sitting areas with fireplaces; and private pools.
Post-game-drive activities include pampering treatments at the Africology Spa, helicopter rides over the Blyde River Canyon, and trips to Hippo Pools.
Children aged 10 years and older are welcome here, but only select lodges offer babysitting services.
7. Sabi Sabi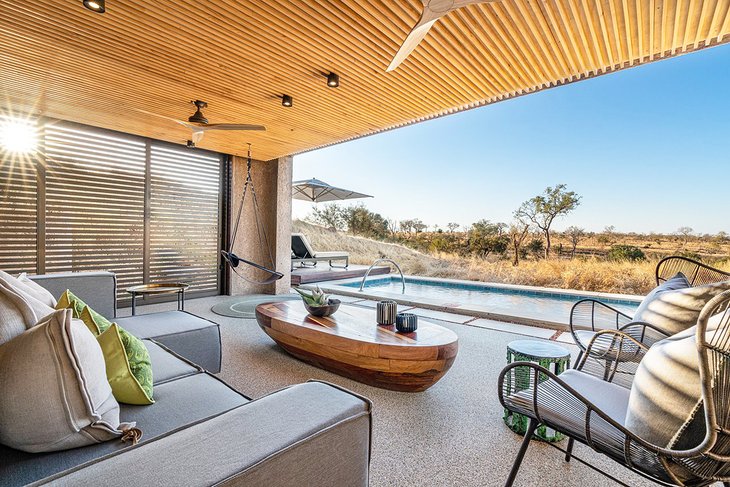 As the name suggests, Sabi Sabi is also in the Sabi Sand game reserve, abutting the southwestern border of Kruger National Park. This area is famous for its diversity and density of wildlife, including the Big Five and up to 350 species of birds.
Each of the four separate lodges here exudes its own personality. Steeped in colonial charm, Sabi Sabi Selati Camp is the most romantic, with a style inspired by the movie, Out of Africa.
Family-friendly Sabi Sabi Bush Lodge and Little Bush Camp are more contemporary in feel. Bush Lodge has a children's center and spa, and at the intimate Little Bush Camp, each room comes with a private terrace and hot tub.
True to its name, the more minimalistic Sabi Sabi Earth Lodge has won accolades for its environmentally-sensitive design. It blends effortlessly with the surrounding landscapes, with plenty of neutral tones and sleek lines. All the lodges come with swimming pools, but Earth Lodge suites come with private plunge pools, and the lodge has its own library, art gallery, meditation garden, and spa.
Day and night safaris are available here, as well as walking safaris with experienced guides and trackers.
Children are welcome, though only those older than six years are allowed on game drives unless a private vehicle is reserved.
8. &Beyond Ngala Safari Lodge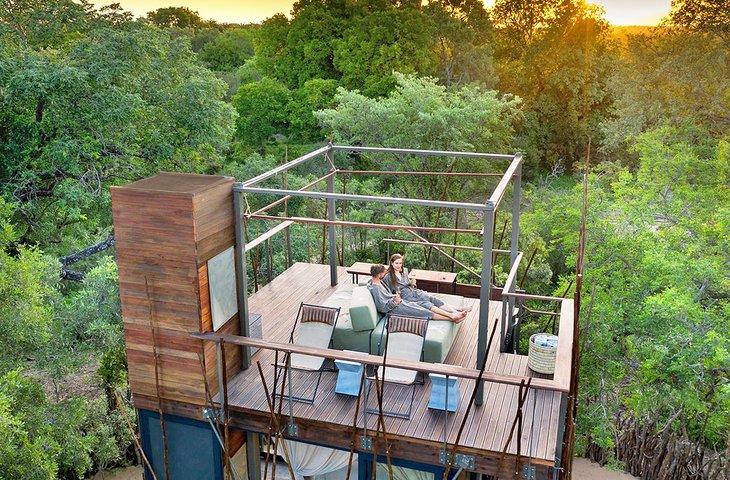 On a private game reserve inside Kruger National Park, &Beyond Ngala Safari Lodge offers superb Big 5 game-viewing and warm and welcoming staff members who treat guests like family.
Nostalgic safari elegance sets the tone in the 20 thatched-roof cottages. Bush views bleed into the interiors through floor-to-ceiling windows, and private verandahs offer popular spots to watch the passing parade of animals. Still can't tear yourself away from the wilderness views? Every room comes with an alfresco shower.
Families are welcome and are comfortably accommodated in three spacious cottages with interconnecting rooms, as well as in a family suite with a private swimming pool. Interactive kid-focused activities and childcare also provide parents with some alone time.
Besides twice-daily game drives and walking safaris, guests here can relax with a spa treatment; paddle in the pool; or sign up for a conservation experience, working directly with some of the wildlife.
Honeymooners should opt for a romantic evening in the magical Ngala Treehouse.
Eco-conscious guests will be pleased to know that &Beyond works collaboratively with local groups and communities on conservation initiatives and sustainable business practices.
Accommodation: &Beyond Ngala Safari Lodge
9. Tswalu Kalahari Reserve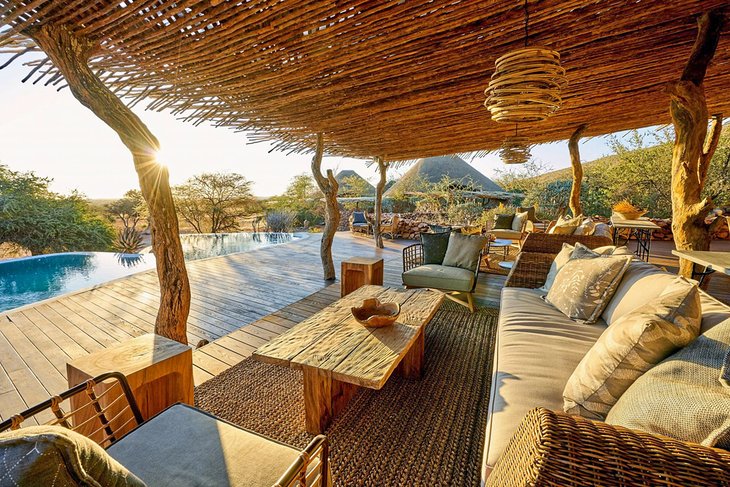 Covering 1,000 square kilometers in the less-visited Kalahari region, family-friendly Tswalu is the largest private game reserve in South Africa. Conservation is key here, and the owners' mission is to restore newly acquired lands back to their natural existence and fund multiple conservation and community-minded projects.
Hauntingly beautiful landscapes of red sand, golden grass, and wind-sculpted acacia trees characterize this region, and the wildlife is uniquely adapted to the harsh environment. Among the many animals here are the magnificent black-maned Kalahari lion, endangered desert black rhino, meerkats, sable and roan antelopes, wild dogs, porcupines, aardvarks, aardwolves, honey badgers, and cheetah.
Safaris are tailored to each individual party, with no set schedule. Best of all, this lodge lies in a year-round malaria-free zone.
Adorned with natural earthy materials and an abundance of textural elements, the freestanding thatched villas blend beautifully with their surrounding environment. You can choose from two locations: The Motse, a "village" of nine air-conditioned luxury suites overlooking a waterhole at the foot of the Korannaberg Mountains, and Tarkuni, the owners' family home, with five impeccably furnished suites, a pool, personal host, and a private five-star chef.
At Motse, the cottages mix modern comforts with an African feel. Thatched roofs and walls of stone, red clay, and desert sand echo the surrounding environment. Other features include spacious bedrooms with open fireplaces, indoor/outdoor showers, and large decks with sweeping vistas of the vast desert. Three two-bedrooms cottages, are perfect for families, with large living rooms and two bathrooms.
At the communal area here, you can take a dip in the infinity pool, curl up with a book from the library, or enjoy a relaxing spa treatment. Other things to do include hikes to nearby attractions such as ancient rock art; horseback safaris; and sleeping under the stars at The Malori, a raised platform with weather-proof blinds.
Tswalu hosts children of all ages, and offers a nanny service and Junior Ranger program to keep the little ones engaged.
Staying at Tswalu, with its contrasting landscapes and unique species of wildlife found only in this region, is a great complement to visiting the lodges near Kruger National Park.
Accommodation: Where to Stay in Tswalu Kalahari Reserve
10. Jamala Madikwe, Madikwe Game Reserve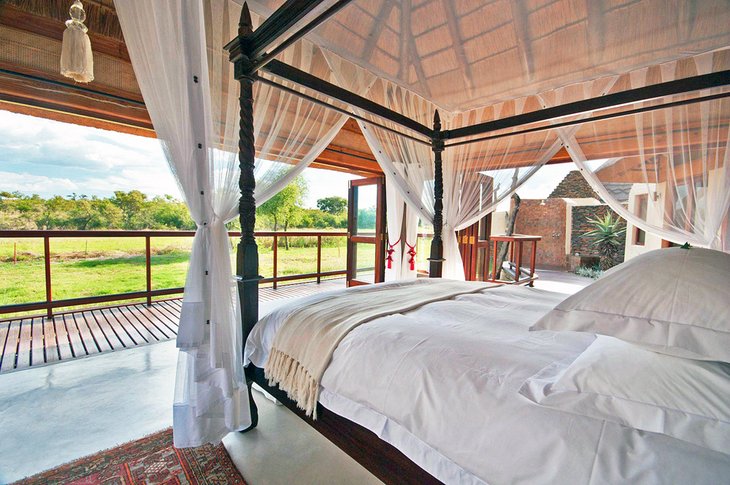 Set around a game-rich waterhole in South Africa's North West Province, Jamala Madikwe is known for its superb wildlife viewing, luxurious lodgings, and friendly staff.
It lies in the Madikwe Game Reserve, a malaria-free area along the Botswana border that once consisted mainly of cattle farms before it was transformed into a wildlife reserve in the early 90s.
Today, the reserve supports an incredible diversity of species due to the fact that it lies in an ecological transition zone, between the Kalahari and lowveld wilderness. Game drives regularly bring sightings of the Big Five, as well as brown hyena, zebra, giraffe, wildebeest, oryx, African wild dogs, and even the rare aardwolf.
Best of all, the lodge's orientation around the waterhole means you can enjoy a "Sofa Safari" here and watch all the action from the villas and common areas, without even leaving the camp.
Accommodation is in five air-conditioned, freestanding villas that blend a colonial feel with African artifacts. Typical features include four-poster netted beds, crisp linens, outdoor showers, spa-like indoor bathrooms, living rooms with fireplaces, dining areas, and expansive decks with rim-flow plunge pools.
When you're not out on game drives, you can enjoy a luxury treatment at the Royal Spa, look for wildlife from the watchtower perched above the waterhole, or relax at the main lodge with a book from the library.
Accommodation: Jamala Madikwe
11. &Beyond Phinda Vlei Lodge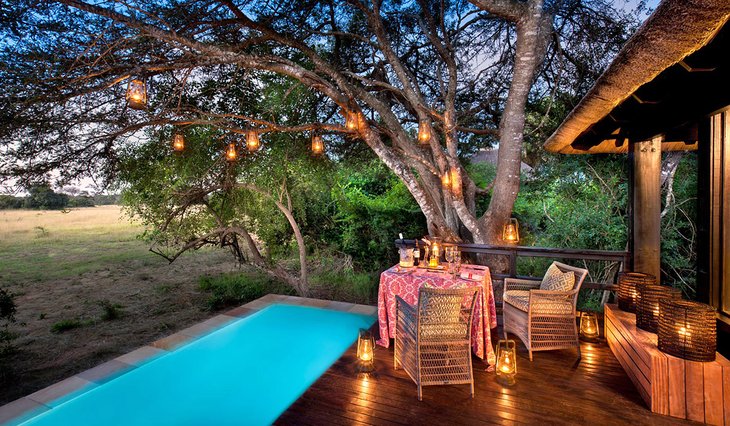 In South Africa's diverse northeastern province of Kwazulu Natal, family-friendly &Beyond Phinda offers a winning combination of private and spacious villas, superb service, and fantastic Big Five game viewing. Cheetah and antelopes such as nyala are also plentiful here. This is one of several &Beyond lodges in Phinda Reserve, an area of rehabilitated farmland now brimming with wildlife.
Tucked amid trees on the edge of a vlei (wetland), the six freestanding thatched villas at &Beyond Phinda Vlei Lodge could easily be at home in Bali if it weren't for the parade of African animals wandering past.
Louvered windows and large glass doors slide open to to create seamless indoor/outdoor living areas, and each villa has a sitting room with a fireplace and a rambling deck with a private plunge pool. Elephants sometimes come to drink from the pools, and antelope graze on the lush grass.
Walking safaris and river cruises are other fun ways to explore the wilderness.
One of the bonuses about choosing a safari at this lodge is that you can complement your bush experience with several day trip adventures, such as a scuba safari at Sodwana Bay, about an hour's drive away; swimming with whale sharks; a Zulu village tour; black rhino tracking; and visits to an endangered wild cats project.
Kids are welcome, and the lodge offers a fun children's program and special family safaris tailored to the ages of each child.
Accommodation: &Beyond Phinda Vlei Lodge