Exploring Kruger National Park: A Visitor's Guide
Kruger National Park has something for everyone. Home to an astounding volume and diversity of wildlife, Kruger is the largest (almost two million hectares) and oldest national park in South Africa. It forms part of the Great Limpopo Transfrontier Park, a massive wilderness area linking Limpopo National Park in Mozambique and Gonarezhou National Park in Zimbabwe.
A huge bonus of visiting Kruger National Park is that it is one of the easiest national parks in Africa to explore on self-guided tours. The park offers a well-developed tourist infrastructure, and its abundant and diverse accommodations cater to different budgets. You can pitch a tent in basic campsites or book a thatched-roof chalet. And if it's luxury you seek, you'll find some of South Africa's finest private game reserves and safari lodges bordering the park.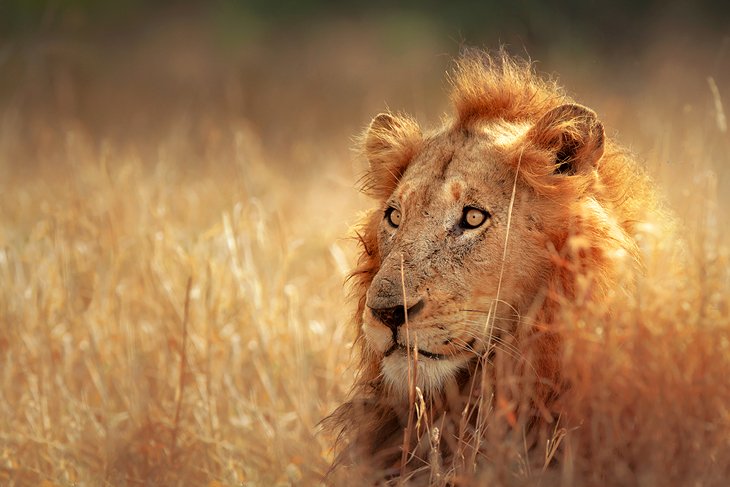 Check out a Kruger National Park map, and you'll see the five perennial rivers, which flow through it from west to east: the Crocodile, Sabie, Olifants, Luvuvhu, and Letaba. These are the park's lifelines. The ecosystem of Kruger National Park is vitally dependent on these rivers, and many of the best lodges perch along their banks.
Add to all this Bushman rock paintings and important archaeological sites, and it's no wonder Kruger National Park ranks among the top game reserves in Africa.
Accommodation: Where to Stay in Kruger National Park
When is the Best Time to Visit Kruger National Park?
Kruger National Park's climate is subtropical, with the driest months being June, July, August. This is the best time of year to visit the park, when the days are sunny and warm and the nights are cooler. Many trees and shrubs have lost their leaves, and water sources dry up, making it easier to spot game around the remaining waterholes.
But spring and summer bring their own beauty. Spring rains wash the landscapes and bring the birth of many animals. In summer, when most of the rain falls, the dry, dusty landscapes transform into vibrant greens, making a colorful backdrop for photos.
Before you go, check the specific Kruger National Park weather for each month to find out what to expect. Depending on the conditions at that time of year, you can also pinpoint the best areas of Kruger National Park to visit.
Kruger National Park Animals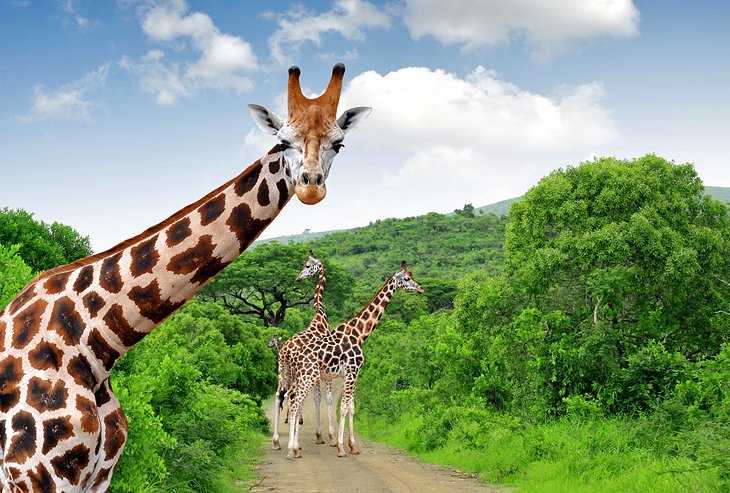 Kruger National Park is remarkable for the exceptional quantity and variety of its wildlife. The park is home to 114 different species of reptiles; more than 500 species of birds; and 147 mammals, including the Big Five: lion, leopard, buffalo, elephant, and rhino. Other species include zebras, giraffes, impala, cheetah, and hippo to name a few.
The park is also one of the last refuges for endangered species, including the black rhino and African wild dog.
The best times to see the animals are the early morning and late afternoon.
Driving in Kruger National Park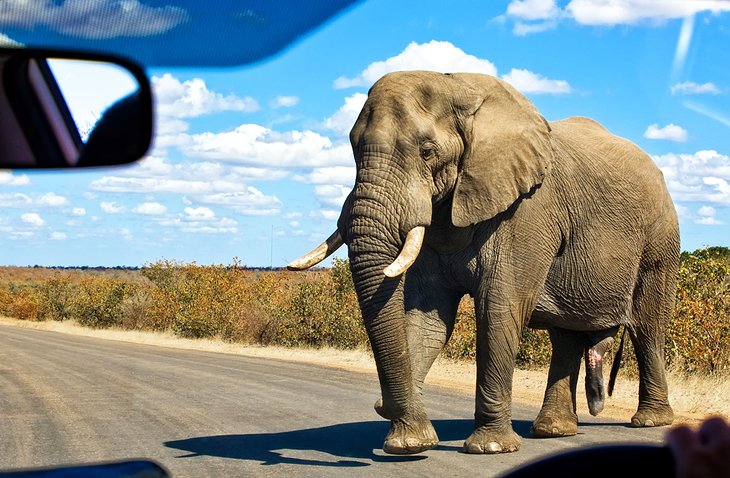 Most visitors tour Kruger National Park in their own vehicles. The park has a network of some 2,300 kilometers of well-signposted roads. Not all are asphalted, but the unsurfaced tracks are usually negotiable by two-wheel-drive cars. Detailed maps are available when entering the park. The speed limit is 50 kilometers an hour on asphalted roads and 40 kilometers an hour on other roads.
A particularly rewarding trip is a drive through the entire length of the park, observing the striking contrasts in the scenery. Alternatively, you can use one of the camps as a base and explore the surrounding area in a series of shorter trips. At least two or three days is recommended to explore the park.
Kruger National Park Tours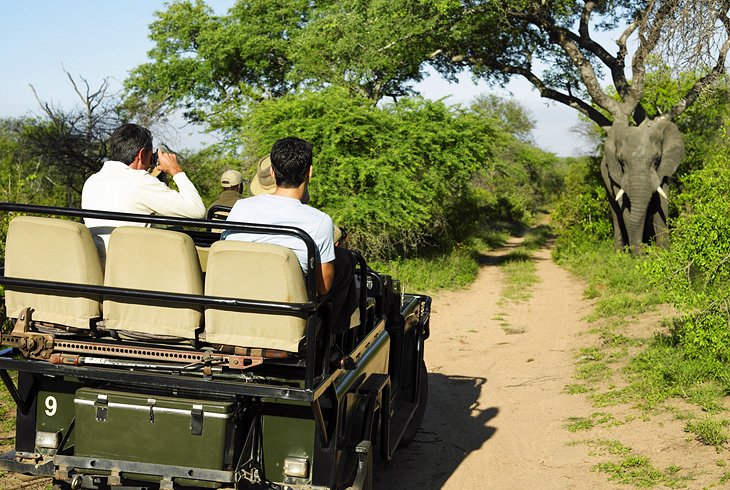 Visiting Kruger National Park is easy on your own, but a guided tour will ensure you see the best parts of the park. Guides can also help track and spot wildlife that the untrained eye might miss. Most tours will pick you up at your Johannesburg hotel or Tambo airport.
The four-day Classic Kruger National Park Safari is a great introduction to the park. You'll be whisked to Tremisana Game Lodge in the Balule Section of the park, and accommodated in air-conditioned, thatched-roofed chalets. Here, you can relax, and perhaps enjoy a dip in the pool, before heading out on a three-hour sunset game drive. After dark, your guide's spotlight will illuminate nocturnal species.
Day two includes an exhilarating walking safari, optional game-viewing at the lodge's hide, and a four-hour sunset game drive. Day three brings more adventure. In the morning, you will hop aboard an open-sided, elevated game-viewing vehicle and travel to the Orpen-Satara- Nwanedzi regions, known to have among the highest concentrations of lions in Africa. Photographers can capture unobstructed shots of the wildlife.
Day four brings a rewarding sunrise drive and a stop at one of the top attractions in Mpumalanga, the spectacular Blyde River Canyon on your return journey. The tour includes national park fees, most meals, activities, and transportation.
If you have a little more time, choose the five-day Katekani Lodge Kruger National Park Safari. It also includes both morning and evening game drives, walking safaris, and a stop at Blyde River Canyon. But you'll also visit several different game reserves, as well as Moholoholo Rehabilitation Centre, where you can mingle with orphaned animals. On this tour, you'll stay at both Tremisana Game Lodge and Katekani Tented Lodge.
If you're visiting the park in your own vehicle, you can still sign up for tours with Kruger National Park guides. These range from shorter day walks to overnight expeditions with accommodation in simple huts. The different camps also organize guided tours in cars, including night game drives, so you can spot some of the park's nocturnal creatures.
Where to Stay in Kruger National Park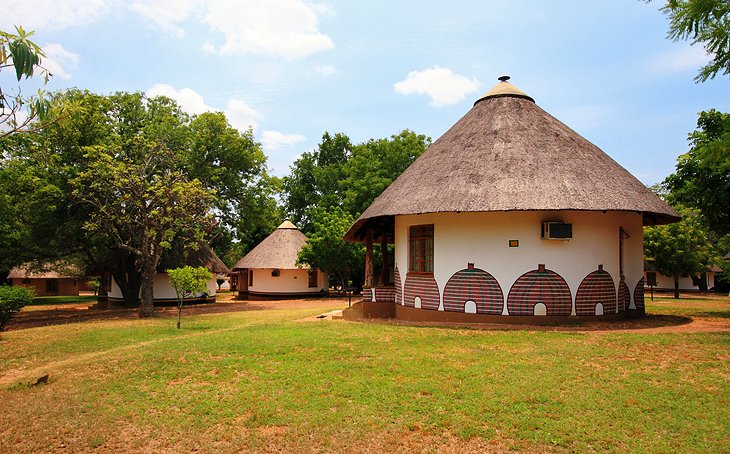 Kruger National Park is renowned for its diverse and abundant lodging options catering to all budgets. Accommodation is available in campgrounds, government-run rest camps, and privately run camps and lodges.
For luxurious accommodations, choose one of the private game lodges that lease land from the park. These include the plush, colonial-style Buhala Lodge on the banks of the Crocodile River, stylish Jock Safari Lodge, and Pestana Kruger Lodge.
Another option for upscale accommodations are the private game reserves on the park's western boundaries. Since these reserves are not within the park boundaries, they allow vehicles to drive off-road in order to track game that moves freely into and out of the national park. Another bonus of these private game reserves is that only guests of their lodges are allowed within the reserves, creating a more exclusive experience.
One of the most well-known private game reserves adjacent to Kruger is Sabi Sands. Here, you can choose from more than 20 different lodges, including Chitwa Chitwa, Ulusaba Rock Lodge, and the more affordable Notten's Bush Camp. Timbavati Game Reserve, also borders the park and offers a wide range of accommodation.
Kruger National Park accommodation prices are most affordable in the government-run rest camps, operated by SANParks. Most visitors spending two or more days in the national park stay in these camps. Here, you can choose from a range of accommodation, including safari tents, thatched bungalows, and comfortable well-equipped guesthouses. Most of them are air-conditioned and include cooking facilities.
All the larger rest camps have restaurants and shops, a filling station, information center, and first aid facilities.
Below are descriptions of the main government-run camps in Kruger National Park. You book them on the SANParks website.
Punda Maria Camp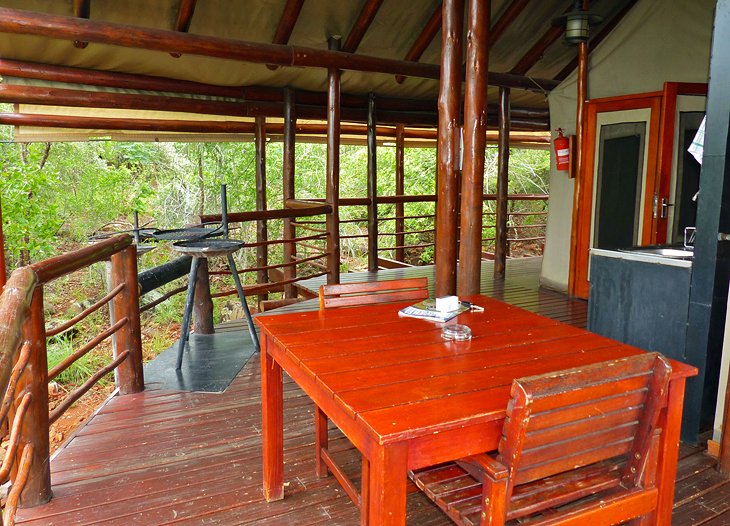 A haven for birders, Punda Maria, lies in the extreme north of Kruger National Park, at the foot of the Dimbo Mountain, with luxury safari tents and thatched bungalows. From the camp, you can gaze upon views over the Mopane plain.
The sandveld round Punda Maria is an offshoot of the Kalahari basin. Nyala, kudu, buffalo, and Sharpe's grysbok are common in this area.
To the north, on the Luvuvhu River, the dry savanna gives way to lush forests with fantastic opportunities for birding. One of the park's best birding drives is the 25-kilometer Mahonie Loop around the camp.
At Klopperfontein, 20 kilometers northeast of the camp, giant baobab trees grow along the edge of a waterhole. About 23 kilometers beyond, the road comes to the Luvuvhu River picnic area, where you can spot crocodiles and hippos from the bridge. From here, a track runs east along the river to the Pafuri picnic area, with great views of the river banks.
Shingwedzi Camp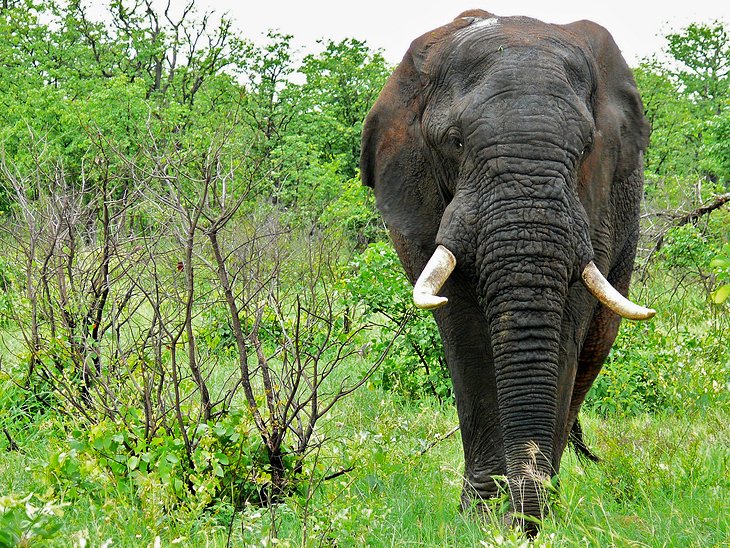 Nestled along a bend in the river, Shingwedzi camp lies 73 kilometers southeast of Punda Maria and is the largest of the three camps in the northern part of the park. Great viewpoints lie along the road from Punda Maria to Shingwedzi, which sits amid ideal elephant habitat.
Accommodation includes bungalows and a luxury guesthouse. A few kilometers north of the camp, large herds of elephants, as well as buffaloes and baboons are frequently spotted, and lucky visitors may even glimpse wild dogs and leopards.
North of the Babalala rest area, cheetah can sometimes be spotted on the open plains. Another track runs southeast from Shingwedzi to the Kanniedood Dam, with a bird hide. Look for African jacana here, as well as black crake.
Mopani Camp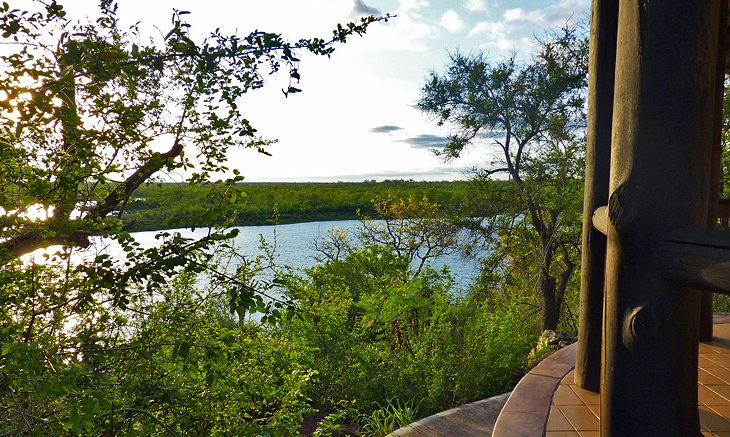 From Mopani Rest Camp, guests can enjoy a beautiful view over Pioneer Dam. Accommodation consists of an upscale guesthouse, cottages, and bungalows, as well as a bird hide that doubles as open-air accommodation in the evening.
About 17 kilometers east of Mopani, Nshawu Dam has an excellent game observation point, where herds of elephants gather, particularly after rain. Water birds are prevalent here, especially kingfishers, storks, and fish eagles.
Letaba Rest Camp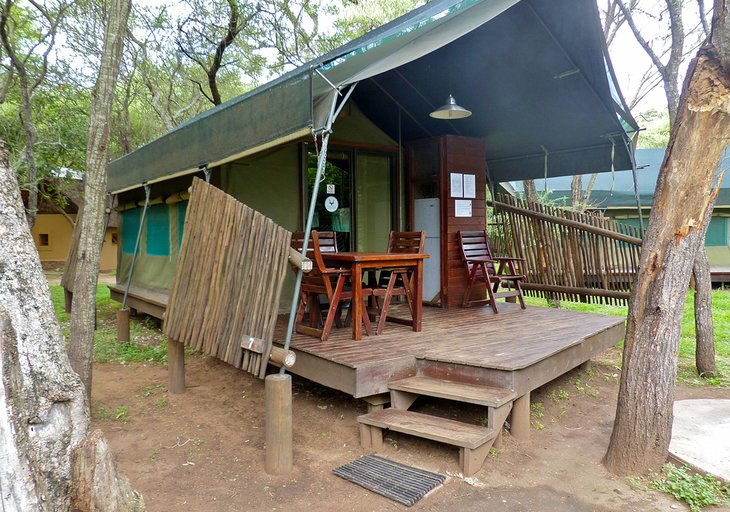 Midway between the southern and northern boundaries of Kruger National Park, Letaba Rest Camp lies on a wide bend on the Letaba River (Letaba means "river of sand"). Tall sycamore figs, mahogany, and sausage trees shade this well-equipped camp, which offers a choice of guesthouses, bungalows, cottages, huts, furnished safari tents, and campsites.
Bushbucks, vervet monkeys, and fruit bats live within the camp, and the area is popular with elephants and many species of birds, especially owls. Cheetah and many species of antelope live in the savanna country around Letaba. At shady waterholes, elephants, buffaloes, zebras, and gazelles come to drink.
The Engelhard Dam to the east and the Mingerhout Dam are also good places for observing game and water birds.
The Elephant Hall here displays informative exhibits on these magnificent creatures, as well as an impressive collection of elephant tusks, including those of a bull elephant known as Shawu, which are believed to be the longest ever found in southern Africa.
About 39 kilometers from Letaba Rest Camp, is the Masorini Village Museum, where archeologists excavated the remains of a Stone Age iron-smelting plant. You can explore the reconstructed village and dome-shaped clay furnaces here.
Olifants Camp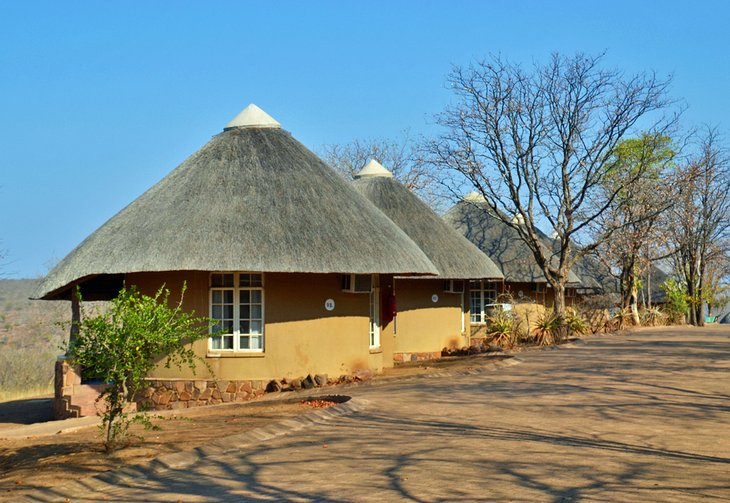 Perched 100 meters above the Olifants River, Olifants camp, with its magnificent old trees, occupies one of the finest locations in the park. Accommodation includes air-conditioned bungalows and two guesthouses.
From the camp itself, guests enjoy excellent views of game along the riverbank and the rolling plains below. Lion, crocodile, and hippo are frequently sighted here. The sunrises and sunsets are spectacular.
In the north, mopane trees attract kudu, zebra, and elephants (olifants is the Afrikaans word for "elephants"). In the south, buffalo and giraffes are often spotted on the plains.
About 10 kilometers west of the camp is the Nwamanzi Lookout, one of the best game observation points in the park.
Balule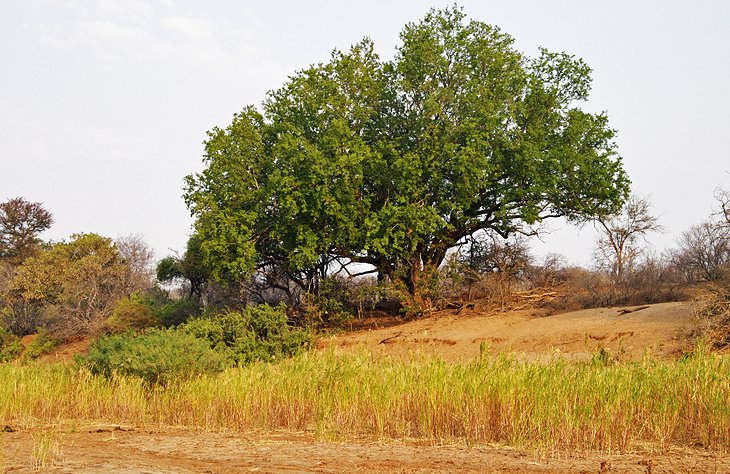 Beneath a large grove of shady trees, Balule Camp is a small satellite camp of Satara and Olifants Rest camps. The rustic atmosphere of Balule Camp will appeal to the independent camper who enjoys a close-to-nature experience. The camp has no electricity, and no day visitors are permitted.
A fence divides the camp in two sections. One section has six three-bedded huts and a communal bathroom and kitchen facilities. Each hut is supplied with linen and towels.
Satara Camp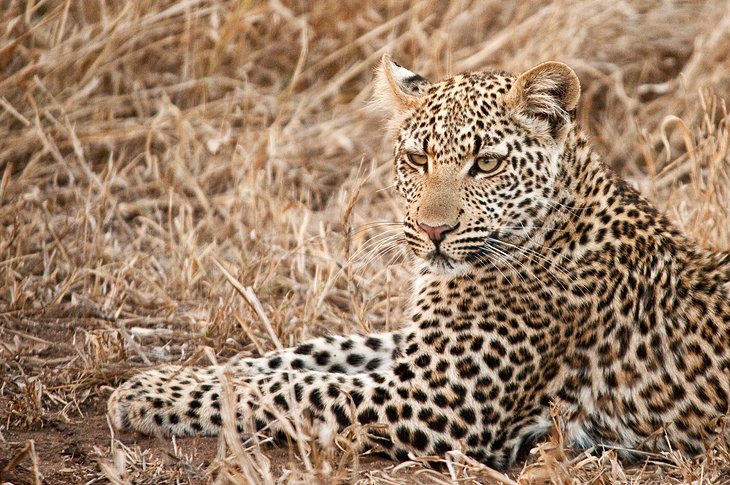 Near the park's center, amid savanna dotted with knob thorn and marula trees, Satara is the park's third largest camp and is often called, "the cat camp." This is one of the best areas to spot lion, leopard, and cheetah. The rich grazing land and many waterholes here attract large numbers of antelope, which the big cats ambush - especially during the dry season when herds of impala come here to drink at the few remaining waterholes.
Accommodation is available in thatched bungalows, guesthouses, and camping sites.
At the Nsemani Dam, nine kilometers west of Satara, hippos and waterbuck are frequently spotted, as well as the occasional pride of lion.
About 25 kilometers northwest of Satara, on the banks of the Timbavati River, is the popular satellite camp of Maroela, with tent and RV sites, one of only two sites that exclusively accommodate campers and RVs.
Orpen Rest Camp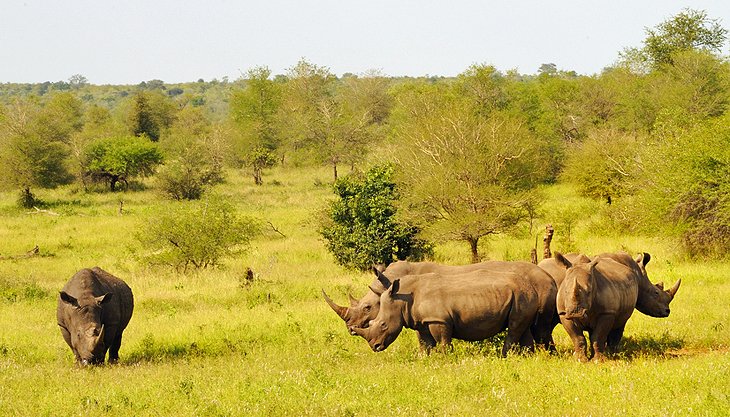 Tucked amid aloe gardens in the dry open plains, the small Orpen Rest Camp lies at the park's Orpen Gate. Comfortable thatched cottages and larger, more luxurious guest cottages are the accommodation choices here.
Just outside the fence of Orpen Rest Camp, a small waterhole attracts game throughout the day, including rhino, impala, baboon, and elephants. About seven kilometers from here, Rabelais Dam attracts waterbuck and other thirsty wildlife.
Orpen Camp offers game drives, game walks, and night drives.
Skukuza Camp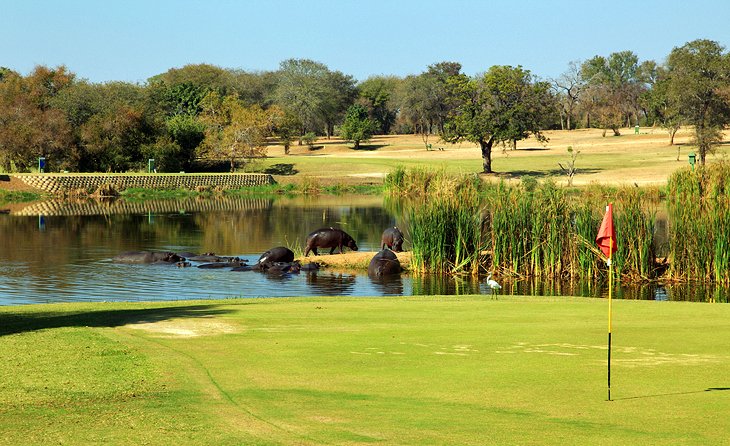 In Big Five territory, Skukuza is Kruger National Park's largest camp and offers plenty of facilities, including restaurants, shops, an Internet cafe, airstrip, and even a nine-hole golf course.
An outdoor amphitheater screens wildlife documentaries, and the Stevenson-Hamilton Memorial Library here is a must-see. Its namesake was instrumental in establishing Kruger National Park, and his assistant, Harry Wolhuter, killed a lion to save his own life, armed with only a pocket knife. You can see the knife and the lion skin in the museum.
Accommodation at this camp includes safari tents, guesthouses, family cottages, riverside bungalows, and a large camping site.
Wildlife is abundant in the area. Warthogs and vervet monkeys roam around the camp accommodations, and an observation point overlooks the banks of the Sabie River, where hippos live, and elephants come down to the river to drink.
Heading northeast from Skukuza to Tshokwane, big game are frequently sighted in spite of the fairly busy traffic, and the Manzimahle Dam and nearby Lion Pan are often frequented by lions.
Lower Sabie Camp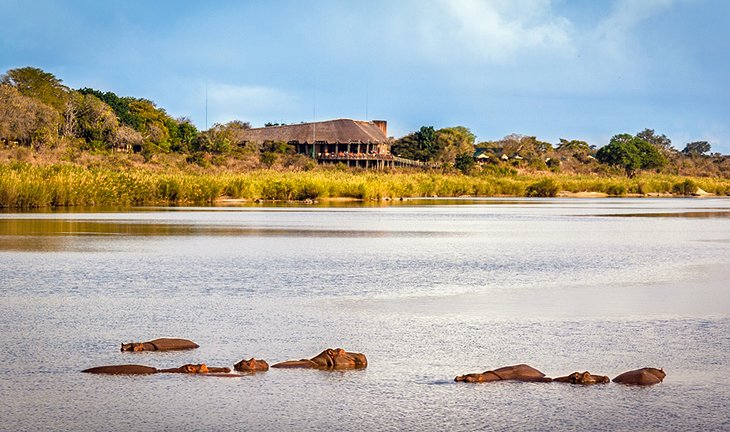 From Skukuza, a road runs along the Sabie River to the Lower Sabie camp, with a large diversity of wildlife, thanks to its sweet grazing land and abundant water.
Accommodation ranges from a campsite and furnished safari tents to a luxury guesthouse and bungalows. Big game can almost always be seen in the bush flanking the road, and drivers often have to brake to avoid giraffes, antelopes, elephants, or zebras.
With its extensive areas of grass and many trees, Lower Sabie is a popular camp. The Sabie River, which is dammed at this point, is home to many waterbirds, and you can also spot monkeys, elephants, rhinos, hippos, and buffaloes.
Crocodile Bridge Camp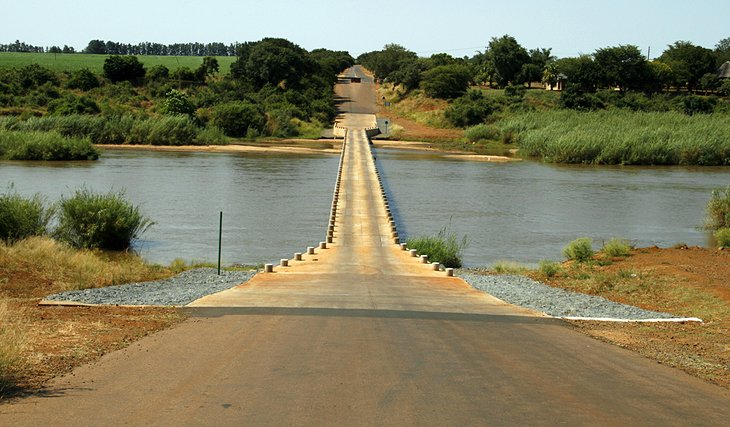 Near the Mozambican border, Crocodile Bridge is a great area to see the Big Five. The area is known for its many prides of lion and high concentration of rhino.
The grassland in the surrounding area attracts zebras, wildebeests, impalas, kudus, gazelles, and large herds of buffaloes. In winter, the Crocodile River dries up, leaving only small pools, but these are still an important source of water for animals.
About six kilometers from the camp is an observation point, where you can watch hippos wallowing along the muddy riverbank.
Pretoriuskop Camp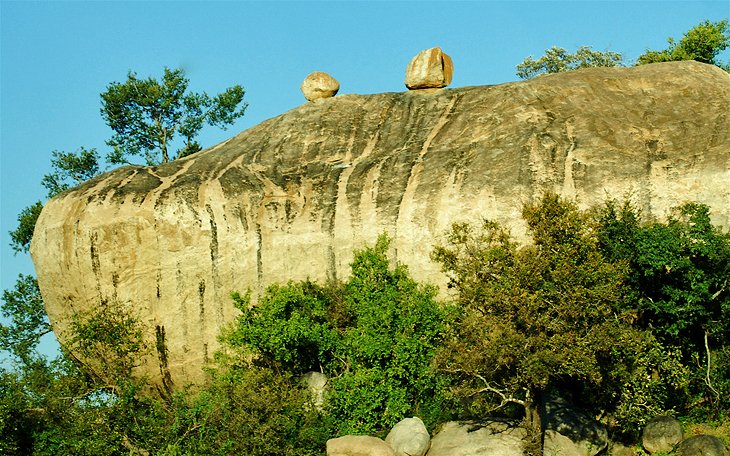 In the southwest of the National Park, nine kilometers from the Numbi Gate, is the Pretoriuskop camp, the oldest in the park and one of the largest. Wilderness trails surround the camp, and guests can cool off in the natural rock swimming pool.
Accommodations range from well-equipped guesthouses and family cottages to basic bungalows and campsites.
Within this area, enclosed by picturesque granite hills, many species of trees and shrubs grow, including the coral tree, which produces its blood-red flowers in August and September.
Around Pretoriuskop, you can sometimes see rare species of animals at close quarters, including wild dogs, cheetahs, leopards, and antelope. Rhino are also common in this area.
Berg-en-Dal Camp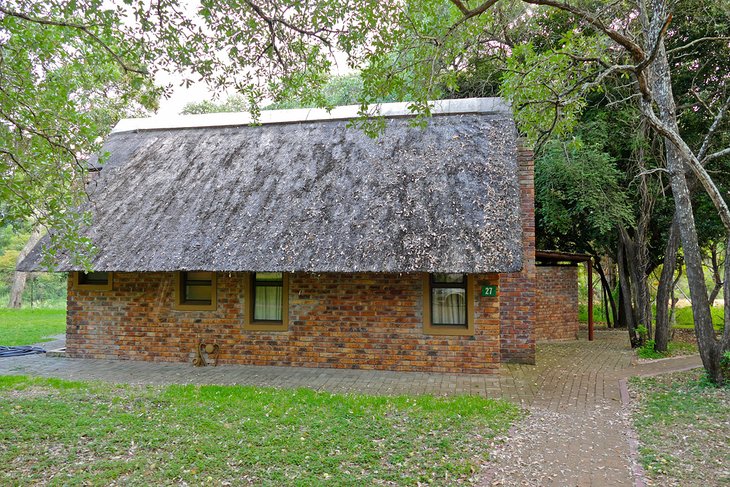 About 60 kilometers southeast of Pretoriuskop Camp, Berg-en-Dal is one of the park's newest camps and offers magnificent views of its hilly surroundings. It sits on the banks of the Matjulu spruit, in the southwestern corner of the park.
Lodging options include basic and older-style bungalows, guesthouses, and campsites.
A short nature trail runs through the camp, where many species of birds can be spotted, including lilac-breasted rollers and scarlet-chested sunbirds. Leopard, lion, and wild dog are also found in the area.
Visitors can view San rock art along the Bushman Trail.
Tips & Tactics: Getting the Most out of a Visit to Kruger National Park
Bring binoculars for close-up views of the wildlife.
Review the animal sightings boards at the camp receptions to see what wildlife might be in the area before heading out on a game drive or walk.
Stay in vehicles at all times, except at specially designated places.
Drive slowly to see hidden animals and to avoid hitting wildlife.
Check the opening and closing times of the park's gates and camps before visiting.
Take appropriate precautions against malaria. Kruger National Park lies within a malaria zone.
Never feed the animals.
Getting Here
By Air:
Daily flights to Kruger National Park operate from Johannesburg to Skukuza Airport, Phalaborwa Airport, Hoedspruit Airport, and the Kruger/Mpumalanga International Airport (KMIA) between Nelspruit and White River.
Daily flights also operate to Skukuza from Cape Town. KMIA also receives daily flights from Durban and Cape Town, and a bus shuttle operates between the airport and the park.
Travelers can also fly from Cape Town to Hoedspruit.
By Car:
The National Park is a 3.5- to 4.5-hour drive from Johannesburg. Most visitors enter by the Numbi Gate, Phabeni Gate, or Paul Kruger Gate. The fastest route to these gates is on the N4 to Nelspruit.
By Coach:
Travel companies in Johannesburg, Durban, and Nelspruit run tours to Kruger National Park in air-conditioned coaches.
Official site: http://www.sanparks.org/parks/kruger/