11 Top-Rated Tourist Attractions in Gauteng and the North West Province
In the heart of the country's northern reaches, the tiny province of Gauteng is South Africa's economic dynamo. Home to the bustling metropolis of Johannesburg, as well as Pretoria, the country's trim and tidy administrative capital, Gauteng is the smallest province in the country, but its population is the largest.
Gauteng means "place of gold" in the Sotho language, but today instead of gold, the province lures travelers primarily with its urban attractions, including poignant historical monuments and impressive museums and botanical gardens. Away from the cities, you can explore the fossil-rich caves of the Cradle of Humankind, a UNESCO World Heritage Site.
To the west of Gauteng, separated by the millennia-old Magaliesberg Mountains, the North West Province is a perfect counterpoint. Here, superb game parks such as Pilanesberg National Park and Madikwe Game Reserve offer back-to-the-bush authentic African safaris.
But even the North West Province has been touched by nature-defying development. In sharp contrast to the province's sprawling savannah, the impossibly lush Vegas-style Sun City resort is like a mirage in the desert, an unabashed pleasure precinct packed with entertainment, from water parks with wave pools to lavish themed hotels.
Learn more about the best places to visit in these contrasting regions with our list of the top attractions in Gauteng and the North West Province.
1. Pilanesberg National Park, North West Province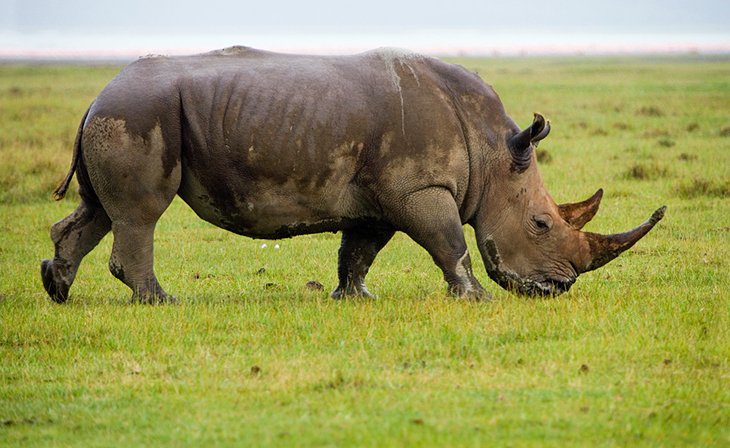 About three hours' drive from Johannesburg, near Sun City, Pilanesberg National Park offers fantastic game viewing. Here, you have a chance to spot the Big Five: leopard, lion, elephant, buffalo, and rhino.
Thanks to its location in a transition zone, between the arid Kalahari and the moist lowveld of the Transvaal, the park's wildlife is diverse and abundant. Sable antelope, roan, African wild dogs, zebras, giraffes, and more than 360 species of birds are among the many animals found here.
You can explore the 550-square-kilometer park on self-drive tours, and guided walking safaris, and game drives in open vehicles are also available. For a bird's-eye view of the game, visitors can soar over the park in a hot air balloon.
Accommodation options are plentiful and varied - from safari tents to luxury lodges, and unlike Kruger, this region is malaria free.
Official site: http://www.pilanesbergnationalpark.org/
2. Lion & Safari Park, Gauteng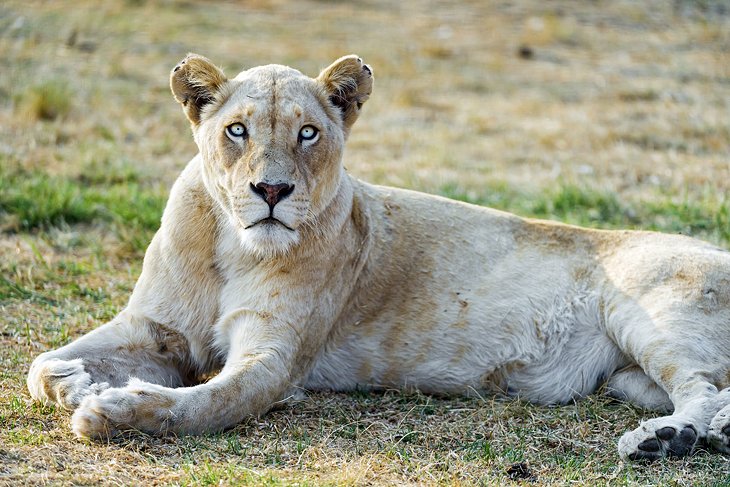 For a walk on the wild side, less than an hour's drive from Johannesburg, head to the popular Lion & Safari Park for the day. This is one of the top animal-centered Gauteng attractions.
Cheetah and lion walks, as well as interactions with giraffes and ostriches are some of the exhilarating activities on offer, and you can also choose from an array of guided tours, including predator tours, night-feeding tours, bush walks, and the flagship three-hour safari.
Prefer to explore on your own? You can take a self-drive tour to see the resident wildlife, including hyenas, wild dogs, zebras, lions, cheetahs, and many species of antelope.
If you have the kids in tow, they'll appreciate a stop at the playground.
This is a popular day trip from Johannesburg for the whole family. Best of all, kids under 12 are free on all the guided tours and self-drive tours.
Address: R512 Pelindaba Road, Hartbeespoort, Broederstroom, 0240
Official site: https://lionandsafaripark.com/
3. The Cradle of Humankind, Gauteng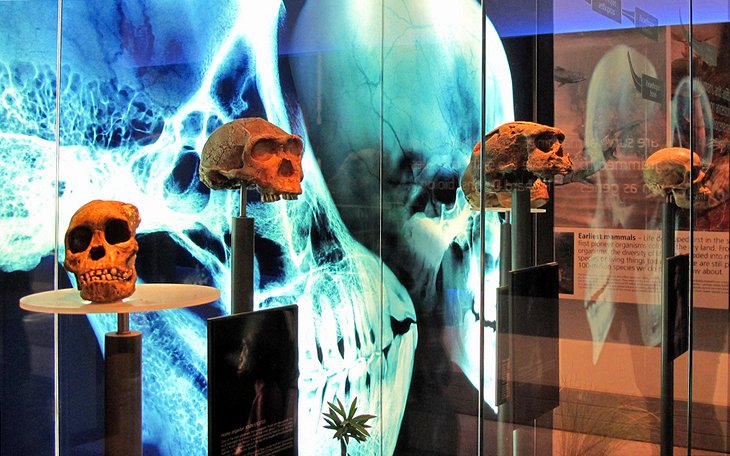 About 44 kilometers from Johannesburg lies the Cradle of Humankind, a UNESCO World Heritage Site with one of the richest concentrations of early human fossils in the world.
The site is also home to the impressive Sterkfontein Caves, with six connected underground caverns where many of the fossils were found.
Among the finds here is the skull of a humanoid creature known as Australopithecus africanus, estimated to be two million years old, as well as a skeleton thought to be about 3.5 million years old.
To learn more about the site and its remarkable fossil stories, stop by the Maropeng Visitor Center. This fascinating journey back in time is another popular day trip from Johannesburg.
4. The Apartheid Museum, Johannesburg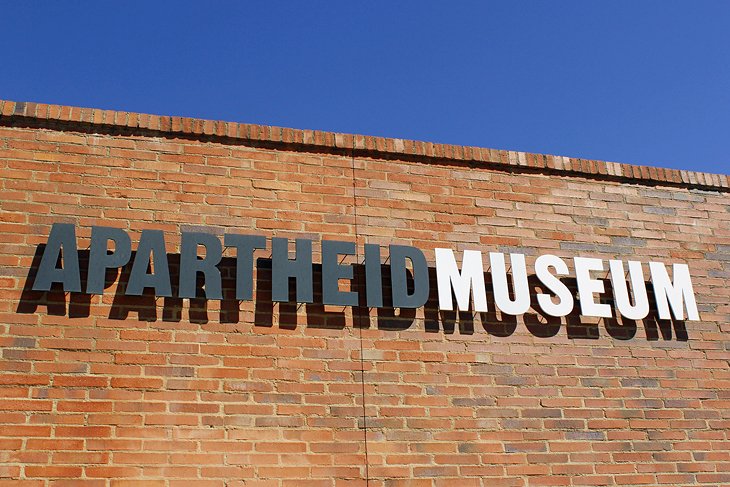 One of the top things to do in the bustling metropolis of Johannesburg is spend time at the evocative Apartheid Museum. Poignant exhibits such as photos, artifacts, personal stories, newspaper clippings, and films trace the story of apartheid and its impacts on everyday life during the time.
Here, you will become travelers through time, following a path of exhibits that takes them on South Africa's journey from oppression to democracy. It's an emotional experience, but a visit to this excellent museum bestows a new appreciation for the long road this country has traveled. Plan to spend at least two hours here to really soak up all the exhibits.
Address: Cnr Northern Parkway & Gold Reef Road, Ormonde, Johannesburg
Official site: http://www.apartheidmuseum.org
5. Pretoria National Botanic Garden, Gauteng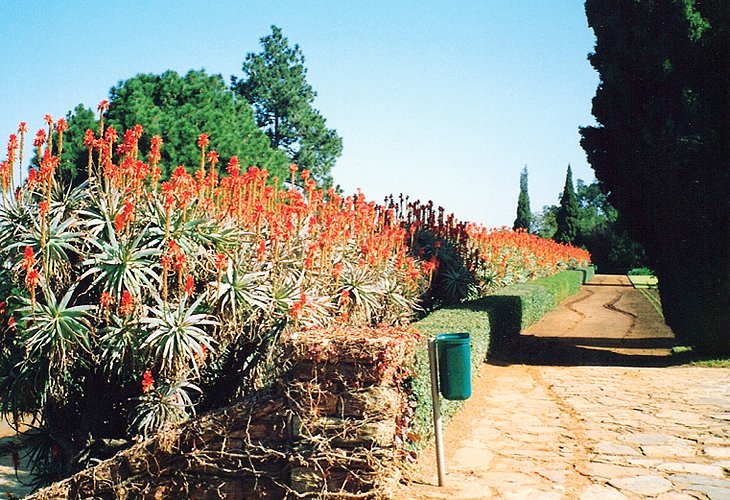 A tranquil escape near the city center, Pretoria National Botanic Garden focuses on South Africa's fascinating flora. Cycads, aloes, and colorful flowering plants brighten these 76-hectare gardens, which are home to more than half of the country's species of trees.
Cold and warm climate plants flourish in separate sections of the park and provide contrasting landscapes thanks to a quartzite ridge, which separates the gardens.
The National Herbarium here is home to the country's largest collection of plant specimens, and themed plantings include coastal forests, savannas of the Karoo, and the grassland plains of Namibia.
After strolling among the gardens and natural bush on the scenic nature trails, you can relax at the popular restaurant with lovely views of the lake.
Address: 2 Cussonia Avenue, Brummeria, Pretoria
Official site: http://www.sanbi.org/gardens/pretoria
6. Pretoria's Historical Monuments, Gauteng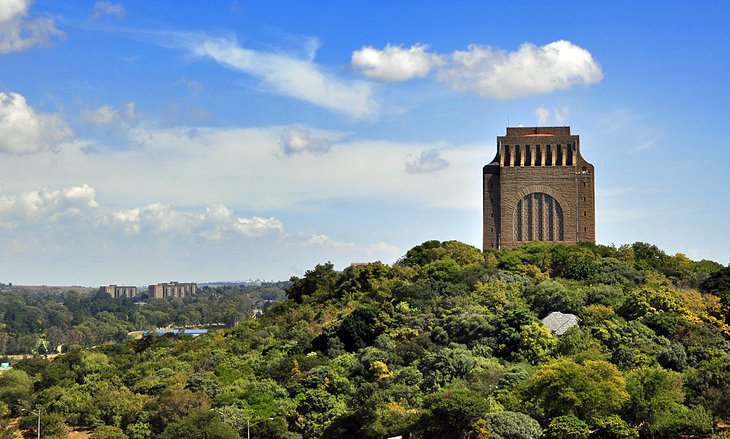 Apart from its jacaranda-studded parks and gardens, Pretoria is known for its thought-provoking historical monuments. A sightseeing tour of these monuments is one of the top things to do in Pretoria - especially in the springtime, when the jacarandas are in full bloom.
One of the most famous monuments is the Voortrekker Monument, a South African Heritage Site, which honors the Boers' pioneering history. A steep staircase leads up to this 40-meter-high imposing granite memorial, and a wall of carved ox wagons surrounds it, representing the trek wagons used by the Boers in the mid-19th century. Highlights include the Hall of Heroes with marble reliefs representing the Great Trek of 1838, informative museum exhibits, and sweeping views of the city from its rooftop.
Overlooking the Voortrekker Monument from the peak of Salvokop HIll, Freedom Park unveils South Africa's journey to democracy through a series of evocative memorials and museum exhibits. Here, you can see the Wall of Names honoring victims of South Africa's conflicts, and the Gallery of Leaders, which celebrates some of the nation's most inspirational figures. Guided tours enrich a visit to this poignant site.
Surrounded by gorgeous gardens, the Union Buildings perch atop the highest point of the city near historic Church Square, site of the city's first settlement. Designed by Sir Herbert Baker in 1913, these sandstone buildings are the seat of government and also house the offices of the president and the state archives.
7. The Ann van Dyk Cheetah Centre, North West Province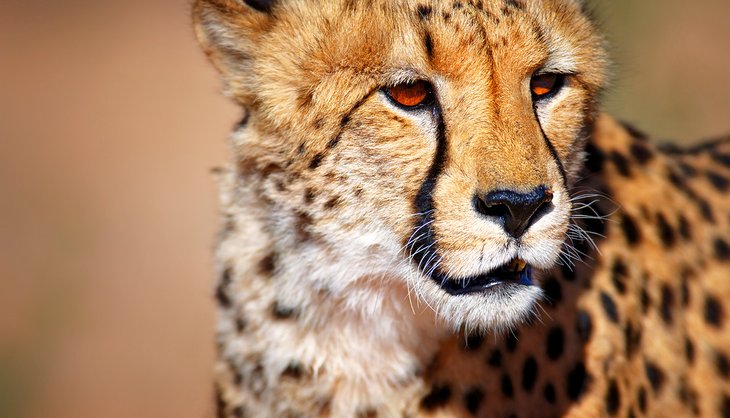 If you love close-up views of African wildlife and care about conservation, you'll enjoy a visit to the Ann van Dyk Cheetah Centre. It's an easy 45-minute drive from Pretoria.
Established in 1971 as a cheetah breeding project, the center has since expanded its projects to include African wild dogs, brown hyenas, and Cape vultures, among other animals. It was also the first breeder of the rare king cheetah.
You can choose from a range of educational tours here. These include walking tours around the animal enclosures, private tours, and opportunities to watch the fastest animals on earth run at full speed. Photographers will enjoy capturing close-up images of these magnificent animals. Best of all, the cost of your tour helps fund conservation projects.
If you're looking for another place to visit for a big cat adventure, Ukutula Conservation Center offers a popular walk with the lions experience. It's about a 30-minute drive from the Ann van Dyk cheetah center.
Address: R513, Brits, Madibeng
Official site: https://dewildt.co.za/
8. Sun City, North West Province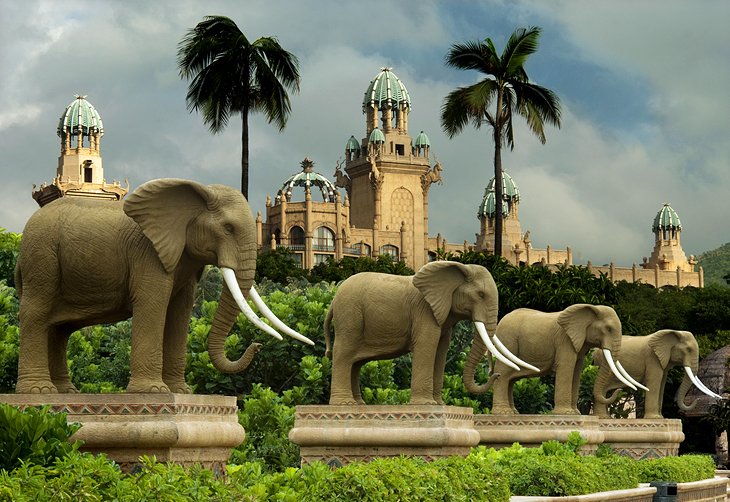 About 160 kilometers northwest of Johannesburg, Sun City is entrepreneur Sol Kerzner's extravagant vision, a kind of Disneyland meets Las Vegas in South Africa. This is one of the most famous attractions in the North West Province.
Where arid savannah once sprawled, now impossibly lush lawns, parks, and even tropical forests surround this flamboyant, family-friendly pleasure precinct.
The exciting line-up of entertainment venues includes cinemas, shops, and a mammoth stadium for pop concerts and sporting events. Other things to do here include hitting a few rounds on the world-class golf course and keeping cool in the water parks at the artificial beaches and wave pools.
Four hotel complexes accommodate a stream of fun-seekers, many of whom travel from Johannesburg for weekend getaways. Sun City's most exclusive hotel, The Palace of the Lost City, is a luxury fairy-tale-like property and the centerpiece of the resort.
When it comes to entertainment in the North West Province, Sun City offers activities for all the family - even the little ones. Kids can escape to Kamp Kwena, ride the safari train, learn to water-ski and jet ski on the faux lagoon, bob around on bumper boats, and mingle with animals at the petting zoo.
For a more authentic taste of Africa, the nearby Pilanesberg National Park and Madikwe Game Reserve offer superb game viewing in natural bushland.
Official site: http://www.sun-city-south-africa.com/
9. Bush Babies Monkey Sanctuary, North West Province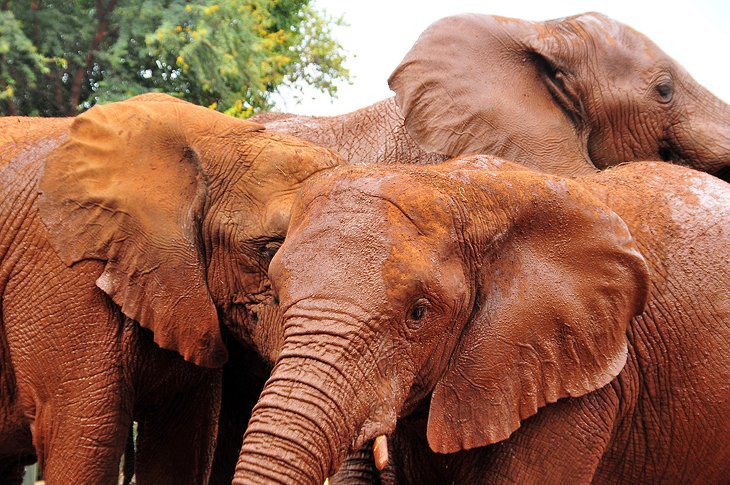 At the Bush Babies Monkey Sanctuary near Hartbeespoort Dam, animal lovers can get up close and personal with these adorable creatures. Nestled in a gorge in the Magaliesberg mountain range, the sanctuary rescues orphaned and abused bush babies, as well as lemurs and many species of monkeys, and accommodates them in naturalistic large enclosures.
The bushbabies are nocturnal and sleep during the day, but you can enter the monkey enclosures with experienced guides and view these mischievous animals from raised walkways. Watch out for furry long-tailed pickpockets.
Next door, the Elephant Sanctuary offers elephant experiences and educational interactions with these gentle giants.
10. Madikwe Nature Reserve, North West Province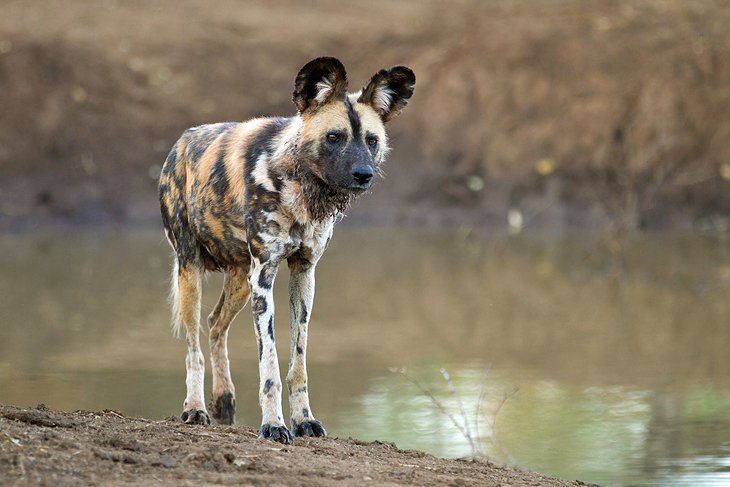 About a three-and-a half-hour drive from Johannesburg and only 90 minutes from Sun City, Madikwe Nature Reserve offers excellent game viewing. Here, you'll have the chance to see the Big Five - lion, leopard, elephant, buffalo, and rhino - in more than 750 square kilometers of malaria-free natural bushland.
The park also protects endangered African wild dogs, hippos, cheetahs, hyenas, antelopes, and more than 300 species of birds.
Accommodation options range from affordable bush camps, self-catering villas, and guesthouses to full-board luxury lodges. You can fly in here from Johannesburg or Tambo airports.
Official site: http://www.madikwegamereserve.co.za
11. Magaliesberg Canopy Tour, North West Province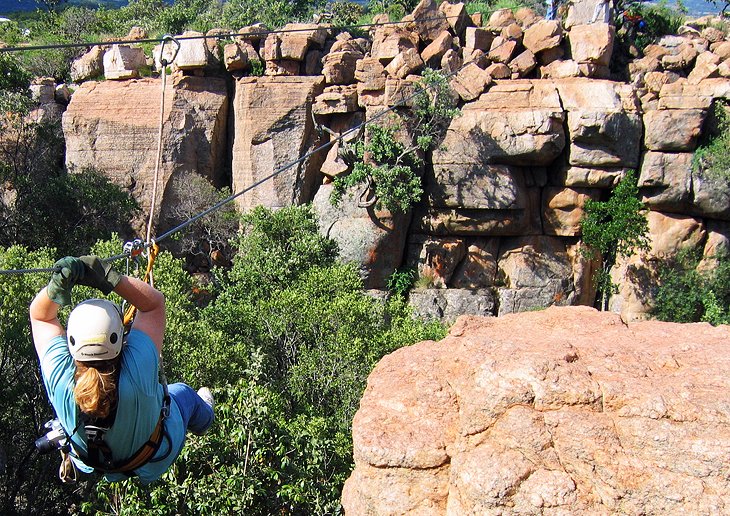 About a 90-minute drive from Johannesburg, near the little town of Rustenburg, thrill seekers can fly across a plunging canyon in the beautiful Magaliesberg Mountains.
Set in the world's second-oldest mountain range, the Magaliesberg Canopy Tour is an exhilarating eco adventure that gives you a bird's-eye view of this spectacular area. You'll also have the chance to spot wildlife such as dassies (rock hyrax), duiker, klipspringer, zebra, impala, and wildebeest, as well as many varieties of birds.
Built into the sheer rock faces, 10 zip lines allow visitors to fly at heights of up to 300 meters above the canopy floor stopping at eleven platforms with panoramic views of the surrounding wilderness. Expert guides accompany the tours and share fascinating facts about the plants and animals along the way.
Map of Tourist Attractions in Gauteng and the North West Province