16 Best Cities in Africa
Home to more than 50 different countries, the African continent has some of the world's best cities to explore. Vibrant, eclectic, and culturally rich, many African cities are modern affairs set to a beautiful backdrop.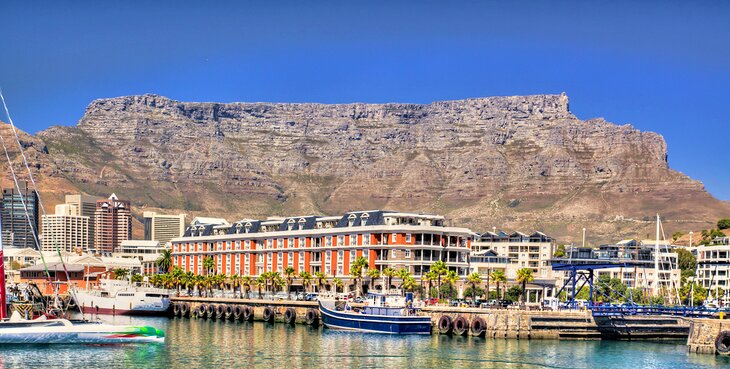 South Africa's Cape Town, for instance, is often considered one of the world's most beautiful cities for its mix of natural beauty — there's a 6,000-foot table-shaped mountain in the center and a string of white-sand beaches — and buzzy atmosphere. Visitors can expect stylish hotels, delectable restaurants with global cuisine, and plenty of cultural attractions and adventurous things to do.
Other African cities, like Marrakesh, Morocco, offer the best of old and new. In Marrakesh, you will find an up-and-coming art scene, five-star resorts, and contemporary restaurants set next to ancient bazaars, souks, and markets.
And Africa has cities for all styles of travelers, from fast-paced and sprawling metropolises like Egypt's Cairo, Nigeria's Lagos, and South Africa's Johannesburg to cities like Stone Town on the island of Zanzibar, where the pace of life moves slow.
Selected for their diversity, beauty, and reasons a tourist would want to include them on a vacation, here we present our list of Africa's best cities.
1. Cape Town, South Africa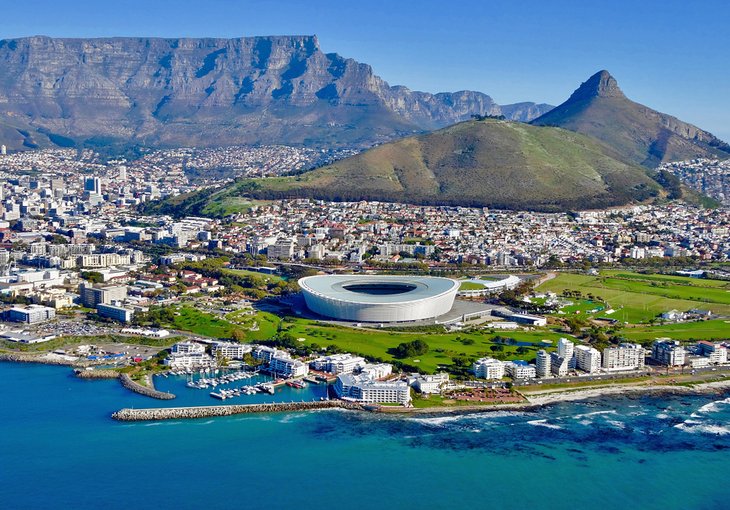 Located at the base of Table Mountain and right on the Atlantic Ocean, Cape Town has it all. The city is home to a string of beautiful beaches and a plethora of natural attractions like climbing to the top of Lion's Head to view the sunrise or hiking in Table Mountain National Park. It also features the gorgeous Kirstenbosch Botanical Garden, and there is an opportunity to see wild African penguins just about 30 minutes outside the city center.
Cape Town is also culturally rich and home to a myriad of museums, galleries, and historical attractions, like Robben Island, where Nelson Mandela was imprisoned for 27 years. When it comes to dining and shopping, Cape Town has excellent restaurants and contemporary shops. Don't miss the lively Victoria and Alfred Waterfront, which is home to both.
There are also hotels for all budgets of travelers and due to a favorable exchange rate for Americans, Canadians, and Europeans, even the luxury hotels here are affordable. If you do want to splurge, The Silo Hotel is one of the nicest in town, with Instagram-worthy bathtubs.
2. Marrakesh, Morocco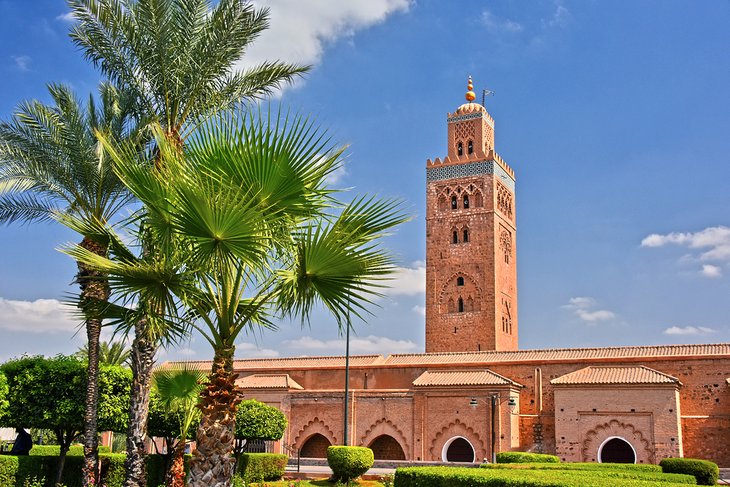 Morocco's fourth-largest city, Marrakesh is a mesmerizing place to visit filled with ancient architecture and modern culture. In the western part of the country, Marrakesh is home to a vibrant medieval walled medina, which dates back to the Berber Empire. You'll want to spend some time wandering its narrow maze-like streets, where you'll find souks (marketplaces) selling all sorts of traditional goods from jewelry to spices and textiles.
Another one of Marrakesh's must-sees is the 12th-century Koutoubia Mosque, with its Moorish minaret that forms an integral part of the city skyline. Also don't miss new attractions like the Museum of African Contemporary Art Al Maaden and the galleries making up Marrakesh's burgeoning arts scene.
If you're trying to decide where to stay, the luxe Oberoi, Marrakech is one of the best sleeps in the city.
Read More: Top-Rated Day Trips from Marrakesh
3. Cairo, Egypt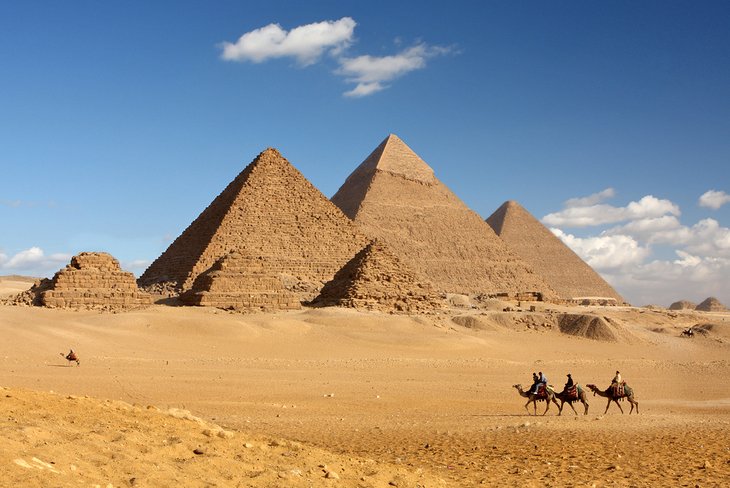 Right on the banks of the Nile River, Cairo is a chaotic and bustling city that is also the largest in Egypt. It's dubbed the "city that never sleeps" — there is always something going on in this sprawling metropolis, where ancient culture meets modern skyscrapers. Expect to hear a cacophony of horns and the rumble of traffic day and night, but the sounds are invigorating to those who like large cities.
Travelers come to Cairo to explore Egypt's long and storied history. Top Cairo attractions include the Egyptian Museum, which is filled with millennia worth of antiquities and artifacts, including mummified bodies of ancient rulers. The large, public Tahir Square with its central traffic circle is the heart of Cairo and also known as a location for political demonstrations. For panoramic city views, you'll want to visit the 187-meter-high Cairo Tower in the Zamalek district of the Gezira Island suburb.
Also nearby is Giza, where you'll find Egypt's most famous attractions: the iconic pyramids dating back to the 26th-century BCE and the Great Sphinx. Visit on a camel for sunrise or sunset.
Accommodation: Top-Rated Resorts in Egypt
Read More: Pyramids of Giza: Attractions, Tips & Tours
4. Stone Town, Zanzibar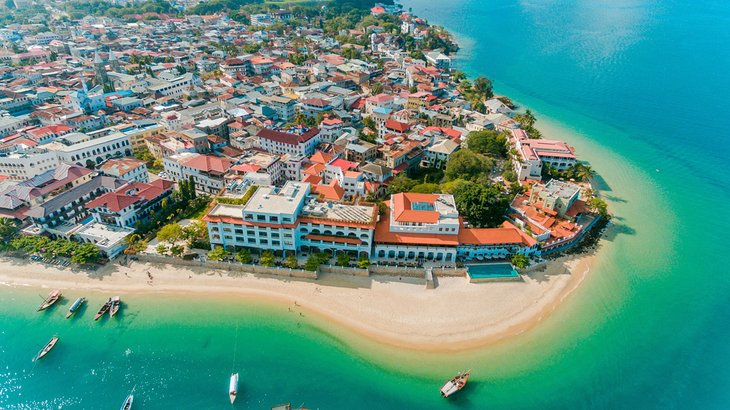 Stone Town is no major metropolis; it is an old Swahili coastal trading town, but it is one of the most intriguing destinations in Africa. Located on the beautiful island of Zanzibar off the Tanzanian coast in the Indian Ocean, Stone Town is the heart and soul of the island.
The town dates back more than 200 years and is a UNESCO World Heritage Site. It is filled with winding alleys and old riads, with their intricate carved wooden doorways that serve as guesthouses now. Check out the town's vibrant bazaars, and grab dinner from one of the multiple food vendors cooking up fresh dishes right on the waterfront.
Read More: Top-Rated Tourist Attractions in Tanzania
5. Johannesburg, South Africa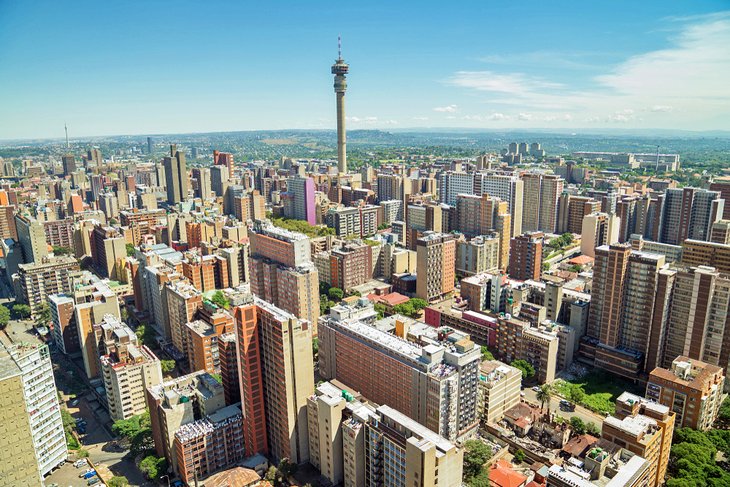 Johannesburg, or Jo'burg as the locals call it, is South Africa's largest city and one of Africa's most wealthy and modern. Expect skyscrapers, world-class hotels, and a host of restaurants that can rival those in major western cities like New York. In fact a lot of Jo'burg has a feeling similar to NYC — it has a young, vibrant, frenetic, goes-all-night energy about it.
The city center is home to attractions like the not-to-be-missed Apartheid Museum. But the suburbs here are also notable and where most of the hotels and restaurants are located.
Johannesburg is also filled with shopping malls that people still flock to, and you'll find these anchored by more classy hotels and restaurants. The township of Soweto is another cultural must-see to understand South Africa's complicated history.
6. Kigali, Rwanda
Rwanda's capital city is known for being one of Africa's cleanest cities. Set in the middle of the country and just a 2.5-hour drive from Volcanoes National Park, where tourists come to trek to see Rwanda's mountain gorillas, it has a great geographical location for exploring this emerging destination.
The city, which sits at just over 5,000 feet above sea level and dates back to the 11th-century, is hilly, with buildings set on ridges and accompanying valleys. The Kigali Genocide Memorial is a top (if somber) Kigali attraction, documenting the horrific 1994 mass killings during Rwanda's civil war.
For traditional handicrafts, from wooden carvings to jewelry and woven baskets head to the numerous vendors making up the Caplaki Craft Village. Kigali also has a lively restaurant and entertainment scene.
7. Essaouira, Morocco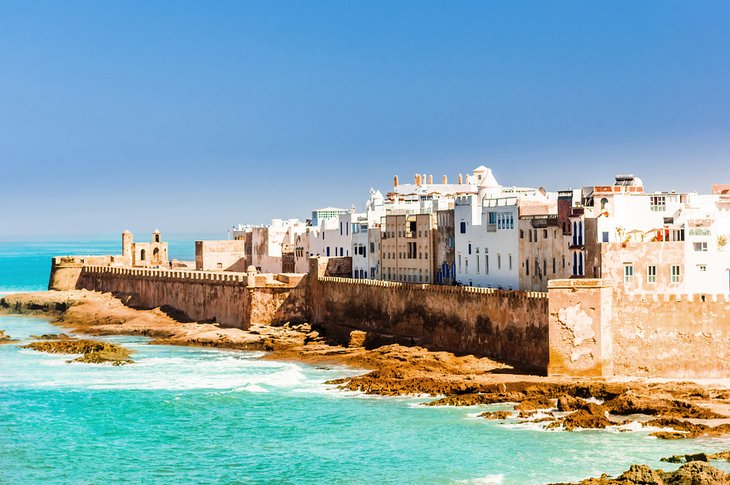 The Moroccan port city of Essaouira on the country's Atlantic coast is one of its most beautiful. The city, which is also a popular resort town, has some lovely beaches and is known for its excellent kitesurfing, windsurfing, and regular surfing, thanks to strong currents and plenty of wind — it is actually known as the Wind City of Africa.
Head to the old medina to begin sightseeing. It is protected by 18th-century seafront ramparts and is filled with palm-lined avenues and narrow streets where you'll find cafés, art galleries, and small hotels. Also check out the old brass cannons lining this picturesque fishing town's fortified walls.
8. Windhoek, Namibia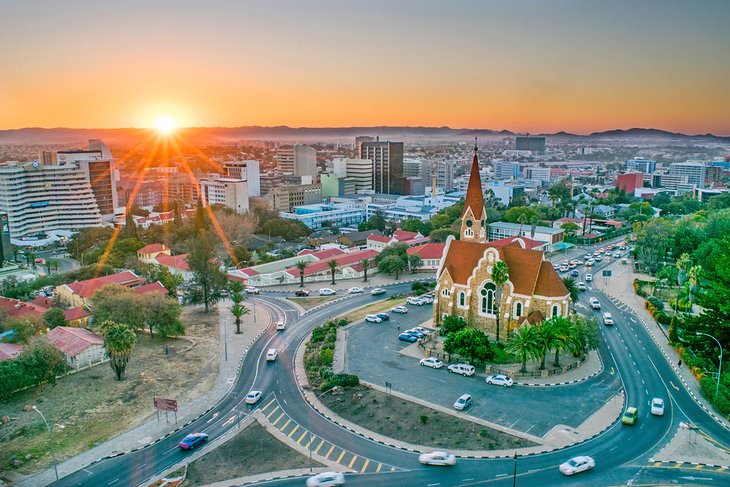 Namibia's capital city is one of Africa's easiest to navigate. Safe, contemporary, and clean, it is filled with traditional German houses and pastel-hued buildings. Despite being Namibia's largest city, Windhoek has more of a small-town vibe.
The pedestrian-friendly city is easy to explore on foot. Don't miss its many craft shops, fun and tasty restaurants, and neo-Baroque cathedrals that join skyscrapers to make up the city's skyline.
9. Durban, South Africa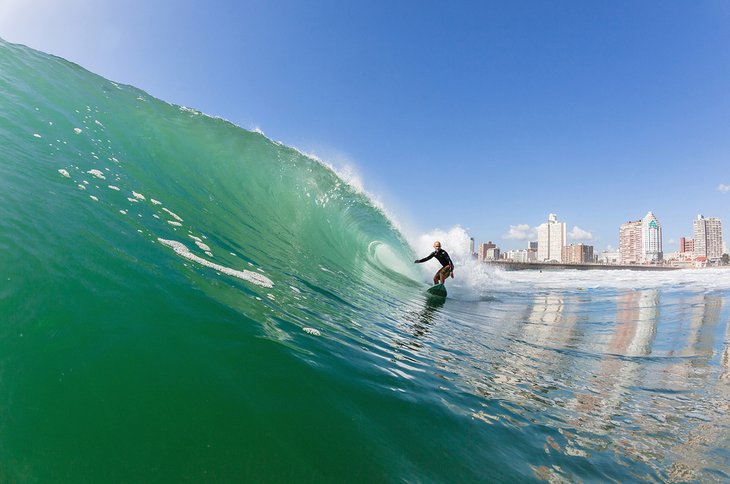 South Africa's third major city, Durban has a unique multicultural history and is known as the birthplace of Mohandas Karamchand Gandhi who was born here on June 7, 1893.
Today, the city on the Indian Ocean coastline is a top South African beach destination (the sea here is quite a bit warmer than in Cape Town), with some good surf breaks. It is also known for its large Indian population and excellent restaurant scene.
Top Durban attractions include a seafront promenade that runs from uShaka Marine World, a large theme park with an aquarium, to the Moses Mabhida Stadium, which was built for the 2010 soccer World Cup. It is also known as the Golden Mile.
The Durban Botanical Gardens is another popular attraction and showcases a larger variety of African plants.
10. Nairobi, Kenya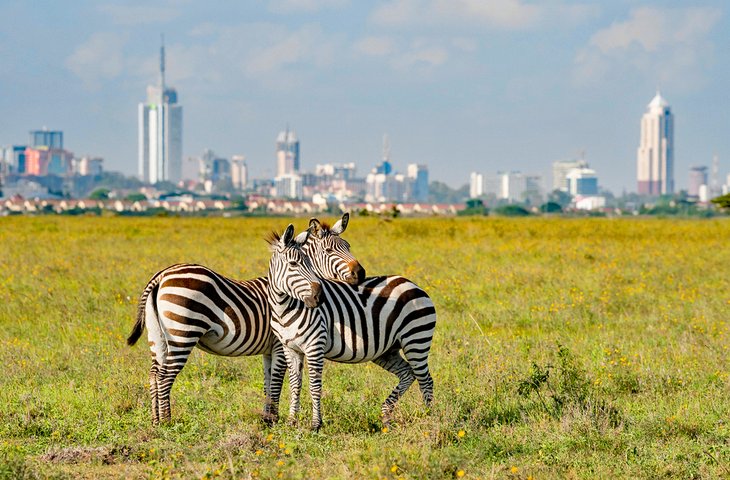 Kenya's capital city, Nairobi, is a vibrant and unique destination with some of the best infrastructure on the African continent. Expect a mix of contemporary skyscrapers and traditional Kenyan style plus a healthy dose of culture and historical sites.
One of the coolest facets of Nairobi is its accessibility to African wildlife safaris. Located just on the outskirts of the city center is Nairobi National Park, a game reserve famed for breeding endangered black rhinos. It is also home to other animals, from zebras to lions and giraffes. Another Nairobi top attraction is the elephant orphanage run by the David Sheldrick Wildlife Trust next to the reserve.
For lodging, you'll want to check out Giraffe Manor. It is one of the most unique boutique properties around; guests here can interact with giraffes.
Read More: Top-Rated Tourist Attractions in Kenya
11. Lagos, Nigeria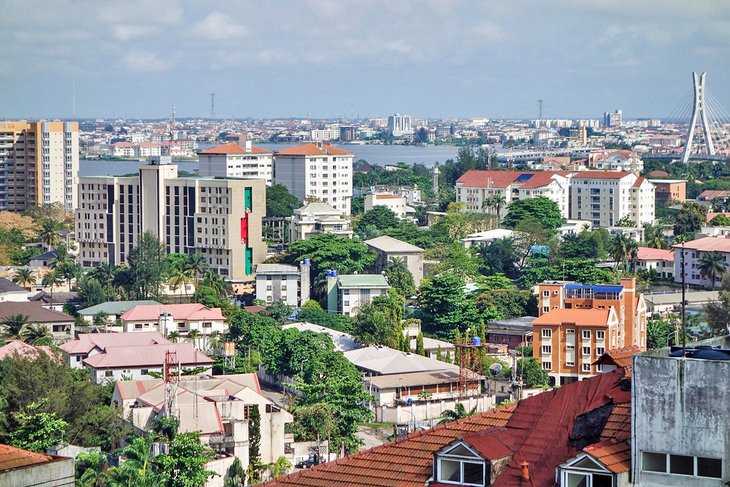 Nigeria's largest city, Lagos is also the country's richest metropolis and its financial epicenter. The city is also where to come if you are hoping to make a name for yourself in Nigeria's thriving film and music industries — many dream of appearing on stage at Freedom Park, which served as a prison during the colonial era and is now a popular concert venue.
Lagos stretches inland from the Gulf of Guinea and across the Lagos Lagoon. Victoria Island is a popular destination for tourists, as it has some of the best beach resorts, lively restaurants, and shops and boutiques in the city.
For a dose of culture head to Lagos Island, where you'll find the National Museum of Lagos, which is filled with cultural artifacts.
12. Algiers, Algeria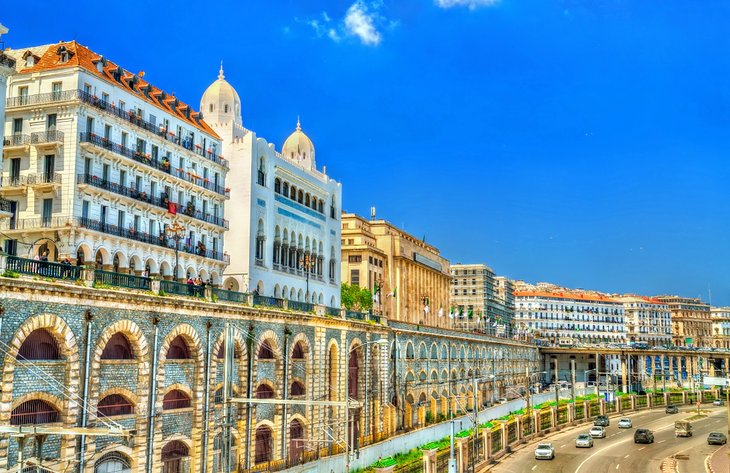 European and Arab influences blend together in Algeria's capital city Algiers, which is often referred to as the "Paris of North Africa." The visually beautiful city sits on a bay on the Mediterranean coast and is home to some gorgeous beaches. There are also cosmopolitan restaurants, shops, and tourist hotels.
Made sure to wander the white-washed buildings of the Kasbah. The old town is filled with steep, windy alleyways and palaces left over from the Ottoman empire. The Ketchaoua Mosque is another top place to visit. It dates back to the 17th-century and has two large minarets.
13. Accra, Ghana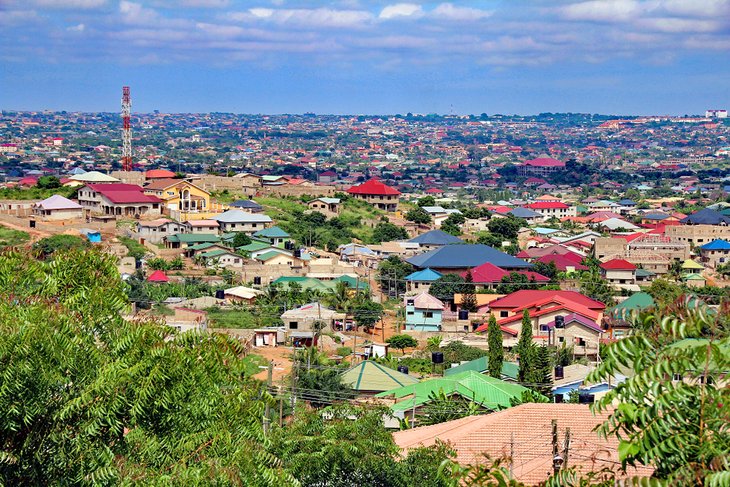 The port city of Accra is Ghana's capital and largest metropolis. Right on the Atlantic coast, it is also home to gold-sand beaches like Labadi Beach and Kokrobite Beach and boasts a tropical climate. A favorite vacation spot for wealthy Nigerians who have weekend houses here, Accra is filled with lively restaurants and large shopping malls.
Kwame Nkrumah Memorial Park is a top attraction. The park honors Ghana's first president, who helped the country achieve independence from Great Britain. On the park grounds, you'll find Nkrumah's mausoleum and a museum detailing his life and accomplishments. Also check out the colorful Makola Market for all sorts of goods.
14. Luxor, Egypt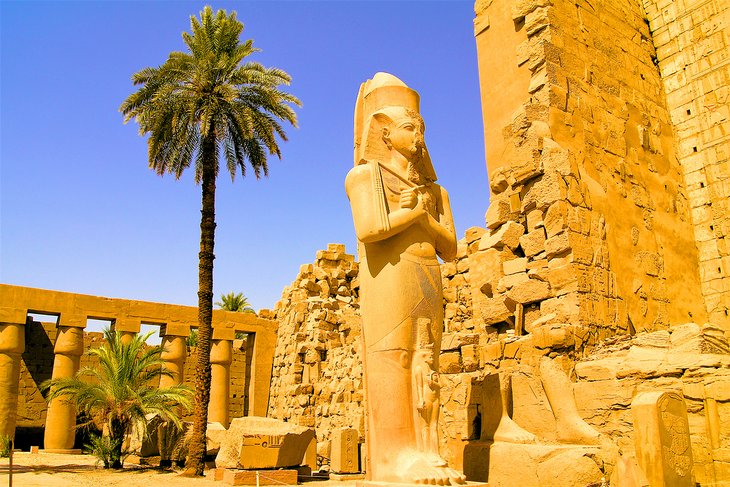 Designated a UNESCO World Heritage Site in 1979, the city of Luxor in southern Egypt sits on the east bank of the Nile River. Between the 16th and 11th centuries BCE, it was the site of the ancient city of Thebes, which was the seat of power for the pharaohs during the height of their reign.
Today, the modern city is built around two surviving monuments from these ancient times. Don't miss the Luxor and Karnak Temples. Other top Luxor attractions from the past include the royal tombs of the Valley of the Kings on the Nile's west bank.
15. Dar es Salaam, Tanzania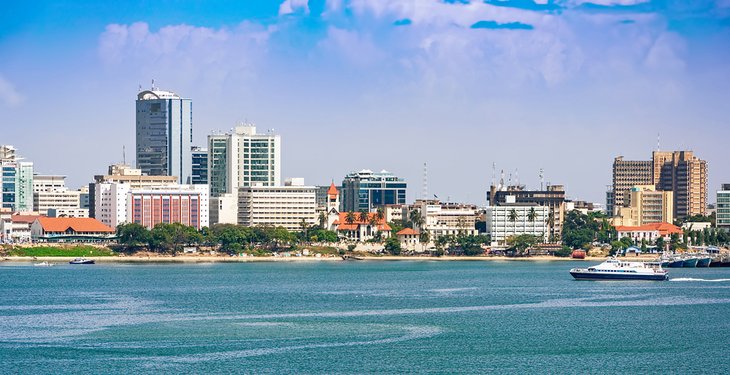 Arabic for "Abode of Peace," Dar es Salaam is Tanzania's largest city and industrial hub. It also serves as a major trade port for eastern Africa. Although Dar, as it is often referred to, is not Tanzania's official capital – that designation belongs to Dodoma – it serves as the seat for most of the country's government administration.
Founded in 1862 by the sultan of Zanzibar on what was once the site of the village of Mzizima, Dar es Salaam began to really grow in 1887 when the German East Africa Company established a station here. In 1907, the Central Line railroad was built, connecting it to Kigoma on Lake Tanganyika to the west with a stop in Dodoma.
Between 1891 and 1916, Dar served as the capital of German East Africa, and following independence in 1964, of Tanzania. It served in this capacity for a decade until Dodoma was designated the official national capital in 1974.
Today Dar es Salaam is a bustling city with a rich mix of architecture that reflects its colonial past. You'll see Swahili, British, German, and even Asian styles in this melting-pot city. Home to an international airport, pretty beaches, and easy access to the rest of Tanzania, Dar is also a popular tourist destination and a great place to spend a few days before heading off on safari or to the island of Zanzibar.
Read More: Top-Rated Tourist Attractions in Tanzania
16. Fes, Morocco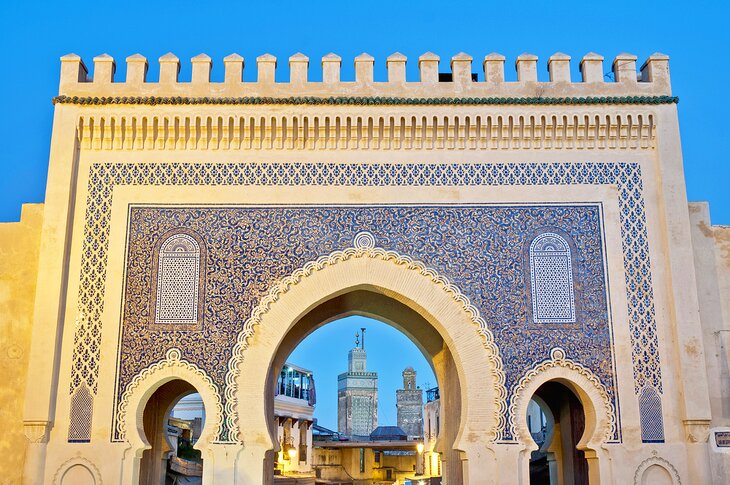 Fes is Morocco's spiritual capital and the country's best city for historic sightseeing. The oldest neighborhood, and top tourist attraction, is Fes el Bali, which is thought to be the world's largest intact ancient medina.
Enter through the main gate at Bab Boujiloud. From here you have the best views of the minaret of the Medersa Bou Inania. The famous landmark was built between 1350 and 1357 and sits just inside the gate. It is one of the few religious buildings in Fes that non-Muslims may visit, and as such is one of the city's top tourist attractions.
You can spend hours just wandering the medina's crooked, narrow alleys here that spiral into two districts separated by a river. There is also plenty of shopping to be had in the medina's souks. Fes is known for its handicrafts from metalware to ceramics.
While in Fes, you'll want to book a stay in one of its riad hotels. These are usually found in traditional median mansions, complete with central courtyards, intricately detailed carved doors, and tilework, which have been converted into guesthouses.
Check out Karawan Riad in the Andalous Quarter. It is in a beautifully renovated 17th-century mansion. It has a gourmet restaurant and a spa on-site.
Read More: Best Riads in Morocco
Map of Cities in Africa