13 Top-Rated Tourist Attractions in Dar es Salaam
One of East Africa's busiest ports, Dar es Salaam is Tanzania's largest city and commercial center. Though "Dar," as it's called, is short on typical tourist attractions, it is loved among travelers for its seaside setting; surprisingly laid-back vibe; and eclectic influences, thanks to its mix of African, Arabic, and Indian cultures.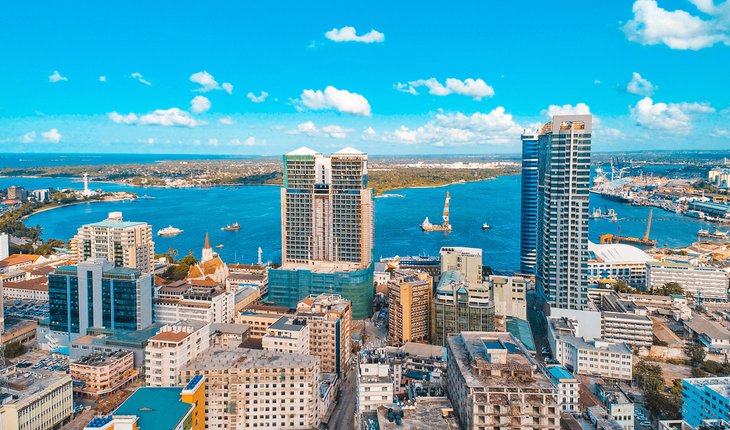 The name means "haven of peace" in Arabic and was more fitting of Dar's former status as a sleepy fishing village than this now booming metropolis. Straddling some of the most important sea routes in the world, Dar es Salaam harbor is Tanzania's main port. On the northern section of the harbor is Kivukoni Front, with a bustling fish market where dhows sail in every morning at dawn to offload the night's catch.
German colonists organized Dar by arranging a grid pattern of streets fanning out around the port. The Lutheran Church and St. Joseph Cathedral are notable structures on the waterfront, and the city has a worthwhile museum. The city's architecture is a mix of Swahili, German, Asian, and British influences.
If you're wondering about beaches in Dar es Salaam, you can escape the hustle and bustle of the city on day trips to beautiful Mbudya or Bongoyo Island to bask on their white-sand shores.
For more sightseeing ideas, read our list of the top attractions and places to visit in Dar es Salaam, Tanzania.
1. National Museum & House of Culture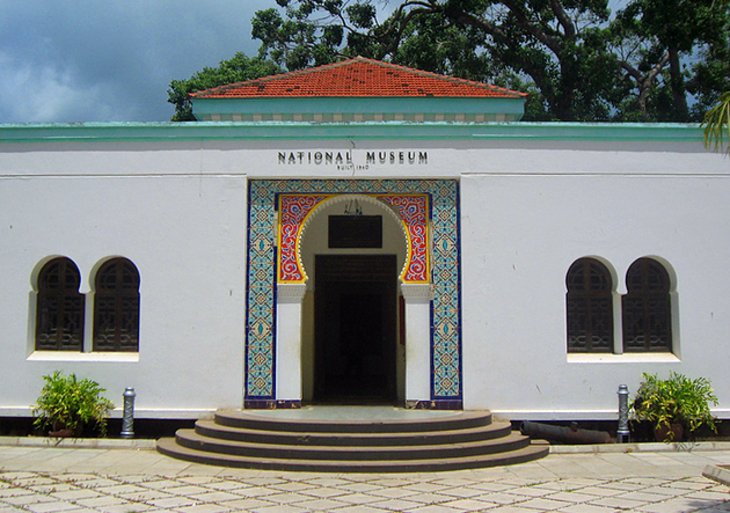 The National Museum & House of Culture takes you on a journey through Tanzania's colorful past. Originally opened in 1940 as a memorial to King George V, the museum displays important fossils of some of the earliest human ancestors unearthed during the Leakey digs at Olduvai Gorge.
You can also learn about Tanzania's tribal heritage and the impact of the slave trade and colonial periods.
Other highlights of the museum include ethnographic displays on traditional crafts, customs, ornaments, and musical instruments, as well as a small collection of vintage cars, including the Rolls Royce used by former president, Julius Nyerere.
Address: Shaaban Robert Street, Dar es Salaam
2. Village Museum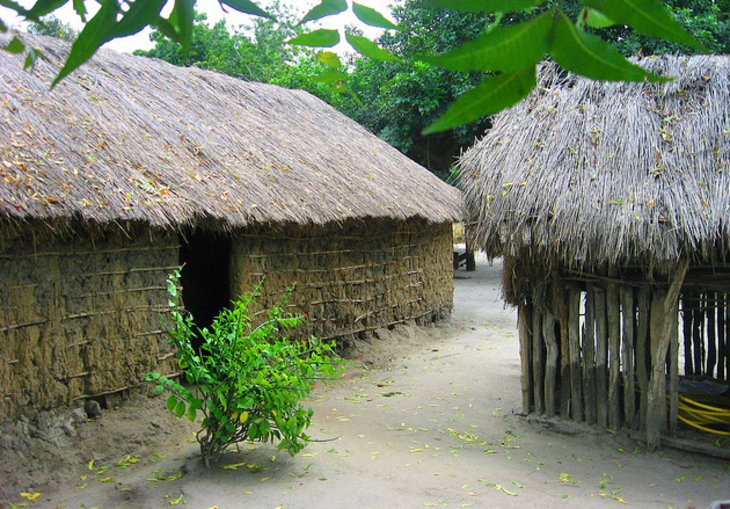 About 10 kilometers north of the city center, the Village Museum showcases traditional dwellings from some of Tanzania's 120 ethnic groups. You can wander through replicas of tribal homesteads, scattered across 15 acres, and learn about traditional customs and crafts.
Most visitors take a self-guided tour here, as each hut has interpretative signs detailing how the dwellings are constructed and the materials used. But you can also hire a guide if you want more information.
The museum also hosts tribal dances, and other cultural activities. Children, in particular, love exploring the different huts and traditional artifacts.
Address: Bagamoyo Road, Kijitonyama
3. Day Trip to Mbudya Island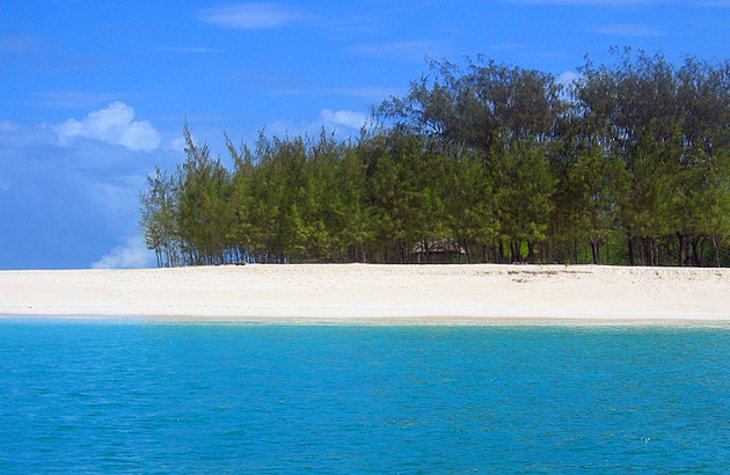 Beautiful Mbudya Island, in the Dar es Salaam Marine reserve, seems a world away from the hustle and bustle of downtown Dar es Salaam.
Sun seekers come here to bask on the island's white-sand beaches and snorkel and swim in the turquoise waters. Bandas (thatched huts) are available for rent on the beach, and locals sell fresh barbecued seafood and cold drinks.
This is one of the most popular day trips from the city — it's a quick motorboat ride from the White Sands Resort & Conference Centre.
4. Day Trip to Bongoyo Island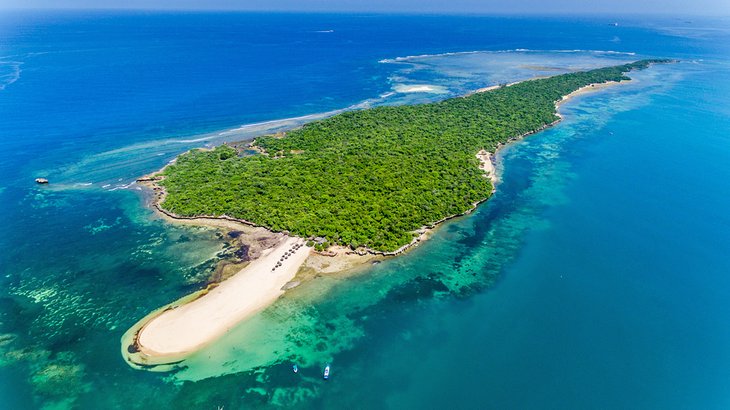 Lying off the Msasani Peninsula, Bongoyo Island makes an idyllic day trip or half-day trip from the city. Popular things to do here include relaxing under the shade of thatched umbrellas on the white-sand beach and cooling off in the clear waters.
Snorkeling is also popular. Angelfish, starfish, clownfish, and sea urchins, are just some of the marine species you might spot among the coral.
Behind the beach, nature trails wind between baobab trees to the island's opposite shore. The open-air snack bar serves cold drinks and fresh barbecued seafood.
Bongoyo lies about four miles north of the city, and you can catch a boat here from the Slipway pier. The trip takes about 30 minutes.
5. Shopping in Dar es Salaam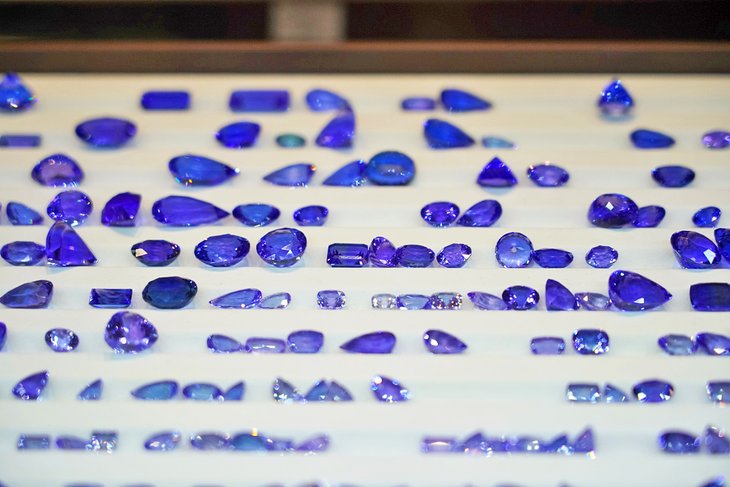 Looking for souvenirs for your friends and family while you're visiting the city? You'll find plenty of diverse places to shop in Dar es Salaam.
The Slipway Shopping Center, a palm-lined Swahili-inspired shopping mall on the waterfront, is a great place to start. Here, you'll find everything from colorful clothing to local artwork, sculptures, masks, and hand-made bags.
Tanzanite is one of the top things to buy in Dar es Salaam, and you'll find a store selling it here. This blue or violet-hued stone is found only in Tanzania and makes a unique gift for someone special.
The Slipway is also a stop on the Dar es Salaam nightlife circuit — live music wafts from some of the waterfront venues here, and it's a wonderful spot to watch the sunset after you've splashed your cash on gifts. This is also one of the popular places to eat in Dar es Salaam. You'll find several restaurants here — some with lovely views over the water.
For color and chaos, head to Kariakoo Market. This indoor/outdoor market spills into several city blocks, and buzzes day and night. This is where the locals shop, and it's a fun place to soak up the vibe and capture some colorful photos. Stalls brim with kaleidoscopic fabrics, teetering towers of baskets, fragrant spices, and fresh produce.
Feel like some fresh seafood? Kivukoni Fish Market on the waterfront sells the catch of the day fresh off the boats.
And if you're looking for a posh place to shop, Oyster Bay is home to hip boutiques and art galleries. This is where the vibrant Tinga Tinga painting style originated, and you can purchase these colorful art pieces at the Tinga Tinga Arts Cooperative Society.
6. Kivukoni Fish Market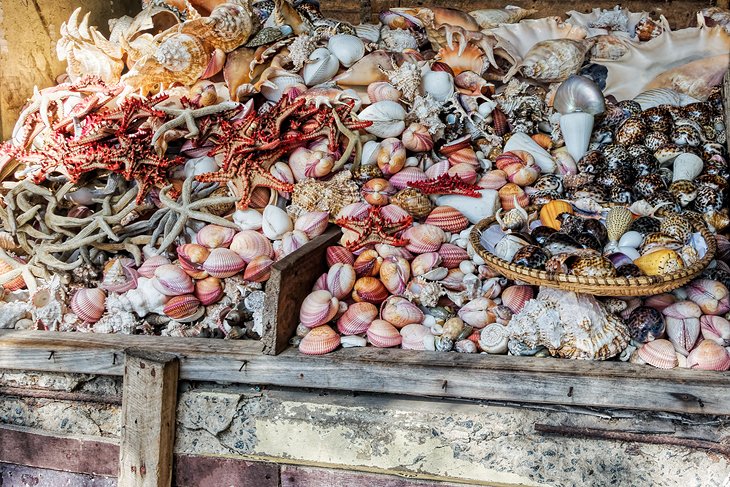 If you want to soak up a slice of daily life in Dar es Salaam, head to Kivukoni Fish Market. Visiting this busy harbor front is one of the most popular things to do in Dar es Salaam — especially if you love seafood.
Fishing boats arrive early in the morning to offload their catch, and it's auctioned to local restaurants and the public.
Bargain hard if you're in the market for some fish. You'll have plenty of varieties to choose from, and you can also enjoy a seafood meal while you're here.
The best time to visit the market is early in the morning.
7. St. Joseph Cathedral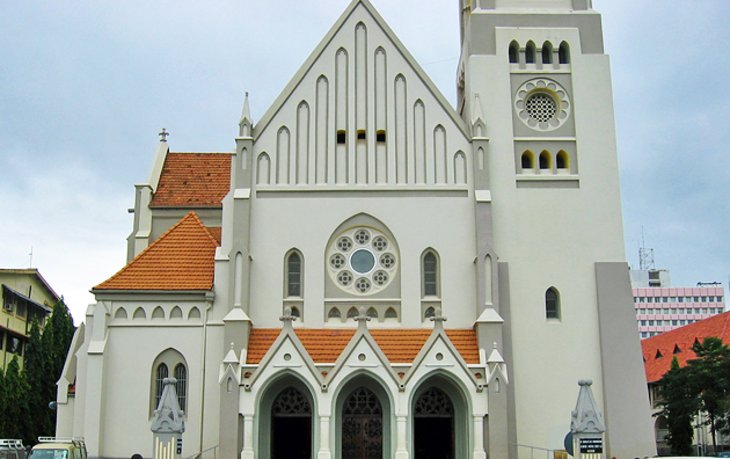 Built by German missionaries from 1897 through 1902, this Gothic-style Roman Catholic church looks a little incongruous amid the steel and glass skyscrapers bristling along the harbor front. But it's a cool and calming place to sit and reflect on a hot day.
St. Joseph Cathedral is the seat of the Dar es Salaam archdiocese, and several striking features make it worth a visit. Most notable are its shingled spire, vaulted interior, and beautiful stained-glass windows. The cathedral also contains many of the original German inscriptions and artwork, including a carved relief above the main altar.
To really soak up the atmosphere here, try to attend a packed Sunday morning service, when the church reverberates with the soulful strains of the local choir.
Address: Sokoine Drive, Dar es Salaam
8. Oyster Bay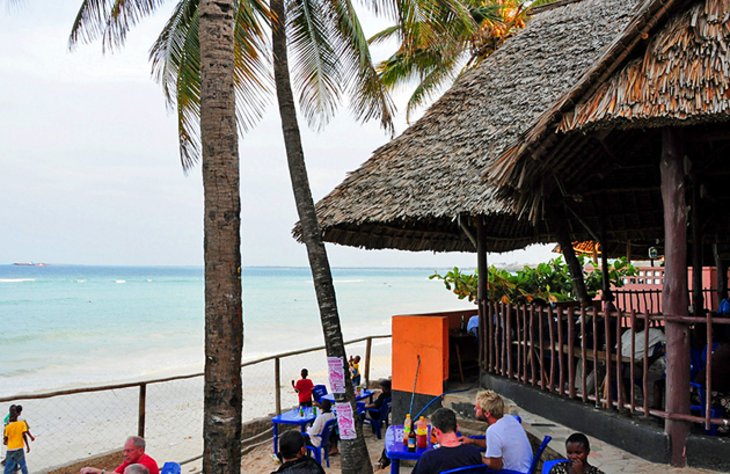 The affluent expat enclave of Oyster Bay is one of the best hangout places in Dar es Salaam — especially on the weekends. Locals and tourists alike come here to stroll Coco Beach, savor street food, and listen to live music.
Fancy some shopping while you're here? Head to the Oyster Bay Shopping Center. Here, you'll find farmers markets, boutique shops, and art galleries. Look for the famous Tinga Tinga paintings in the galleries — this vibrant artistic style reputedly originated in Oyster Bay before spreading across East Africa.
Oyster Bay lies about six kilometers north of the city on the Msasani Peninsula.
9. Wellworth Kunduchi Wet 'N' Wild Water Park
Wellworth Kunduchi Wet 'N' Wild Water Park is the largest water park in East and Central Africa. It's right next to Wellworth Kunduchi Beach Hotel and Resort, about 19 kilometers from the center of town.
Popular with families, the park is a colorful mix of pools, playgrounds, fast-food restaurants, and more than 29 water slides of varying heights, catering to both adults and young children.
Prefer your thrills on dry land? Speed demons can race around Tanzania's only Go Kart track here, too.
Address: Mtongani, Kunduchi Beach
Official site: www.wetnwild.co.tz
10. Azania Front Lutheran Church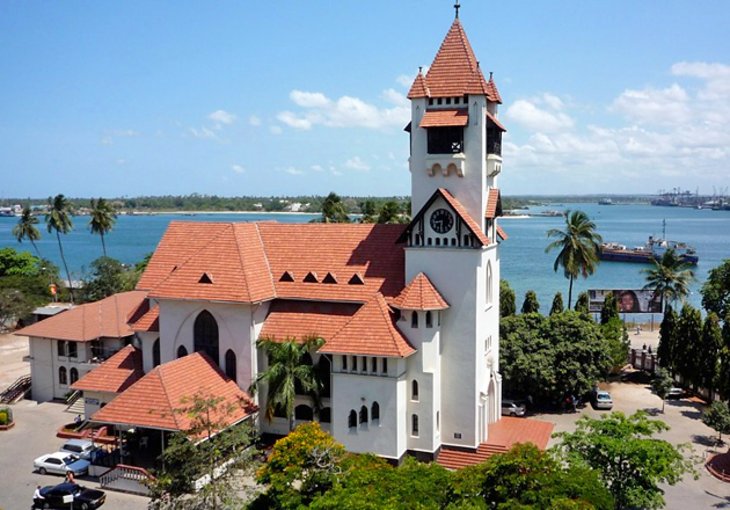 With its red-tile belfry rising above the surrounding rooftops, Azania Front Lutheran Church is a major landmark in Dar es Salaam. German missionaries built it in 1898.
Tiled canopies over the windows provide shade, and the gardens are a welcome retreat for weary tourists.
At one time, Azania was the center of the original 19th-century German mission; it is now the cathedral for the diocese.
Address: Kivukoni Road, Dar es Salaam
Official site: http://www.azaniafront.org/
11. Askari Monument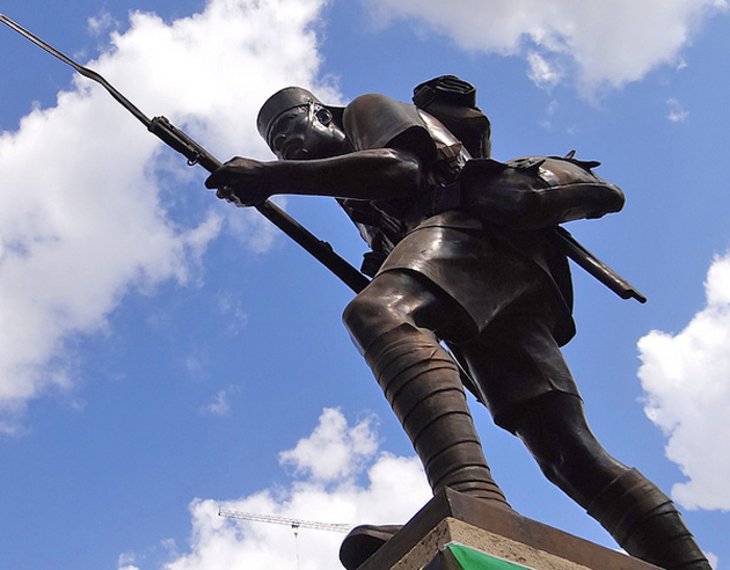 If you're taking a sightseeing tour of downtown Dar, you might wonder about this striking statue at one of the city's major intersections. Cast in bronze, the Askari Monument depicts an Askari (soldier) in a World War I uniform, the bayonet of his rifle pointing towards the nearby harbor.
It commemorates the African troops who fought as the Carrier Corps in World War I. If you get close enough to take a photo, look for the inscription in English and Swahili written by Rudyard Kipling, the famous British writer and poet.
The statue stands about a block back from the Azania Front Lutheran Church.
Address: Azikwe Street and Samora Avenue, Dar es Salaam
12. Botanical Gardens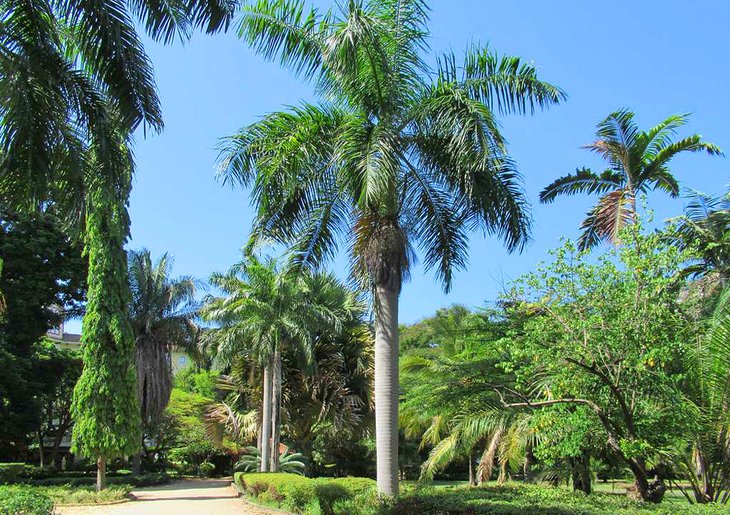 Craving an escape to nature from the city? You'll find some tranquility at Dar es Salaam's Botanical Gardens.
Home to the Dar es Salaam Horticultural Society, the Botanical Gardens were established in 1893 by Professor Stuhlmann, the first Director of Agriculture. They were used as a trial plot for testing different types of plantation crops and tree species.
Today, you can admire a lush mix of indigenous and exotic plants, including purple bougainvillea, blue jacaranda, scarlet flame trees, and red hibiscus.
Though the gardens are only a fraction of their former size, they are one of the few places in the world to see the beautiful coco-de-mer palm tree outside its native Seychelles.
Address: Samora Avenue, Dar es Salaam
13. State House
Built in the late 1890s, the State House was the original residence of the German Governor. In 1922, the British rebuilt the State House, adding scalloped upper-storey arches and a crenellated parapet, after they nearly destroyed the building during World War I.
The State House is now the home of the current president. Although it is closed to the public, the building is an eye-catching landmark along the harbor front.
Address: Luthuli Street, Kivukoni
Map of Tourist Attractions in Dar es Salaam
More Related Articles on PlanetWare.com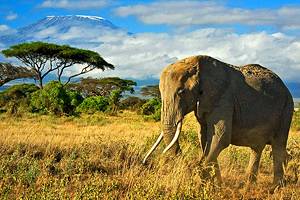 Exploring East Africa: Looking for more places to visit near Dar es Salaam? Check out our article on the top attractions in Tanzania, from the famous wildebeest migration in Serengeti National Park to Ngorongoro Conservation Area and Zanzibar's beautiful beaches. And while you're in East Africa, don't miss seeing the highlights of Kenya. Fly into the capital, Nairobi, and head out on safari. The Maasai Mara, Amboseli, and Samburu National Reserves and Tsavo National Park offer some of the world's best game-viewing.