10 Top-Rated Tourist Attractions in Mombasa & Easy Day Trips
Mombasa, Kenya's second largest city after Nairobi, offers travelers an exotic taste of the African tropics steeped in centuries of seafaring history. This cosmopolitan tourist hub is actually an island connected by bridges and ferries to the Kenyan coast. Stretching for miles along the mainland to the north and south, Mombasa's beach resorts preside over palm-studded strands fringed by shimmering coral reefs.
Tourists from Europe and beyond flock here to enjoy the many things to do - from dolphin spotting trips on traditional dhows and deep-sea fishing to diving and snorkeling the wrecks and reefs and basking on the sun-splashed shores. But in the city itself, on the bustling island, a world of history and culture awaits.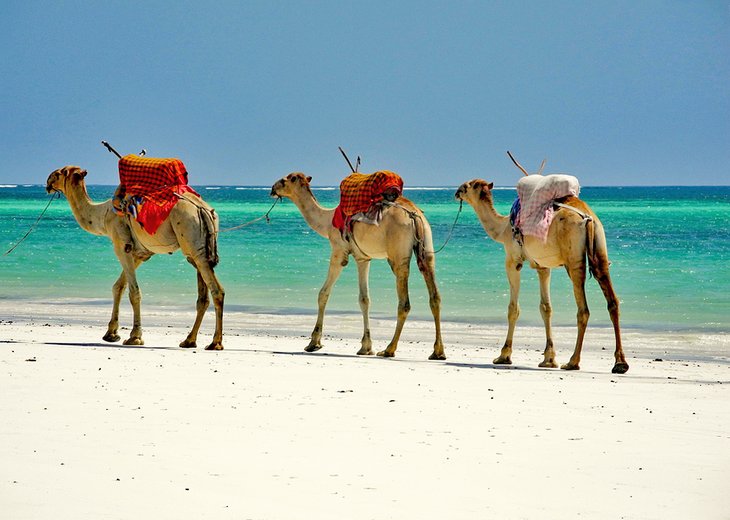 Thanks to its legacy as the largest port in East Africa, Mombasa is a cultural melting pot. British, Asian, Arabic, Omanis, Indian, and Chinese immigrants have enriched the city's architecture and cuisine, and many mosques and temples grace the city streets.
In the Old Town, where fragrant spices waft from local markets, you can step back in time and explore the ancient buildings. Beyond the city, wildlife parks, villages, and ancient ruins round out the wealth of water-based fun. Find out more about the best places to visit with our list of the top attractions in Mombasa, Kenya.
1. Fort Jesus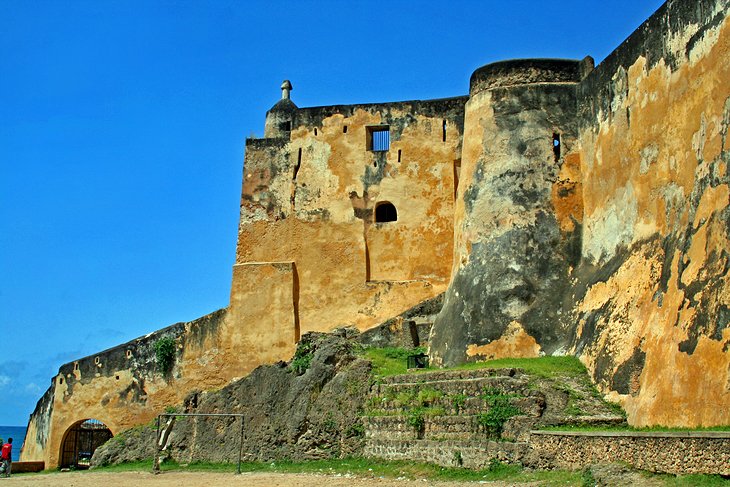 Built in 1593 to 1596 by the Portuguese, Fort Jesus is a UNESCO World Heritage Site and one of Mombasa's top tourist attractions. Italian architect Cairati designed the structure, which is one of the world's finest examples of 16th-century Portuguese military architecture.
Built in the shape of a man, the fort was given the name of Jesus as a clear religious reference. The fort changed hands nine times between 1631 and 1875 before finally resting with the British.
Although partially ruined, Fort Jesus houses a museum built over the former barracks for the garrison. Exhibits include a vast collection of ceramics and pottery reflecting the various cultures that traded along the coast.
Fort Jesus has many battlements and ruined buildings within the compound, including Omani house, built in the late 18th century, which houses Omani jewelry and displays on Swahili life. The Passage of Arches was cut through the coral to give access to the sea.
2. Haller Park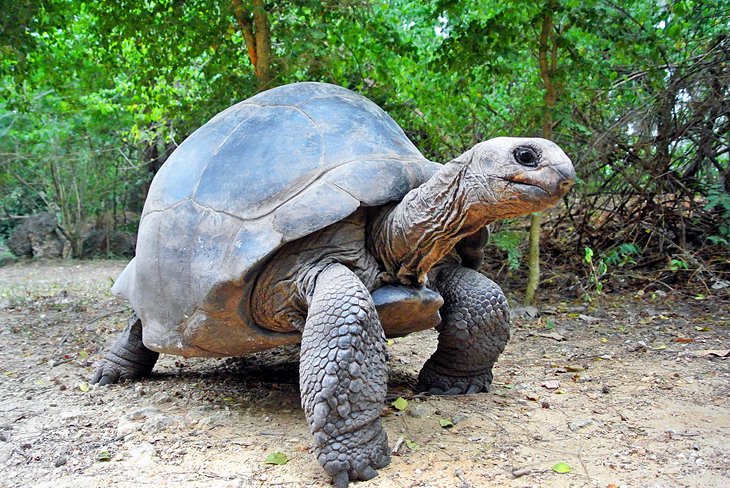 Haller Park Mombasa is a hit with animal lovers. Formerly called Bamburi Nature Trail, this inspirational project began in 1971, when Dr. René Haller transformed the abandoned limestone quarries here into a thriving nature reserve.
Dr. Haller increased the mineral content of the soil, planted trees, added a fish farm, and created a wildlife park where each animal has a function within the flourishing ecosystem. Wildlife found here includes giraffes, Cape buffalo, zebras, waterbucks, and hippos. A highlight is the giraffe feeding, but be sure to check the times before visiting.
The park was also home to a famous interspecies couple that became an Internet sensation after the 130-year-old tortoise, Mzee, adopted Owen, an orphaned hippo.
Birds are also abundant in the park. More than 160 species have been introduced to the area including weaver birds, cranes, pelicans, and storks.
Walking and cycling paths wind through the groves of casuarina, and a reptile park, palm garden, butterfly pavilion, and crocodile pens are other attractions.
If you want to see more wildlife, Nguuni Wildlife Sanctuary is about a 15-minute drive from Haller Park. Here you can enjoy close encounters with giraffes, and see ostriches, eland, oryx, and many species of birds. It's also one of the most popular picnic sites in Mombasa.
Address: Mombasa Malindi Road, Mombasa
Official site: http://www.lafarge.co.ke/wps/portal/ke/4_A_3-Haller_Park
3. Mombasa Marine National Park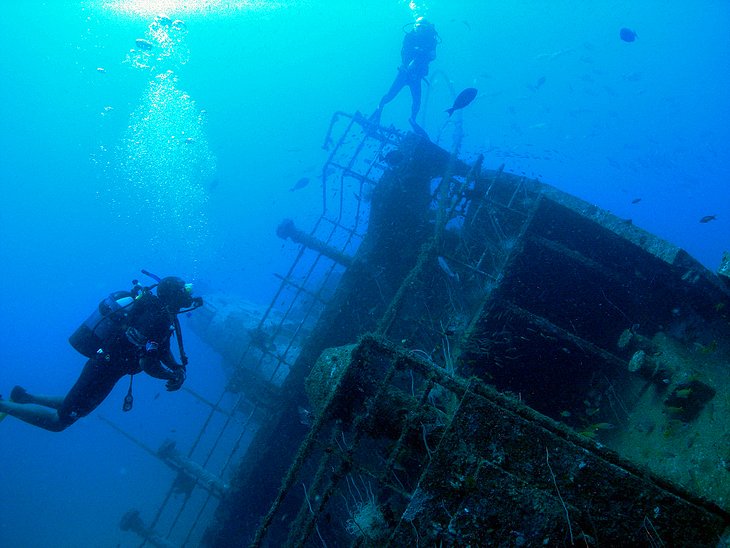 One of the busiest of Kenya's offshore reserves, Mombasa Marine National Park protects mangroves, seagrass beds, sandy beaches, and coral reef. Diving and snorkeling are popular things to do - especially north of Mombasa, from Mtwapa Creek south to the entrance of Likoni.
Seahorses, stingrays, and eels are among the marine creatures inhabiting the reserve, and the MV Dania is a popular wreck dive here. If you prefer to stay dry, you can view the diverse marine life from a glass-bottom boat.
The popular beaches of Nyali, Bamburi, and Shanzu all provide access to the marine park.
4. North Coast Beaches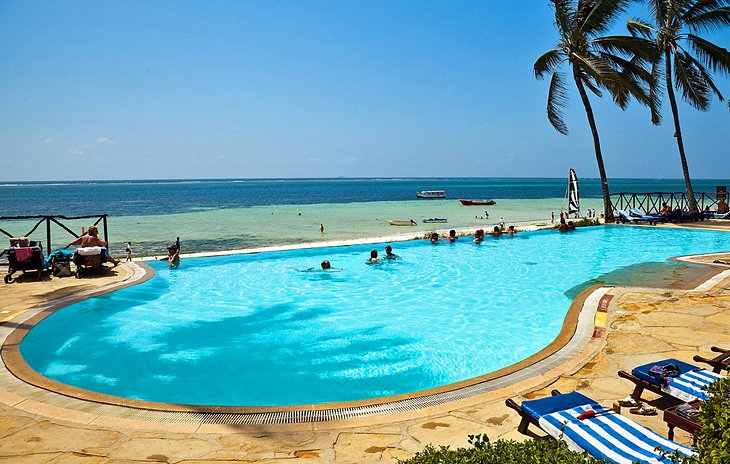 Beaches on the north side of Mombasa are a little livelier than the south coast. Palm-lined shores, crystal-clear waters, coral reefs, and a profusion of water sports, resorts, and entertainment venues provide plenty of tourist action. The resorts are also closer to the airport and Mombasa City.
Mombasa Marine National Park fringes the coast here, with multi-hued coral gardens, drop-offs, and Kenya's best wreck diving on the MV Dania.
Traveling north from Mombasa, Nyali Beach is the first stop. Shops and hotels line the beach here, and the soft white sand makes this a pleasant beach for strolling.
Farther north, Bamburi Beach is also a tourist hub with a wide range of accommodation, from luxury resorts to beach bungalows. Like many Mombasa beaches, one of the most popular things to do in Bamburi Beach is ride camels along the shore.
Shanzu Beach is one of the top places to visit in Mtwapa, about 15 kilometers north of Mombasa. Scuba diving, snorkeling, sailing, and glass-bottom boat trips are all popular things to do here.
5. Old Town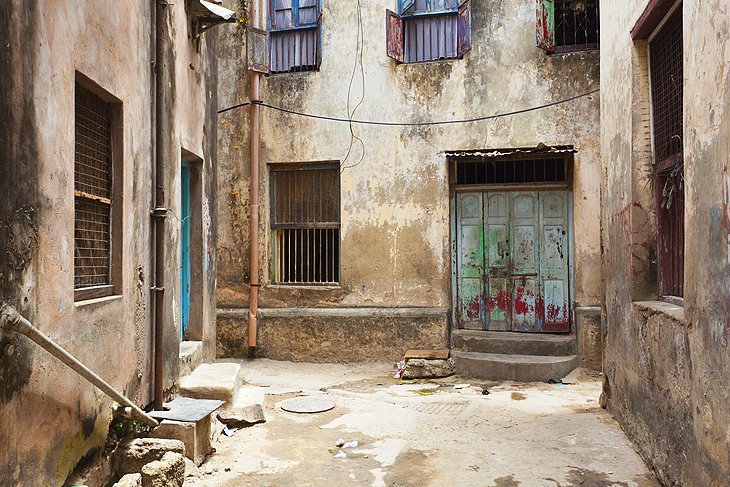 On the southeast side of Mombasa Island, the Old Town is reminiscent of the days when the Portuguese ruled this important port. The town's inhabitants are mostly of Arab, Asian, and European origin, and the architecture reflects their cultures.
Ornately carved doors and balconies adorn the old buildings that jostle cheek to jowl along the narrow streets. History buffs can easily spend a couple of hours here, strolling along the atmospheric alleys and shopping for antiques, fragrant oils, spices, and souvenirs. If you're looking for places to eat in Mombasa, you'll find plenty of restaurants and cafés in this area.
The Portuguese-built Fort Jesus, one of Mombasa's top tourist attractions, overlooks the harbor here.
6. South Coast Beaches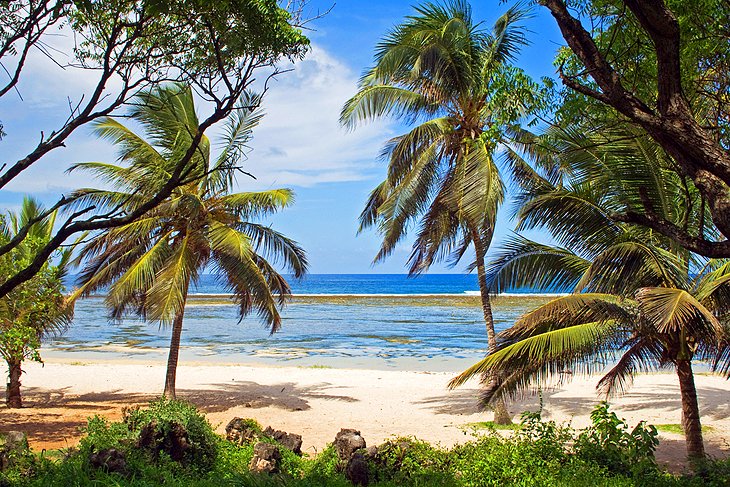 The coastline south of Mombasa is a world of natural beauty. Turquoise seas lap the sun-bleached beaches, where tourists sprawl under rustling palms. Rainforests with abundant wildlife and birds skirt this idyllic stretch of coast, and coral reefs protect the swimming areas from offshore swells. No wonder the south coast beaches are among the most popular places to hang out in Mombasa.
Diani Beach is one of the most famous Mombasa beaches. It's also the most developed area south of Mombasa, but despite its popularity, it still offers beautiful beachscapes. European package tourists flock here to enjoy the busy lineup of water sports - from windsurfing, sailing, snorkeling, kitesurfing, and diving to water-skiing and parasailing. Diani Beach also offers a vibrant nightlife.
If you're looking for something a little more peaceful, Tiwi Beach, 17 kilometers south of the Likoni Ferry, is a good choice. Sunbathers and snorkelers will find some picture postcard views here. Tiwi Beach is also one of the most romantic places to visit around Mombasa.
7. Mombasa Tusks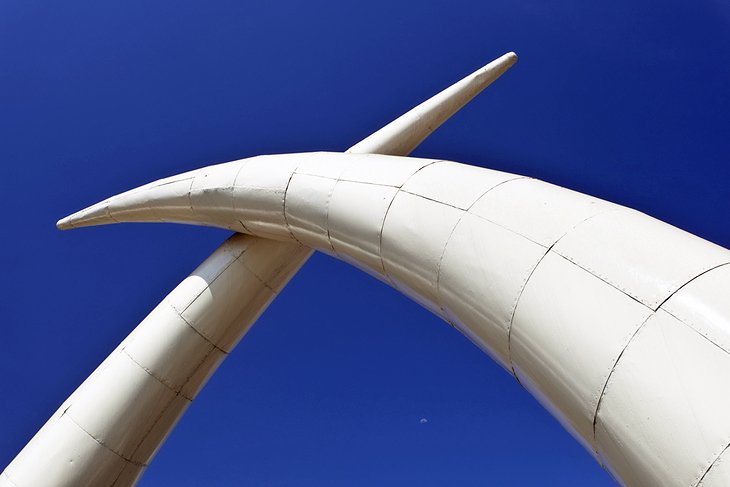 Are you planning a sightseeing tour of the city? You can't miss seeing this famous landmark. The Mombasa Tusks were built to commemorate Queen Elizabeth's visit to Mombasa in 1952. Constructed of aluminum, the tusks mark the entrance to the heart of town where you'll find most of the banks, shops, and markets.
They make an Instagram-worthy photo op, but you'll have to negotiate the traffic on this busy road first to capture both sides. You'll also notice that the intersecting tusks form the letter "M" for Mombasa.
Address: Moi Avenue, Mombasa
8. Mamba Village Centre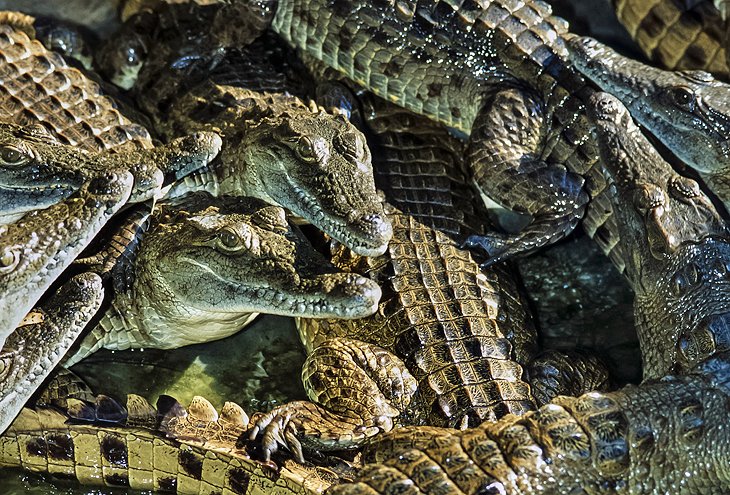 Mamba Village Centre in Nyali is East Africa's largest crocodile farm. Here, you can learn about the life cycle and behavior of these fascinating amphibians. Kids love the chance to hold a baby croc, and another highlight for many visitors is watching the crocodiles fight for tasty morsels during feeding time.
Mamba Village Centre also offers horseback riding and a botanical garden with an aquarium. Orchids and aquatic plants are the specialty, but the gardens also display carnivorous species.
Carnivores will love the restaurant, which specializes in game meat such as crocodile, ostrich, and zebra.
Address: Links Road, Nyali
9. Bombolulu Workshops and Cultural Centre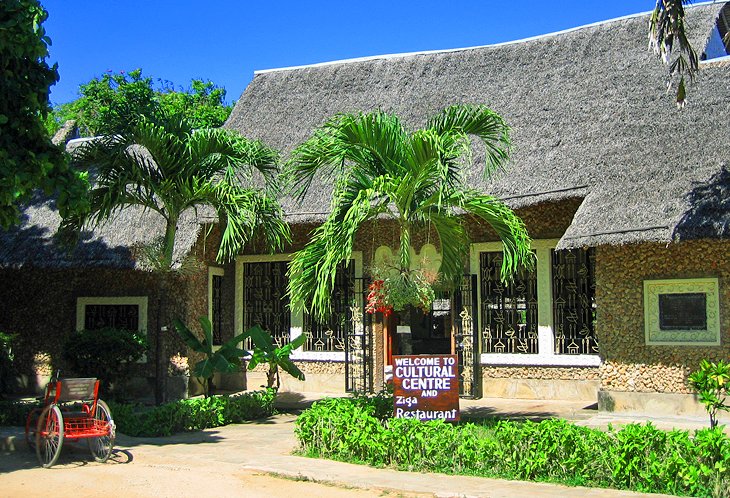 Are you looking for things to buy in Mombasa? At Bombolulu Workshops you can shop and help disabled Kenyans at the same time.
This non-profit organization is a project of the Association for the Physically Disabled in Kenya, with four sheltered workshops, a cultural center, and restaurant.
At the cultural center, you can enjoy tribal dance performances and explore traditional homesteads found throughout Kenya.
If shopping is high on your agenda, you can visit the workshops and purchase handcrafted souvenirs, which include jewelry, textiles, wood carving, and leather crafts. Proceeds help sustain the center's work.
After touring the grounds, stop by the restaurant to sample Kenyan-inspired cuisine.
Address: Workshop Road, Bombolulu
Official site: https://apdkbombolulu.wordpress.com/about/
10. Mombasa Go-Kart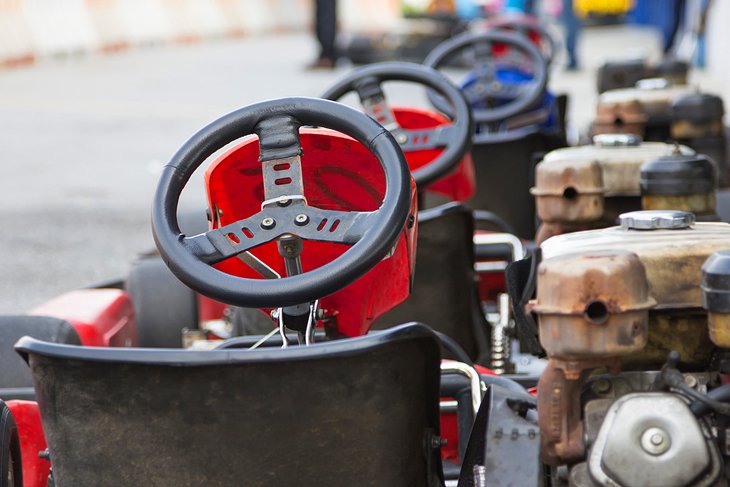 Mombasa Go-Kart is a hit with speedsters and kids of all ages. Zoom around the smooth concrete track in go-karts, bounce around on the off-road buggies, or learn to dig in a Bobcat excavator.
After all the excitement, you can enjoy a snack at the family-friendly restaurant with computer games, a large playground, and a big screen showing sporting events. The Go-Kart track is floodlit at night.
Location: Bamburi Beach, Mombasa
Official site: http://www.mombasa-gokart.com/
Day Trips from Mombasa
Wasini Island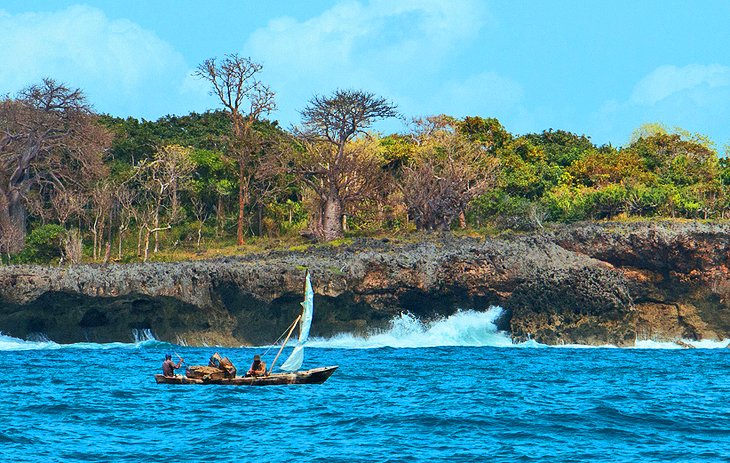 Generally reached by dhow, Wasini Island is a popular day trip from Mombasa. Dolphins regularly cruise these waters, and passengers can stop to snorkel and dive the coral reefs along the way.
The island itself is tiny - only five square kilometers. Sightseeing opportunities include visiting Wasini Village, strolling around the coastal scrub where ancient Swahili ruins lie, exploring the exposed coral gardens, and dining on fresh seafood.
The village of Shimoni is the launching point for Wasini Island tours and was once the headquarters of the Imperial British East Africa Company. Here, you can explore the Shimoni Caves, thought to hold slaves before their shipment to Arabia.
Kisite-Mpunguti Marine National Park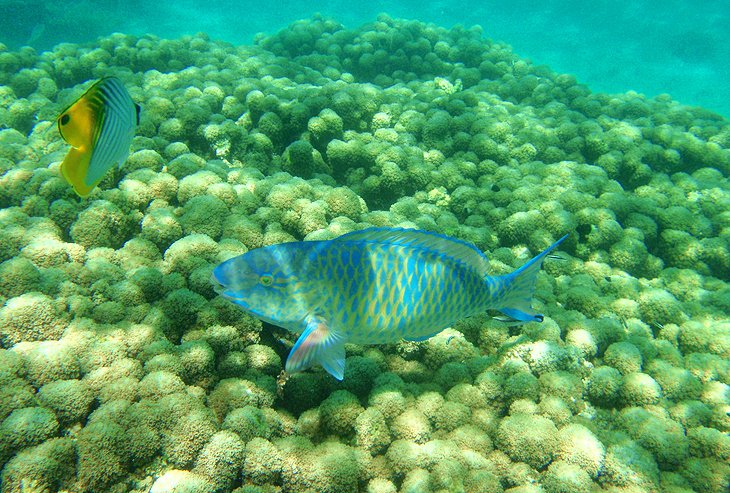 South of Wasini Island, Kisite-Mpunguti Marine National Park is a popular spot for snorkeling, diving, and dolphin spotting - usually from the decks of a traditional dhow. The park encompasses four small islands surrounded by fish-rich coral reef.
Dolphins frolic in the Shimoni Channel, and humpback whales swim these waters between August and October. Other marine life includes moray eels, angelfish, grouper, snappers, and green sea turtles.
Deep-sea fishing is fantastic south to the Pemba channel.
Shimba Hills National Reserve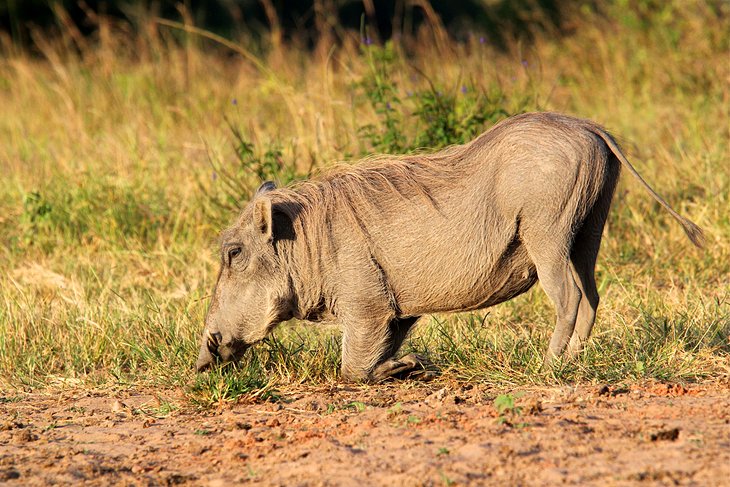 Shimba Hills National Reserve, about 33 kilometers south of Mombasa, offers a peaceful getaway from the hubbub of the busy beach resorts.
Woodlands, waterfalls, lily-topped ponds, savanna, and rain forest provide a home for a rich diversity of plants and animals. Among the rare plants are endangered species of cycads and orchids. The park also protects one of the highest concentrations of elephants in Kenya, along with leopards, sable antelope, and abundant birdlife.
Guided forest walks are available, and you can cool off in the swimming hole and picnic area at the scenic Sheldrick Falls on the Machenmwana River.
Gede Ruins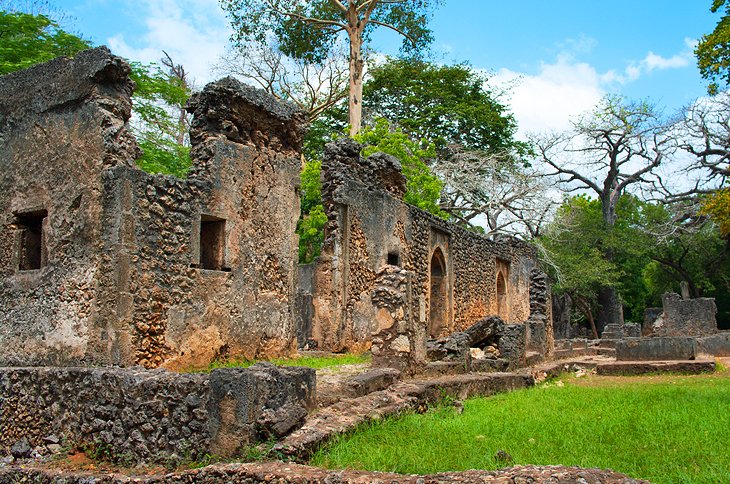 Nestled in lush rainforest, Gedi was one of the ancient Arab towns along the East African Coast, and was probably rebuilt in the 15th and 16th centuries. Today, you can tour the ruins where the Great Mosque, the Palace, coral-stone houses, and pillar tombs have been unearthed.
The houses in Gedi display a traditional Swahili style, and some have ancient drawings on their plaster walls. Ming Chinese porcelain and glass as well as glazed earthenware from Persia indicate trade links and a taste for luxury by those who prospered here. These items, as well as Spanish scissors and Swahili cultural artifacts, are on display in the on-site museum.
Arabuko-Sokoke National Forest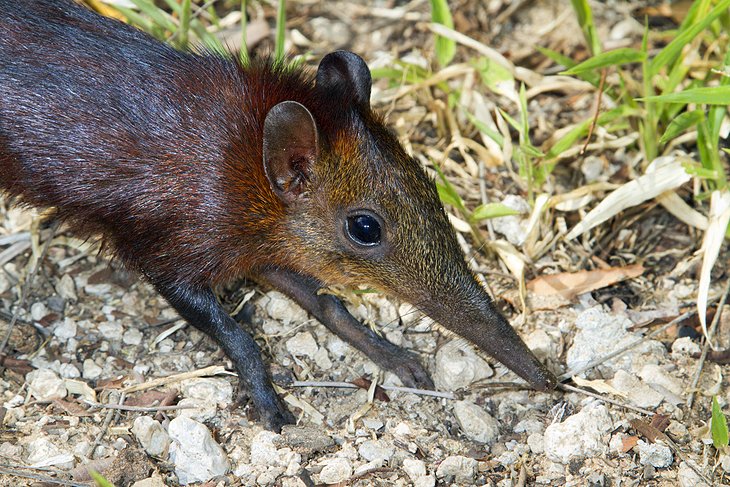 The Arabuko-Sokoke Forest is East Africa's largest remaining indigenous coastal forest. The forest plays host to plenty of rare species, including birds, butterflies, amphibians, and plants.
More than 260 species of birds are found here, including several threatened species such as the spotted ground thrush and Clarke's weaver.
Rare mammals that call the Arabuko-Sokoke Forest home are the golden-rumped elephant shrew, bushy-tailed mongoose, and Ader's duiker. The forest is a favorite picnic spot for residents and visitors.
Watamu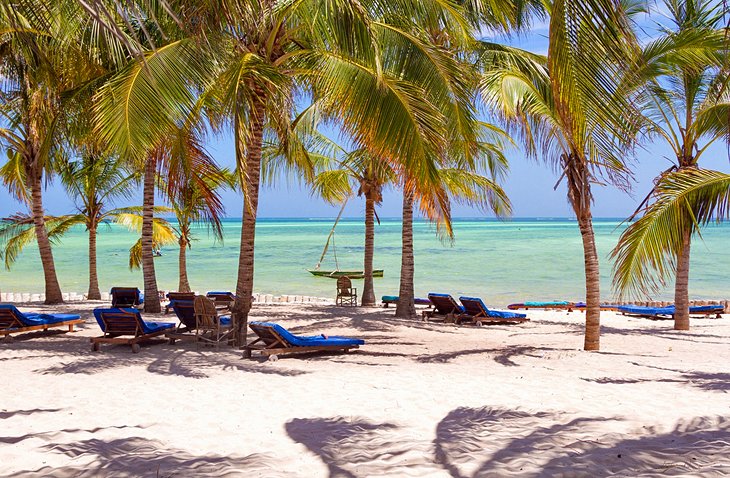 About 112 kilometers from Mombasa, Watamu is a Swahili fishing village that has blossomed into a small beach resort and offers superb snorkeling and diving. The coast is broken into three coves divided by rocky headlands.
More than 600 species of fish are found within the marine reserve, and whale sharks and manta rays are seasonal visitors to the reef. Watamu is also a vital turtle breeding area with green and hawksbill turtles as the primary species.
Glass-bottomed boats transport you to the reefs and provide a window to the kaleidoscopic world of coral and fish. For travelers looking for something other than snorkeling and diving, Watamu offers windsurfing, relaxing on the beach, dolphin-watching trips, and thriving rock pools.
Offshore from Watamu is the southern part of the Malindi Marine National Reserve. The forests of the Arabuko Sokoke Forest Reserve and the Swahili ruins of Gede are also close by.
Kilifi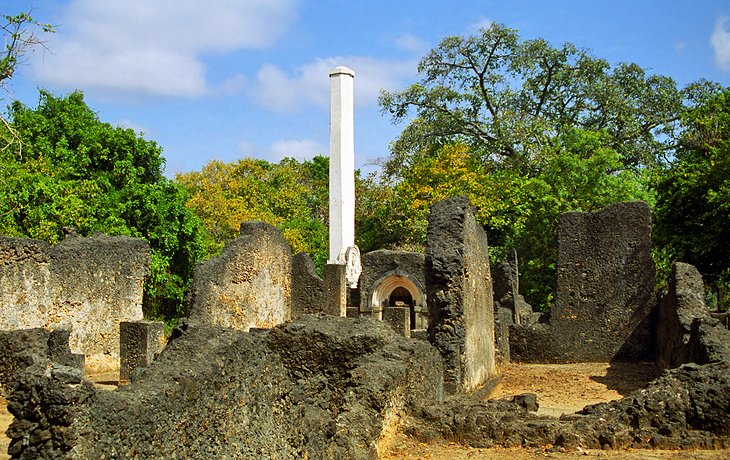 Kilifi is a small beach resort on the banks of Kilifi Creek where yachts bob about in the breeze. One of the top tourist attractions here is the Mnarani Ruins, an ancient Swahili coastal settlement dating back to the early 14th century. A huge baobab tree among the ruins is rumored to be the largest on the Kenyan coast.
Kalifi is also home to a top-notch golf club. At one time, Kilifi could only be reached by ferry, but in recent years a bridge was constructed to make it more accessible.
Map of Tourist Attractions in Mombasa & Easy Day Trips
Mombasa, Kenya - Climate Chart
Average minimum and maximum temperatures for Mombasa, Kenya in °C
J
F
M
A
M
J
J
A
S
O
N
D

33

22

34

23

34

23

33

23

31

22

29

20

29

19

29

19

30

20

31

21

32

22

33

22

PlanetWare.com
Average monthly precipitation totals for Mombasa, Kenya in mm.

33

15

56

155

236

89

71

69

66

104

104

76
More Related Articles on PlanetWare.com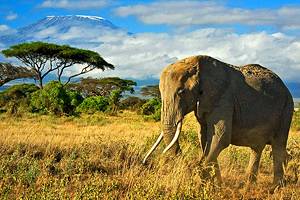 Exploring Kenya: Besides the beautiful beaches and exotic attractions of Mombasa, Kenya is rich in colonial history and wildlife adventures. In Nairobi, Kenya's capital and largest city, you can see where the famous Out of Africa author lived at the Karen Blixen Museum, and tour safari parks and wildlife sanctuaries near the city. Kenya is also home to some of the best game reserves in Africa.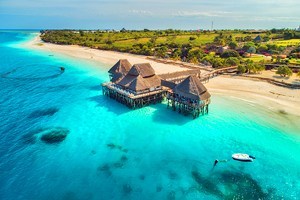 Exploring Tanzania: Tanzania's largest city, Dar es Salaam, lies a short boat ride from beautiful Bongoyo and Mbudya Islands, and you'll find so many other rewarding things to see and do in Tanzania. You can climb Mount Kilimanjaro, bask on Zanzibar's beaches, or look for wildlife at Serengeti National Park.