13 Best Beaches in Africa
Author Becca Blond loves Africa and beaches, and has spent years hunting for the continent's best beaches — she thinks Mozambique and Kenya are the top two contenders.
With 18,950 miles of coastline spread across 54 countries, the African continent is home to some of the world's best beaches.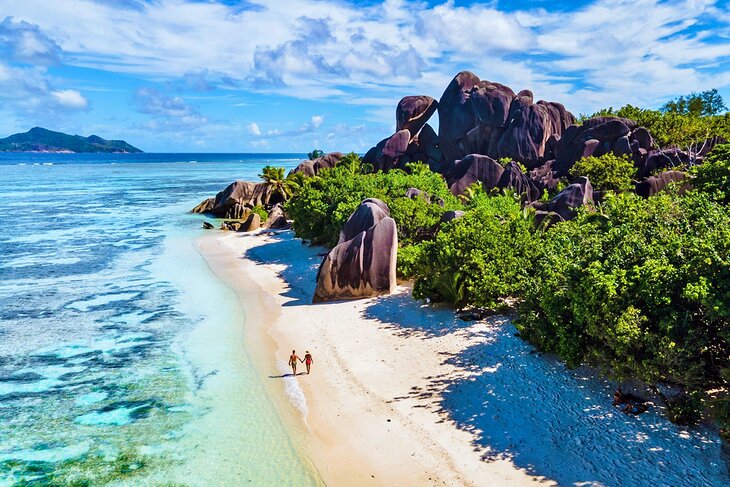 Madagascar has the longest coastline on the continent at 3,000 miles and features hundreds of beautiful and often ultra-remote beaches, as well as offshore islands like île Saint-Marie, where the pace of life moves slowly and the scenery is stunning.
South Africa and Mozambique have the third and fourth longest coastlines on the African continent and also host a plethora of dreamy beaches with epic backdrops — you can't miss Cape Town's Camps Bay for its sheer wow factor.
Mozambique is also home to hundreds of offshore islands, including the Bazaruto Archipelago, where you'll find warm, clear turquoise water; powdery white beaches; and a laid-back vibe. More amazing stretches of coastline can be found farther north in Kenya and Tanzania, where some of the best beaches are also located off the mainland in island paradises like Zanzibar in Tanzania and Lamu Island in Kenya.
With so many stunning strips of sand spread across multiple countries, it's hard to narrow down the best of the best when it comes to beaches. But we think the ones we've listed here are the African continent's most mesmerizing.
1. Bazaruto Island, Mozambique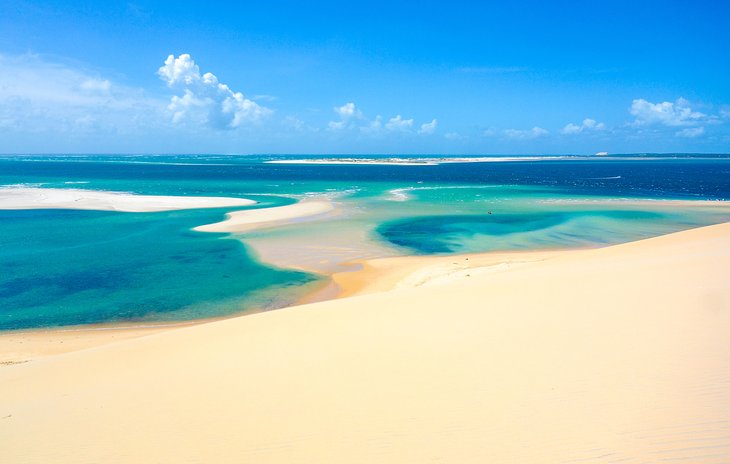 Highlights: Diving and snorkeling in colorful coral reefs in the marine park
Set inside the boundaries of the Bazaruto Archipelago Marine Park in the Indian Ocean, off the coast of Mozambique, Bazaruto Island is home to some of the most stunning beaches we've laid eyes on. The water here is warm and turquoise blue, and the white sandy beaches are backed by swaying palms and towering sand dunes, creating a postcard-perfect vision of paradise.
Part of a larger archipelago that is known for its amazing diving experiences, the coral reefs around Bazaruto are also excellent for snorkeling.
The island can be reached by boat or small plane, and the accommodations range from budget guesthouses to the luxury &Beyond Benguerra on a neighboring isle. The property offers lodging in various sizes of posh, thatched-roof huts that work well for couples on honeymoon or families vacationing with the kids.
2. Camps Bay Beach, Cape Town, South Africa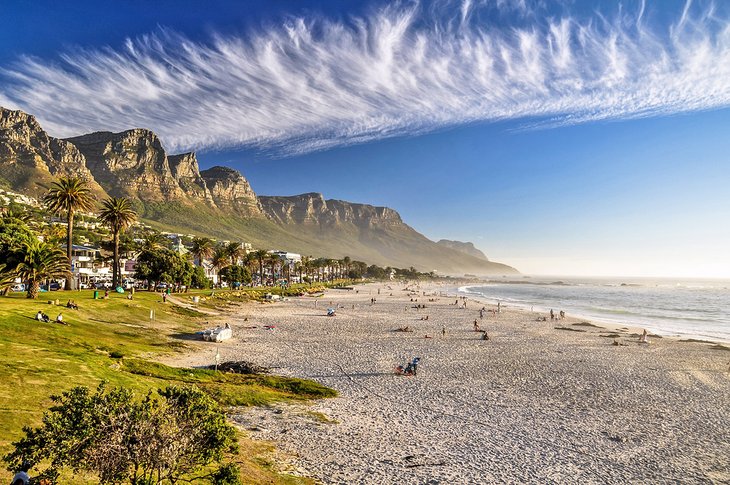 Highlights: Cape Town's top beach, views of Lion's Head and the Twelve Apostle peaks
With views of Lion's Head and the Twelve Apostle peaks, Camps Bay Beach is about a 10-minute drive from downtown Cape Town and is one of South Africa's most beloved beaches. Although the water here is too cold for the average swimmer to handle, sunbathing on the white-sand beach is a favorite local pastime.
On summer weekends, this beach fills fast with families, tourists, couples, and groups of friends who come to play a game of beach volleyball or just hang out. When you get too hot, cool off with a quick dip in the turquoise- and emerald-striped Atlantic Ocean waters. If you're shocked at the chilliness despite the tropical good looks, you aren't alone. The current here comes straight up from Antarctica.
Our favorite place to stay on this beach is South Beach Camps Bay. The boutique hotel is filled with original modern South African art and offers lodging in Miami-influenced studios with white-on-white decor, full kitchens, and private balconies from which you can watch the fiery nightly sunsets.
Camps Bay is just one of a number of top beaches within a 30-minute drive of Cape Town. The nearby Clifton Beaches are just as popular and are set in a series of four coves protected from wind and at the bottom of a steep set of stairs that leads down from the main road.
3. Nungwi Beach, Zanzibar Island, Tanzania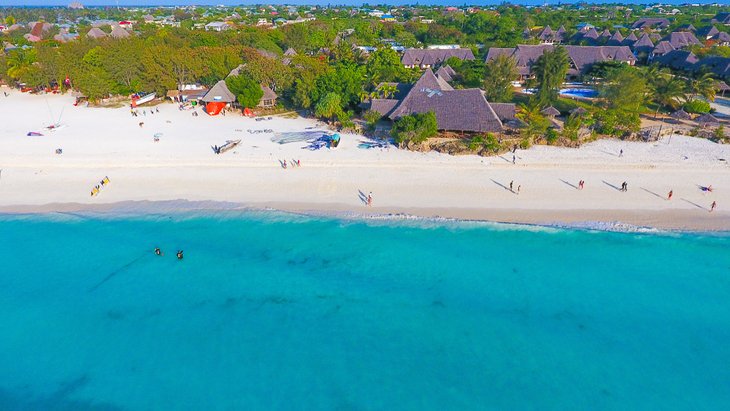 Highlights: Swimming in the emerald-meets-turquoise sea at high tide off Nungwi Beach, when the water finally gets deep enough
A trip to Zanzibar Island off the Tanzanian Coast is a magical experience. The beaches, including Nungwi, are extraordinary, and Zanzibar is also rich in culture. From wooden dhows plying the clear turquoise water to the lively bazaars of the Swahili coastal trading center, Stone Town, Zanzibar is one of the most photogenic places to visit in Africa.
Nungwi Beach is a beautiful white-sand and palm-tree-meets-emerald-ocean spectacle at the northern tip of the island. It began as a simple fishing village but today is a popular vacation destination. There is excellent snorkeling and diving offshore as well.
Read More: Top-Rated Tourist Attractions in Tanzania
4. Anse Source D'Argent, La Digue Island, Seychelles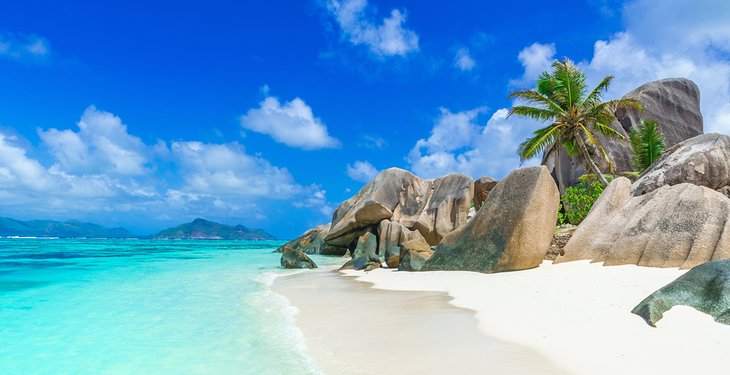 Highlights: The luminous turquoise sea is super photogenic, and there is good snorkeling offshore
Located off the east coast of Madagascar in the middle of the Indian Ocean, the islands of the Seychelles have long been a popular vacation spot for the rich and famous. There are hundreds of gorgeous beaches scattered about this archipelago, but the most beautiful is Anse Source d'Argent on the island of La Digue.
Here, the jungle tumbles into huge granite boulders beyond a snow-white beach and a sea so luminously turquoise, it appears unreal. The beach has good snorkeling offshore as well. There are more impressive beaches that have a more private and exclusive feel around resorts on Desroches, Denis, and Fregate Islands. The best times to visit the Seychelles is in April and May or October and November, when skies are usually sunny and blue.
Accommodation: Top-Rated Resorts in the Seychelles
5. Naama Bay, Egypt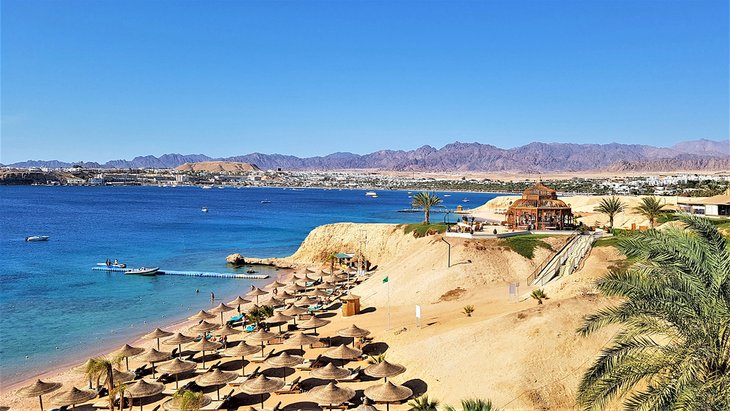 Highlights: White-sand beach with clear, calm blue water; good diving in offshore reefs
On Egypt's Sinai Peninsula, Naama Bay is the epicenter of the country's top beach resort, Sharm el-Sheikh. The white-sand beach meets the clear, calm, blue waters of the Gulf of Aqaba here, and you can see Saudi Arabia's craggy coastline in the distance.
In winter, Naama Bay gets crowded, as Europeans head here to escape the cold in their countries. The area around Sharm el-Sheikh is also famous for its diving in the coral reefs around Ras Mohammed National Park, and there are dives for all levels, including first-timers. There is also excellent snorkeling in the area.
There are numerous lodging options around this beach, including Movenpick Resort Sharm El Sheikh, which is a large and modern resort that looks out onto the bay from its perch atop a cliff. A good mid-range option is Oonas Dive Club Hotel, where you can also learn to scuba.
6. Île Sainte-Marie, Madagascar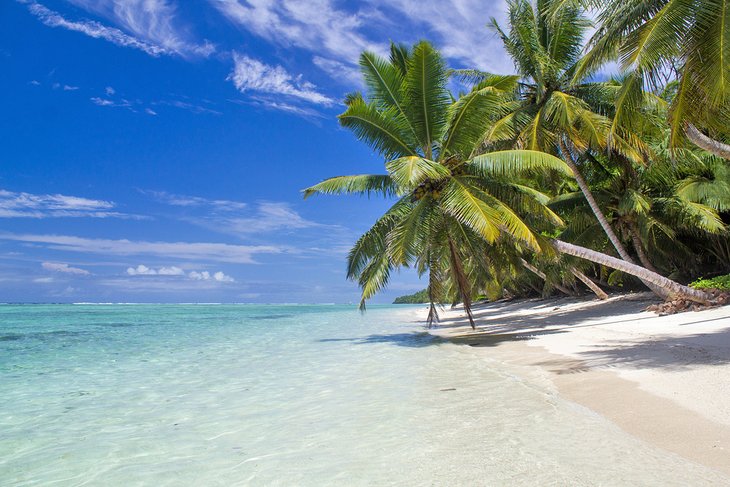 Highlight: Visiting between July and September to see humpback whales just offshore
Still undiscovered, Madagascar is one of Africa's most unique countries. It is home to animals and plants found nowhere else on earth, and the scenery here is truly awesome. Just off the coast of eastern Madagascar is one of its top beach vacation spots: Île Sainte-Marie.
The island boasts sunny skies year-round and is a tropical wonderland where you'll find long, porcelain-white-sand beaches fringed with swaying palm trees and backed by clear turquoise water. The weather is great year-round, with sunny blue skies. Between July and September, you can see humpback whales off the coastline and there is excellent diving amid untouched coral gardens.
7. Shela Beach, Lamu Island, Kenya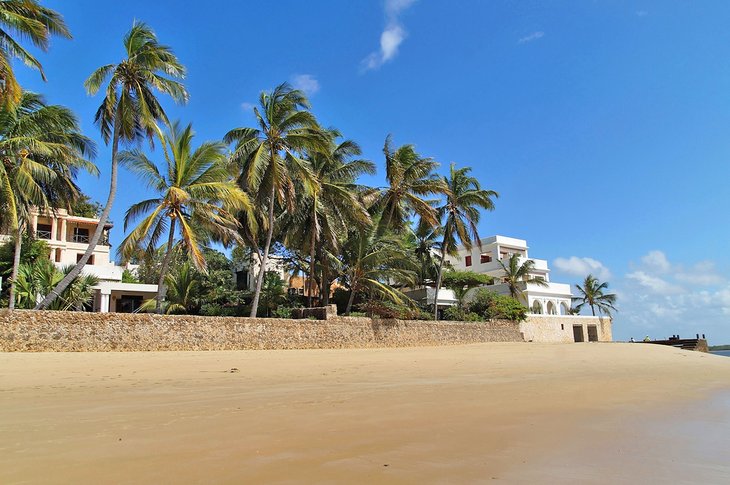 Highlights: Spending a day island-hopping on a traditional dhow; wandering the streets of Lamu Town
For crystal-clear aquamarine and turquoise waters, white-sand beaches, palm trees, and excellent snorkeling and diving in Kenya, you'll want to head to Lamu Island off the coast north of the port town of Mombasa. Shela Beach is a gorgeous beach by the chill town of Shela Village. Time moves slowly here, and you can spend hours just watching the white-sailed dhows pass by on the Indian Ocean in front of you.
For a dose of culture, head to Lamu Town, which is a UNESCO World Heritage Site and one of the oldest settlements in Kenya, dating back 700 years. Spend some time wandering its narrow streets.
You can also book an island-hopping adventure on a traditional dhow that will take you around the archipelago and introduce you to hidden beaches. Hippo Dhow is one reputable outfitter that does sunset and day trip charters and is run by locals.
Read More: Top-Rated Tourist Attractions in Kenya
8. Agadir, Morocco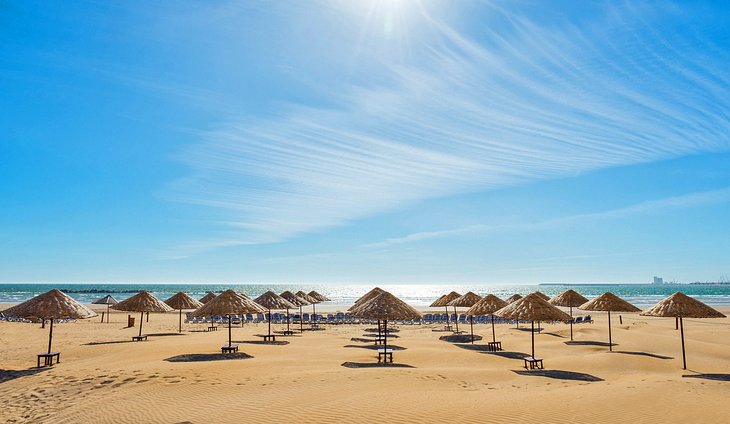 Highlights: Family-friendly beach and resort town, located on Morocco's southern Atlantic coastline
The gold-sand beach at Agadir on Morocco's southern Atlantic coast is the country's most famous. The family-friendly beach and the resort town beyond it is especially popular with European travelers in winter who come here to escape the cold in their countries.
The beach is split into a number of different areas, including two private sections called Palm Beach and Sunset Beach that are only open to guests of the resorts located on them.
If you're traveling with the kids, check out the Iberostar Founty Beach, which has lots of kid-focused things to do, and sits on a pretty stretch of sand.
Read More: Top-Rated Tourist Attractions in Agadir
9. Coffee Bay, South Africa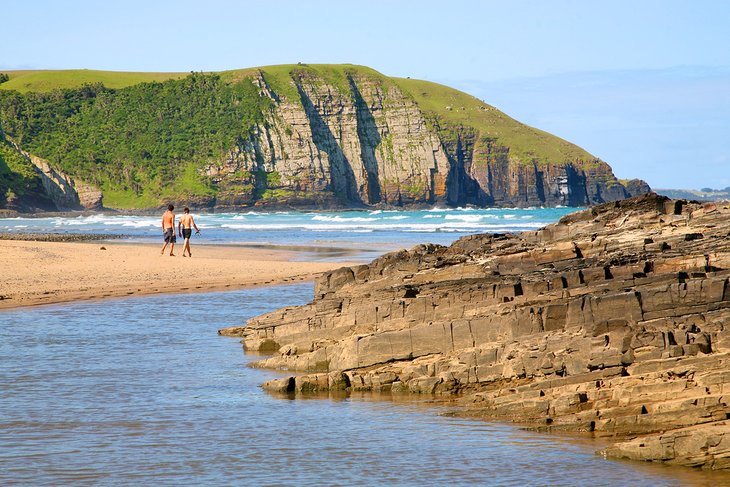 Highlight: Paying a visit to Hole In The Wall to watch the waves crashing through
Located on the rugged Wild Coast, which runs along the country's Indian Ocean coastline in the Eastern Cape province, Coffee Bay is another spectacular beach in South Africa. Here, the green hills and cliffs meet a wide swath of gold sand and the deep blue waters of the Indian Ocean.
The sea here can be moody and rough, and there are some good surf breaks around here, but it isn't ideal for swimming. Still, when it comes to moody wild beauty, it's hard to beat Coffee Bay, and this is an excellent beach to go for long walks along. The town has just a few backpackers and guesthouses and still has a remote vibe that many travelers will find appealing.
Just eight kilometers from Coffee Bay is Hole In The Wall, a rock in the seat at the mouth of the Mpako River that puts on a spectacular display of force when the water crashes through it.
10. Bom Bom Beach, Principe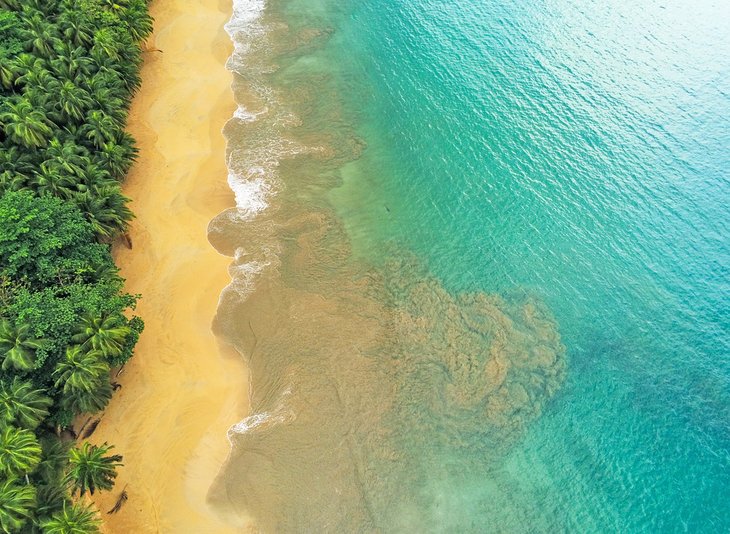 Highlights: Seeing nesting sea turtles; going on whale watching, snorkeling, or deep sea fishing excursions
In the Gulf of Guinea off the coast of West Africa and a part of the island nation of São Tomé and Príncipe, Bom Bom Beach is on the smaller of the two islands, Príncipe.
Located on its northern shore, the beach here is part of Bom Bom Principe Island, which is an eco-friendly hotel option on a tiny islet connected to the mainland by a long walkway. Accommodation is in cabins on the beach, and there is an on-site restaurant.
This beautiful beach is a perfect choice for nature enthusiasts especially bird-watchers. There is also an opportunity to see nesting sea turtles around here. Whale watching, snorkeling, and deep sea fishing are other popular activities for visitors. It is best to visit this remote destination during the dry season between June and October.
11. Trou-aux-Biches, Mauritius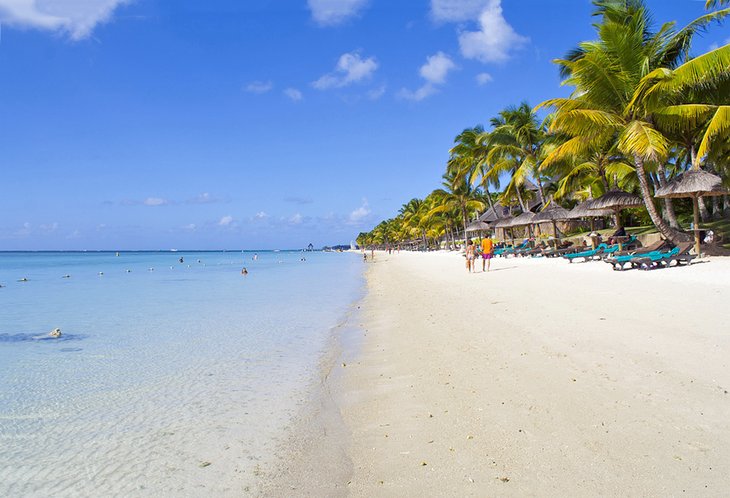 Highlights: A mile-long, white-sand beach set against a beautiful clear blue sea; great swimming beach
Mauritius is another Indian Ocean island group off the east coast of Madagascar in the same general vicinity as the Seychelles. Slightly more accessible from a budget perspective than the Seychelles, Mauritius is also home to numerous white-sand beaches set against a beautiful blue sea.
Trou-aux-Biches is one of the top beaches in the country and is located on the main island near the small town by the same name. The beach here runs for one mile, and the sand is powdery white. The ocean here is calm and perfect for swimming. If you want to get out on the water in a watercraft, there are opportunities for everything from jet skiing to kayaking.
A variety of hotels in different price brackets, including choices for families, as well as restaurants serving island and international fare, are also found near this beach. The best times to visit Mauritius are during the dry season, between September and December and in April and May.
Accommodation: Best Resorts in Mauritius
12. Skeleton Coast, Namibia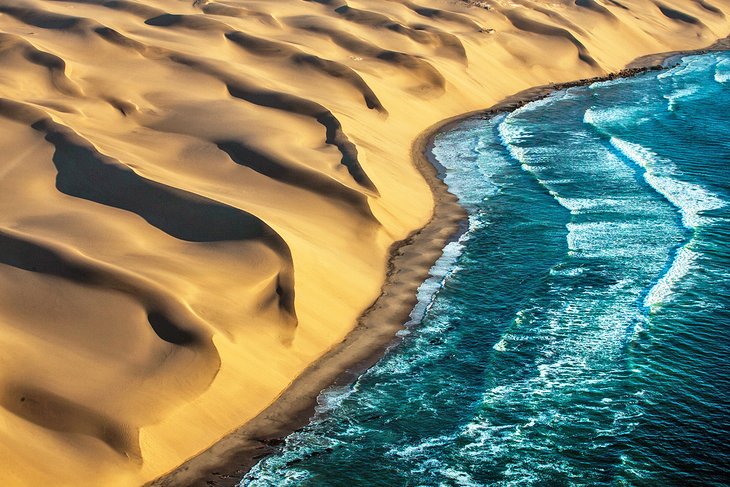 Highlight: Walking the mist-shrouded coastline where sand dunes tumble into the dark moody blues of the Atlantic Ocean
You won't want to swim or even sunbathe here, as the water is freezing and the skies are often shrouded in mist. But few places in the world are as hauntingly beautiful as the beaches along Namibia's Skeleton Coast.
This sparsely populated coastline between the Swakop and Kunene Rivers north of the town of Swakopmund is a ruggedly wild region where the Atlantic Ocean meets the dunes of the Namib Desert.
The name comes from all the wrecked ships found along this beach that ran aground over the centuries in the shallow and choppy waters. If you're into bird-watching, there are a lot of seabirds near the wrecks. The area is also home to a large colony of seals.
13. Watamu, Kenya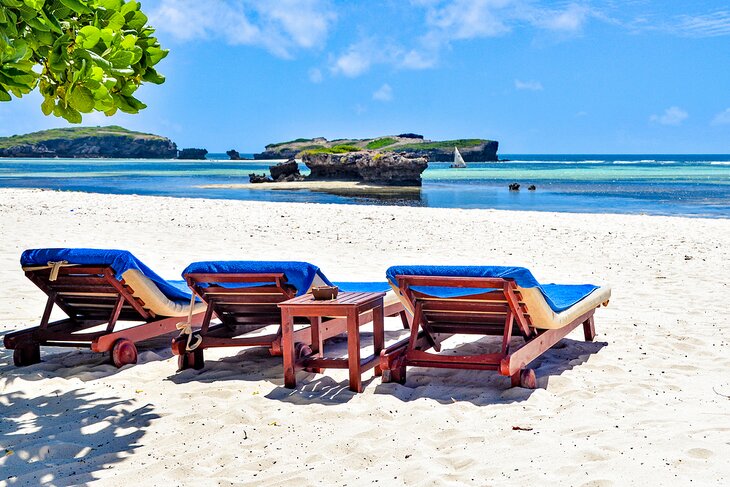 Highlight: Learning to kitesurf in a sublimely blue turquoise sea
Watamu has some of the best beaches on the Kenyan coast. The beaches here are powdery white sand juxtaposed against the turquoise, aquamarine, and emerald hues of the Indian Ocean.
During the summer months of December, January, and February, the beaches here are sublime. The water is usually clear, the days are warm and sunny, and a stellar breeze keeps you from overheating.
Watamu is a kitesurfing paradise thanks to the constant tradewinds, and you can take lessons from one of the kitesurfing schools found by the beach. Note that the tides in Watamu are extreme, and during low tide, you'll have to walk out quite a bit to find water above your ankles. During high tide, the water can be deep enough to swim.
Temple Point is one of the best resorts in Watamu. It has several private beaches on its extensive grounds as well as two saltwater swimming pools. There are also two restaurants, the best outdoor gym in Kenya, and a dive school center on-site.