15 Top-Rated Tourist Attractions on the Garden Route
We may earn a commission from affiliate links ()
One of the top scenic drives in South Africa, the Garden Route offers a little of everything for which this sun-soaked country is famous: spectacular scenery, fascinating wildlife, and adrenaline-fueled adventure. The route stretches for more than 200 kilometers from Mossel Bay in the Western Cape to the Storms River on the Eastern Cape, and snakes between soaring mountains and the surf-thrashed beaches of the Indian Ocean.
Along the way, travelers can sail on sparkling lagoons, hike through lush coastal forests sliced by rivers, explore caves and panoramic mountain passes, and bungee jump into a plunging gorge. Animal lovers will find plenty of attractions, from elephant experiences, cheetah encounters, and bird sanctuaries to ostrich farms and whale-watching trips. The most popular towns along the route are Knysna and Plettenberg Bay, but Mossel Bay is home to a fascinating museum complex, and George is the largest town and transport hub.
A minimum of four days is recommended to tour this stretch, however with all the diverse attractions, travelers could easily explore this region for weeks. During the busy summer months (December through February), travelers should book accommodation well in advance.
Discover the best places to visit and the top things to do along this famous drive with our list of the top attractions on the Garden Route.
1. Robberg Nature Reserve, Plettenberg Bay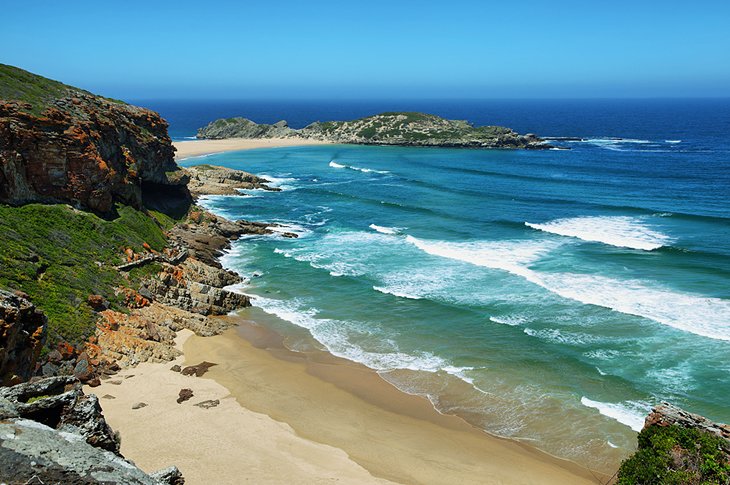 About eight kilometers from the popular coastal town of Plettenberg Bay, the magnificent Robberg Nature Reserve is a national monument and a hiker's paradise with a variety of trails and other things to do. It sits on a four-kilometer-long peninsula, at the foot of the Mountain of the Seal, where some of the rocks date back 120 million years, and caves show evidence of prehistoric man.
The reserve is an important breeding area for many water birds, and hikers may also spot whales and dolphins (in season), as well as seals basking on the beach and bobbing in the crashing surf. Their awe-inspiring predator, the great white shark, also lurks in the waters here.
Before embarking on a hike, visitors should stop by the visitor center at the parking lot to learn about the local flora and fauna. From here, hiking trails lead through the peninsula and range in length and difficulty, from a gentle two-kilometer stroll to the challenging 10-kilometer hike around the rocky and rugged point past pristine beaches and along precipitous sea cliffs.
2. Storms River Suspension Bridge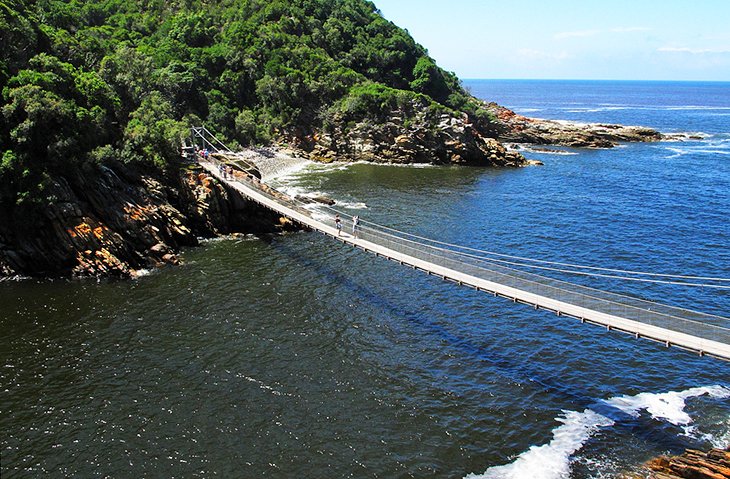 A highlight of the magnificent coastal reserve Tsitsikamma National Park (now part of Garden Route National Park) is the Storms River Suspension Bridge. Stretching for 77 meters, the bridge spans the swirling waters of the river mouth as they merge with the Indian Ocean. Standing on the bridge, less than seven meters above the water, visitors can feel the exhilarating force of nature all around them.
The hike to the bridge is also beautiful. The trail winds through bird-filled forests, past waterfalls and stunning sea views. Keep a lookout for dassies (rock hyrax) that live among the rocks near the bridge. For those who want a longer walk, the 42-kilometer Otter Trail runs between Storms River Mouth and Nature's Valley with overnight accommodation in huts along the route.
This section of Garden Route National Park is also home to many species of birds, as well as monkeys, smaller antelopes, and diverse marine life. Dolphins and whales are frequently sighted off the coast. Not far from Storms River is the Big Tree, a gigantic yellowwood tree said to be 800 years old, making it South Africa's oldest as well as its largest tree. For a dose of adrenaline, visitors can experience an aerial view of these ancient forests on a Tsitsikamma Canopy Tour.
3. Birds of Eden, Monkeyland, and Jukani Wildlife Sanctuary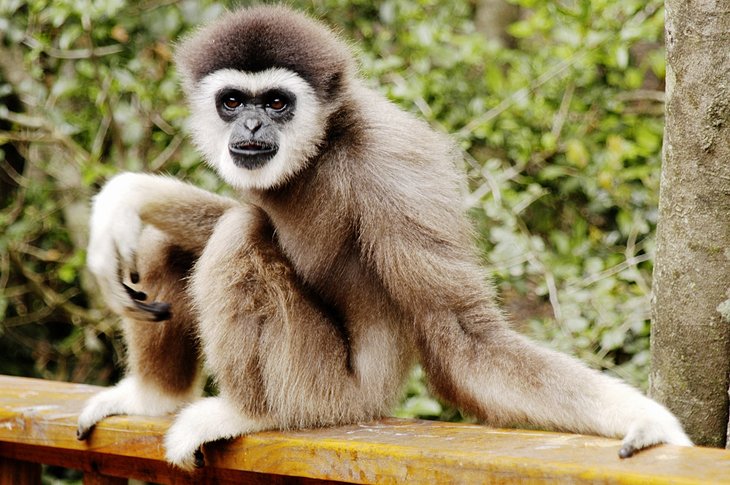 About 16 kilometers from the beautiful beaches of Plettenberg Bay, animal lovers can enjoy educational wildlife experiences at three affiliated sanctuaries owned by the South African Animal Sanctuary Alliance.
At Birds of Eden, the world's largest dome shelters two hectares of indigenous forest, where birds representing more than 280 species from around the world, fly free. Visitors can view the birds from two kilometers of boardwalks, including a canopy walk. Many of the birds–especially the parrots–were previously pets and have no fear of humans, allowing close-up views and fantastic photo opportunities. Favorite sightings include Knysna loeries, channel billed toucans, blue cranes, crowned cranes, and the stunning blue and gold macaw.
Next door, Monkeyland is a sanctuary that has rescued more than 11 species of previously captive primates and rehabilitated them in a natural forested habitat. Monkey safaris take visitors to see lemurs, languors, squirrel monkeys, and a host of other charismatic primates along a 128-meter canopy walk and viewing deck. Multilingual guided tours are also available.
Jukani Wildlife Sanctuary rescues big cats and rehabilitates them in as natural surroundings as possible. Here, visitors enjoy a guided introduction to these graceful creatures with the chance to learn about their history and unique personalities. Highlights include the white lions, cheetahs, tigers, and the beautiful black leopards.
4. Knysna Heads & the Knysna Forest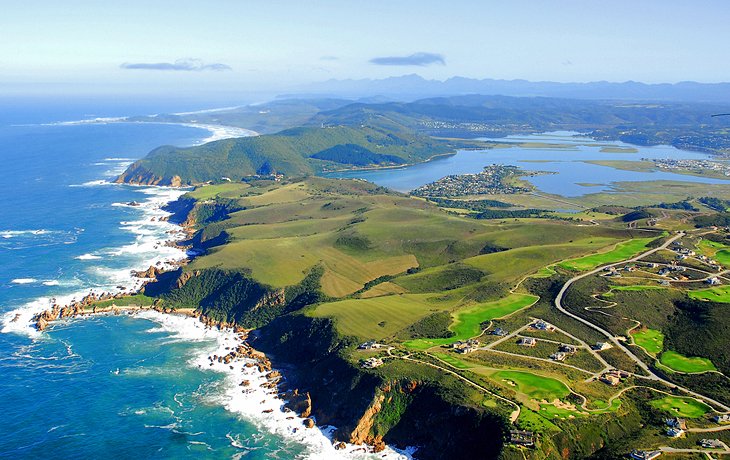 Sitting on a lagoon between lush forests and the sparkling sea, Knysna is one of the most popular towns on the Garden Route. On the seaward side, two giant crags, called the Knysna Heads, flank the mouth of the lagoon. Visitors can explore the area from the water on a cruise or along walkways with plenty of panoramic viewpoints overlooking the treacherous sea below and the jagged multi-hued rocks along the shore. Cafés offer scenic patios to soak up the views, and seafood lovers should sample some delectable local specialties while visiting Knysna.
In the lush forests surrounding Knysna, scenic trails lace along rivers and waterfalls, where large herds of elephant once roamed. Among the flora are giant yellowwood trees, some of them between 400 and 800 years old, as well as stinkwoods and the pretty pink-flowered Cape chestnut. Hikers may also spot antelope and a diversity of birds, including the Knysna loerie.
Favorite hikes include the Circles in the Forest; the 3.4-kilometer Jubilee Creek trail; and the 5.6-kilometer Millwood Mine Walk, which leads to the remains of a gold diggers' settlement.
5. Knysna Elephant Park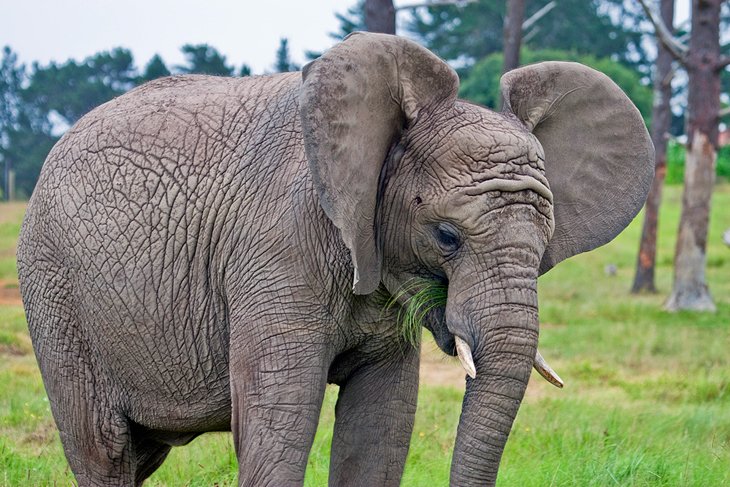 At Knysna Elephant Park, animal lovers can enjoy a rare wildlife experience with a herd of rehabilitated elephants. Under the careful supervision of experienced handlers, visitors can walk with the elephants, feed them, and interact with these majestic pachyderms.
Operating for more than 20 years, the park was the first sanctuary in South Africa to accommodate orphaned African elephants. Many of the residents were rescued from culls or circuses and rehabilitated by the staff. The experience begins with an educational presentation and safety briefing before visitors interact with the elephants at the level they choose, as long as the elephants are happy to cooperate. This is a must-do for wildlife lovers.
Address: Harkerville, Plettenberg Bay, 6600
Official site: http://knysnaelephantpark.co.za/
6. Featherbed Nature Reserve, Knysna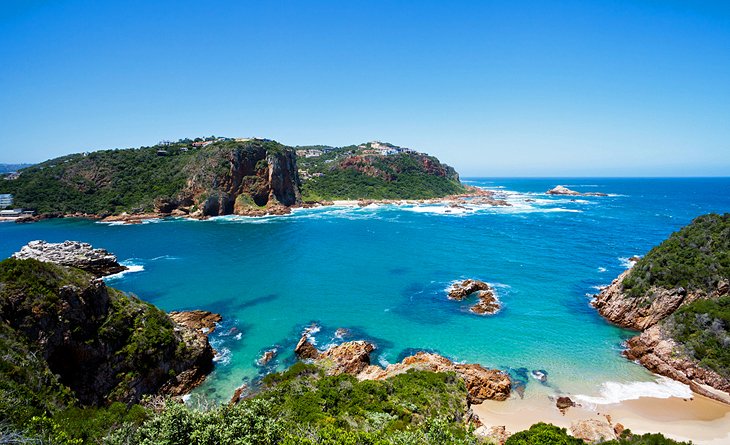 A daily ferry service from Knysna takes visitors for a cruise on the Knysna lagoon to the delightful Featherbed Nature Reserve on the Western Head. A visit to this pretty private sanctuary includes a 4WD trip with stops at panoramic lookout points and a guided 2.2-kilometer hike with fascinating information about the local flora, fauna, and history.
After exploring the reserve, visitors enjoy a delicious buffet lunch at the alfresco dining area under a canopy of trees. The company also offers cruises to Knysna Heads aboard their double-decker floating restaurant, as well as sailing trips and sundowner cruises on Knysna Lagoon.
7. Swartberg Pass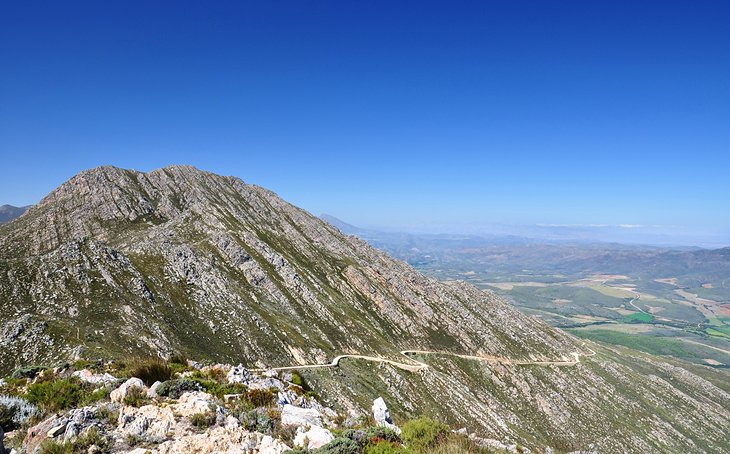 The Swartberg Pass is one of the most scenic mountain passes in the world, with stunning rock formations and sweeping views. Beyond the Cango Caves, the road climbs over the Swartberg range, which forms the boundary between the Little and the Great Karoo and extends for 200 kilometers rising up to 2,326 meters in some areas.
The 27-kilometer pass zig-zags and snakes from Oudtshoorn in the south to Prince Albert in the north. Built using convict labor in 1881-88 by Thomas Bain, a South African road engineer, the road is mainly gravel, but in dry weather, it's negotiable by 2WD.
Magnificent views greet travelers around every bend, and the vegetation is equally beautiful, with a profusion of proteas. Lookout points along the way offer striking panoramas. Be sure to bring a camera and check road conditions before heading out.
8. Cango Caves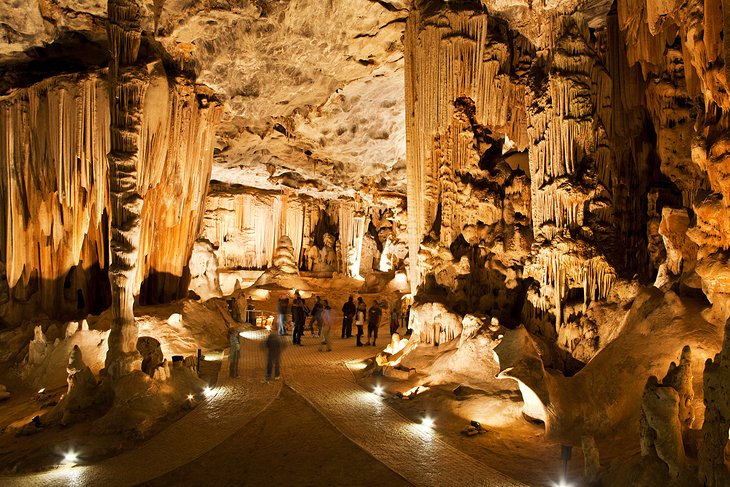 About 29 kilometers north of Oudtshoorn, at the foot of the Great Swartberg, are the impressive Cango Caves. In earlier centuries, these dripstone caverns were occupied by Bushmen, who left rock drawings, little of which can now be distinguished. Visitors can choose between a Heritage Tour or Adventure Tour. Both take visitors into a series of huge chambers with impressive stalactites and stalagmites enhanced by spectacular lighting effects.
The Van Zyl Hall is named after the man who first ventured into these dark caverns in 1780. This enormous 70-meter-long, 17 meter-high chamber is brilliantly floodlit and accommodates 1,000 people. It has excellent acoustics, and concerts are occasionally staged here.
The Adventure Tour starts at the same point but continues deeper into the cave system and requires some wriggling and climbing. Advance bookings for the tours are essential.
Official site: http://www.cango-caves.co.za/
9. Oudtshoorn Ostrich Farms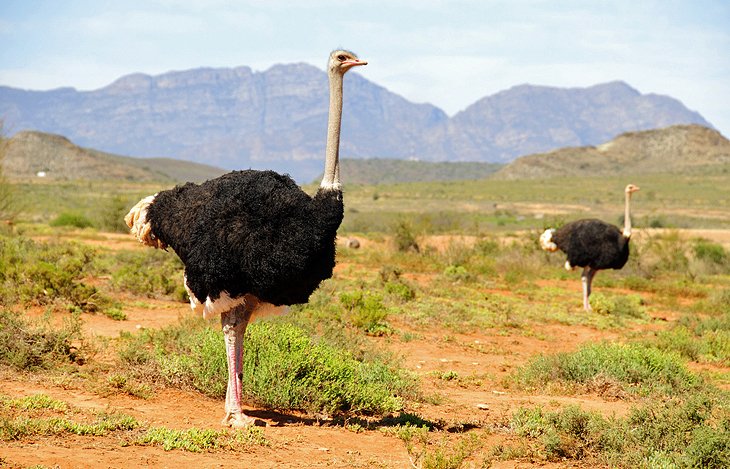 In a fertile valley, Oudtshoorn is the largest town on the Little Karoo and the world's principal ostrich-breeding center. Many visitors following the Garden Route make a side trip here (about 70 kilometers) to admire the beautiful scenery of the surrounding Swartberg and Outeniqua Mountains and to visit one of the ostrich farms. Safari Ostrich Show Farm, Cango Ostrich Show Farm, and Highgate Ostrich Show Farm offer educational and fun tours where visitors can learn about ostrich breeding and stand on ostrich eggs to demonstrate their strength.
Another popular tourist attraction in Oudtshoorn is Cango Wildlife Ranch where visitors can cage-dive with crocodiles and interact with lemurs and cheetahs. Also at the ranch are a snake park; Australian rainforest exhibit, with wallabies and lorikeets; and a host of other fascinating wildlife including white lions, leopards, tigers, flying foxes, and an array of colorful birds.
10. Wilderness National Park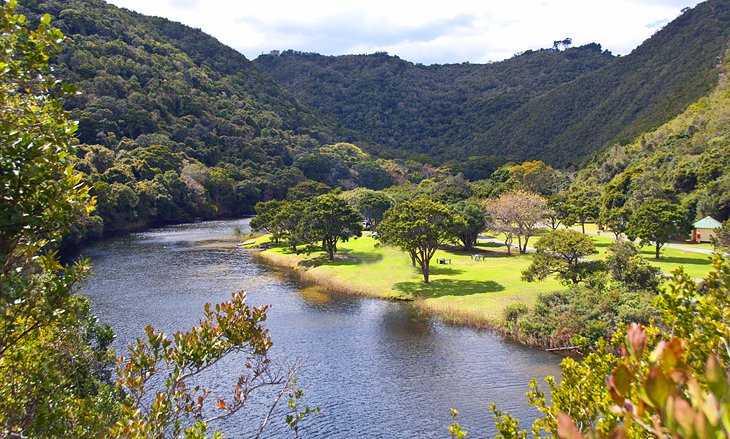 Now part of the Garden Route National Park, Wilderness National Park lies between the Garden Route towns of George and Knysna and extends from the mouth of the Trouw River in the west to Sedgefield in the east. To the north, this beautiful park is bounded by the Outeniqua Mountains, and to the south, it descends to the Indian Ocean. Along this stretch of coast, lakes, wetlands, and estuaries connect with each other, and the mingling of salt and fresh water produces amazingly diverse flora and fauna.
The national park is a paradise for water birds, including the grey heron and five species of kingfishers. Campsites and stilted log cabins are available for visitors, as well as facilities for water sports on the lakes, which include canoeing, fishing, windsurfing, and sailing. Segway tours are another fun way to explore the park.
Goukamma Nature Reserve, a few kilometers east of Wilderness National Park, straddles the estuary of the Goukamma River with rolling dunes, distinctive bird life, and well-defined walking trails. The Kingfisher Trailcrosses an intertidal zone to a waterfall and is a popular day walk in the park. The region is particularly beautiful in spring when wildflowers speckle the landscapes.
Official site: http://www.sanparks.org/parks/garden_route/
11. Bloukrans Bungy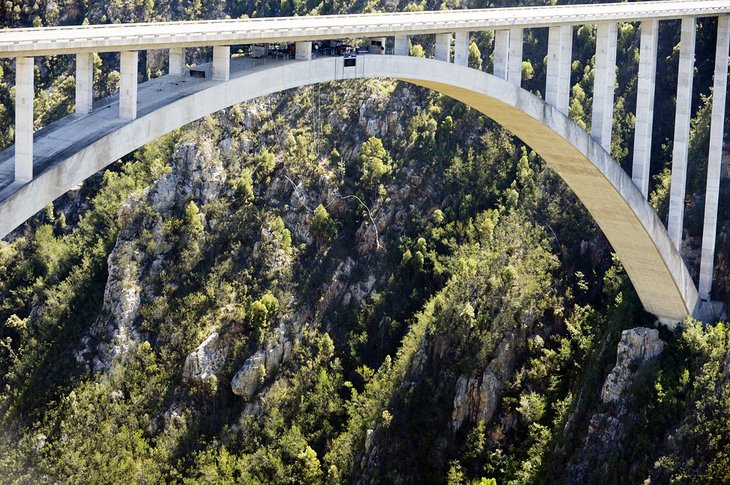 About 40 kilometers outside of Plettenberg Bay on the way to Storms River, Bloukrans Bungy is the world's highest commercial bungee jump and operates from the world's highest bungee bridge. Even crossing the bridge can bring butterflies to the stomach, yet many brave souls take the leap and dive 216 meters into the dizzyingly deep gorge below. Those who want to capture a bird's-eye view can bring their own GoPro, but videos and photos of the jump are available for purchase after the plunge.
Address: Bloukrans River Bridge, Tsitsikamma, Plettenberg Bay, 6600
Official site: https://www.faceadrenalin.com/
12. Bartolomeu Dias Museum Complex, Mossel Bay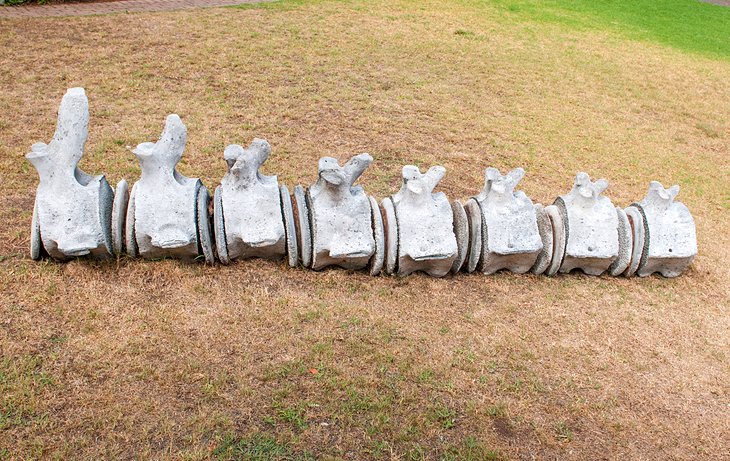 Though Mossel Bay's scenery is now marred by industrial development and oil rigs, this seaside town is home to the excellent Bartolomeu Dias Museum complex. It was built to celebrate the 500th anniversary of Bartolomeu Dias' landing in Mossel Bay in 1488. At the museum complex, the reception and information center is housed in the Granary where visitors can view specimens of local plants and flowers. From here, an ethnobotanical garden leads to the other museums.
Facing the Granary is the Maritime Museum in a former grain mill and sawmill. The star exhibit here is a replica of the caravel in which Diaz rounded the Cape.
The Shell Museum displays a collection of shells from all over the world, as well as aquarium tanks with living shellfish in their natural environment. Outside Mossel Bay's Shell Museum is the Post Office Tree, a large milkwood tree beside a spring from which ships replenished their water supplies. Mariners sailing east used it as a mailbox by depositing letters here, which were collected and delivered by ships on the homeward voyage.
Also in the complex, the Munrohoek Cottages were built around 1830 and restored in the mid 1980s. They are among the oldest buildings in Mossel Bay.
Address: 1 Market St, Mossel Bay, 6500
Official site: http://www.diasmuseum.co.za/
13. Canyoning The Crags
The Crags are located just outside of Plettenberg Bay and are another place to get a good adrenaline fix on the Garden Route. From cliff jumping to ziplining, hiking, and swimming, this natural rock and water playground makes for an awesome few hours of outdoor adventuring.
For the ultimate adventure, check out this 4-Hour Canyoning Trip in The Crags. On it, you will rappel down a waterfall, zipline over another, and hike along an ancient river canyon trail. There are also opportunities for swimming in freshwater streams and pools and cliff jumping. If four hours sounds like too long, try the abridged 2-Hour Canyoning Trip. It offers the same adrenaline rushes in a shorter time frame.
14. Gondwana Private Game Reserve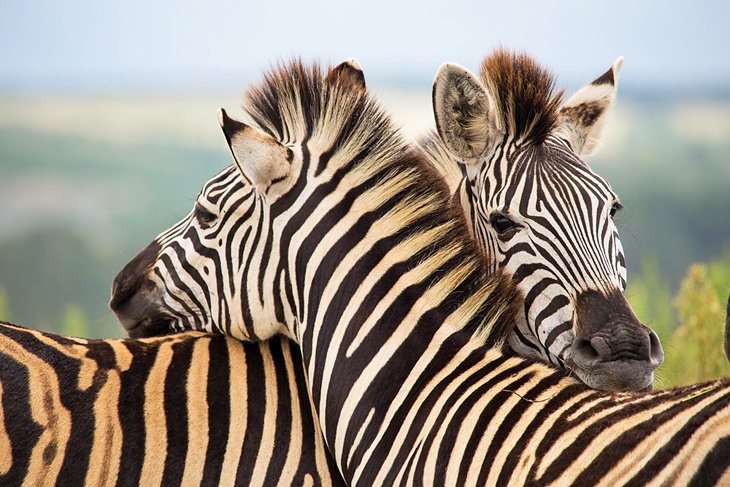 The only game reserve on the Garden Route is Gondwana Private Game Reserve. It offers a great opportunity to go on safari for those with limited time in South Africa–for instance if you're just doing Cape Town and the Garden Route this is going to be your closest safari option.
The 11,000-hectare private game reserve is just 48 kilometers from Mossel Bay and can be visited on a day trip or overnight stay. There are guided safari drives through the reserve, which is home to the Big 5 (lion, leopard, rhino, elephant, and buffalo), as well as a plethora of other animals from zebras and giraffes to cheetahs.
Accommodation options at Gondwana range from a luxury lodge to bush villas and a tented eco camp, which features a three- or five-night conservation-focused experience–you'll be helping with the day to day operations of the park.
Official site: https://www.gondwanagr.co.za/reserve/
15. "Plett Bay" Beach Day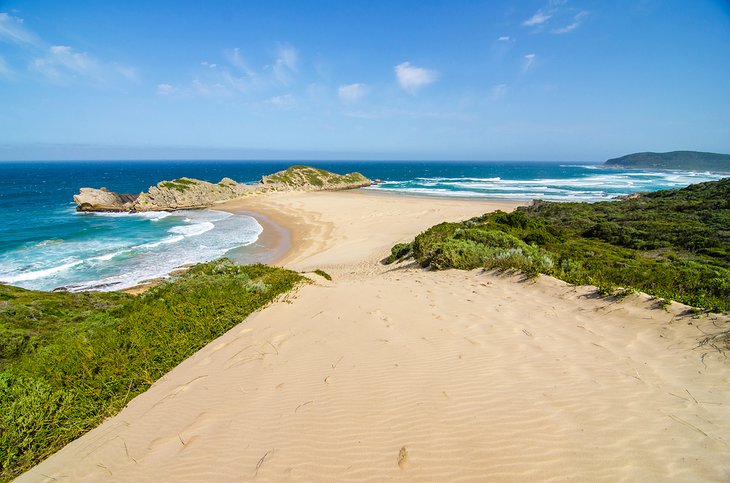 A Plettenberg Bay beach day is another Garden Route must-do. Plett is home to six "Blue Flag" beaches covering about 15 kilometers of coastline. Central Beach is the most popular stretch of sand in town. Located in front of the landmark Beacon Island Resort, it is a pretty stretch of golden sand, and in summer, it has lifeguards.
It can get very crowded on weekends in season, as well as during the December holidays, and has a fun buzz about it. If you want to explore the ocean and not just the sand, dive charters, ocean kayaking, and other tours also launch from Central Beach.
Plett beaches are also known for their surfing. Waves can be as high as 12 feet at times, and this is considered one of South Africa's top surf destinations. Robberg Beach is one excellent surf and bodyboarding spot about two kilometers from downtown. It has public toilets, wheelchair access, and a parking area. It is also great for long walks along the sand.
Lookout Beach is another top surf spot around town, with lifeguards in season. If you are traveling with kids, it's also a good family beach. Also check out Singing Kettle Beach. You'll want to take a walk down the sand to Cathedral Rock (also known as Arch Rock), which is a cool natural arch rock formation that supposedly resembles a cathedral portal.
More Related Articles on PlanetWare.com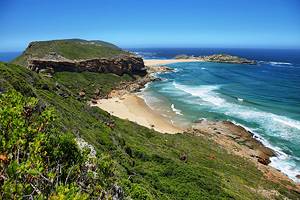 Western Cape: While the Garden Route definitely makes up a major highlight of the Western Cape there is so much more to see in this beautiful province, should you have time to explore more. Delve deeper with our Top-Rated Tourist Attractions in the Western Cape for more things to do in this province, which is also home to Cape Town.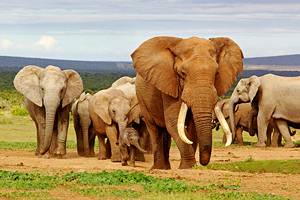 Eastern Cape: The Garden Route is also an easy jumping-off point for exploring the Eastern Cape. This adjacent province is home to areas of stunning natural beauty, especially along The Wild Coast. It also features great surfing, with world-famous waves like Supertubes in Jeffreys Bay. Learn more with our Top-Rated Tourist Attractions in the Eastern Cape page. It will give you the scoop on everything this beautiful province has to offer.