22 Best Beaches in South Africa
Author Meagan Drillinger visited South Africa in November 2022 and spent much of her time driving the coastal routes in search of the best beaches.
With more than 2,850 kilometers of coastline, it's not surprising that South Africa has some of the best beaches in the world. Picture bleached white sand, turquoise and teal waves, and rolling green mountains all along the way.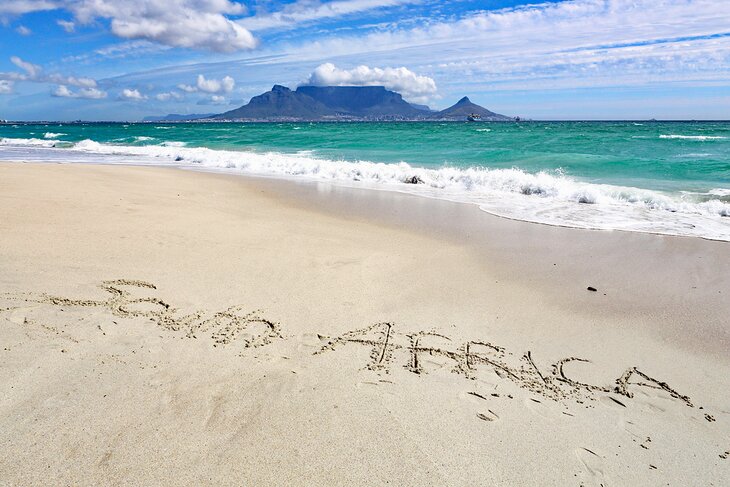 The South African coastline stretches from the border of Namibia on the western Atlantic side, all the way around the Cape of Good Hope, and up towards Mozambique on the Indian Ocean side. If you want to find the most Instagrammable beaches in the world, South Africa has a good chunk of them.
Choosing the best beaches in South Africa can be overwhelming. To help the planning process, we've narrowed it down to the most beautiful beaches in the country. If you're looking for the perfect spot to enjoy the sea and sand from the Atlantic to the Indian Ocean, here are the best beaches in South Africa.
1. Boulders Beach, Simon's Town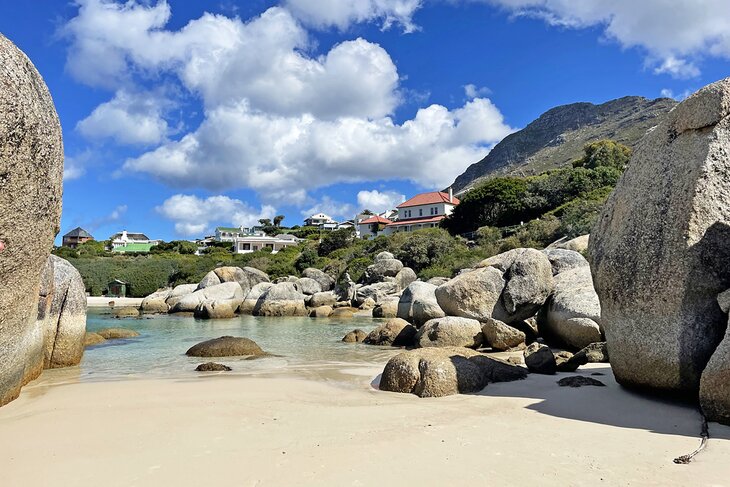 If there is one beach you visit in all of South Africa, let it be Boulders Beach in Simon's Town, not far from Cape Town. Why? Penguins, of course!
One of the highlights of South Africa, Boulders Beach is home to a thriving penguin colony, and visitors to the beach have the opportunity to lay their towels next to these cute, waddling creatures. The beach is known for its massive boulders; crystal-clear water; and white, powdery sand that is practically popping with penguins.
Accommodation: Top-Rated Resorts in Cape Town
2. Coffee Bay, Wild Coast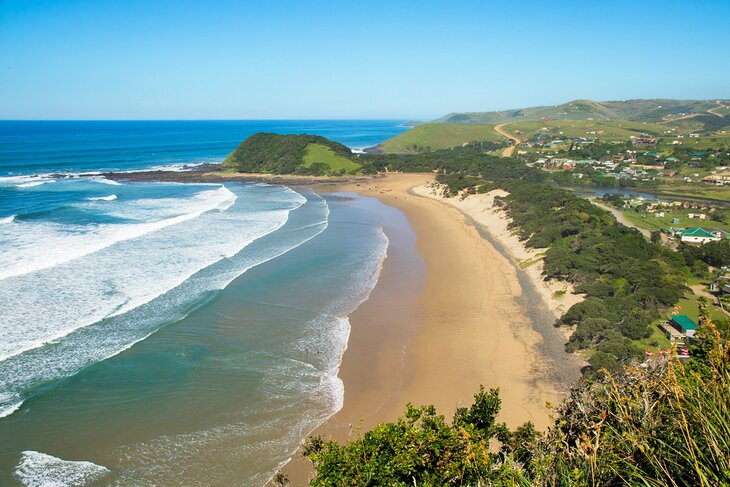 Exploring the Wild Coast section of the Eastern Cape? Then a stop at Coffee Bay is essential. Once a remote village, Coffee Bay has transformed into a crossroads for backpackers and eclectic types traveling around South Africa.
The beach here is known for its gorgeous stretch of sand and inspiring scenery that is veined with hiking trails.
3. Lookout Beach, Plettenberg Bay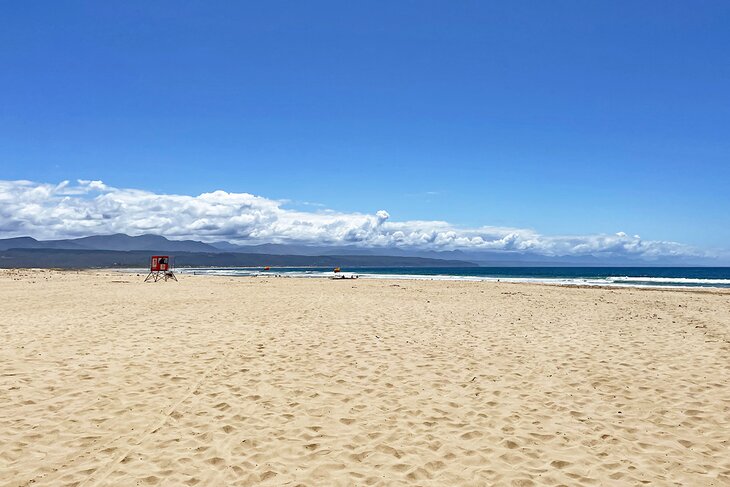 A broad, dreamy stretch of sand sticks out between the ocean and the Keurbooms River. Lookout Beach is one of the most popular beaches in the seaside town of Plettenberg Bay, and one of the loveliest beaches along the Garden Route.
During the summer months, you may be able to spot humpback and killer whales swimming offshore. The water here is warm, the sand clean, and the surf is particularly good for those who partake.
4. Gonubie Beach, East London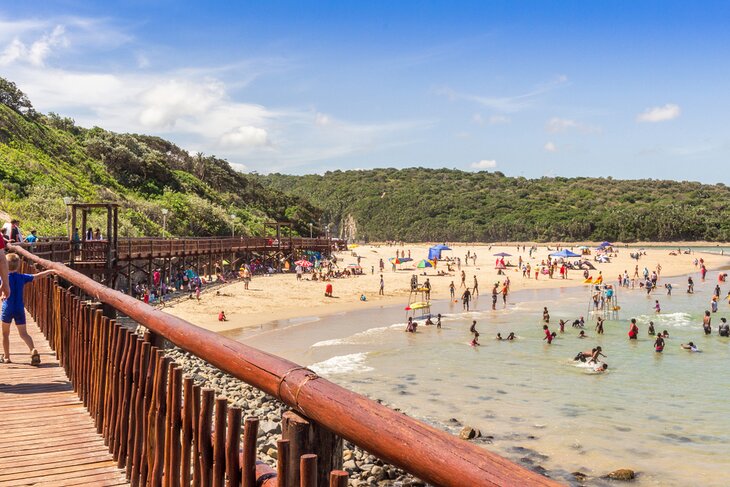 Along the Sunshine Coast in the Eastern Cape is Gonubie Beach, a swath of sun-bleached sand that is perfect for families. Families love this beach because of its wooden boardwalk above the dunes, which is perfect for whale spotting, and the tidal pools that are calm, warm, and teeming with fish.
The beach is well-stocked with picnic tables and fire pits, as well as a playground.
5. Santos Beach, Mossel Bay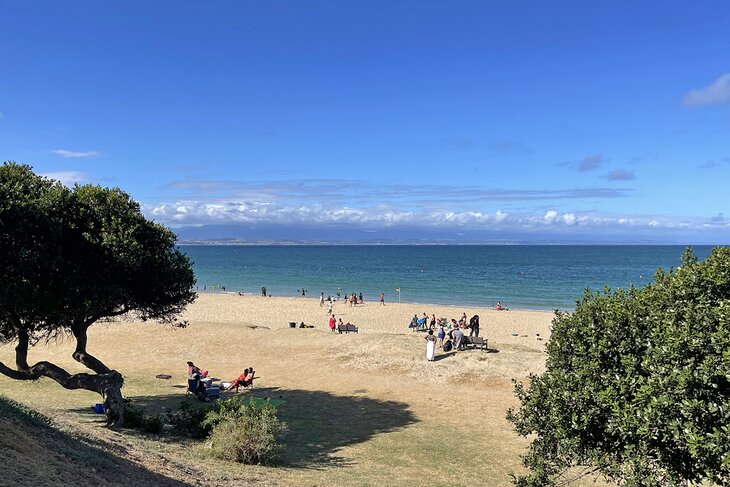 Mossel Bay is a major stop for travelers driving the 300-kilometer Garden Route. In fact, Mossel Bay is often a beginning or end point for the journey. It has many beautiful beaches surrounding it, but the most popular is Santos Beach, just steps from downtown.
Nestled at the heart of the action, Santos Beach is beloved for its Blue Flag status, warm water, and whale watching. It's a great beach for enjoying water and sand sports and even hosts a few festivals and events throughout the year.
6. Langebaan Beach, West Coast National Park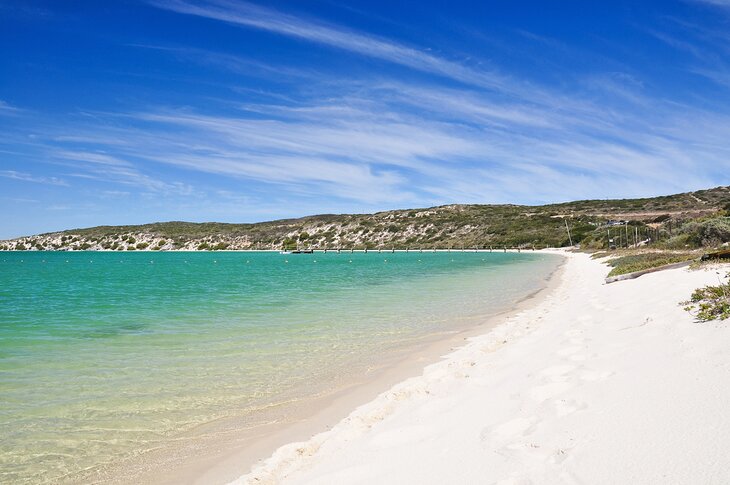 Located within the west coast town of Langebaan, and part of the West Coast National Park Marine Protected Area, Langebaan Beach is a favorite for those in the community. It sits perched at the mouth of the Langebaan Lagoon and is known for its water sports activities, particularly kitesurfing and windsurfing.
Sunsets here are spectacular, too, seeing as it's a west-facing beach. The road that leads to the beach has a handful of cute shops, restaurants, and cafés.
7. Central Beach, Plettenberg Bay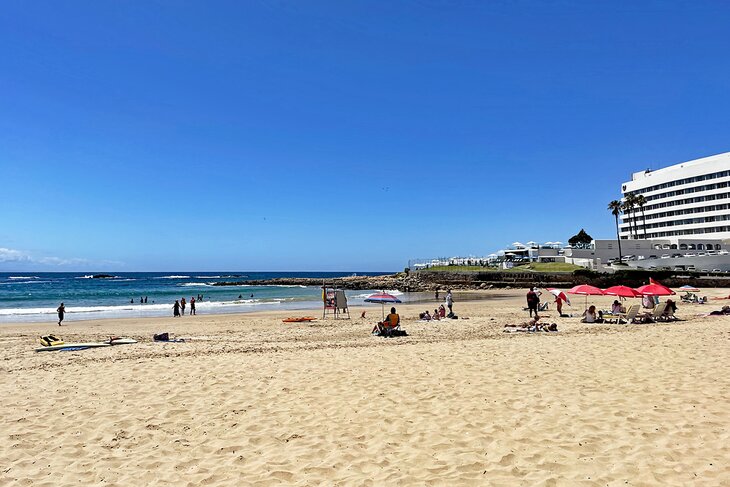 The main beach in Plettenberg Bay is Central Beach. As the name implies, the beach is centrally located in town, close to several restaurants and hotels. It's a beach known for fun and adventure, thanks to several outfitters nearby that can arrange ocean tours or rent out kayaks.
It's a family-friendly beach with clean sand, warm water, and gentle surf.
8. Platboom Beach, Cape of Good Hope Nature Reserve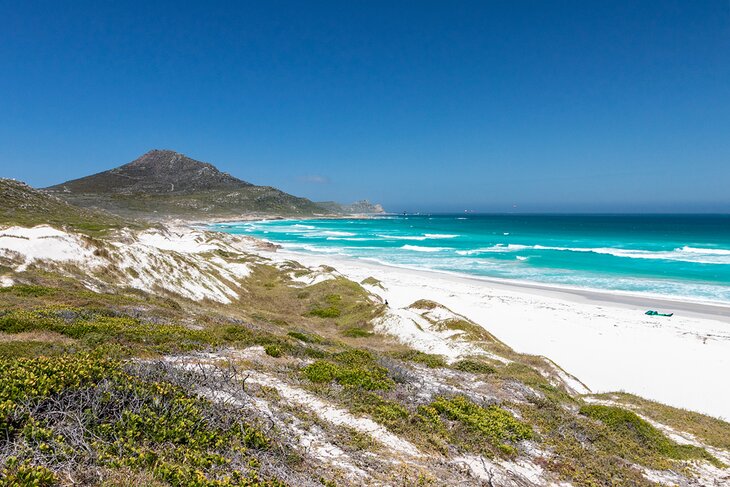 If it's a deserted island vibe you're after, look no further than Platboom Beach, one of the most ruggedly remote and beautiful beaches in South Africa.
You'll find more animals than people on this stretch of sugary sand. (Ostriches are the most popular beachgoers here.)
You won't find any services on this beach, but those who come here like it just for that reason. Instead, it's bone-white sand, crashing turquoise waves, and the occasional kitesurfer or baboon.
9. Diaz Beach, Mossel Bay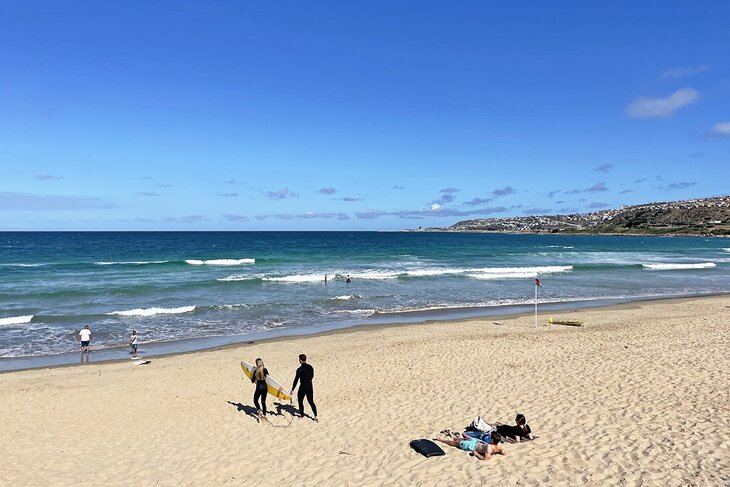 A quick drive from downtown Mossel Bay, and you'll find yourself at Diaz Beach. It's one of the largest beaches in Mossel Bay, and one of the most beautiful, to boot.
It has tons of amenities nearby, from restaurants and hotels to shops and surf rentals. Still, the beach never appears to be crowded and has some of the softest sand in South Africa. If you're someone who enjoys a long walk on the beach, this is the one to visit.
10. Second Beach, Port St. Johns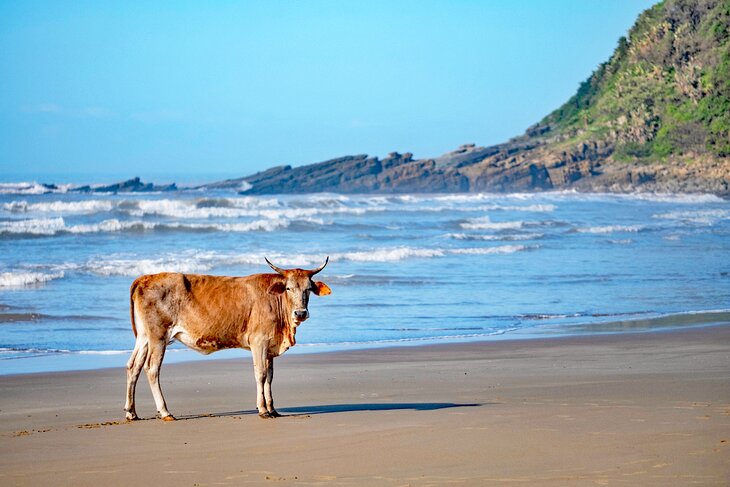 It's beautiful to look at, but looks can be deceiving. Second Beach, located along the Wild Coast, is certainly one of the most beautiful in the country, with white sand and shallow, turquoise water.
But this beach comes with a caveat — it happens to be one of the most dangerous beaches in South Africa. While you may be drinking in the gorgeous views, keep in mind that the beach is known for its dangerous riptides and many shark attacks.
Read More: Top-Rated Tourist Attractions in the Eastern Cape
11. Sanctuary Beach, Plettenberg Bay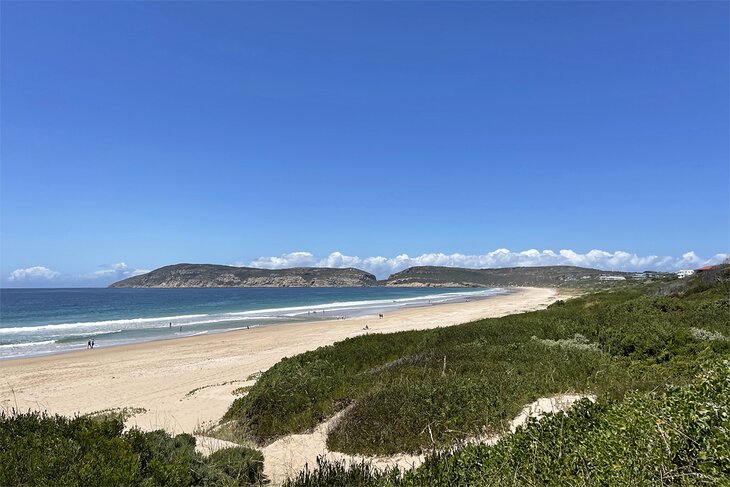 Just before you reach the Robberg Peninsula in Plettenberg Bay, you'll come across the lovely and idyllic Sanctuary Beach. A wooden boardwalk leads the way down to the wide stretch of pristine coastline. With views of downtown in the distance, and mountains beyond that, you'll feel like you're another world away, while still being quite close to the action of Plettenberg Bay.
12. Kraalbaai Beach, Langebaan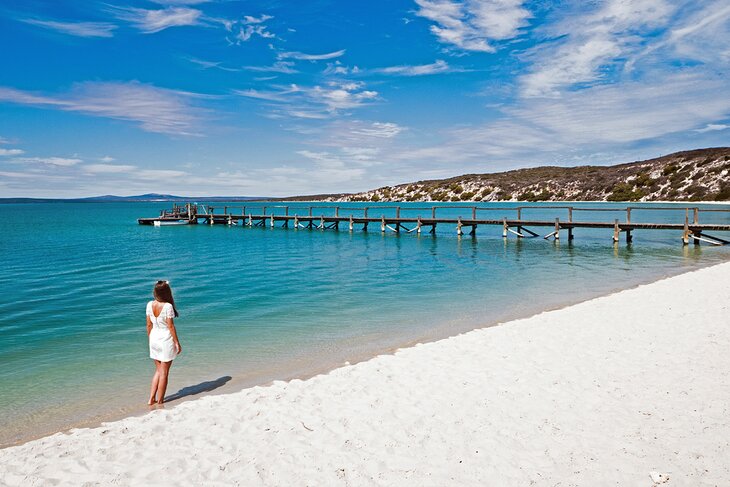 The Langebaan Lagoon has more than its fair share of beautiful beaches, but Kraalbaai Beach is perhaps one of its top stunners. Located within the magical West Coast National Park, the beach is a meandering stretch of white sand that surrounds the glowing turquoise water of the lagoon.
The calm, shallow waters mean it's one of the top beaches in South Africa for swimming. The lagoon is known for its variety of houseboats that sit perched over the water, many of which are available for rent, for those who want a little extra personal time with such a beautiful spot in the Western Cape.
13. Hartenbos Beach, Mossel Bay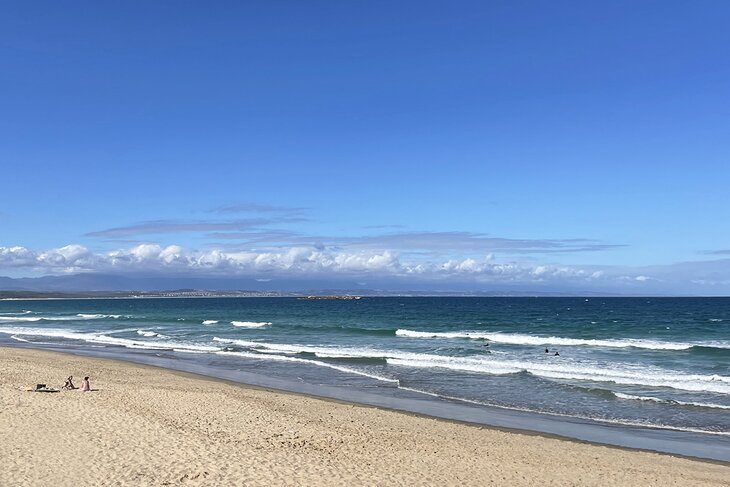 Just north of Mossel Bay is the seaside village called Hartenbos, known for its eponymous beach that has coveted Blue Flag status. The beach is impressively long, running for several kilometers against the calm, rolling waves from the bright blue Indian Ocean.
Hartenbos Beach is also a great beach for camping, and it's a prime spot for wildlife watching.
14. Kings Beach, Gqebera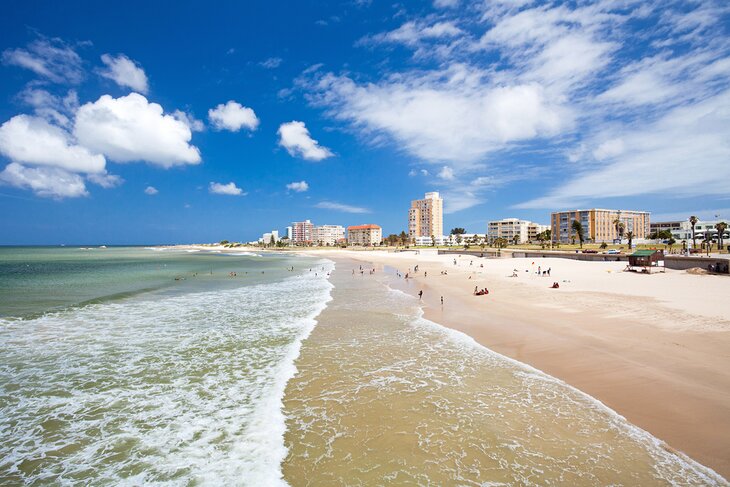 Right in the heart of downtown Gqebera (formerly Port Elizabeth), overlooking the expansive Algoa Bay, is Kings Beach. This stunning 1.6-kilometer beach has warm, golden sand and is one of the most popular beaches in the Eastern Cape.
Not only is it a visually pleasing beach, it is also packed with amenities, including a supertube waterslide, snack area, parking, mini golf, a go-kart race track, and a playground for kids.
The bay is known for its stellar marine life, as well, so keep your eyes peeled for whales and dolphins, which can be seen year-round.
15. The Wreck Beach/Robberg 5, Plettenberg Bay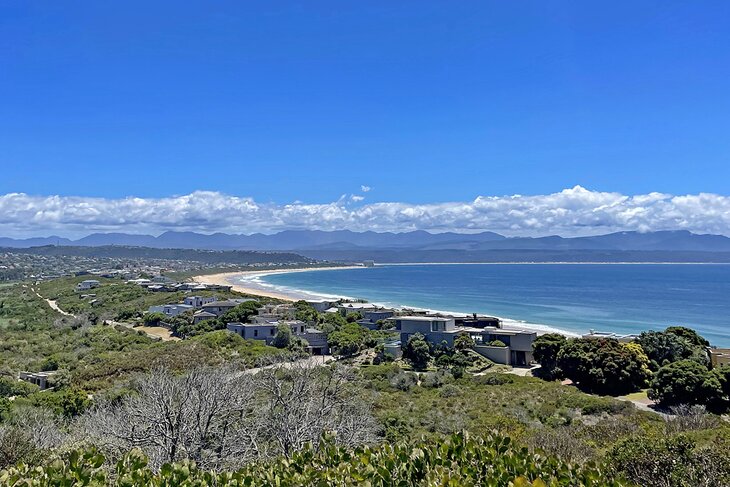 One of the premier beaches in Plettenberg Bay is Robberg 5 Beach, also known as The Wreck Beach. Shielded on one side by the Robberg Peninsula, Robberg 5 stretches for four kilometers to downtown.
Touting Blue Flag status thanks to its beauty, cleanness, and facilities, Robberg 5 is also known for its scuba and snorkeling opportunities. The name "The Wreck" comes from an actual shipwreck that lies just offshore and has become a habitat for coral and fish.
Snorkelers and scuba divers come to experience this unique element that lurks just beneath the water's surface. If you're lucky, you may even be able to spot whales and dolphins. There is a possibility for great whites to lurk offshore, but lifeguards will call swimmers out of the water if that is the case.
16. Cape Vidal, St. Lucia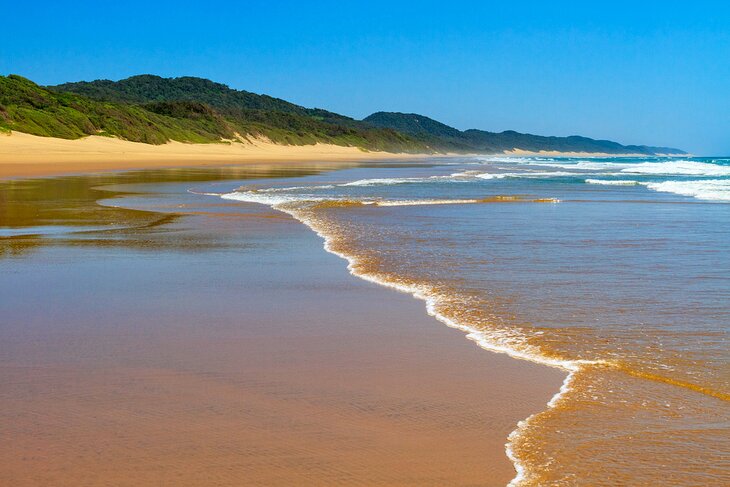 Along South Africa's eastern coast, you'll discover the lush, verdant iSimangaliso Wetlands Park, one of the very first World Heritage Sites in South Africa. This epically beautiful park is known for its coastal dunes, its Big Four game, and the stunning Cape Vidal.
The beaches here are perfect for swimming and snorkeling, and the sand dunes are beyond impressive. Some rise as high as 150 meters. If you're lucky, you may have the opportunity to spot hippos, buffalo, and crocodiles along the way.
The beach is close to the town of St. Lucia, which is a home base from which to explore the wild, rugged landscape of the Elephant Coast.
17. Buffalo Bay Beach, Brenton-on-Sea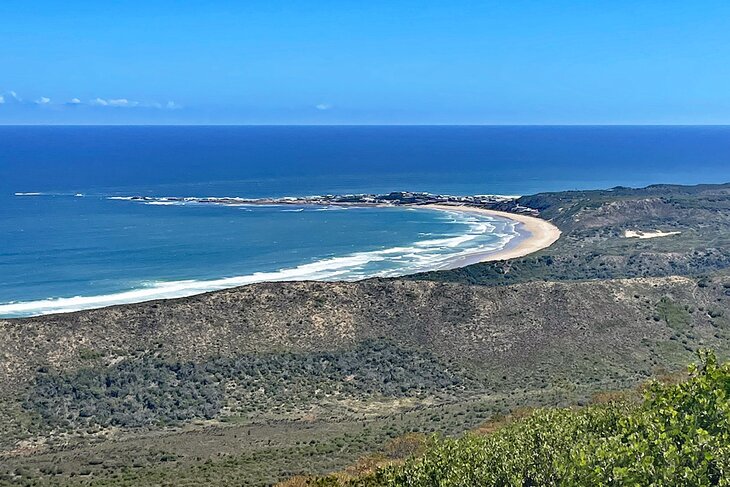 Just outside of the town of Knysna is the little seaside village called Brenton-on-Sea. The main reason travelers come to this slice of oceanfront paradise is to check out the expansive and beautiful Buffalo Bay (or simply "Buffs" for those in the know).
What makes this beach so wonderful is its sheer size, stretching out in a seemingly endless arc of golden sand along the Indian Ocean. Conditions are great for swimming here, as well as water sports like SUP and kayaking.
But one of the best things to do along the beach is to take the seven-kilometer walk to the town of Brenton. It's a gorgeous stroll offering opportunities to glimpse dolphins and whales, too.
18. Golden Mile, Durban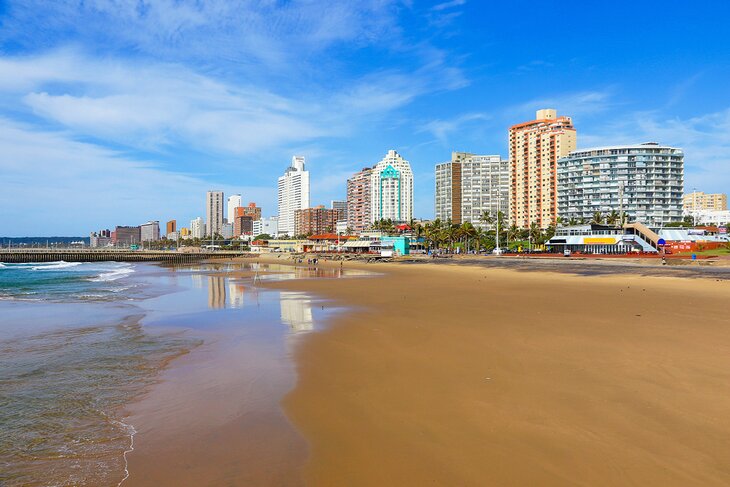 Durban might as well be Surf City, South Africa. It is a fantastic spot in the country for surfers, who are drawn to the gorgeous beaches and ideal conditions.
The beaches of Durban run from the Blue Lagoon near the Umgeni River to the uShaka Marine World. This entire stretch of coastline is called the Golden Mile, thanks to its beautiful stretch of sand and the warm, delicious sunny weather that you'll often find year-round.
Along the Golden Mile are beaches like the Bay of Plenty Beach, uShaka Beach, Suncoast Beach, and Blue Lagoon Beach. Each beach has a slightly different vibe, meaning that every traveler will find a spot of sand they love along the Golden Mile.
19. Camps Bay Beach, Cape Town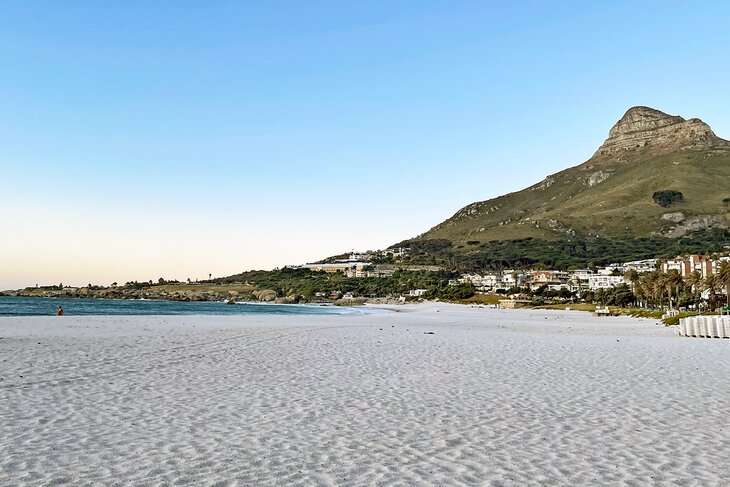 South of Cape Town is a series of smaller beach communities with crescent-shaped bays that carve their way down the cape towards the peninsula. One of the most popular beach villages here is called Camps Bay, known for its lively beachfront restaurants, views of Lion's Head, and, of course, the beach.
One of Cape Town's best beaches, the long stretch of white sand at Camps Bay Beach is something right out of a postcard, and the lively energy that you'll find is what makes this spot such a buzz-worthy place. The views are pretty spectacular here, particularly at sunset, and you're certain to find a group of like-minded travelers or locals to share the moment with.
Tip: Head to The Codfather restaurant for one of the freshest seafood meals in town.
Accommodation: Top-Rated Resorts in Cape Town
20. Dolphin Beach, Jeffreys Bay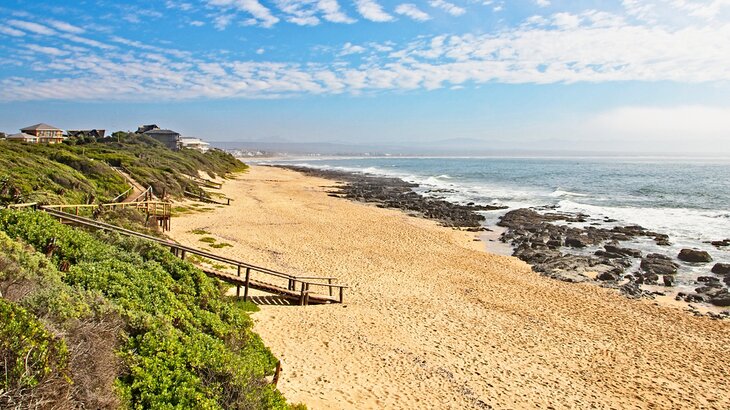 Surfers around the world are well acquainted with Dolphin Beach. That's because it has one of the best right-hand surf breaks in the world, known as Supertubes. Surfers flock from around the globe to catch this beautiful wave and, as such, Jeffrey's Bay has attracted quite the group.
Restaurants and surfer-style shops abound in this small town along the Sunshine Coast. In addition to great surfing, the beach is wonderful for swimming and enjoying the gorgeous views. Dolphin Beach is a Blue Flag beach, as well.
21. Long Beach, Noordhoek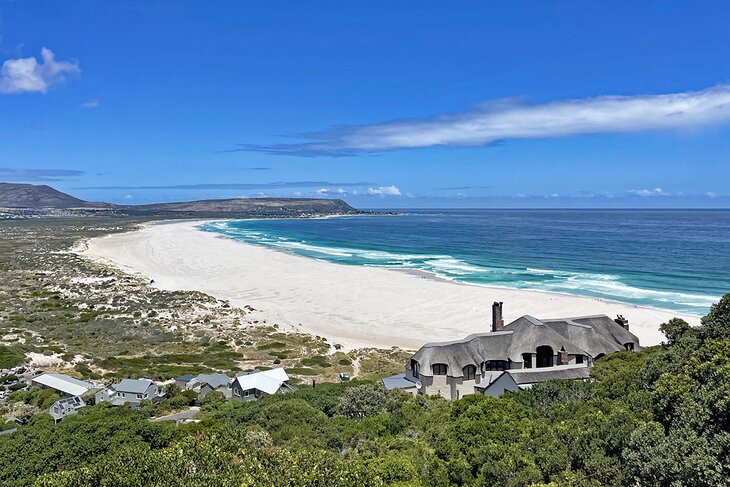 It's difficult to miss Long Beach. As you're driving south from Cape Town along Chapman's Peak Drive, you'll be blinded by a flash of sun-bleached sand and perfectly turquoise water. Scattered roofs of epic mansions pepper the tree-covered hills that lead down to the shore. It is certainly one of the best beaches to look at in South Africa.
Not only that, it's a great beach to explore, as well. The eight-kilometer beach is a tremendous jewel, with perfect surf spots; snow-white sand; beautifully blue water; and mesmerizing, cotton candy-colored sunsets.
22. Bloubergstrand, Cape Town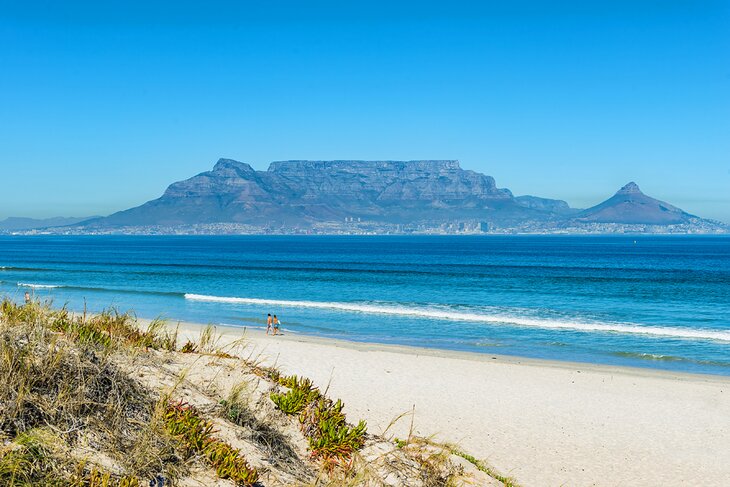 You've never known blue hues until you've caught a glimpse of Bloubergstrand, just north of Cape Town across Table Bay. This beach is almost too picture-perfect to believe, particularly for the views of the magnificent Table Mountain, which rises up dramatically from out of the sea.
The conditions on this beach can be particularly windy, but that makes it a popular spot for kitesurfers and windsurfers. You won't forget your time on Bloubergstrand, and one visit will not be enough to fully appreciate its striking natural beauty.