16 Best Lakes in Africa
Author Becca Blond has traveled extensively throughout Africa, including a recent trip in June 2022.
Home to the world's second biggest freshwater lake, as well as its longest lake, the African continent hosts some of the best lakes on the planet. The second largest continent, Africa is made up of some 54 different countries, and many of the best lakes share borders with more than one country.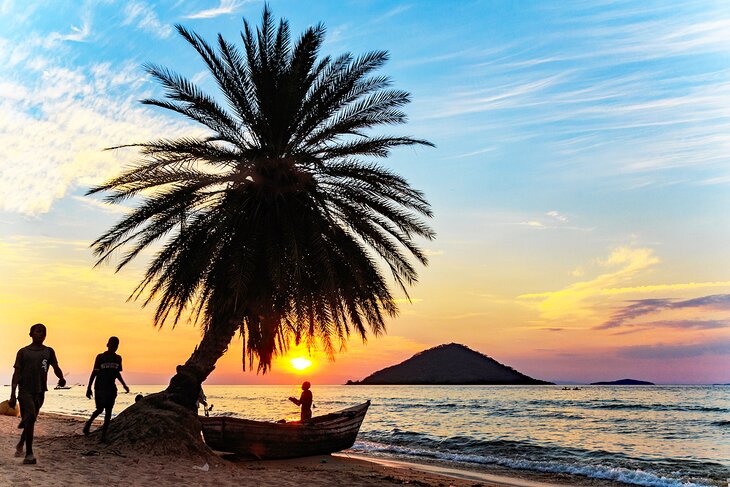 Most of Africa's major lakes are found along a continental fault line called the East African Rift Valley, which also creates the continent's most spectacular mountains, like Kilimanjaro, which is Africa's highest mountain. The Rift Valley, in the southeastern portion of the continent, is also home to a system of deep lakes known as the Great Lakes of Africa. Although these are not quite as big as the lakes one finds in North America's Great Lakes system, the African lakes are none-the-less impressive for their size and diversity.
Here are our picks for the best lakes across Africa:
1. Lake Victoria, Kenya, Tanzania, Uganda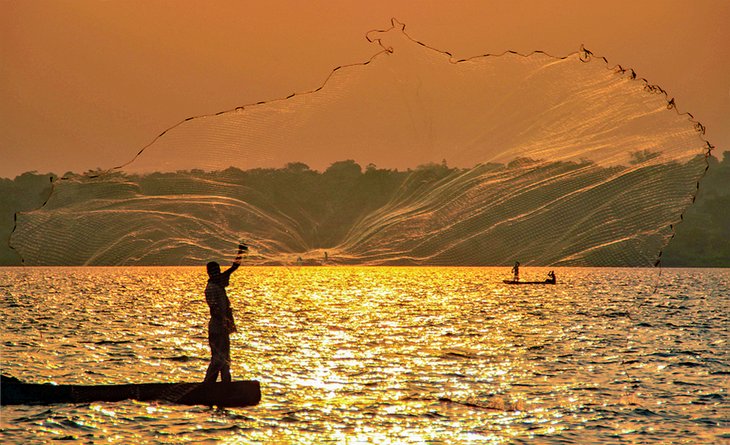 Covering three countries and a space of 68,800 square kilometers, Lake Victoria is Africa's largest lake. It is also the world's biggest tropical lake and its second largest freshwater lake. One of the Great Lakes of Africa, Lake Victoria, which is named for Queen Victoria, receives most of its water via rainfall.
Its only drainage point is through the Nile River on its northern side in Uganda. Its deepest portion, however, is its eastern section near Kenya. Passenger and vehicle ferries traverse the lake between all three countries.
Read More: Top-Rated Tourist Attractions in Tanzania
2. Lake Malawi, Malawi, Mozambique, Tanzania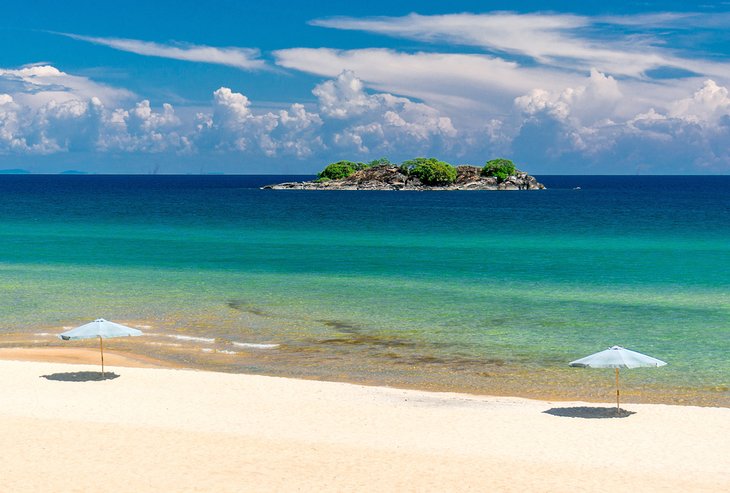 A favorite with travelers, Lake Malawi is the continent's third largest lake, covering 29,600 square kilometers. Home to more types of fish than any other lake on Earth, it is a popular snorkeling destination and has a tropical look with its warm, aquamarine water. Locals also catch fish here to eat.
Like Lake Victoria, Lake Malawi is part of the African Great Lake system and also crosses three countries: Malawi, Mozambique, and Tanzania. In Tanzania it is referred to as Lake Nyasa while in Mozambique it is called Lago Niassa. The lake is also quite ancient, estimated to be between one and two million years old.
3. Lake Tanganyika, Burundi, Democratic Republic of the Congo, Tanzania, Zambia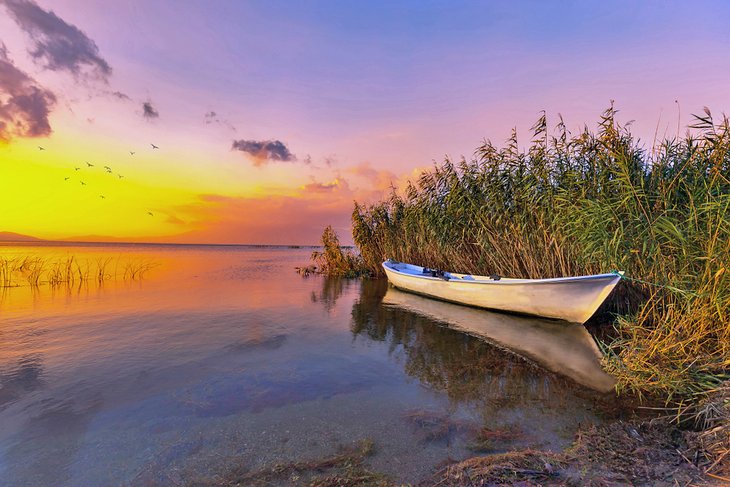 The world's second oldest freshwater lake is also found in Africa. Lake Tanganyika covers four countries and dates back 9 to 12 million years. This is also the world's longest freshwater lake, with a length of 673 kilometers and its second deepest after Lake Baikal in Siberia.
There are more than 300 types of fish in Lake Tanganyika, some of which cannot be found anywhere else. Wildlife that also calls this lake home includes the threatened Storm's water cobra, Nile crocodiles, and Zambian hinged terrapins.
4. Lake Kivu, Rwanda and Democratic Republic of the Congo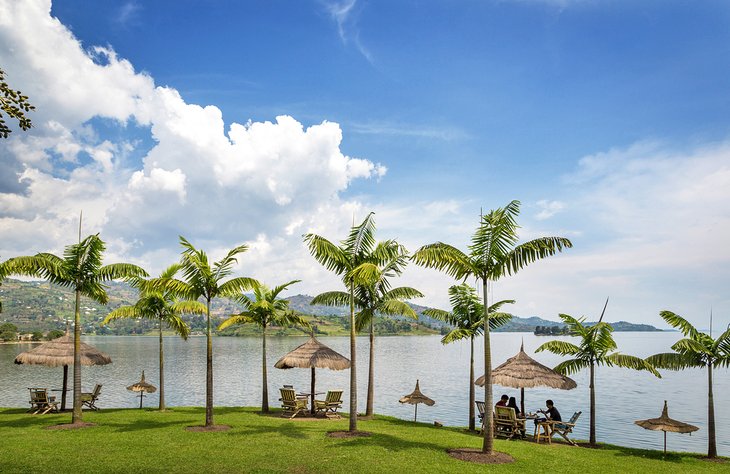 Creating a border between the Democratic Republic of the Congo and Rwanda, Lake Kivu is another one of the African Great Lakes. While the majority of the lake is in the DR Congo, most travelers experience the lake from the lodges along the Rwanda side. Here, you'll find the lakeside town of Gisenyi, where there are beaches, hotels, and activities - you can swim here or try stand up paddleboarding or sea kayaking.
One popular place to stay is the Lake Kivu Serena Hotel. The hotel sits on a sandy, palm-lined strip of beach and is backed by the Virunga Volcanoes, giving you views in all directions. Gisenyi is also where the Congo Nile Trail starts. It runs for 225 kilometers along the lake's southeastern shore and is a favorite with cyclists and hikers.
5. Lake Kariba, Zimbabwe and Zambia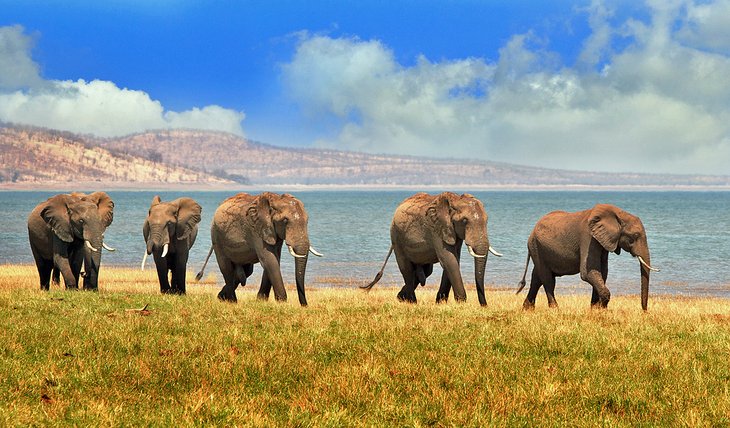 Popular for fishing and also wildlife viewing, Lake Kariba borders Zambia and Zimbabwe on the Zambezi River. It covers an area of 5,580 square kilometers and is the largest man-made lake in the world.
There are lodging options on both the Zimbabwe and Zambian side. Many travelers also opt to rent a houseboat, which allows you to explore more and provides stunning watery sunrise and sunset views. If you are visiting to fish, tigerfish are the indigenous species, and there is an annual Tiger Fishing Competition in May.
6. Lake Assal, Djibouti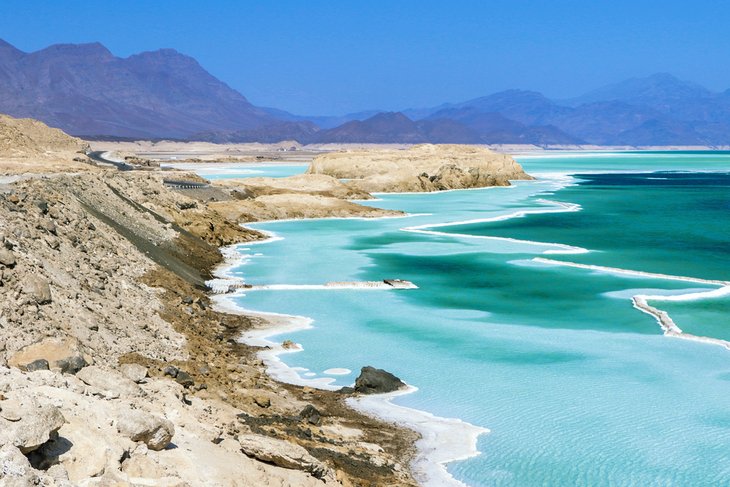 Sitting at 155 meters below sea level, Lake Assal is a crater lake in Djibouti and Africa's lowest point. It is also the world's third lowest point. The saltwater lake is one of Djibouti's main tourist attractions, and its saline levels are 10 times greater than the sea. As such it is also the world's largest salt reserve.
Lake Assal is surrounded by the Danakil Desert, and the setting is quite beautiful. The lake is also home to the Afar people who live in communities around it. Visitors will note there is no wildlife around here due to the inhospitable desert climate and super salty water.
7. Lake Bogoria, Kenya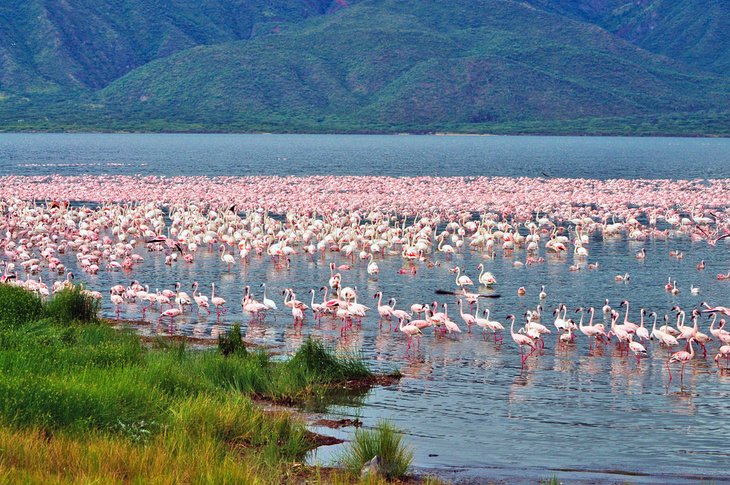 Fans of the pink flamingos will want to pay a visit to Lake Bogoria in Kenya's Rift Valley. This saltwater lake is home to one of the largest populations of lesser flamingos in the world, making it very photogenic.
In a volcanic region, it also boasts geysers and hot springs along its shoreline. The geysers can reach as high as 15 feet when they erupt and are a popular tourist attraction, along with the flamingos. The entire lake is a protected national wetland reserve.
If you want to stay near the shore, head to the northern end, which has some lodges, including the Lake Bogoria Spa Resort. The property has a natural hot spring heated spa pool for relaxing. It also offers upscale rooms and suites and has a spa onsite. There is also camping along the southern shoreline.
8. Lake Retba, Senegal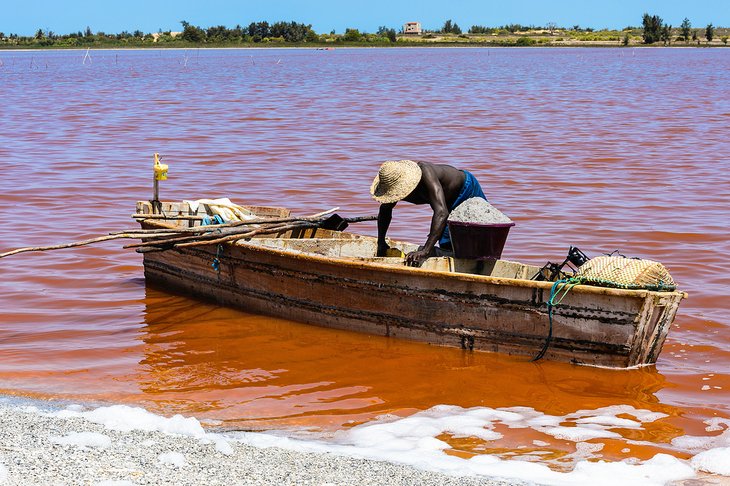 Instagrammers will love Lake Retba for its photogenic qualities. Also called the Pink Lake of Senegal, it is a stunning pink-hued lake. The color comes from a type of algae that grows due to the large amount of salt in the lake. To see the lake at its most pink, you'll want to visit during the November to June dry season.
With a salt content up to 40 percent in some spots, like the Dead Sea, you can float on sections of Lake Retba. Fish living here are also much smaller than normal fish because of the saline in this lake.
9. Lake Albert, Uganda and the Democratic Republic of the Congo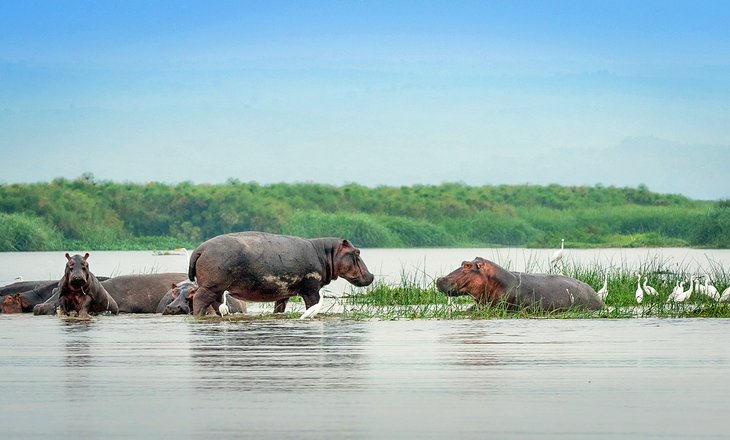 Harder to access than other African Great Lakes due to the steep mountains surrounding it, Lake Albert doesn't attract a lot of tourists. But those who make it here will be rewarded with a beautiful sight. Africa's seventh-largest lake is also Uganda's second largest, and the lake is a significant source of water for the White Nile River.
At just 80 feet deep, Lake Albert is relatively shallow when compared to other African lakes. Its shores are protected by wildlife and forest reserves. On the Uganda side there is also Murchison Falls National Park. Here, the Victoria Nile River rushes through a narrow, rocky gap before making a huge drop into a pool. Wildlife here includes elephants, hippos, and chimpanzees.
10. Lake Chad, Chad, Cameroon, Nigeria, and Niger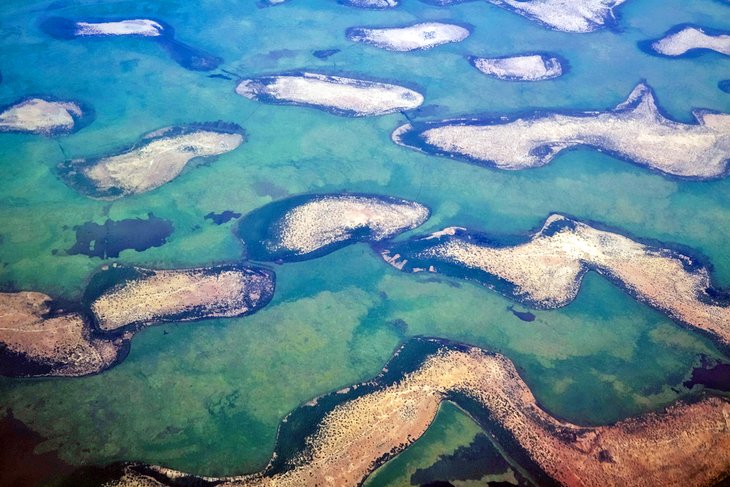 Lake Chad is a very shallow lake, with its deepest part only reaching about 30 feet in depth. Still, it is the largest lake in northern Africa when it comes to area, and borders four countries: Chad, Cameroon, Nigeria, and Niger.
Surrounded by the Sahara Desert, Lake Chad is a refuge for many animals. It is popular with bird-watchers, and the best time to visit is during the August to December rainy season, when the water level is highest.
11. Lake Nakuru, Kenya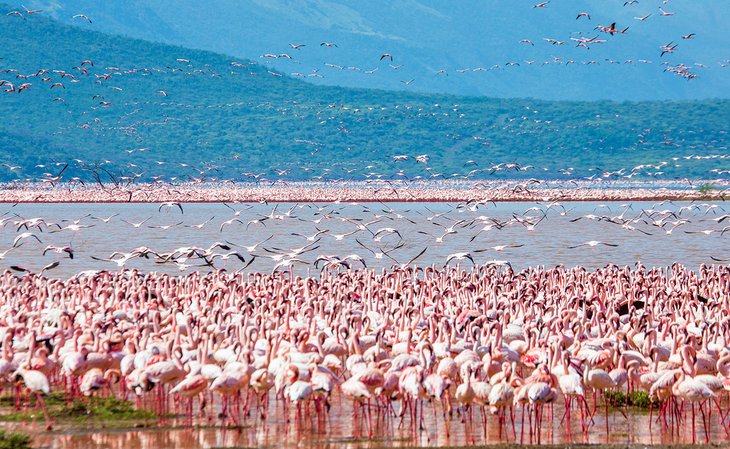 Part of Kenya's safari trail, Lake Nakuru in the Rift Valley is famous for its large flamingo population and can resemble a sea of pink at times. The lake is surrounded by Lake Nakuru National Park, which is home to numerous African animals, including black and white rhinos, giraffes, warthogs, baboons, lions, and cheetahs.
While most travelers visit Lake Nakuru on part of an organized safari that usually includes other parks as well, if you want to visit on your own, there are campgrounds on the lake's shores. There are also a few lodges if you want to stay in more style. One option is Lake Nakuru Lodge, which is inside the boundaries of the national park. It is home to a mix of suites and rooms in a farmhouse and has great views of the lake from its restaurant.
12. Lake Turkana, Kenya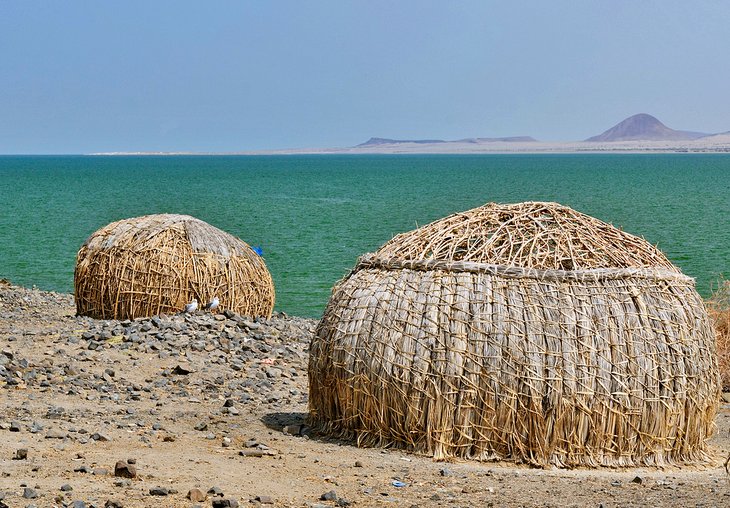 Kenya's Lake Turkana is the largest permanent desert lake in the world, as well as its biggest alkaline lake. It is also the fourth-largest salt lake on the planet. Surrounded by Lake Turkana National Park and Sibiloi National Park, which are both listed as UNESCO World Heritage Sites, Lake Turkana is most famous for the vapor rising out of the active volcano within it.
The national parks are also home to a variety of different animals, including Nile crocodiles and hippos. A bird-watcher's paradise, Lake Turkana is home to hundreds of bird species that are only found in Kenya. Also keep an eye out for the Turkana mud turtle, which is native to the lake.
13. Lake Nasser, Egypt and Sudan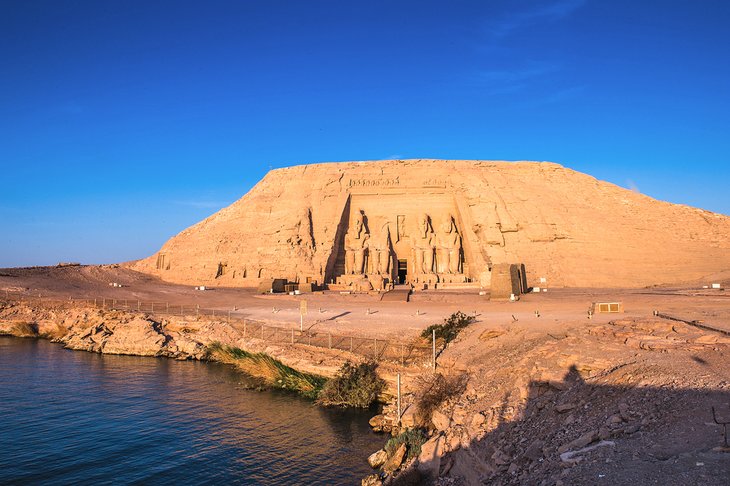 The result of the creation of a dam along the Nile River in the mid-20th century, Lake Nasser borders Egypt and Sudan, although most of the lake is on Egypt's land. On the Sudanese side, it is referred to as Lake Nubia. It is one of the largest man-made lakes in the world.
Fishing is one of the most popular things to do on this lake, which is home to a prolific population of Nile perch. Boat cruises are also popular on the Egyptian side, where you'll get great views of the statue of Ramses II at the Abu Simbel Temple on the shore of the lake. Try a sunset cruise for the best photo ops.
Accommodation: Top-Rated Resorts in Egypt
Read More: Top-Rated Tourist Attractions in Egypt
14. Lake Sibaya, South Africa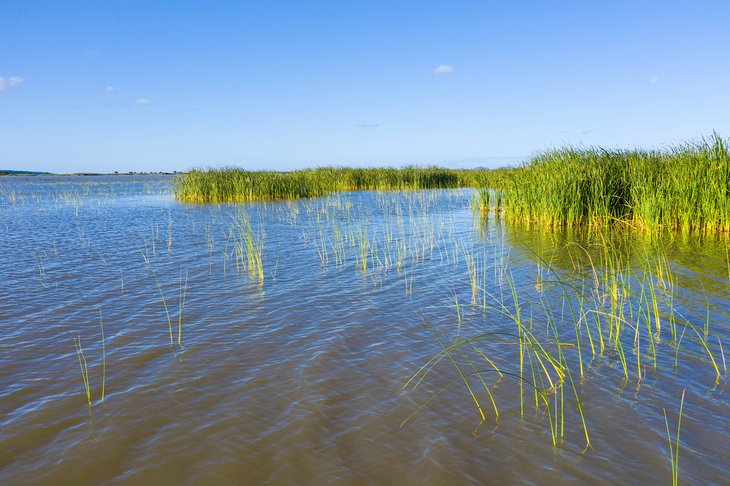 South Africa's largest natural freshwater lake is Lake Sibaya in the KwaZulu-Natal province. The lake is part of the Greater iSimangaliso Wetland Park and sits between Lake St. Lucia and Kosi Bay at the edge of the Indian Ocean. The park itself is a designated UNESCO World Heritage Site. Because this region is protected, Lake Sibaya is quite pristine.
It is best known for its large population of hippos, and many visitors will see them on a guided kayaking trip or an evening sunset cruise. The lake is also home to crocs and prolific birdlife. If you are interested in fishing trips, there are 18 different species of fish. Fans of frogs will love this lake, as it is home to 22 different species, including grass frogs, reed frogs, and toads.
If you want to stay near the lake, there are some lodging options, including Thonga Beach Lodge. The 12-suite lodge is within the iSimangaliso Wetland Park and also on the beachfront. It has a romantic vibe and does candlelit dinners on the beach. There is also a good spa here.
15. Lake Kyoga, Uganda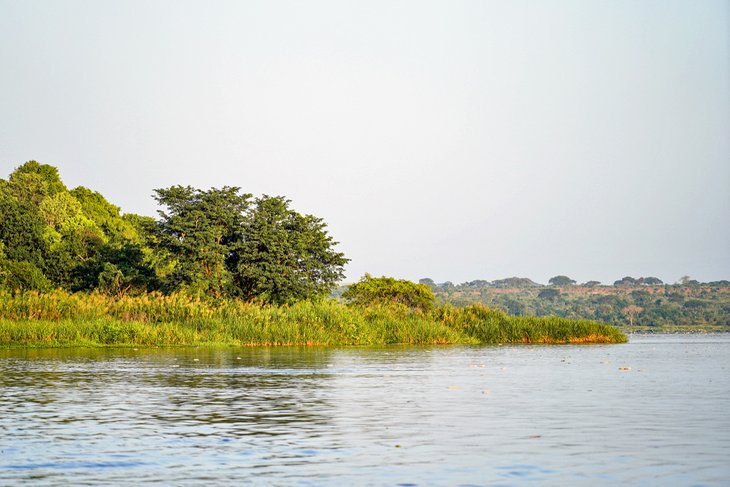 Lake Kyoga in Uganda is another of the best lakes in Africa. This shallow lake only reaches about 18 feet at its deepest, with most of the lake less than 12 feet deep.
The most shallow sections of Lake Kyoga are covered completely by water lilies, which can make for pretty photographs. The shoreline is very swampy and covered with papyrus and an invasive water hyacinth species. The papyrus also forms floating islands that drift around the lake.
The lake covers about 660 square miles and sits between Lake Victoria and Lake Albert with the Victoria Nile flowing through this lake. Although it is part of the African Great Lakes system, Lake Kyoga is not considered one of the actual great lakes.
16. Lake Naivasha, Kenya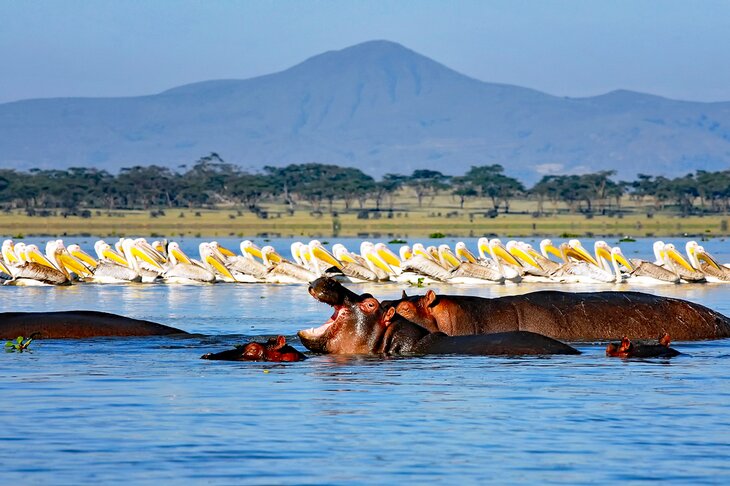 At an elevation of 1,884 meters, Lake Naivasha in Kenya is the Great Rift Valley's highest elevation lake. In Nakuru County, about two hours' drive northwest of Nairobi, Lake Naivasha has a surface area of around 139 square kilometers, but this is entirely dependent on rainfall. At the very beginning of the 20th-century it was completely dry for a while.
Currently, it is filled with water and is home to a thriving flamingo and hippo population. If you want to spot the latter, this is an excellent place to do so. There are some 1,500 hippos in the area, so it is pretty hard to visit and not see one!
The lake is also popular with birders, as more than 400 bird species call it home. Surrounded by swampland and fever river forests, it is not uncommon to also spot giraffes, zebras, and waterbucks here.
A popular weekend destination for Nairobi residents, many of whom have country homes here, Lake Naivasha can get busy at times. It is also not far from Hell's Gate National Park, and travelers may wish to combine the two destinations.
If you need somewhere to stay, check out Loldia House. The luxury lodge is set right on the shores of the lake, and at night, you'll be escorted to and from your room by an armed guard, as there are numerous hippos in the vicinity. The vibe is Kenyan country manor home at its best. Rooms are old-world elegant and romantic, with mosquito-net-draped beds and oversized bathrooms. Breakfast on the lawn in the morning listening to the lake waking up is a true pleasure.