14 Top-Rated Tourist Attractions in KwaZulu-Natal
Dramatically beautiful and surprisingly diverse, KwaZulu-Natal, in the country's northeast, packs in many of South Africa's most popular attractions, despite its small size. Here, visitors can enjoy the World Heritage-listed Drakensberg mountains, with their jagged-backed peaks and spectacular scenery; Durban's golden beaches and surf breaks; a thriving Zulu culture; and exhilarating wildlife adventures.
KwaZulu-Natal is also home to Hluhluwe-iMfolozi Park, the oldest game park in Africa, as well as pampering private game reserves, where lucky visitors might spot the Big Five (leopard, lion, elephant, buffalo, and rhino). Along the coast, nature lovers can explore the stunning scenery of iSimangaliso Wetland Park, another UNESCO World Heritage Site, and dive the coral reefs of Sodwana Bay.
Find out why this is the province where South Africans love to play, with our list of the top attractions in KwaZulu-Natal.
1. The Drakensberg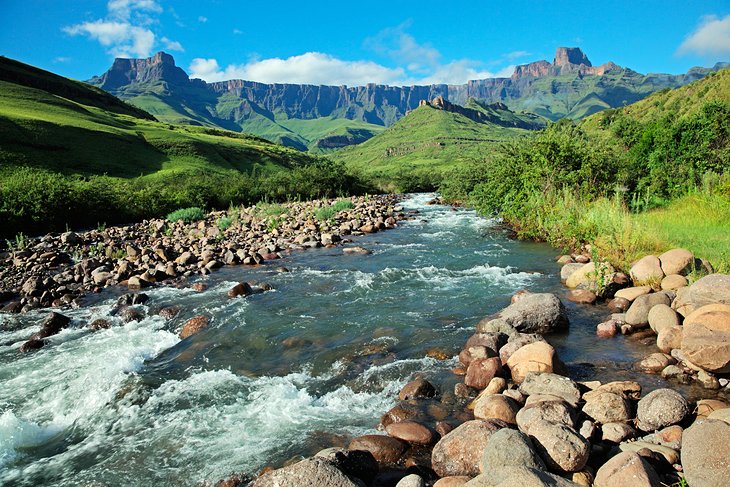 The Drakensberg, from an Afrikaans word meaning "Dragon Mountains," is a place of breathtaking beauty and one of the most popular destinations in the country. Jagged-backed peaks rise above dense forests and deep valleys, and cascades feed clear mountain streams. This spectacular region includes uKhahlamba-Drakensberg Park, a UNESCO World Heritage Site with soaring basalt peaks that are some of the highest in the country and San (Bushmen) rock paintings, as well as Royal Natal National Park with the Amphitheatre, a five-kilometer-long rock wall with one of the world's highest waterfalls tumbling from above.
The 3,282-meter-high Mont-aux-Sources rises beyond, and is the source for some of the nation's mighty rivers. Nearby, visitors can see herds of eland, bearded vultures, and superb Bushman rock paintings in Giant's Castle Game Reserve.
Another highlight of the region is Cathedral Peak with some of the region's most beautiful mountain scenery. This area is also home to the venerable Cathedral Peak Hotel, which has been pampering guests since 1939. Outdoor enthusiasts come to these velvety green mountains to fly-fish for trout, hike and bike the wilderness trails, rock climb, abseil, and raft the mountain rivers. To best appreciate the dramatic landscapes, visitors can soar over the area in a hot air balloon.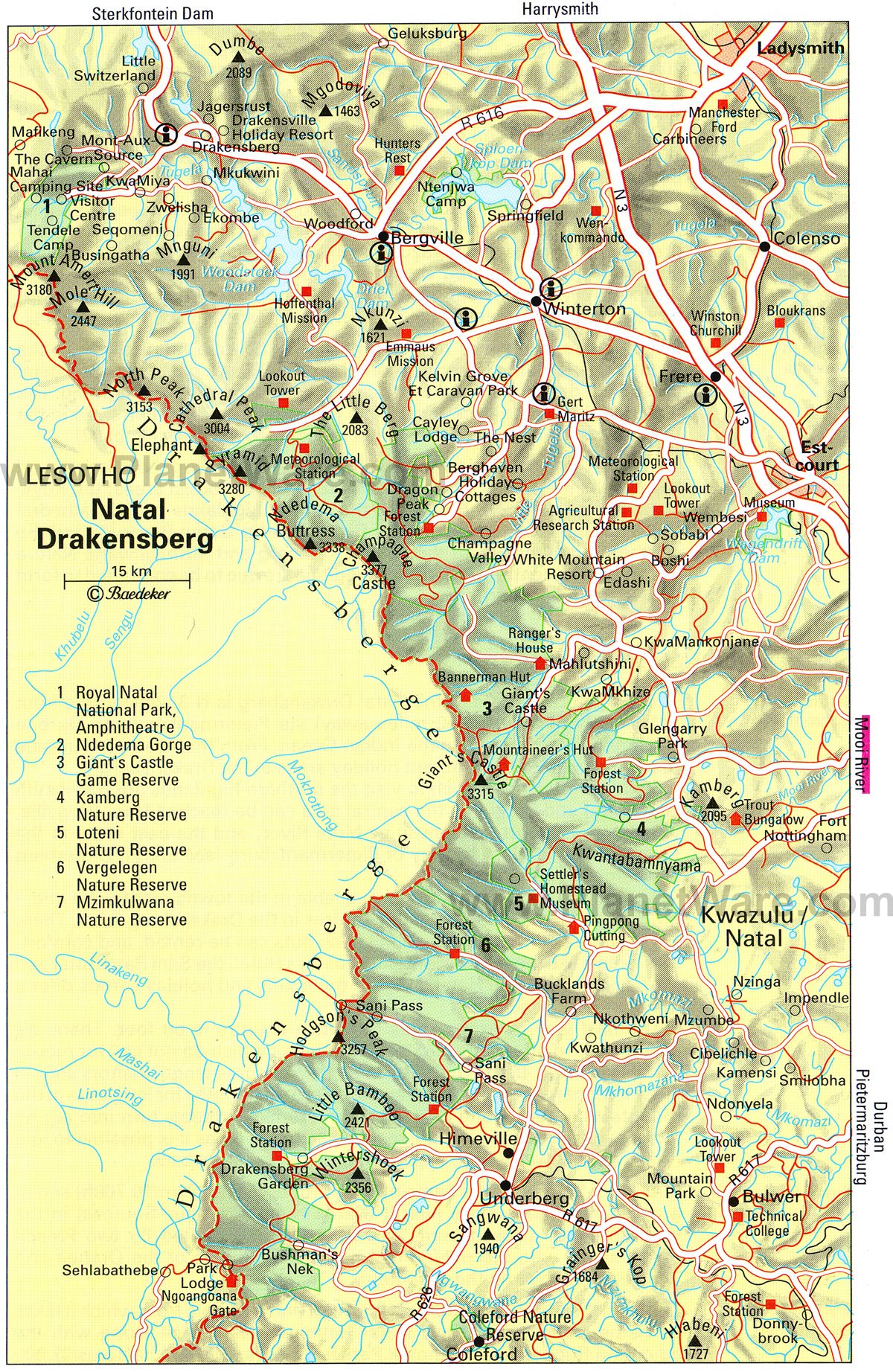 2. Hluhluwe-iMfolozi Park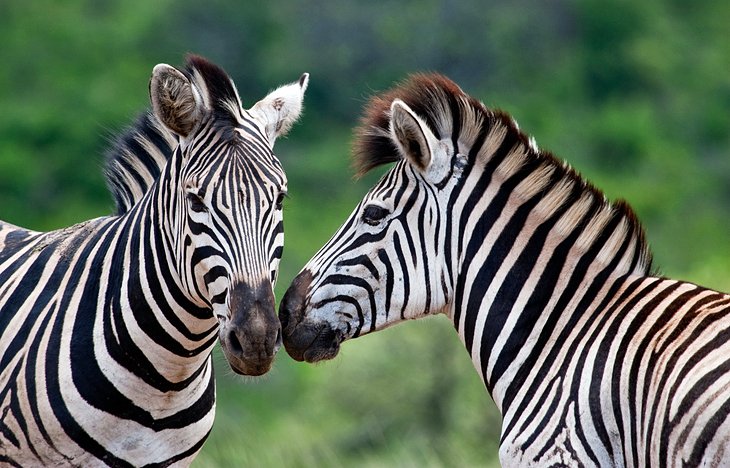 Established in 1895, Hluhluwe-iMfolozi Park (formerly Hluhluwe-Umfolozi Game Reserve) is the oldest game park in Africa and one of only a few parks in KwaZulu-Natal where visitors can see the Big Five: lion, leopard, elephant, buffalo, and rhino. Including the wildlife corridor connecting the two sections of the park, it covers more than 96,000 hectares and is famous for its rhino conservation efforts–both black and white rhino are found here. The park lies deep in Zululand and was once the royal hunting grounds of King Shaka.
Today, the park offers a rewarding safari experience with an impressive diversity of flora and fauna and typically less crowds than Kruger National Park. The Hluhluwe section in the park's north is mountainous, while the iMfolozi section reveals sprawling savannah with taller trees along the riverbanks.
In addition to the Big Five, wild dog, cheetah, zebra, blue wildebeest, hippo, hyena, and more than 300 species of birds are among the animals that make their home here. The best game viewing is in the cooler and drier months from May through October, however the summer brings lush growth and newborn animals. Guests can opt to stay within the park in modest chalets, safari tents, and a range of lodges. More lodging options are available just outside the park.
3. iSimangaliso Wetland Park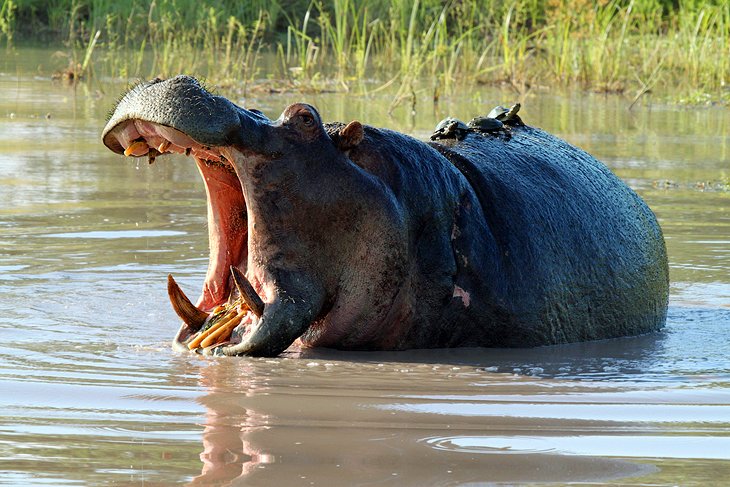 About 250 kilometers from Durban, World Heritage-listed iSimangaliso Wetland Park (formerly the Greater St. Lucia Wetland Park) protects the largest estuarine system in Africa. iSimangaliso means "miracle and wonder" in Zulu, and the name is fitting for this beautiful biodiverse park. The eight interconnected ecosystems here include coral reefs, croc-filled rivers, lakes, swamplands, savanna, and coastal dunes.
Thanks to this diversity of habitats, wildlife is abundant and varied. All in one day, visitors can snorkel, dive, or kayak along coral reefs, where leatherback and loggerhead turtles swim; spot an incredible array of birds; and see leopard, buffalo, zebra, and rhino on a game drive. The park is also home to the highest concentration of crocodiles and hippos in Africa.
Also in the park, secluded Kosi Bay offers empty seascapes of sun-bleached shores and shimmering lagoons. The area is also known for its traditional fishing techniques–fish are trapped here in woven baskets.
4. Sodwana Bay National Park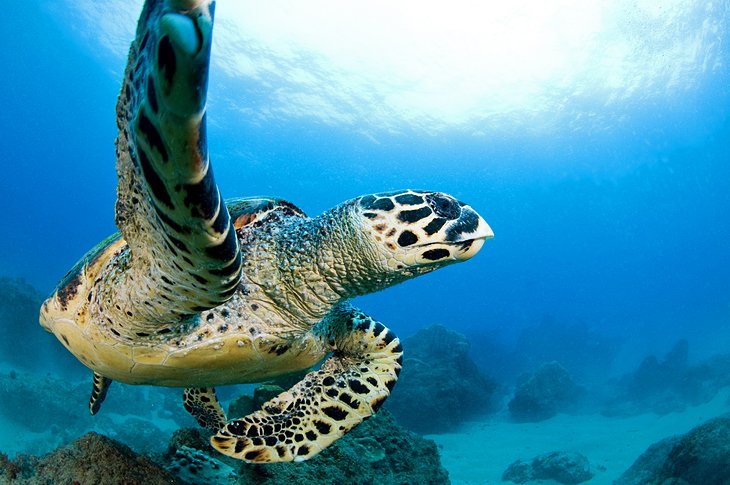 On the Elephant Coast, Sodwana Bay National Park is one of South Africa's best diving destinations. Part of iSimangaliso Wetland Park, the reserve lies on the shores of the Indian Ocean with South Africa's southernmost coral reefs shimmering just offshore with schools of colorful fish. Divers can see caves, pinnacles, and both hard and soft corals, as well as an incredible array of aquatic life, including lionfish, crayfish, moray eels, rays, and many species of sharks.
Whale sharks also swim these waters. Loggerhead and leatherback turtles nest on the beaches here, and nature lovers can join turtle tours to see them in season. Apart from SCUBA diving and snorkeling, other popular things to do here include sports fishing for marlin and sailfish, horseback riding on the beach, and hiking the coastal nature trails.
5. Kwa Cheetah Breeding Project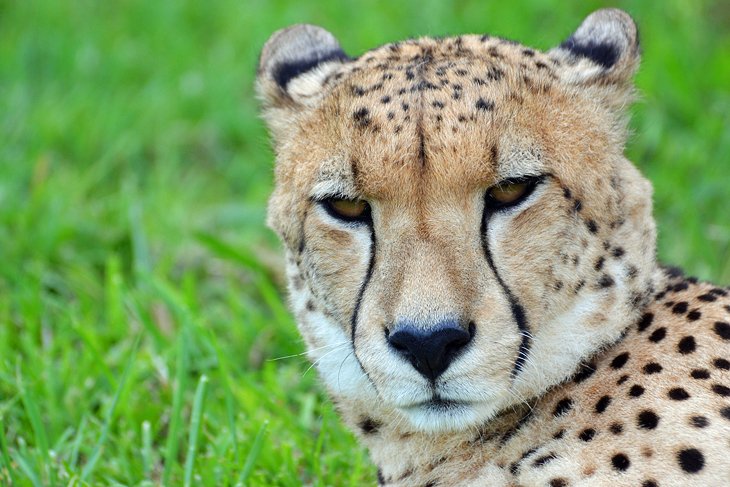 At the Kwa Cheetah Breeding Project, inside the gates of Nambiti Private Game Reserve, animal lovers can enjoy exhilarating hands-on interactions with these graceful creatures and help out a worthwhile cause at the same time. The experience begins with an educational presentation about the plight of the cheetah. Visitors are then able to pat the animals, take photos with them, and watch a demonstration of their incredible speed.
Depending on the residents at the time, visitors may also see other cats such as servals, caracals, and African wildcats. The successful captive breeding program here seeks to increase the cheetahs' gene pool and prepare the animals for a life in the wild. The project only runs one tour a day to protect the animals from excessive stress, so advance bookings are highly recommended.
Address: Ladysmith, KwaZulu-Natal
Official site: http://www.cheetahinteraction.com/
6. Nambiti Private Game Reserve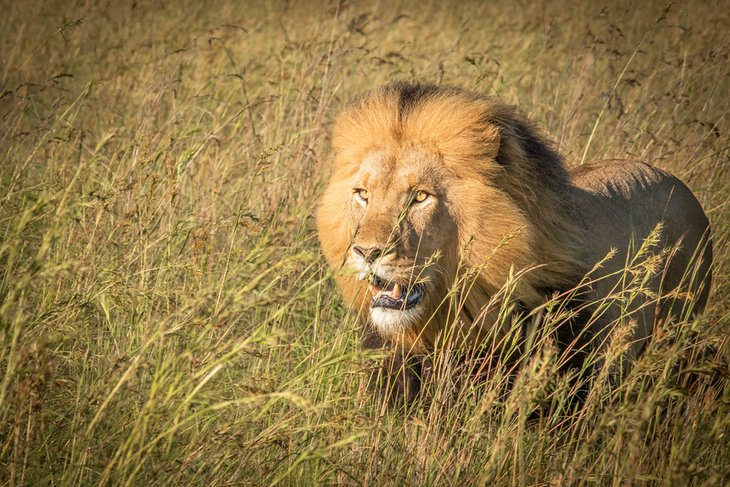 About a three-hour drive from Durban, near the spectacular Drakensberg mountains, Nambiti Private Game Reserve offers exciting guided safari adventures in search of the Big Five: leopard, lion, elephant, buffalo, and rhino. Scenery here ranges from sprawling savannah and grasslands, with unimpeded views of game, to lush riverine bush, and the wildlife is plentiful. In addition to the Big Five, the reserve protects more than 40 different species of game such as cheetah, zebra, kudu, and hippo, as well as a diverse array of birdlife.
Day visitors are welcome, and those who wish to stay overnight can choose from six self-catering or full-board five-star lodges, some with swimming pools, as well as a raised luxury tented camp. This popular private game reserve also lies near the KwaZulu Battlefields, so visitors can combine a guided historical tour with their wilderness experience.
Official site: http://www.nambiti.com
7. Sani Pass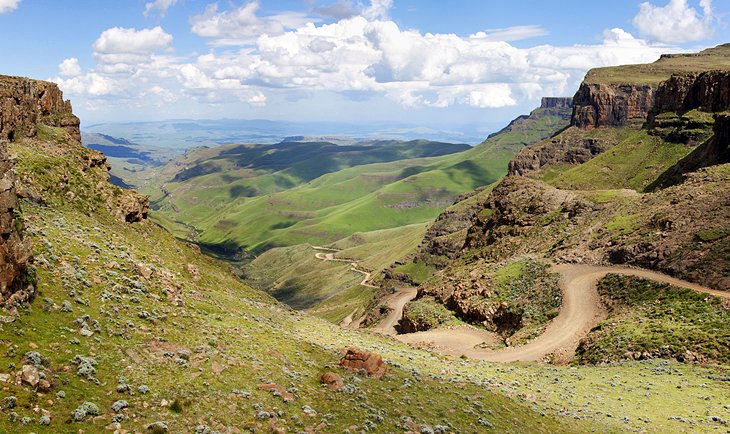 Sani Pass is one of South Africa's most spectacular mountain roads. Connecting Kwazulu-Natal with the Kingdom of Lesotho, the pass is an eight-kilometer-long unpaved road that climbs to heights of up to 2,876 meters. The road runs through the Mzimkulwana Nature Reserve, with scenery ranging from towering rock outcrops and green-cloaked mountains to dizzyingly steep ravines.
Only vehicles with four-wheel drive are allowed on the road between the two frontier posts; on foot it takes between two and three hours. To the north of the pass is 3,482-meter-high Mount Thabana Ntlenyana, the highest peak in southern Africa. The pass takes its name from the San (Bushmen), who fled over here to escape from their white and black persecutors.
Check weather conditions before setting out, as snow and ice can make the pass even more challenging.
8. Durban's Golden Mile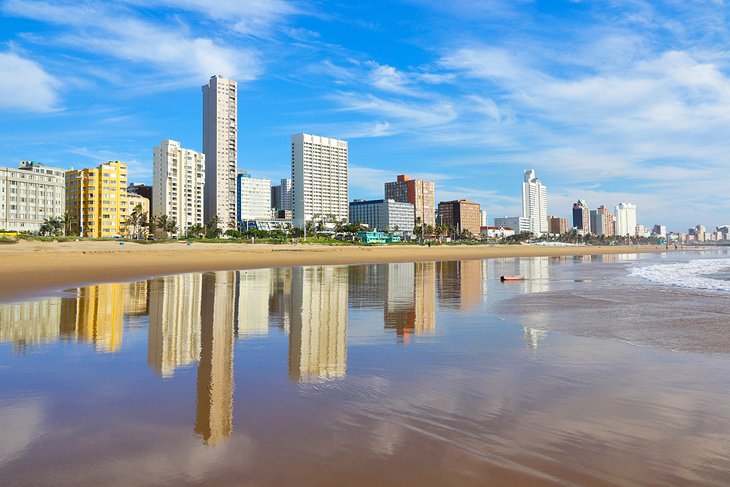 Durban, South Africa's third largest city, is a multicultural melting pot. A great way to get a feel for this salt-tinged port city is to take a stroll along Durban's Golden Mile, a busy beachfront promenade connecting some of the city's top things to do. Entertainment venues, high-rise hotels, shops, and restaurants line this sun-splashed strip, and the golden beaches here lure surfers, swimmers, and sun bathers.
Segway tours offer a speedy way to zip between the attractions here, which include Moses Mabhida Stadium; uShaka Marine World; and Mini Town, a tiny replica of Durban complete with a miniature airport, rail network, and harbor scene. Lifeguards patrol the beaches year-round.
9. The KwaZulu-Natal Battlefields Route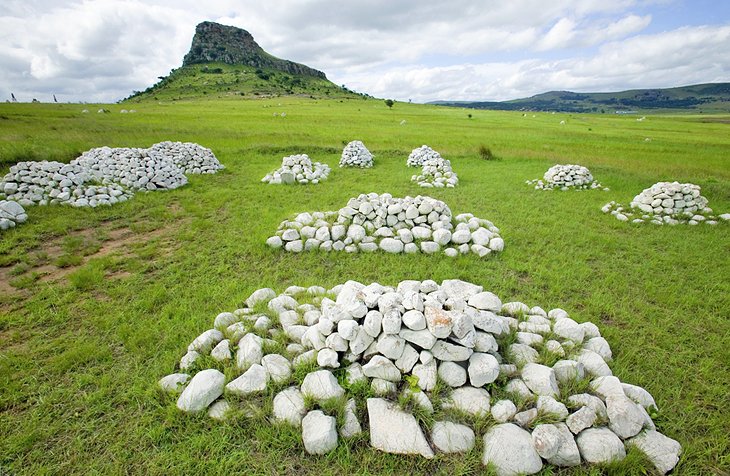 During the 19th century, central Zululand, now part of KwaZulu-Natal, was the site of many historic battles between the Zulus, Boers, and British. Today, sightseers can explore this rich history on the Battlefields Route. Knowledgeable guides take visitors to see battle sites, museums, memorials, and forts and share fascinating details and descriptions of these historic events.
Two of the most famous battlefields lie a short drive from each other: At Isandlwana, visitors will learn about the clash between 22,000 Zulu warriors who prevailed against 1,350 British troops in one of the first battles of the Anglo-Zulu War. About 16 kilometers from here, Rorke's Drift is the site where British troops defended a mission station from the attack of more than 3,000 Zulu warriors.
Vryheid is the largest town on the Northern Natal Battlefields Route, and takes in the scene of clashes between British forces and Zulus and between British forces and the Boers. Blood River Heritage Site is another popular Zulu-Voortrekker battle site near the town of Dundee. After the annexation of Zululand and its incorporation in the province of Natal, the British authorities built a number of forts in the region, including Fort Nongqai in Eshowe.
Ideally, sightseers should try to focus on a particular era or region of the battlefields route as the sites are numerous. Many guides offer pickup points in cities such as Durban or Johannesburg.
10. Tatham Art Gallery, Pietermaritzburg
In KwaZulu-Natal's friendly capital, Pietermaritzburg, the Tatham Art Gallery is a must-see for art lovers. The gallery lies opposite the City Hall in a building once occupied by the Supreme Court and exhibits an impressive collection of both European and South African art with a focus on art from KwaZulu-Natal. The gallery has a remarkable collection of work by 19th- and 20th-century European artists, including pictures by Sisley and Sickert and drawings by Picasso, Braque, Chagall, and Moore. Temporary exhibitions add to the eclectic works here and support many local artists.
Other popular tourist attractions in the capital are the African Bird of Prey Sanctuary, Butterflies for Africa, the Voortrekker Museum, and the KwaZulu-Natal National Botanic Garden with many rare and endangered plant species.
Address: Box 321, Pietermaritzburg, KwaZulu-Natal
Official site: http://www.tatham.org.za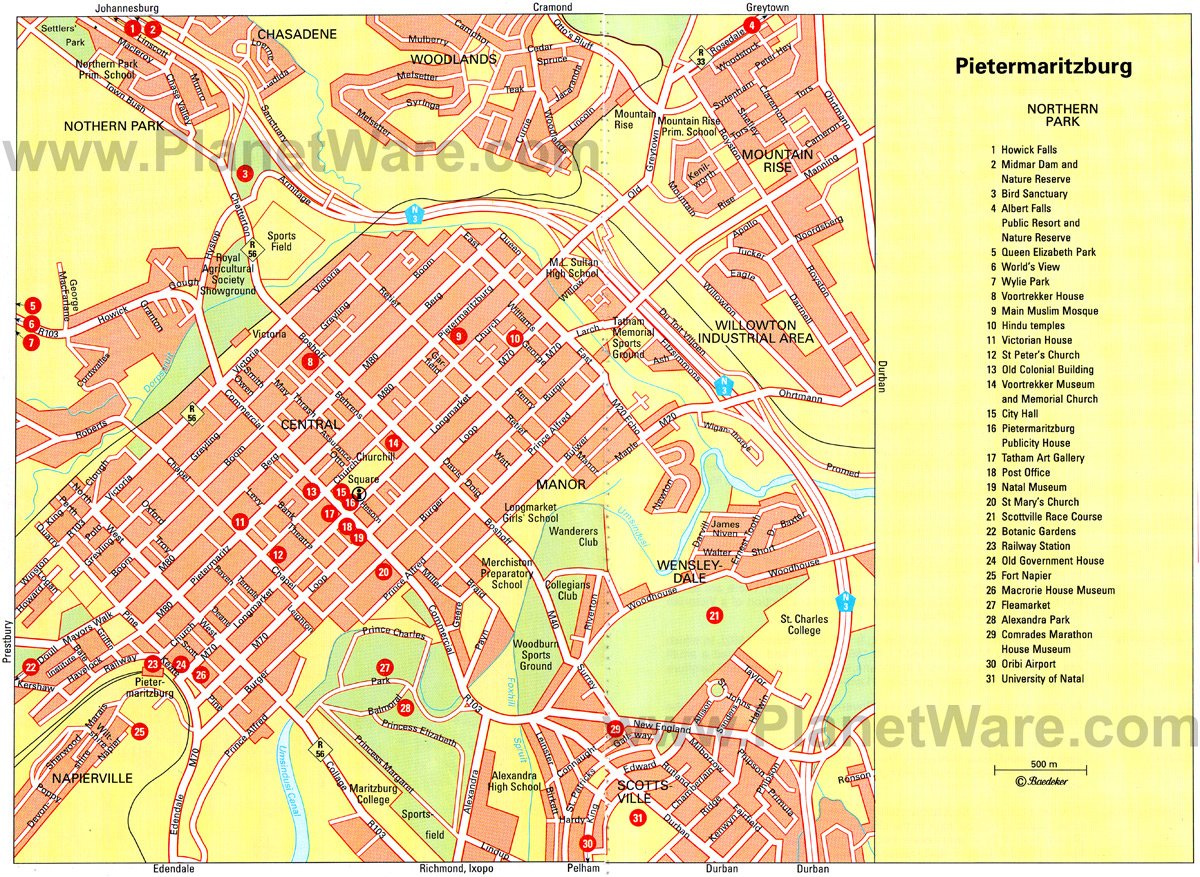 11. Oribi Gorge Nature Reserve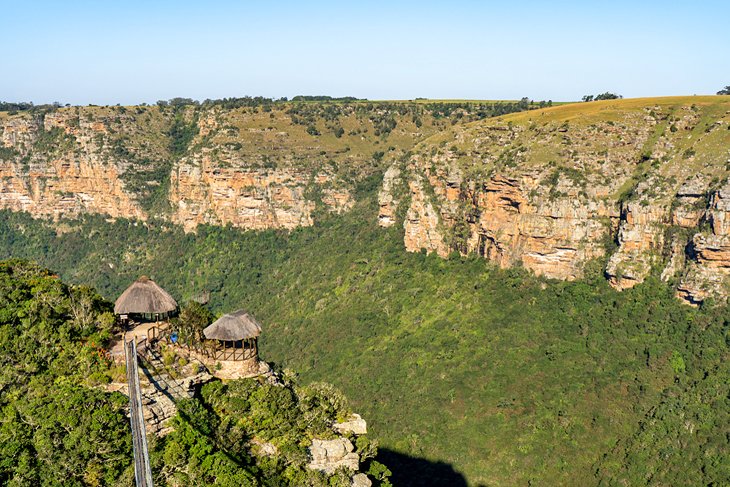 This stunning canyon is in the southern portion of KwaZulu Natal, about 120 kilometers south of Durban and 25 kilometers from the holiday destination of Port Shepstone, which is known for its great surfing and swimming beaches and lots of sunshine.
The Oribi Gorge is 24 kilometers long and 165 meters deep and dominated by sandstone cliffs and ravines that were cut by the sometimes wild Umzimkulwana River flowing through it. The reserve is a bird-watcher's paradise, with more than 250 species of birds identified here, including five types of kingfisher and seven different eagles. There are also leopards, baboons, and small antelopes in the vicinity.
The gorge can be visited on a day trip or overnight, as there is lodging in the reserve. Things to do here include multiple hiking trails, as well as ziplining and whitewater rafting. And then there is the adrenalin pumping Wild Swing over the gorge itself that will really test your fear factor. This is the highest swing in the world, and you can reach speeds of up to 120 kilometers per hour. To partake, you are secured by a full body harness before leaping off the top of a waterfall and swinging back and forth across the 165-meter-deep gorge.
12. Nelson Mandela Capture Site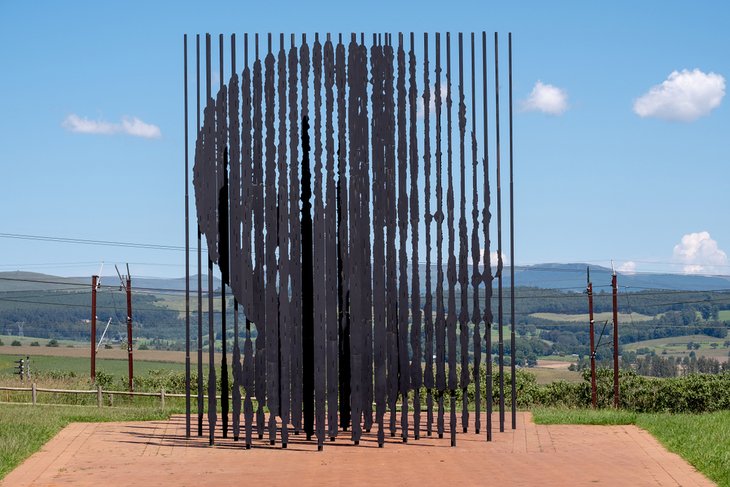 The Nelson Mandela Capture Site marks the spot where Mandela was arrested on August 5, 1962. Although not his first arrest, this one led to his incarceration for the next 27 years. The site consists of a visitor center and an impressive sculpture that was erected at the spot near the town of Howick in 2012, which was the 50th anniversary of Mandela's arrest.
The 3D-style sculpture is the creation of artist Marco Cianfanelli and is made up of 50 steel poles between five and nine meters tall. They have been arranged in the ground to recreate an image of Mandela's face when seen from a certain distance. Up close, the image disappears, and you just see steel beams planted in the landscape, which is part of the artist's concept. There is also a visitor's center museum at the site and some stalls selling colorful handicrafts.
The Capture Site is located just outside of Howick off the N3 highway that runs from Durban to Johannesburg. Take the Tweedie turnoff to Lions River and make a right onto the R103. From here, follow the signs.
Address: Mandela Capture Site, R103, Howick, 3290
Official site: https://www.thecapturesite.co.za/
13. Valley of 1000 Hills Region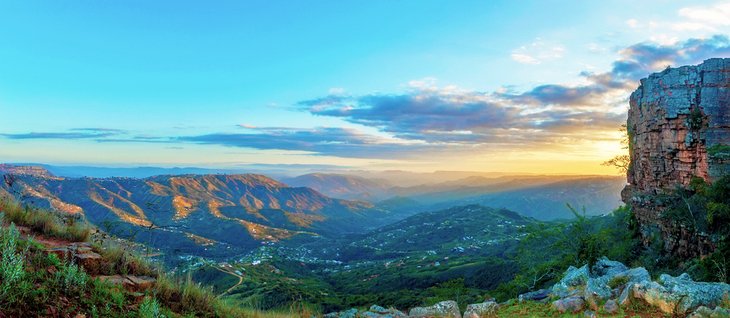 Between Durban and Pietermaritzburg is the Valley of 1000 Hills region. The lush valley is filled with rolling green hills set against a deep blue African sky. It is also where the Umgeni and Msunduzi rivers meet, and there are opportunities for plenty of outdoor activities.
Whether you just want to go on a gentle walk or a more strenuous hike or bike ride, there are trails throughout the valley. If you want a more cultural experience, pay a visit to one of the local villages that offer tours to visitors. You can witness a dance performance, eat a traditional South African meal, or even visit with a medicine man.
14. Midlands Meander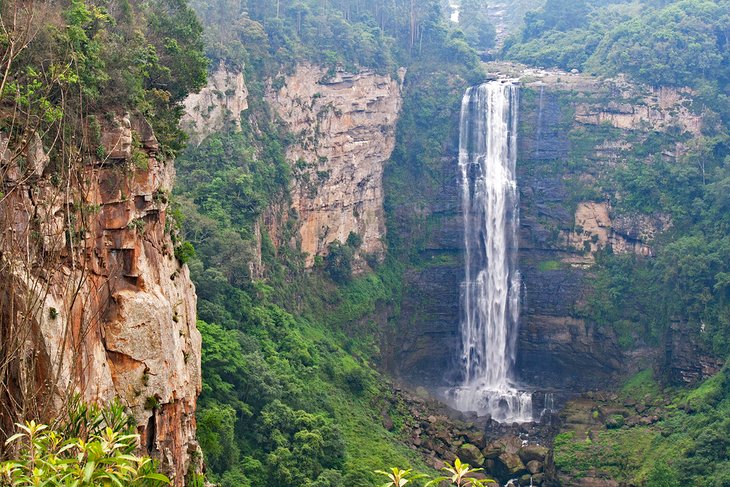 Head north from Pietermaritzburg to the Midlands Meander route. Running for about 80 kilometers in length from Rietvlei in the east to Nottingham Road in the west, this route is best known for its arts and crafts scene.
What began in 1985 with six studios showcasing local weaving, pottery, and painting has grown into a proper arts and crafts trail through numerous picturesque villages with more than 160 places to shop, eat, sleep, and play.
From woodcrafters to leatherworkers, cheese makers to metalworkers, there is so much to experience on this route. Looking for more active adventures? Hiking, mountain biking, birding, and horseback riding are just some of the other things to do.
The route is also scenically beautiful, with the Drakensberg Mountains looming in the background and a green and gold landscape at your feet.
Official site: https://midlandsmeander.co.za/
Map of Tourist Attractions in KwaZulu-Natal
More Related Articles on PlanetWare.com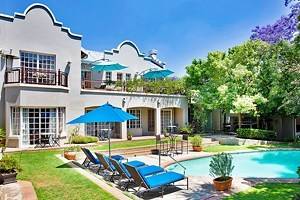 Johannesburg: Jo'burg is South Africa's version of New York City. It's the country's financial hub and also a Mecca for fashion, art, and culture. From the vibrant street art of the Maboneng Precinct to the important history lesson at the Apartheid Museum, our list of Top-Rated Attractions in Johannesburg delivers the scoop on exploring this fascinating and diverse city with so many great things to do. It is also home to excellent restaurants and hotels for all budgets and styles of travelers, from couples to families.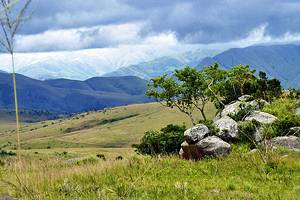 Swaziland: Check another country off your list with a visit to the Kingdom of Swaziland. KwaZulu-Natal borders this landlocked country surrounded by South Africa and Mozambique. There are plenty of things to see and do in this mountainous kingdom, and our Top Rated Tourist Attractions in Swaziland article will let you in on it all. From hiking past waterfalls to game drives in national parks, Swaziland has much to keep you busy.