South Africa in Pictures: 14 Beautiful Places to Photograph
South Africa is home to some of the world's most stunning and diverse scenery all packed into one country. From the urban beauty of Cape Town, with its table top mountain and dramatic coastline, to the red sand and wild beauty of a safari in Madikwe Game Reserve, this is a country that has it all. These pictures will make you want to grab your camera and hop on the next flight to Johannesburg.
1. Kruger National Park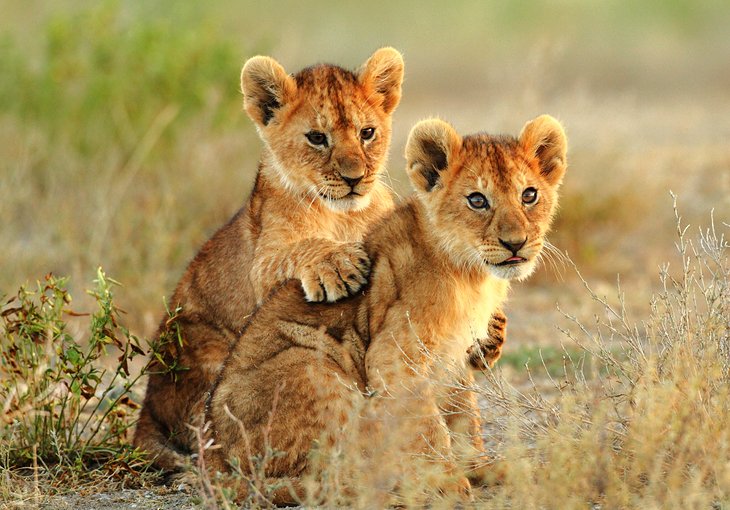 There is nothing like seeing a wild lion (or really any African animal) for the first time on safari. Even better if you stumble upon a duo, like these snuggling cubs in Kruger National Park. Kruger is one of the largest reserves in all of Africa and is famed for the sheer number of animals roaming around here.
Accommodation: Top-Rated Luxury Safari Lodges in South Africa
2. Cape Town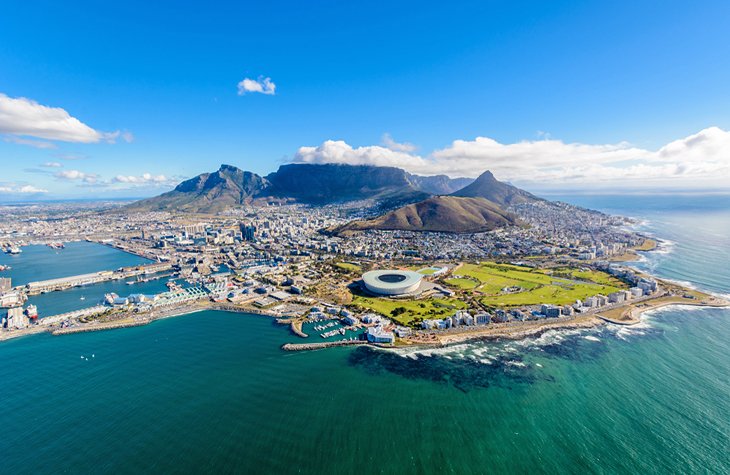 To truly appreciate Cape Town's beauty, you need to see it from above. This classic aerial shot of the city shows all the Mother City's best assets in one image. The donut-looking structure in the foreground is the stadium in Green Point, constructed for the 2010 FIFA World Cup soccer games.
3. Boulders Beach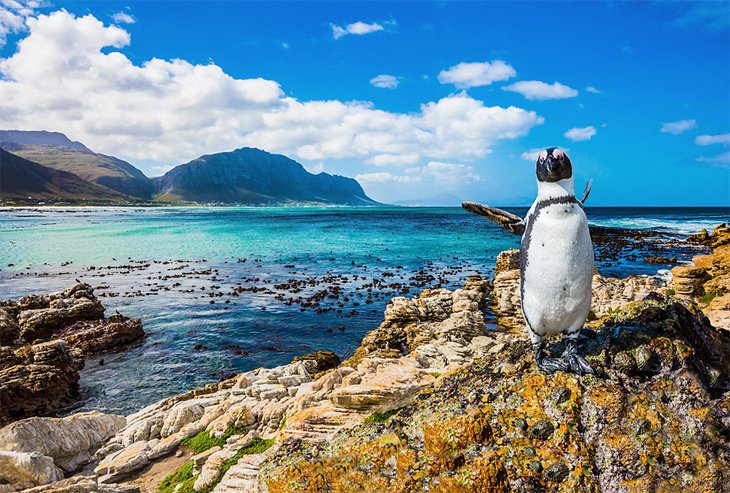 Want to pose with a penguin for Instagram? This little guy is ready for his close up. You'll find him and friends on Boulders Beach in False Bay, which is about an hour drive from downtown Cape Town. This national park is the only place in the world where you can interact in this way with wild African penguins–feeding and touching is prohibited though.
4. Camps Bay Beach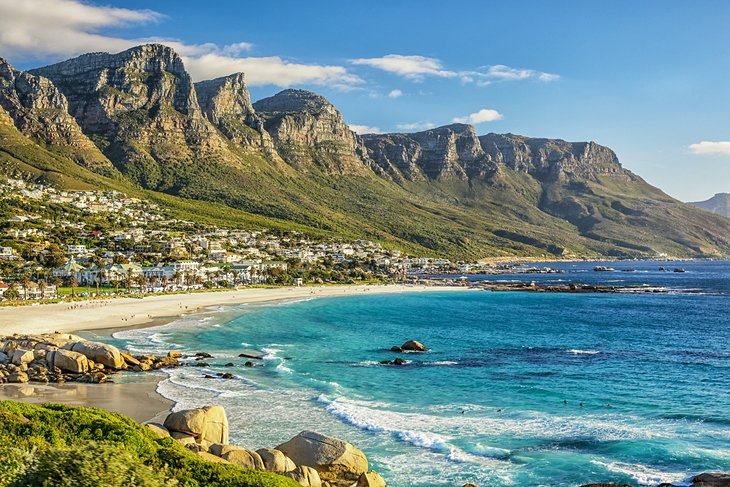 Framed by the Twelve Apostles rock formations pictured here, Camps Bay Beach, just outside Cape Town city limits, is truly one of the world's most beautiful beaches. While the water is icy cold–the current comes straight from Antarctica here–the sizzling summer temps mean most locals brave the waves for at least a quick cool off.
Accommodation: Top-Rated Resorts in Cape Town
5. Madikwe Game Reserve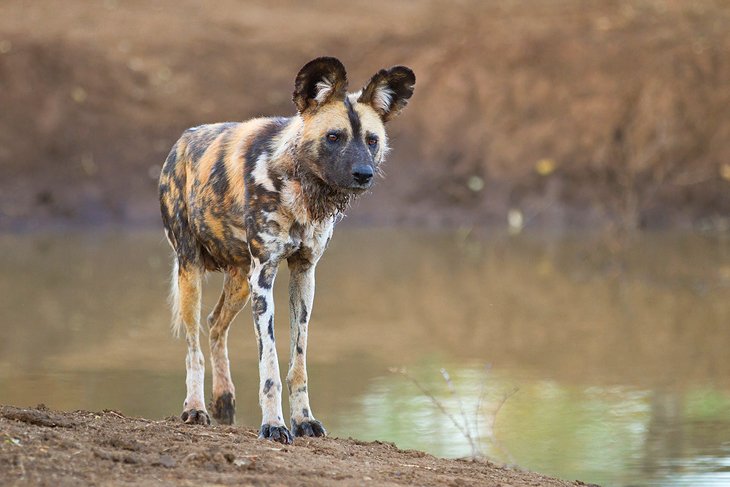 In South Africa's North West Province, and right on the border with Botswana, Madikwe Game Reserve is a super special spot for a few days of safari. Operators like Jacis Lodges will take you into the heart of the private reserve to see rare animals like the endangered African wild dog. There are less than 5,000 wild dogs left on the planet, but Madikwe has a healthy pack.
Accommodation: Top-Rated Luxury Safari Lodges in South Africa
6. Wild Coast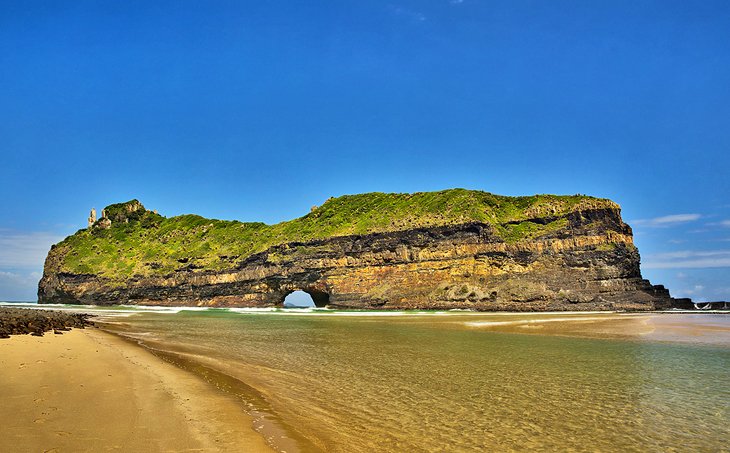 South Africa's Wild Coast in the Eastern Cape Province is one of the most beautiful stretches of coastline in the country. Here, you'll find small hippie towns like Coffee Bay, home to the famous Hole in the Wall, with fabulously funky hostel lodging (all have private room options, as well as bunked dorms) and plenty of activities, from surfing to interacting with the local Xhosa people.
7. Durban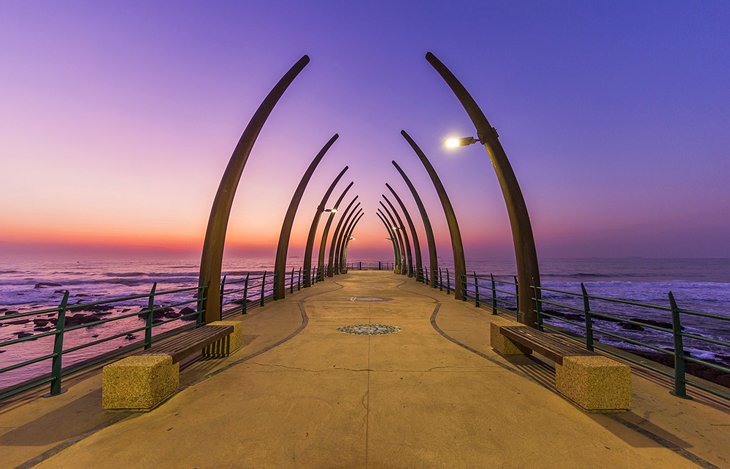 Set on the Indian Ocean, Durban is South Africa's third largest city and a popular beach destination in summer–the water is much warmer here than in Cape Town, and you can actually swim without a wet suit. It is also home to fabulous sunsets, like this one at Whalebone Pier at Umhlanga, which is just a short drive north of Durban on the KwaZulu-Natal coast.
Accommodation: Where to Stay in Durban: Best Areas & Hotels
8. Garden Route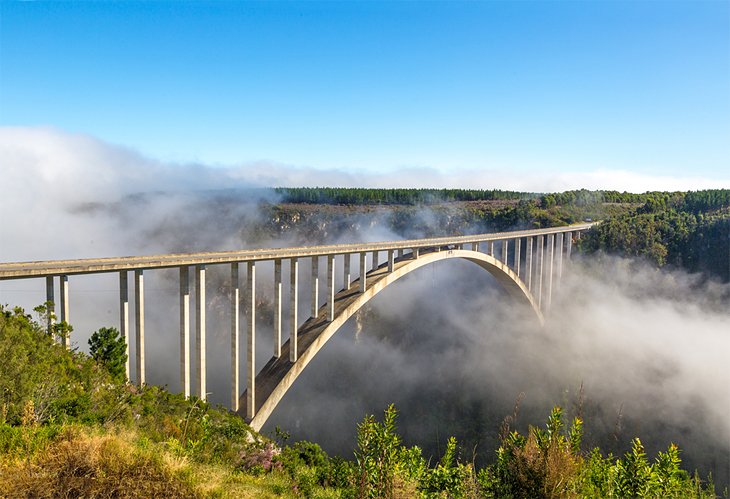 Running for some 200 kilometers from Mossel Bay to Storms River, the Garden Route is one of South Africa's most famous scenic drives. The route takes you up over the craggy mountains and down to the sea, where you'll find surfing beaches and towns like Knysna, known for its super fresh seafood.
It also home to adrenaline-fueled activities like the world's highest commercial bungee jump from Bloukrans Bridge. You drop a dizzying 216 meters into a gorge.
9. Table Mountain at Sunset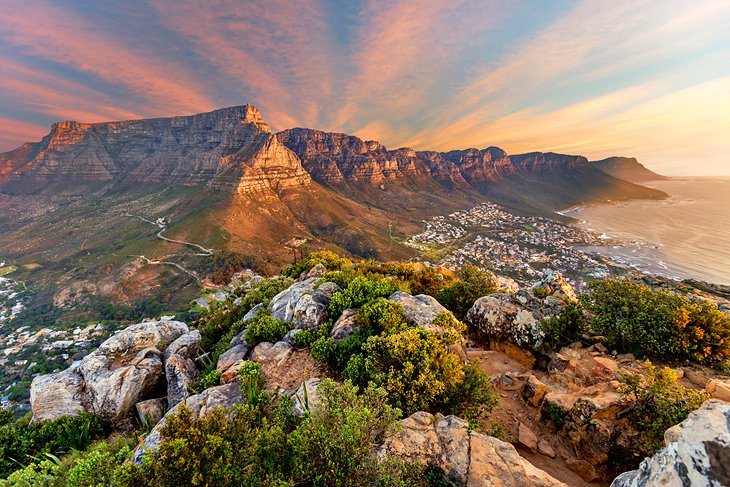 Cape Town's iconic flat top mountain is dramatic any time of day, but especially at sunrise when the colors are striking. The 3,558-foot mountain can be summited on foot or via the Table Mountain Aerial Cableway when the winds aren't blowing too hard.
10. Addo Elephant National Park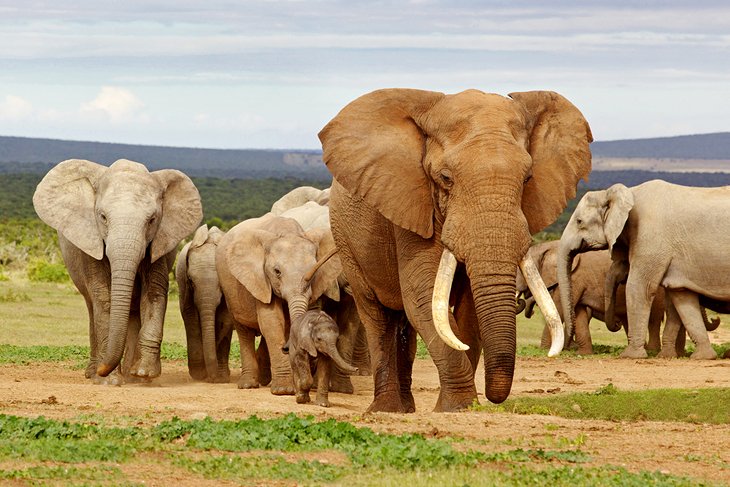 There are more than just elephants alive and thriving in Addo Elephant National Park, which is South Africa's third largest park after Kruger National Park and Kgalagadi Transfrontier National Park. But if you love pachyderms, you will love Addo, as it is home to more than 600 elephants.
11. Muizenberg Beach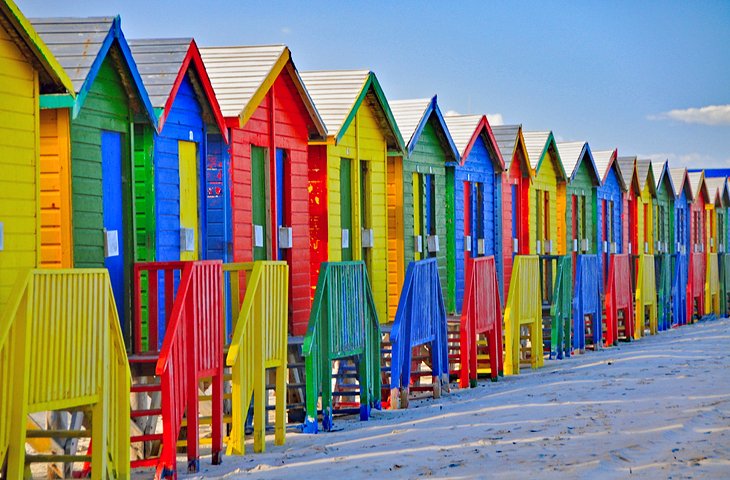 Home to the Instagram-famous, multi-colored beach huts, Muizenberg is also known for its surf scene. The beach town is on the Cape Peninsula, less than an hour drive from Cape Town. Head to Surfers Corner to meet the locals and ride consistently good waves.
12. False Bay: Whale Watching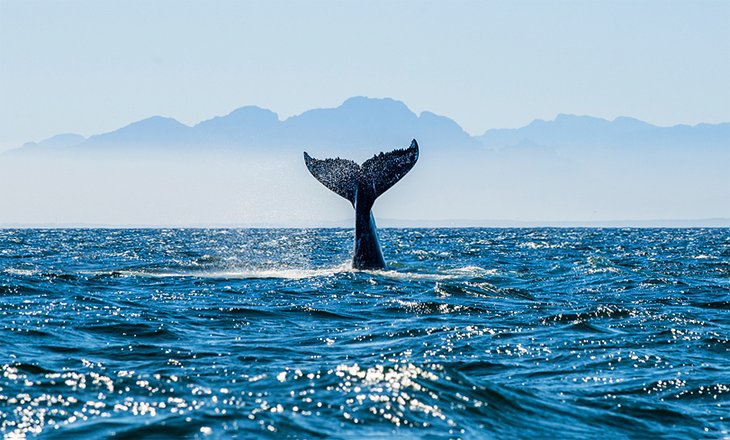 Whale-watching along the coast near False Bay, also on the Cape Peninsula, is popular between June and November (but June is probably the top month), when you are likely to see humpback whales like the one pictured here just offshore. During this time of year, southern right whales also migrate through the area.
13. Namaqualand in Spring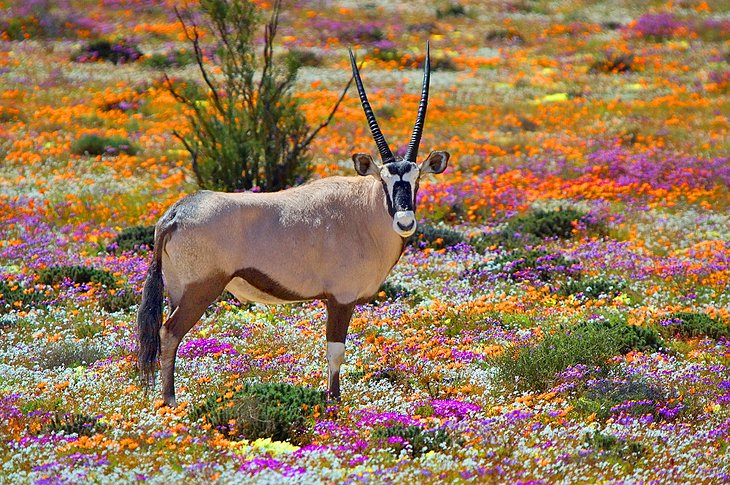 In spring, the desert landscape around Namaqualand, in South Africa's Northern Cape Province bordering Namibia, comes alive with wildflowers. The flowers are a result of some solid spring rains, and people come from all over the world to view, photograph, or paint the landscape.
14. Free State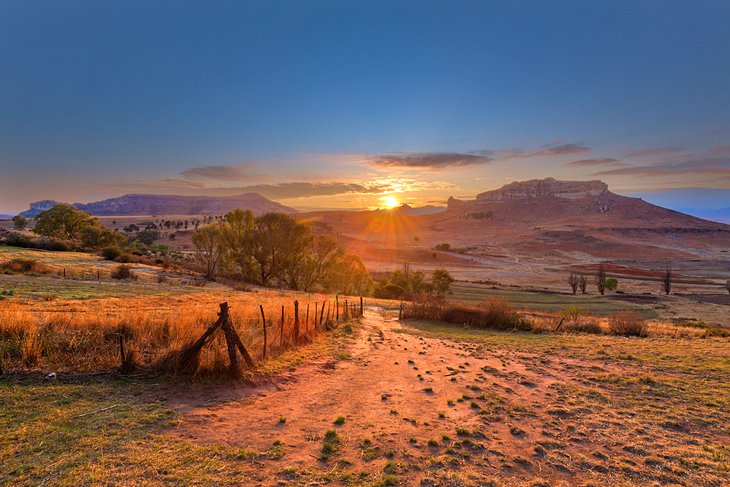 South Africa's interior has vast tracks of rural farmland, like this spot in the Free State, where you can watch the sunrise in utter silence and isolation. The Free State is also home to Bloemfontein, which is South Africa's judicial capital city.