14 Top-Rated Attractions in the Free State & Mpumalanga
The vast Free State and bordering province of Mpumalanga in the northeast of South Africa, are rich in scenic beauty. Mpumalanga means "the place where the sun rises," and here travelers can explore lush forests, mountains, rivers, and waterfalls.
Mpumalanga is well known for its popular wildlife parks, in particular, the southern part of world-renowned Kruger National Park, one of South Africa's top attractions, and the spectacular Blyde River Canyon Nature Reserve, which cuts through the Drakensberg escarpment. Popular animal sanctuaries surround its small capital, Nelspruit, including Chimp Eden and Elephant Whispers, offering unforgettable animal encounters.
The Free State, southwest of Mpumalanga, stakes its fortunes on agriculture and is a land of sweeping fields and sprawling vistas. Sightseers can explore Golden Gate Highlands National Park, with its contorted sandstone mountains and rolling green hills, while the Free State's capital, Bloemfontein, hosts an impressive art gallery and beautiful botanical gardens. Both states are popular road trip destinations.
Find the top things to do in this diverse region with our list of the top attractions in the Free State and Mpumalanga.
1. Kruger National Park, Mpumalanga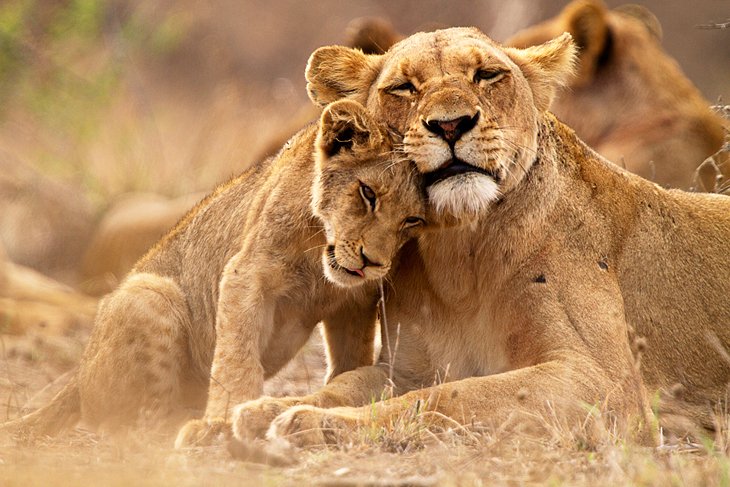 Kruger National Park is one of Africa's top game reserves. It's also the largest and oldest national park in South Africa and is famous for its incredible diversity of wildlife. The park covers more than two million hectares, and the province of Mpumalanga provides access to the popular southern section. The park is also part of the Great Limpopo Transfrontier Park, an extensive wilderness area linking Limpopo National Park in Mozambique, and, in the future, Gonarezhou National Park in Zimbabwe.
Many visitors come here to see the Big Five: lion, leopard, elephant, buffalo, and rhino, however the park also protects more than 500 species of birds, 114 species of reptiles, and 147 different mammals including rare species such as African wild dogs. San rock art and Stone Age archeological sites provide insight into the park's original inhabitants.
Visitors can choose from a wide range of accommodation, including humble campsites, affordable government-run rest camps, safari tents, guesthouses, and plush private safari lodges. Most visitors explore the park in their own vehicles, but guided game drives and walks are also available.
2. Blyde River Canyon Nature Reserve, Mpumalanga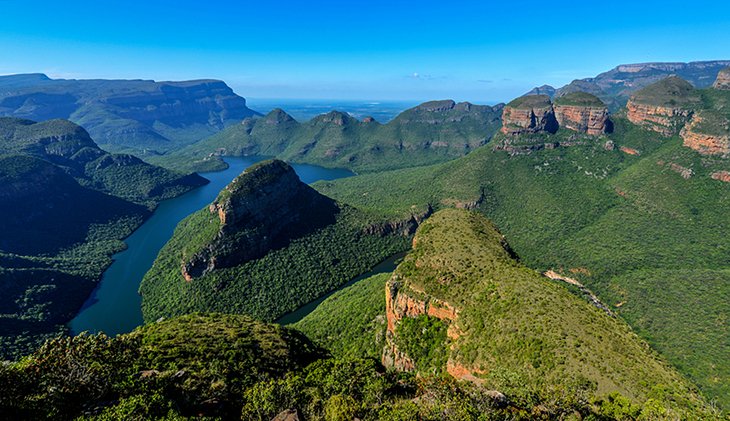 The Blyde River Canyon Nature Reserve (also called Motlatse River Canyon) is a favorite stopover on the journey from Johannesburg to Kruger National Park. It lies on the edge of the plateau of the Eastern Transvaal Drakensberg, one of the most beautiful regions in South Africa. Here, the highveld falls steeply down from a height of more than 2,000 meters above sea level to the lowveld, a fertile region with a subtropical climate.
The central feature of the reserve is the Blyde River Canyon, a spectacular steep-lipped gorge. Sightseers can explore the reserve by car along the Panoramic Route and veer off on side roads to breathtaking viewpoints. Favorite sights include the Three Rondavels, towering dolomite pillars; God's Window, a panoramic view point; and Bourke's Luck Potholes, where prospectors once searched for gold.
The floor of the gorge is only accessible on foot. Hiking, swimming, rafting, and abseiling are great ways to enjoy this magnificent reserve, which is also home to a diversity of wildlife.
3. Golden Gate Highlands National Park, Free State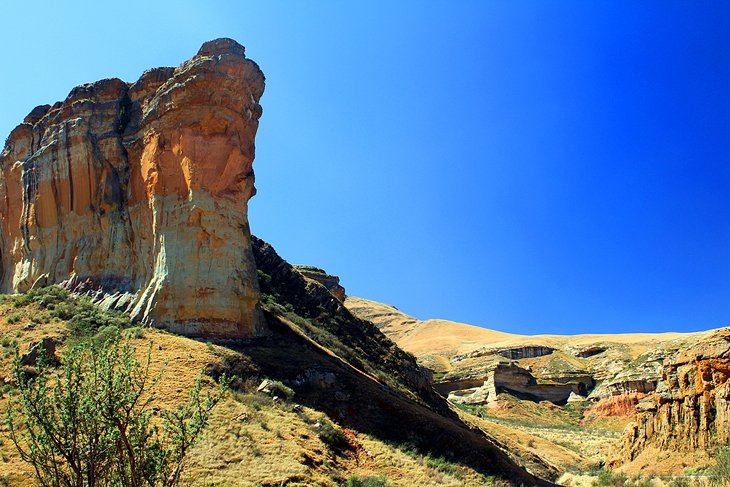 At the foot of the Maluti Mountains, near the little tourist town of Clarens, Golden Gate Highlands National Park is a land of rolling green valleys and sandstone rock outcrops with spectacular views from their peaks. Iron oxides impart a rosy blush to the bizarrely shaped sandstone rocks, which contrast beautifully with the lush valleys, cloaked in green.
The park's namesake Golden Gate consists of two 100-meter crags flanking the road, which shimmer in gold at sunset. In earlier times, Bushmen occupied some of the hill caves, and during the Boer War, the caves sheltered many Boer families seeking to avoid the British concentration camps.
Today, the park also shelters antelope, zebras, warthogs, and 100 different species of birds, including the majestic bearded vulture and the black eagle. Sightseers can explore the park on the many hiking and horseback riding trails.
Official site: http://www.sanparks.org/parks/golden_gate/
4. Elephant Whispers, Mpumalanga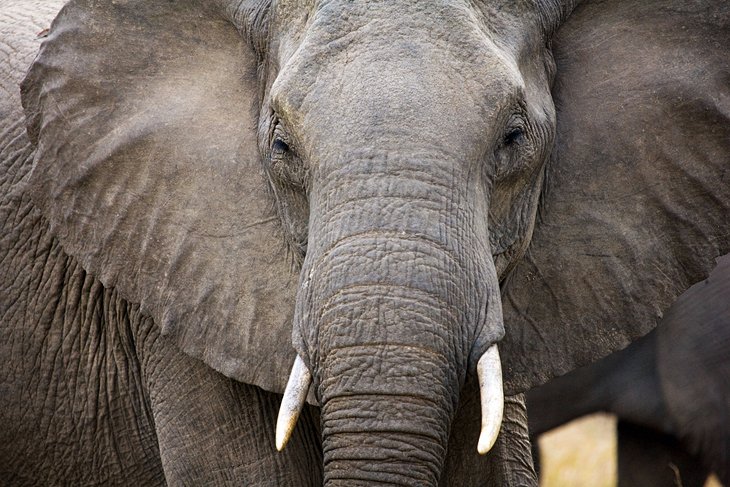 At Elephant Whispers, about 20 kilometers from Kruger National Park, visitors can feel an elephant's trunk and the soft skin behind their ears, feed them treats, and even experience an elephant-back safari. Run by passionate conservationists, this popular attraction seeks to educate visitors and inspire a desire to protect these intelligent animals.
Most of the elephants were rescued from culls and brought here to have a better life. Dedicated handlers share fascinating facts about elephant behavior, their anatomy, and compassionate training techniques.
Visitors can choose from a range of different experiences including a one-hour interaction; an elephant-back ride with lunch; and a day with an elephant, learning how to care for them and accompanying them on their adventures. This is a must-do for animal lovers.
Address: R40 Hazyview, Mpumalanga
5. Cheetah Experience, Free State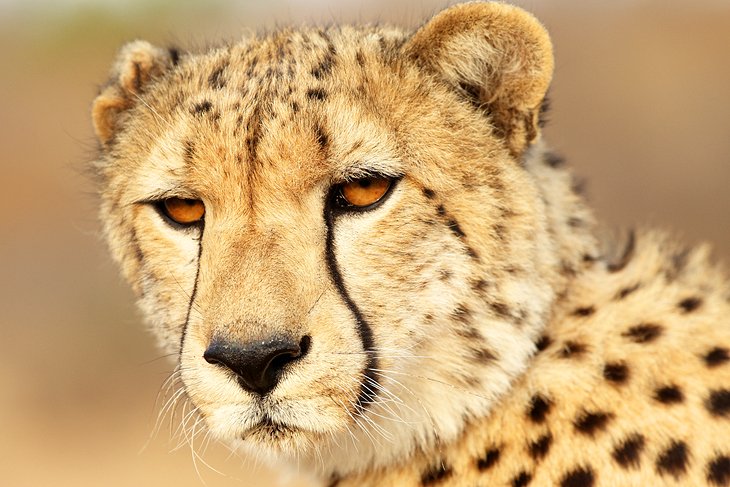 Not surprisingly, cheetahs are the star attraction at this much-loved non-profit wildlife sanctuary about 12 kilometers from Bloemfontein. Here, visitors can spend quality time at close range with these graceful creatures, cuddling cubs, and learning about their behavior from the passionate volunteers. Servals and caracals are often also in the mix, and the park also protects lions, leopards, and wolves.
This is a fantastic place to score close-up photographs of the big cats. Tours include a safety presentation and last between 60 to 80 minutes. Advance bookings are essential.
Address: 1 Maluti Avenue, Bainsvlei, Bloemfontein
Official site: http://www.cheetahexperience.com/
6. Bagamoya Wildlife Estate, Free State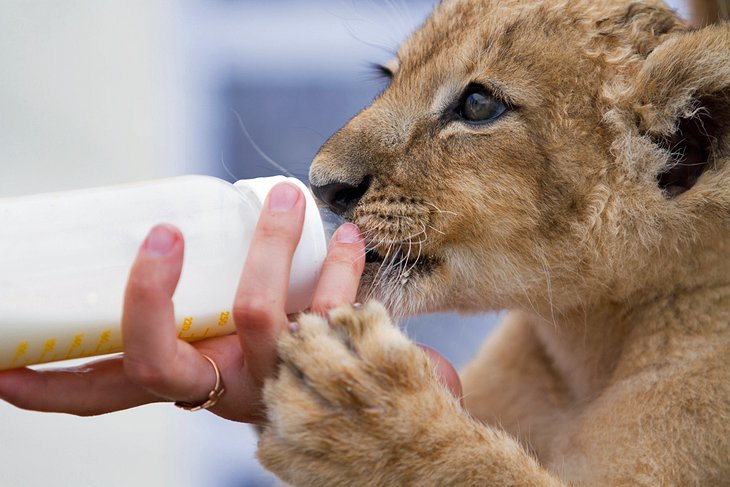 About 30 kilometers from Bloemfontein, Bagamoya Wildlife Estate offers fun game drives and close-up encounters with big cats. Bottle-feeding lion, tiger, or cheetah cubs is a highlight here, and visitors can help feed the adult lions. The park is also home to a small zoo with jackals, bat-eared foxes, and even wallabies, but guests can also embark on a game drive around the property to see classic African game such as zebra, ostriches, giraffe, antelope, and more.
Self-catering chalets accommodate guests who want to stay overnight and extend their wildlife experience. Call to check the feeding schedules and opening times before visiting.
Official site: http://www.bagamoyawildlifeestate.co.za/
7. Bloemfontein's Art Gallery and Botanical Gardens, Free State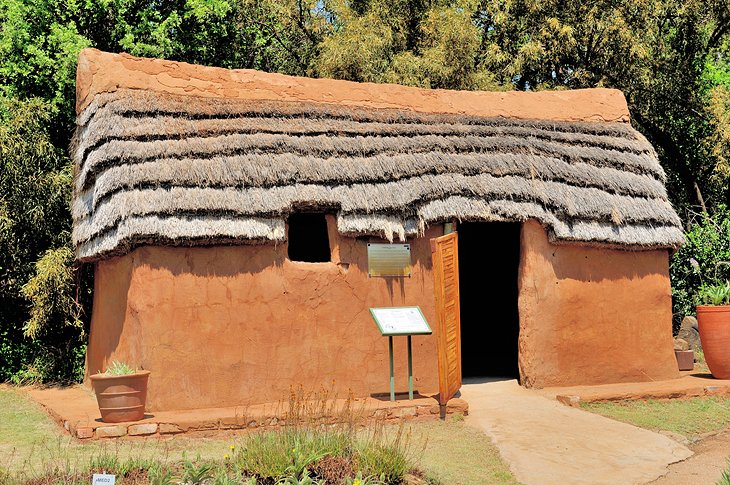 Called the "City of Roses," the Free State's capital, Bloemfontein, is home to the beautiful Free State National Botanical Garden, as well as the superb Oliewenhuis Art Gallery. The gardens blend natural landscapes of indigenous woodland with perfectly preened picnic spots, and the lake here is a lovely spot to pause and see some of the garden's many species of birds. Scenic self-guided wilderness trails weave through the bushland and gardens, and highlights include a traditional Sotho hut with a herb garden and an ancient settler's cottage.
Housed in a Cape Dutch mansion, the Oliewenhuis Art Gallery takes visitors on a journey through the history of South African art. The permanent collection ranges from the old masters to more recent works, and includes paintings and sculpture. Featured artists include Pieter Wenning, Willem Coetzer, and Thomas Baines. The gardens here offer an inspiring taste of alfresco art with sculptures of South African historical figures and a colorful carousel displaying European and African mythological flourishes in a nod to the country's multicultural roots.
8. Chimp Eden, Mpumalanga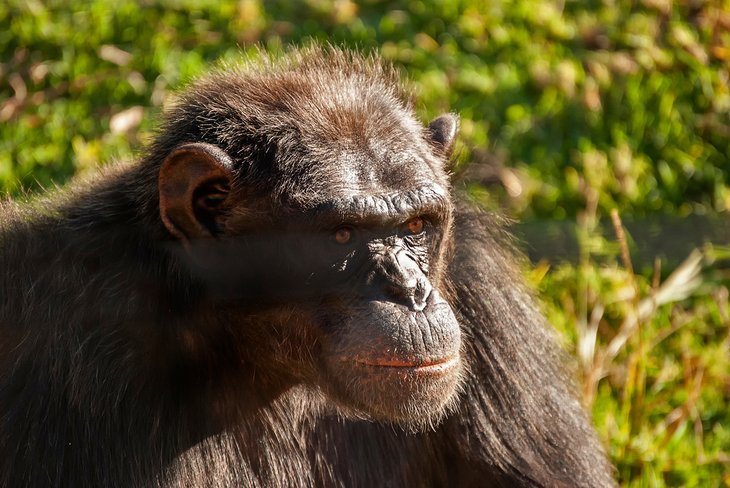 About 15 kilometers from Nelspruit, the Jane Goodall Institute's Chimp Eden sits in a 1,000-hectare nature reserve and is South Africa's only chimpanzee sanctuary. The sanctuary has been featured on an Animal Planet documentary series, Escape to Chimp Eden, for their work in rescuing the chimps from traumatic and abusive circumstances and rehabilitating them back into social groups. Their mission is to educate visitors about these endangered creatures and foster a better understanding of their behavior, social structure, and habitat.
The handlers share some of the resident's rescue stories while visitors have the chance to observe the animals in their large semi-wild enclosures and visit them at foraging areas. No human interaction is allowed so that the chimps can remain as wild as possible. Budding conservationists and animal lovers will enjoy this heart-warming experience and help out a great cause at the same time.
Official site: http://www.chimpeden.com/
9. Lowveld National Botanical Garden, Nelspruit, Mpumalanga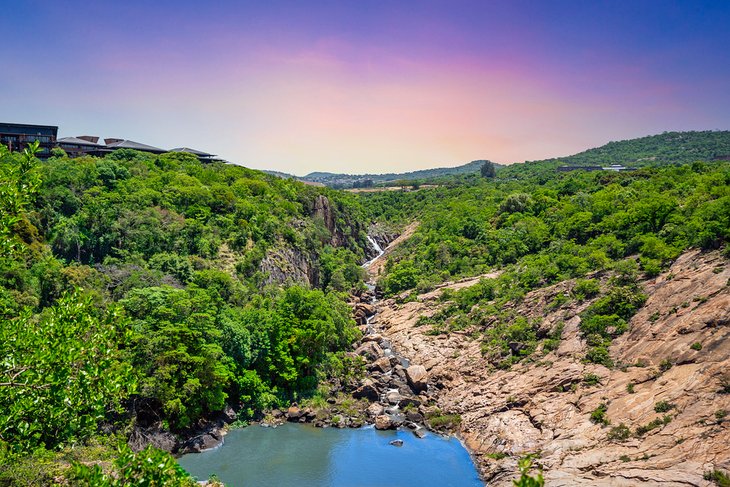 At the Lowveld National Botanical Garden, visitors can stroll through tranquil forests to tumbling waterfalls and see an array of beautiful South African plants. These well-maintained gardens conserve rare and endangered species and host a cycad gene bank. Visitors can admire the impressive collection of cycads and see one of the largest collections of South African fig trees. Two rivers slice across the park adding to the peaceful ambience here.
In the African rainforest habitat, visitors can cross the Crocodile River via a suspension bridge and view the impressive cascades. The South African Forest displays mainly coastal vegetation and plants from the Limpopo Province. Well-marked walking trails thread through the forests, and the restaurant here is a great place to relax after exploring the gardens.
10. Sabie's Waterfalls, Mpumalanga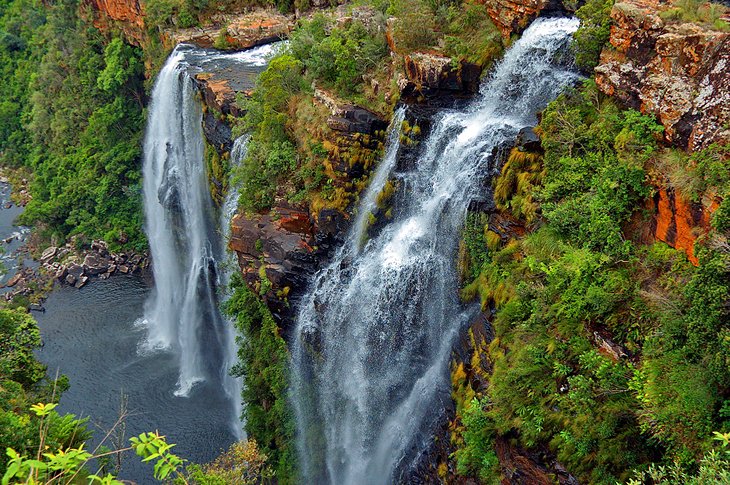 Snuggled amid the stunning Drakensberg mountains, about an hour's drive from Kruger National Park, Sabie is a fantastic base for adventures into the lush wilderness. Waterfalls and mountain rivers surround this pretty little town offering fantastic opportunities for hiking, canyoning, fly fishing, birding, mountain biking, and rafting.
This area is home to the highest concentration of waterfalls in Southern Africa. The most popular cascades are the 68-meter-high Lone Creek Falls, about nine kilometers from Sabie. A short and easy walk leads through the beautiful fern-fringed forest to the falls, where sightseers can enjoy a picnic. A short drive from here, Bridal Veil Falls spray water from a high clifftop. Other cascades in the area include Sabie Falls, just north of town; Lisbon Falls, South Africa's highest falls; Horseshoe Falls; and Mac Mac.
11. Anglo Boer War Museum, Free State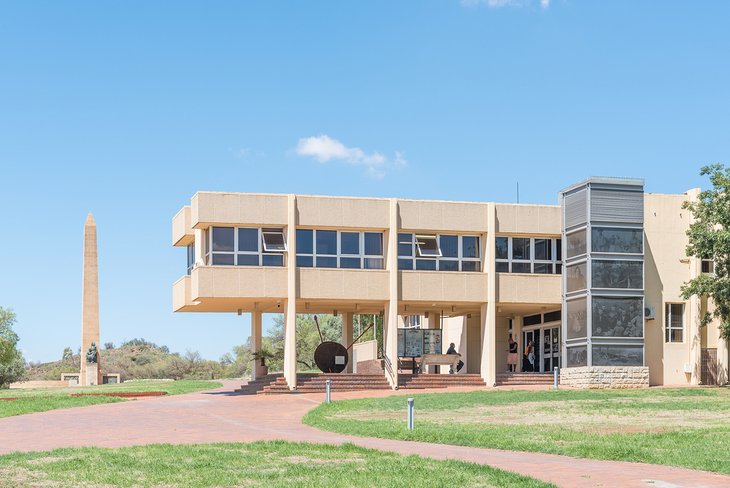 The Anglo Boer War Museum, one of Bloemfontein's top attractions, details the history of South Africa's Anglo-Boer War, which was fought between the British and the Boer Republics of the Transvaal and Orange Free State between 1899 and 1902. The war museum tells the story of the war and how it affected the entire country in some way or another. It uses a mix of dioramas, exhibitions, and a unique article collection to do so. The museum also outlines the dark story of the suffering endured in the concentration and prisoner-of-war camps.
Address: Monument Road, Bloemfontein
Official site: https://www.wmbr.org.za/
12. Clarens, Free State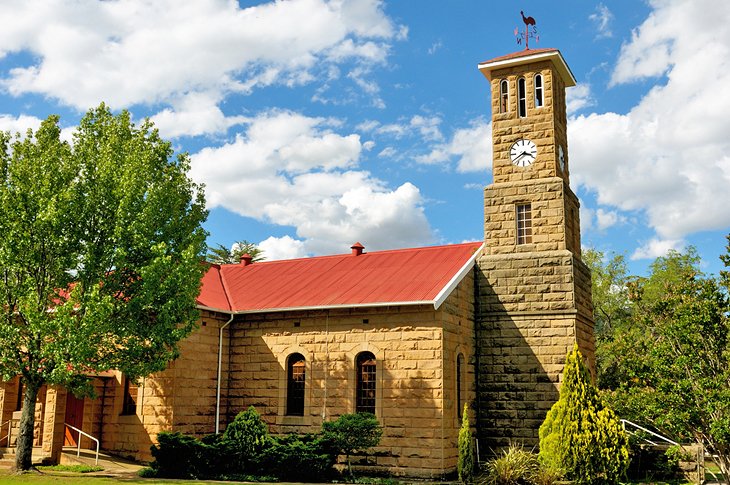 In the heart of the Free State is the charming small town of Clarens, which is well worth a visit. Set at the edge of the Maluti Mountains, where the prairie meets velvet green hills, the landscape is gorgeous and the town itself, dating back to the early 1900s, is as quaint as can be. It is also home to a number of inviting guesthouses, restaurants serving locally sourced menus, and local shops.
In fall, the trees put on a wonderful color show, and numerous local festivals are held. But Clarens is attractive year-round, known for some of the best trout fishing in South Africa, as well as outdoor activities from horseback riding to ATV trails to mountain biking and golf. There is also Class III white water rafting on the Ash River.
13. Sabi Sands Game Reserve, Mpumalunga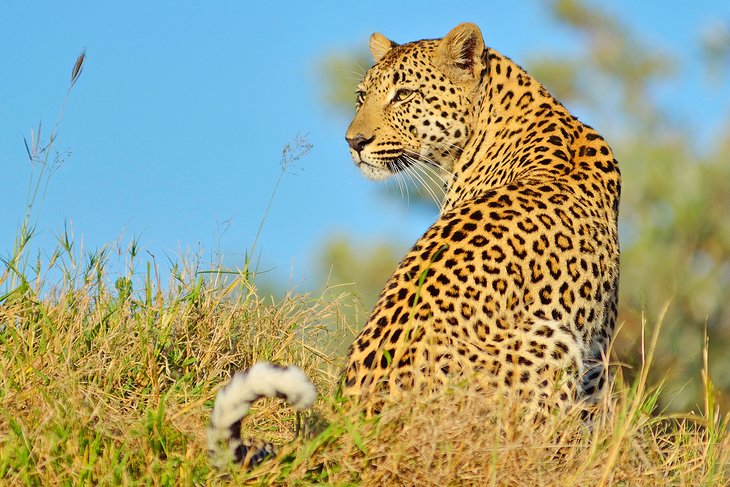 Adjacent to Kruger National Park, Sabi Sands Game Reserve is the oldest of South Africa's private reserves and home to some of its most luxurious safari lodges.
One of the best parts about visiting a private reserve, as opposed to a national park, is the ability to get closer to the animals in open-air vehicles. The animals can travel between Kruger and Sabi Sands unrestricted (there are no fences), and expert guides and trackers lead guests into the thick of the action, whether this is seeing a pride of lions on the hunt or getting up close and personal with a herd of elephants.
There are dozens of lodging options in Sabi Sands, but Singita Sabi Sands is one of the top luxury experiences here. You can choose from three unique lodging experiences on the 45,000-acre property. It is also known for its leopard sightings.
14. The Vredefort Crater, Free State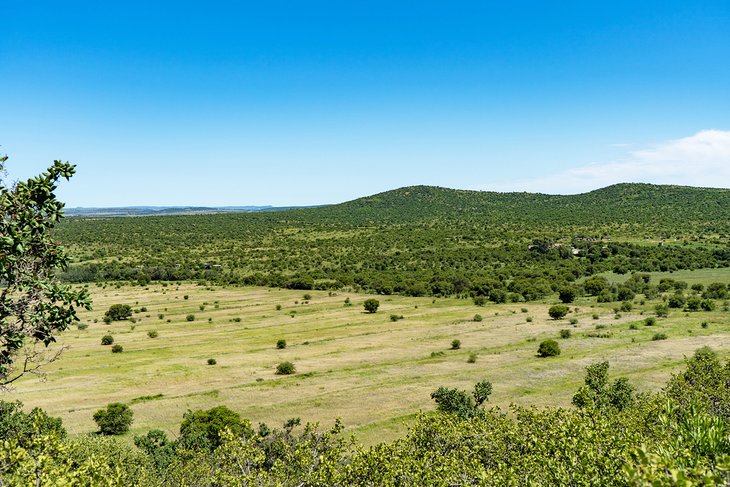 Recognized as a UNESCO World Heritage Site in 2005, The Vredefort Crater is Earth's largest verified impact crater and its second oldest. It was formed about two billion years ago, when a 10-kilometer-wide asteroid slammed into the ground by the town of Vredefort in what is now the Free State.
At the time of impact, the giant space rock created a 100-kilometer-wide and 40-kilometer-deep crater. But over time, it grew to between 180 and 300 kilometers in width, while getting shallower, as its walls collapsed.
Today the crater itself has long been eroded away, but you can still see a concentric pattern in the upturned earth here. This is because the numerous layers of upturned rock eroded at different speeds, creating geological structures now known as the Vredefort Dome.
Map of Attractions in the Free State & Mpumalanga
More Related Articles on PlanetWare.com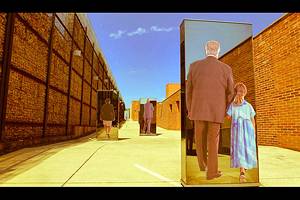 Explore Johannesburg: South Africa's largest city is a vibrant destination that should be a mandatory stop on any adventure to the country. The "city of gold" is South Africa's financial hub and also ground zero for a buzzing arts and culture scene. Learn all about what to see and do in Jo'burg in our Top-Rated Tourist Attractions in Johannesburg. We explore everywhere from Soweto to the ultra hip Maboneng Precinct.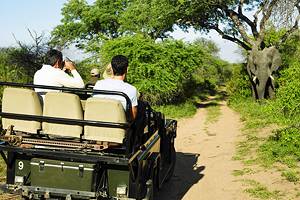 Safari Time: No trip to South Africa is complete without a proper safari. How long you choose to go and how many game reserves you visit will depend on your interests, budget, and how much time you have. Kruger National Park is one of South Africa's top national parks and offers something for everyone when it comes to a safari - from driving yourself around the park looking for the Big Five to proper game drives in classic vehicles, this park offers it all. See our article on Exploring Kruger: A Visitor's Guide for more on South Africa's oldest national park.