16 Best Places to Visit in Africa
Author Becca Blond has traveled extensively through Africa, including a recent trip in June 2022, and considers Cape Town her second home.
The African continent is one of the world's most mesmerizing destinations. There are so many diverse adventures to be had on this amazing continent, home to more than 50 different countries, that it's hard to narrow them down for a best places to visit list.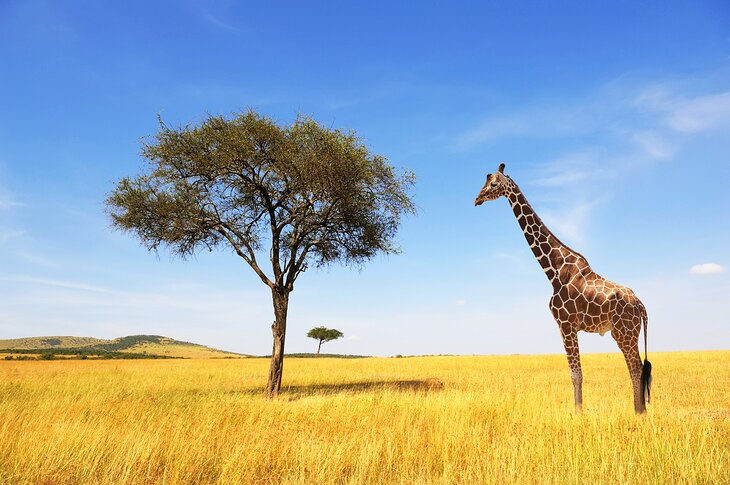 Whether you are looking to explore vibrant cities like Cape Town, Cairo, and Marrakesh or hoping to see the wildlife on a safari in Kenya, South Africa, or Tanzania, there is no shortage of things to do for travelers of all types.
The African continent is also home to some stunning natural attractions, like Victoria Falls, which straddles the border of Zimbabwe and Zambia and is often described as one of the seven natural wonders of the world. And you'll find soaring mountain peaks, like Tanzania's Mount Kilimanjaro, which, at more than 19,000 feet, is Africa's highest mountain.
And then there are Africa's beaches. With thousands of miles of coastline, you'll find warm, turquoise-hued waters and white-sand beaches on mystical islands like Zanzibar off the coast of Tanzania and the Bazaruto Archipelago off the coast of Mozambique on Africa's eastern coastline.
Wherever you wander in Africa, we promise you'll leave with a new appreciation for the magic of this culturally rich, vibrantly colored, and welcoming continent that will have you wanting to return over and over.
Plan your adventures with our list of the best places to visit in Africa.
1. Explore Cape Town, South Africa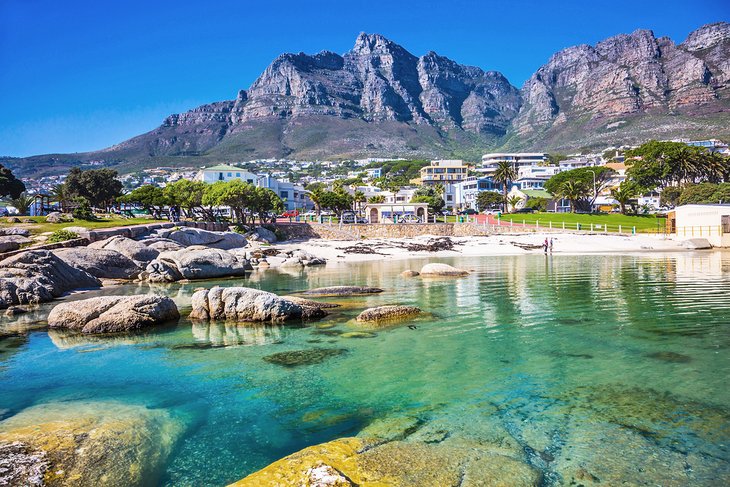 One of the most beloved destinations on the continent, Cape Town sits at the southern tip of South Africa, near where the Atlantic Ocean and Indian Ocean meet at the Cape of Good Hope. It is a culturally rich and visually stunning city that is very easy to fall in love with on a first visit.
Table Mountain rises from the center of the city, while the striking Twelve Apostle rock formations beyond provide the backdrop for gorgeous white-sand beaches, like Clifton and Camps Bay, along its Atlantic Ocean coastline.
There is so much to see and do in Cape Town. There are active adventures, like hiking to the top of Lion's Head to watch the sunrise. And, important historic places to visit, like taking a somber trip to Robben Island, where Nelson Mandela was a political prisoner for 27 years before the Apartheid regime fell.
The city is also home to a plethora of museums, galleries, local boutiques, and world-class restaurants and hotels. You'll want to spend some time exploring the Victoria and Alfred Waterfront, as well as the downtown around Long Street and Greenmarket Square.
Slightly further afield, you can see African wild penguins at Boulders Beach or learn to surf in the beach town suburb of Muizenberg.
Accomodation: Best Resorts in Cape Town
2. Go Back in Time in Zanzibar, Tanzania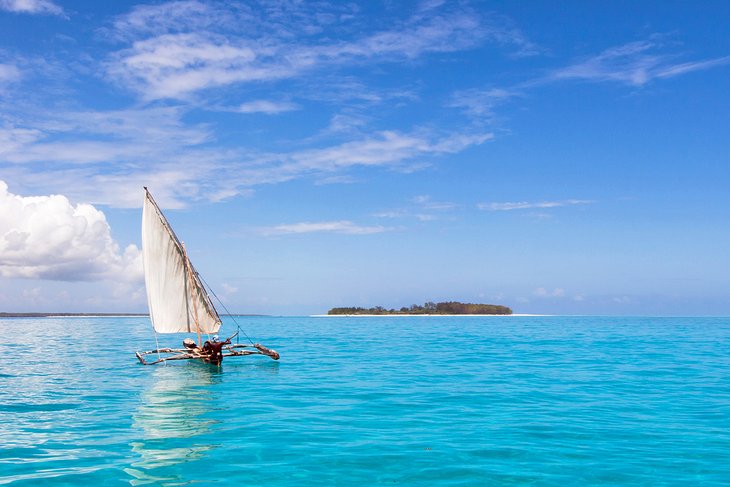 A visit to Zanzibar feels like stepping into another world, one where time stands still, and the only city, Stone Town, is a UNESCO World Heritage Site.
This island in the Indian Ocean, just off the coast of Tanzania, is a place where Arab dhows (fishing boats) still ply the picture-perfect turquoise sea. You can get lost in the beauty of Stone Town, wandering its narrow alleys past old mosques, vibrant bazaars, and riads with intricately carved doorways.
Away from the hustle of the "city" (really it feels like a small town), the rest of the island is filled with gorgeous beaches where days are spent lazing on white sand or snorkeling and diving in the colorful coral reefs surrounding the island. These are still teeming with life and home to more than 500 marine species.
Nungwi, at the northern tip of the island, is a favorite beach destination. There are a number of hotels and guesthouses here, including The Z Hotel Zanzibar. This chic beachfront boutique hotel is set in a beautiful tropical garden, and all rooms come with floor-to-ceiling glass doors opening onto sea-facing balconies. The beds are draped in mosquito nets and have a romantic vibe.
Accommodation: Best Resorts in Zanzibar
3. Witness the Pyramids of Giza, Egypt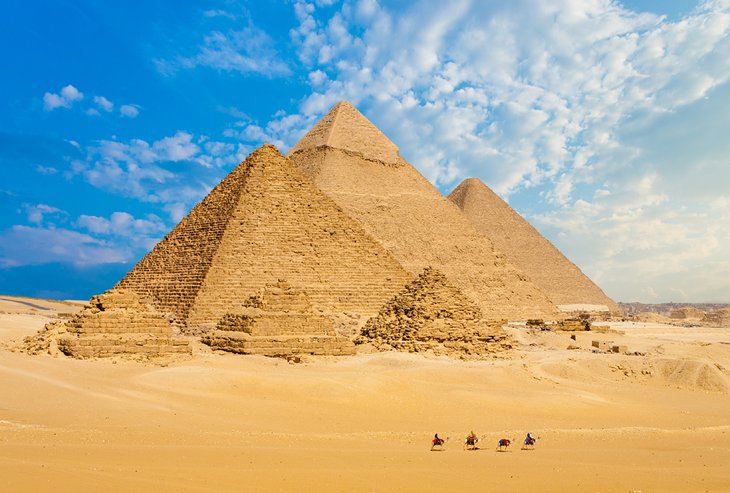 Watching the sun rise or set over the Pyramids of Giza from the back of a camel is an experience you'll never forget.
The pyramids and the Great Sphinx date back to the 26th century BCE and are Egypt's most iconic attractions.
The Pyramids of Giza are easy to access from Egypt's capital and largest city, Cairo, which is equally fascinating to visit. Set on the banks of the Nile River, Cairo is a chaotic and buzzy place that appears to never slow down, even in the dead of night.
Here, ancient history meets a modern metropolis. A highlight of Cairo is a visit to the Egyptian Museum.
Book one of the higher floor rooms at the Fairmont Nile City for sweeping views of the river and the Pyramids of Giza in the distance. This luxe hotel also has a rooftop swimming pool and restaurant with more mesmerizing vistas, and a spa for post-flight pampering.
4. Experience Victoria Falls, Zimbabwe and Zambia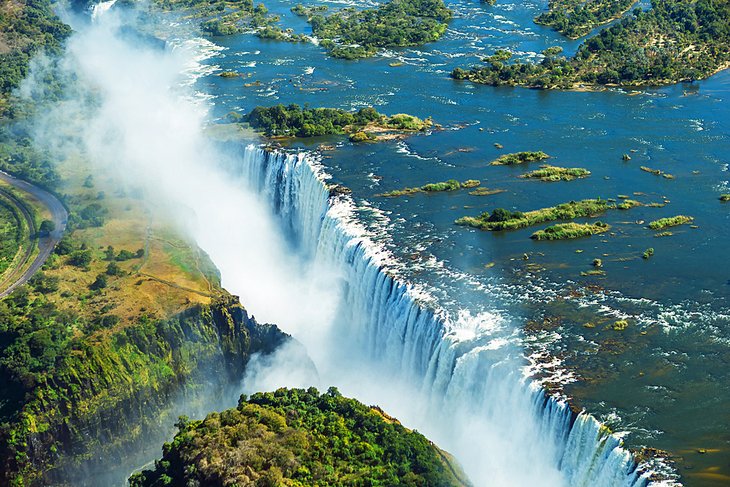 Visit Victoria Falls during the rainy seasons, when the water volume is high, and you'll understand why locals call this impressive waterfall "The Smoke That Thunders."
The sound of water rushing over rock before dropping into a pool some 300-plus-feet below sounds like the roll of thunder, and the mist that spews back up resembles thick smoke. It is an impressive sight.
Protected as a UNESCO World Heritage site, Victoria Falls is on the mighty Zambezi River and creates the border between Zimbabwe and Zambia. This waterfall is not only impressive for its dramatic drop but also for its length, which creates a 1.7-kilometer-long curtain of water as it drops.
For the best views of the falls in full, you'll want to explore the Zimbabwe side, where you can follow a walking trail to various viewpoints (expect to get drenched when the water volume is high).
On the Zambia side, you can get very close to the falls themselves and, if you're brave enough, even take a dip in Devil's Pool, which literally sits at the top of the falls before they tumble down, down, down. Both sides have lodging options, as well as restaurants.
5. Wander the Souks in Marrakesh, Morocco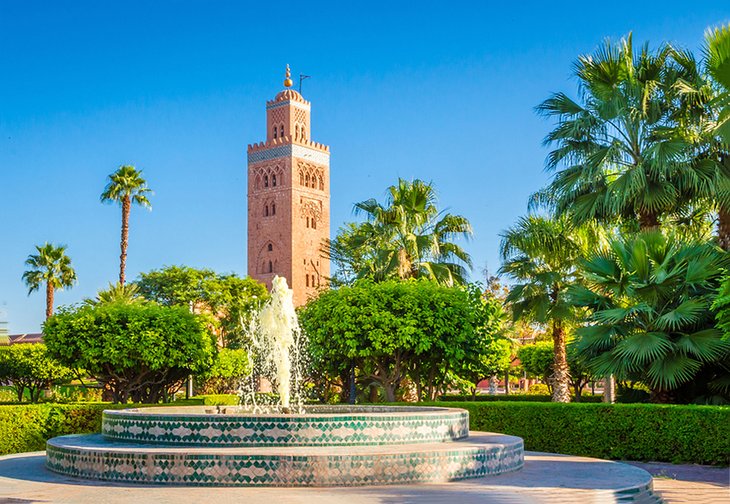 Beautiful Marrakesh in Morocco makes for the perfect introduction to this fascinating North African country, which can actually be accessed via an overnight ferry from southern Spain.
Marrakesh is located in western Morocco and is the country's fourth-largest city and home. The walled Medina here dates back to the Berber Empire. Spend a day sightseeing, wandering its maze-like streets filled with souks (marketplaces) selling everything from spices to jewelry to brightly colored traditional clothing and slippers.
With a Moorish minaret that is part of the city skyline, Koutoubia Mosque is one of the top attractions in Marrakesh, dating back to the 12th century.
For a different perspective of this vibrant, chaotic, and very lovable city, book a hot air balloon ride for early morning. You'll watch the sun set the rooftops ablaze as you float above Marrakesh.
6. Go Gorilla Trekking in Rwanda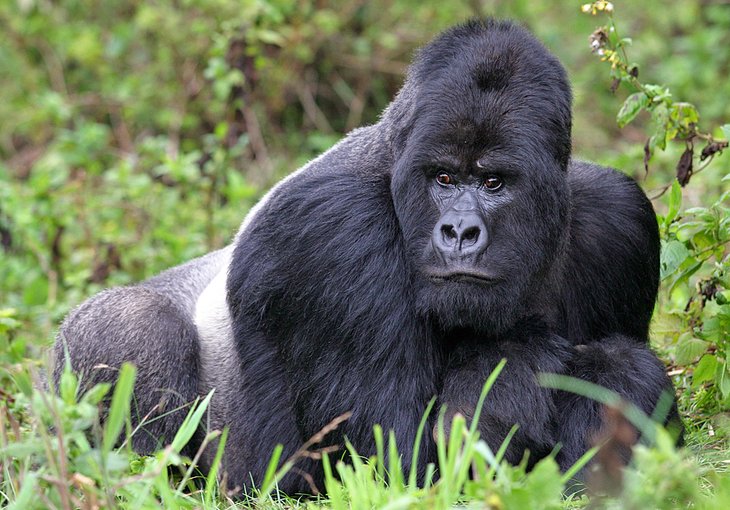 Trekking to see endangered mountain gorillas in their natural habitat is on the bucket list for many animal lovers, and Rwanda's Virunga Mountains are home to more than half of the remaining wild population on the planet.
Volcanoes National Park is where the treks to see these majestic primates take place. You cannot just go on your own, but must join a guided trip that requires a permit.
Rwanda is one of Africa's smallest countries and its capital city of Kigali is heralded for being one of Africa's cleanest. It is also located just 2.5 hours from the gorilla trekking, making this emerging tourism destination easy to explore.
7. Watch the Sun Rise over the Dunes in Sossusvlei, Namibia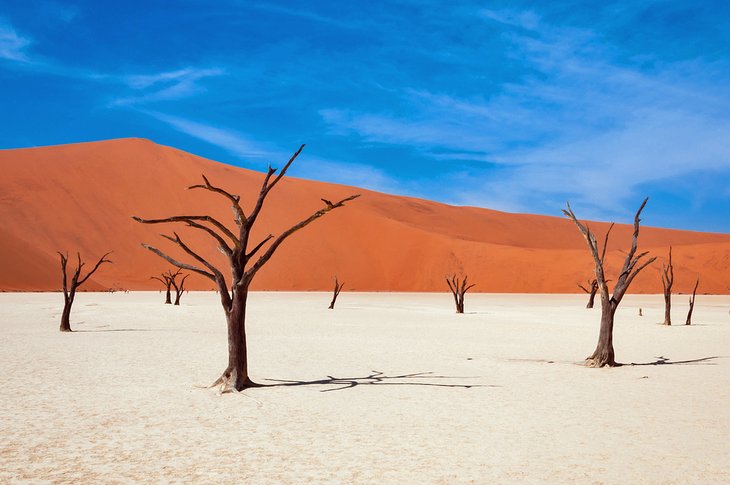 Located in southwest Africa, Namibia is a one-of-a-kind destination that is often overlooked when planning trips to the continent. It shouldn't be. The country is chock-full of adventures and landscapes you won't find anywhere else on the continent, including the Namib Desert and Sossusvlei.
Part of Namib-Naukluft National Park, Sossusvlei is a giant, flat salt pan surrounded by a sea of red and orange sand that has been sculpted into an otherworldly landscape of towering dunes and desolate valleys sprinkled with petrified dead trees. It is especially spectacular at first light, when the rising sun brings the dunes into focus and makes them glow.
Other major attractions in Namibia include the Skeleton Coast, named for the skeletons of wrecked ships that crashed along the misty Atlantic Coastline here, and Etosha National Park, one of Africa's best game reserves.
8. Find Serenity by the Sea and in the Sahara in Tunisia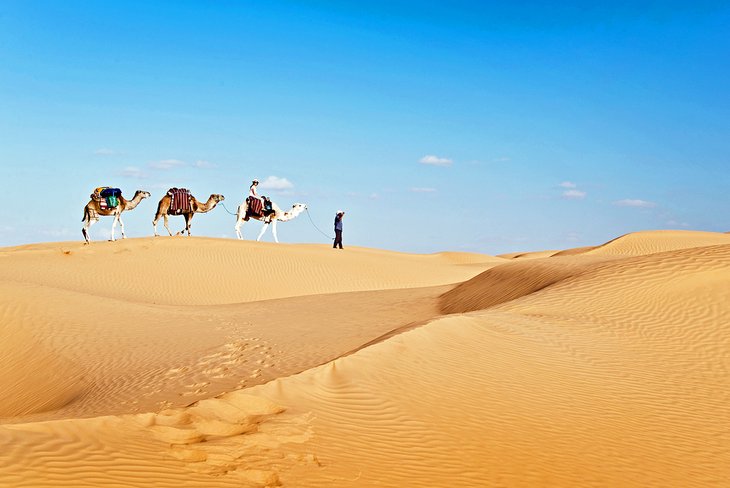 Facing towards Europe's Mediterranean coastline, Tunisia is Africa's most northerly country. It is a gorgeous, sun-soaked destination, where European and Arab influences blend together.
Home to a beautiful stretch of beaches on the Mediterranean Sea, Tunisia is a popular vacation destination for Europeans seeking some winter sun. The island Djerba is a perfect spot to indulge.
Afterwards, venture into the Sahara Desert for more mesmerizing scenery. The desert covers much of Tunisia's interior, but its most stunning section is known as the Grand Erg Oriental. Here, you'll find a rolling sea of orange sand juxtaposed against a bright blue sky. Sightsee via dune buggy, on foot, or from the back of a camel.
The town of Douz serves as the adventure hub for this area, and from here you can book the above mentioned excursions.
9. Summit Mount Kilimanjaro in Tanzania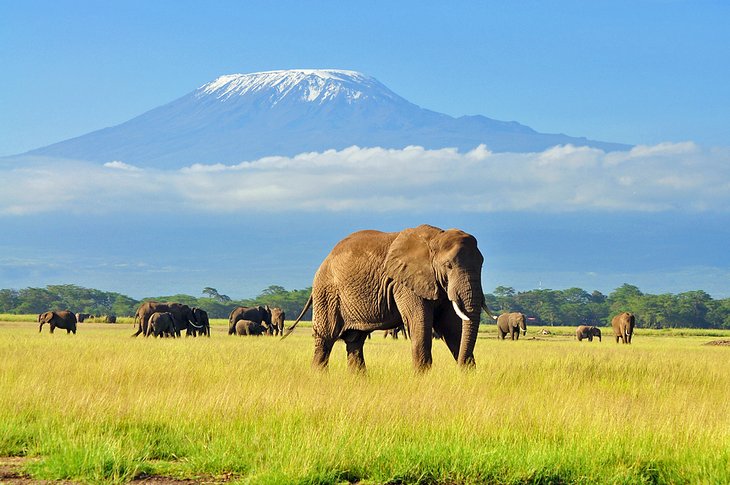 With an elevation of 19,341 feet, Tanzania's Mount Kilimanjaro ("Kili" for short) is Africa's highest mountain and also holds the world record for the highest single freestanding mountain (it isn't part of a range). Rising from the plains of the Serengeti, it is a dormant volcano and creates a stunning backdrop for wildlife safaris in the region.
Most people visit Kili to climb to its summit. It is especially popular because the trek involves no rock climbing expertise or mountaineering equipment.
You also won't face the extreme weather challenges of climbing other continents' highest peaks, like Mt. Everest. You will need to be in good shape and adjusted to the altitude. The trek to the top takes a minimum of six days, and you will need to go on a guided excursion.
Read More: Top-Rated Tourist Attractions in Tanzania
10. Go on Safari in Kruger National Park, South Africa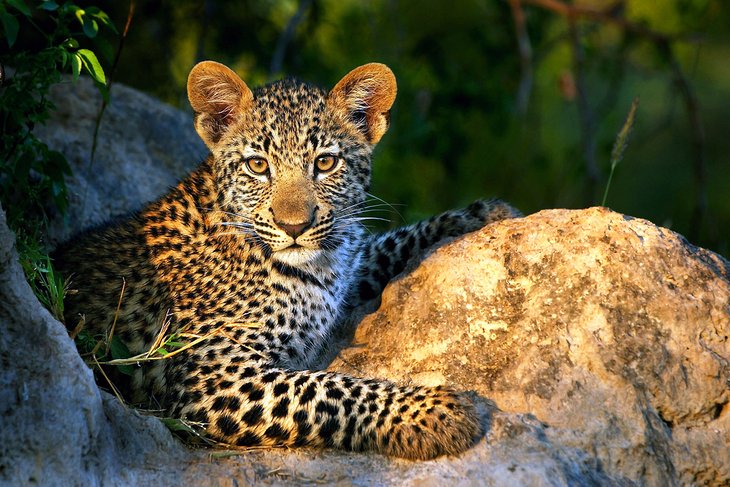 South Africa's Kruger National Park is one of Africa's oldest conservation areas and a top safari destination on the continent.
This vast park, which actually extends into Mozambique to the east, is home to South Africa's most diverse wildlife population. It is also surrounded by upscale private reserves, like Sabi Sands Game Reserve, which animals can cross into and out of at will.
Kruger is also a safari destination within reach for many different budgets. As a national park, visitors can actually explore Kruger on self-drive safaris and then camp or stay in national park lodges.
However, we recommend joining an organized game drive for the best shot of seeing the most animals, as you'll be in an open vehicle and with guides who know where to look for the Big Five (elephant, lion, leopard, buffalo, and rhino).
Accommodation: Top-Rated Luxury Safari Lodges in South Africa
11. See the Great Migration in Masai Mara, Kenya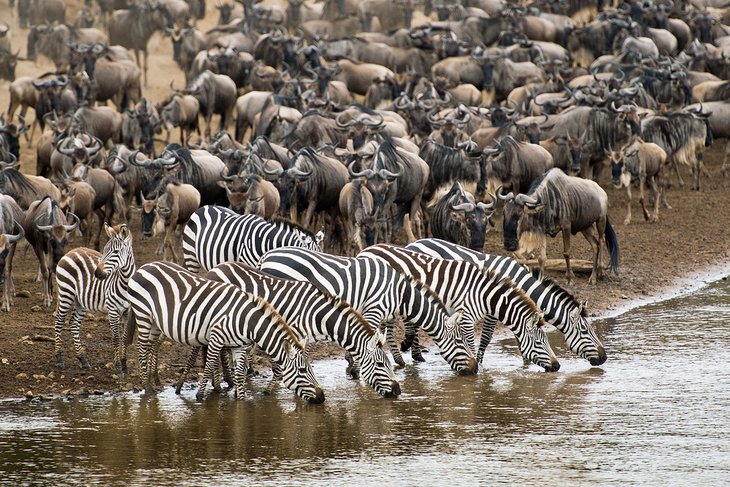 Every year, millions of wildebeest and other hoofed animals like zebra and gazelles migrate between Tanzania's Serengeti and the Masai Mara in Kenya in what has become known as the Great Migration. The most dangerous part of this journey is crossing the Mara River, where many of the grazing animals get picked off by hungry lions and other predators.
The crossing usually happens between July and August, but the timing can change with the year. Watching the Great Migration in real time is a dream for many wildlife enthusiasts, who plan safaris to this part of Kenya to coincide with it.
Read More: Top-Rated Tourist Attractions in Kenya
12. Descend into the Ngorongoro Crater on Safari in Tanzania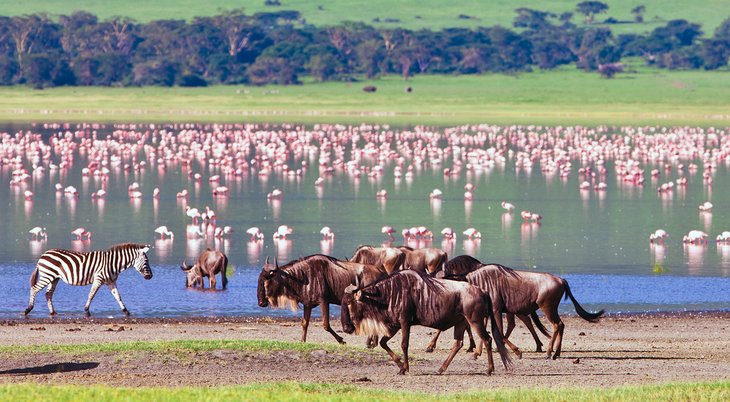 Created about 2.5 million years ago, the Ngorongoro Crater is the largest inactive, unfilled, and unbroken volcanic caldera on the planet. Considered one of the Seven Natural Wonders of the World (Victoria Falls is another), it is home to thousands of animals and is a top safari destination in Tanzania.
It is also on one end of the Great Migration route, mentioned above, and during this time of year, massive herds of wildebeests, zebras, and other grazing animals can be seen here.
Guests stay at lodges perched on the edge of the crater's rim and then descend down for day long wildlife drives.
All of the Big 5 African animals (lion, leopard, rhino, elephant, and Cape buffalo) can be seen down here, but one species you won't see on the crater floor are giraffes. This is because they find the rocky descent too difficult, and there are few trees. This lack of trees also makes it very easy to spot wildlife while on safari, including the big cats.
13. Take a Beach Vacation to the Bazaruto Archipelago in Mozambique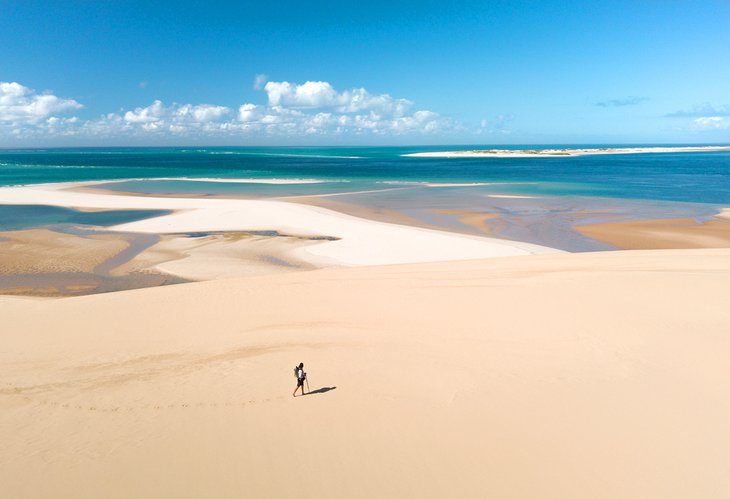 Off the Mozambican coastline in the Indian Ocean, the Bazaruto Archipelago Marine Park is home to a group of islands with some of the more beautiful beaches in Africa.
Bazaruto Island is the main destination and offers a range of accommodations, from budget to luxury. But there are also deserted islands and others that are home to just one hotel or two.
Besides brilliant white-sand beaches backed by coconut palms and sand dunes, these islands are also famous for their excellent diving and snorkeling opportunities. There is a thriving coral reef system protected by the park, and the turquoise water is warm and clear.
14. Traverse the Okavango Delta in Botswana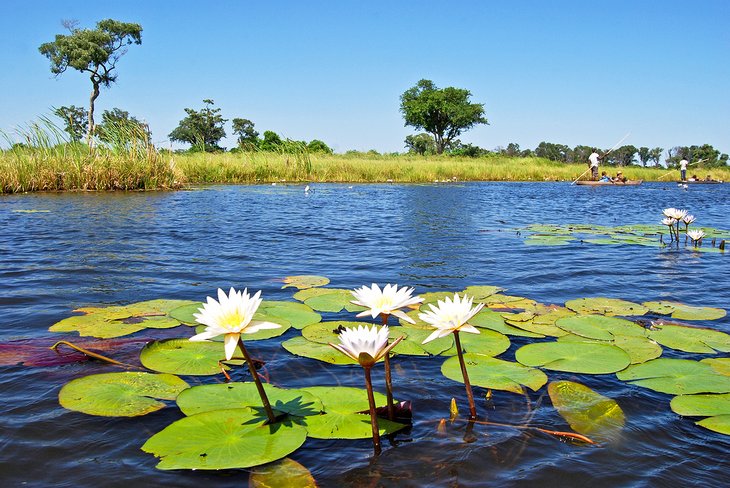 Botswana, in southern Africa, is another legendary safari destination.
In the northern portion of the country, the Okavango Delta is a top attraction. This large inland river delta floods during the rainy season and becomes a unique safari experience. That's when you'll get to explore the river in a dugout canoe, paddling past hippos and crocodiles while keeping your eyes peeled for elephants, giraffe, and other animals who come to the river to drink.
The Moremi Game Reserve covers a large section of the Okavango Delta and is where many upscale safari lodges are located. Maun is the gateway town to the delta, and this is a good place to organize more budget-focused canoe and land safaris.
15. Discover the Beauty of Lake Malawi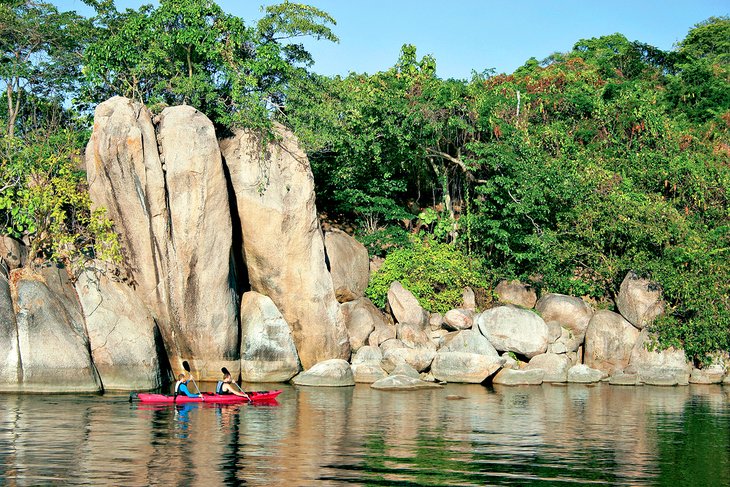 Spanning three countries, Malawi, Mozambique, and Tanzania, Lake Malawi is the third-largest lake on the African continent at 29,600 square kilometers. It's part of the African Great Lake system, and its age is estimated at about one or two million years.
The majority of tourists visit the Malawi side of the lake, which is called Lake Nyasa in Tanzania and Lago Niassa in Mozambique.
One interesting fact about Lake Malawi is that it is home to more kinds of fish than any other lake on Earth! Needless to say, fishing is very popular here.
You can also swim and snorkel in the warm, clear water, but you'll want to take a short course of a fast-acting antibiotic after doing so to protect yourself from bilharzia, which is found here.
Read More: Best Lakes in Africa
16. Watamu on Kenya's Swahili Coast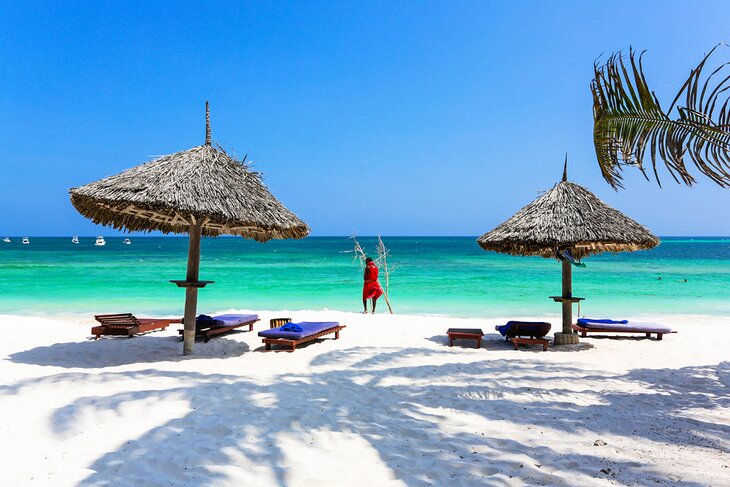 On Kenya's Swahili Coast, Watamu is the perfect town for a beach vacation. The Indian Ocean here is stunning—think turquoise, aquamarine, and emerald hues with sugar-white-sand beaches and an underwater world to explore.
Unlike beaches in South Africa, the water here stays warm enough to swim comfortably all year. And, with near-constant trade wind breezes, it never gets too oppressively hot, and it's also one of the hottest kitesurfing destinations in Africa.
The sunsets are also stellar here, especially when witnessed from the deck at Lichthaus, which has west-facing hammocks, DJs spinning in summer, and a food menu.
Watamu is a small village, and lodging is spread out over a number of miles on the coastline. It is easy to get between places by bodu bodu (a local motorbike taxi that costs around $1 per ride).
The most luxurious place to stay in town is Hemingways Watamu. Right on the beach, it offers accommodation in rooms, suites and residences. The residences are especially luxe.
They have up to two bedrooms, are done-up in gorgeous modern décor, come with full kitchens, and feature walls of windows. Beds are draped in mosquito nets so you can sleep with the windows open to hear the ocean. The food at the house restaurant is also excellent.
Another option, which is very popular with couples and groups of friends (although families are welcome as well), is Temple Point Resort. It also has a beachfront location and is spread across lushly landscaped grounds.
The public spaces here are wonderful, and there is even a room dedicated for remote working. The restaurant serves an international menu with excellent pasta dishes. Accommodation is in charming bungalows with whitewashed décor, and each has a unique look. The on-site dive center can take you swimming with whale sharks or to thriving coral reefs.