Best Time to Visit Thailand
Thailand is a land of luxury tropical escapes, a place where sea and land are both stunning and part of every beach lover's bucket list. There's much to see and do in Thailand at any time of the year, as places like Bangkok are always vibrant no matter the weather.
Weather-wise, the best time to visit Thailand is from December to February, during the cool season. There's little rain, the humidity goes down and temperatures are in the upper 20s, rather than the usual mid-30s. You will have to deal with tourists, however, as this is the Europeans' favorite time to visit Thailand.
For the perfect sand and adventure holiday, it pays to see what each month has to offer and how to pick the perfect time for your trip.
Best Season to Visit Thailand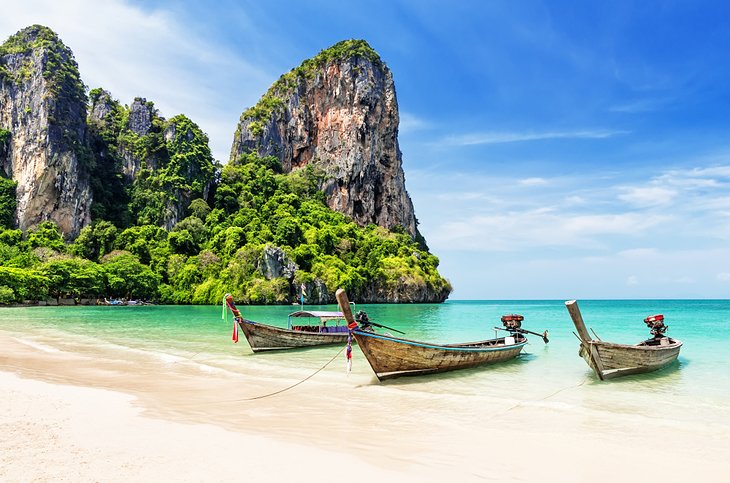 Thailand has three official seasons: hot, cool, and wet. With just a few exceptions in certain areas of the country, the seasons are well defined, and the weather is exactly as you would expect within each season.
This makes it easier to plan a trip based on your needs, whether that means lots of sun, lower prices, or just the perfect timing for diving and snorkeling.
Hot Season: Temperatures can reach 40 degrees Celsius during this season (which runs March to June in most of the country), making this a difficult time to do anything except jump into the water.
This means the hot season is a great time to snorkel, swim, or even kayak (with breaks for a swim) but sunbathing, jungle trekking, or anything that requires spending a lot of time on land will be quite unbearable.
April is the hottest month but also the month with one of the biggest festivals in Thailand-Songkran, the Thai New Year, is celebrated for a period of three days in mid-April, and it involves massive water fights (no, you won't be spared just because you're a foreigner).
Wet Season: The Monsoon rains arrive in most of the country around June and last until October, with slight variations. For example, in Phuket, the rainy season runs from May through October while Krabi sees most of its rain between May and November.
In most of the country, September and October are the wettest months, when the humidity is high, rains can be torrential, and floods can happen not only in the countryside but even in Bangkok.
If you arrive earlier in the season, however, you'll probably only see rain in the form of short and heavy afternoon showers, where you can head indoors for a few hours without much disruption. Rainy season can feel very hot, as the daily rains cause an increase in humidity, and it sometimes feels as if temperatures are in the 40s.
On the plus side, this is a great time to travel if you're after discounts and deals, as both hotels and flights are cheaper during the wet season. In many places around the country, September is also the month for longboat races – colorful boats, big celebrations, and lots of fun you shouldn't miss if you're in Thailand.
Cool Season: The cool season runs from November to February in most of the country (till March in Krabi and till April in Phuket), and it's the most popular time for international visitors to make their way to Thailand-which translates to big crowds everywhere and higher prices.
Don't let the term "cool" confuse you, though. Temperatures during this time still average around 28-30 degrees Celsius, but humidity drops down to 70-80 percent, which feels like quite a relief compared to the rest of the year. In certain areas (including Bangkok and near the ocean), temperatures can drop as low as 17 to 18 degrees Celsius at night in December. This can feel quite cold compared to daytime temperatures.
Best Month to Visit Thailand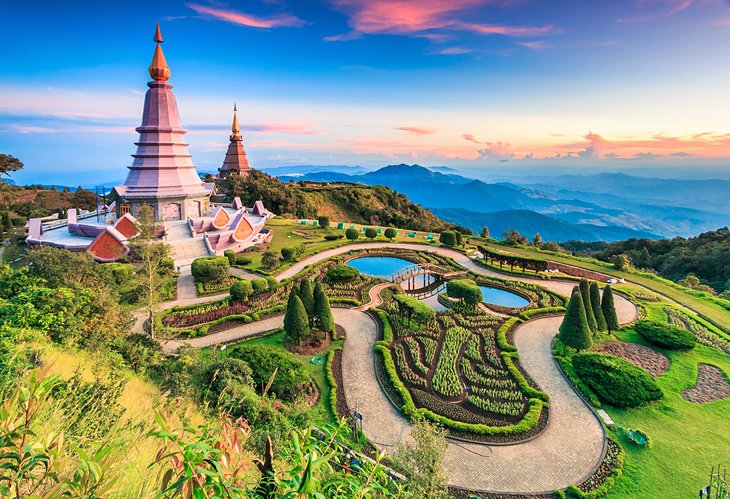 December offers the best of everything in Thailand. Temperatures are slightly cooler (in the high 20s Celsius), it doesn't rain much, and the weather on the Phuket Coast is perfect for diving and snorkeling. December is also a great time to visit Chiang Mai in the north, especially if you're looking for cooler weather to hike the mountains and explore the rainforest.
This is also a great time for kayaking and island hopping, and the last month where you can catch sight of dolphins feeding off the coast of Bangkok.
December can be expensive around Christmas time, as many Europeans head to the islands to escape the snow. As a general rule, you can expect bigger crowds and higher prices between November and February. If cost is an issue, skip the second half of December and the week of Chinese New Year, when prices are guaranteed to increase.
If you want to save money but still get good beach weather, try March. April is the hottest month of the year, so temperatures in March are already starting to peak, which means heavy discounts on flights and accommodations, and fewer people to share the beach and hotel pool with.
Krabi's best time to visit extends from November to March, so you'll catch the end of the good weather before the rains arrive in April-perfect for windsurfing and snorkeling.
Best Time to Visit Bangkok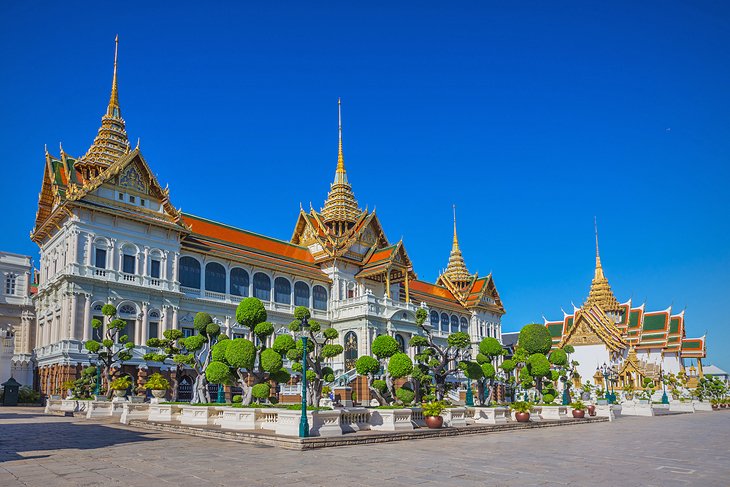 While the months between November and February might offer a slight break from the intense heat, Bangkok is great to visit at any time of the year. A popular destination during the Christmas and New Year weeks, Bangkok is crowded basically all the time-with a slightly better situation in early December, since the holiday crowds haven't arrived yet.
The Chinese New Year in January/February also attracts big crowds, so you might want to check the calendar and skip that week if at all possible. And the months between March and May are the hottest, when temperatures easily soar to about 40 degrees Celsius on a regular basis, and are not ideal for spending time outdoors, so you might want to avoid these as well.
If you want a slightly slower pace and less chaotic lines at the Grand Palace and other main attractions, visiting during the rainy season, (especially in August and September) might be your best option. While rain can be inconvenient during a beach holiday, it's not too bad in Bangkok, where you can always head indoors for shopping, museums, and other attractions while you wait for the afternoon showers to pass.
July and August are considered low season in Bangkok, so you're also more likely to find deals on flights and cheaper hotel rooms. If you arrive during the first half of August, you'll also catch the end of the "Amazing Grand Sale," where shops offer up to 80 percent off on electronics, clothing, and more.
Best Time to Visit Phuket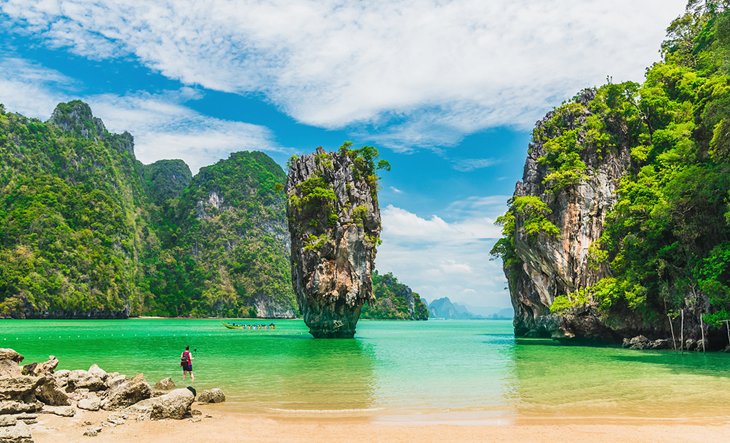 Phuket is unique in that it doesn't really have a hot season, as temperatures stay between 30 and 34 degrees Celsius year-round. Instead, the seasons here are divided into dry and wet.
Dry season lasts from November to April and attracts the bulk of the tourists. Prices are high, hotels are often full, and you'll bump elbows with many other visitors once you step on the sand. But you'll also get the most sun, very little rain, no clouded skies, and calm seas-perfect for snorkeling, diving, swimming and island hopping.
During the wet season, the opposite is true-prices go down, and in the early mornings, chances are you'll have the beach all to yourself.
Rainy season in Phuket is really unpredictable. You could have a long string of days where you'll get a heavy rain shower every afternoon and then nice weather the rest of the time, or experience true Monsoon weather, including heavy non-stop rain, strong winds, and waters that are too dangerous for swimming or kayaking.
It's hard to predict what you'll get and when, so if you plan on traveling during these months, it's best to have a "plan B" in place in case you have to spend time indoors or at least out of the water. Resorts with great spas and indoor entertainment are a good option.
Between September and December, you might be able to catch sight of whales off the coast of Phuket.
Best Time to Visit Koh Samui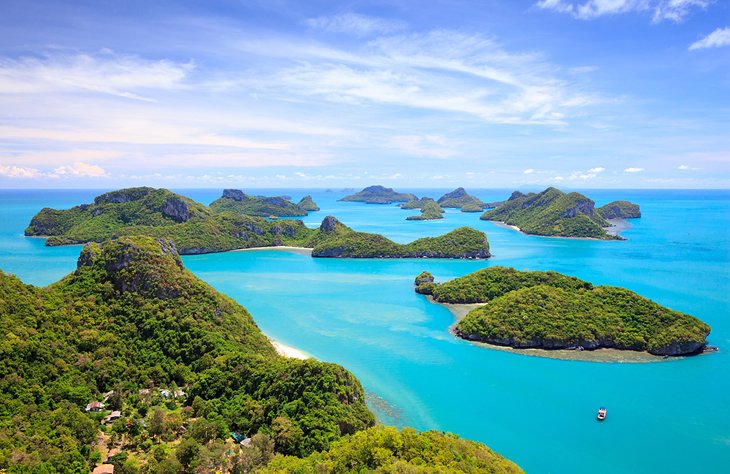 Koh Samui has a different climate from the other coastal and island destinations in Thailand. Here, October and November are the rainiest months and the ones to avoid if you're looking to maximize beach time during your trip. In fact, if you arrive in November, you're guaranteed lots of indoor time to escape the heavy rainfall.
Keep in mind that these are the only two months that are considered low season on the island, so if your goal is to save money and find good hotel deals, you would have to travel during this period.
September is one of the cloudiest months, but the potential for rain is much lower. This is a good compromise for better prices and still plenty of outdoor time.
Otherwise, February to June is shoulder season in Koh Samui, when it's still possible to find some good prices and deals on package trips and accommodations. February and March are two great months to visit, as you'll see very little rain and lots of sun.
High season – and the absolutely best time to visit Koh Samui – is December and January. There's very little rain (except some potential rains still around in early December), temperatures stay around 28 degrees Celsius (instead of the mid- to high-30s in other months), and there's generally just great beach weather.
Be ready to book accommodations well in advance if you're flying over in December or January, as hotels are packed during this time.
Best Time to Visit Chiang Mai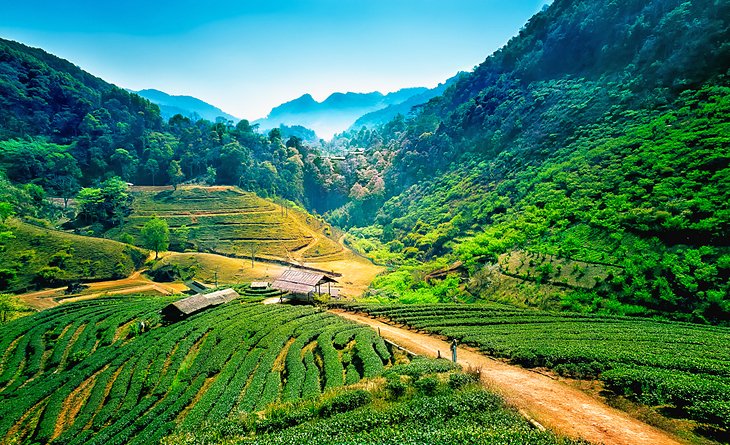 Surrounded by mountain ranges and tropical jungle, Chiang Mai enjoys slightly cooler weather than the rest of Thailand. A popular destination because of its laid-back vibe and adventure opportunities, the "land of misty mountains" is also well known for its many hiking trails-which are better explored when the temperatures and humidity go (slightly) down.
Chiang Mai has three distinct seasons: cool, hot, and rainy. The cool season, between November and February, is the best time to visit, with daytime temperatures in the mid- to high-20s and night temperatures that can get down into the low teens.
If you plan on doing a lot of mountain trekking during this time, bring layers and a thin sweater-the top of the mountains inside Doi Inthanon national park see temperatures as low as 5 degrees Celsius in the cool season.
You'll see very little rain during these months, so it's a great time for outdoor pursuits-which is why the cool season is also the busiest in Chiang Mai. You'll run into lots of tourists and see higher prices, a fair compromise for cool, comfortable weather.
The rainy season runs from June/July through October, and you'll probably see rain every day if you visit during this time. The good news is that rains are mostly in the form of short morning showers, so you can still be outside the rest of the day (though the humidity will go up after it rains).
While this isn't a good time for jungle treks or climbing, it's perfect for tourists who plan on spending more of their time discovering the city and visiting temples-plus, the crowds are thinner and the prices lower during the rainy season.
The hot season (March to June) is scorching hot, with temperatures that can reach into the 40s and humidity at the 80 to 90 percent level. Unless you have a reason to visit during this time, it's better to avoid a trip-it's just too hot to do anything comfortably during these months.
Chiang Mai has an additional unofficial season known as the burning season. This occurs between February and early to mid-April, so it mostly coincides with the hot season. Every year during this time, farmers burn leftovers from their crops, causing a thick cloud of smoke to move into the city and cover everything-there's no escape from this, and the air becomes so filled with smog, it's hard to breathe.
Anybody looking to spend time outdoors-and especially people with breathing issues-should avoid visiting during this period.
Worst Time to Visit Thailand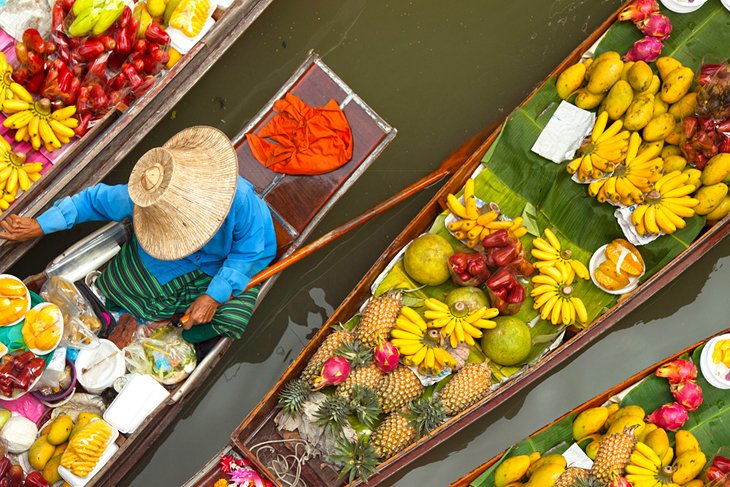 Thailand sees different weather depending on where you are headed. In some places, like the islands, the rainy season might be an inconvenience, but in places like Bangkok, rain won't make much of a difference, as you can always head inside for a while when the afternoon showers arrive. Do keep in mind that Bangkok can sometimes flood between July to October.
The rainy season, which runs from May to November depending on the area, is considered low season in most of Thailand, so you'll find great deals in hotels and flights if you arrive within this period. In the Koh Samui area, however, heavy rains are usually expected between October and December.
While rainy season usually brings short heavy showers rather than continuous rain, this isn't a great time to visit Thailand if you're heading to the islands for a short holiday and need to make the most of your outdoor time there.
You might also want to avoid traveling to Thailand in April, the hottest month of the year. With temperatures in the high 30s Celsius and very high humidity, nothing feels comfortable – even the beach is unbearable.
More Related Articles on PlanetWare.com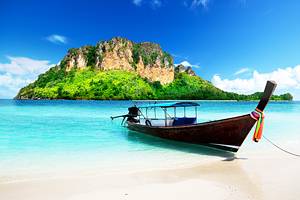 Exploring Thailand: Still in the early stages of planning your trip to Thailand? Take a look at everything the country has to offer in our article on the Top-Rated Tourist Attractions in Thailand, or plan your accommodations first based on your dream destination by choosing from our list of Top Family Resorts in Thailand or our guide to the Best Resorts in Thailand for Couples.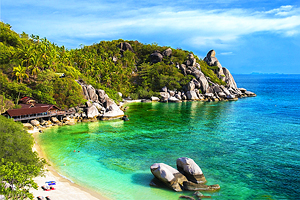 Beach Destinations: If the sea is calling your name, you're in luck-Thailand has plenty of white sandy beaches and clear blue waters waiting for you. Start by taking a look at the Top-Rated Beaches in Thailand, then check out the Top-Rated Beaches in Krabi to see which ones offer the right mix of adventure, sun loungers, and soft sand to dig your toes into.