11 Top-Rated Resorts in Ibiza
We may earn a commission from affiliate links ()
Ibiza, the resort island in the Mediterranean about 100 miles from Spain, is where Europe (and the world) goes to unwind, vacation, maybe dance a little, and just get away from the cold weather. The island is filled with beautiful beaches and spectacular natural scenery. There are also a wide range of resorts, from budget to luxury, and your choice may depend on its location.
The main city on Ibiza is known as Ibiza Town (or simply Vila), and it's on the south part of the island. Other major resort areas include Portinatx in the north, San Antonio in the west, and Santa Eulalia in the east.
In Ibiza, some resorts are directly on the sand, while many others are up a few steps away from the beach, requiring a few minutes' walk. There are all kinds of resorts on Ibiza-some cater to adults only, some to couples, and some to families. Some large resorts are able to provide a good experience for all three.
Keep in mind Ibiza is a seasonal resort. Many hotels close for the fall and winter and are only open during the high season, from May through October. Find a great place to stay with our list of the top-rated resorts in Ibiza.
Note: Some businesses may be temporarily closed due to recent global health and safety issues.
1. Barcelo Portinatx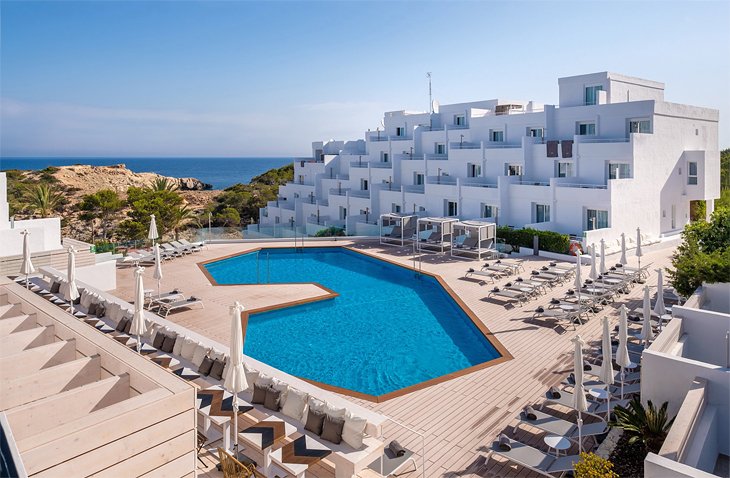 The Barcelo is in Portinatx, right above the cove, in the secluded north part of the island. It's a very stylish yet laid-back, all-white, adults-only resort. It's a boutique hotel with only 134 rooms and is known for its warm, personal service.
Although not extremely expensive, you get some seriously luxurious amenities in the very nice rooms. All have individual terraces with sun loungers. They have spa-like, marble-filled bathrooms with rain showers and Bvlgari amenities. Some have outdoor showers, and others have big soaking tubs with ocean views. The hotel even has a pillow menu.
Outside, there are two big swimming pools and many areas to relax and enjoy the sunshine. There's an open-air spa with a wide range of treatments, massages, and therapies, some for couples. You can also use the big fitness center with daily poolside yoga classes each morning.
There's a buffet restaurant at the hotel and a second restaurant at their beach club. As with many hotels on Ibiza, you can choose whether your stay is bed and breakfast, half-board (breakfast and dinner), or full-board/all-inclusive.
Address: Ctra. Vénda de Portinatx, 62, 07810 San Juan Bautista, Illes Balears
Accommodation: Barcelo Portinatx
2. Hard Rock Hotel Ibiza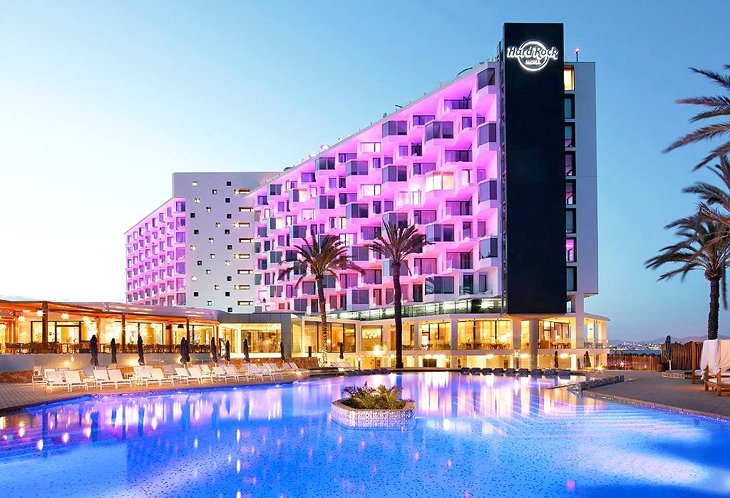 This luxury resort hotel is on the beach, a few steps from the water. It's right at the center of Playa d'en Bossa, the island's largest beach area. Aside from the very cool rooms and stylish public spaces, the hotel is known for its great staff and their excellent service and dedication to guest satisfaction.
Be aware, the hotel embraces music and the rockstar lifestyle, so you'll encounter a lot of concerts and gatherings here. The rooms are located around a giant interior courtyard area, with two huge swimming pools joined by river-like sections. The hotel has its own private beach and beach club/restaurant on the sand. The hotel does welcome children and families and has quite an extensive kids' program.
Address: Platja d'en Bossa, s/n, 07817 Sant Jordi de ses Salines, Islas Baleares
Accommodation: Hard Rock Hotel Ibiza
3. Amare Beach Hotel Ibiza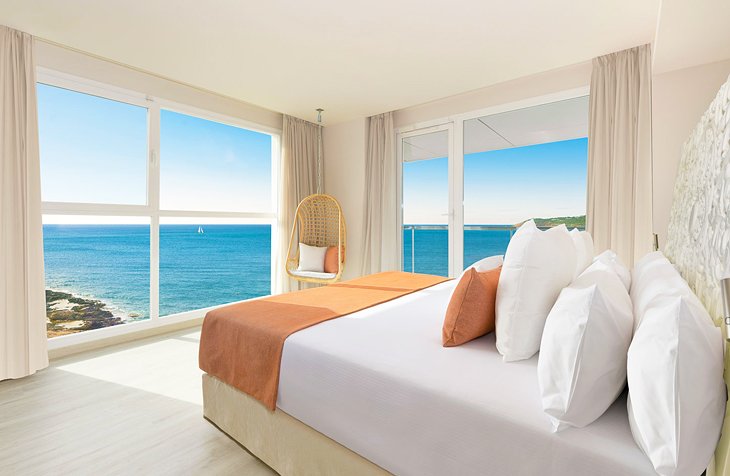 This recently refreshed, adults-only, mid-range resort hotel (formerly known as the Fiesta Milord) is in the San Antonio Bay area, in what's called Bou Cove. It's the quiet part of the bay, but the shops and restaurants are a 10-minute water taxi ride away on the other side. The beach is right here, and there's also a little marina adjacent to the hotel. The rooms and suites are extremely modern and stylish using white as the main color. Most have sea views.
The Amare is a great place to stay for foodies, as the hotel's main restaurant, Hayaca, is helmed by celebrated Argentine chef Mauricio Giovanini. His restaurant Messina, on Marbella, has one Michelin star and is considered one of the best in Spain.
There are three swimming pools, including an infinity pool perfectly positioned to make it look like you're swimming right into the blue Mediterranean Sea. The hotel doesn't have a formal spa, but the Amare does have a wellness area, where you can get massages and beauty treatments.
Address: Carrer La Rioja, 9, 07829 Sant Josep de sa Talaia, Illes Balears
Accommodation: Amare Beach Hotel Ibiza
4. Tropicana Ibiza Suites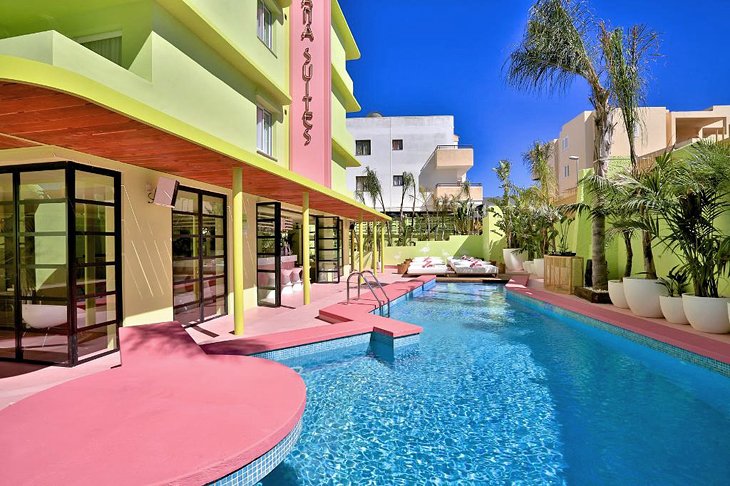 This all-suite, all-adult property gives you more space than a regular hotel and is more like an urban resort. The exterior of the hotel is eye-popping, with a brilliant yellow Art Deco facade that would be more at home in Miami Beach.
The accommodations are big and share the same bold style as the building's exterior. The design is modern Art Deco using a lot of very bold colors. The suites are large, and all have a well-equipped kitchenette, so you can easily prepare meals. They all have nice-sized balconies as well.
There's a swimming pool surrounded by sun beds and loungers. It's a short walk from the beach but feels more urban than some of the other resort options.
Accommodation: Tropicana Ibiza Suites
5. Iberostar Santa Eulalia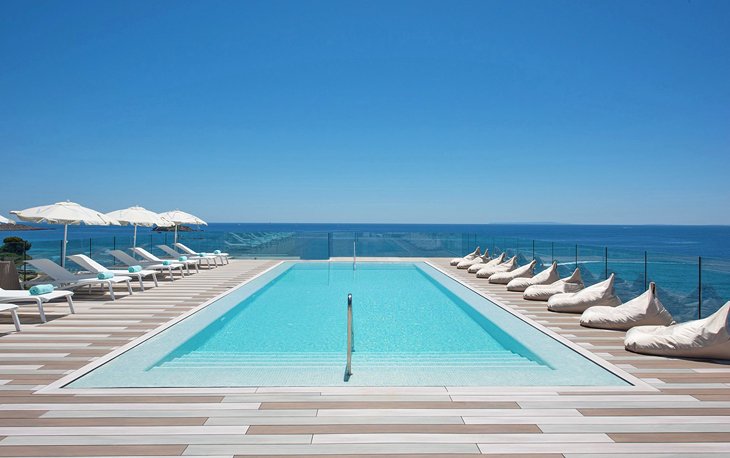 This mid-range hotel delivers the usual Iberostar level of reasonably priced luxury. The grounds are beautiful, with a lush green lawn and a long, thin swimming pool. One part of the pool deck, filled with day beds and sun loungers, is raised up, so it gives you breathtaking ocean views.
The hotel is in the town of Santa Eulalia, right next to the Playa de S'Argamassa beach, accessed via a short path. It's separated from the beach area by a row of tall trees. The hotel has its own beach and beach club with live music and DJ performances.
The Iberostar has what they call a Star Prestige club level of accommodations. Guests get access to an exclusive rooftop solarium and a special private pool, along with upgraded accommodations. All guests can enjoy treatments and massages at the hotel spa.
Address: Calle Mestral, 42, Urbanización s'Argamassa, 07849 Santa Eulalia del Río, Ibiza, Balearic Islands
Accommodation: Iberostar Santa Eulalia
6. Ushuaia Ibiza Beach Hotel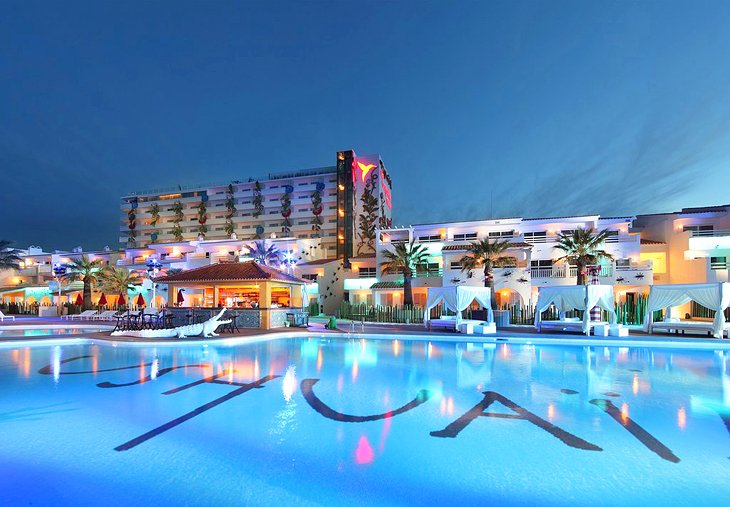 If you like house music and luxury accommodations, this is the resort for you. It's at Playa d'en Bossa beach, only about five minutes' drive from the airport. Ushuaia has long been one of Ibiza's most popular nightlife choices, and they've created an entire themed resort, which includes a large outdoor performance venue.
There are two areas of accommodations, with very different vibes. The Ushuaia Club has rooms and suites right next to and overlooking the resort's amazing pool deck and performance stages. There are 10 different sizes and categories of rooms, and they all get free access to the resort's popular concerts.
The Ushuaia has something unique to Ibiza-the Pioneer DJ Suite. The soundproofed suite (which is bookable as a room to stay in) comes with a full sound system, mixer, and turntables. The other rooms are in the Ushuaia Tower, which is a bit more luxurious and private. Some rooms and suites have ocean views, and others overlook the pool area and performance stages. All the rooms come with private, furnished terraces, as well as 49-inch flat-screen TVs and music systems.
The resort has five restaurants offering different cuisines. There's also a full spa with a range of wellness and beauty treatments along with a big fitness center and four different pools. The Ushuaia is adults-only-all guests must be at least 18.
Address: Platja d'en Bossa, 10, 07817 Sant Jordi de ses Salines, Islas Baleares
Accommodation: Usuaia Ibiza Beach Hotel
7. Grupotel Santa Eulària Hotel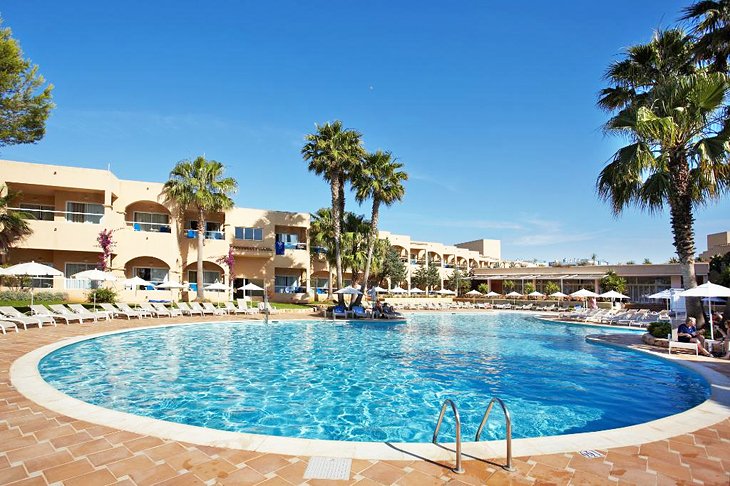 Located right on Santa Eulalia Bay, the Grupotel is a really cool, casual, adults-only resort. The beach is a five-minute walk away. The resort is near a small cove, with a white-sand beach and clear, blue water, perfect for swimming. It takes about 20 minutes to walk to the Santa Eulalia town area.
The rooms and suites are large and modern and feel more like a nice apartment than a hotel room. They all have private terraces or patios, and some have amazing ocean views.
Outside, there's a huge, lagoon-style swimming pool and a big, round Jacuzzi. Inside, there's an indoor pool located within the fitness center area. The hotel has a lot of green space and gardens, which is nice to escape the heat. When you get hungry there's a large buffet restaurant that serves breakfast and dinner. There's also a poolside café, which serves lunch.
Accommodation: Grupotel Santa Eulària Hotel
8. Grupotel Ibiza Beach Resort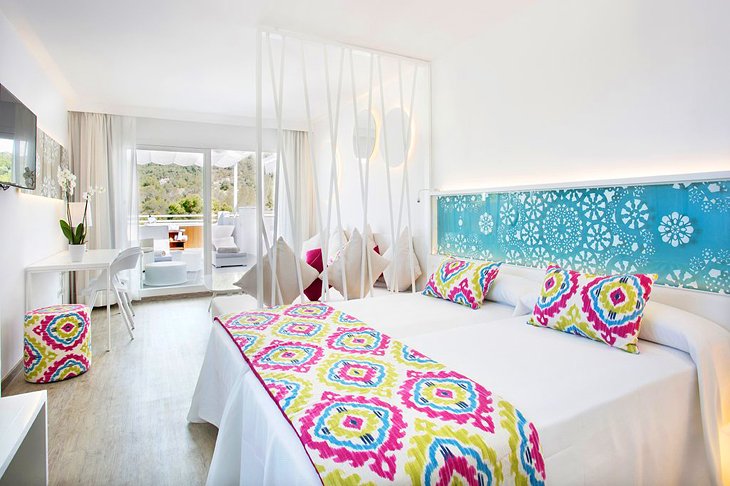 Another Grupotel property on Ibiza (there are three in total) offers a much different vibe than the Santa Eulalia resort. The Grupotel Ibiza Beach Resort is right on Playa de S'Arenal Petit beach in Portinatx. The area is on the north part of the island, a quieter, more secluded place to stay.
The rooms and suites are constantly being updated, and some have really nice sea views. You also have a range of water sports available on the beach, with excellent SCUBA diving nearby as well. There are two swimming pools and lots of activities, including ping pong, croquet, bocce ball, and volleyball.
The lobby lounge serves food, as does the poolside café. There's also a large buffet restaurant with a lot of show cooking (live chefs manning stations and preparing food for you). Accommodations can be booked alone, with bed and breakfast, half-board (breakfast and dinner), or full-board/all-inclusive.
Address: Carrer de Sa Cala den Xuclar, 31 and 50, 07810 Portinatx
Accommodation: Grupotel Ibiza Beach Resort
9. Alua Hawaii Ibiza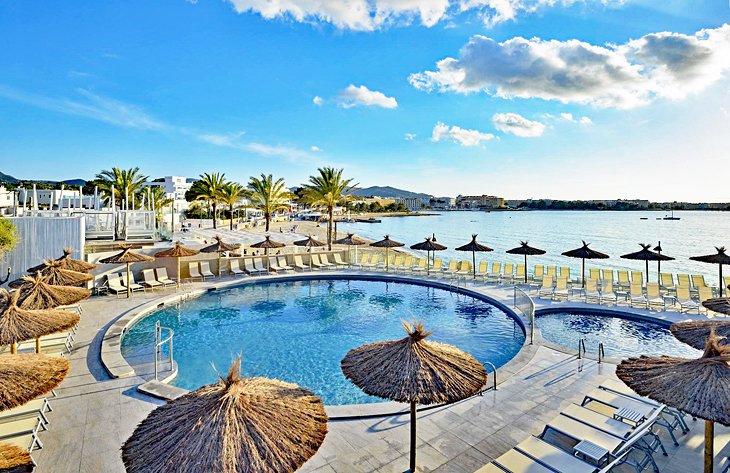 This resort is on the bay of San Antonio, at Es Puet beach. The Alua Hawaii Ibiza is a good mid-range hotel option for singles, couples, or families. The rooms all have terraces with sea views, except for the single rooms. These are low-priced, tiny rooms with a single bed; they feel a bit like a ship's cabin.
Adults can be with other adults on the large chill-out area and sun terrace and in the adults-only swimming pool. Kids will enjoy the main pool, the kids-only pool, and the pool table and ping pong tables. Families will enjoy the live music and entertainment (of all types) happening all day and into the night.
There's a big buffet restaurant with an Asian and Spanish theme night each week. Cold food is also available from room service (sandwiches and snacks). Many people book the hotel on an all-inclusive basis.
Address: Carrer de s'Embarcador, S/N, 07820 Sant Antoni de Portmany, Illes Balears
Accommodation: Alua Hawaii Ibiza
10. Sol Beach House Ibiza by Melia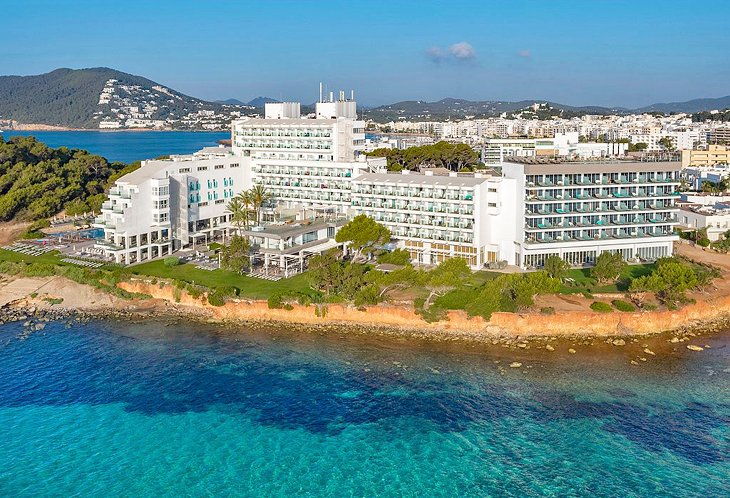 This is a large seaside resort overlooking Santa Eulalia Bay. It's right next to the Congress Centre (exhibition area) and close to the little Santa Eulalia marina. The beach is a 15-minute walk, as the coastline near the hotel is quite rocky with cliffs. The Sol Beach House is adults-only, but the hotel welcomes guests 16 and over (most Ibiza adults-only hotels require guests to be 18).
Guests have three big pools to enjoy, all of which have ocean views. One pool is a part of the new rooftop chill-out area, accessible without an extra charge only to guests in XTRA (their version of the club floor) rooms. There's a spa with outdoor massages and a fitness center with outdoor yoga classes.
The resort's buffet restaurant, The Kitchen, has a large outdoor seating area, so you can eat while enjoying the beautiful ocean views.
Address: Carrer Pare Vicent Costa, 2, 07840 Ibiza, Illes Balears
Accommodation: Sol Beach House Ibiza by Melia
11. TUI Magic Life Club Cala Pada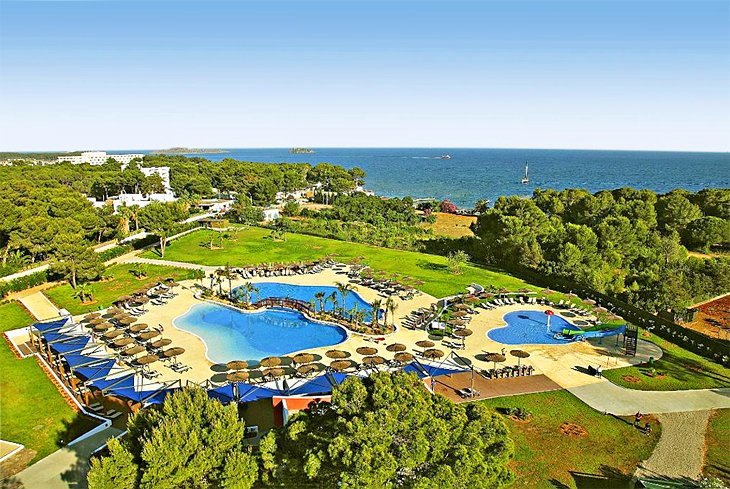 This large, all-inclusive, very family-friendly resort is one of the largest resorts on the whole island. It overlooks the idyllic Santa Eulalia Bay.
All the rooms and suites have terraces or balconies, and the larger units have kitchenettes with microwave ovens and small dining areas. The resort is all-inclusive, so all your food and (non-alcoholic) drinks are included in the price. There are three buffet-style restaurants to choose from. The menu changes, with different cuisines featured at different times. The resort also features show cooking, with live chefs preparing things for you. There's also a little 24-hour café/snack shop in the lobby.
The resort is great if you like to play outside. There are three big outdoor pools and a whole sports center with six tennis courts, a soccer field, and a fitness center. The resort has rental bikes and even does guided bike tours around the area.
Address: Carrer de Cèsar Puget Riquer, Km 3, 07840 Santa Eulària des Riu, Illes Balears
Accommodation: TUI Magic Life Club Cala Pada
More Related Articles on PlanetWare.com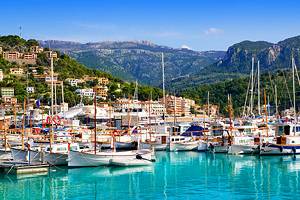 The Balearic Islands: The Balearic Islands are home to beautiful beaches, stunning scenery, and historic towns. If you want to explore beyond your resort and perhaps visit other islands, see our article on the Top Tourist Attractions in the Balearic Islands. The largest island is Mallorca, another popular tourist destination.