11 Best Resorts in Myrtle Beach
The sugary stretch of sand along the northern coast of South Carolina is one of the most famous beach getaways in the United States.
This is Myrtle Beach, a 60-mile stretch of bone-white, powder-soft sand made additionally famous by its abundance of attractions. It is also overwhelmed with choice in terms of hotels, so before you plan your vacation, you'll want to get the scoop on the best resorts in Myrtle Beach.
From the decidedly elegant and high-end to resorts that cater exclusively to energetic families, the best resorts in Myrtle Beach offer a wide variety to choose from.
Guests can pick resorts that are fairly self-contained, or those that are within easy reach to the all-American vacation staples that fill the area, from outlet malls and arcades to beachfront dining and souvenir shops.
Whether you're a Myrtle Beach first-timer, or someone who remembers Myrtle Beach from its Carolina Shag days (a dance made popular here in the 1940s), you will find a host of great places to stay. So, take a look at our list of the best resorts in Myrtle Beach, and let's get packing.
1. North Beach Resort & Villas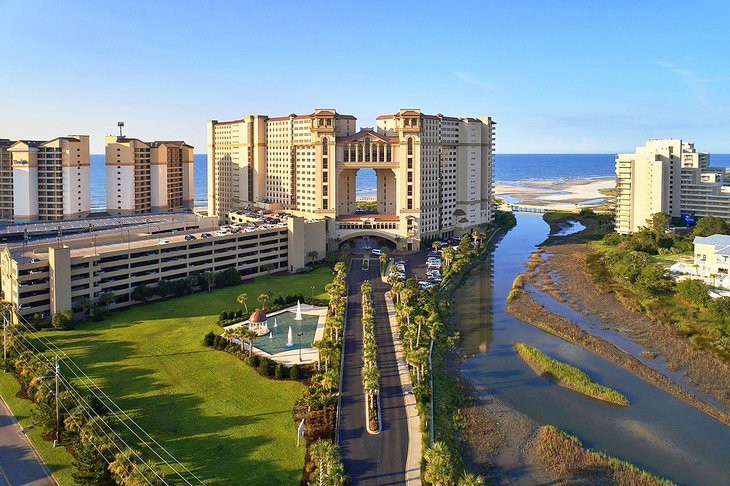 Accommodation: North Beach Resort & Villas
Myrtle Beach isn't known as the luxury capital of South Carolina (that's Hilton Head), but you can certainly find all the luxury perks with a stay at North Beach Resort & Villas. The resort is arranged as condos and townhouses that range from one to five bedrooms.
Like any of the best resorts in Myrtle Beach, North Beach Resort & Villas has an oceanfront location. Still, the resort is set back from the main road, making it much quieter than some of the other crowd-pleasing spots along the shore. In fact, the resort is 25 minutes from the boardwalk, so this is one of the best resorts in Myrtle Beach if you're looking for tranquility.
Rooms are split between The North Beach Towers and the Cottages at North Beach. Rooms at The Towers are more like traditional hotel rooms with maid service, while the cottages feel more like home rentals. Both rooms have kitchens, balconies, and washer/dryers. Other resort amenities include the spa; pool; lazy river; and popular restaurant, 21 Main Prime.
2. Marriott Myrtle Beach Resort & Spa at Grande Dunes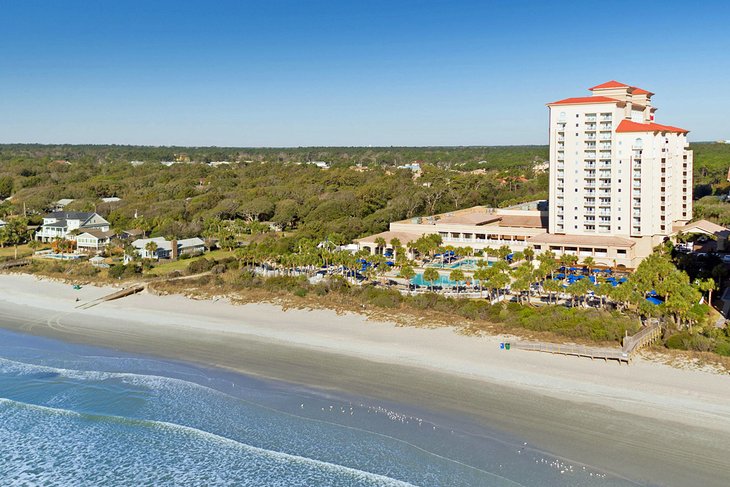 Accommodation: Marriott Myrtle Beach Resort & Spa at Grande Dunes
About 15 minutes from the energy of the boardwalk, Marriott Myrtle Beach Resort & Spa at Grande Dunes is another upscale, quiet, family-friendly hotel that is one of the best resorts in Myrtle Beach.
This expansive resort features more than 400 rooms, several restaurants, and plenty of activities for the family to enjoy, whether together or on their own. The oceanfront location makes it highly sought-after, as well.
The rooms are generously sized and decorated with dark wood and white linens. Many rooms have balconies, but not many of the rooms offer full oceanfront views.
In addition to the prime beachfront location, the resort shows off an indoor pool, two outdoor pools, a hot tub, and seasonal waterslide. Adults will love the modern fitness center, as well as the Hibiscus Spa. Kids will kick back at the video game room or at the many pools outside.
3. Hilton Grand Vacations Club Ocean 22 Myrtle Beach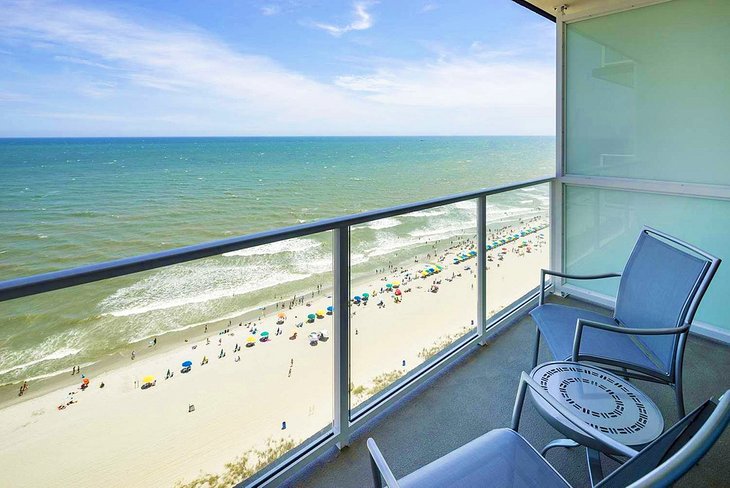 Accommodation: Hilton Grand Vacations Club Ocean 22 Myrtle Beach
A relative newcomer to the Myrtle Beach scene, Hilton Grand Vacations Club Ocean 22 Myrtle Beach opened in 2015 as a resort for both adult travelers and those with kids in tow.
This beachfront high-rise is modern and contemporary, with floor-to-ceiling windows and high ceilings that give it a bright, airy look. Guests love the location, as well, which is right on the beach in Central Myrtle Beach, within walking distance to the attractions, restaurants, and Myrtle Beach Boardwalk and Promenade.
Rooms come in one-, two-, and three-bedroom setups, all with separate living rooms, kitchens, and balconies. They also include washers and dryers and flat-screen televisions.
In addition to the beach access, guests pick this resort because of the outdoor pool, which has beach views and an expansive deck. An indoor pool is also available, which is great if you're visiting in the cooler months.
Additional amenities include the fitness center and a snack shop. Guests should note that no on-site dining is available, but breakfast items can be purchased in the shop and prepared in the room.
4. Marina Inn at Grande Dunes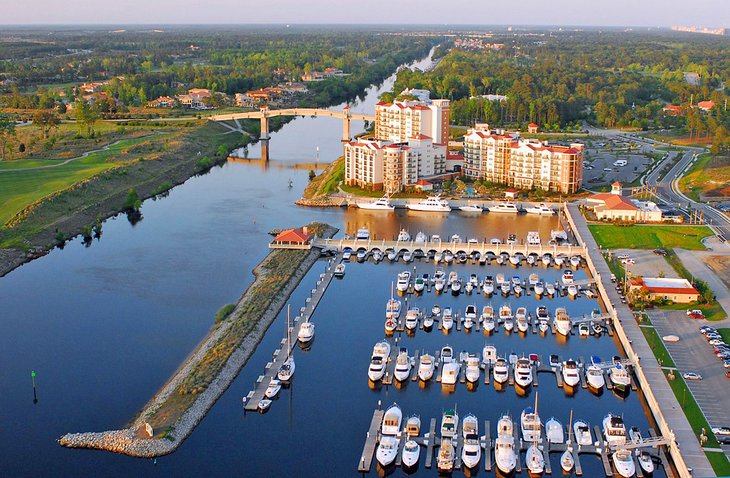 Accommodation: Marina Inn at Grande Dunes
The Marina Inn at Grande Dunes is a resort within a resort—it sits on the Grande Dunes Resort. This upscale, large property swings more traditional—think velvet, chandeliers, and marble.
It is a resort in the marina, after all. The grounds are expansive and beautifully manicured, featuring a golf course, walking trails, and a waterway in addition to the marina.
The Marina Inn has 200 rooms, all slightly Mediterranean in style, from the color palette to the décor. Suites can come with one, two, three, or four bedrooms, as well as kitchenettes and living and dining areas. All rooms have air conditioning, private balconies, and soaking tubs.
The resort features several dining options, as well as a large outdoor pool and hot tubs. The resort, unfortunately, does not have direct beach access—a free shuttle is provided for that.
But, it does have a fitness center and a sauna, both of which are available 24 hours a day. Guests can also book in-room spa services.
5. Hilton Myrtle Beach Resort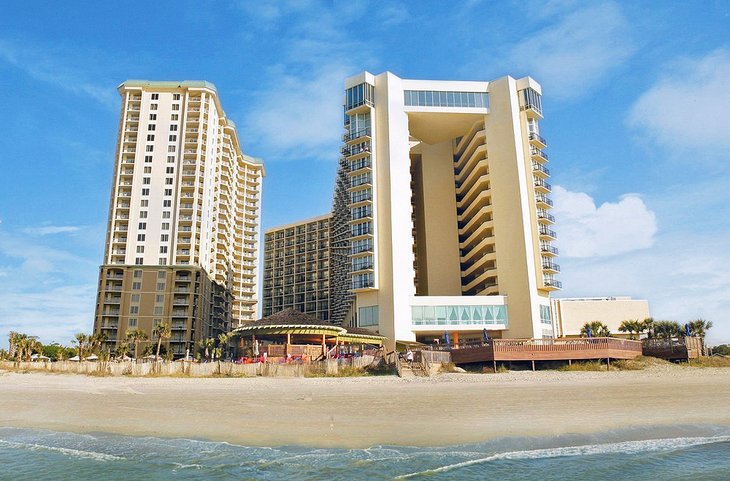 Accommodation: Hilton Myrtle Beach Resort
Located on a quiet stretch of North Myrtle Beach, the Hilton Myrtle Beach Resort is everything you can expect from a well-appointed Hilton chain resort. Guests are mostly families and, being that it's so close to the convention center, business travelers, as well.
The resort has 385 rooms and suites, the best of which have direct ocean views. Every room has a balcony, however. The décor is standard for a beach resort—clean and bright.
The best parts of the resort are the amenities, which include two large outdoor pools, a kids' pool, and a whirlpool.
Five-dining options are available, which is good because given the quiet location, guests may prefer to stay on property. A fitness center has modern equipment, and the resort has a business area with computers and printers.
6. Island Vista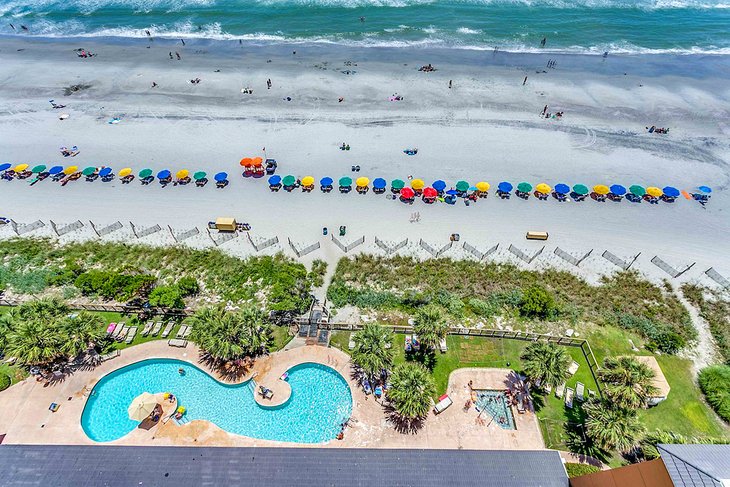 Accommodation: Island Vista
You're booking Island Vista resort if you are all about location and amenities. The casual, family-run hotel has one of the best beachfront locations that is tucked far enough away from the main fray. Still, guests will find restaurants and shopping just a 10-minute walk away.
The resort has 171 guest rooms, all of which are spacious, with a regal-looking décor that may be a little bit stuffy for the beach (think golds, maroons, and leather), but is clean and cozy nonetheless.
Rooms come in standard, as well as one-, two-, three-, and four-bedroom suites. Suites have living and dining areas, as well as larger kitchenettes. All rooms have small private balconies.
A stay at Island Vista Resort is a dream for golf lovers. The property is just a few minutes from about four of the area's best courses. In fact, the Pine Lakes Country Club is just a four-minute drive away. Other nearby attractions include Barefoot Landing, Broadway at the Beach, and the Family Kingdom Amusement Park.
Additional resort features include on-site dining, two outdoor swimming pools, an indoor swimming pool, a kids' pool area, fitness center, and a Cabana Massage tent for outdoor massage treatments.
7. Dunes Village Resort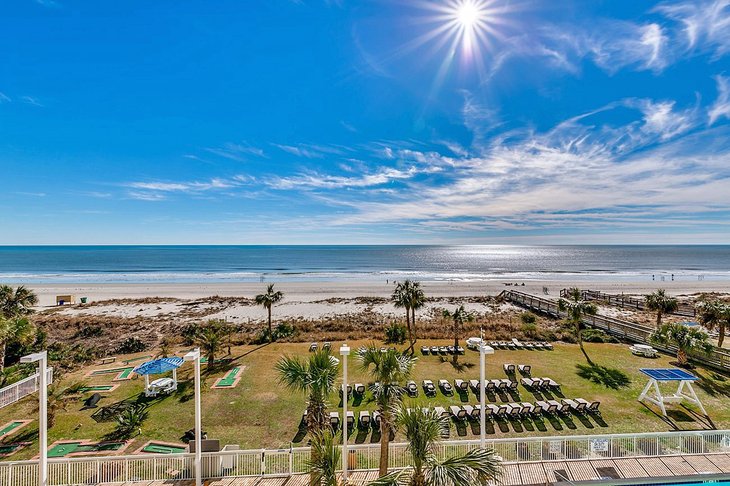 Accommodation: Dunes Village Resort
Made up of two residential towers, the Dunes Village Resort enjoys prime oceanfront space and plenty of family-friendly amenities.
This resort is a bit set back from the majority of the activity of "main" Myrtle Beach, but families have so much to do on property that often they prefer to just stay put. That said, the resort is within walking distance of a few restaurants and is a short drive from Pine Lakes Country Club golf course.
The rooms at the resort come in studios, or one, two, three, or four bedrooms. All of the rooms have at least a partial ocean view, though the décor in each room can feel a bit outdated. Suites and condos have full kitchens and washer/dryers.
Families will have plenty to do to keep everyone occupied while staying at this resort. Two indoor water parks and a beachfront location will ensure that no one is ever bored. Other features include a lazy river, outdoor pools, whirlpools, games, and a restaurant.
For adults, the Lost at Sea spa offers massages and other treatments.
8. Avista Resort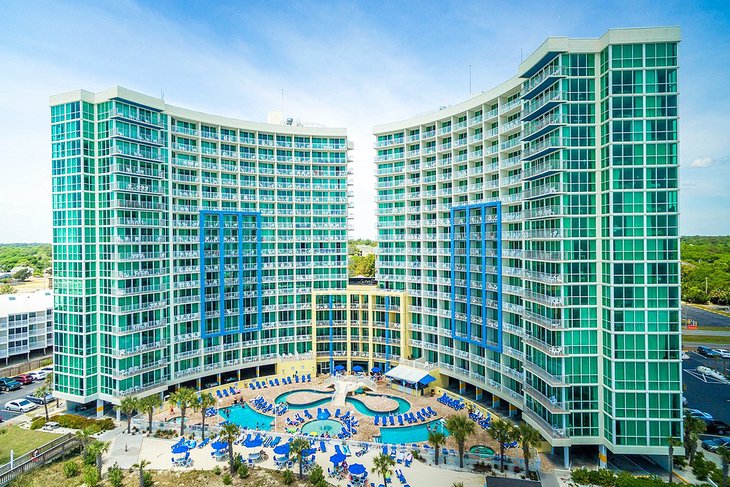 Accommodation: Avista Resort
The beachfront Avista Resort is a great option for travelers who want a full condo experience on a quiet stretch of North Myrtle Beach. While the resort is a solid half an hour to the Boardwalk and Promenade, it is only three blocks from Main Street, which offers its own entertainment and dining options.
Guests love Avista Resort's two oceanfront towers because most condos offer full ocean views. The 326-room resort is made up of individually owned condos, each with kitchens and balconies. Kitchens have microwaves, ovens, cookware, and refrigerators. Some rooms even have washers and dryers.
What keeps guests returning to the resort is its abundance of activities, from the indoor and outdoor pools to the lazy river and hot tubs. A restaurant and lounge are also available on-site, as well as room service. For fitness, a small gym has cardio and weight equipment.
9. Hampton Inn & Suites Myrtle Beach/Oceanfront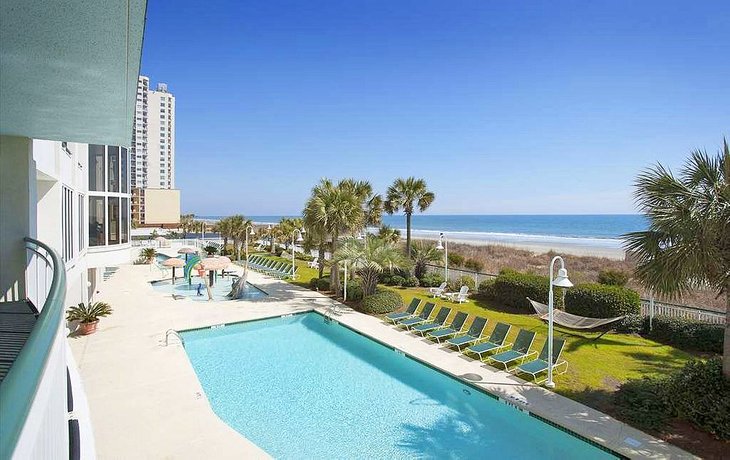 Accommodation: Hampton Inn & Suites Myrtle Beach/Oceanfront
Hampton Inn & Suites Myrtle Beach/Oceanfront offers a little bit of everything. Located on the southern end of Myrtle Beach, it's walking distance to the beach, as well as the attractions that bring travelers to this part of South Carolina. Plus, the hotel itself is brimming with amenities for guests.
The resort really plays up its beachfront vibe, with plenty of wood and stone accents and color palettes that strongly feature blues and whites. Lounges feature nautical wood-slat walls, white and wicker furniture, and plenty of light creamy colors. The beach vibe is only enhanced by the actual beach, which is right out the front of the hotel.
Hampton Inn & Suites has 227 guest rooms, all with air-conditioning, flat screen televisions, kitchenettes, and small balconies. Most rooms have ocean views, and larger suites include toasters, dishwashers, and range tops.
Included in the room rate is a buffet breakfast, but no other dedicated restaurant is on-site. Still, the resort is within walking distance to some of the most popular restaurants in the area. It does feature seven swimming pools and two lazy rivers.
The resort has a Sanctuary Spa, meeting space, and a small fitness studio.
10. Coral Beach Resort & Suites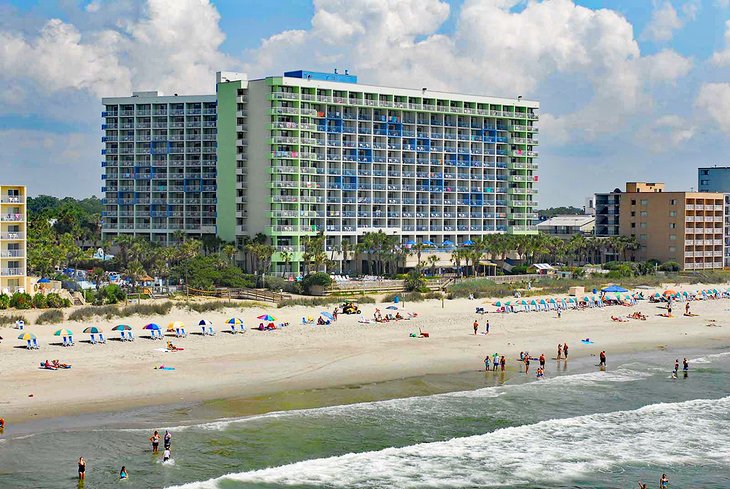 Accommodation: Coral Beach Resort & Suites
Geared for families, the Coral Beach Resort & Suites is all about beachfront fun and getting the family together. You'll find this family resort packed with things to do, from the 10 different water features to dining options, and indoor and outdoor play zones.
The beachfront resort is about a 15-minute walk from Family Kingdom Amusement Park and 10 minutes from the restaurants of central Myrtle Beach.
Within the resort are 300 rooms, all with balconies, flat-screen televisions, and coffee makers. The larger Oceanview Queen and King Rooms have mini fridges. Oceanfront rooms are exactly as advertised—they have the best views in the house.
But back to those amenities, because that is where the resort truly shines. Not only are there indoor and outdoor pools and hot tubs, but the resort features a lazy river and small water park, an eight-lane bowling alley, arcade, indoor playground, and even an ice-cream bar.
As for dining, the resort features a breakfast buffet, as well as an outdoor casual restaurant and an indoor tapas-style lounge.
11. Anderson Ocean Club and Spa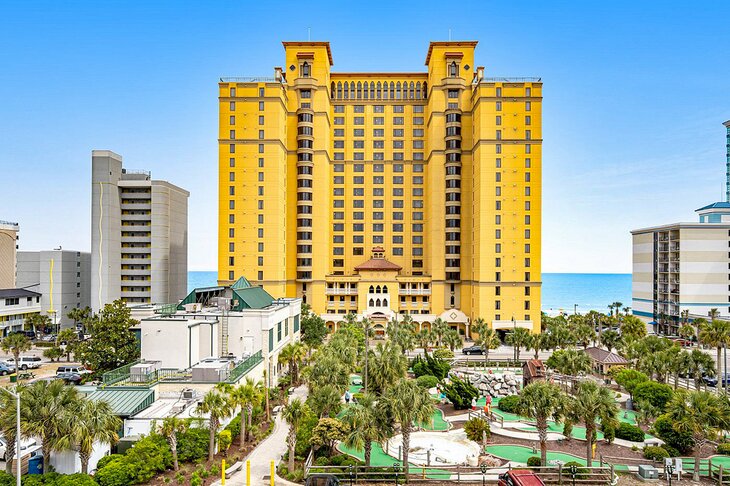 Accommodation: Anderson Ocean Club and Spa
The Anderson Ocean Club and Spa is a beachfront resort in a prime Myrtle Beach location. Just a short distance to downtown, with direct beach access and several golf courses, this resort has a little bit of something for everyone.
Rooms and suites range from single-room studios to expansive one-, two-, and three-bedroom suites. All rooms are either ocean-view or oceanfront and many contain fully equipped kitchens, dining spaces, balconies, and washer/dryers.
Note: All of the units at the Anderson are individually owned, so the décor will differ from room to room.
Amenities at the resort are great for families, including indoor and outdoor pools, unlimited miniature golf across the street, and, of course, the beach. The Lost Mine Miniature Golf course is extremely popular for families, with 18 holes along an elaborate course that includes bridges, boulders, and a few surprises along the way.
For adults, a full-service spa and fitness center provides wellness options. The resort has on-site breakfast and snack options. The Awakening Spa is one of the top selling points of the Anderson, with a menu of treatments that include anti-aging facials and massages to hydrating body treatments.
Best Time to Visit Resorts in Myrtle Beach, SC - Historical Climate Averages
Average minimum and maximum temperatures for Myrtle Beach, SC in °C
J
F
M
A
M
J
J
A
S
O
N
D

14

1

16

3

20

7

24

10

28

15

31

19

33

22

32

21

29

18

24

12

21

7

16

3

PlanetWare.com
Average monthly precipitation totals for Myrtle Beach, SC in mm.

120

88

103

79

108

120

170

172

149

83

70

92

Average monthly snowfall totals for Myrtle Beach, SC in cm.

1

3

0

0

0

0

0

0

0

0

0

2
Average minimum and maximum temperatures for Myrtle Beach, SC in °F
J
F
M
A
M
J
J
A
S
O
N
D

57

34

61

37

68

44

75

50

82

59

88

67

91

71

89

70

85

65

76

53

69

44

60

37

PlanetWare.com
Average monthly precipitation totals for Myrtle Beach, SC in inches.

4.7

3.5

4.1

3.1

4.3

4.7

6.7

6.8

5.9

3.3

2.7

3.6

Average monthly snowfall totals for Myrtle Beach, SC in inches.

0.3

1.0

0

0

0

0

0

0

0

0

0

0.6