12 Best Castle Hotels in Scotland
We may earn a commission from affiliate links ()
If The Crown and Downton Abbey got you daydreaming about living in a castle, just travel to Scotland, where you will have your pick of castle hotels. Scotland, known for having the most number of castles in the United Kingdom, has long been a favorite among the royals, who have been traveling here for hundreds of years.
Now, you can live like kings and queens in opulent castle hotel suites overlooking breathtaking lochs amid mountains, indulging in delicious food and luxurious spa treatments, and spending your days clay pigeon shooting and riding horses across moors a la Jamie Fraser on Outlander.
Located in the Highlands in northwestern Scotland and the southwestern lowlands, many castle hotels and manor houses make perfect locations for destination weddings and special events, not to mention a truly one-of-a-kind vacation. The best part is that many of these hotels are reasonably priced, so you can live like royalty without going over your budget.
Plan your next holiday in the Highlands and beyond with our list of enchanting castle hotels in Scotland.
Note: Some businesses may be temporarily closed due to recent global health and safety issues.
1. Glenapp Castle, Ayrshire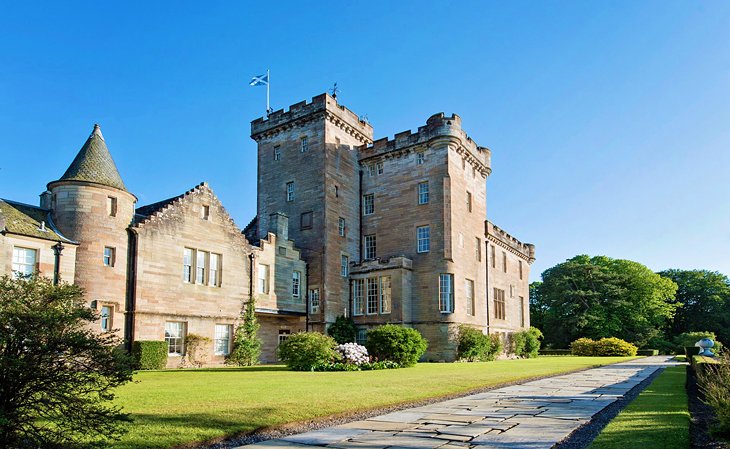 Located 112 kilometers southwest of Glasgow in rural Ayrshire on 36 acres of extensive gardens, the Glenapp Castle now serves as a boutique hotel. Built in 1870 in Scottish Baronial-style, the castle offers a reprieve from city life, with stately rooms and quintessential country pursuits.
Guests can take advantage of the all-weather tennis court, play croquet, witness falconry displays, admire the 150-foot Victorian glasshouse, and go fishing for salmon and trout in the nearby rivers. Golf courses of Turnberry and Royal Troon are within driving distance.
Rooms are traditionally decorated with antique furniture but come with modern amenities, like TVs, DVD players, and Wi-Fi. Some have fireplaces and sea views. A complimentary Scottish breakfast is served daily, and the on-site restaurant serves lunch, dinner, and afternoon tea.
Address: Ballantrae, Girvan KA26 0NZ, United Kingdom
Accommodation: Glenapp Castle
2. Inverlochy Castle Hotel, Fort William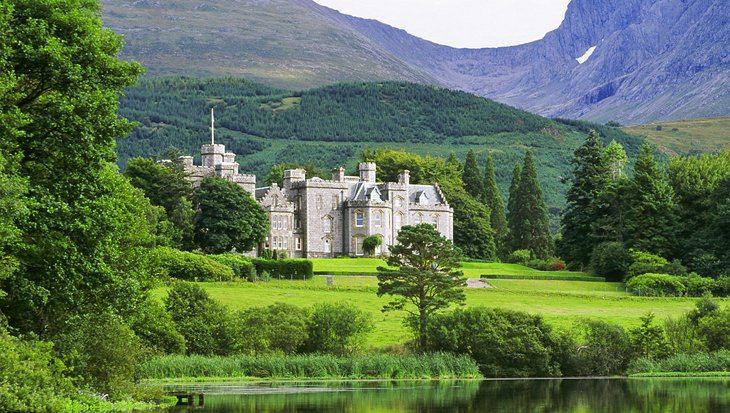 Queen Victoria had written in her diary that she had never seen a more lovely or romantic spot, and you will soon find out why when you step onto the grounds of the Inverlochy Castle Hotel.
With sublime views of the Ben Nevis (the tallest mountain in the UK) and the surrounding wilderness, the Inverlochy Castle Hotel welcomes guests to get away from it all. Nature lovers will be in heaven, as the castle provides plenty of opportunities to take in the natural beauty on scenic walks in the hills, biking tours, and country activities like clay pigeon shooting. You can also enjoy tennis and water sports on the premises.
After a full day outdoors, enjoy fine cuisine at the on-site posh restaurant decorated with period furnishings. The stately 19th-century stone castle hotel has 17 elegant rooms with country-style floral decorations and has hosted famous celebrities like Sean Connery, J.K. Rowling, Liam Neeson, and the cast and crew of the Harry Potter movies.
Address: Torlundy, Fort William PH33 6SN, United Kingdom
Accommodation: Inverlochy Castle Hotel
3. Fonab Castle Hotel & Spa, Pitlochry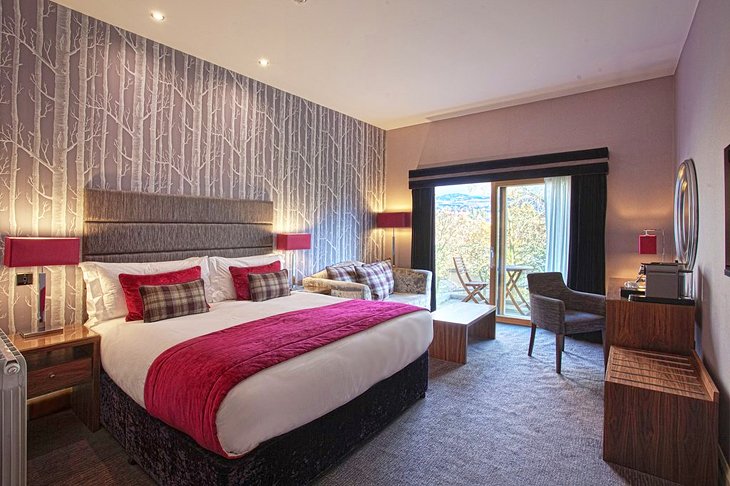 The red sandstone estate of Fonab Castle Hotel shines on the banks of Loch Faskaly. Built in 1892 and owned by the Sandeman family (who own the oldest trademarked brands in the world), this 34-room hotel is known for its destination spa and isolated serenity.
The property has an upscale restaurant and offers patio dining in warm weather, a fitness center, and a spa with a range of treatments. Guest rooms are restored with modern furnishings and some of them have balconies with loch views, fireplaces, and sitting rooms.
Guests can spend their days going on guided salmon fishing trips; white water rafting along Rivers Garry, Tummel, and Tay; and go on full- or half-day sightseeing tours to explore the Scottish countryside.
Address: Foss Road, Pitlochry PH16 5ND, United Kingdom
Accommodation: Fonab Castle Hotel & Spa
4. Atholl Palace Hotel, Pitlochry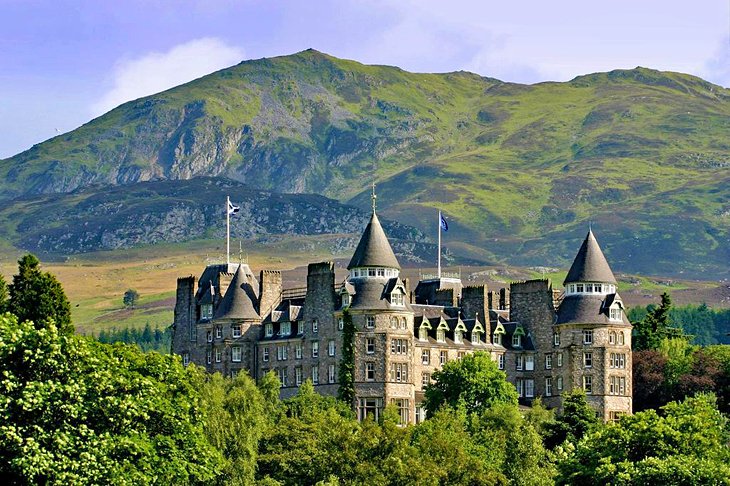 Located in the heart of Highland Perthsire, an hour drive from Edinburgh Airport, Atholl Palace Hotel is simply magnificent, surrounded by vistas of the Tummel Valley. Built in 1871, the palace is a typical Scottish baronial structure, with indoor spaces graced with high ceilings and log fireplaces.
Despite the facade of the four-star castle hotel, you will find modern rooms with comfortable furnishings, TVs, and Wi-Fi access. Turret Suites have separate living rooms, and if you are looking for even more space, you can rent a separate manor house.
Unwind at the beautiful Lavender Spa, savor Scottish cuisine at the Verandah Restaurant, and enjoy afternoon tea in the lounge. Guests can learn about the palace history at the on-site Atholl Palace Museum, walk the woodlands to cascading waterfalls, go on a Highland Safari, or play a round of golf at the nearby Pitlochry Golf Club. The property features a sauna, swimming pool, games room, and children's playground.
Address: Perth Road, Pitlochry PH16 5LX, United Kingdom
Accommodation: Atholl Palace Hotel
5. Glengorm Castle, Isle of Mull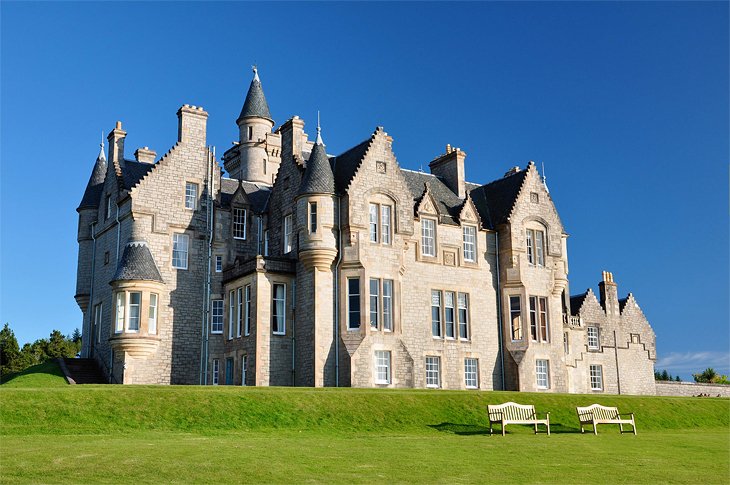 With a storybook setting overlooking the Sound of Mull, the 19th-century Glengorm Castle is a high-end B&B that will make your fairy-tale dreams come true.
This dog-friendly hotel located on the Isle of Mull has five bedrooms, decorated with lovely wallpapers, charming furniture, four-poster beds, and ensuite bathrooms. Cottages with kitchens and washer/dryers are also available for families and groups.
Guests can spend their leisure time lounging in the main hall next to the open fireplace or with a favorite book in the library. A homemade breakfast made from local produce is served daily. The B&B provides Wi-Fi in the main hall. You can have packed lunches to go upon request for outings.
The castle also offers guided natural history walks in the surrounding areas in Northwest Isle of Mull.
Address: Tobermory, Isle of Mull PA75 6QE, United Kingdom
Accommodation: Glengorm Castle
6. Dalhousie Castle Hotel, Midlothian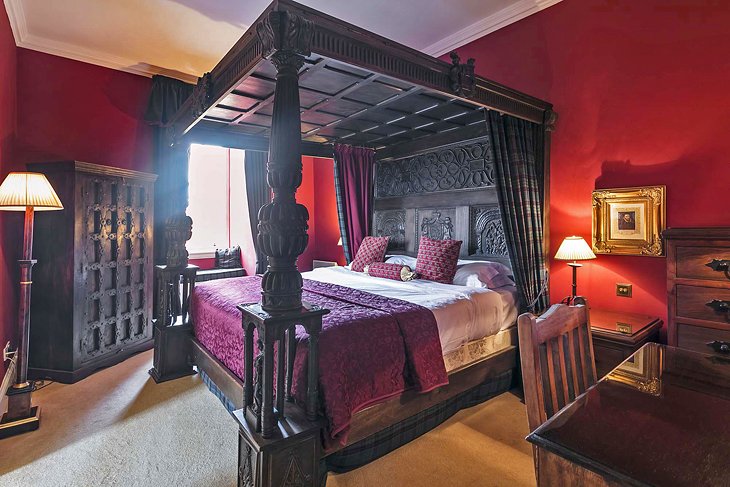 A half-hour drive from Edinburgh brings you to the blissful 13th-century Dalhousie Castle Hotel, sitting in an 11-acre woodland area on the banks of the South Esk River.
The castle once hosted guests such as King Edward I, Queen Victoria, Mary, Queen of Scots, and Oliver Cromwell, and continues to charm visitors with its warm hospitality and royal treatment. And of course, there's no shortage of the paranormal here, where two ghouls, one of Lady Catherine ("the grey lady") and Paranormal Pup Petra, still haunt the hallways and dungeons.
Dine at the vaulted Dungeon Restaurant decorated with authentic period paraphernalia, hunker down with a good book in front of the log fire in the library, have afternoon tea in the Orangery, and take in the history of the castle by exploring its nooks and crannies on the way up to your uniquely decorated room. Keep in mind that the castle hotel doesn't have an elevator.
The surrounding grounds are home to native wildlife, making for interesting nature walks. Guests can try flying a bird of prey in falconry, or sign up for a tutorial in archery.
At the on-site Aqueous Spa, you can have soothing treatments using vegan products in rooms converted from old storage vaults and relax in the pool afterwards.
Address: Edinburgh EH19 3JB, United Kingdom
Accommodation: Dalhousie Castle Hotel
7. Stonefield Castle, Loch Fyne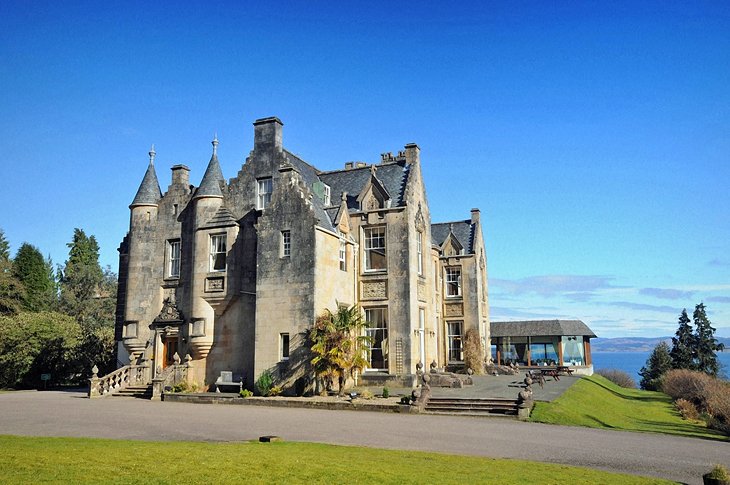 Overlooking the gorgeous Loch Fyne, the 1837 baronial Stonefield Castle is magical in the spring, when rhododendrons and azaleas burst with color around the property. Whether you are planning a wedding or looking for a romantic getaway, this castle hotel makes for a lovely choice, with crackling log fires in marble fireplaces, candlelight dinners, and ornate ceilings.
Located on the Kintyre Peninsula near Tarbert in western Scotland, the property is surrounded by immense natural beauty. Animal lovers can spend days trying to spot humpback whales, seals, and otters.
The 36 guest rooms at Stonefield Castle come with flat-screen TVs, Wi-Fi, and coffee makers, and feature stunning views of the gardens and loch.
The on-site restaurant serves traditional Scottish cuisine. The hotel has a game room and can arrange for horse riding and fly-fishing.
Address: A83, Tarbert PA29 6YJ, United Kingdom
Accommodation: Stonefield Castle
8. Eisenhower Hotel at Culzean Castle, Ayrshire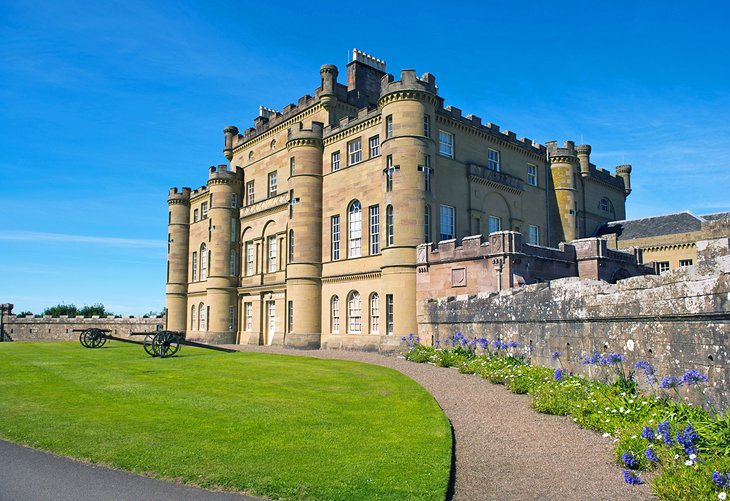 Perched on the Ayrshire cliffs in southwest Scotland, the imposing Culzean Castle of the Clan Kennedy is a late-18th century masterpiece by architect Robert Adams, and was a favorite of Dwight D. Eisenhower. In honor of the late president, the Eisenhower Hotel at Culzean makes the six presidential rooms open to the public. The upper floor was given to Eisenhower to use as his holiday home in appreciation for his role during WWII.
Rooms can be accessed via a 1920s elevator, and they have unrivaled views of the coast and across the sea towards the mountains of Arran.
The castle is surrounded by conifer and beech trees and a parkland created around the sandy coastline. Don't be surprised if you hear the music of a piper coming from the cliffs below the castle on dark, stormy nights, supposedly played by the ghost of the chief of Clan Kennedy.
The estate features a swan pond, ice house, glasshouses and formal gardens. Inside, you can admire fine paintings and the oval-shaped staircase in the main hall. The on-site Fo'c'sle Restaurant serves dinner Wednesday to Sunday.
Kids can enjoy the Adventure Cove and Wild Woodland play areas.
Address: Maybole KA19 8LE, United Kingdom
Accommodation: Eisenhower Hotel at Culzean Castle
9. Aldourie Castle Estate, Inverness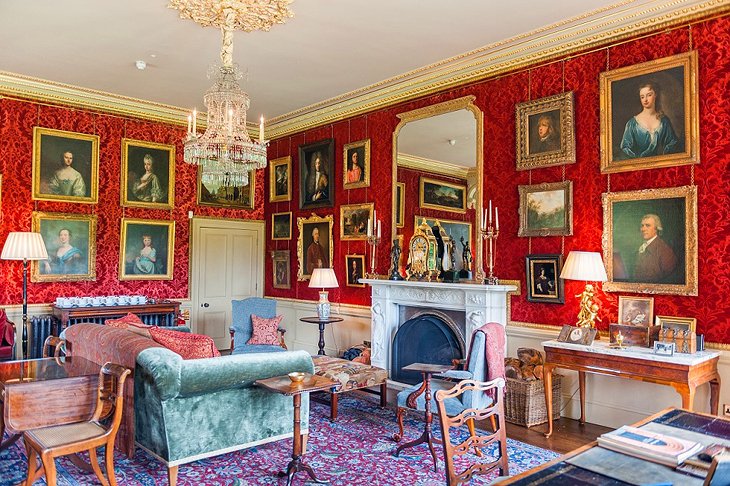 Aldourie Castle Estate is the only place available on the shores of the legendary Loch Ness to sleep overnight. This 17th-century mansion was also a holiday destination for the royal family during Victorian Times for its enviable location in the heart of the Highlands.
Now, you can live like royalty when you rent the individually decorated 15-bedroom Aldourie Castle that comes with private staff to help you make your stay as comfortable as possible.
Have a multigenerational family-gathering, a wedding celebration or a corporate get together, or get your friends together for an unforgettable castle stay.
Walk the beautifully curated four acres of gardens and spot local wildlife. Partake in castle activities such as archery, falconry displays, clay pigeon shooting, and Segway riding. A private marina on the estate will give you access to boat tours and water sports.
The castle hotel is located 17 miles from Inverness Airport.
Address: The Estate Office, Loch Ness, Inverness IV2 6EL, United Kingdom
Accommodation: Aldourie Castle Estate
10. Crossbasket Castle, Lanarkshire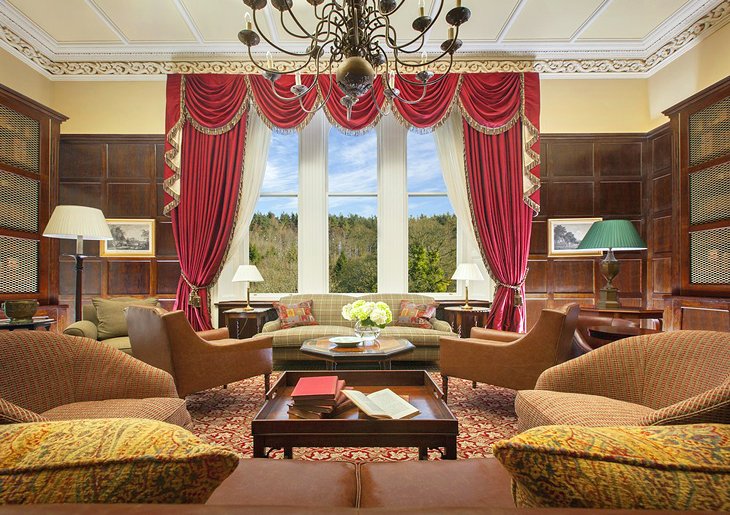 After an extensive restoration, the 17th-century mansion housing the Crossbasket Castle Hotel features nine ornate rooms and suites that are uniquely decorated with antique furnishings. Located a half-hour drive from Glasgow, the four-star castle hotel sits on landscaped grounds near the Rotten Calder River.
Some of the rooms offer fireplaces, and the Lindsay Tower Suite situated in the four-story original tower boasts a balcony with views of the grounds and the river and makes an ideal Bridal Suite for weddings. Rooms have flat-screen TVs and Wi-Fi, and the hotel has a restaurant on-site that serves lunch, dinner, and afternoon tea.
Address: Stoneymeadow Rd, East Kilbride, Glasgow G72 9UE, United Kingdom
Accommodation: Crossbasket Castle
11. Barcaldine Castle, Barcaldine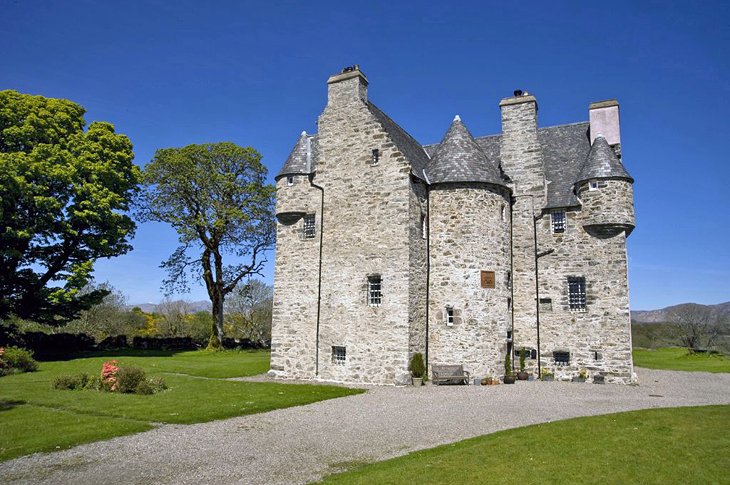 Surrounded by lovely Scottish countryside, the 17th-century Barcaldine Castle near Glasgow is an intimate bed and breakfast with five rooms, just a short walk from the shores of Loch Creran and overlooking the snowcapped mountains of Glencoe.
The Breadalbane Room, the largest in the inn, has an elaborate, four poster oak bed. Guests share the lounge and can enjoy cooked-to-order breakfast every morning.
The castle, built by Sir Duncan Campbell, is rumored to be haunted by Campbell's ghost roaming the castle grounds in search of the man who murdered him. So, if haunted hotels are your cup of tea, this just might be the right place for a weekend getaway.
Address: Benderloch, Oban PA37 1SA, United Kingdom
Accommodation: Barcaldine Castle
12. Stobo Castle, Peebles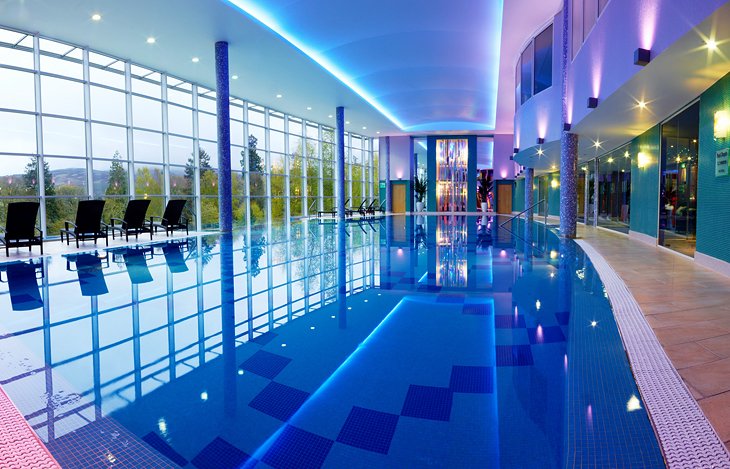 Known more for its spa than the hotel, Stobo Castle is housed in a massive 19th-century castle, an hour outside of Edinburgh. Choose from a plethora of royal treatments at the state-of-the-art spa, relax in the hot tubs, and go swimming in the indoor pool overlooking the gorgeous gardens. The hotel has a fitness center, hair salon, and a spa shop.
Rooms come in modern and traditional settings and feature TVs with satellite channels and coffee makers. Some of the rooms afford views of the countryside and have special features like fireplaces. The property has two lodges for large groups, one of which can accommodate up to 24 people.
The property also has a fine-dining restaurant, a brasserie, tennis courts, and outdoor hot tubs in addition to the spa.
Address: Stobo, Peebles EH45 8NY, United Kingdom
Accommodation: Stobo Castle
More Related Articles on PlanetWare.com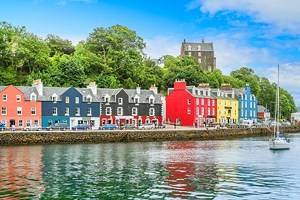 Visiting Scotland: Although the highlight of your trip may be staying in a castle, you'll want to also explore some of the country's top attractions. Many people head straight for cities to see some of the most famous sites but much of the charm can be found in Scotland's small towns and villages. If you're planning a summer vacation, you may also be interested in our list of the best beaches in Scotland.