Where to Stay in Lisbon: Best Areas & Hotels
Lisbon's historic Rossio neighborhood is the heart of the city's old town center and the best place to stay for sightseeing, within walking distance of many of the city's top attractions and home to both the train station and the landmark Elevador de Santa Justa.
The adjacent Alfama neighborhood sits on the northern side, crowned by the Castelo de São Jorge and known for its narrow streets with small shops. To the south, the Chiado neighborhood climbs to the Bairro Alto, home of Sao Roque and several other top attractions.
Lisbon's hilly terrain can make exploring the city by foot a challenge for some, but the multitude of small cafés provide frequent respite for the weary. The tram is perfect for getting to the highest points, where there are excellent views across the red rooftops and the broad Tagus River.
Where to Stay in Lisbon for Luxury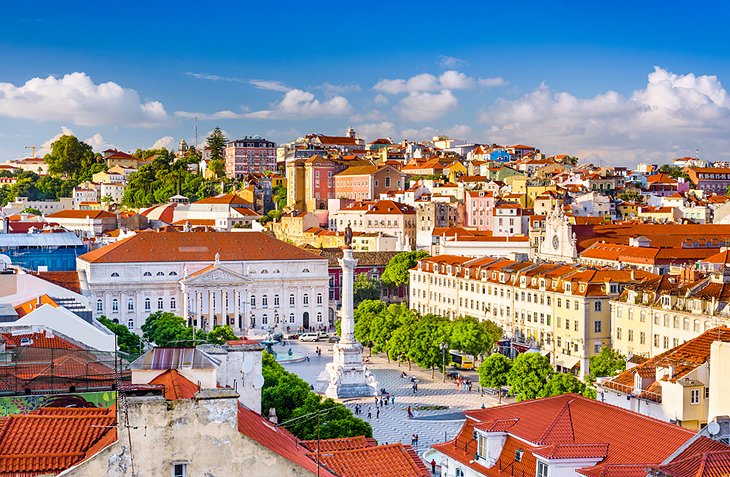 Lisbon's historic center has some of the city's finest hotels, including Hotel Avenida Palace, which sits beside Rossio Station, convenient for day trips to Sintra and surrounding areas. This stunning hotel was built in 1892 in the Belle Epoch style and has lovely features, including huge stained glass skylights and a grand, winding staircase. Hotel amenities include free parking and breakfast, a fitness center, spa services, and even live piano music in the lobby.
Just a couple of blocks from the Rossio train station, the Heritage Avenida Liberdade, a Lisbon Heritage Collection is well-positioned, close to high-end shopping in Lisbon's upscale Avenida da Liberdade. Housed in an 18th-century building, this hotel is eco-conscious and provides extras, like complimentary tea and coffee in the lobby, breakfast, a fitness center with a lap pool, and transportation services.
Guest rooms are elegant and spacious with high ceilings and are equipped with conveniences, like a safe and mini-fridge. Nearby tourist attractions include the Natural History Museum and Botanical Garden, the Jardim do Principe Real, and the Elevador de Gloria.
The Valverde Hotel is a five-star boutique hotel located on the stylish Avenida da Liberdade, Lisbon's upscale shopping street. The Valverde offers soundproof guest rooms and incredibly spacious suites equipped with safes and mini-fridges, among other conveniences, and with private balconies. Breakfast is included and can be enjoyed in-room, and the on-site restaurant features a special diet menu.
The hotel is non-smoking throughout, and amenities include free Wi-Fi, airport transportation, and a pool. There are dozens of restaurants within just a few minutes' walk, and the hotel is less than 10 minutes on foot to top Lisbon tourist attractions, including the Natural History Museum and Botanical Garden and the Jardim do Torel.
The Vintage Lisbon is a luxury property in the city center with an enviable location between the Avenida da Liberdade and Barrio Alto. The hotel features contemporary styled rooms and suites.
Amenities are plentiful and include babysitting services (for a fee) if you are traveling with kids. There is a restaurant serving Portuguese fare, and room service is also available. Should you need a full body massage or a facial, there is a spa with a sauna, as well as a workout room.
Where to Stay in Lisbon: Mid-Range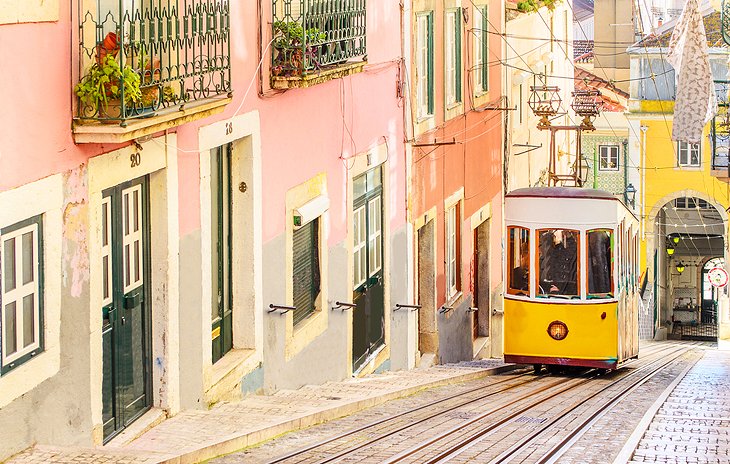 Tourists do not need to sacrifice quality or location for price when it comes to Lisbon's mid-range hotels, several of which can be found in Rossio and along the chic Avenida da Liberdade. My Story Hotel Rossio has an ideal central and scenic location overlooking Rossio Square, very close to the train station, Carmo Archaeological Museum, and the Elevador de Santa Justa.
This boutique hotel has beautifully decorated rooms with unique and tasteful touches and high-end amenities, like rain showers and in-mirror televisions. Guests will also appreciate the complimentary pastries and bottled water available in the lobby, free Wi-Fi, and an excellent on-site restaurant.
Another excellent mid-range hotel close to the Rossio train station is O Artista Boutique Suites, an all-suite establishment with guest rooms that each have a full kitchenette. Rooms are soundproofed to ensure that the trains don't disturb guests, and the hotel is smoke-free.
The hotel's restaurant serves a complimentary breakfast, and a free shuttle bus service is provided as well as WiFi. Nearby landmarks include the Monumento aos Restauradores and Praça da Figueira, and there are many restaurants to choose from just steps from the hotel.
The Hotel Santa Justa is so named for its proximity to the Santa Justa Elevator, which leads to the Bairro Alto. Set on a pedestrian-only street just steps from the Rossio train station, it is quiet yet centrally positioned for prime sightseeing and surrounded by dozens of restaurants and shops.
Rooms are modern but have personality and include a mini-fridge with complimentary beverages, a Nespresso coffee maker, L'Occitane toiletries, and even a welcome gift for each guest.
Where to Stay in Lisbon on a Budget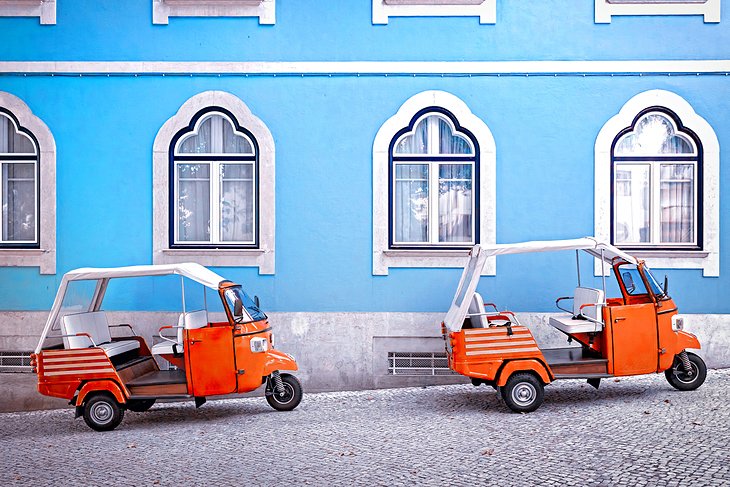 For those on a budget, the Rossio neighborhood has a couple of options that are within walking distance of tourist attractions and ideal for sightseeing. The 7 Hotel sits less than two blocks from the Santa Justa Lift and is within a 10-minute walk of museums like the Museum of Design, as well as several historic churches.
This hotel offers a wide range of prices, and the more affordable choices tend to fill up quickly, but a generous breakfast buffet is included with your stay, and the soundproofed rooms are bright and modern, equipped with safes, mini-fridges, and other amenities.
Sitting just off Rossio Square and next to the train station, Pensao Praca da Figueira has large rooms that are soundproofed and smoke-free, equipped with kitchenettes, safes, and complimentary toiletries; family rooms are available.
Both breakfast and Wi-Fi are included in the room rates, and the hotel offers walking tours of the neighborhood for guests. Strollers are also available for guest use. Nearby tourist attractions include the Hospital de Bonecas museum, Igreja de Sao Domingos, and shopping at the Praca de Figueira.
Although you will want to take a taxi back up the hill after a day of sightseeing, the dependable quality and service at Ibis Lisboa Liberdade is a great budget choice that sits just north of the Natural History Museum and Botanical Garden on the edge of the Barrio Alto.
All guest rooms are non-smoking, and hotel conveniences include a restaurant on-site, 24-hour snacks, free Wi-Fi, and on-site covered parking. The hotel is within easy walking distance of the Medeiros e Almeida Museum, the Praca dos Restauradores, and the Avenida da Liberdade shopping district.
Where to Stay in Lisbon for Families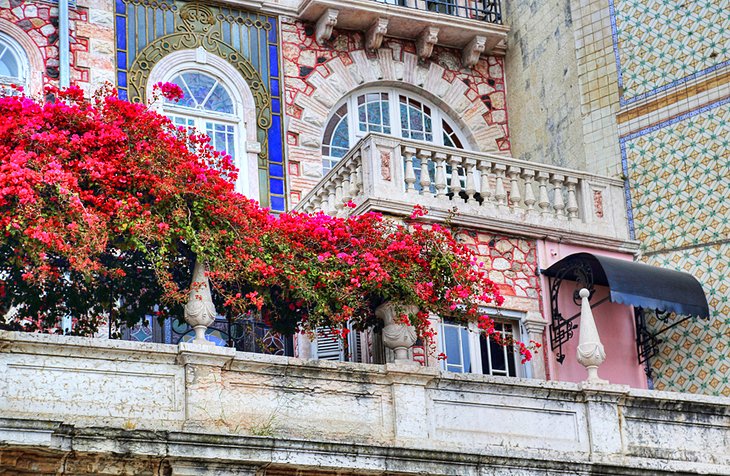 One of Lisbon's newer hotels, Martinhal Lisbon Chiado Family Suites caters specifically to meeting the needs of families traveling with young children. This luxury hotel features spacious family suites with well-equipped kitchenettes and washer/dryers, a generous complimentary breakfast, and babysitting services.
The on-site restaurant has a kid's area, so parents can dine without worry, and the "kid's club" play area has toys, games, art supplies, a climbing wall, and plenty of other activities to occupy kids ages 10 and under. It is located in the Chiado neighborhood, close to the Palacio, National Theater, and Museo de Chiado.
Also in the Chiado neighborhood, the Corpo Santo Lisbon sits just a few blocks from the Tagus River near the ferry terminals, close to landmarks like the Arco de Trifunal and Palácio Chiado, as well as tourist attractions like the Puppet Museum and the Museo do Chiado.
Family-friendly amenities include a restaurant with kid-friendly meals and a special diet menu, a variety of complimentary snacks and beverages in the lobby (including a chocolate fountain), and vouchers for a free ice-cream per day at a local shop.
The hotel also has a fitness center, spa, and coffee shop. Rooms have lovely views of the city and feature blackout curtains, soundproofing, and laptop safes big enough for everyone's tech equipment.
Parents may also enjoy the unique Tings Lisbon, which has kitchenettes in its individually decorated concept suites, many of which are inspired by sister-hotel Tings Nepal. The atmosphere here is warm and peaceful, encouraging families to relax and enjoy the terraced gardens and appreciate what Lisbon has to offer-in keeping with this philosophy there are no TVs, but there is free Wi-Fi for those who need a technology fix.
A complimentary breakfast, including fresh-baked bread, is served each morning, and quiet hours begin at 10pm each night to ensure a peaceful rest. The hotel is located on the north side of the hilltop Alfama neighborhood, convenient to the route of the historic Tram 28, which connects to the Castle, the Se, the Baixa, and the Bairro Alto. Nearby attractions include the Miradouro de Senhora do Monte scenic lookout, and the lovely Jardim Da Cerca Da Graca, a public green space.
Where to Stay in Lisbon for Romance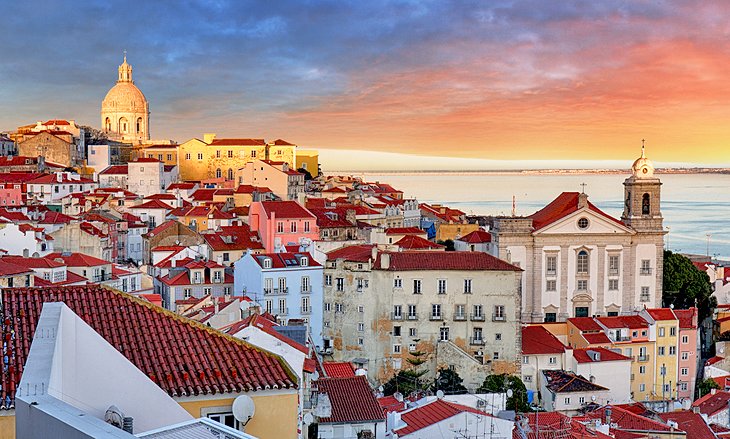 The Santiago de Alfama is a new 5-star boutique property on the Rua de Santiago. The hotel has a very romantic vibe and is set inside a 15th-century "palacio dos castros." It offers a mix of rooms and suites that are elegantly decorated with features like tile accent walls, hardwood floors, and perfectly placed deep soaking tubs near windows with sea views. Amenities include two restaurants, as well as a spa offering a range of treatments, including options for couples.
For a romantic luxury getaway, the Olissippo Lapa Palace has everything a couple could wish for. Although it is located in the embassy district, near the Basilica da Estrela and Museu Nacional de Arte Antiga, the hotel's secluded grounds are an oasis, with plentiful trees and a peaceful stream.
The 19th-century palace sits atop a hill, and each elegantly decorated room has a balcony or private terrace that looks out across the gardens and the Tagus River. Amenities rival top resorts, including a chic spa, indoor and outdoor pools, hot tub, state-of-the-art fitness center, fine dining, and impeccable service.
Couples who love Art Deco will enjoy the eco-friendly Britania Hotel, a Lisbon Heritage Collection, which was designed by the well-known Portuguese architect Cassiano Branco. The stylish rooms are spacious and include Wi-Fi and a freshly baked breakfast, while guests can enjoy complimentary tea and pastries in the lobby every evening.
The hotel is located on a quiet street just steps from upscale Avenida da Liberdade shopping, there are dozens of restaurants nearby, as well as several chic day spas. The hotel is just steps from the Medeiros e Almeida Museum and within a 10-minute walk of the expansive Estufa Fria park and the Natural History Museum and Botanical Garden.
More Related Articles on PlanetWare.com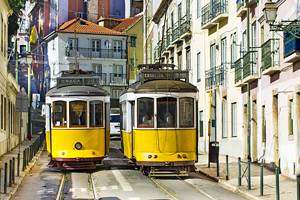 Exploring Lisbon: If you have two or three days to see the city and you're not sure where to start your sightseeing, have a read through our Lisbon Itinerary article for ideas on what to see and where to eat. There are also many worthwhile destinations to see within easy reach of the city. To plan some excursions, see our guide to the best day trips from Lisbon.