15 Best Holiday Resorts in Portugal
We may earn a commission from affiliate links ()
As one of Europe's top sun seeking destinations, Portugal is blessed with some truly outstanding holiday resorts. The majority of these lie along the coast, an Atlantic Ocean seaboard of stunning geographical and environmental diversity.
Southern Portugal's Algarve coastline is especially compelling, with its superb beaches, world-class golf courses, historic seaside towns, and beautiful natural parks. No wonder some of the country's most celebrated resorts lie in this warm and sunny playground province.
The mid-Atlantic island of Madeira boasts a number of equally appealing resorts set in attractive grounds flecked with colorful subtropical flora. Many of these hotels command privileged positions on lofty cliff tops where, needless to say, the ocean views are stunning.
And you don't have to travel too far out of Lisbon to enjoy a five-star getaway. Beyond the capital are several holiday resorts of exceptional character, upscale hotel properties - some with golf courses - that offer peace and seclusion for the more discerning tourist.
Find the best place to stay on your next vacation with our list of the best holiday resorts in Portugal.
1. Martinhal Sagres Beach Family Resort Hotel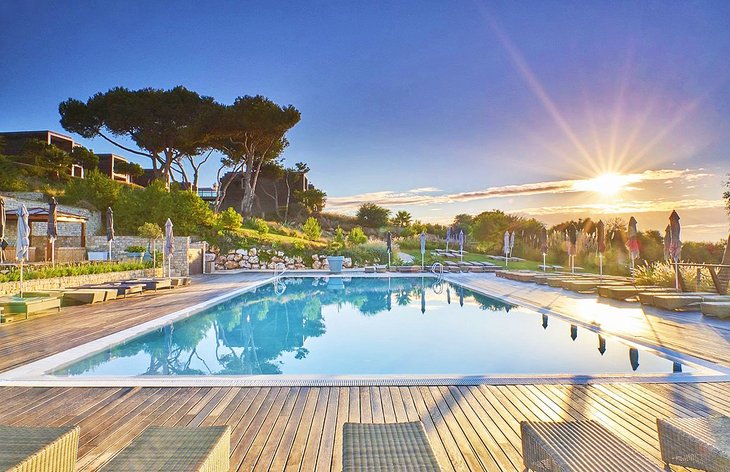 The upmarket ambience is reinforced by truly eye-catching accommodation. A stunning portfolio of self-contained village, garden, and bay houses are set around an attractive village square or overlooking a wooded valley and the sea beyond. The collections of ocean houses are perched in an elevated position and enjoy a beautiful beachfront perspective.
With the family at its heart, Martinhal's leisure facilities are firmly geared towards keeping youngsters occupied, and there are plenty of things to do. Beyond the resort's five swimming pools, guests have exclusive use of a fully-equipped sports club; tennis courts; and on the beach, a fabulous water sports center. Meanwhile, the boutique Finisterra Spa provides gloriously indulgent down time for everyone.
Traditional Portuguese gastronomy is celebrated with gusto at the resort's chic oceanfront As Dunas restaurant, where fresh seafood is the speciality. The modern O Terraço restaurant also serves resort guests, including those staying at the five-star Hotel Martinhal, renowned for its clusters of wood-wrapped cuboid Beach Houses designed as if born from nature.
2. Six Senses Douro Valley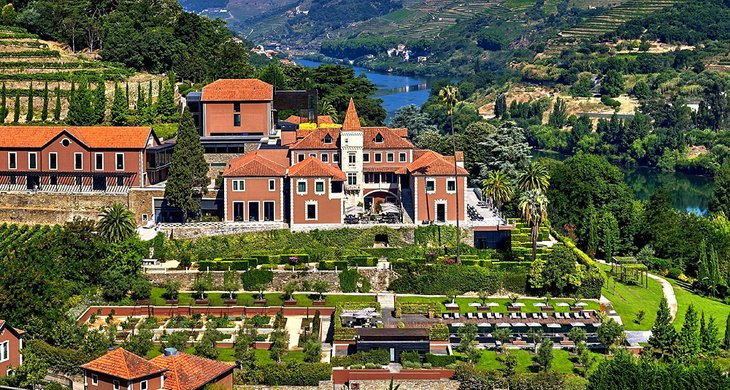 The Six Senses is set on 19 acres and has a serene vibe. Boasting romantic 19th-century architecture and stylish modern interiors, the property has 57 rooms and suites. These are done up in neutral hues, with lots of white and gray and hardwood furnishings. The ambience is modern yet relaxing, and some rooms have sliding floor-to-ceiling glass doors opening onto furnished patios with lots of greenery.
The resort is a kid-friendly property, and there are family room selections available. Babysitting can also be arranged. If your child has four legs and barks, this resort is also dog friendly. Amenities are plentiful, but the Six Senses gets its highest marks for its five-star impeccable service.
As far as what to do, the on-site Vale de Abraao restaurant has an open kitchen and indoor and outdoor dining and serves gourmet fare. There is also an excellent spa with a full range of treatments. The fitness center has a sauna and offers yoga classes, and you can also take a dip in the outdoor heated swimming pool or a soak in the hot tub. To explore, take one of the hotel's bikes out for a spin.
3. Penha Longa Resort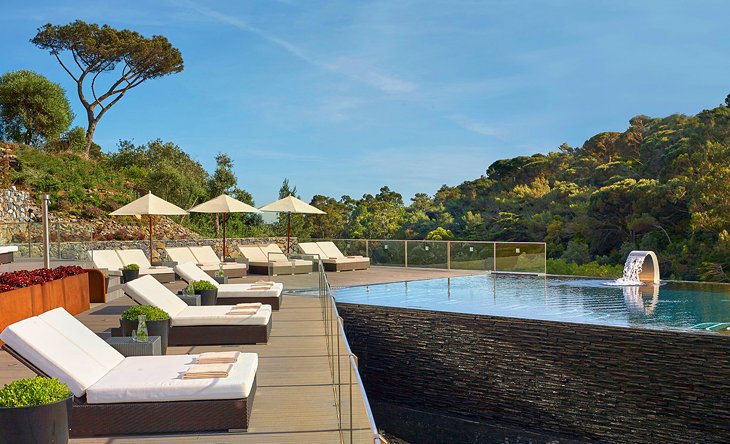 Each of the 194 rooms and suites enjoy expansive views over the verdant Serra de Sintra Mountains and the celebrated Penha Longa Golf Course, a 27-hole championship layout designed by Robert Trent Jones Jr. The golf course meanders through immaculately maintained grounds, with players afforded breathtaking views of the Estoril coast and a lofty perspective of the landmark 19th-century Palácio da Pena, set on the highest peaks of the Serra de Sintra.
Just a 30-minute drive west from central Lisbon, Penha Longa Resort is an ideal base from which to explore the park. Activities extend to hiking and horse riding, and nearby Guincho Beach is one of the best beaches in Portugal.
The resort's own leisure amenities, though, are equally alluring. Fashioned within the estate's original buildings is the hotel's Spa & Wellness retreat, a Zen-like haven of peace and tranquility. If you're traveling with children, rest assured that your kids will be safely looked after in the exciting and animated Kid's Club.
Foodies are in for a treat. Complementing Penha Longa's already highly regarded Arola (Spanish-Portuguese), Midori (Japanese), and il mercato (Italian) restaurants, the hotel's LAB restaurant is a gastronomic reference point. The menu, designed by renowned chef Sergi Arola, features inventive fusion cuisine prepared to such technical and imaginative finesse that Michelin has awarded Arola and his team a bright, shining star.
4. VILA VITA Parc Resort & Spa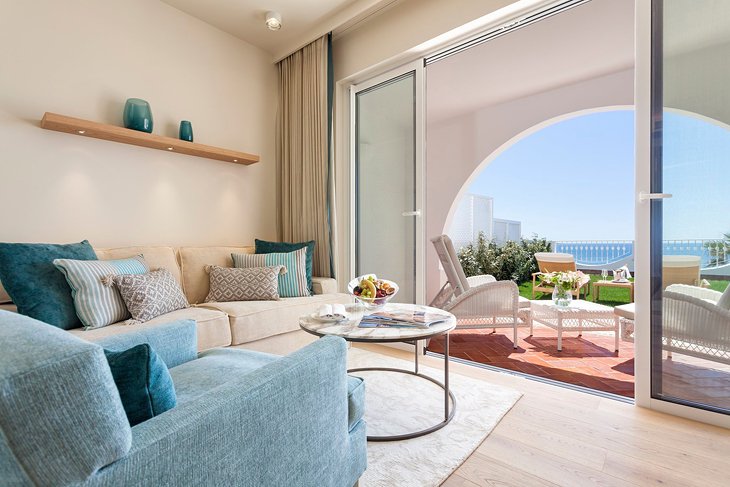 Accommodation choices here range from bright, breezy rooms and suites replete with a refined, classical design signature and relaxing ocean-view terraces to airy, whitewashed villas with private swimming pools.
Fanned by soft sea breezes, the resort is a veritable sanctuary, a luxurious oasis for the truly discerning guest.
Top-notch amenities include a series of landscaped swimming pools, a nine-hole pitch-and-putt practice golf course, and the Vital Spa, where you can wind down effortlessly - the bubbling Jacuzzi is heaven. The more active can always take part in a fitness class or strength training session, and for youngsters there's the fun-packed Annabela's Kids Park.
One of the most acclaimed restaurants in Portugal holds court here, the two Michelin-starred Ocean. Directed by Austrian executive chef Hans Neuner, this fine-dining venue is noted for its creative menu, where the emphasis is on carefully selected produce chosen according to its seasonality and cultural identity. Dinner here is a rare and memorable treat. Reservations are essential, and children 12 years and older are welcome.
5. Hotel The Cliff Bay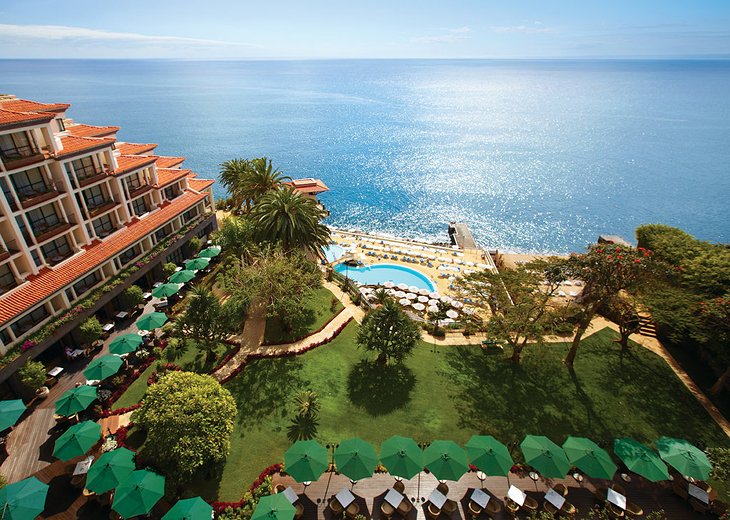 Elegantly styled in line with local architecture, the hotel is surrounded by spruce gardens peppered with centenary palms. In spring, the grounds positively sing with color. The terraced design melds the five-star property with the cliff face and allows guests direct access to the sea.
Ample rooms, all with private verandas, offer sea or land views and complement the top floor rooms and suites, which face Funchal and the bay - a truly inspiring view.
It's very easy to become enraptured by Cliff Bay's charm, even more so after taking advantage of its leisure facilities. There are indoor and outdoor swimming pools to discover and novelties such as the solarium area and outdoor Jacuzzi. You can also cool off in the warm, crystal-clear sea off the hotel's private jetty. In fact, why not try a free diving lesson during your stay?
As befitting a resort of this quality, the Cliff Bay Spa delivers a bespoke wellness program offering guests a personalized and attentive experience for mind, body, and spirit.
For locals and tourists alike, another hugely appealing Cliff Bay attraction is the Il Gallo d'Oro restaurant. This was the first restaurant in Madeira to win a Michelin star, but such is French chef Benoît Sinthon's mastery in the kitchen, the eatery now holds two of the coveted accolades. Every year Il Gallo d'Oro hosts the prestigious Rota das Estrelas gourmet food festival, so expect a full house if staying during this exciting culinary event.
And the Cliff Bay has extended its exclusive accommodation offer with the inauguration of Les Suites - 23 luxury suites that epitomize elegance and sophistication set in two neighboring century-old town houses and a new purpose-built wing.
The properties are connected to the Cliff Bay by beautifully maintained landscaped gardens and a remarkable infinity pool that affords a unique perspective across the Bay of Funchal.
Guest amenities extend to Avista, a charming terrace restaurant, the kitchen of which is also supervised by Cliff Bay's Benoit Sinthon.
6. As Cascatas Golf Resort & Spa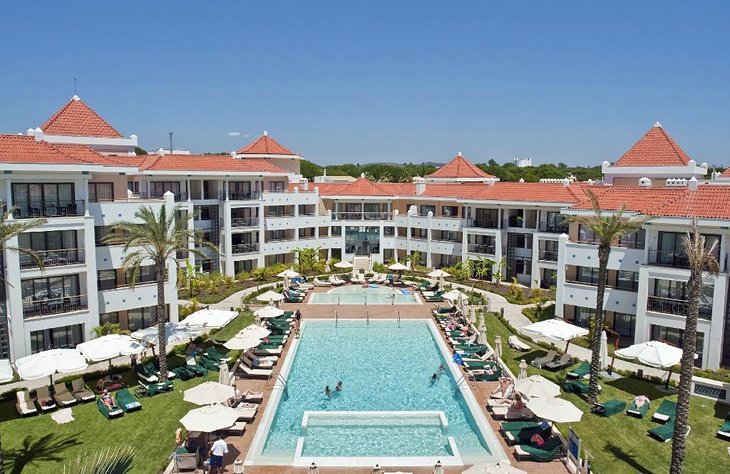 Set behind the glitzy resort town of Vilamoura amid several excellent golf courses, As Cascatas Golf Resort & Spa is just a 30-minute drive from Faro, the Algarve's regional capital, and is a popular choice for families: the resort's Paradise Island is one of the best children's hotel play parks on the south coast.
Another fabulous draw is the 7Seven Spa. This is the largest spa in Portugal, with 14 treatment rooms alone. Celebrated for its aquatic massage and hydrotherapy circuit, the spa also offers a menu of other amazing treatments and rituals, including special two-, three-, and five-day packages.
Staying here is to relax in luxury accommodation configured as one-, two-, or three-bedroom suites, as well as a four-bedroom suite with a fully equipped kitchen. The resort is served by no less than six restaurants offering Portuguese and international gastronomy, including Italian American cuisine.
There are all sorts of things to do in and around the resort, but for many staying here, it's the golf options that drive the imagination. There are six layouts in the vicinity, one of which is just a five-minute walk from the hotel's reception. All are among the top golf courses in Portugal, a fact that makes As Cascatas a favorite year-round vacation destination.
7. EPIC SANA Algarve Hotel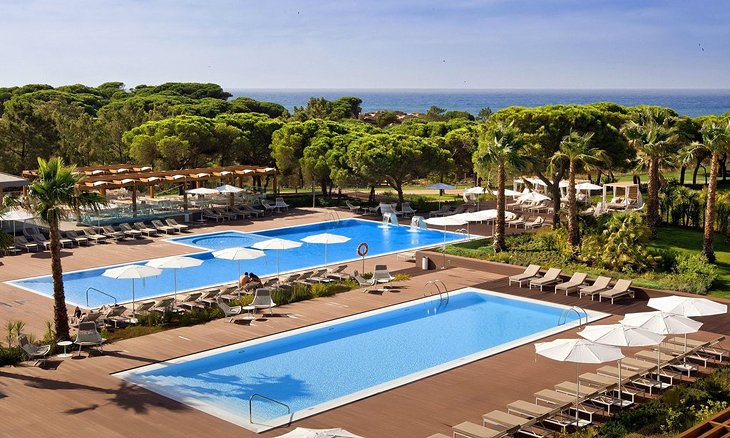 Despite offering 162 rooms, 24 garden suites, and 43 resort suites, EPIC SANA Algarve Hotel exudes an exclusive, boutique-style quality. Much of the accommodation faces the ocean, affording guests a beguiling view across a canopy of fragrant umbrella pine towards an ice-blue horizon. Natural wood verandas reinforce the organic appeal of the rooms.
The sophisticated ambiance of Epic Sana is carried through to the restaurants and, in particular, the gourmet Al Quimia. Chef Luis Mourão has designed a seasonal menu that showcases the best Portuguese produce used to create dishes that, despite their modernity, draw on age-old traditional recipes. Al Quimia is an adults-only restaurant, but there are other great eateries within the resort catering to families.
Embarking on a Sayanna Retreat program is reason enough to stay here. A team of wellness assistants can personalize an entire feel-good plan for guests seeking rejuvenation of body and soul, from designing a balanced meal plan and exercise regime to hosting fitness workshops, yoga classes, and wellbeing treatments.
Or you can enrich your everyday life by just following the cliff top trail for a couple of hours and gulping down fresh sea air.
8. Conrad Algarve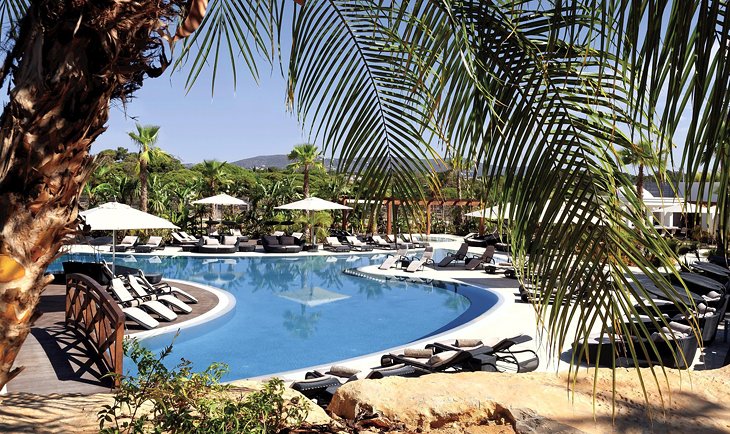 Impressive in size and stature and enjoying a reputation for contemporary design, comfort, and technology, this five-star masterpiece boasts 154 guest rooms and suites, accommodation that includes the stunning Roof Garden Suite, which features a plunge pool in the lounge - yes, in the lounge!
The hotel does not front the ocean. It's situated inland next to the fashionable Quinta Shopping, an upmarket mall crammed with designer goods and trendy cafés. This is golf course territory, and among layouts set within easy traveling distance of the Conrad is the championship Quinta do Lago South.
The entire region is maintained to rigorous environmental standards and is a haven for wildlife. But there are also dozens of reasons not to leave the hotel. The seductively opulent Conrad Spa is just one. Often described as the most luxurious and desirable spa in Portugal, spa-goers can expect their individual therapy and treatment goals to be met effectively and extensively.
Another is the sublime Gusto by Heinz Beck, the hotel's flagship one-Michelin-star gourmet restaurant. Helmed by chef Heinz Beck, Gusto features a menu that celebrates Mediterranean textures and flavors. The Scandinavian-styled space has hosted numerous culinary events and Michelin festivals and remains a top-notch gastronomic hot spot.
9. Hotel Grande Real Santa Eulália Resort & Hotel Spa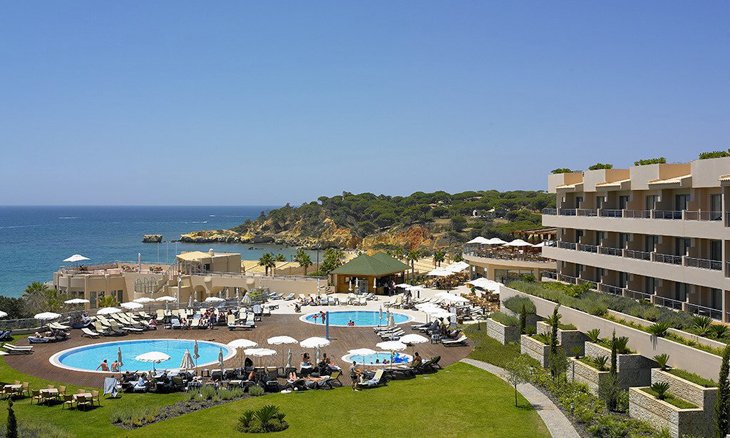 Centered near the lively town of Albufeira, Santa Eulália is a perfect vacation getaway for families, where many of the guest activities are geared towards youngsters (the Realito Kids Club is a colorful den of fun for children aged between three and 12). Sunk within the grounds are two swimming pools and a toddler's pool, and the beach provides plenty of exciting water sports options.
The property features 344 rooms, 29 of which are suites and 155 fully equipped Resort Suites. In keeping with the resort's sunny disposition, celebrated Portuguese interior designer Graça Viterbo is responsible for the vibrant and contemporary décor.
Five different restaurants, each one offering a themed menu, are placed around the resort, all embellished with sea views and a pleasing al fresco ambience.
The proximity of the beach is an obvious crowd pleaser, but if you're seeking a little R&R in a more sophisticated atmosphere then consider the Real Spa Therapy, a noted health and well-being facility that specializes in thalassotherapy treatments and massages. Visiting the spa is a blissful way to spend some well earned "me" time.
10. Cascade Wellness & Lifestyle Resort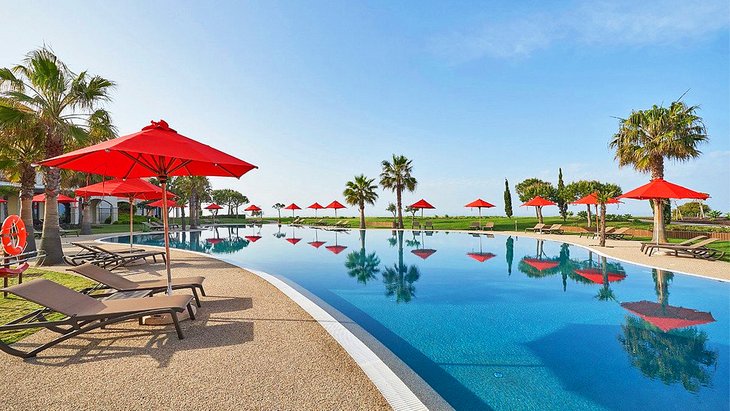 Several nearby beaches, including the picturesque Praia do Camilo, afford fun-packed water sports opportunities. A healthier lifestyle can also be pursued at the hotel's very own spa and wellness retreat. Or you could opt to do absolutely nothing.
Lining the elongated outdoor pool is a regiment of sun loungers that are quickly snapped up by guests in anticipation of a long, lazy day requiring minimum effort. The sense of space is enhanced by spruce gardens that look out over the Atlantic.
This is the same view enjoyed by the rooms and suites that are variously themed to reflect the continents explored by Portuguese navigators during the golden Age of Discovery - Europe, Asia, Africa, or South America.
A scrumptious dimension to the dining experience is the show kitchen in the Senses Restaurant. Here, guests can observe the creative and technical process behind some of the menu's signature dishes that, during the summer months, are served on an attractive outside terrace. Another restaurant, suitably named Moods, is the perfect setting for a seafood lunch and other light meals.
11. Praia D'El Rey Marriott Golf & Beach Resort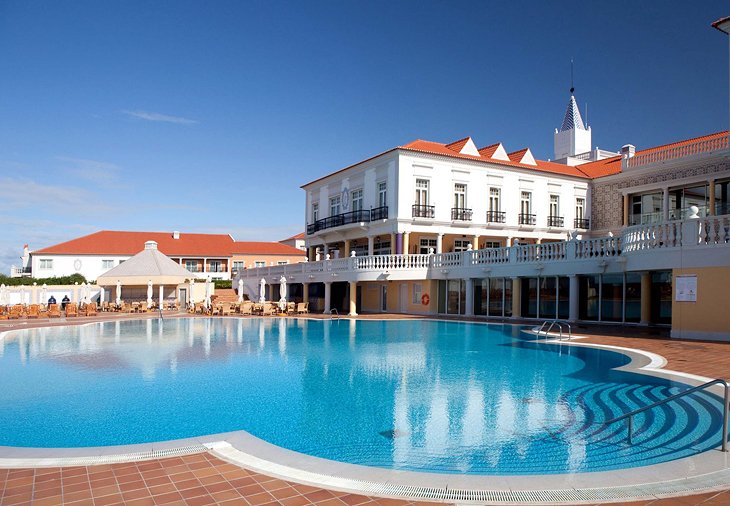 The 18-hole layout, designed by American golf architect Cabell B. Robinson, is a challenging mixture of seaside links and parkland holes. The stark contrast between sandy dunes and lush fairways is not lost on players who require an accurate game, especially when a stiff breeze whips up off the Atlantic.
The hotel - classically styled and of palatial dimensions - unveils itself along cliff tops and over grounds that run seamlessly into the contours of the golf course. The 177 guest rooms and nine suites, all with private terraces or balconies, offer either ocean or golf course views. The resort also has a selection of beachfront townhouses and apartments - ideal for family stays.
Besides golf, you can practice your serve and volley at Praia D'El's tennis academy, and the resort's Clube Aventura can arrange various outdoor activities and other things to do. The Kalyan Spa specializes in sports massage and offers a soothing "Backswing ­- Hot Stones" treatment to relieve muscle tension, among other well-being rituals.
A "must do" sightseeing excursion is a visit to nearby Óbidos, an enchanting hill town enclosed within 14th-century walls and often voted Portugal's prettiest place to visit.
12. Sheraton Cascais Resort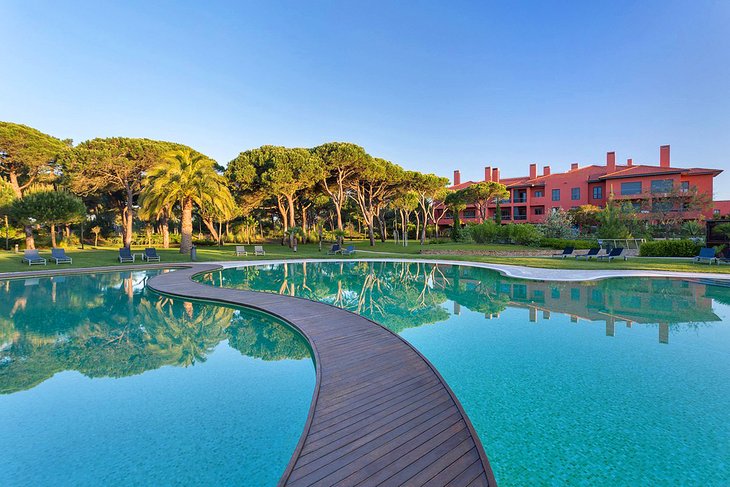 A refined, upmarket ambience pervades the hotel, which offers a select range of guest rooms and suites.
Meals are taken in the Glass Terrace, where the menu errs towards Portuguese and Mediterranean cuisine. This is also a favorite brunch venue for guests and non-residents. Diners have access to an exclusive swimming pool, and a kid's club keeps toddlers occupied.
The grounds are integrated into the Quinta da Marinha estate, where an internationally acclaimed golf course hugs the coast. The resort itself features the upscale Serenity Spa, and the proximity of the ocean means spa-goers can expect a range of treatments and therapies that utilize the natural properties of seaweed and sea salt.
The surrounding area lends itself to rewarding sightseeing. Besides Cascais and its animated holiday atmosphere, you can explore the Parque Natural de Sintra-Cascais and Cabo da Roca - the most westerly point of the European mainland - while Guincho Beach is a mecca for seasoned windsurfers and kitesurfers.
13. Pestana Porto Santo All Inclusive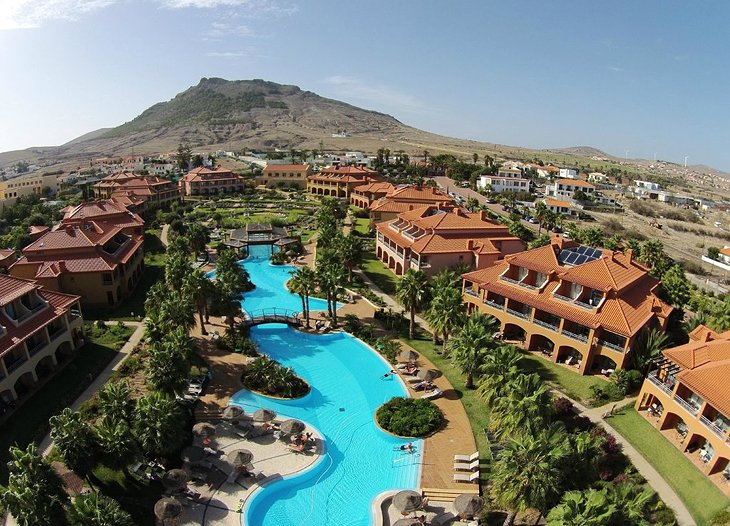 The 275 guest rooms include double rooms, suites, apartments with kitchenettes, and Mediterranean-style villas with private pools, all decorated in soothing maritime shades.
The hotel faces Porto Santo's sun-kissed beach, a nine-kilometer carpet of golden sand quite unique in the archipelago. Two large freestyle swimming pools plus a separate children's pool appease those who'd rather stay in the resort, and another indoor pool with multiple water jets anchors the boutique Magic Spa.
With two buffet restaurants and four themed restaurants to choose from, guests are free to dine according to their own schedule. Evenings see the resort's Mares Restaurant present grilled food show cooking, and the cuisine is deliciously international in flavor.
Porto Santo is an idyllic destination and remains well under the mass tourism radar. Easily accessed by sea and air from neighboring Madeira, the effort of getting here rewards visitors with a fascinating landscape of ancient volcanic peaks and attractions like the Casa de Colombo, the house where Christopher Columbus lived.
Outdoor enthusiasts can explore on foot, bike, or horseback while admiring a pristine natural environment.
14. Anantara Vilamoura Algarve Resort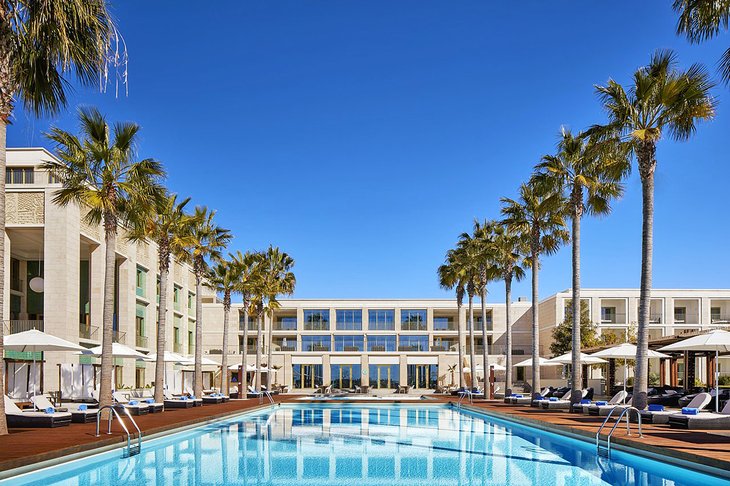 But there is an array of equally alluring leisure facilities to tempt guests, not least the Anantara Spa, where signature treatments include traditional Thai massage.
The hotel offers 280 rooms and suites with garden, pool, or fairways views.
Interconnecting double bedroom family rooms and suites are available, and for those who like to live in the lap of luxury, there's the Presidential Golf View Suite - a penthouse apartment where personal butler service comes as standard.
Dining at Anantara Vilamoura serves as an occasion to appreciate traditional Portuguese and Mediterranean cuisine reinvented in a creative and contemporary manner.
Besides taking advantage of the proximity to Victoria, guests with a passion for golf can enjoy other exclusive benefits, such as private transfer to all Vilamoura golf courses, including the adjacent Laguna and Millennium layouts, and the famous Old Course.
15. Quinta da Comporta Wellness Boutique Resort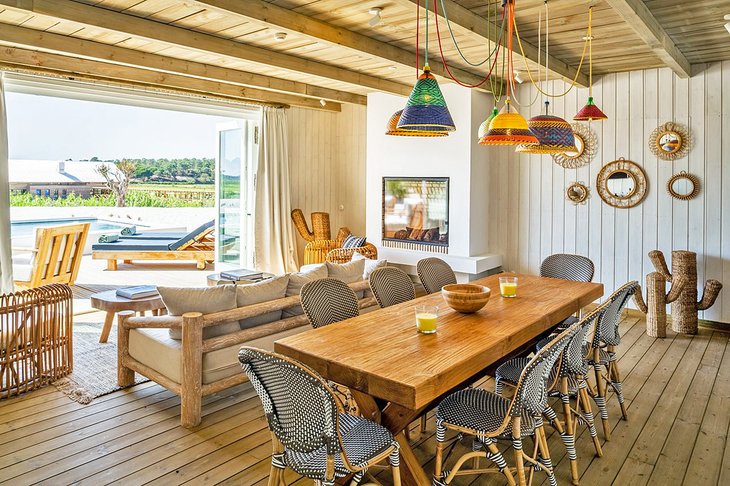 Carefully converted from an old rice farm, the resort comprises 73 rooms and suites, and four pool villas.
All are decorated in soft, muted colors and furnished using liberal use of bamboo, reed, thatch, and raw wood, natural materials that reflect the landscape and allow Quinta da Comporta to blend seamlessly into the environment.
The focus here is very much on wellness. The spa has a delightfully organic appeal to it, housed as it is in an old wooden barn. An infinity pool slices across the tidy grounds, and there are morning and evening yoga and meditation classes.
Dining at Quinta da Comporta is to experience the textures and flavors that define the region. Chef João Sousa uses locally sourced ingredients to create healthful, seasonal dishes where fish is the main protein.
An added plus is that the resort is sited within walking distance from Comporta Beach. But it's far more fun using one of their bikes to reach it!
A car allows you to explore further, of course, and facilitates exploration of the Tróia Peninsula, a pencil of land known for its golf course, Roman ruins, and the playful dolphins that gather in the Sado estuary.