10 Top-Rated Resorts in Langkawi
Langkawi is a popular Malaysian resort destination with ancient rainforests, beautiful beaches, and world-class luxury resorts. The destination has it all, from tropical beaches fronting azure waters to geoparks, nature reserves filled with protected flora and fauna.
That popularity means you have representatives from all the major international luxury hotel brands, including Four Seasons, Ritz-Carlton, and St. Regis. You also have top independent luxury resorts like the Danna Langkawi Resort & Beach Villas and Casa del Mar, which offer more personal service that some guests prefer.
Couples looking for a romantic getaway may like the intimacy and seclusion of a boutique resort like Rebak Island Resort & Marina on its own private island. Families visiting Langkawi with children would probably have more fun at one of the large resorts, like the Pelangi Beach Resort & Spa with its endless activities and multiple dining venues.
Plan your adventures with our list of the best resorts in Langkawi.
1. The Danna Langkawi Resort & Beach Villas - A Member of Small Luxury Hotels of the World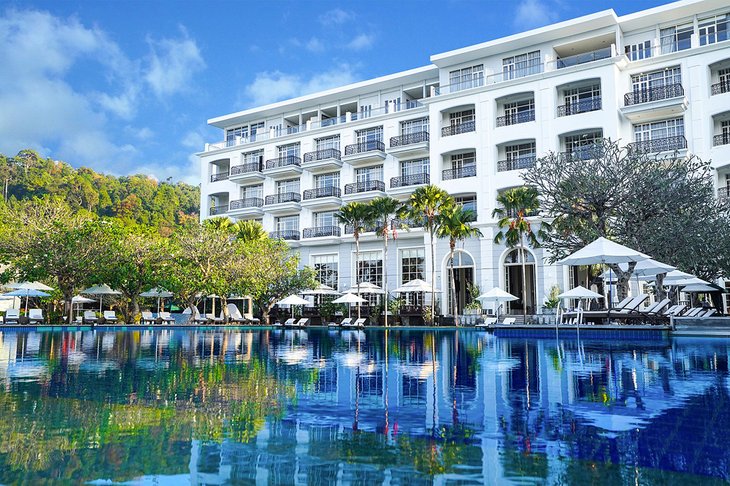 Accommodation: The Danna Langkawi Resort & Beach Villas
This top Mediterranean-inspired luxury beach resort is centrally located in Telaga Harbour Park, making it easy to explore the area. Go for a swim in the island's largest three-tiered infinity pool or try snorkeling in the clear, warm water off the resort's private beach.
A variety of room types and suites are available at the Danna, with either mountain or sea views. Accommodations have a modern colonial style but are less luxurious than rooms at the Ritz-Carlton or Four Seasons. They come with four-poster king beds, big private furnished balconies, rainfall showers, soaking tubs, and premium amenities.
For those with an even bigger budget or family, one- and two-bedroom beach villas are also available. These are spacious, residential-like units with their own private pool.
Guests have a wide choice of on-property activities. There's a kids club; a small spa; a fitness center; and group fun like yoga, hiking, kayaking, cycling, and cooking classes.
Dining at the Danna Langkawi Resort & Beach Villas is possible at five different venues. The Terrace is their Italian fine-dining restaurant, there's a beach snack bar and Planter's, which has all-day dining. You can also get food at the café and deli or relax and have a snack in the lobby lounge.
2. The Datai Langkawi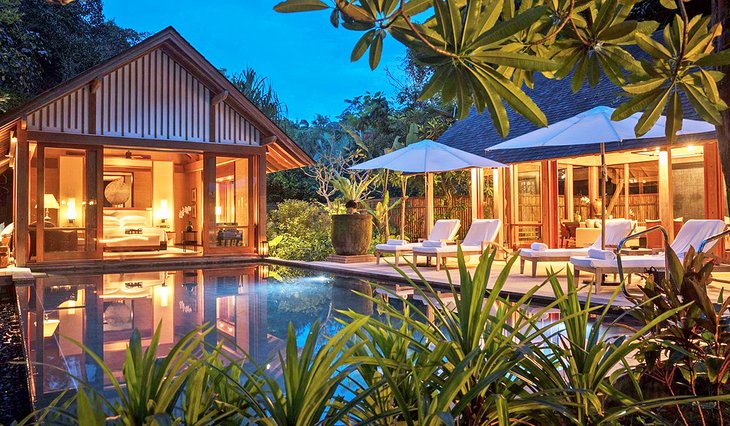 Accommodation: The Datai Langkawi
Located on Datai Bay on the northwest tip of the island, this large luxury resort is the best place to stay on Langkawi for golfers.
Aside from luxurious rooms, suites, and villas, it's part of the Els Club Teluk Datai, a championship golf course designed by Ernie Els. It's one of the only rainforest golf courses in the world and is about 10 minutes from the resort.
The beach is spectacular, so spectacular that Datai Bay is often named one of the world's top beaches.
The Datai's 121 accommodations are sprinkled throughout the rainforest and include 14 beach villas right on the sand. Canopy Collection rooms are on the upper level of the main building with rainforest views. Even these entry level rooms are large, more like junior suites, with premium finishes and a luxurious feel.
Rainforest Collection villas offer a lot of privacy, as they are enveloped by the rainforest.
The Beach Collection one- and two-bedroom beach villas are the best accommodations for beach lovers, individual units with private pools and private gardens leading to the beach. These also come with butler service and premium amenities.
The 3,500-square-foot Datai Estate Villa, with five bedrooms, is one of the largest luxury resort villas in Asia.
Gastronomy is a key part of the Datai ethos, and there are multiple dining environments available. You may want to experience a traditional Malaysian meal at The Gulai House or a traditional Thai meal 100 feet in the air at The Pavilion, located in the rainforest canopy. The Dining Room is the resort's poolside café, serving a buffet breakfast, a casual lunch, and a fine dining dinner.
The Beach Club offers all-day dining on the sand, and several smaller venues also serve food. The resort also offers a very romantic candlelit dinner on the beach.
The Spa is located within the rainforest, and the open walls allow you to experience its smells and sounds as you get treatments that use healing plants and herbs taken from that same rainforest.
The Holistic Pavilion is where you'll find yoga and Pilates classes.
3. The Ritz-Carlton, Langkawi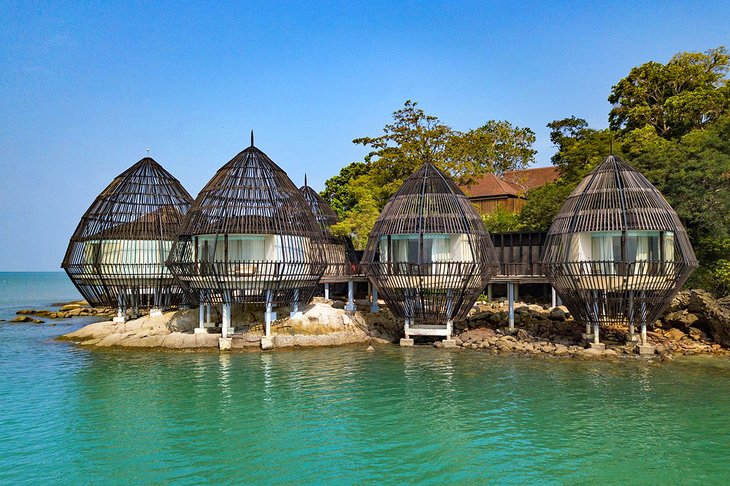 Accommodation: The Ritz-Carlton, Langkawi
Set within an ancient rainforest, the Ritz-Carlton, Langkawi successfully melds luxury and nature. The large resort is a great place to stay in Langkawi for families, as they offer a wide range of accommodation sizes and types, along with a seemingly endless menu of activities and adventures for guests.
Rooms, junior suites, and villas are available. All of them have rainforest views; oversized, marble spa-like bathrooms; and the expected finest level of craftsmanship and design.
Kids have a lot to do at the Ritz-Carlton, Langkawi. Aside from fun at the beach or the pool, there is a kids' club with organized activities. Kids have access to their own swimming pool along with indoor and outdoor play areas.
The only overwater spa on the island, The Ritz-Carlton Spa, Langkawi offers a comprehensive menu of treatments inspired by the shamans and ancient indigenous rituals of Malaysia. The treatments are administered in six overwater pods, allowing you to seemingly float over the Andaman Sea as you receive your therapy.
Gastronomy is a focus at this luxury Langkawi resort, and you have four distinct dining options. Hai Yan is their extremely high-end fine dining Chinese restaurant, where the food is accentuated by fantastic ocean views. Langkawi Kitchen is the Ritz-Carlton version of a buffet, with open kitchens and multiple live cooking stations; the menu is pan-Asian (Malay, Chinese, Indian). Horizon Lounge is an adults-only dining venue, and The Beach Grill is great for fresh-caught seafood.
An array of private dining experiences are also available, as are chef-led private meals, where you can help prepare the food.
4. Four Seasons Resort Langkawi, Malaysia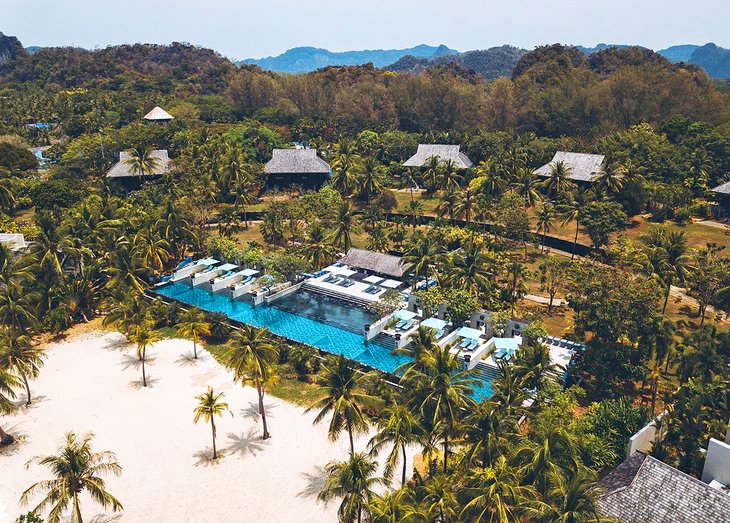 Accommodation: Four Seasons Resort Langkawi, Malaysia
The top Four Seasons Resort Langkawi sits inside a UNESCO World Geopark area on a mile-long section of private beach facing the beautiful Andaman Sea. It's like a luxurious beachfront village, with lush tropical greenery bisected by pathways leading to architecturally striking pavilions and villas.
Accommodations at the Four Seasons are available as pavilions (suite-sized rooms) or individual villas. Pavilions are either garden or sea view, and either on the upper or lower level in a larger building.
Villas are incredibly luxurious and are located in the gardens or beachfront, on the sand. One-, two-, and three-bedroom villas are available as is the incredible five-bedroom Imperial Villa, one of the largest (and most expensive) accommodation options on the island.
Guests have access to complimentary non-powered water sports gear that includes kayaks, stand up paddleboards, snorkeling gear, and more. Powered toys like Jet Skis and WaveRunners can be rented.
There are also cultural experiences like village visits, cooking classes, and art lectures.
The resort has the Lutong Kids' Club, an extensive program of fun and educational activities like nature walks and kids' cooking classes.
The Four Seasons Resort Langkawi's Geo Spa has all kinds of massage, body and skin treatments including a menu just for kids. Their Raja and Ratu ("king and queen") couples massage is especially popular.
Four different dining environments with menus including Malay, modern Asian, and Western dishes await you. Of course, you can always go with in-villa dining.
5. Casa Del Mar, Langkawi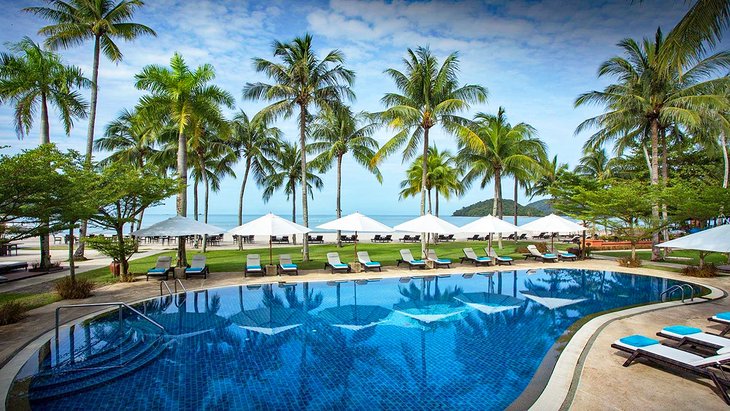 Accommodation: Casa del Mar, Langkawi
The Casa del Mar boutique luxury resort is on Pantai Cenang beach. You can leave the airport and be on the resort's private beach within about 15 minutes. It's also close to Kuah for those who want to go out and explore.
Although kids are welcome at the Casa del Mar, this resort is a better place to stay in Langkawi for solo travelers or couples seeking a romantic getaway.
With only 34 rooms and suites, each guest gets very personal attention. They also focus on curating a personal experience for each guest, from activities to dining.
You may want to just hibernate in your beautiful villa with a private pool, and enjoy room service. Or you might want to spend the day doing stuff, from playing in the ocean to taking a cooking class with the resort chef to having a massage in the Satkara Spa. Whatever you seek from your vacation, they will do whatever it takes to deliver that.
Rooms and suites are available as sea-view or beachfront. Go for one of the beachfront suites, which have a private courtyard that opens right onto the sand.
Casa del Mar guests have access to all kinds of beach and ocean water sports along with bicycles, cooking classes, and island-hopping excursions to uninhabited islands. Jet Ski and banana boat rentals are available from vendors along the beach.
La Luna is the resort's exclusive on-the-sand dinner experience, limited to a single table each evening. La Sal serves modern Asian and Western cuisine in an all-day dining (breakfast, lunch, and dinner) environment. The pool bar also serves food, with waiter service to your sun lounger.
6. The St. Regis Langkawi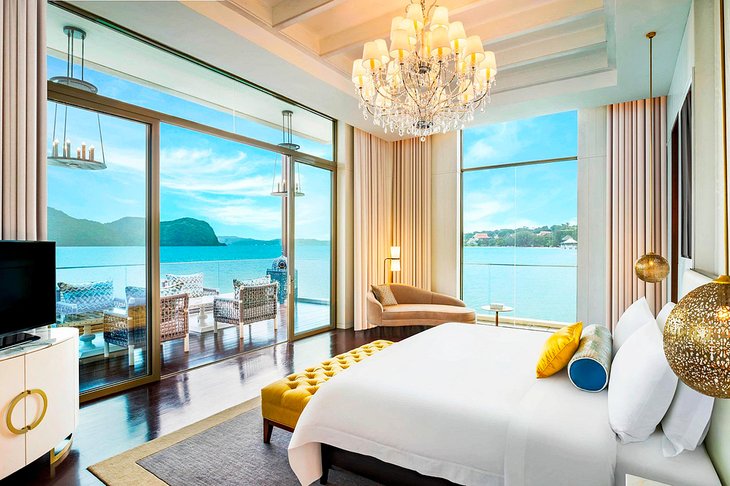 Accommodation: The St. Regis Langkawi
Perhaps more so than any other resort in Langkawi, The St. Regis Langkawi presents a total five-star luxury hotel and resort experience, set between the rainforest and the Andaman Sea. The public spaces and accommodations are beautifully designed and constructed with the finest materials available.
Accommodations are extremely modern and stylish with a very polished feel. It's truly a luxury hotel in an idyllic rainforest setting. Even the least expensive rooms, with a rainforest view, are huge, with room-width furnished terraces. The terraces have a table and chairs, armchairs, and daybeds – they're like an additional living space. Bathrooms are sumptuous, with marble walls and floors, big soaking tubs, and separate rain showers.
Sea-view rooms and suites have jaw-dropping ocean views. Suites add large living areas, and all accommodations come with the St. Regis signature butler service. The St. Regis offers some of Langkawi's most iconic accommodations with their overwater bungalows. Be the envy of Instagram and TikTok with their floor-to-ceiling windows and private plunge pools.
When you're ready to have fun, just call your butler, and they will arrange everything. From sun loungers on the beach to a kayak tour of the mangroves, almost anything is possible. The resort has a spectacular oceanfront infinity pool, which seems to extend right into the sea. There's also a children's pool.
The resort's luxurious Iridium Spa curates personal programs for each guest, including massage, body, and skin treatments. The gym, the St. Regis Athletic Club, is a large, modern space with state-of-the-art Technogym equipment.
Dining is possible in three different restaurants (with different menus) or at the resort's gourmet deli. The St. Regis Bar has a popular tapas menu and, of course, in-room dining is also possible. An afternoon tea service is also done every day in the bar. A smart casual dress code for the restaurants adds to the hotel's overall luxurious atmosphere.
7. Pelangi Beach Resort & Spa, Langkawi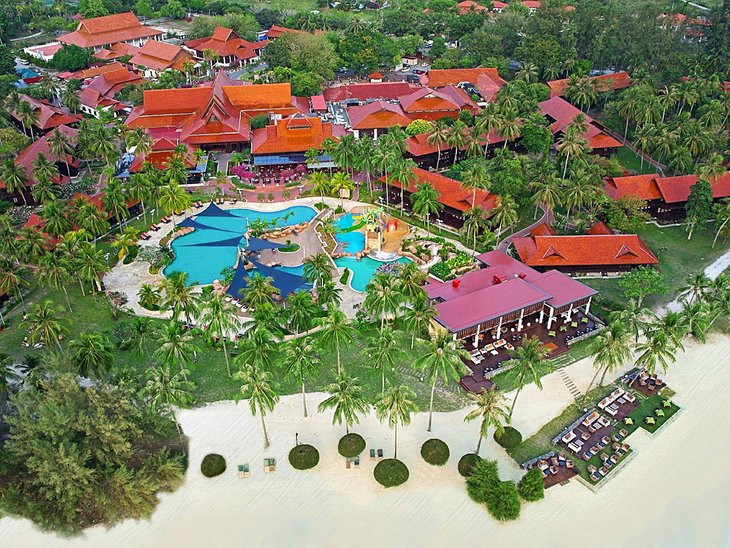 Accommodation: Pelangi Beach Resort & Spa, Langkawi
The Pelangi is a big beachfront resort with nearly 400 rooms and suites on 35 acres, but it consistently delivers a wonderful vacation experience. Designed to replicate a traditional Malay village, it's the kind of resort that offers so much to see, do, and eat. Once you arrive, you never have to leave during your vacation.
The wide variety of accommodations means it's a great place to stay in Langkawi for couples, single travelers, or families with children.
The resort's 51 buildings are grouped around a huge lagoon-style swimming pool and a separate pool with a waterpark play area. The private section of Cenang beach is wide and kept very clean.
A variety of water sports are available; most are complimentary for guests. The Pelangi Spa is a compact yet luxurious spa offering an array of Malay-influenced treatments in a Zen-inspired environment. There's also a large fitness center with Technogym equipment.
The 355 rooms, junior suites, and suites are modern, with a strong Malay influence. Wood floors and marble bathrooms with huge soaking tubs add to the luxury experience. Family rooms are available for four people. Pool terrace rooms have a private terrace that opens onto the pool area, and beachfront rooms have a terrace that leads right to the sand.
Spice Market is the Pelangi Beach Resort & Spa's popular restaurant, with a modern Malaysian menu. Cba is their trendy beachfront restaurant and lounge with an Asian fusion menu. You can eat in the water at the Cascade Pool Bar, which has a selection of burgers and other items from the grill.
8. The Westin Langkawi Resort & Spa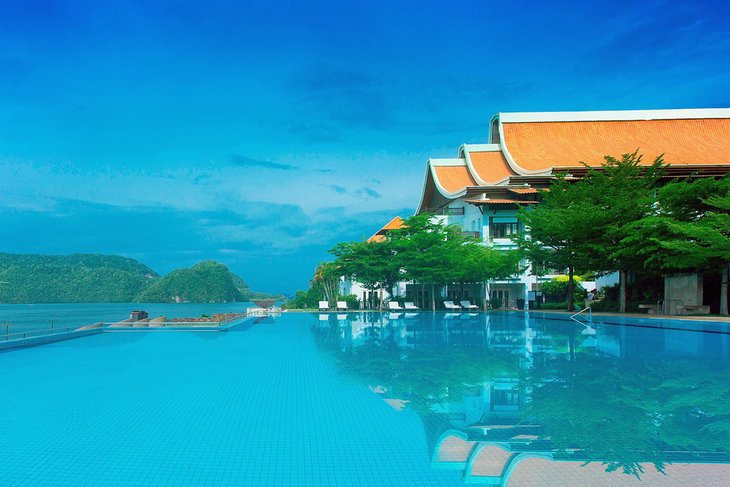 Accommodation: The Westin Langkawi Resort & Spa
This upscale beach resort is on a private beach right near Jetty Point. The central location on the beach means things to do like Eagle Square or Lagenda Park are only a 15-minute walk from the resort.
As a Westin, you get a very well-run and well-managed hotel. You also get the benefit of being able to use or earn Marriott Bonvoy points. Silver Elite and Ambassador Elite Bonvoy members get access to a private VIP lounge at Langkawi Airport (LGK), as do suite and villa guests.
Rooms and suites at the Westin Langkawi Resort & Spa are stylish and modern, done in shades of white and tan with colorful accents. You can get either garden or ocean (or partial ocean) views.
Villas give you private pools and terraces, and some have direct beach access. All accommodations at the Westin Langkawi have luxurious spa-like bathrooms and feature the brand's popular Heavenly Bed.
The resort is home to the Heavenly Spa by Westin, a special branded luxury spa and the only one in Asia. They have all kinds of massages, facials, and body treatments. Beach yoga classes are offered daily. The Westin Family Kids Club has activities and adventures for kids.
You have five different restaurants to choose from with different menus and different levels of formality. In-room dining is available 24 hours a day, and the resort will even prepare picnic boxes for you to take with you on your adventures.
9. Rebak Island Resort & Marina, Langkawi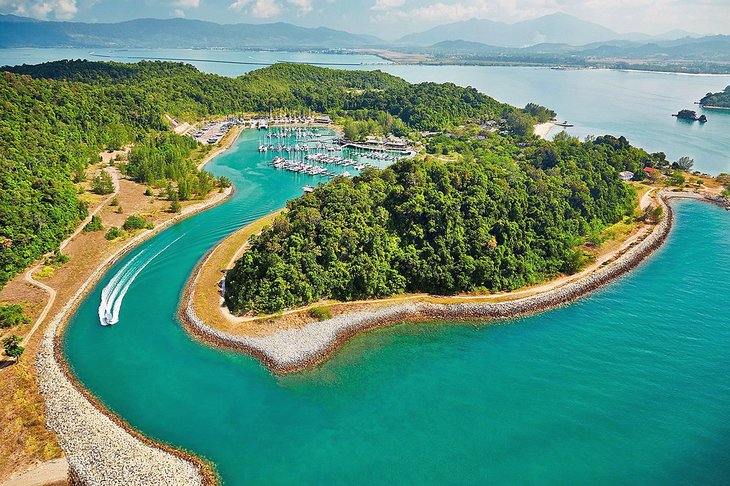 Accommodation: Rebak Island Resort & Marina, Langkawi
If you're looking for peace and quiet and to get away from it all, the Rebak Island Resort & Marina is the best place to stay in Langkawi, as it's on its own private 390-acre island. You need to take a boat to get there (there are free shuttle boats to Cenang Jetty all day). If you're looking to go out every night and explore the area, this is not the best place to stay.
Rooms and suites are built with a lot of local timber and have a modern Malay style. Go for a Premium Sea View Room with a large balcony offering direct ocean views.
There are two dining venues to choose from: the Senari Sea View Restaurant serving a Malay and continental menu, and the Beach Bar with a nightly seafood grill. Three lounges also serve small plates and other tasting menu-type items. Alternative dining experiences are available, things like a private table on the beach or on a yacht.
Island activities include guided rainforest walks, a mangrove tour on the local river, and batik-making classes. You can also enjoy the spa, which has treatments for mind, body, and soul.
10. Berjaya Langkawi Resort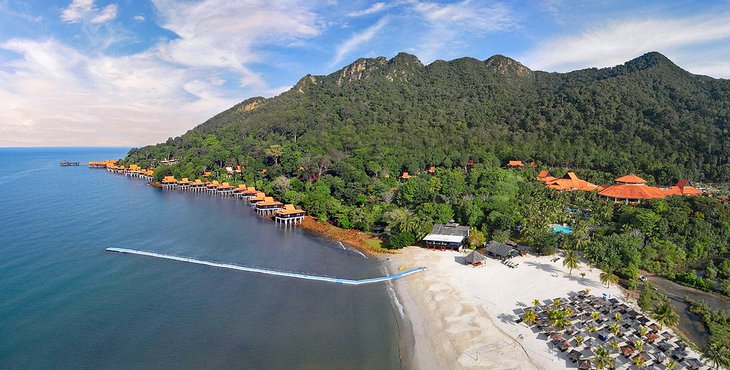 Accommodation: Berjaya Langkawi Resort
This luxury Langkawi resort is on Burau Bay and offers a mix of elevated and overwater accommodations.
Rainforest-view studios and chalets (individual units raised high on concrete stilts) are available as are two-room family chalets. Sea-view chalets sit in the trees facing the sea.
The big draw here are the Premier Chalet on Water or the Premier Suite on Water accommodations, available with one or two bedrooms. These luxurious spaces are built over the water, on concrete pilings, and have their own private semi-outdoor whirlpool tubs.
Four unique and individual dining experiences and environments await your discerning palate. You might want a Thai fine-dining experience at Pahn-Thai or some great Japanese or Chinese cuisine as served at Oriental Pearl. A lobby lounge, sports bar, pool bar, and beach bar all also serve food.
There's a lot to do at the Berjaya Langkawi Resort, starting with the big lagoon pool and private beach. A range of water sports, powered and non-powered, is available, and most are free for guests. The resort can arrange for fishing trips, mangrove adventures, and other expeditions to explore the local rainforest and overall area. The Berjaya has a small spa and a fitness center.
Map of Resorts in Langkawi