Where to Stay in Cartagena, Colombia: Best Areas & Hotels
Where to stay in Cartagena, or Cartagena de Indias as it is also known, depends on your interests and the type of trip you're planning, but the best places to stay are Cartagena's old walled city; the nearby neighborhood of Getsemani; or along the beach at Bocagrande, just a few kilometers from the old city.
If you are really interested in a beach vacation, you might also want to consider staying in the Islas del Rosario, the islands around Cartagena, where you can find beautiful soft-sand beaches, including the famous Playa Blanca, and some outstanding beach resorts. This archipelago is popular with everyone, from couples and families to solo travelers, and luxury travelers to backpackers.
The Walled City: Ambience, Sightseeing & Dining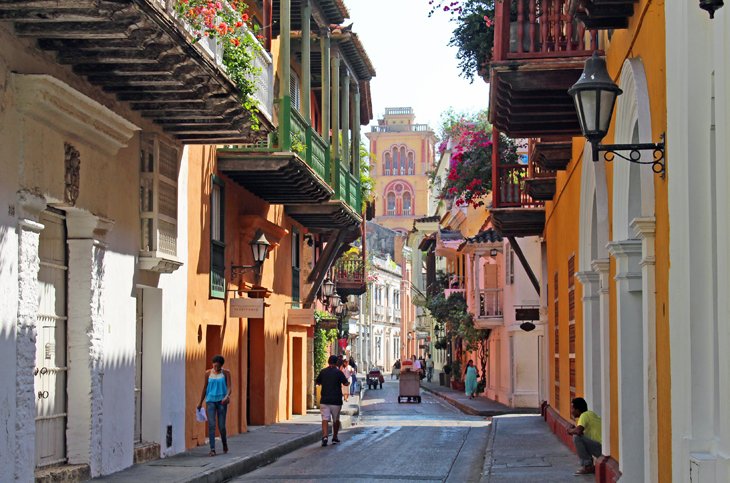 The walled city, also referred to as the old town or old city, is the most beautiful and romantic area of the city and what most people come to see in Cartagena. Horse-drawn carriages ply the narrow streets day and night. Wooden balconies adorned with flowering plants on the second and third stories of the 17th-century buildings look over the streets, and entrances with huge wooden doors create a sense of mystery as you wander past.
Many of these historic buildings house boutiques, restaurants, and luxury hotels. If you want to truly experience the city, find a nice hotel in this area and plan on spending some time wandering the streets. Fortunately, this is where many of the best hotels in Cartagena are located, but you can also find mid-range and budget hotels and places to stay for backpackers, including hostels.
Some of the key attractions are the squares: Plaza de los Coches and the Torre del Reloj (clock tower), where horse-carriages line up to take tourists on a tour of the city; Plaza Santo Domingo, a great place to sit at an outdoor table and watch life go by; and the beautiful Plaza de la Inquisición (also known as Plaza Bolivar), where you can relax below shady trees or feed the pigeons.
The historic walls that surround the city are themselves an attraction. Ramps at different locations allow you to walk up on the walls, enjoy a sunset meal at a restaurant on the ramparts, or even bike along a portion of the wall.
Dining in the walled city is outstanding. The food at most restaurants is exceptional, regardless of the type of cuisine you are looking for. Many of the restaurants are architectural masterpieces, designed within the confines of the historic structures and incorporating a mix of open-air spaces, tiled ceilings, wooden beams, and constructed around towering trees.
Although the area is relatively compact, you will find individual neighborhoods in the walled city. Most of the posh hotels are spread around the area, although many are located in the central or west side of the old town.
Barrio de San Diego along the northeast side, and La Matuna on the east side are other neighborhoods found in the walled city. San Diego, and particularly the streets around Plaza de San Diego, is a busy area where you can find some budget hotels and hostels, as well as a few upscale hotels. La Matuna is a much quieter area of the city, and many of the buildings are only a single story and are painted in colorful hues. This area has some restaurants and hotels but has a much more residential feel compared to the central area and west side.
For the finest hotel experience in the old walled city, head to the posh Hotel Casa San Agustin, where the ultimate in luxury awaits travelers in the hotel's tastefully restored 17th-century structures.
Getsemani: The Area for Nightlife and Local Vibe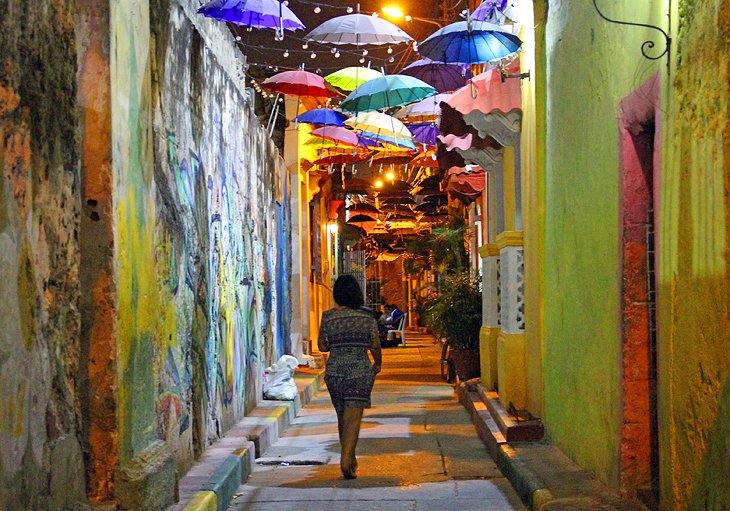 Just outside the walled city, Getsemani is another old neighborhood in Cartagena with quaint squares, narrow streets and alleys, and beautiful historic buildings. Getsemani has a more authentic Colombian feel and is more residential but still has plenty to offer tourists and travelers. Many travelers prefer to stay here because it's a little removed from the busiest tourist area.
Staying in Getsemani puts you within easy walking distance of the walled city and the main attractions. Unlike the old town, you won't find horse-drawn carriages in Getsemani. You will find streets with huge murals lining the walls, or alleys creatively decorated with streamers or umbrellas, and tiny restaurants, with elaborate and unusual décor.
The best time to visit Getsemani is in the evening, when the squares fill with people and the streets come to life. At night, particularly on weekends, locals as well as travelers hang out around the small squares, particularly the Plaza de la Trinidad, sitting on church steps, eating at the local street vendors, or just set up on chairs along the sidewalks.
If you are wondering where to stay for nightlife in Cartagena, Getsemani is the place. Restaurants and small music venues line the streets, with the most lively located near the waterfront. Right on the waterfront in Getsemani is a park, well lit in the evenings, which is home to Santa Isabel Foodtrucks, where you can find a variety of food and beverage trucks, along with picnic tables and wooden chairs lining the waterfront, looking across to the old town. It has a surprisingly romantic feel but is also a cool escape from the narrow streets.
Despite Getsemani's reputation for nightlife, it is actually a less noisy area than the old city. Hotels in Getsemani tend to have rooftop pools and small interior courtyards with plenty of atmosphere. You can find incredible top-end hotels here, especially boutique hotels, but this is also the most popular place for backpackers to stay in Cartagena, with a good selection of quality hostels.
For a luxury hotel in Getsemani, look to the Allure Chocolat Hotel by Karisma, a posh boutique hotel with a rooftop pool and chic décor. Budget travelers interested in meeting people and relaxing around a rooftop pool can head to Selina Cartagena, which offers everything from shared accommodation to private rooms and suites with balconies.
Bocagrande and Islas del Rosario: Beaches & Island Getaways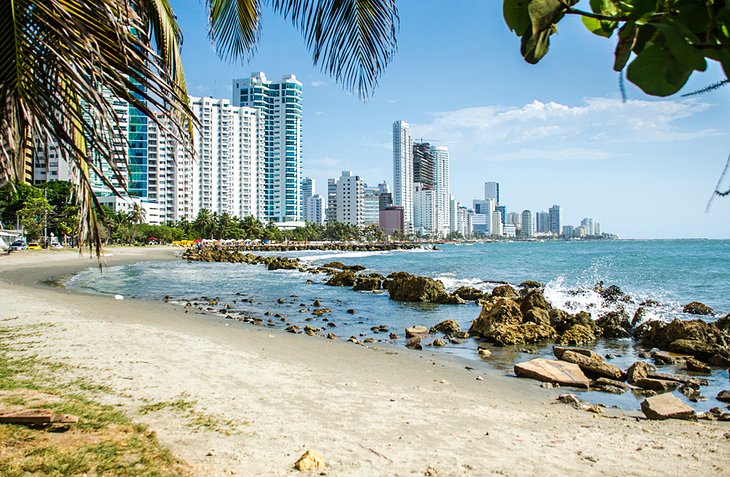 Bocagrande
Bocagrande is Cartagena's beachfront area and the best place to stay near the beach if you still want to be within a few kilometers of the old town. Depending on which end of the beach you are staying, you can be within walking distance of the walled city, or a short taxi ride away.
Accommodation in Bocagrande is in high-rise hotels or condos. Most people don't come to Cartagena for the beaches, but this area does offer a less touristy and more modern alternative to the older sections of the city, like the walled city and Getsemani. The advantage of Bocagrande are the incredible ocean views and infinity pools looking out over the Caribbean Sea. Hotels in Bocagrande generally feature larger pool areas than you'll find in the walled city or in Getsemani.
One of the best hotels in Bocagrande, with fabulous pools and ocean views, is the Hyatt Regency Cartagena.
Islas del Rosario (Rosario Islands)
The nearby islands of Islas del Rosario, an archipelago easily reachable by boat in about an hour from central Cartagena, is where travelers should head if they are looking for a true beach vacation and want to stay at a beach resort. The white-sand beaches and turquoise waters of these islands draw guests who want to relax and enjoy a getaway from the busy city.
The main islands of Islas del Rosario where tourists tend to stay are Isla Grande, Isla Rosario, Isla Baru, and Carolina Island. Isla Baru is where you'll find the well-known Playa Blanca, which is commonly regarded as the best beach around Cartagena. Hotels will arrange boat transport or you can hire a private boat.
Accommodation out here ranges from all-inclusive luxury resorts to budget hotels and places for backpackers. If you are looking for a high-end beach vacation and relaxation, the Decameron Baru, on Isla Baru, is a luxury, all-inclusive beach resort.
Where to Stay in Cartagena for Luxury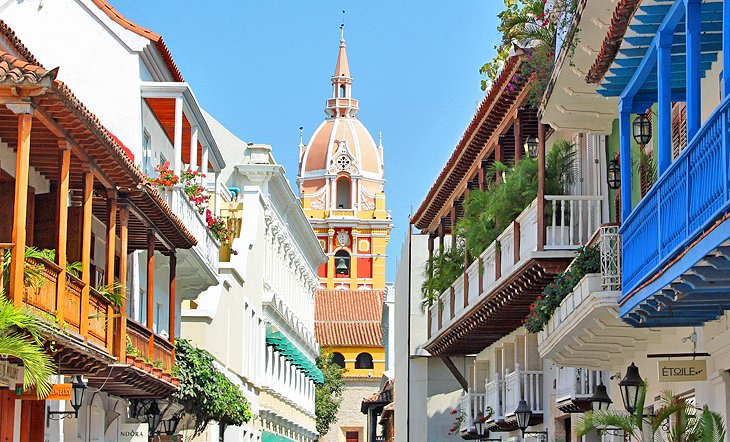 When it comes to luxury hotels, Cartagena is not lacking. The best places to stay in Cartagena for luxury are at the posh and historic hotels located in the old walled city. Many of the best hotels are boutique hotels, but you can find larger properties as well, which offer a full range of amenities.
Hotel Casa San Agustin: Located in Cartagena's walled city, this luxury boutique hotel is generally regarded as Cartagena's best hotel. The historic property creatively incorporates the remains of an old aqueduct from the original old city into the pool area. The 20 spacious guest rooms and 11 suites are all individually designed with the utmost attention to detail, offering comfort and ambience. Some of the rooms and suites feature amenities like private Jacuzzis, balconies and patios, and two stories connected by a spiral staircase. The hotel's Aurum Spa offers a variety of treatments and experiences.
Guests can also take an excursion to ACASI, a private beach on Isla Baru (45 minutes by boat) exclusively for guests of Hotel Casa San Agustin.
Sofitel Legend Santa Clara Cartagena: Located in a quiet section of the old city, near the walls, this colonial-style hotel was once the Cloister of the Poor Clare Sisters, and many of the original elements have been maintained. The large rooms and suites offer contemporary décor and all the modern comforts you would expect to find at a top-end hotel. The large outdoor pool is surrounded by tall palm trees and offers a splendid retreat from the midday heat. The Sofitel Legend Santa Clara is also particularly well-known for its outstanding customer service.
Hyatt Regency Cartagena: Looking out over the beach and turquoise water of the Caribbean Sea, the Hyatt Regency is set in a modern high-rise in Bocagrande, just a short walk from the walls of the old city. Infinity pools on the 10th, 11th, and 12th floors offer plenty of space to relax, enjoy the ocean views, and watch the fabulous sunsets. Spacious, modern rooms and suites offer spectacular views.
Where to Stay in Cartagena for Romance: Luxury Boutique Hotels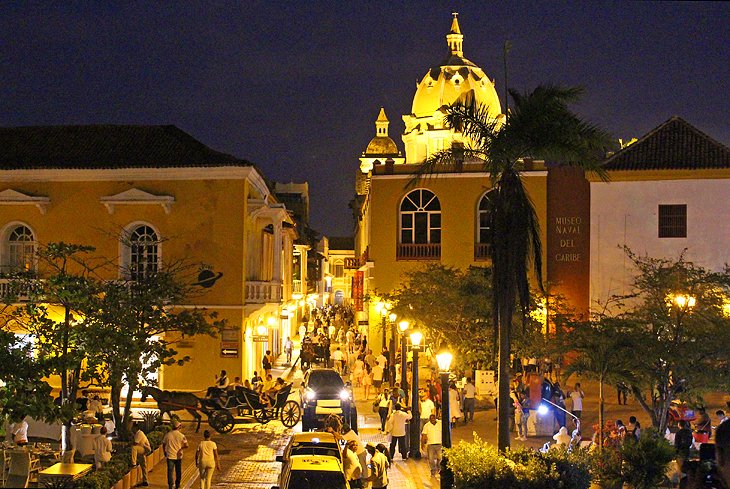 Cartegena's luxury boutique hotels offer romantic escapes for couples and honeymooners, and people who want a quiet retreat. The best boutique hotels are found in the old city, and each is a little different. Some offer rooftop terraces, while others focus their attention around courtyards and other features.
Hotel Quadrifolio: Located in the heart of the old city, this quaint hotel offers just eight individually designed luxurious rooms, all of which offer plenty of space and colonial ambience. A courtyard pool and rooftop terrace with a Jacuzzi provide areas to relax outdoors, and beautifully decorated open-air spaces allow for cozy encounters or room to relax with a book. The hotel also operates a speedboat and can arrange tours to the islands for guests who want to experience the Islas del Rosario.
Hotel Casa del Arzobispado: This luxury boutique hotel in the walled city exudes old-world charm, with huge archways, traditional wooden balconies, high ceilings with wooden beams, and romantic furnishings. The courtyard pool and covered outdoor spaces provide areas to relax, away from the lively city outside. With only 10 rooms, each individually designed, this property offer a peaceful retreat, perfect for couples or honeymooners.
Hotel LM: Another quaint colonial masterpiece of architecture, the luxury boutique Hotel LM is the perfect romantic hotel. Guests can relax around the rooftop pool and enjoy the views from the large terrace, looking out to the landmark steeple of Santa Catalina Cathedral. Another pool in the courtyard provides a cool place to escape from the heat. Rooms are modern, spacious, and come in a variety of sizes.
Hotel Casa San Agustin: The finest hotel in Cartagena is also a romantic luxury boutique hotel. Set in a historic building in the fabulous walled city of Cartagena, this hotel is where the utmost in modern luxury meets the romance of centuries past. The rooms, the pool, the food, the spa, and common rooms all designed to allow guests room to relax, do not disappoint.
Where to Stay in Cartagena: Mid-Range Hotels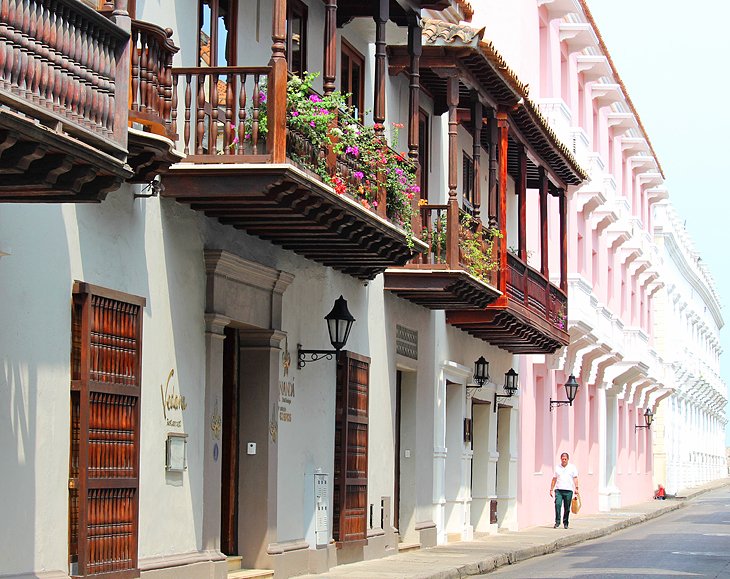 You can find very nice hotels in Cartagena without overextending the budget. Again, all of these listed here are in the walled city, simply because this is the best place to stay, especially for first-time visitors.
Casa Gastelbondo: This adults-only boutique hotel in the heart of the walled city near the famous Santo Domingo Square is set in a historic colonial building but offers large modern suites, elegant décor, and luxurious touches. The sunny pool area offers an outdoor area to soak up the sun or relax in the evening. The prices include breakfast.
Alfiz Hotel: With décor and features designed to take you back to the colonial era, this hotel fits in well with its surroundings in the old city center. Enter from the street through two huge wooden doors to brick-lined arches and exposed brick walls, and a small courtyard with a pool and space to unwind. Breakfast is included with the room rates.
Casa BuGo: This delightful small hotel is down a quiet street, away from the hustle and bustle of the tourist areas. A mix of rooms are available, some with wonderful balconies overlooking the street, others with small patios are poolside. A good breakfast is included with the room rate and is served on a terrace overlooking the pool area. The plunge pool in the main courtyard is a welcome respite from Cartagena's sultry afternoon heat. The hotel is a bit tough to find; the main entrance is through the small door encased in a larger wooden one.
Where to Stay in Cartagena on a Budget: Hostels & Hotels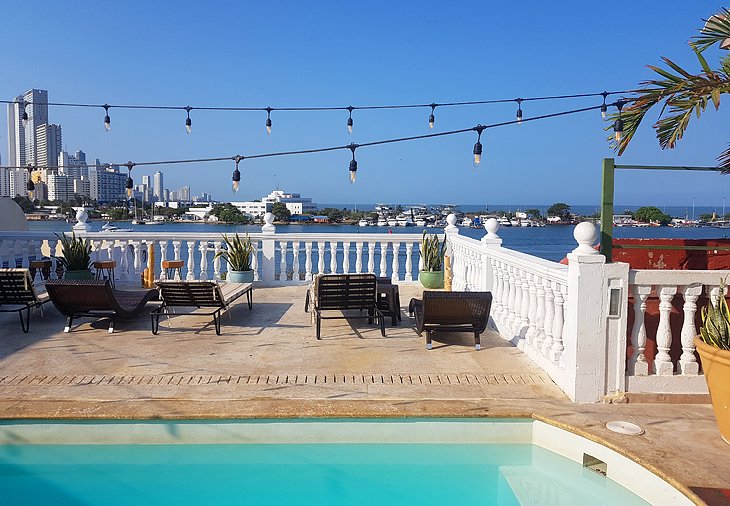 Some of the best budget hotels in Cartagena, including hostels, are found in Getsemani, but you can also find unique hostels within the old city and more modern cheap hotels in other areas just outside of the walled city.
Selina Cartagena: With a rooftop pool and restaurant, beautiful views over the city and beyond to the sea, as well as work space for travelers working remotely, this is a wonderful place for budget and longer-term travelers. Selina is a chain of hostel hotels found throughout Central and South America, catering to travelers on a budget who are looking to meet other people and enjoy fun experiences.
Selina Cartagena is in a great location in Getsemani, within easy walking distance of nightlife, the old walled city, and the area where boat tours leave from the city to visit the beaches and islands. This hotel and hostel offers a range of accommodation options to suit a variety of budgets, including beds in dorms, private rooms with en-suite bathrooms, as well as larger more luxurious suites with balconies. Solo travelers, couples, and groups can find what they're looking for here. Tours can be booked through the front desk.
Hotel Casa de la Trinidad: This hotel is located in a fun area of Getsemani, just a few minutes from the popular Plaza de La Trinidad. Rooms, which come in a variety of sizes and can accommodate families, are basic but clean and comfortable, and come with air-conditioning. This property does not have a pool.
Republica Hostel: This lively hostel has a wonderful plunge pool surrounded by lounge chairs. Air-conditioned dorm rooms and private doubles are set around a leafy two-story courtyard, with plenty of shady spots to relax with a book or your laptop. An open-air communal kitchen is perfect for preparing dinner or lunch. The hostel is located in the northern section of the old city and is close to all the action.
Where to Stay near Cartagena for a Beach Holiday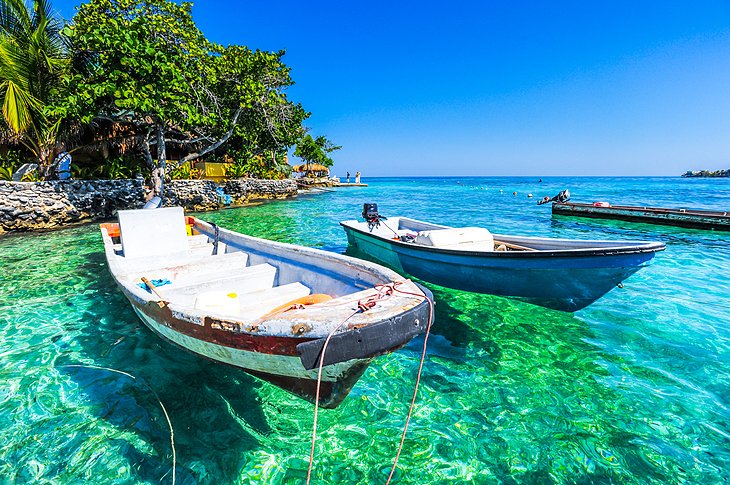 Islas del Rosario
Hotel San Pedro de Majagua: Just an hour boat ride from Cartagena in the Islas del Rosario, this beach hotel is the perfect escape for people who want to relax on a beautiful white-sand beach, or take advantage of the PADI diving center, go kayaking, snorkeling, or visit the San Martin de Pajarales Oceanarium. Rooms and suites offer comfortable accommodation and basic amenities.
Carolina Island: This island retreat is the place to come and relax in comfort. The experience here is more about lounging on a deck or paddling over clear shallow water, rather than beaching. Rooms offer luxury in a rustic design, with many rooms featuring thatched roofs and wood features.
Decameron Baru: This all-inclusive luxury resort in Cartagena's nearby Isla Baru, can be reached from central Cartagena by road in about an hour. This is the full-on Caribbean beach resort experience, with pools for adults and children; a beautiful stretch of beach, as well as other nearby beaches to explore; multiple restaurants; entertainment; and much more.
Bocagrande
Hyatt Regency Cartagena: Located in Bocagrande, the Hyatt Regency is a luxury beach hotel known for its beautiful infinity pools and views out over the Caribbean Sea. This oceanfront hotel is set in a modern high-rise within walking distance or a quick taxi ride of the walled city. The hotel features a spa, two restaurants, and spacious rooms with contemporary décor.
Hotel Cartagena Plaza A good mid-range beachfront hotel in Bocagrande, the Hotel Cartagena Plaza is a little farther away from the old city along the beach. Like the Hyatt, this hotel is known for its beautiful views. It also features a rooftop pool, modern rooms, and two restaurants.
Where to Stay in Cartagena for Families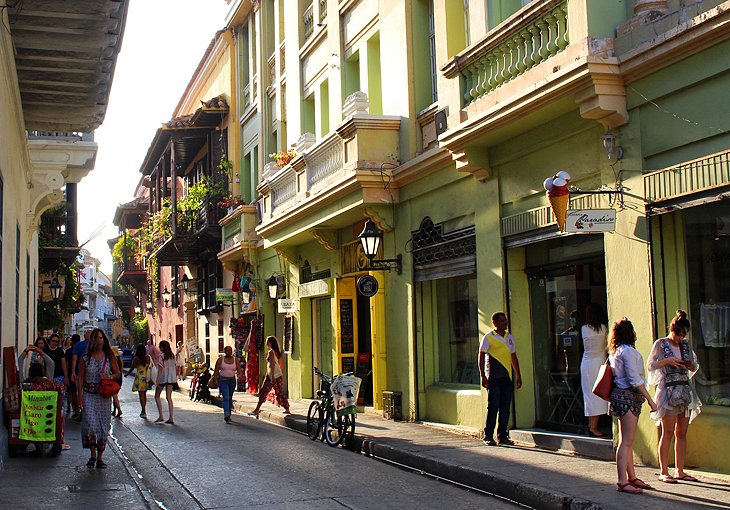 While you can find hotels in the historic center of Cartagena that offer additional beds to accommodate families, some of the best hotels for families are located in Bocagrande. This is where you can find modern hotels along the beach with large pool areas, many with children's pools, and a variety of room styles to accommodate people traveling with children.
Hotel Dann Cartagena features a large pool area with shallow areas that are ideal for young children. Many of the rooms have pullout sofa beds, perfect for the youngest members of the family. A big bonus is the hotel's location-right on the beach-not across the road like many of the other options. Families will also appreciate the free breakfast.
H360 Hotel Playa Club is a good mid-range hotel, with interconnecting rooms. Some rooms come with one double bed and one or two singles, specifically designed to accommodate families. The hotel is within easy walking distance of the beach and there is a small pool area with chairs and sun shelters. The room rate includes breakfast.
Hotel Cabrero Mar: This is a smaller family hotel with only 14 rooms. Here, you'll find spacious rooms, including some apartment units with two bedrooms and a full kitchen, ideal for self catering. The hotel does not have a pool, but is a short distance from the beach. Some of the rooms have balconies.