11 Top-Rated Resorts in the Cayman Islands
We may earn a commission from affiliate links ()
The Cayman Islands, located in the Caribbean Sea about 500 miles south of Miami, are an overseas territory of Great Britain. They retain British influences, like driving on the left and loving cricket, yet feature some of the most beautiful, white-sand beaches in the world. Those beaches lead to clear, warm, aqua-blue water, with some of the world's best snorkeling and scuba diving just offshore. They are also home to some of the Cayman Islands' best resorts.
The islands' close proximity to Miami and other American cities makes them a great getaway destination, as flights from many U.S. gateways take only an hour or two.
The Cayman Islands consists of three islands, and each offers a different vacation experience. Grand Cayman is the largest, most developed island and home to many all-inclusive family resorts. Cayman Brac has a much smaller population and is home to more boutique resorts and guesthouses. Little Cayman is the smallest island, and aside from some small towns and dive resorts, it's mostly a big nature preserve.
Ready for your Caribbean getaway? Find the best place to stay with our list of the top resorts in the Cayman Islands.
On This Page:
Resorts on Grand Cayman
1. The Ritz-Carlton, Grand Cayman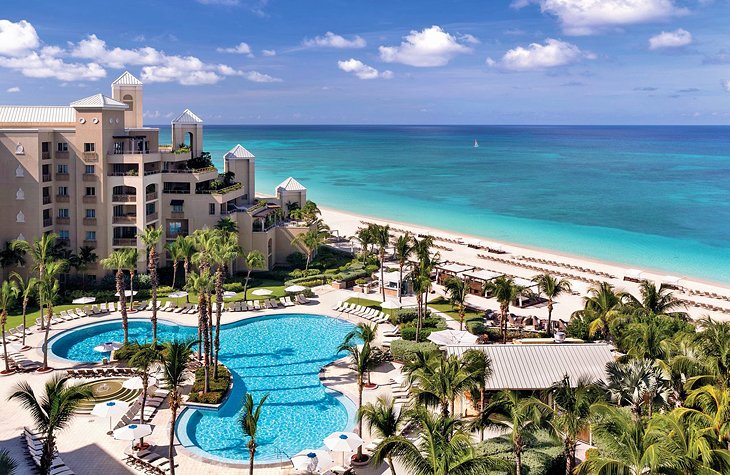 Accommodation: The Ritz-Carlton, Grand Cayman
This 5-star luxury resort spreads out over 144 acres, all along Seven Mile Beach on Grand Cayman, one of the most beautiful beaches in the Caribbean. The rooms and suites are spread out within two towers, with the pool and recreation area between them. There are hotel rooms along with one-, two-, and three-bedroom suites.
The Ritz-Carlton is a great luxury resort for families, as they have a lot of things for kids to see and do. There's the Ritz Kids supervised activity program, as well as Jean-Michel Cousteau's Ambassadors of the Environment eco-adventure program. All the various resort restaurants have kids' menus, and kids under five eat free at certain restaurants as part of the resort fee. Families can also enjoy Starfish Cay, a waterpark.
Sports facilities include five tennis courts and a highly rated nine-hole golf course. There are two big pools and an oceanfront Jacuzzi tub. The resort has all kinds of aquatic things to do on the beach, and most of the equipment is free with your resort fee. Things like kayaks, SUPs, water tricycles, rafts, and water hammocks. Snorkeling gear is also provided at no charge, and all kinds of dive trips can be arranged.
Foodies will love trying all six restaurants, especially Blue by three-Michelin-starred chef Eric Ripert.
Address: West Bay Road, Seven Mile Beach KY1-1209, Grand Cayman
2. Palm Heights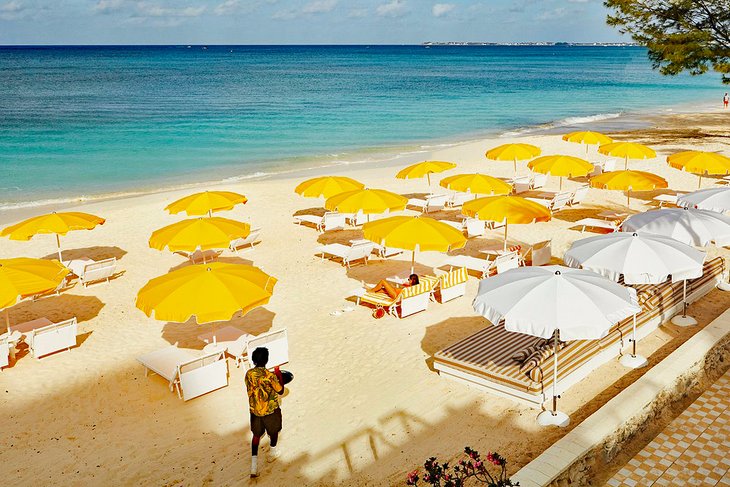 Accommodation: Palm Heights
This consistently impressive, pet-friendly Cayman Islands boutique resort puts you right on Seven Mile Beach.
There are 50 one- and two-bedroom suites at Palm Heights, each one a stylish oasis. These suites include goodies like UHD TVs with Apple TV and big, spa-like bathrooms clad in Carrera marble with separate soaking tubs.
Head down to the resort's private beach to do some snorkeling, windsurfing, or kayaking. The crystal kayaks, made from clear plastic so you can see what's swimming under you, are very popular. Non-powered fun is all complimentary for guests, and powered stuff, like Jet Skis, can be rented. The resort can also arrange for off-site adventures like horseback riding or dive trips.
On Wednesday nights, Palm Heights is home to Supper Club, a popular beachside interpretation of a jazz music club. A special menu is offered, and there is a stage on the sand with performances from popular international jazz performers, as well as local discoveries.
Beyond music, a residency program brings artists, writers, and athletes to the resort based on a connection to the Caribbean. Guests can then connect with them: take a boxing class with a boxing pro, a painting class with a professional artist, or a yoga class led by an Olympic gymnast.
When you get hungry, there are multiple dining options on-property, so you can experience a different cuisine each night of your stay without ever leaving. Tillies is the main restaurant, serving breakfast, lunch, and dinner along with a very popular Sunday roast. The menu highlights Caribbean dishes enhanced by local produce and products from local farms and providers.
The Coconut Club is the upscale, beachside snack bar with a contemporary menu of small tasting plates. Paradise Garden has a pizza-centric Italian menu and has food available for takeout or delivery to your suite. Yashinoki provides what the resort calls a "multi-course Japanese gourmet experience" featuring a mix of sushi and hot dishes.
Address: 747 West Bay Road, Seven Mile Beach KY1-1200 Grand Cayman
3. Grand Cayman Marriott Beach Resort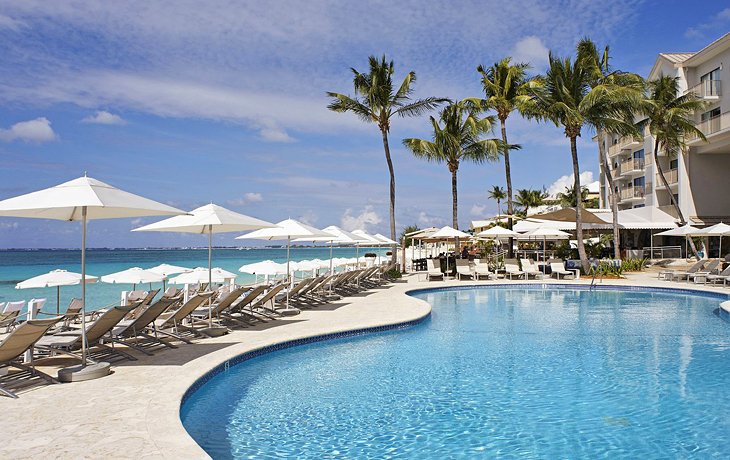 Accommodation: Grand Cayman Marriott Beach Resort
Another mega-resort on Seven Mile Beach, the Marriott beach resort also provides a wonderful array of things to see, do, and eat, all without leaving the property. All the rooms and suites have balconies or patios, and up to two-bedroom suites are available.
The beautiful beach is filled with lots of ways to play in the water, or just enjoy the sun from your lounge chair while waiters bring you snacks. You can also take a swim in the big beachfront swimming pool. The resort is close to Stingray City, the sandbar area where stingrays congregate close to shore, and you can interact with them.
There are four different dining options at the Marriott, and the restaurants are very popular with non-guests as well. Veranda on Seven Mile Beach is their casual restaurant. Den serves a globally inspired but locally sourced menu, and the Anchor Lounge features a sushi bar. Vista is the beachfront, poolside cafe.
Address: 389 West Bay Road, Seven Mile Beach KY1-1202 Grand Cayman
4. Kimpton Seafire Resort + Spa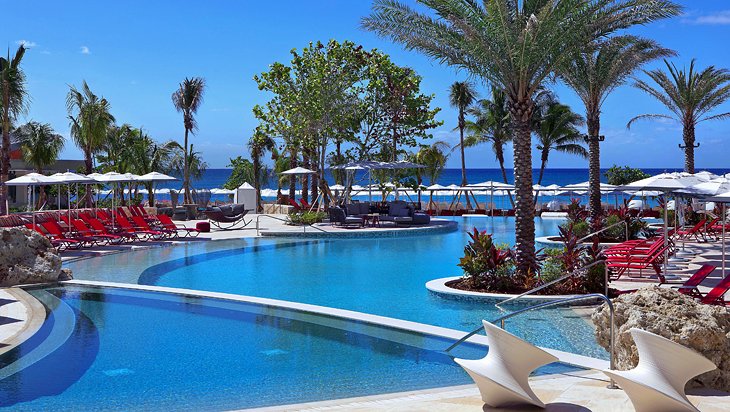 Accommodation: Kimpton Seafire Resort + Spa
Kimpton is a hip, lifestyle boutique hotel brand that's part of IHG. Their hotels are always new (or newly renovated) and always have a cool local vibe and influence. The Kimpton Seafire Resort & Spa provides a modern, luxury boutique hotel vacation.
It's one of the few newly-constructed resorts along Seven Mile Beach and gives guests a true design hotel experience, which is much different than the other resorts. The accommodations and public spaces (many are open-air) are as beautiful to look at as they are to experience.
The 266 rooms and suites all have floor-to-ceiling windows, and most have ocean views. Other accommodation options include freestanding beachfront bungalows and a full two-bedroom beach house.
The pet-friendly Kimpton also has a large, stylish spa and a big fitness center. As part of your $70 daily guest amenities (resort) fee, you get a GoPro camera to use during your stay to document your adventures (you have to buy the SD card). The fee also covers all your non-motorized water sports and daily fitness classes (among other things).
Foodies love the Kimpton. There's a Mediterranean grill called Ave; a mini, pop-up like tapas bar inside called Avecita; and Coccolobo, a beachside café with a Caribbean and Mexican menu.
Address: 60 Tanager Way, Seven Mile Beach KY1-1303, Grand Cayman
5. Holiday Inn Resort Grand Cayman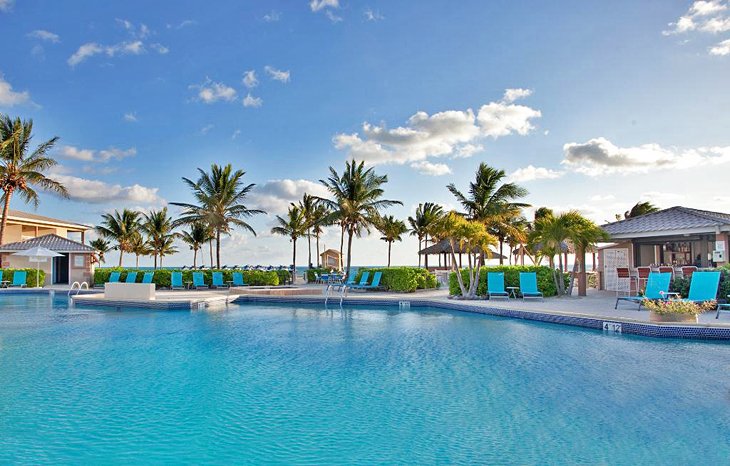 Accommodation: Holiday Inn Resort Grand Cayman
This mid-range resort offers the full Cayman Island beach vacation experience at a reasonable price. Deals can usually be found here offering lower rates than resorts on Seven Mile Beach.
Rooms and suites are light and modern with bright color accents. They all have balconies, and the ground level, oceanfront rooms have patios that open right onto the sand. Some have views of the ocean, some the golf club, some the gardens, and others the pool.
Suites upgrade the experience with a fully-stocked kitchen, dining, and living room, and washer/dryers in the units.
Aside from the big, oceanfront pool, there's also a fitness center and a tennis court. Guests can enjoy a full beach activities center with the usual range of free equipment (non-motorized), rentals, and scuba excursions, too.
The Holiday Inn is the only resort on the North Sound area, meaning you get some beautiful sunrise views that other Cayman Islands resorts on Seven Mile Beach don't get. The resort has a free shuttle that takes you to Camana Bay; a local supermarket; Seven Mile Beach; and George Town, the capital of the Cayman Islands.
The Blue Iguana Grill is the resort's restaurant, open for breakfast, lunch, and dinner (and room service). It's a casual café with a Caribbean/American menu.
Address: 278 Crighton Drive Crystal Harbour, West Bay KY1-1300, Grand Cayman
6. The Westin Grand Cayman Seven Mile Beach Resort & Spa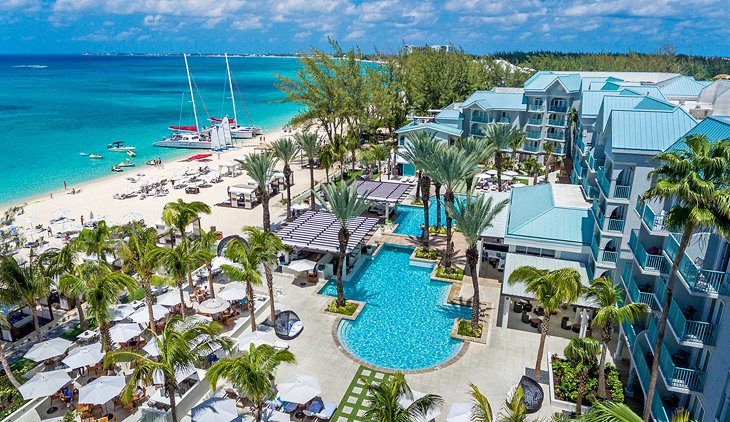 Accommodation: The Westin Grand Cayman Seven Mile Beach Resort & Spa
This luxury resort, as its name reveals, is right on Seven Mile Beach, the main beach area on Grand Cayman and home to many of the island's luxury resorts. The water is clear and calm, and the many offshore reefs (natural and man-made) make it an amazing place to go snorkeling.
The Westin Grand Cayman is right on the sand, and some rooms have direct beach access. Rooms and suites are very modern, with island-colored accents and spa-like bathrooms. All have private balconies or lanais. There's a big, well-equipped fitness center and a big resort pool surrounded by lounge chairs and cabanas.
The resort has a private section of beach with beach chairs and umbrellas and provides all kinds of toys to enjoy the water. As with other resorts, things like snorkel gear, rafts, kayaks, and even water tricycles are available at no charge. Jet Ski and scuba gear rentals (extra charge) are also offered. Each morning, the resort offers daily free yoga classes on the beach.
There's nightly music in the lobby and outside at the Tortuga Beach Grill, the poolside café. You can also dine at Beach House, their award-winning seafood restaurant (with ocean views), or Ferdinand's, an all-day Caribbean café.
Address: 30620 Seven Mile Beach, Seven Mile Beach KY1-1203 Grand Cayman
7. Wyndham Reef Resort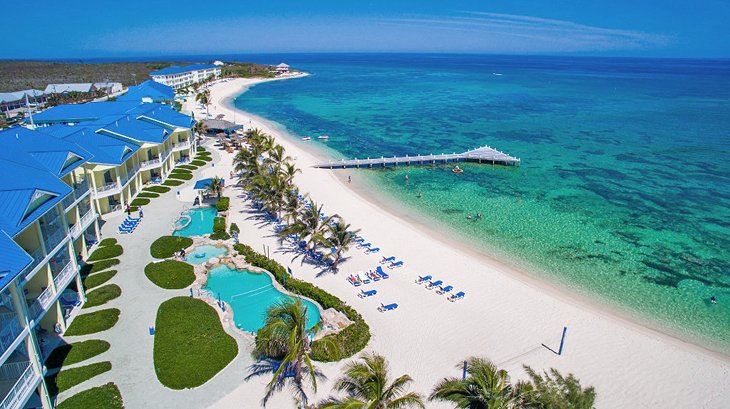 Accommodation: Wyndham Reef Resort
If you want an all-suite, all-inclusive beachfront resort with good food and a wide range of included activities that doesn't break your vacation budget, the Wyndham Reef Resort is the prefect choice. They also have some great vacation packages, many of which include diving. You can book a room-only stay if you don't want an all-inclusive plan.
The resort's slightly out of the way East End location doesn't really make a difference if you don't plan to leave the Wyndham's white sandy beach and current-free, clear water. The somewhat remote location means the deals here are better than those from resorts on Seven Mile Beach.
It's on its own stretch of private beach, with a meandering lagoon-style pool next to the sand. All the rooms and suites (they're either studios or fully-equipped condos) face the ocean, and you have world-class snorkeling and diving right outside your room.
Dining options include Tides, an oceanfront café serving breakfast and dinner, and Beach Bar, with a full dinner menu. There's also a coffee shop in the lobby and a Subway sandwich shop next to the hotel (it's in the same building).
Address: 2221 Queens Highway Colliers, East End KY1-1800 Grand Cayman
Resorts on Cayman Brac
1. Le Soleil d'Or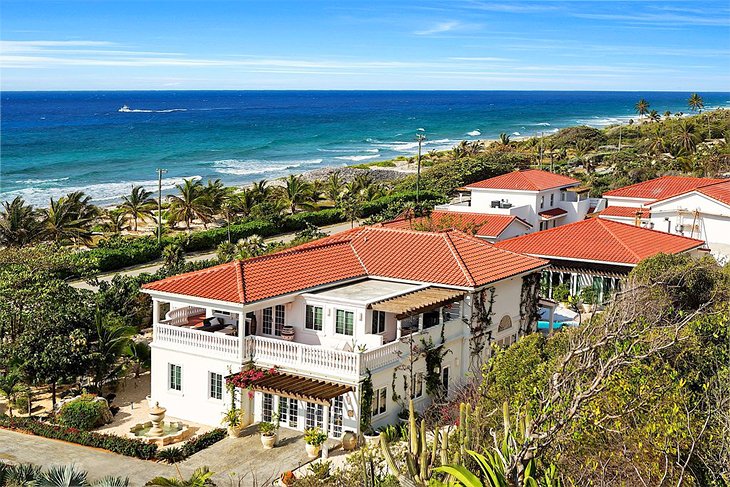 Accommodation: Le Soleil d'Or
This boutique luxury resort is the ultimate Caribbean vacation destination for foodies, as it's a farm-to-table resort. With its own 20-acre organic farm, the majority of the products used at the resort are grown or produced on site (including eggs from their many chickens). Guests get a farm tour as part of their stay.
Some of the cottages are oceanfront, but the area at the resort has a rocky coastline. Guests get access to a nearby beach club with a wide beach with all kinds of water sports, available free for guests. You can swim in the beachside pool or take a yoga class on the sand.
The hotel's Mango Restaurant also features farm-to-table cuisine. The spa is even farm-to-spa, as it uses fruits and vegetables like lemons and avocados from the farm in its treatments.
Outdoor excursions on Cayman Brac include hiking, fishing, biking around the island, bird-watching, and cave exploring.
Address: 2147 South Side Road, KY2-2001 Cayman Brac
2. Cayman Brac Beach Resort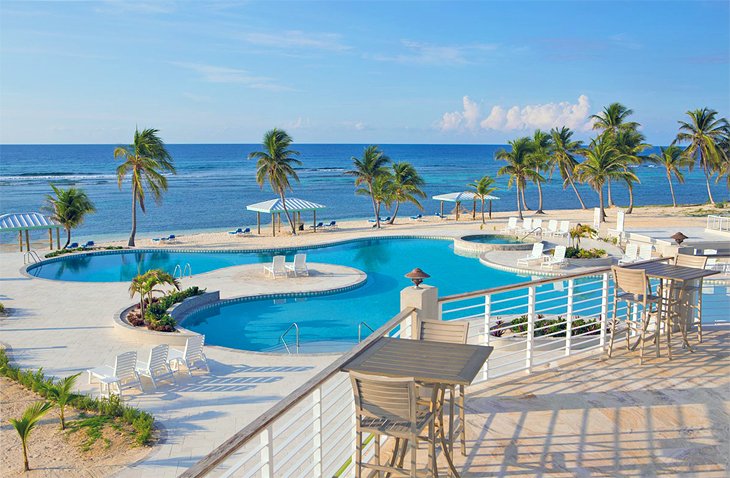 Accommodation: Cayman Brac Beach Resort
This resort on Cayman Brac is all about diving. The remote island location puts you close to over 100 reef, wall, and wreck diving sites. There's a full dive shop, and the resort has its own fleet of dive boats. You can even learn to dive with one of their intensive two-day courses (you do the classroom training online, in advance of your trip).
When you want to enjoy the beach, there's a large, private beach area with beach chairs and all the usual water sports toys available for your use. There's a walk-in, freeform pool; volleyball courts on the beach; and hammocks to relax in.
The resort's 40 rooms are very nice with a modern style and standard luxury hotel amenities. They're all in a two-story building overlooking the pool and beach. Island Prime is their island-fancy restaurant, open for dinner three nights a week. The Tipsy Turtle is open all day for food and snacks.
Address: 383 Channel Road Cayman Brac
Resorts on Little Cayman
1. Southern Cross Club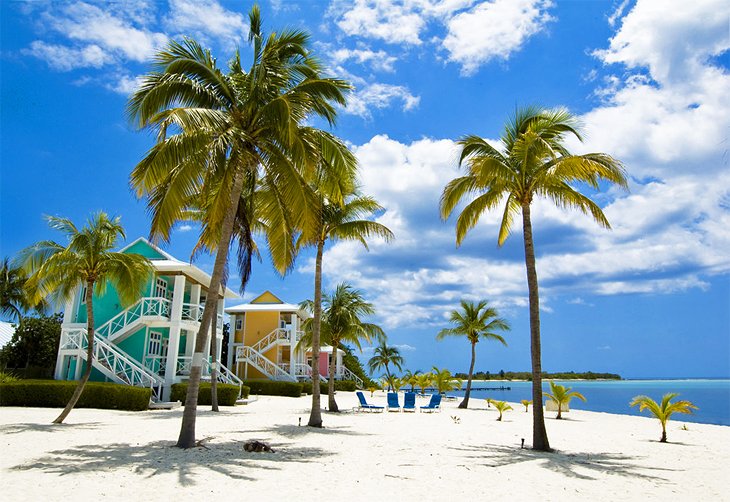 Accommodation: Southern Cross Club
If you want to visit Little Cayman, the smallest and least developed of the islands, you don't have many choices. If you want to stay on the beach, you really have only one option, the Southern Cross Club. It's on the sand and has a cool, barefoot luxury vibe. You can spend the day relaxing on the beach in a hammock under a thatched-roof gazebo or go for a swim in the resort's pool.
There are 14 individual cottages of varying sizes, all right on the sand. The resort is an all-inclusive experience, with breakfast and lunch served buffet-style. The menu is seafood-heavy, with many items caught the same day they're served to you.
One of the main reasons for visiting Little Cayman is for the diving, and the resort has a full dive shop and rental operation. Another reason people make the trip is for fishing, and the resort can set up all kinds of excursions. You can also fish right from the sandbar, which extends a few hundred feet into the ocean.
The resort started as a private fishing club and developed over the years into a boutique getaway destination.
Address: Guy Banks Rd, KY3-2501 Little Cayman
2. Pirates Point Resort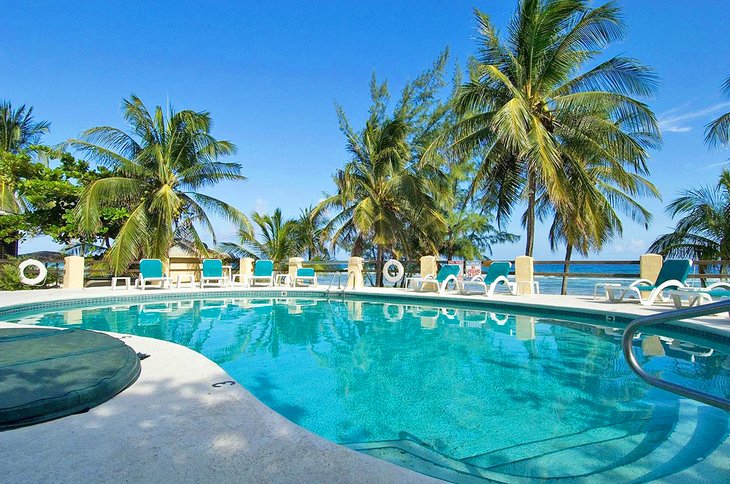 Accommodation: Pirates Point Resort
Set on seven acres of gorgeous white-sand beach, Pirates Point is a boutique luxury property with a very private vibe in Little Cayman. There are just 11 rooms here, and these have charming Caribbean-style decor with comfy beds, tile floors, and colorful art. The property is family-friendly and welcomes kids. It also caters to scuba divers.
All-inclusive packages are available, and these can be tailored to your party including options for just meals as well as dive packages. Pirates Point has its own well-equipped dive boat and top-quality instructors to take guests out. If you'd prefer to just snorkel, this can be done from the beach right in front of the resort.
Other amenities include a swimming pool, restaurant, bikes, and hammocks. Staff can also point you in the direction of nearby hiking trails and where to go for bird or iguana watching.
Address: 328 Guy Banks Road, KY3-2501 Little Cayman
More Related Articles on PlanetWare.com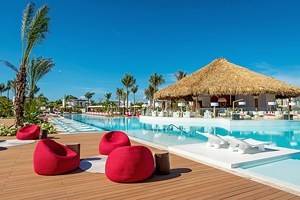 Caribbean Resorts for Families: The Caribbean offers so many choices for vacations, it's hard to know where to begin. For good deals people often head to the Dominican Republic, which is a particularly popular destination for Canadians. Families can usually find what they're looking for here. For ideas, see our article on Top Family Resorts in the Dominican Republic. Another popular resort destination is Puerto Rico. Have a read through our guide to the Best Family Resorts in Puerto Rico.