Best Time to Visit Yosemite National Park, CA
Showcasing the splendor of the Sierra Nevada Mountains in California, Yosemite National Park is a beautiful place to visit no matter the time of year. The months between Memorial Day and Labor Day are the peak visiting season at Yosemite. Between June, July, and August, the park receives over a million-and-a-half visitors each year.
Yosemite's high country and Tuolumne Meadows are snowcapped throughout the winter. Tioga Road, which accesses this northern part of the park, is generally open to vehicles between May and November. Places at lower elevations of the park, like the illustrious Yosemite Valley, are open the entire year. Looming rock formations like El Capitan and Half Dome are also impressive features to see no matter the season.
Perfect summer weather and the full accessibility of a snow-free park make summer a great time to go to Yosemite. Visitors in summer will need to pack some patience and plan for crowded conditions. Spring and fall in Yosemite feature fewer crowds and pleasant weather, and the months of May and September are some of the best times to visit Yosemite.
Winter visits are often deterred by road closures, variable driving conditions, and cold weather. With the right preparation and warm layers, though, the winter is the best time to visit Yosemite to avoid the crowds. Alongside a fraction of park visitors, Yosemite in winter provides scenic appeal with fresh layers of snow.
Note: Some businesses may be temporarily closed due to recent global health and safety issues.
Best Time of Year to Visit Yosemite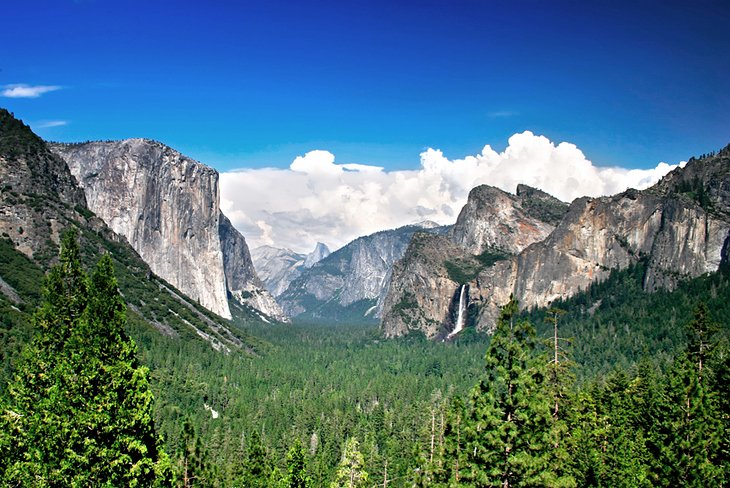 While summer is the peak visiting season, the spring and fall are the best times to go to Yosemite National Park. Weather is very pleasurable in the spring and fall with temperatures that call for a sweater or light jacket. Utilities like hiking trails, campgrounds, and lodging are also in less demand and see less foot traffic.
Specifically, May and September are both fantastic times to visit Yosemite. Early spring and late fall feature more road closures and variable forecasts. Holiday weekends in the spring and fall do see some significant crowds, but nothing compared to peak summer weekends.
Summer is a great time to go to Yosemite if not for the near-perfect weather. Tioga Road and Tuolumne Meadows are operational in the summer alongside the rest of the park. Other facilities like lodging and restaurants are also open during the summer. Summer visitors should try to book campsites and lodging months ahead of time.
The winter is the best time of year to visit Yosemite for the fewest crowds. Much of Yosemite is blanketed in snow between November and May. These cold conditions stop most visitors from coming to the park but offer a special experience for those who brave the elements.
Best Season to Visit Yosemite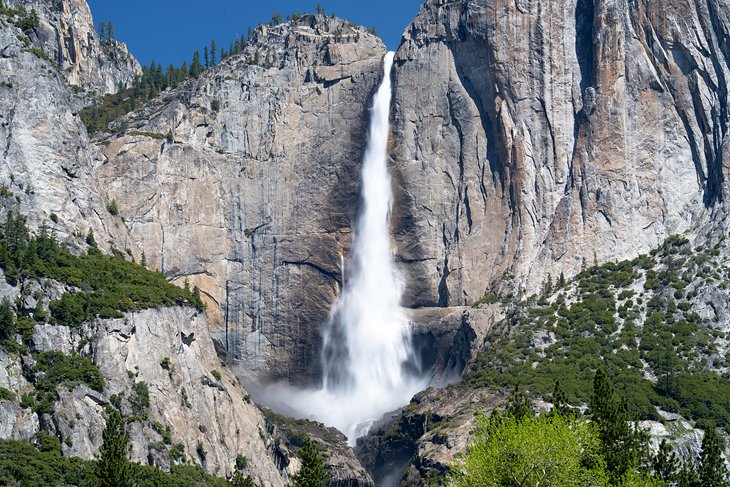 Spring (April - May) *Best Time to Visit: Snowmelt adds some serious splash to waterfalls in Yosemite throughout the spring. Many of the waterfalls in the Yosemite Valley flow at their heaviest in the spring from seasonal snowmelt. Visitors in the spring can see waterfalls like Yosemite Falls without driving through snow. Tioga Road, which connects Yosemite Valley to the upper elevations of the park, doesn't become plowed until late May and sometimes not until June.
Daytime highs climb up to the 70s throughout May, with chilly temperatures at night. Visitors should plan to arrive early on the weekends during the spring. Weekdays in the early spring are the least crowded of the season. Access to Mariposa Grove on the south side of the park also typically opens back up in April.
Summer (June - August): The seasonal Tuolumne Meadows, Glacier Point, and Mariposa Grove areas of the park are accessible by vehicle during the summer. The park's many high alpine hiking trails also become snow-free by July. Summer is the peak season for the national park and the season with the best weather to visit.
Summer is fairly dry in Yosemite, and August has the lowest amount of precipitation of any month. Many waterfalls in Yosemite stop running around midsummer. Temperatures can climb into the upper 80s in the valley, while higher elevations in the park hover in the 70s. Comfortable nighttime temperatures in the summer allow for extended gazing at Yosemite's starry night sky.
Fall (September - October) *Best Time to Visit: The fall introduces cooler temperatures and fewer crowds to Yosemite National Park. Tioga Road and Tuolumne Meadows often remain open until November, but crowds tend to thin out after Labor Day in September. This window with fewer crowds and full accessibility of the park makes Yosemite in September one of the best times to go.
Fall high temperatures range from the 60s in September to below 50 in October. Overnight lows are usually below freezing. Yosemite isn't well known for its fall colors, as evergreen trees cover much of the park, but Yosemite does receive some autumn foliage around mid-October. Hiking this time of year is very enjoyable compared to the sometimes-stifling heat of summer.
Winter (November - May): Yosemite receives 75 percent of its precipitation this time of year, often in the form of snow at higher elevations. Yosemite Valley and Wawona within the park remain open throughout the winter and are accessible by vehicle. From mid-December through early April, snowplows open a segment of Glacier Point Road to lend access to Yosemite Ski & Snowboard Area (formerly Badger Pass Ski Area). Winter sports enthusiasts flock to Badger Pass for both downhill and cross-country skiing.
Best Month to Visit Yosemite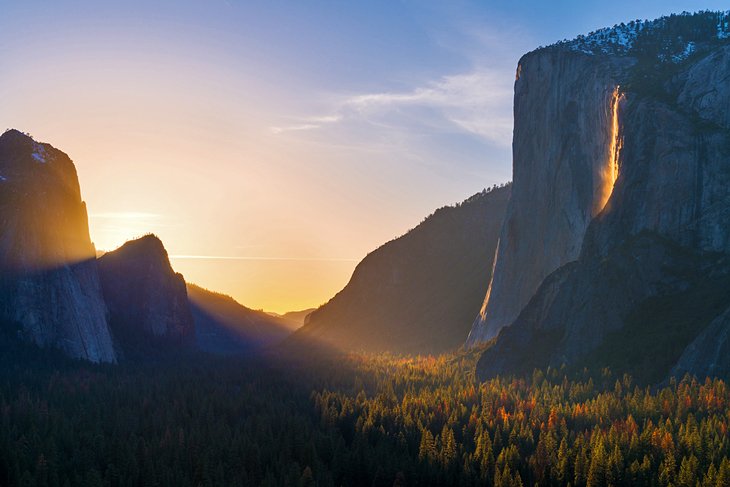 Combining smaller crowds, beautiful weather, and booming waterfalls, May is one of the best months to go to Yosemite. Tioga Road, which connects visitors to the park's high country, typically opens in May, and places that are open year-round like Yosemite Valley flourish with the snowmelt of May. Waterfalls are the main attraction of the month, as May is a bit early in the season for wildflowers.
September is also one of the best months to travel to Yosemite, much in thanks to cooler weather and smaller crowds in the park. Yosemite's evergreen trees don't lend to a lot of fall color, but September brings a crisp to the air that pairs well with bonfires. Tioga Road and Glacier Point typically remain open throughout September and October.
To see the incredible Yosemite Firefall, February is the best month to go. An amazing spectacle of the sun that makes it look like fire is flowing down Horsetail Falls, this "Firefall" only occurs on cloudless evenings in mid-to-late February. Horsetail Falls also needs to be flowing, which can be a bit early this time of year for enough snowmelt.
Best Day of the Week to Visit Yosemite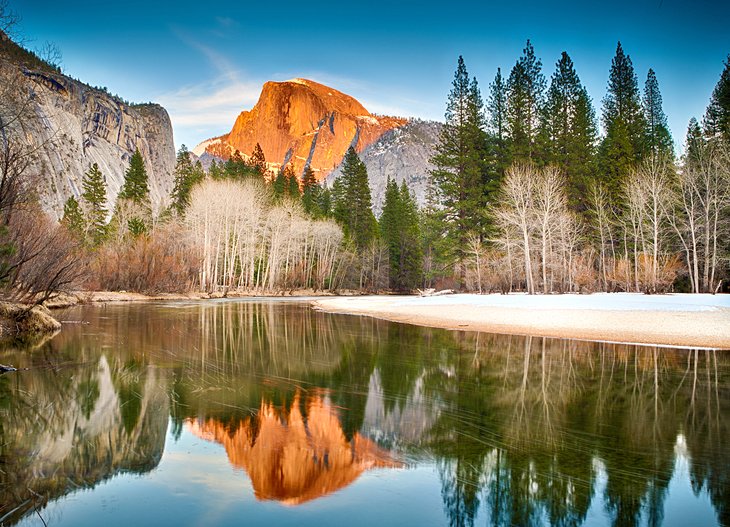 Planning a weekday trip in the peak summer season, rather than a weekend trip, is the best way to avoid the worst summer crowds. Mondays and Fridays will have some extra crowds being next to the weekend, and Tuesday, Wednesday and Thursday can be less busy days to visit. Every day of the summer will have crowds, and arriving early to the park is recommended throughout the summer.
Weekdays are also great times to visit Yosemite in the spring and fall. Visitors can find themselves enjoying the space with fewer other people during this season. Monday through Friday in the spring and fall are great days to explore iconic places like Yosemite Valley and Tunnel View Outlook without traffic jams or limited parking.
Best Time to Visit Yosemite to Avoid Crowds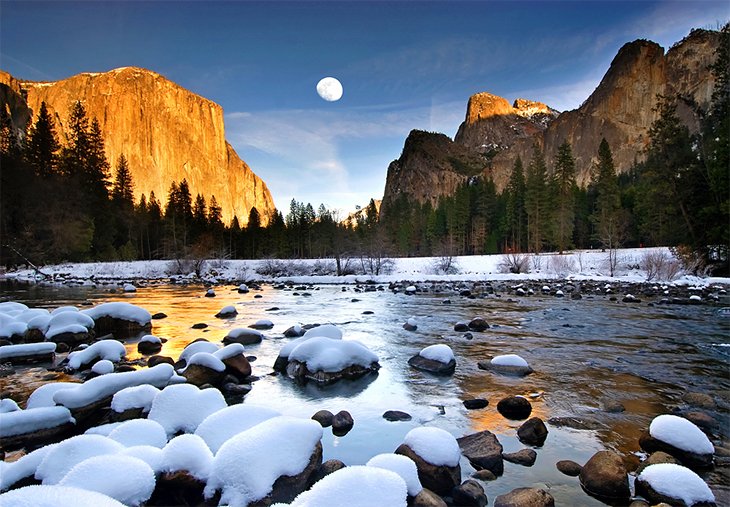 The winter season is by far the quietest time in the park, making it the best time to avoid the most crowds. Downhill and cross-country skiing are both popular activities in the winter at the Yosemite Ski & Snowboard Area within the park (formerly Badger Pass Ski Area). Only a small part of the park, including Yosemite Valley and Wawona, is open to vehicles between November and May.
For those that aren't excited about snowy landscapes and layers of winter clothing, the spring and fall are great times to go to Yosemite to avoid peak season crowds. The busiest season of Yosemite is approximately between Memorial Day and Labor Day. The weeks before and after these federal holidays offer a prime time to visit with fewer crowds.
Work schedules and summer holidays often make summer the most viable time to visit Yosemite. The perfect weather in the park, too, makes it that much more appealing to visit. Arriving before 9am to park entrance gates is a great time to avoid summer crowds and find available parking. Staying late into the evening, too, will help avoid some of the day traffic within the park.
Bringing your own food to Yosemite can help avoid restaurant crowds in the park. Visitors should also consider utilizing the park's free shuttles to not worry about finding a parking space. Going for extended hikes can also lead away from most crowds, particularly in the park's high country. Avoiding the busiest areas of the park, including the Yosemite Valley, can also make a visit to a crowded Yosemite more enjoyable.
Best Time to Visit Yosemite for Hiking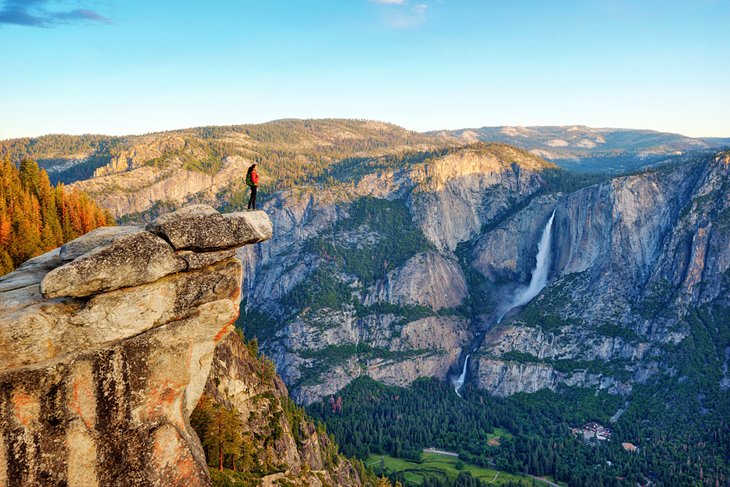 Many of the best hiking trails in Yosemite lead visitors to great vantage points of signature waterfalls within the park. Waterfalls hit their largest flow with spring snowmelt, and many can run dry by midsummer. For waterfall hikes in Yosemite, the spring is the best time to go.
To explore Tuolumne Meadows and the park's high country, accessed by the seasonal Tioga Road, the summer is the best time for hiking and backpacking at higher elevations. Tioga Road sometimes doesn't open until June, and backcountry passes, like Mono Pass, are often still covered with snow into July.
Worst Time to Visit Yosemite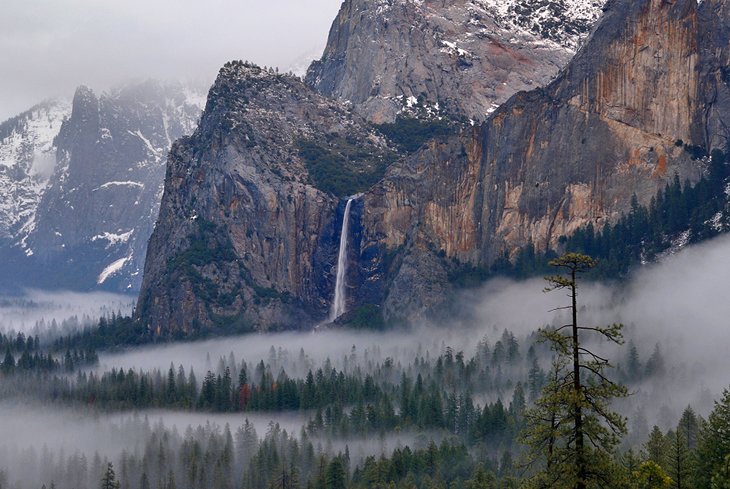 With a Firefall in the winter, wildflowers in the summer, and fewer crowds throughout the shoulder seasons, very few times of year are bad to visit Yosemite National Park. The worst time to visit varies from person to person, and it all depends on what they want to do (and what they want to avoid.)
Backcountry hiking, sunny weather, and comfortable camping weather define much of the summer. So do traffic jams, crowded observation decks, and limited lodging. If big crowds can ruin your vacation, summer is the worst time to go to Yosemite.
Snow sports and freezing temperatures dominate the months of November through May. This makes winter the worst time to go for those interested in short-sleeve endeavors. Spring and fall tend to be a great time to travel to Yosemite. These shoulder months also come with variable weather forecasts and freezing conditions that might not cater to fair-weather explorers.
More Related Articles on PlanetWare.com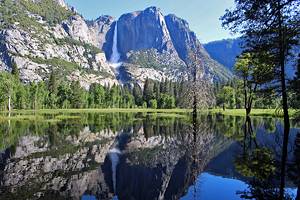 Exploring Yosemite National Park: Our guide to the top attractions and things to do in Yosemite is a great place to start exploring the park. From here, the best hiking trails in Yosemite provide more in-depth views and exploration of the environment. For a place to pitch a tent or park an RV, the campgrounds in Yosemite offer places to stay close to all the action.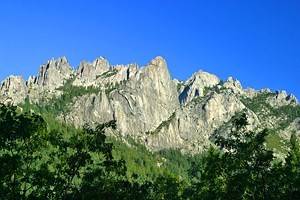 More Parks in California: Including other iconic areas like Joshua Tree, Redwood, and Lassen Volcanic National Parks, the best national parks in California are a stunning collection of places to explore. Not to be outdone, the top-rated state parks in California deliver with a similar scenic appeal and far fewer crowds.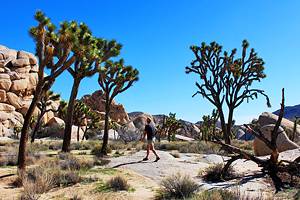 Other National Parks of the American West: Few other national parks compare to the scenic beauty of Yosemite, but Glacier National Park in northern Montana might be one of the few. Similarly, the mountain majesty of Mount Rainier National Park in Washington truly dazzles with outdoor attractions. For some desert landscapes, the big boulders and blazing sunsets of Joshua Tree National Park in Southern California are best enjoyed in the spring, fall, and winter.