12 Best Bubble Hotels
Bubble Hotels burst into the travel scene in 2018, and they are here to stay for good. The appeal is easy to understand – you get to sleep under the stars, gazing up at the constellations or Northern Lights, surrounded by immense natural beauty while comfortably cozied up in your bed.
A bubble room is an inflatable, climate-controlled transparent sphere, allowing guests to enjoy unobstructed views of the outside and comforts of a hotel room, without having to deal with bugs and temperature variables.
Futuristic-looking bubble lodges have popped up on islands and in the middle of deserts and mountains in the past few years. In Iceland and Finland, fall asleep under the magical dance of the aurora borealis; enjoy nights near the beach in dreamy destinations like Bali and Martinique; gaze upon the red-rock wilderness of Jordan and reconnect with nature in Northern Ireland.
If you are wondering about privacy in these fishbowls, worry not. Most of the bubble rooms come with private bathrooms and are located so far from the next bubble that you won't see anyone, except for grazing deer and critters that come out at night.
This new trend in hotels takes glamping to the next level. Plan your next vacation under the Milky Way with our list of the world's best bubble hotels.
1. Finn Lough Resort, Northern Ireland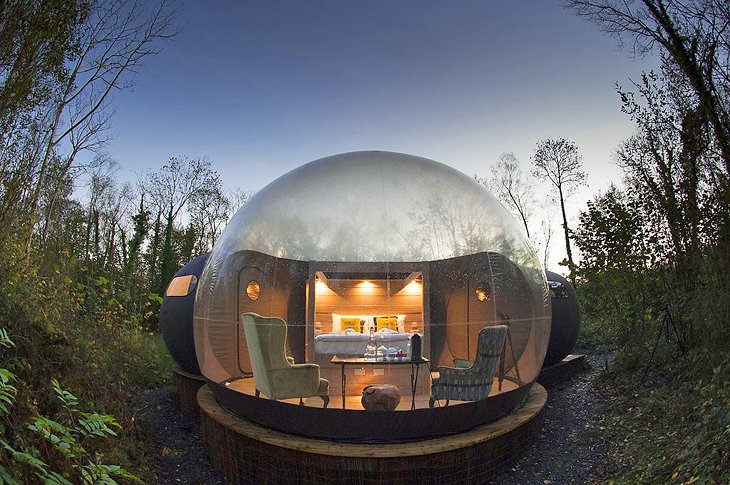 Accommodation: Finn Lough Resort
Located a mile from the Donegal/Fermanagh border on the shores of Lough Erne Lake, 90 miles from Belfast International Airport, you'll find the Finn Lough Resort and its beautiful domes. These sophisticated bubble rooms allow you to experience Ireland's forests while enjoying the comforts of a luxury hotel.
Expect heated floors, four-poster beds, wooden furniture, robes and slippers, and stone-cast bathtubs and rain showers. Each room also comes with a telescope, so you can observe the night sky up close.
Because the domes are part of the resort, you can take advantage of the perks that come with the property, like boat rentals at two marinas, spa treatments, water sports, tennis courts, and plenty of opportunities to go mountain biking and hiking in the surrounding woodland. The resort also has a seasonal restaurant.
Address: 41 Letter Road, Aghnablaney, Enniskillen BT93 2BB, United Kingdom
2. Hotel Aire de Bardenas, Spain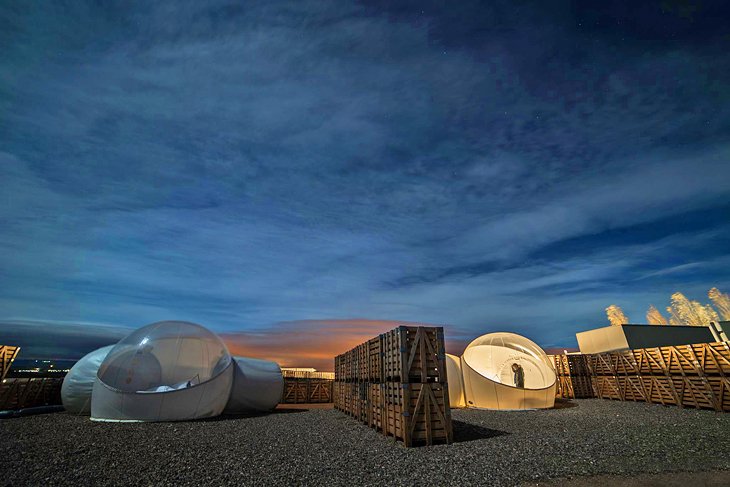 Accommodation: Hotel Aire de Bardenas
Located in southeast Navarre near the semi-desert of Bardenas Reales Natural Park in Spain, the Aire de Bardenas has both traditional hotel rooms, as well as bubble rooms. The latter come with electricity, bathrooms, and Wi-Fi and are minimally decorated in all white.
When not cozied up in your bubble, venture out to go olive oil tasting, take guided tours of the natural park, and capture photos of the setting sun behind the sandstone outcrops. Return to your bubble hotel to relax in the outdoor pool.
Address: Ctra. de Ejea, km 1, 31500 Tudela, Spain
3. Kakslauttanen Arctic Resort, Finland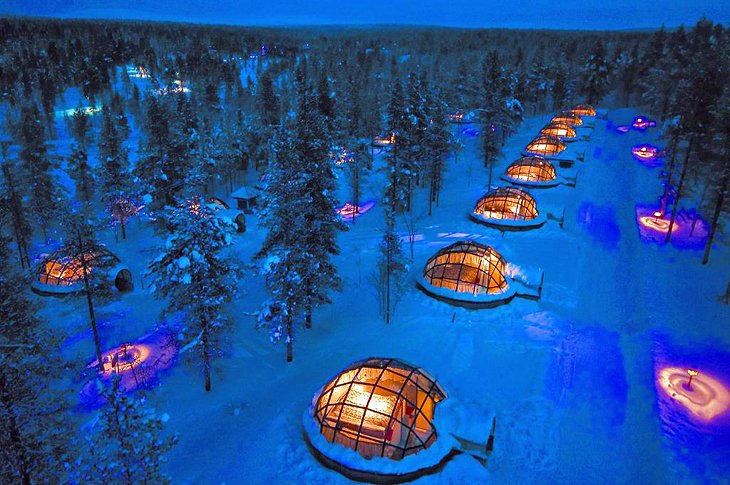 Accommodation: Kakslauttanen Arctic Resort
For optimal aurora viewing, look no further than the Kakslauttanen Arctic Resort, located in the Finnish Lapland some 155 miles north of the Arctic Circle. Here, there's no missing the vibrant green Northern Lights (from August through late April) and the magical midnight sun in the short summer.
The resort features 65 glass-enclosed igloos (in addition to traditional log cabins and combination igloo cabins) that allow you to sleep under the dancing lights. The thermal glass material used in the making of the igloo keeps the room warm and cozy.
The property has larger igloos that come with an en-suite bathroom and can sleep up to four people. Guests can partake in hiking in the nearby Urho Kekkonen National Park in the warmer months, and winter activities like ice fishing; reindeer safaris; and a visit to Santa's home, a short five minutes away.
The hotel offers pickup from the Ivalo airport, a 30-minute drive away.
Address: Kiilopääntie 9, 99830 Saariselkä, Finland
4. Petra Bubble Luxotel, Jordan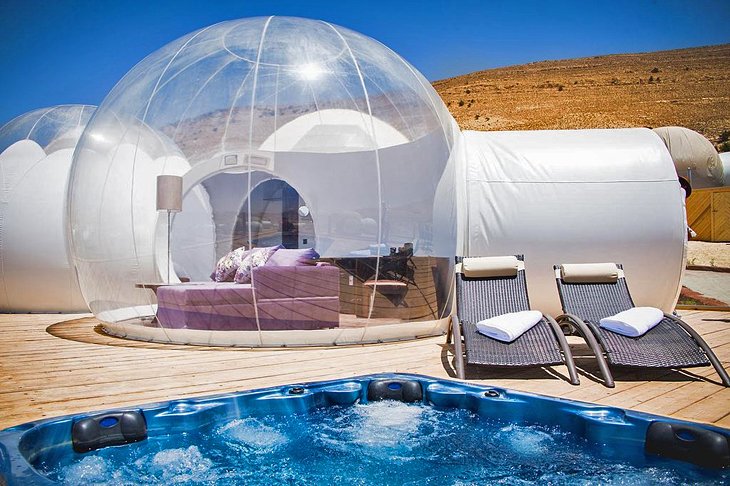 Accommodation: Petra Bubble Luxotel
From a distance, the bubble rooms of the Petra Bubble Luxotel against the backdrop of the dramatic Petra mountains look like a scene from a sci-fi movie. Up close, these luxury spherical encampments are here to experience our planet's most beautiful landscapes. The glorious sight of the Milky Way greets you soon after the sun sets behind the mountains.
Located a 20-minute drive from Petra, the bubble hotel features 20 suites (king, twin, and family-sized), all with outdoor hot tubs and dramatic vistas. An overnight stay will have breakfast and dinner included, as well as a free shuttle to and from Petra. Each suite can accommodate three guests or two adults and two children.
Address: Little Petra, Al- Baydha Petra, Jordan
5. Bubbletent Australia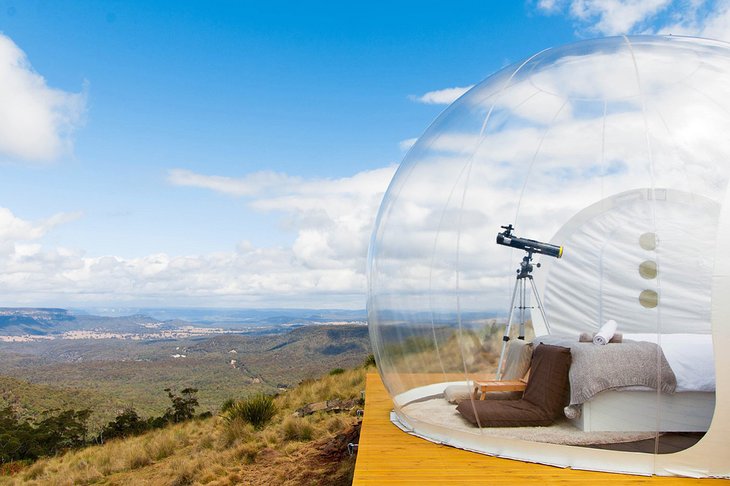 Accommodation: Bubbletent Australia
Although there are only three "rooms" to choose from, Bubbletent Australia ranks high on our list because of the unparalleled scenic views and ultimate luxury accommodations that it offers each guest. Located on a thousand-acre farm in Capertee, home of the world's second-largest canyon, each luxurious accommodation is positioned for both breathtaking views and ultimate privacy. Named for astrological signs, Leo, Virgo, and Cancer each have something unique to offer guests.
All the bubble tents offer spectacular vantage points to admire the canyon, as well as a staggering list of amenities, including telescopes and binoculars, so guests can fully appreciate the view. All bubbles are fully climate controlled and include an iPad, wireless speaker, and USB charging stations. Guests can also rely on a good range of supplies including flashlights, headlamps, raincoats, maps to local hiking routes, and even cozy slippers to wear after having a soak in the wood-fire-heated outdoor bathtub.
Guests can cook all their own meals here in a fully-equipped kitchen complete with pots, pans, dishes, cutlery, and even basic ingredients like sugar and olive oil. Gas for the stove and wood for the fire pit are also included. Each also offers its own unique way to relax while admiring the view: Leo has a two-person hammock, Virgo has a loveseat swing, and Cancer has a "floating bed."
Address: NA, Capertee NSW 2846, Australia
6. Bubble Lodge, Bois Chéri, Mauritius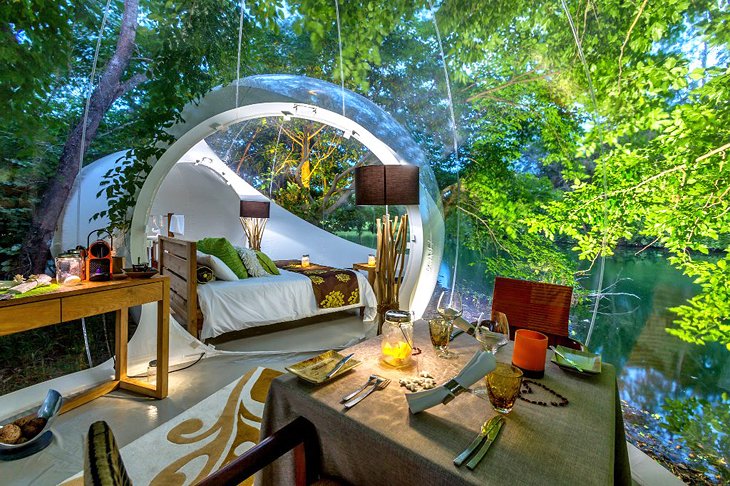 Accommodation: Bubble Lodge Bois Cheri
On the edge of a crater lake on Cap Malheureux plantation sit semi-transparent bubbles of the Bubble Lodge in Bois Chéri, Mauritius. Located off the coast of Africa's Madagascar in the Indian Ocean, the tiny tropical island nation is surrounded by coral reefs and known for its picture-perfect beaches and a lush mountainous interior.
This bubble lodge offers what others don't - a luxurious three-bubble suite that can sleep up to four, making it a perfect family choice. The bathroom is opaque, while the main bedroom is semi-transparent. The living room (complete with a sleeper sofa, dining, and lounge area) is fully transparent, so you can take in the views.
Each of the rooms has air-conditioning, a private bathroom with an eco-friendly dry toilet, and an outdoor shower. The pods are made from recyclable PVC.
The room rates include breakfast and dinner, as well as access to guided nature walks, hiking in the Domaine, tea tastings, visits to the Tea Factory and Museum, paddleboats, and kayaks.
Address: Société Usinière de, Bois Cheri, Mauritius
7. The 5 Million Star Hotel, Iceland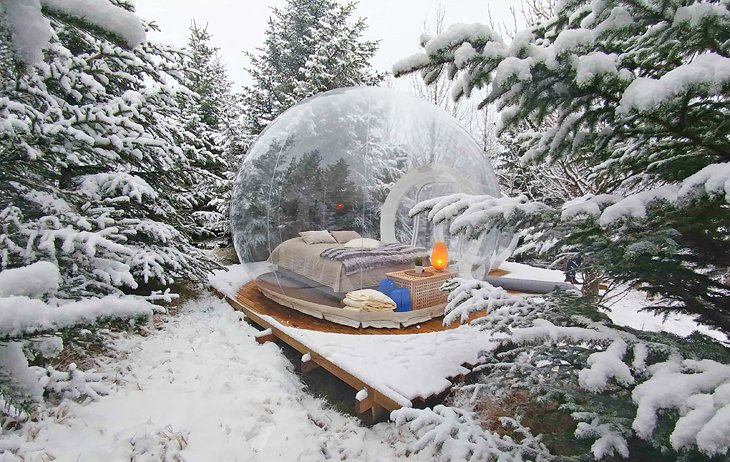 Accommodation: The 5 Million Star Hotel
True to its name, the 5 Million Star Hotel named Buubble in Iceland presents you with an unbeatable view of the starry sky. Located an 80-minute drive from Reykjavik in the middle of a dense woodland with no light pollution, Buubble features six clear, heated bubble rooms. The bubbles are made from sturdy materials and are pressurized by a near-silent ventilation system.
In the winter, book a guided Golden Circle or the South Coast tour to stay overnight in one of the bubble rooms to witness the Northern Lights. Summer tours are also available.
Washrooms along with a kitchen and dining area are available at the service house, a short distance from the bubble rooms. The location of your overnight stay is revealed upon booking a tour.
8. Le Domaine Des Bulles, Martinique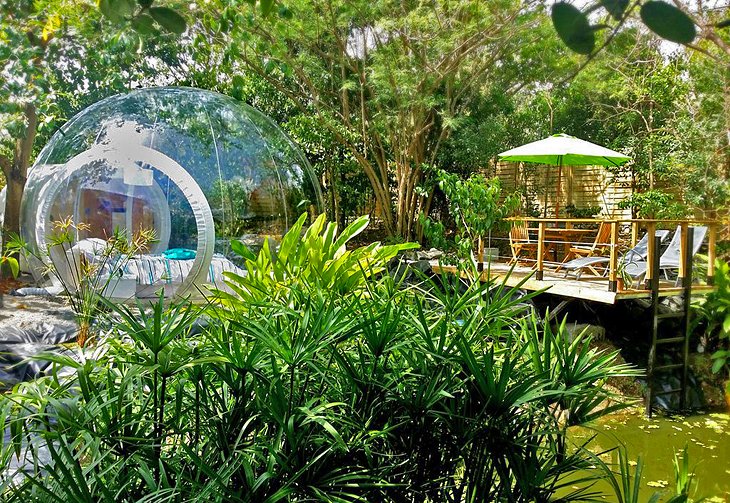 Accommodation: Le Domaine Des Bulles
Blending French and West Indian cultures, the rugged Caribbean island of Martinique makes for a fascinating destination to explore. Set in the rainforest near the town of Le Vauclin and surrounded by lush tropical gardens, the four bubble sleeping pods at the eco-friendly Le Domaine Des Bulles offer seclusion.
Named after natural elements, like Air, Mineral, and Water, each of the pods is surrounded by a private garden with a fence, ensuring privacy. The pods have Wi-Fi, a coffee machine, and air-conditioning (a necessity in the summer), and open-air showers outside, along with a stone plunge pool nearby.
The resort offers treatments in the spa and breakfast served on the terrace.
Address: Chemin rural de Ravine Plate, Le Vauclin, Martinique
9. Ridgeback Lodge, Canada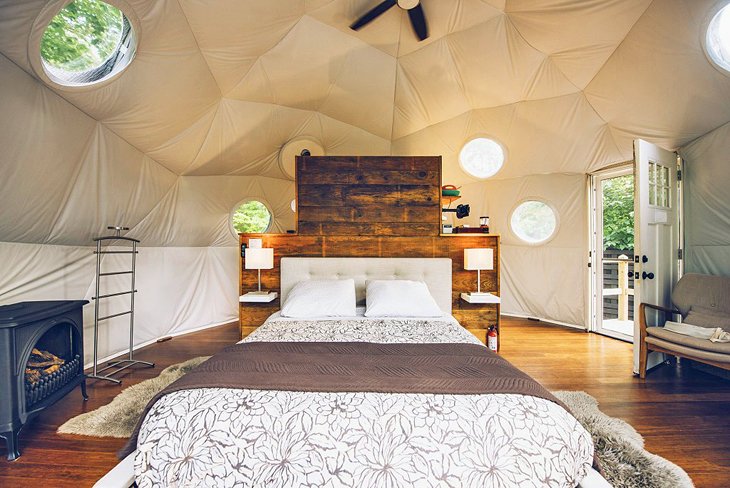 Accommodation: Ridgeback Lodge
While most other bubble hotels have bare bones accommodations, the Ridgeback Lodge in southern New Brunswick offers a log cabin feel, complete with fireplaces and kitchenettes. Located within a 185-acre forest on the Kingston Peninsula near Saint John, the domes are ideal for those seeking solitude and connection with nature.
The hotel offers Dream Domes and Stargazer Domes, and each comes with a memory foam bed; comfortable seating; a fully equipped kitchenette; a full bathroom with a glass door shower; and an outdoor, wood-fired Japanese hot tub.
Guests can take a refreshing dip in the spring-fed pond on the property in the warmer months.
Address: 86 Old Reach Road, Kingston, NB E5N 1B2, Canada
10. Campera Hotel Burbuja, Mexico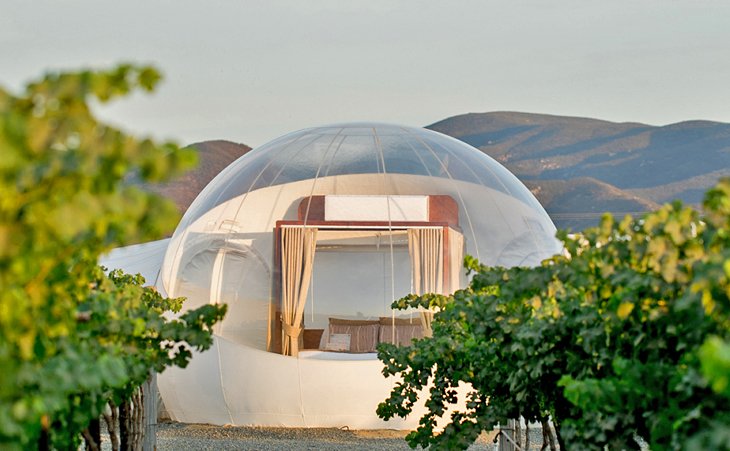 Accommodation: Campera Hotel Burbuja
At Campera Hotel Burbuja, not only will you get to sleep in a bubble, you can enjoy the heart of the lush Valle de Guadalupe, 20 minutes from the palm-fringed coast of Ensenada and an hour-and-a-half from San Diego. This eco-friendly Baja California luxury property, surrounded by vines, offers a perfect weekend romantic retreat.
The 10 state-of-the-art bubble rooms and suites, designed in France, come equipped with air-conditioning and full-size beds draped with curtains for privacy. The suites feature a bathroom with a skylight.
Guests can visit more than 20 gourmet restaurants in the area and play golf at the nearby Docepiedras golf course.
Address: Emiliano Zapata s/n Parcela 40 Los alamitos, 22755 Valle de Guadalupe, B.C., Mexico
11. Attrap'Rêves, France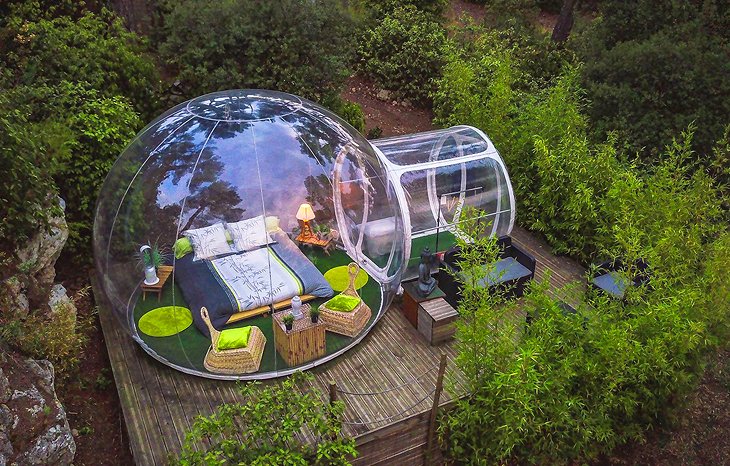 Accommodation: Attrap'Rêves
Guests at Attrap'Rêves have their choice of three sites in southeastern France. The bubbles come in different themes and offer varying levels of amenities like Jacuzzi tubs. Some are totally transparent, while others are partially covered.
At this first bubble hotel in France, the structures are built entirely from recycled materials, and the hotel uses a low consumption silent blower to keep the pods inflated. When it's time for mealtime, food is served in biodegradable meal trays either in the on-site restaurant or in your room.
Inside the bubble, there's a king-size bed, lamp, and tables and chairs. When you book the Constellation Package, the room comes with a telescope and a star chart for your celestial viewing pleasure.
Address: Chemin de la Ribassière, 13190 Allauch, France
12. Wadi Rum Night Luxury Camp, Jordan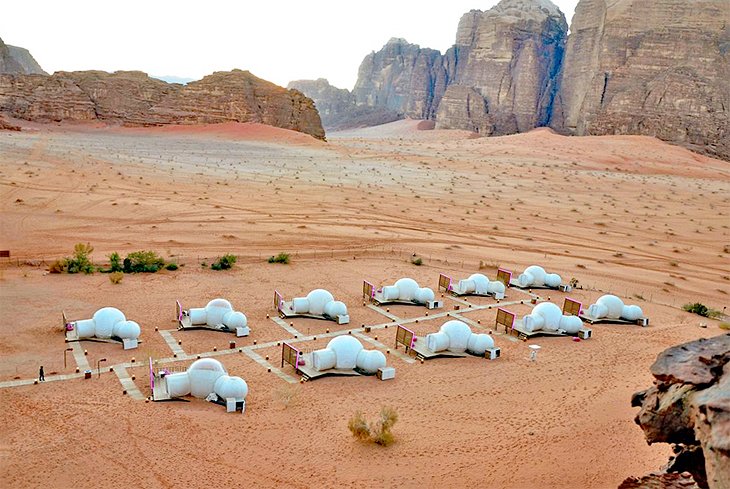 Accommodation: Wadi Rum Night Luxury Camp
As far as bubble tent hotels go, Wadi Rum Night Luxury Camp's Full of Stars Hotel stands out for many reasons. First, its isolated location means desert nights under a starry canopy and more importantly, scenic views of the red sandstone mountains all around.
Located in the middle of the Wadi Rum Protected Area, the glamping spot is less than a two-hour drive from Petra. Each bubble tent includes a king-size bed, air-conditioning, mosquito netting, a table with bean bag chairs, electricity, and a full bathroom.
Traditional Jordanian food and beverages are included and provided under a tent on the premises. Activities like sandboarding and 4x4 riding across the desert are just a few of the fun things guests can enjoy.
Map of Bubble Hotels