12 Best Resorts in Port Aransas, TX
If your idea of a Texan vacation involves soft, sandy shores and warm Gulf waters, you should head to Port Aransas, the only town on Mustang Island. A popular spot for weekenders, especially during summer, this coastal town offers a variety of resorts to please all types of travelers.
While you won't find high-end luxury resorts in Port Aransas (the majority are three- and two-star properties), you will be spoiled for choice when it comes to staying on or very near the beach.
Those staying at the resorts here will also find easy access to the area's top attractions, like Mustang Island State Park. Another bonus: Corpus Christi is a quick drive or ferry ride away.
Whether you're looking an outdoor pool, free breakfast, and a fitness center, or a scaled back boutique resort that turns glamping into an art form, you're sure to find a spot you love in Port Aransas.
Before you go, use our list to help find the best resorts in Port Aransas.
1. Port Royal Ocean Resort & Conference Center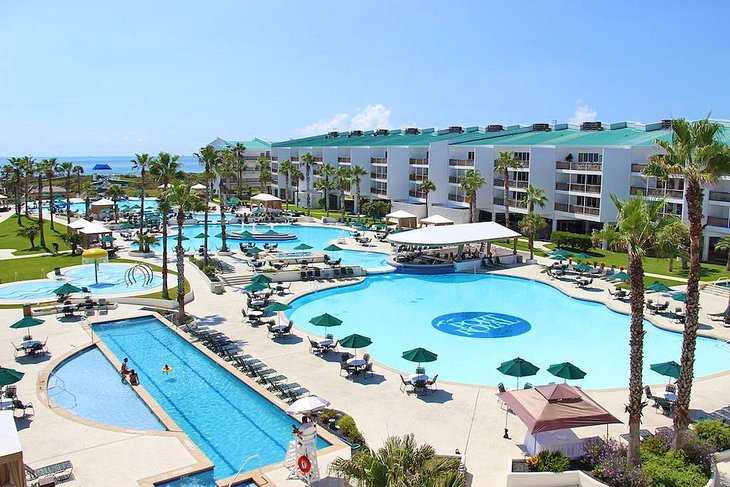 With seemingly endless activities on offer and one of the largest pool areas you'll ever find in a resort, the Port Royal Ocean Resort & Conference Center is a real winner for fun-seeking families and couples alike.
A heated lap pool, multiple waterslides of all sizes, and 14 pool cabanas make it easy to enjoy the nice weather. Hoping to add a side of sand to your stay? The beach is easily reached by walking along the 100-yard boardwalk through the sand dunes.
Need to cool off even more? Grab a sweet treat from the seasonal Frozen Station. Speaking of eating, guests can curb their cravings at Restaurant 361 and The Port Royal Strong Food Truck.
Accommodations at this resort are condo style and feature full kitchens, laundry facilities, furnished balconies, and up to three bedrooms. This is a worthy spot to stay at least a few days, if not longer.
Address: 6317 State Highway 361, Port Aransas, Texas
2. Port A Beachlodge
If you're looking for a beach resort in Port Aransas, Port A Beachlodge is your best bet. You'll be hard-pressed to get closer to the sand — this fun spot is located at mile marker 9 on the beach. A no-frills accommodation with Southern charm, this intimate retreat is both unique and cozy.
Port A Beachlodge offers guests "unpretentious, pet-friendly, laid-back lodging" on the sandy dunes of Port Aransas. Breakfast is served until 11am in the on-site restaurant.
As for rooms, they're basic and well-priced, some offering enough space for 10 to stretch out. The floors are tile, which means you won't have to deal with sand entrenched in the carpet. All come with a private bathroom.
The pool is small, but perfect if you're hoping for a quick cooling dip. It's open until midnight. Plus, the ocean is steps from your room. If you'd like to rent a beach umbrella, canopy, or chairs, you can do so easily.
A quick note: there are no closets or drawers to hang (or store) clothes, but there are plenty of counters on which to spread out your luggage.
Address: 2016 On the Beach Drive, Port Aransas, Texas
3. Sea Breeze Suites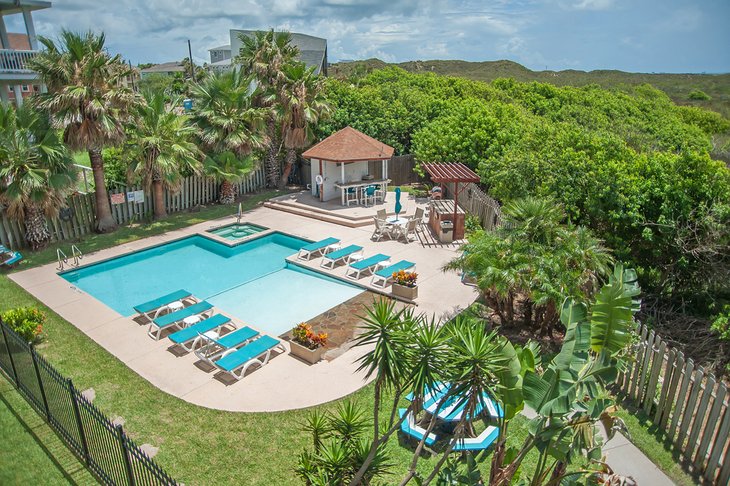 An inviting pool, Jacuzzi, outdoor shower, gazebo, and the new "kool deck" make it easy to relax at this conveniently located three-star resort. You can walk to the beach and fishing pier easily from this property.
Plus, you won't need to go far for supplies. The grocery store is only a mile away, and there are plenty of restaurants a short walk from the resort. Hoping to stay in to eat? There's also a BBQ island on-site, which makes it easy to grill your own meals.
Condo units present guests with a real home away from home. They come with fully equipped kitchens, air-conditioning, and a private balcony, not to mention free Wi-Fi. Choose from a view of the pool or the sand dunes with the Gulf of Mexico in the distance. The higher you go, the better the vista.
Address: 407 Beach Avenue, Port Aransas, Texas
4. The Mayan Princess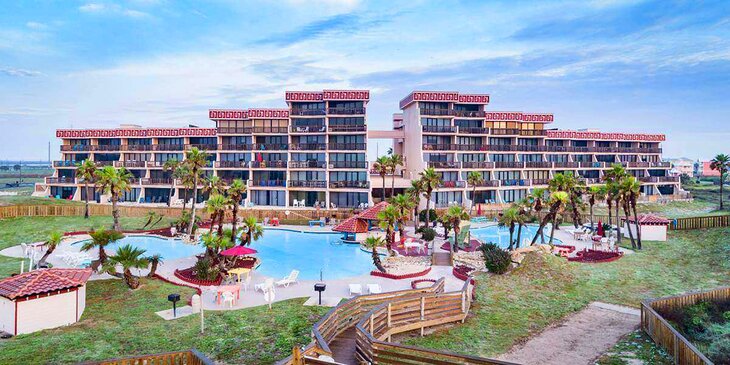 The Mayan Princess offers visitors a variety of condo-style options for their Port Aransas vacation. Located on the beach, tourists can choose between one-, two-, and three-bedroom units, all of which come with private balconies and a washer and dryer.
The resort's facilities are the highlight here — especially for families. Three outdoor pools, one of which is a children's pool, make it easy to spend the entire day in the fresh air, plus there's the beach, which kids love to explore. An outdoor hot tub and boardwalk are also on-site.
A meeting room is available if you're in need of extra space to host a gathering. While there's no restaurant at the Mayan Princess, guests can cook meals in their units, or head into town to enjoy a meal at one of the local eateries.
Address: 7477 State Highway 361, Port Aransas, Texas
5. Seashell Village Resort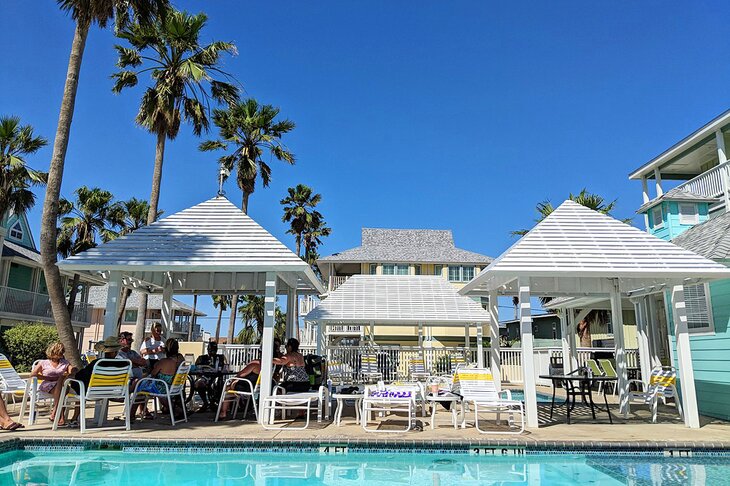 The Seashell Village Resort is aptly named—this comfy spot really does feel like a village community. There are 51 suites and cottages to choose from during your stay, and two centrally located pools to enjoy.
The condo-style accommodations are perfect for families looking for space to spread out. They come with separate bedrooms and living areas, as well as a fully equipped kitchen and a private balcony.
Wi-Fi is complimentary here, as is parking, which is great for tourists traveling by car. Those arriving by boat will have a place to park as well, if they arrive early—it's first come, first served for boat slips.
Want to bring your favorite furry friend? Do it! Pets are welcome to stay in the cottages. Hoping to engage in some nightly entertainment? You're in luck. Third Coast Theater resides on the property. It's a fun live-music venue boasting 150 seats and music by toe-tapping performers.
While this resort isn't directly on the beach, guests can easily reach the soft sand, which lies a mere three blocks away. Also, while there's no restaurant on the property, tourists can use the outdoor grills and tables to enjoy a meal al fresco. Or head into town to enjoy the restaurants located within a mile of the resort property.
Address: 502 East Avenue G, Port Aransas, Texas
6. Best Western Port Aransas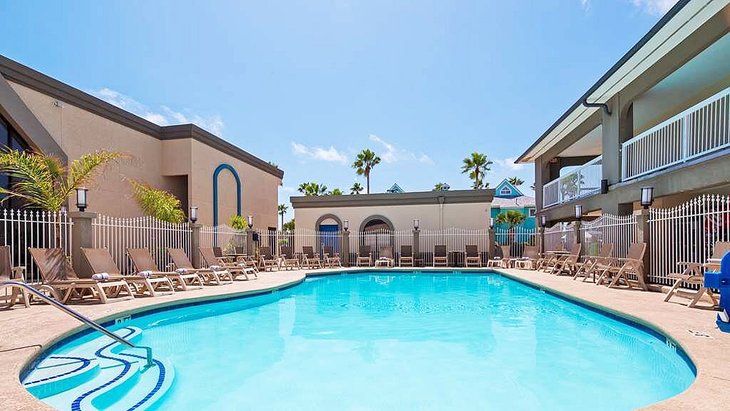 There are a lot of perks to staying in the two-star Best Western Port Aransas. In addition to complimentary Wi-Fi, daily breakfast is also free.
All rooms at this resort are clean and bright, with the suites offering more space, a sofa bed, and kitchenette. They all boast flat-screen televisions, a microwave, and fridge. Plus, there are grills on the property to make meal prep a cinch.
Enjoy your dinner al fresco at one of the covered picnic tables. If you're not in the mood to cook, head to the numerous restaurants or cafés in the vicinity.
The pool is a hit with all guests, especially families, and kids enjoy spending time in the game room.
Address: 400 East Avenue G, Port Aransas, Texas
7. Amelia's Landing Hotel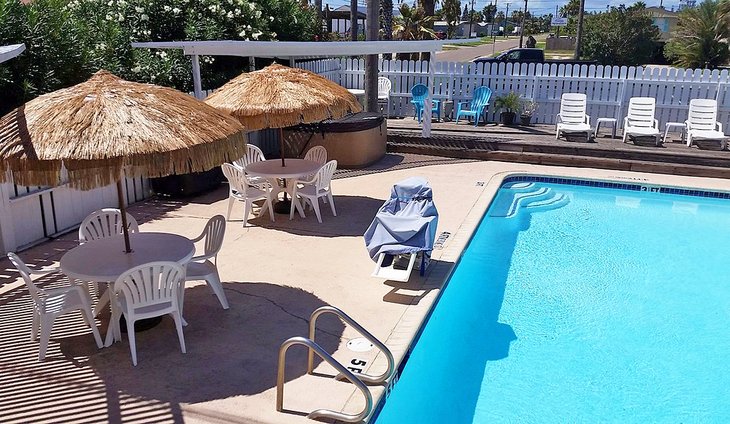 An aviation-themed experience awaits guests to the no-frills, two-star Amelia's Landing Hotel. They will also be privy to friendly, attentive staff, and a complimentary daily breakfast delivered straight to their room. When you aren't lounging poolside or soaking in the hot tub, spend time relaxing in your spacious room.
Speaking of rooms, here's where things get interesting. You never know what you're going to get when you book a stay at this eclectic resort. No matter the size, (a small, single queen bed room, two queen bed room, or larger suite with full kitchen), each room is decorated to depict a different historic era in aviation history.
When you get hungry, walk to the many restaurants nearby. This resort is also home to "PeeDee's Park," a large, private dog park perfect for those traveling with pets. Not every room is pet-friendly, though, so be sure to ask when you book your stay.
Address: 105 North Alister Street, Port Aransas, Texas
8. Hampton Inn & Suites Port Aransas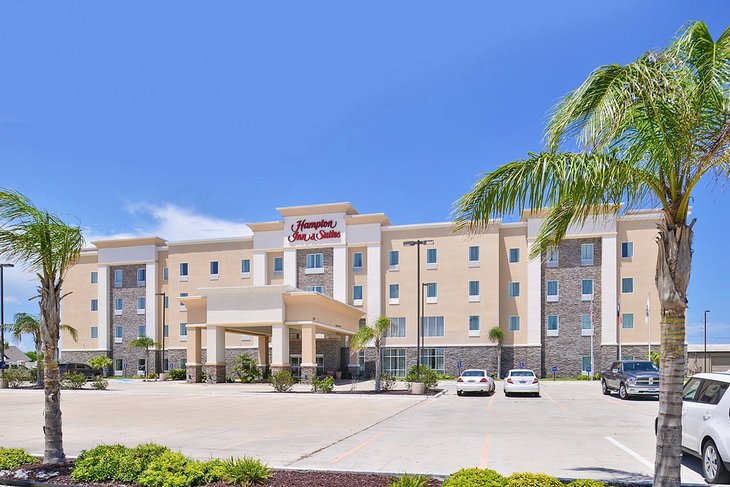 Travelers know what to expect when they book a stay at a Hampton Inn & Suites. Clean and spacious modern rooms, friendly service, free hot breakfast, and complimentary Wi-Fi – these are all on offer in this lovely Port Aransas location. Plus, you'll find an outdoor pool, fitness center, and access to free parking.
If you're visiting for work, make use of the meeting rooms and business center. Traveling with kids? You'll likely spend the majority of your time poolside or at the beach, which lies a mere 10 minutes away. Book a suite for more space. The "two queen bed" option comes with a microwave, mini fridge, coffee maker, and sofa bed.
Rent a bike through the resort to tour the neighborhood, or sign the kids up for the children's activities on offer.
Address: 2208 State Highway 361, Port Aransas, Texas
9. Holiday Inn Express & Suites Port Aransas/Beach Area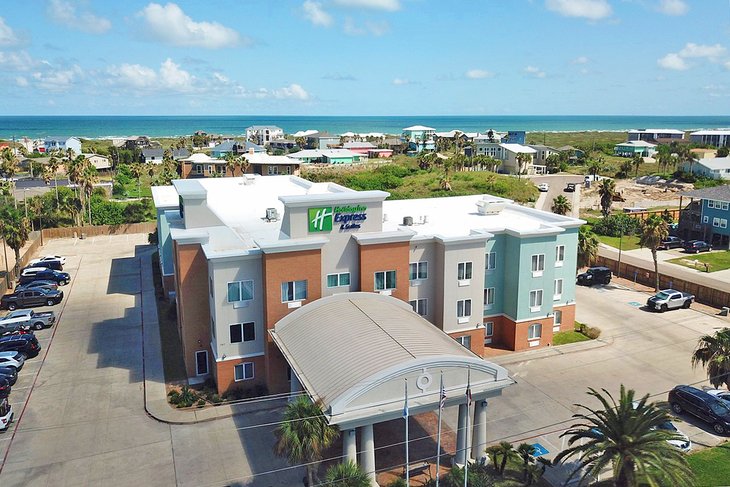 Breakfast is included with every stay at the Holiday Inn Express & Suites Port Aransas/Beach Area. Whether you're hoping to nosh on light continental fare or dig into a hot buffet breakfast, you'll find something to tempt your palate each morning. You'll also find complimentary coffee in the lobby.
Other draws include the outdoor pools, one of which is just for kids, and the newly renovated fitness center (also free), which includes weights, a treadmill, and stationary bike, as well as yoga mats.
Each of the 74 rooms and 31 suites boasts free Wi-Fi, a desk, microwave, mini fridge, and flat-screen television. As for the beach, it's easily reached by a short walk.
Address: 727 South 11th Street, Port Aransas, Texas
10. Island Hotel Port Aransas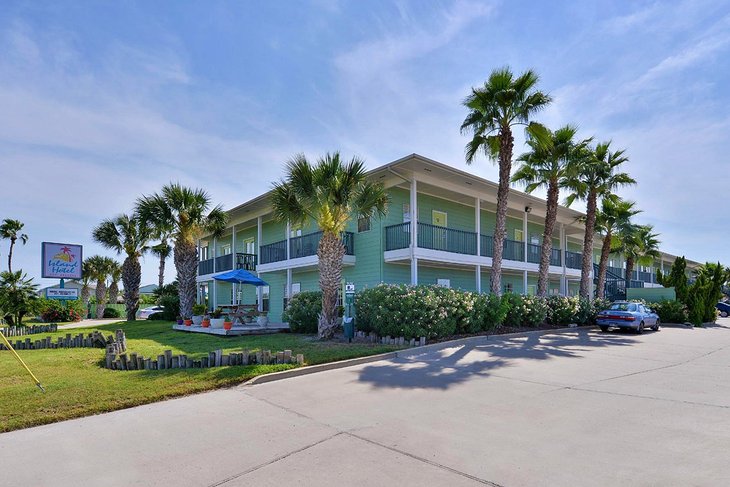 The Island Hotel Port Aransas is well loved for its location (one mile from Port Aransas Beach), amenities (an outdoor pool, games room, and breakfast area), and friendly service. Previously known as the Mariner Inn & Suites, this fun resort also has picnic tables and grills.
Wi-Fi is complimentary here, and pets are welcome for a fee. The 57 recently upgraded guest rooms and suites include microwaves and fridges, bright color accents, and coffee and tea makers. Laundry facilities are also on-site.
Staying for a while or just looking for more space? Book one of the four one-bedroom suites. The King Queen Kitchen may be your best bet. It includes a king bed, queen bed, and a queen-sized pull-out sofa in the living room. There's also a dining area, full kitchen, and an extra spacious bathroom that includes a whirlpool tub.
Address: 2607 State Highway 361, Port Aransas, Texas
11. Ocean's Edge Hotel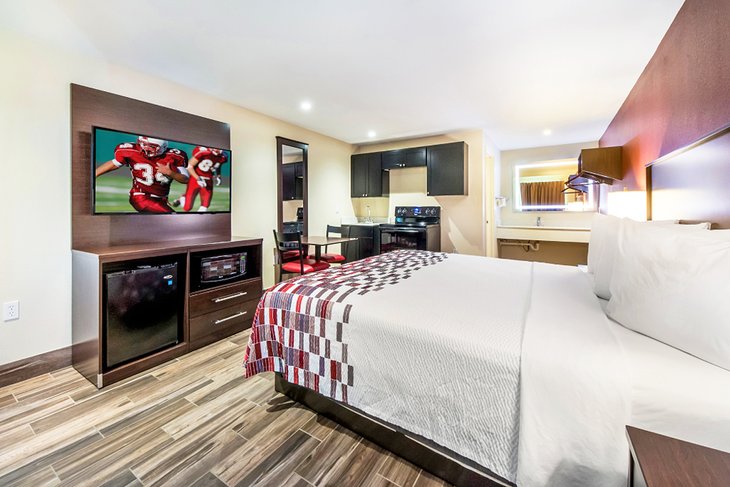 You'll find most guests of the budget, two-star Ocean's Edge Hotel gathered around the large swimming pool. If they aren't there, you'll likely spy them on one of the comfy couches in the large, outdoor lounge.
Located a mile from the downtown core, this comfortable resort boasts rooms with microwaves, chic modern décor, flat-screen TVs, and some with kitchenettes. Those staying for a while will enjoy the on-site laundry facilities.
Freebies include parking, coffee, and Wi-Fi. Once known as the Red Roof Inn, the aptly named "Ocean's Edge," is located right on the water and less than a mile (a two-minute drive) from Holiday Beach.
Address: 300 West Avenue G, Port Aransas, Texas
12. Alister Square Inn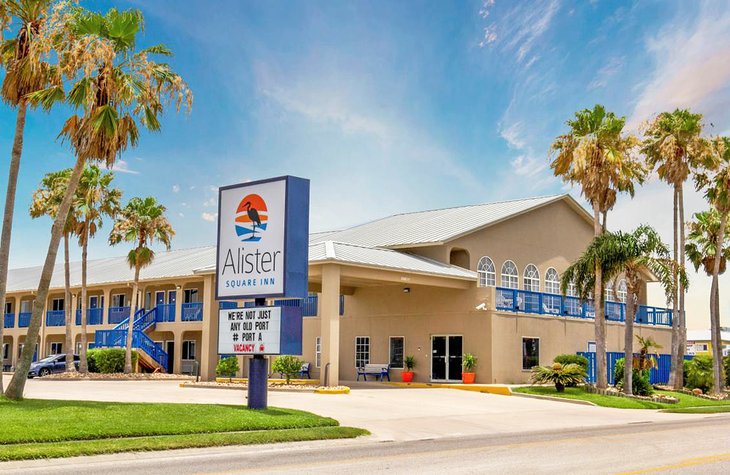 Alister Square Inn is located a few minutes' walk from downtown's popular shops, restaurants, and attractions. The beach is also walkable, but having a cart to pull your gear will make the journey more enjoyable. In other words, you may want to pack one in your luggage or buy one from a shop nearby.
In terms of accommodation, some rooms at this resort include kitchenettes, while all boast a microwave and refrigerator. They are tastefully decorated with bright blue accents to remind you that you're on a beach vacation. Book a suite if you're hoping for more space to stretch out, especially if you're traveling with kids.
Free parking and Wi-Fi are a few of the perks you'll experience at this fun resort in Port Aransas. There's also a pool and Jacuzzi on-site so be sure to pack a swimsuit.
Address: 122 South Alister Street, Port Aransas, Texas
Map of Resorts in Port Aransas, TX