15 Top-Rated Holiday Resorts in the Algarve
We may earn a commission from affiliate links ()
The Algarve occupies the southern reaches of Portugal. Endowed with a dry, temperate climate for much of the year, the region positively glows during the summer months, when long days of sunshine bathe the landscape with warm, incandescent light. And as the mercury rises, so thoughts turn to the annual vacation, and in this part of the world that means one thing - hitting the beach!
Many of Europe's most enticing beaches are found along the Algarve's meandering south coast. Complementing these outstanding pockets of golden sand are some equally attractive vacation resorts, hotel properties of exceptional character built facing the Atlantic Ocean.
Often found perched on honey-hued cliff tops and hemmed in by lovingly maintained subtropical gardens, these upscale holiday getaways take full advantage of their enviable location and provide luxurious sanctuary for those seeking well-earned rest and relaxation.
And the best thing of all: many of the resorts listed here snuggle up to an enticing sandy beach, with some even lending their name to their illustrious and seductive natural asset. Plan your vacation with our list of the top holiday resorts in the Algarve.
1. Vila Vita Parc Resort & Spa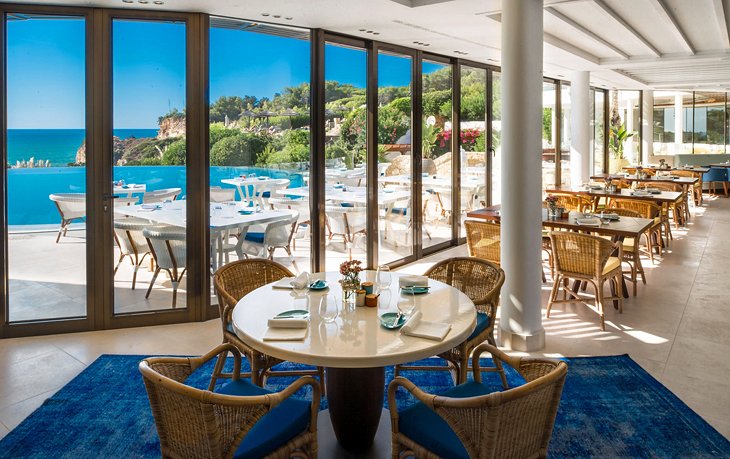 Situated throughout the grounds is a portfolio of rooms and suites designed to take full advantage of the natural surroundings, affording sea views or flower-flecked parkland perspectives. Equipped to the highest specifications and featuring the latest digital technology, each room still manages to exude a traditional Portuguese flavor. Similarly, the collection of resort villas employs regional design elements to preserve an agreeable local character.
Among guest amenities is the health and wellness sanctuary of the VILA VITA Spa by Sisley, which follows a holistic approach, where every treatment is tailored to individual needs. A nine-hole Pitch & Putt practice course is guaranteed to sharpen your short game, and reception can arrange a wealth of off-site activities.
But for a real treat, why not charter their luxury motor yacht and explore the coast in style? End the day over dinner in the Michelin two-starred Ocean restaurant. Here, Austrian executive chef Hans Neuner has wooed critics and foodies alike with his finely crafted and highly original culinary creations. This beautiful venue is one of ten restaurants sited around the resort.
2. EPIC SANA Algarve Hotel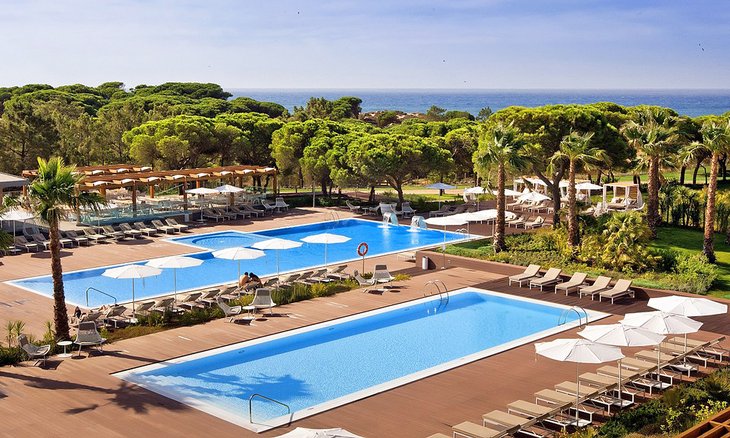 Decorated throughout using chestnut and lime-green hues and employing plenty of wood and wicker, the Deluxe rooms, suites, and studios are themselves a haven of peace and harmony. Those on the higher tier look out over a carpet of umbrella pine towards the ocean. Dining is an occasion at the Al Quimia restaurant, a noted gourmet hot spot. The seasonal menu showcases reinterpreted traditional Portuguese cuisine.
The resort is highly regarded for its leisure facilities but especially the state-of-the-art Sayanna Spa.
This is truly one of the Algarve's top-tier wellness sanctuaries, where whole vacation stays are customized around activity, detox, and massage programs – bespoke packages tailored to the individual health and relaxation needs and requirements of guests. Personal trainers can be assigned to assist and motivate you, and timetables are always flexible to allow for off-site excursions or sightseeing tours.
Alternatively, the spectacular ribbon of sand that is Praia da Falésia, one of the top beaches in Portugal, is just moments away and affords a smashing salt-laced walk – ideal for working up an appetite.
3. Vilalara Thalassa Resort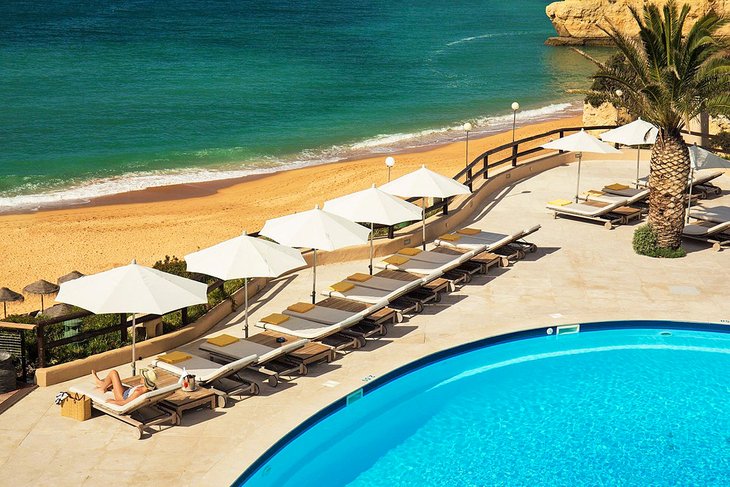 Accommodation comprises 104 junior suites and a collection of one-, two-, and three-bedroom apartments of contemporary design and light pastel hues. Private terraces or balconies allow for pleasant views of the gardens, the pools, or sea. Blended within the resort's contours are four outdoor seawater swimming pools and one heated pool around which are set a number of bistro cafés.
Exemplifying the dining experience is the B&G restaurant, where executive chef Pedro Sequeira has designed menus that acknowledge Portugal's diverse culinary heritage. For a more al fresco feel, grab a poolside table at the Terrace Grill.
Most of all, this unique resort is all about the proven benefits of thalassotherapy and its remarkable healing properties afforded by using the region's Atlantic marine climate to relieve a host of ailments. Complementary therapies are provided by the medical spa, which when combined with thalassotherapy offer guests a remarkably varied health and wellness program designed to help you relax, reenergize, and rejuvenate.
4. Martinhal Sagres Beach Family Resort Hotel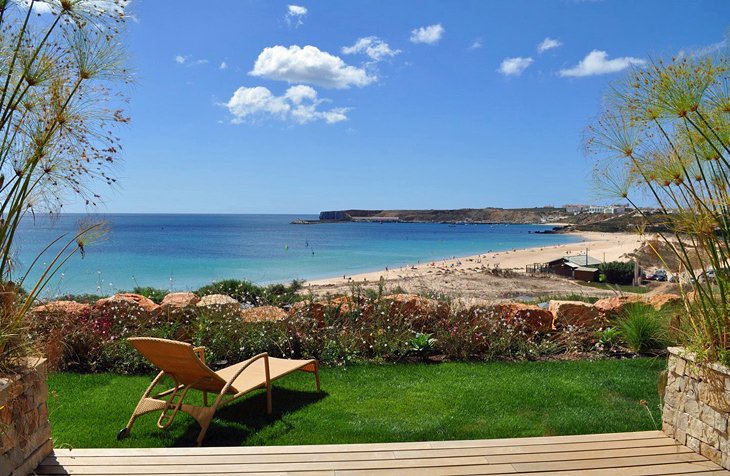 From toddlers to teens, there's something for everyone, including face painting and cookery classes to T-shirt printing and video game playing. The Raposinhos ("little foxes") crèche caters for tots aged six to 23 months, while the kids' club looks after children aged from two to five years.
Of course, there are also plenty of other things to do like splashing around in any one of the five swimming pools set around the lovely grounds. Older kids can also take advantage of the resort's sports academies, peddle out on a sightseeing cycle ride, or try their hand at water sports.
For grown ups there's the heavenly Finisterra Spa, with an inventive range of treatments and therapies. But even here there are special wellness packages designed for children as well as senior citizens.
Accommodation is first rate, with options spanning apartments, design houses, luxury villas, and the stand-alone Martinhal Hotel. Food is taken seriously. The menus at the O Terraço and As Dunas restaurants err towards traditional Portuguese gastronomy, while Os Gambozinos is lauded for its Italian cuisine.
About a 10-minute drive from Sagres, the resort's location is fabulous, set as it is overlooking secluded Martinhal Beach, which is lapped by warm, shallow crystal-clear waters.
5. Pine Cliffs Residence, A Luxury Collection Resort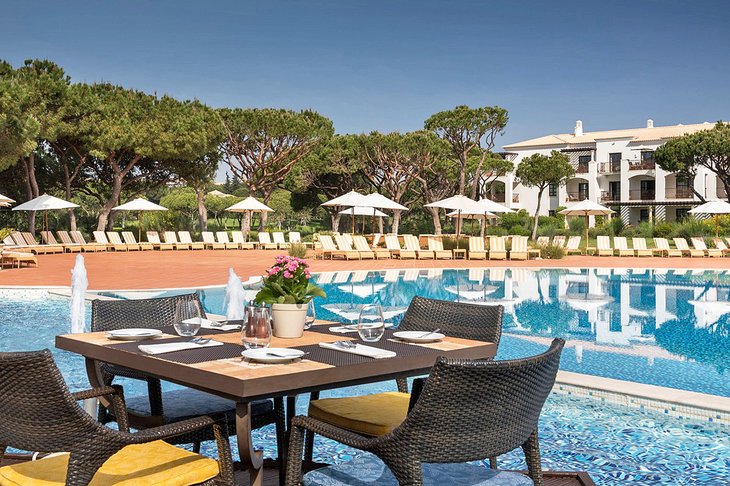 Perfectly suited for family groups, each suite is classically styled yet impresses with its range of modern appliances – a personalized home away from home with ample living space.
Guests are encouraged to live their vacations at their own pace and to do as much or as little as they want – but there are plenty of things to do for the active holidaymaker. Golf enthusiasts can test their accuracy of play on the famed Pine Cliffs Golf Course. Enjoying a stunning cliff top setting, the layout's signature hole is the 6th, the eye-popping "Devil's Parlour" that requires a tee shot over a yawning cliff gorge.
A highly regarded tennis academy features floodlit courts. Beneath the resort is the beautiful Falésia Beach where, during the summer, an exciting program of watersports is offered. The Serenity Spa meanwhile caters for those in need of a spot of pampering and TLC.
No less than 11 restaurants serve the resort, with menus offering a mouth-watering array of different cuisine, anything from international gourmet meat dishes to regional fish and seafood plated up with aplomb. Dining is very often al fresco, with exceptional Atlantic Ocean views on hand to whet the appetite.
6. Cascade Wellness & Lifestyle Resort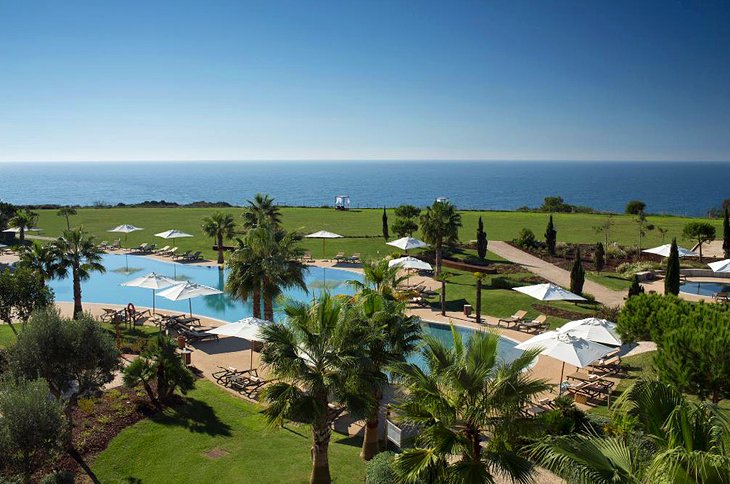 Their seafaring exploits are imaginatively reflected in the interior décor embellishing the hotel's rooms and suites, which add a suitably historic touch to the contemporary architecture that defines the hotel's eye-catching accommodation wings.
As a center for sport, wellness, and a host of other invigorating outdoor activities, the resort's motto, "sail the path of wellness," reflects the physical and rebalancing journey offered to guests by the Cascade Wellness Resort Spa facility.
Here, a program of therapies and treatments complements predefined or bespoke well-being packages, like "Keep it Fit" and "Body Detox," that realign the physical being with the mental state. Tennis, golf, and football academies further underline the emphasis placed on fitness and nutrition.
But it's not all about working up a sweat. On-site leisure amenities include an inviting outdoor swimming pool, a smaller sand-bottom pool designed for youngsters, and the fantastic Caskiddy Kids Club adventure playground.
The resort is located near Lagos, close to the beautiful Ponta da Piedade headland and within walking distance of the most picturesque beaches in Portugal. After a day out sightseeing, guests can relax in one of the hotel restaurants like Senses, with its show kitchen and stunning views over the Atlantic Ocean.
7. Grande Real Santa Eulália Resort & Hotel Spa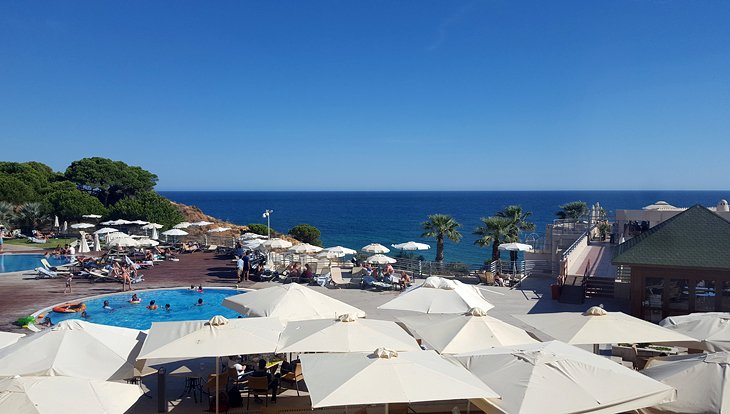 With an enviable 344 guest rooms of which 29 are suites, plus 155 vacation apartments, Grande Real is one of the largest hotel properties in the region.
The appeal lies in the fact that guests have little reason to venture beyond the gates given that there's so much going on inside to keep them occupied.
For a start there's Praia de Santa Eulália right on the doorstep – just one of many fabulous beaches found in the Algarve. Here, an incredible array of water sports like canoeing and water skiing is played out in warm, mirror-like waters. For little ones, the Realito Kids Club is a fun-packed haven of limitless imagination. Indeed, this is a favorite resort for families and friends.
For adults, their sanctuary is The Real Spa. Generous floor space allows for 17 massage and treatment rooms, a thalassotherapy circuit, sauna, hammam, and a host of other feel-good facilities. Otherwise there are always the four outdoor swimming pools to indulge in, one of which is a toddlers' paddling pool.
And there are plenty of things to do after dark. The oceanfront Atlântico restaurant specializes in Portuguese cuisine, particularly fish and seafood, while the seasonal Real Steakhouse is where to enjoy succulent meat dishes. Afterwards, digest it all over live music and cabaret acts in the show hall.
8. Tivoli Marina Vilamoura Algarve Resort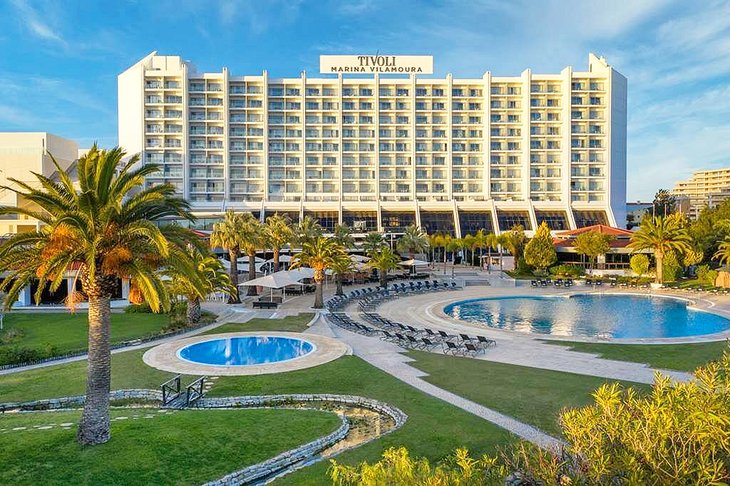 It is set at the southern end of the marina, right on the beach, and the fabulous location affords guests an appealing choice of leisure and entertainment opportunities, including the Tivoli Spa and a huge circular outdoor pool.
Befitting the location, the fun extends to a range of outdoor activities, including golf (several of Portugal's top-rated golf courses are within a 20-minute drive from the hotel, such as The Old Course). Thrilling water sports options abound – this is the embarkation point for sightseeing cruises, big-game fishing expeditions, and dolphin-watching excursions.
Several different guest room types are available, ranging from Deluxe Rooms with either sea or marina views to the top-floor Presidential Suite, an opulent pad with panoramic views of the entire area.
Family groups are well catered for, with dedicated rooms featuring their own exclusive deck.
You won't go hungry here. No less than seven restaurants are housed within the premises, with international menus listing traditional Portuguese gastronomy, Italian cuisine, international buffet-style fare, and American-style flame-grilled steaks.
The resort also operates Purobeach Vilamoura, a live entertainment spot embedded on the beach, where snacks and light meals are also served.
Vilamoura marina is a magnet for tourists. Lining the boardwalk are some lively places to eat and top-notch evening entertainment.
9. The Lake Spa Resort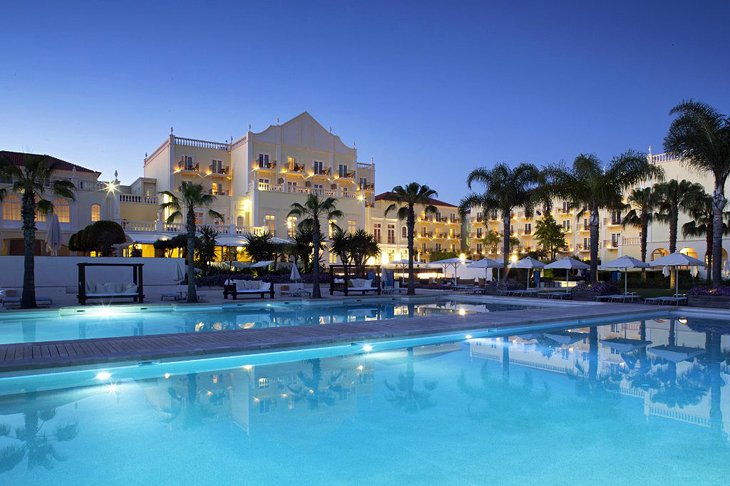 One of the three outdoor swimming pools has a natural sand bottom, which extends out of the water to form a beautifully soft and golden "shoreline." The seaside atmosphere is tangible and perfect for tourists staying with kids, who can scamper down to the water's edge and play in the sand under the watchful eye of their parents. Extending youngsters' recreation options is the Koala Club – a veritable playground for children between the ages of three and 12.
Comprising 192 deluxe guest rooms, of which nine are spacious suites and 95 superbly appointed apartments, the resort is named after the freshwater lake that meanders through the gardens, a magnet for wildfowl. Rooms, all of which have private balconies, afford this view, a garden aspect, or one towards the coast.
Leisure amenities include three wonderfully appealing restaurants.
At Fusion, the union of Mediterranean and Oriental gastronomy provides a deliciously appealing contrast of flavors. Gustatio and Mare Nostrom restaurants showcase Portuguese and southern European cuisine.
Meanwhile, the Blue & Green Spa invites you to embark on a wellness journey around the world, the concept inspired by five of the continents and five senses. And if you're still stuck for things to do, there's always the fabulous marina or nearby Falésia Beach to explore.
10. Pestana Alvor Praia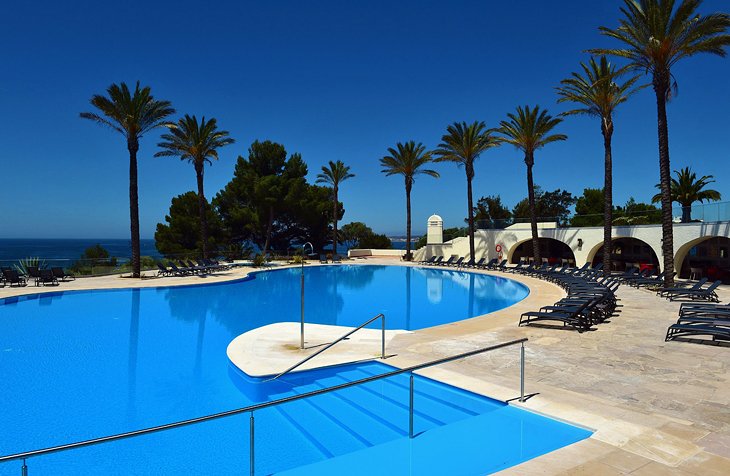 Popular with package tourists and Portuguese holidaymakers, this mid-range choice is operated by the country's biggest hotel chain, which is highly regarded within the tourism industry.
Accommodation is a choice of airy, comfortable Deluxe rooms, some with private balconies, with either sea or garden views. All feature comfortable and modern conveniences, and selected rooms can accommodate an extra bed if needed.
A stay here is really all about rest and relaxation, and a bubbly, carefree ambience pervades the public areas.
Guests can take advantage of a lovely outdoor swimming pool that is surrounded by lush, expansive gardens. Another pool indoors is bathed in warming natural light.
For a special treat, arrange an hour or so of well deserved me time at the Magic Spa and submit to the masseuses' expert hands. Mini-golf and a kids' club provide light-hearted distraction.
Meanwhile, guests yearning for a more serious challenge on the fairways can take advantage of preferential green fees at two nearby Pestana-owned golf courses. Tennis courts are also available.
The a la carte Almofariz restaurant looks out over the beach, and the sparkling ocean vista enhances any occasion.
11. Monchique Resort & Spa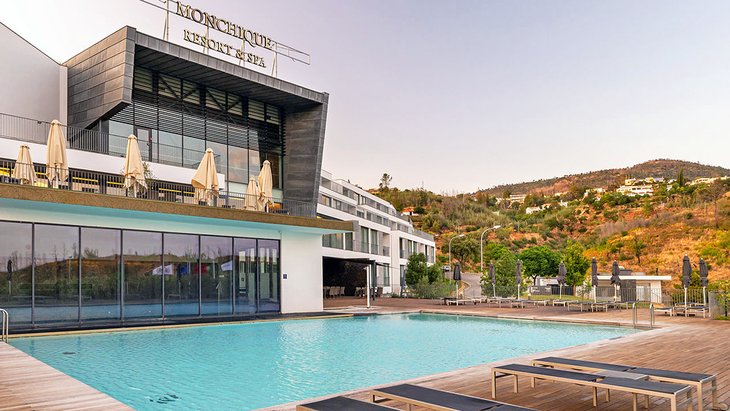 Surrounded by cork oak and scented eucalyptus, the upscale hideaway, just a 30-minute drive north of Portimão, is one of a few select resorts that take advantage of the Algarve's idyllic rural splendor.
Set well away from the clamor of the coast, Monchique Resort & Spa is snuggled in sunny woodland on the road that leads up to Fóia Peak, at 908 meters the highest point in the region.
Accommodation is contemporary in style, and is offered as a series of carefully appointed suites affording either uninterrupted mountain views or distant ocean vistas. The panoramic balcony suites are especially appealing, bathed as they are in plenty of natural light.
The resort is all about surrendering yourself to nature, a sensation epitomized by the Sensorial Spa.
Here, guests can indulge in a range of individually tailored treatments designed to relax and rejuvenate body and mind. Alternatively, they can opt for the invigorating spa circuit, which includes sauna, massage, and aromatherapy.
The spa welcomes non-guests to use the facilities. But beware. You can spend all day here in luxurious bliss!
The resort's Mon-Chic restaurant offers a menu that celebrates Monchique's culinary traditions. Creative seasonal meat dishes are listed alongside inventive fish and seafood options – you're never too far from the ocean, even halfway up a mountain!
Besides its enviable well-being program, the resort is applauded for its outdoor adventure packages.
If you're the active type, why not sign up for one of their 360 Experiences, a weekly schedule of activities designed to keep your blood pumping and your muscles firm.
12. Conrad Algarve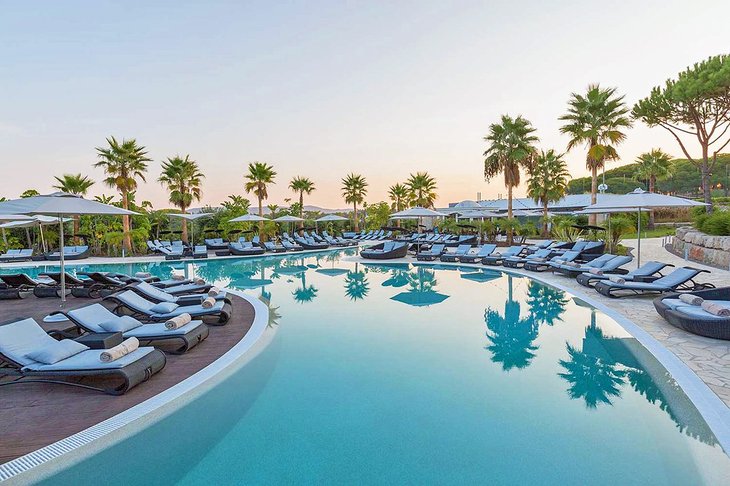 Located at Quinta do Lago, a name synonymous in Portugal with upscale vacation stays, this property, the first European Conrad Resort, boasts a range of luxurious rooms and suites, all with pool views, plus private residences. The fabulous roof garden suite is one of the most talked-about room options in the region.
Built to palatial dimensions, the Conrad oozes stylish sophistication. Indeed, the resort offers unparalleled quality in modern design, comfort, and technology.
Guest amenities abound, and seriously impress.
The Conrad Spa is a veritable oasis of tranquility, a place of harmony and calm devoted to improving personal wellness. Complementing the bewildering array of bespoke treatments and therapies is a comprehensive program of fitness and well-being activities, including yoga and life reset workshops, and tailor-made gym classes.
Guest amenities extend to three amazing swimming pools (the Sereno infinity pool is magical) and a host of exciting off-premises leisure options, such as jeep safaris, bike rides, and private motor yacht charters.
Eating at the Conrad is a gastronomic delight. The resort's Michelin-star restaurant, Gusto by Heinz Beck, is a regional dining hot spot where vibrant Mediterranean cuisine is served in light, airy, and contemporary surroundings.
The Conrad's privileged location affords easy access to some of the Algarve's top-rated golf courses. And several of the region's best beaches are also nearby, including the resort's own idyllic serviced pocket of sand.
13. PortoBay Falésia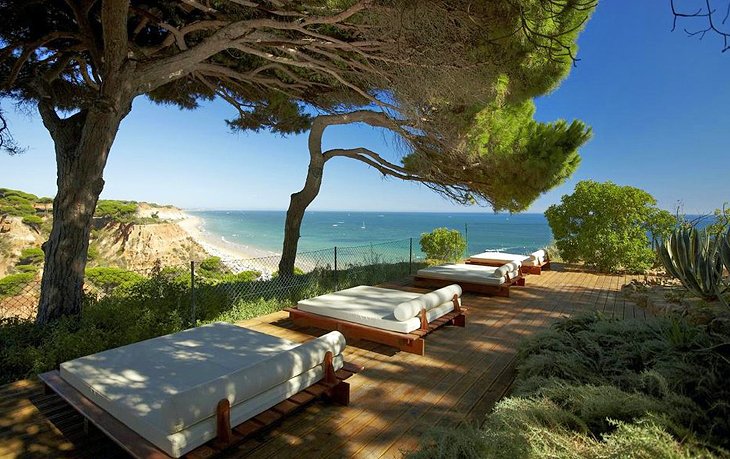 It's an outlook enjoyed from many of the standard and superior rooms and junior suites, and a view that also takes in the curvaceous outline of a superb outdoor swimming pool. In the distance, a ridge of tawny-red sandstone cliffs line the beach, which is accessible directly from the premises.
Much of the appeal here lies in the fact that guests can easily find little pockets of tranquility in which to relax.
Scattered throughout the gardens are wood decks and platforms furnished with sofas or plump, oversized cushions set under a canopy of scented pinewood. Linger here at sunset as hidden spotlights illuminate the grounds, and the romantic ambience is quite tangible. Actually, such is the connection with nature, the gardens also play host to yoga classes, and massage sessions are conducted in the privacy of your own exclusive curtained terrace.
Otherwise, the hotel's Blu Spa features four treatment suites, where guests can indulge in a range of relaxing therapies and rituals to enhance physical and mental wellbeing.
PortoBay hotels are noted for their excellent gastronomy, and this resort is no exception. The Falésia restaurant will delight those who appreciate authentic and flavorsome Mediterranean fare. The Madeira restaurant, meanwhile, is noted for its show cooking and is where special dinner packages can be arranged.
14. Vila Galé Lagos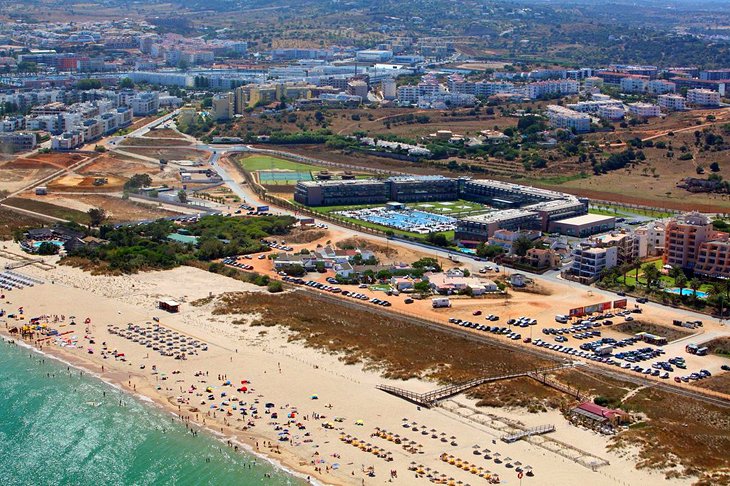 Lending additional leisure luster is the Satsanga Spa, a suitably refined oasis of wellness with its own indoor panoramic pool. A fully equipped health club replete with gym, sauna, and Turkish bath is another reason you may want to stay within the resort's boundaries.
The ocean is visible from many of the 112 standard and family rooms and 18 junior suites housed within this attractive property.
Responsible for the interior décor theme are some of Portugal's biggest names in fashion, designers such as Miguel Vieira, Ana Salazar, and José António Tenente.
Their decorative art and the runway show photographs framed on the walls can be admired throughout the public areas but are especially striking in the Versátil and Inevitável restaurants, which lend each a fresh and contemporary ambiance.
The resort's proximity to the beach affords guests a host of exciting water sports options – Meia Praia is one of the region's longest beaches.
Alternatively, golfers staying here can take advantage of the nearby Palmares Golf Course, a beautiful and undulating layout designed by Robert Trent Jones Jr. And for everyone, the lively town of Lagos, with its busy marina, great shopping, and historical attractions, is within easy walking distance.
15. 3HB Faro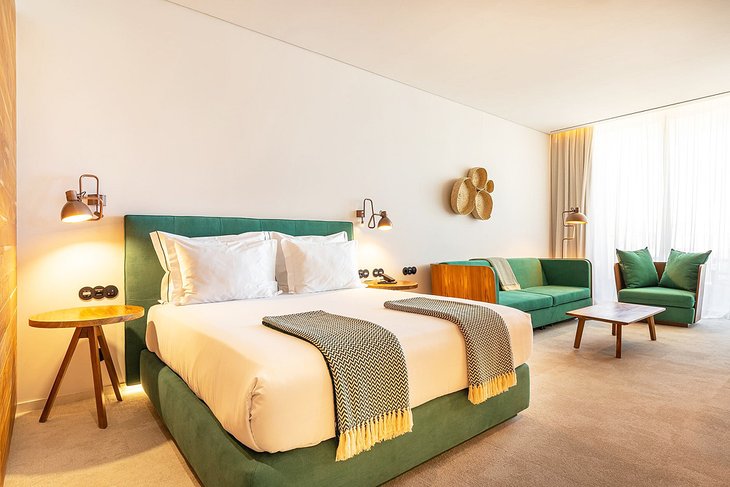 The resort works well for couples and families alike. If you are traveling with children, you'll find kids' meals at the restaurants, as well as a children's playground. Breakfast is complimentary each morning and served buffet style.
Amenities at 3HB Faro are also plentiful. Make sure to head up to the roof for a dip in the infinity pool with panoramic views of the city and the Ria Formosa nature park. There is a second indoor pool found at the delightful spa. It features a full range of treatments, from body scrubs to deep tissue massages, as well as amenities like a sauna, Turkish bath, and sensory showers.
There is also a fitness center on-site and two restaurants. One is located on the rooftop and does gourmet fare and is more formal. The other cooks up Italian-inspired cuisine and has a more laid-back ambience.