From New York City to Philadelphia: 5 Best Ways to Get There
Pennsylvania's largest city, commonly referred to as Philly, is just 95 miles southwest of New York City. Traveling between these two historic East Coast cities can be done in several ways.
Whether you are going for a day trip from New York City or a multi-day vacation, Philadelphia's many attractions can be witnessed with ease if your base is New York City. An organized tour will give you a chance to experience the city's highlights, from Liberty Bell to Independence Hall, on a guided day tour from New York.
Those willing to travel by train have a few options, although if you have access to a car, driving is the quickest way to reach this charming city on the Delaware River. Given the short distance between the cities, flying may just add more time to your travel than necessary.
To help you pick the right mode of transportation from New York City to Philadelphia, we've put together five best ways to get there, along with information on the most affordable, fastest, and efficient way to do so.
1. From New York to Philadelphia by Organized Tour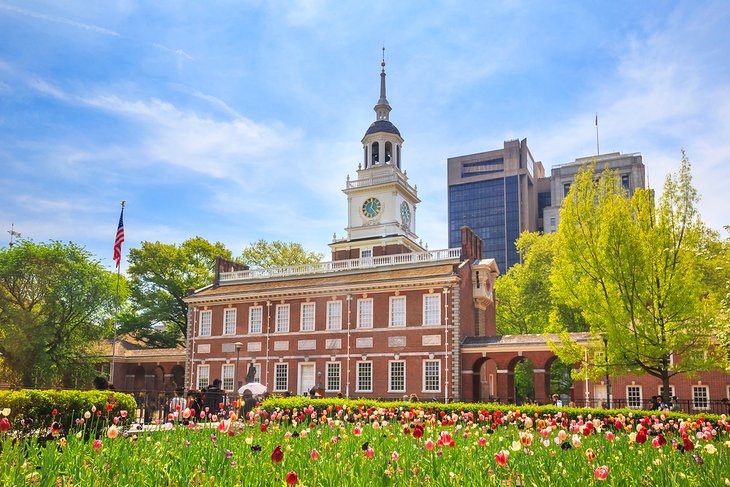 Highlights: Luxury coach tour of Philadelphia and rural life in Amish Country
An organized tour will take the guesswork out of your planning and ensure that you will get to see all the main tourist spots in Philadelphia with ease. On a Philadelphia and Amish Country Day Trip from New York City, visitors can experience both the city highlights and country life. Begin your day at Manhattan's Grand Central Station and enjoy Wi-Fi onboard a luxury coach or van for the two hours it takes to reach Philly.
As you get closer, you'll drive along the Benjamin Franklin Parkway and Elfreth's Alley; the latter is known for being the country's oldest residential street. In Philadelphia, visit historic landmarks such as Liberty Bell and Independence Hall, along with the Philadelphia Museum of Art among others.
In the afternoon, set out to the countryside in Lancaster to experience traditional life in the Amish country, with a horse-drawn buggy ride through farmland, and browse local handicrafts and artwork. The tour comes with a professional tour guide and returns to the original departure point.
2. From New York to Philadelphia by Train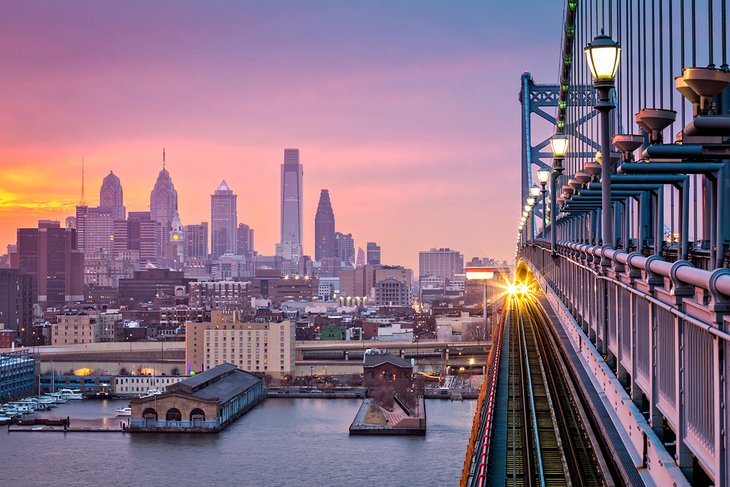 Highlights: A relaxing one-hour trip, especially convenient in winter months
For a stress-free and efficient way to get from New York to Philadelphia, take the train. From Penn Station, Amtrak's Acela service takes just about an hour, and Northeast Regional trains take an hour-and-a-half to reach the beautiful William H. Gray III 30th Street Station, located in the University City neighborhood, next to the Schuylkill River.
Tickets can be purchased either online or at the station; get tickets at least two weeks in advance for the best fares. Prices are also higher during peak travel times. While the Acela exclusively has Business and First Classes, the Northeast Regional train offers Coach seating; both trains have multiple departures daily and offer café service and free basic Wi-Fi, making commuting between the cities comfortable and easy. Regional trains leave New York City as early as 3:25am, with the first express train leaving at 6am.
An alternative to Amtrak is taking the New Jersey Transit at Penn Station to Trenton, NJ, and connecting to the SEPTA regional train to any of the major stops in Philadelphia. SEPTA is Philly's main public transportation network. This trip takes twice as long as the Amtrak train, mainly due to the wait time of at least 20 minutes between trains, but the journey costs significantly less.
When traveling during the winter months, train travel is more reliable than taking the bus or flying.
3. From New York to Philadelphia by Car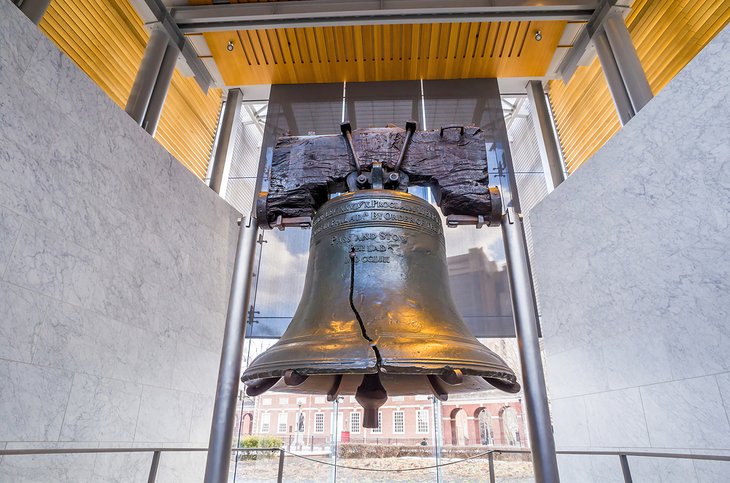 Highlights: Fast and family-friendly opportunity to see the best attractions along the way
Driving from New York to Philadelphia takes around two hours, and it is a good choice for anyone traveling with a group or pets; bringing a lot of luggage; or if you want the freedom to explore areas outside the city, like the Amish country and suburbs in Pennsylvania.
If you are driving, take the I-95 through New Jersey, also known as the New Jersey Turnpike, to reach your destination. Keep in mind that the Lincoln and Holland Tunnels connecting Manhattan from the mainland have a toll, and finding parking in the city can be a hassle.
New York and 18 other northeastern US states use a common cashless toll payment system and device called E-ZPass. If you live in one of those states and you have one, bring it with you or consider purchasing one in advance of your trip. In New York, you can use the official site tollsbymailny.com to pay your tolls online after you incur them, without an E-ZPass.
You can rent a car to make the drive from NY to Philadelphia. Companies like Avis, Budget, Hertz, and National all have multiple locations in and around NYC. Keep in mind car rental locations at the airport and in Manhattan can have extra fees and higher prices than satellite locations. It may be easier and cheaper to hop on a subway train to get out of the city to pick up your rental car in Queens, Long Island, or Jersey City.
If you are driving in the summertime, you can make a detour to visit Jersey's famous shoreline, including Asbury Park, where you can walk the Boardwalk, take in a live performance at the Paramount Theatre, and enjoy good dining.
You could even take an Uber or Lyft rideshare car from NYC to Philly. The cost would be about $200 to $300 excluding gratuity, tolls, and any surcharges.
4. From New York to Philadelphia by Bus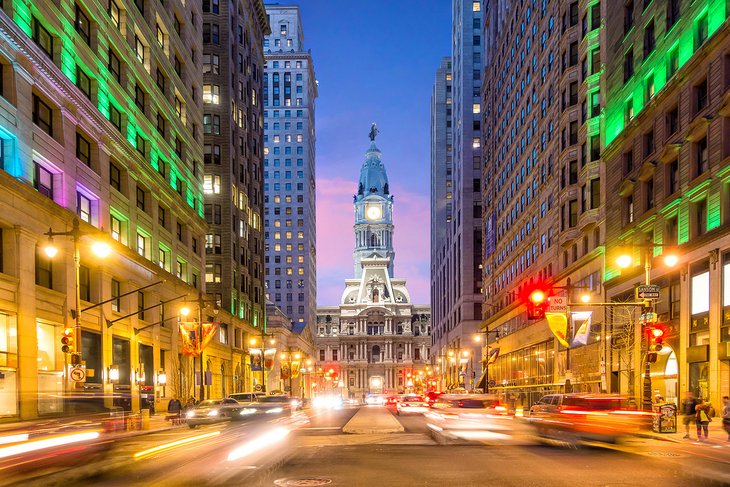 Highlights: Cheap and stress-free journey, a wide range of bus company choices
You can avoid the hassle of driving by taking the bus, which will take you a bit longer than two hours to reach Philly, but will save you money and give you a chance to travel in comfort.
A variety of bus lines like Greyhound, Peter Pan, and Megabus offer affordable options from New York City. You can take advantage of free Wi-Fi, onboard entertainment, restroom and comfortable seating on these buses. Be aware that you may be sharing your ride with college students on weekends and holidays.
FlixBus is a greener way to travel, as their buses emit less CO2 than passenger cars. You can even buy offset credits to make your personal journey carbon neutral. They will also carry your bicycle. FlixBus uses a Midtown curbside pickup stop near (not inside) Penn Station, at 31st Street and 8th Avenue. They have between 10 and 20 buses per day that run between the two cities. Drop-off in Philly is curbside at 6th and Market. The buses run direct with no stops, and the travel time is normally under two hours.
Greyhound has buses leaving from Manhattan's Port Authority Bus Terminal, while the rest depart curbside from Midtown near Penn Station. Each of these lines has buses leaving from New York City frequently, so you have several options throughout the day.
If you know your plans ahead of time, purchase tickets online for the best fares and seats (if the bus offers reserved seating). Greyhound and Peter Pan buses arrive at the Philadelphia Bus Station at 1001 Filbert Street, and Megabus buses arrive at JFK & N. 30th Street bus stop.
5. From New York to Philadelphia by Plane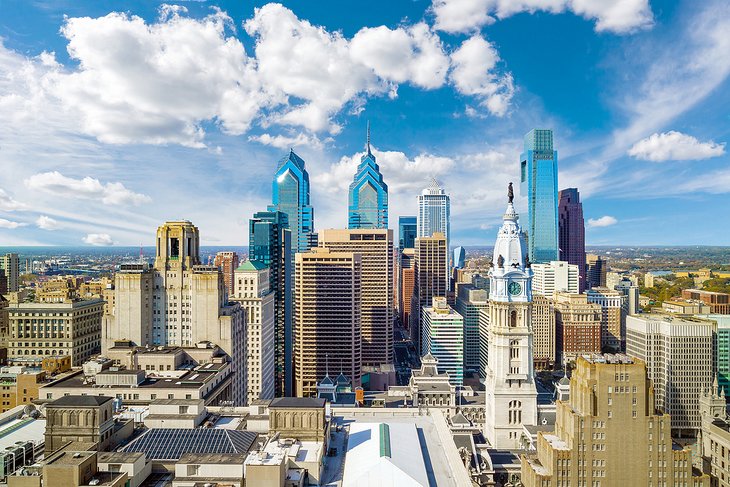 Highlights: Many direct flight options, airfare deals can often be found
Although flying is faster, the total commute between the two cities by way of plane is similar to driving or taking the train. However, airfares are sometimes cheaper than the train, and air shuttles run more frequently.
United has the most direct flights from New York's Newark Airport (EWR) to Philadelphia International Airport (PHL), the closest airport to Downtown Philadelphia. Flight time is generally around an hour. Once there, travelers can embark on a SEPTA local train or take an Uber or Lyft (20-minute ride) from the airport to the city center.
If you're flying from New York to Philadelphia and picking up a rental car, you will need to take a free shuttle bus from the PHL terminal to the adjacent rental car center. The shuttle buses pick up from Zone 2 on the Arrivals level. All the rental car companies like Hertz, Avis, Budget, Enterprise, and National are located in the same complex.