12 Top-Rated Resorts in New Hampshire
We may earn a commission from affiliate links ()
From its short seacoast to the iconic White Mountains in the north, New Hampshire is a candy shop of vacation possibilities, with tourist attractions that include historic sites, the arts, outdoor adventures, and scenic wonders. And wherever you go there, you'll find appealing hotels and resorts, whether you're looking for a romantic getaway for two or an activity-filled family vacation.
There is no shortage of luxury accommodations in New Hampshire's resorts, whether you choose a large resort with a wide variety of on-property activities or a smaller, intimate boutique property as a place to relax. And near to any of them, you'll find plenty of things to do.
See the best options with our list of the top-rated resorts in New Hampshire.
1. Omni Mount Washington Resort, Bretton Woods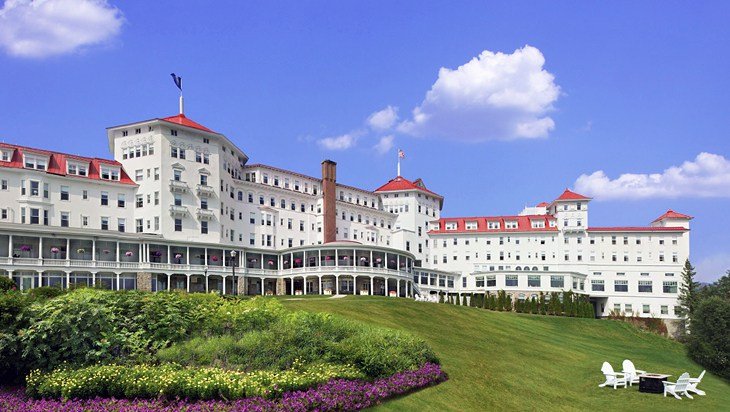 At the base of Mt. Washington, in the heart of New Hampshire's picturesque mountain region, the Omni Mount Washington Resort in Bretton Woods was opened in 1902 and retains its historic charm despite the addition of luxury modern facilities.
The world-class amenities include an 18-hole championship golf course by Donald Ross, a huge full-service spa, tennis courts, casual and fine dining, and plenty of space to kick back and relax.
Families will find plenty of things to do, with special activities for kids, as well as ziplining, horseback riding, fishing, and swimming. In the winter, the resort has one of New Hampshire's top-rated ski areas, and extensive cross-country trails. There's also plenty of meeting and function space.
The resort offers 200 luxury rooms and suites, and standard features include upgraded beds and bedding, work desks, marble bathrooms, and gas fireplaces. The larger "Corner Vista" rooms have a choice of two queen beds or a king bed, with a cozy seating area and great views.
For a more intimate experience, choose one of the 34 spacious rooms and suites at the resort's Bretton Arms Inn, on the same property. Features of these elegant units include upgraded beds and bedding, large bathrooms, and comfortable sitting areas. Several larger two-bedroom family suites are also available.
2. Mountain View Grand Resort & Spa, Whitefield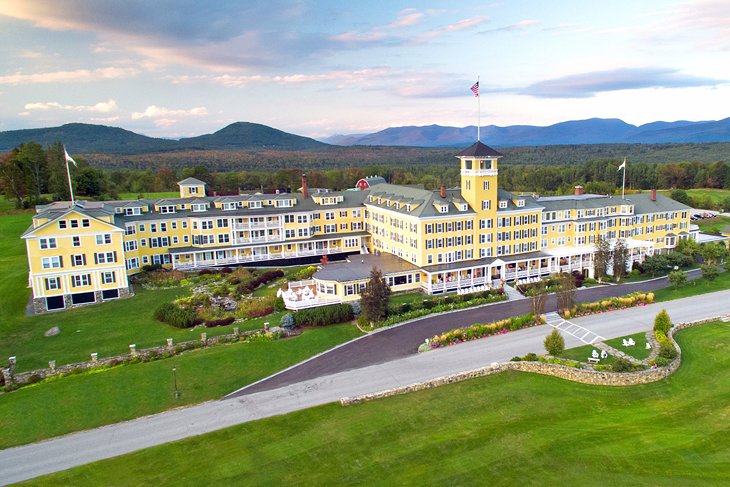 Perched perfectly in the picturesque and pretty White Mountains, the majestic Mountain View Grand Resort & Spa is another good choice for a luxury vacation.
The amenities here alone are worthy of a visit, highlights of which include a full-service spa with great mountain views from its treatment rooms and a 9-hole Ross Forbes golf course. You can enjoy the resort's heated indoor and outdoor swimming pools, and its very own movie theater. In the winter, the resort has cross-country and snowshoe trails and an ice-skating rink with skate rentals.
If money is no issue, head straight to the magnificently opulent Presidential Suite. This large luxury unit comes with an entertainment system, custom-made furniture, bright décor, and a large wet bar plus dining area. The equally elegant Summit Suites have their own furnished balconies.
The Mountain View Grand is well located for exploring the White Mountains, where you'll find many of the top tourist attractions in New Hampshire.
3. Waterville Valley Resort, Waterville Valley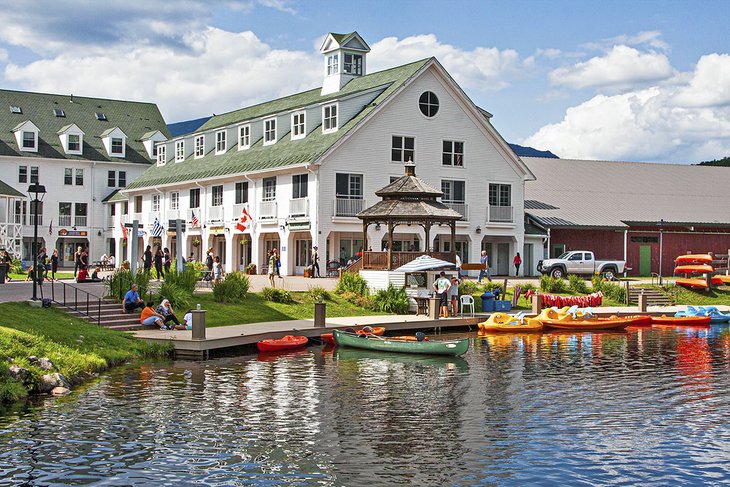 Accommodation: Golden Eagle Lodge, Waterville Valley Resort
At the southern edge of the White Mountains and easily reached from Interstate-93, Waterville Valley Resort is a full-service, year-round resort with its own ski mountain and 770,000 acres of outdoor playground.
Lodging choices include several inns with rooms and suites, including the high-end units in the Golden Eagle Lodge, overlooking the resort's center, known as the Town Square.
Along with rooms and suites to accommodate as many as eight guests and featuring fully equipped kitchens, the Golden Eagle Lodge has a children's movie theater and game room, and its own indoor/outdoor pool.
The Town Square is where you'll find shops, a café, restaurants, and information on hiking trails and all the other activities the resort offers. These include a golf course, tennis courts, paddleboarding and kayaking, mountain biking, ice-skating, and swimming in a variety of indoor and outdoor pools and in the Olympic pool at the White Mountain Athletic Center.
4. RiverWalk Resort at Loon Mountain, Lincoln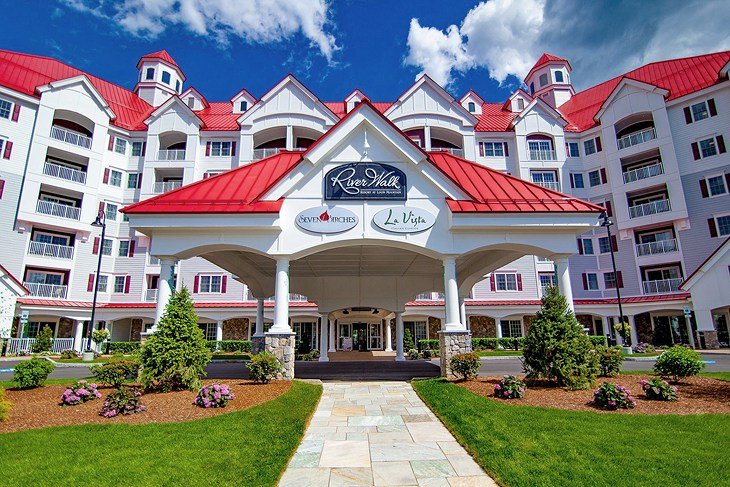 The large and luxurious RiverWalk Resort at Loon Mountain in Lincoln is a good choice for those seeking a summer or winter vacation in New Hampshire. Its White Mountains location means it's a great place for outdoor activities, such as swimming (the hotel has heated pools), hiking, mountain climbing, biking, or the challenges of the adjacent adventure center with ziplines and canopy tours. There is also a day spa and a fine-dining restaurant.
A popular choice for families of up to four are the elegant one-bedroom suites. Notable features include a separate master bedroom with a king bed, a large bathroom with a soaker bathtub and separate shower, a living area with a pull-out couch, a full-kitchen, and furnished balcony. A version of this unit that sleeps six is also available, and units can be combined to provide space for even more guests.
5. The Wentworth, Jackson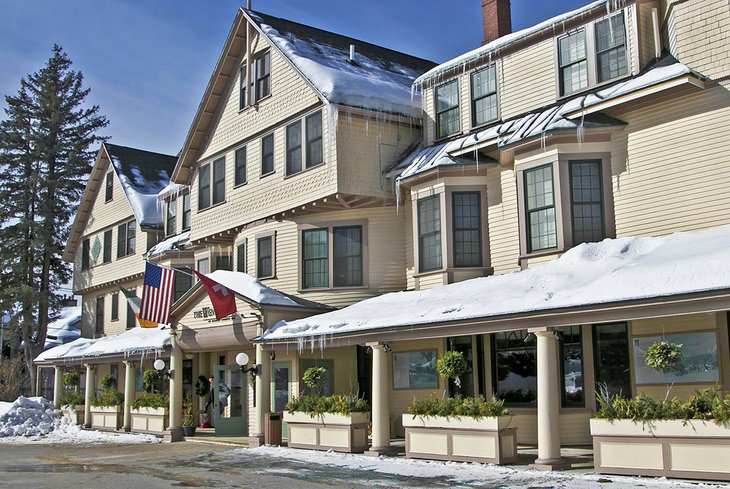 Accommodation: The Wentworth
In the center of the pretty village of Jackson (entered through a photo-worthy covered bridge), The Wentworth opened in 1869 as one of the smaller of the White Mountains' grand hotels.
Its classic design with a wide front porch, spacious lobby, sun porch, and cluster of adjacent bungalows has been beautifully preserved, with the addition of modern luxuries, such as whirlpool tubs and private outdoor hot tubs for each of the guest rooms and suites. Original art enlivens the hotel's public areas and hallways.
The farm-to-table restaurant serves innovative and traditional dishes using organic ingredients. Along with the swimming pool and a winter skating rink, the inn is adjacent to the Wentworth Golf Course and to New England's most complete cross-country ski center.
6. Church Landing at Mill Falls, Meredith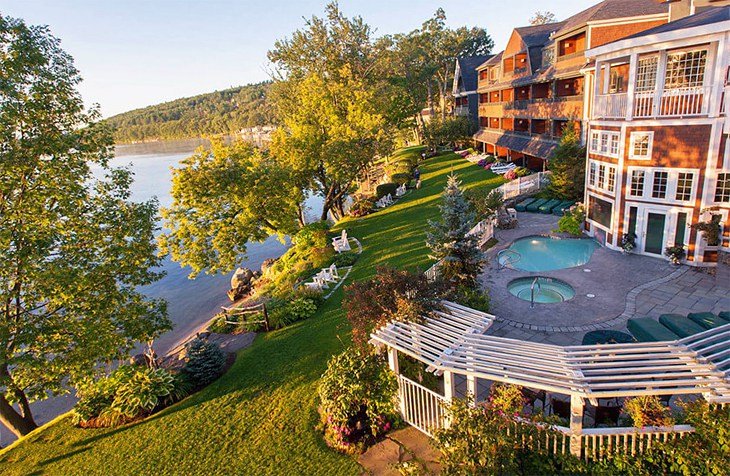 Commanding a picturesque location on lovely Lake Winnipesaukee in Meredith, Church Landing at Mill Falls is part of a resort that offers great accommodations in several unique buildings connected by a waterfront boardwalk. The original inn can trace its roots back more than 100 years.
Part of the fun is exploring the grounds, which include the shoreline of the lake and a beautiful waterfall. On-site amenities include indoor and outdoor swimming pools (one of them adults-only), shops, and restaurants. The lake offers water-based activities such as kayaking and paddleboarding.
In the winter, the lake in front of the inn is dotted with colorful "bob houses" for ice fishing.
Standard features of the attractive rooms are coffee makers, mini-fridges, and air-conditioning. A number of pet-friendly units are available.
7. InnSeasons Resorts Pollard Brook, Lincoln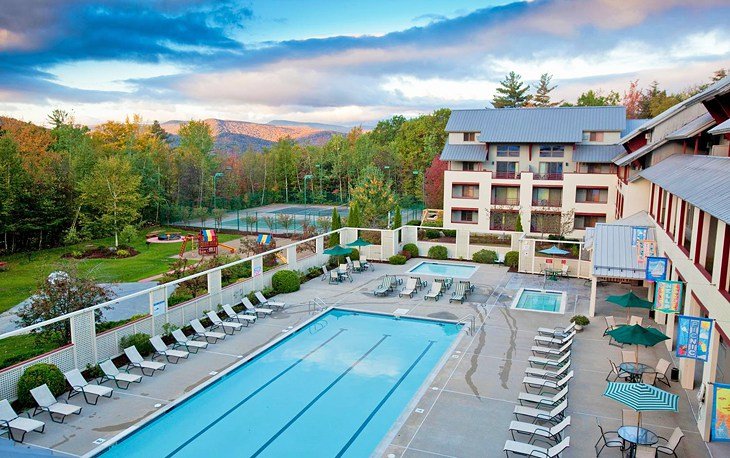 A popular spot for families and couples who enjoy outdoor activities such as skiing and hiking, the condo-style InnSeasons Resorts Pollard Brook in Lincoln is well situated for exploring the White Mountain region.
In addition to its many on-site amenities, including heated indoor and outdoor swimming pools, tennis courts, basketball hoops, and volleyball courts – as well as a fitness center – this luxury resort is adjacent to the 750,000-acre White Mountain National Forest, ensuring outdoor enthusiasts will never run out of things to do.
Other notable amenities include a hot tub, sauna, games room, spa, and laundry area.
The 133 luxuriously appointed units range in size from one to three bedrooms. InnSeason Resorts Pollard Brook also provides plenty of incentive for guests to stay indoors. Features of these bright and airy units include full modern kitchens, large bathrooms with jet tubs and showers, as well as spacious furnished patios or balconies.
The resort is close to the Loon Mountain ski area and its year-round adventure park, which includes ziplines and mountain gondola rides.
8. White Mountain Hotel & Resort, North Conway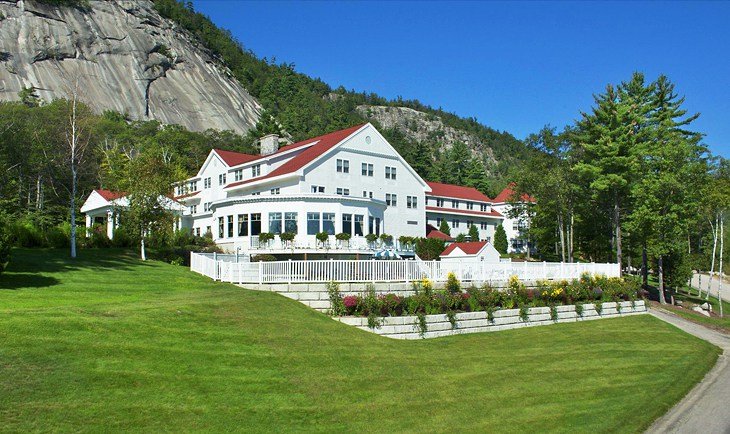 A modern version of the classic White Mountain grand hotel, the White Mountain Hotel & Resort in North Conway is a great location for those seeking an outdoor vacation.
In addition to its proximity to Cranmore Mountain and other outstanding ski areas, the hotel offers resort amenities that include a restaurant (poolside dining is available), an all-season heated outdoor swimming pool and hot tub, a fire pit, massage room, fitness center, Finnish sauna, and nine-hole golf course. Another nice perk is the inclusion of a complimentary full breakfast.
The 80 hotel-style guest rooms feature New England-inspired décor, comfortable pillow-top mattresses and upgraded bedding, spacious bathrooms with slippers and bathrobes, and complimentary bottled water. Also included are mini-fridges, Keurig coffee makers, work desks, and HDTVs.
9. Stonehurst Manor, North Conway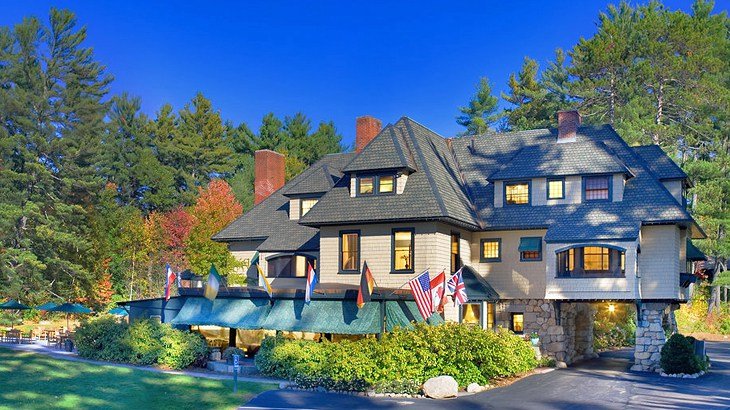 Built in the 1870s in the style of an English manor house, Stonehurst was the summer "cottage" of a wealthy manufacturer, and the experience is still that of being a guest in a country estate. The hilltop setting, just outside North Conway's busy center, provides the dining room and most guest rooms with views of the White Mountains.
Dinner and breakfast in the inn's popular Wild Rose restaurant are included in your stay, and other amenities include a heated outdoor swimming pool and hot tub.
The rooms are cozy and well-appointed and come with such features as king beds with quality bedding, large bathrooms with Jacuzzi tubs, HDTVs, and living areas with fireplaces. Also on the property, larger condo-style units offer additional space for families.
The inn is surrounded by gardens, and a network of walking, hiking, and cross-country ski trails is steps away.
10. The Inn at Thorn Hill & Spa, Jackson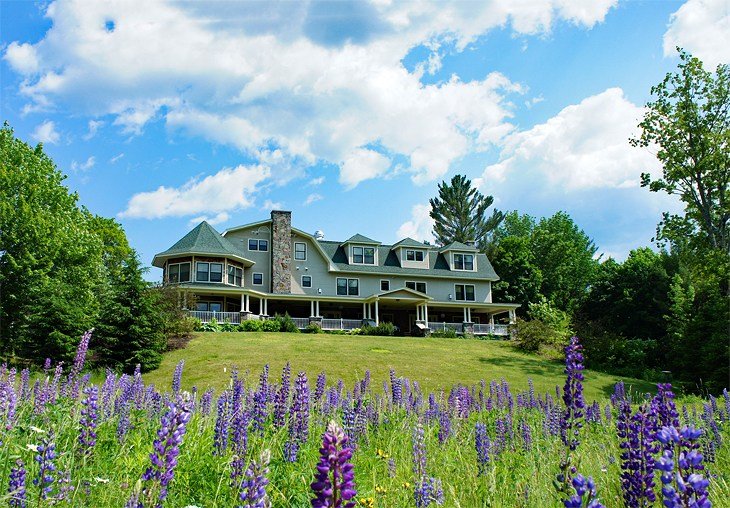 The Inn at Thorn Hill & Spa, located in Jackson, is a popular choice for vacationers exploring New Hampshire, and is consistently voted one of the top romantic hotels in the US. Perfect for couples' getaways, weddings, or honeymoons, this small luxury hotel features an attractive wraparound deck, where you can relax and enjoy the views. The inn has a fine-dining restaurant and a full-service spa.
With just 16 individually decorated and furnished rooms in the hotel's main building, plus an additional three cozy cottages, the inn maintains an intimate personal atmosphere for a tranquil and relaxing stay. Features include spacious bathrooms with large two-person whirlpool tubs and separate steam showers, a choice of king or queen beds, HDTVs, and gas fireplaces.
11. Bedford Village Inn, Bedford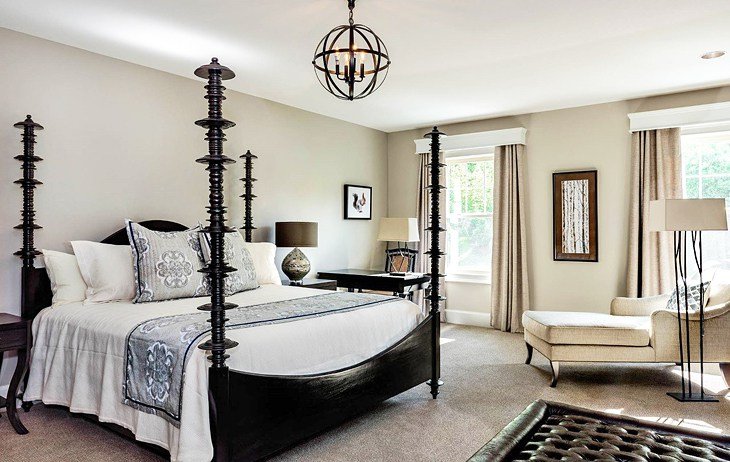 Well located for a getaway in southern New Hampshire, near Manchester's Currier Gallery of Art and historic attractions, the elegant Bedford Village Inn is set in a 10-acre estate that traces its roots back to the early 1800s.
The restored and renovated former farm and a recently constructed modern hotel building now comprise 64 lovely rooms, each decorated in a classic look with custom-made furniture that includes beautiful four-poster beds. Rooms offer upgraded mattresses and bedding, spacious marble bathrooms with separate jet tubs and showers, as well as mini-fridges. A nightly turndown service features fresh-baked cookies.
On-site amenities include plenty of meeting and function space – it's a popular spot for weddings, as well as corporate events – and an award-winning dining room. Also notable are the business center, 24-hour fitness center, spa, and an outdoor saltwater swimming pool with a hot tub.
12. Wentworth by the Sea, A Marriott Hotel & Spa, New Castle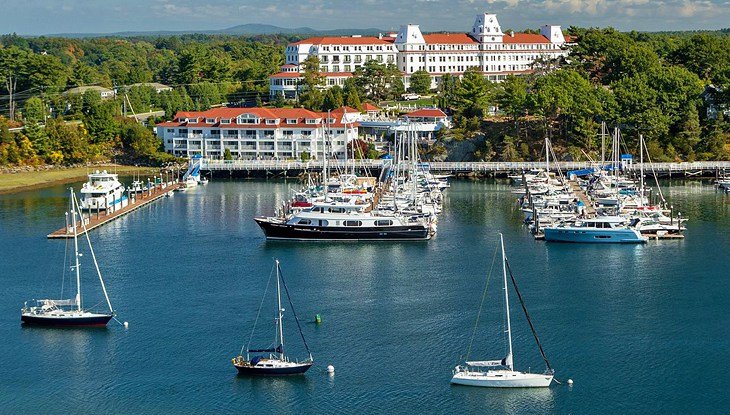 The restoration and complete renovation of the historic Wentworth by the Sea, just outside Portsmouth, saved New Hampshire's only remaining oceanside grand hotel from threatened demolition after years of vacancy.
Thanks to help from the National Trust for Historic Preservation, today the historic 1870s resort is again a prominent landmark, with its three towers and wide porches overlooking the water on almost all sides. The hotel's 61 well-appointed rooms and suites include several multi-roomed "turret" units, some of which spill over onto a second level.
The amenities are equally appealing. Highlights include a variety of dining options (including in-room and al fresco), a world-class spa, heated outdoor and indoor swimming pools, a well-equipped fitness center, plus business services. The resort also has ample meeting and conference space and has its own marina for guests who arrive by boat.