7 Top-Rated Resorts in Leech Lake, MN
We may earn a commission from affiliate links ()
As the third largest body of water in Minnesota, Leech Lake has been attracting vacationers to its shores for more than a century. The big draw? For many, it's the chance to get in some fishing, as the lake is famous for its walleye and muskie.
Other reasons that make this one of the best places to visit in the North Star State are the many opportunities it presents for people to participate in water-based activities such as boating, waterskiing, and kayaking.
Then, of course, there's the excellent accommodations on offer here. Popular choices for outdoor enthusiasts are Chase on the Lake and Hiawatha Beach Resort, both offering plenty of aquatic activities on Leech Lake.
Those looking for a memorable luxury getaway would do well to consider the elegant Trappers Landing, while a great spot for couples seeking a little quiet time together is the delightful Leech Lake B&B.
Find the very best place to stay with our list of the top resorts in Leech Lake, Minnesota.
Note: Some businesses may be temporarily closed due to recent global health and safety issues.
1. Chase on the Lake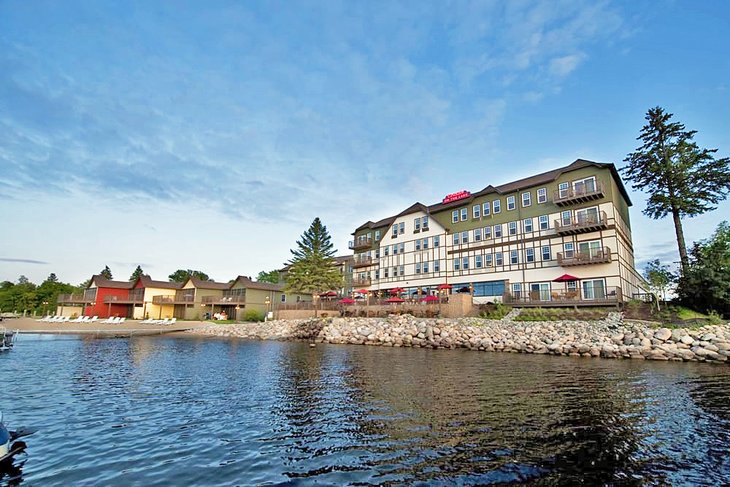 Located within walking distance of the shops and restaurants of the historic town of Walker, Chase on the Lake is a great choice for those looking for a high-quality resort vacation in Minnesota. It's certainly a picturesque spot, its charm accentuated by its position overlooking Leech Lake - a backdrop that makes it especially popular for weddings.
Here, guests can enjoy water sports and activities such as kayaking, boating, and fishing (the lake's famous for its walleye), or swimming and sunbathing on the private beach. Other activities include on-site dining in the resort's restaurant (be sure to try the alfresco and in-room options), a full-service spa, plus a heated indoor swimming pool with hot tub. Also fun is the resort's bowling alley.
Come the winter season, the resort serves as a great base for winter sports, including skating, skiing (downhill and cross-country), as well as snowmobiling.
Whether you opt for a hotel suite or one of the larger condo-style units, you can expect to enjoy such standard features as spacious bathrooms with separate showers, mini-fridges, microwaves, large-screen HDTVs, and custom furnishings. The larger units come with a separate bedroom, a kitchen with full appliances, and a living area (one-, two-, and three- bedroom versions are available).
Accommodation: Chase on the Lake
2. Leech Lake B&B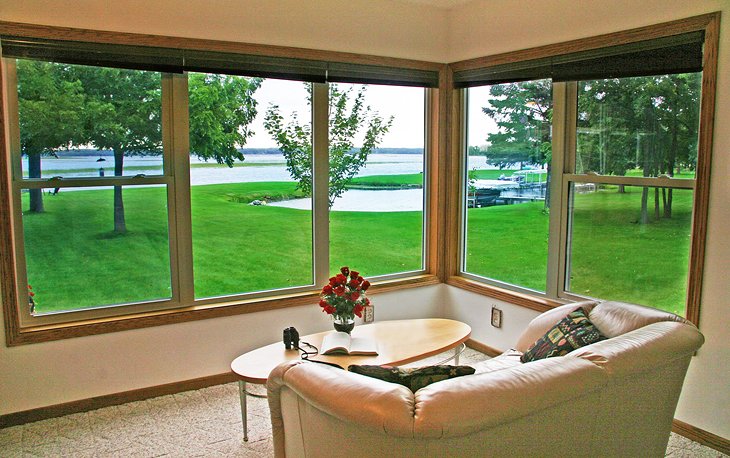 For those seeking a more intimate location for their Minnesota getaway, the quaint Leech Lake B&B is well worth considering. Situated overlooking the lake and adjacent to a network of hiking and biking trails that stretch some 180 miles around the region, the lodge includes free use of bikes. Watercraft rentals are also available.
Leech Lake B&B also offers delicious home-cooked breakfasts, while tea and coffee are also included in your stay.
If available, try to book the cozy honeymoon suite. This spacious accommodation is located at the top of the building and offers superb lake views, a king bed, a cozy fireplace complete with his and hers rocking chairs, an HDTV, and a spacious bathroom. Another similar-sized room comes with an additional twin bed and jet bathtub.
Accommodation: Leech Lake B&B
3. Brindley's Harbor Resort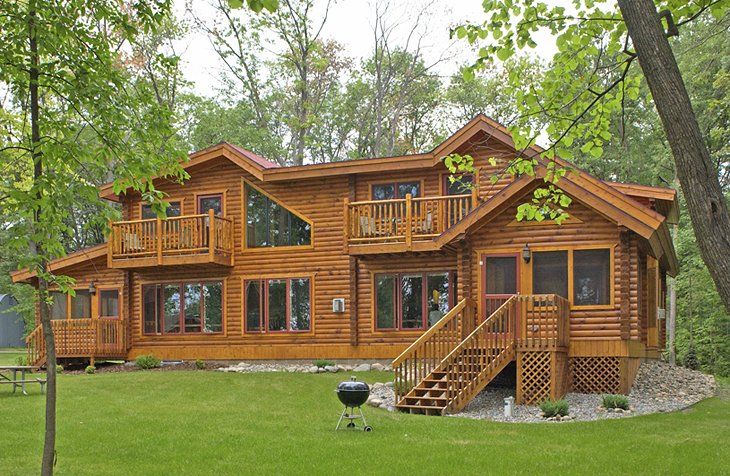 A popular choice for families, Brindley's Harbour Resort is a great traditional lakeside vacation destination. The rustic main lodge is the center of the property and offers plenty of comfortable seating inside and out.
There's also a library, a huge stone fireplace, and a games room with table tennis, a pool table, video games, and TV. There are also plenty of puzzles and board games available for guests to enjoy.
Other amenities include an on-site store, a private beach, complimentary use of bikes, sailboats (lessons available), canoes, and kayaks. The resort also has its own marina and offers boat rentals. It also frequently offers special deals and fishing packages.
The resort's accommodations consist of 20 one-bedroom cabins and cottages spread out along the lakeshore. Standard features in these spacious units include full kitchens with appliances such as fridges, stoves, and microwaves; furnished decks or screened-in porches overlooking the lake; and picnic tables and barbecues. Some units come with pullout couches when room is needed for additional guests.
Accommodation: Brindley's Harbor Resort
4. Adventure North Resort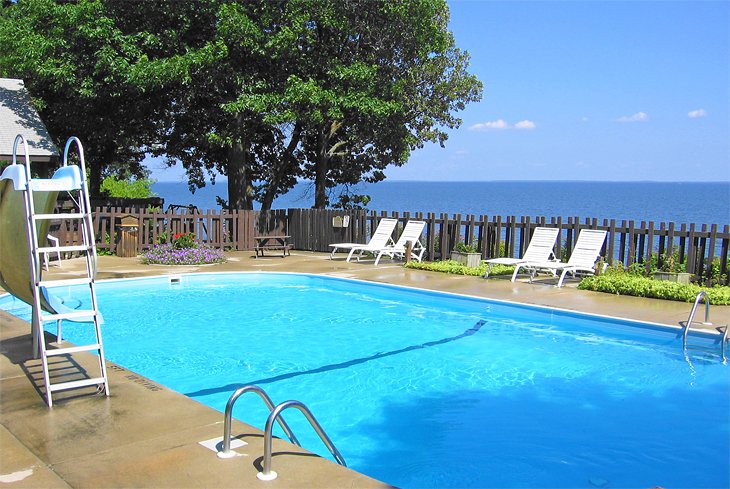 Consisting of spacious and well-appointed lakeside cabins, the family-owned Adventure North Resort offers guests a variety of superb getaway options on Leech Lake.
One of the most sought-after options is the resort's spacious five-bedroom stand-alone cottage. This large air-conditioned unit can sleep up to 19 guests and features an additional loft area for sleeping, three good-sized bathrooms, a full-kitchen with appliances (including two fridges and a dishwasher), a dining area, plus a furnished deck.
Also popular are the two-bedroom condo-style duplexes, each with a full kitchen, fireplace, and large bathroom with jet bathtub. These units can sleep up to six guests comfortably, and come with a private deck.
Adventure North Resort also offers no end of outdoor fun. Features include a large heated outdoor swimming pool (plus slide), a private sandy beach with a diving raft, and use of watercraft, including kayaks. Rentals of boats and Jet Skis are also available.
Fishing is a popular activity here, and the resort has a bait shop selling everything needed to help land that catch of the day (fish cleaning and packaging included). Other amenities include a kids' playground, horseshoe pit, shuffleboard, gift shop, and bonfire pits (wood included).
Accommodation: Adventure North Resort
5. Hiawatha Beach Resort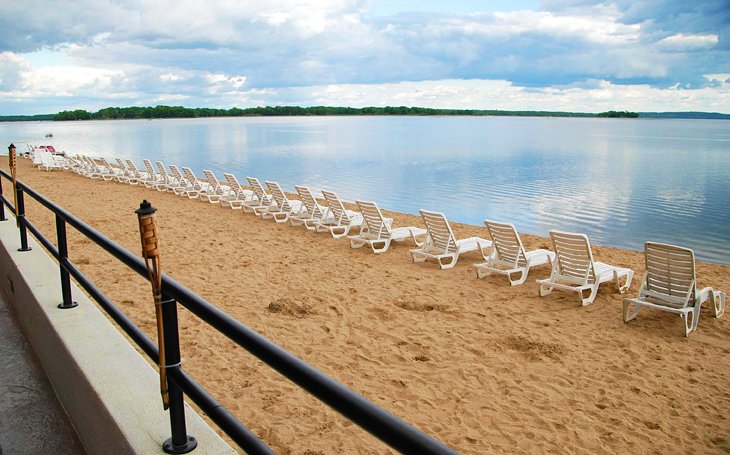 Another great vacation property located on Leech Lake, Hiawatha Beach Resort also offers plenty of on-site fun and adventure. Highlights include a wide variety of water-based activities such as boating, kayaking, canoeing, and fishing, as well as swimming at the private beach and pool.
Sports enthusiasts will enjoy activities including volleyball, badminton, baseball, and even croquet. There are also many great hiking and biking trails nearby. For kids, the resort stages fun programs and things to do, ranging from arts and crafts to fishing.
Hiawatha Beach Resort also offers a variety of excellent accommodation options. A great choice for groups of up to four or six people are the spacious one- and two-bedroom units. Features include a king bed plus a "hide-a-bed," as well as a kitchen with a dishwasher and full appliances. For something a little different, consider one of the resort's houseboat rentals.
Accommodation: Hiawatha Beach Resort
6. Trappers Landing Lodge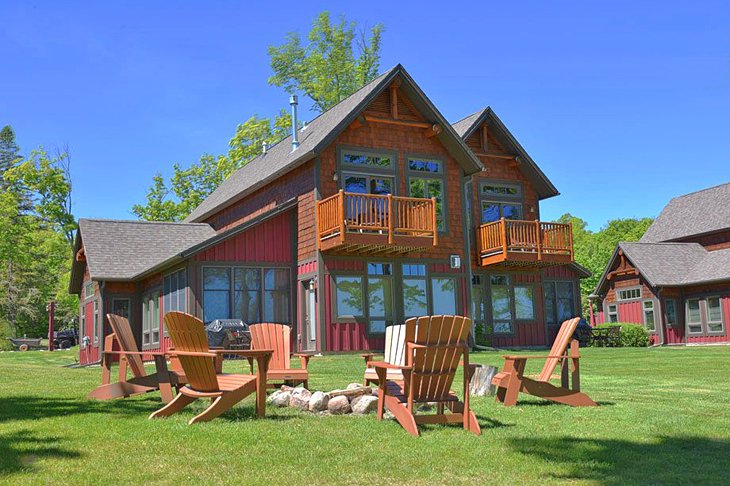 In addition to its lovely location overlooking Leech Lake, Trappers Landing Lodge offers guests a world-class luxury resort experience. Spread out along 1,600 feet of shoreline, on-site amenities include a full-service marina offering slip- and watercraft rentals, a private beach, a heated outdoor swimming pool, a sauna, plus a restaurant.
Also available for guests to enjoy are canoe, kayak, and paddleboard rentals, as well as bikes. The resort also has a large number of fun activities for kids to participate in, including an adventure camp offering fishing, waterskiing, and tubing fun. There's also plenty of family entertainment including movie nights, volleyball, and bonfires.
The resort's spacious three-bedroom rustic cabins are a particularly popular choice of accommodations. Features of these large stand-alone units include stunning lake views, large master bedrooms, twin bunk-beds in one of the bedrooms, a kitchen with full appliances, and laundry facilities.
Accommodation: Trappers Landing Lodge
7. Country Inn Walker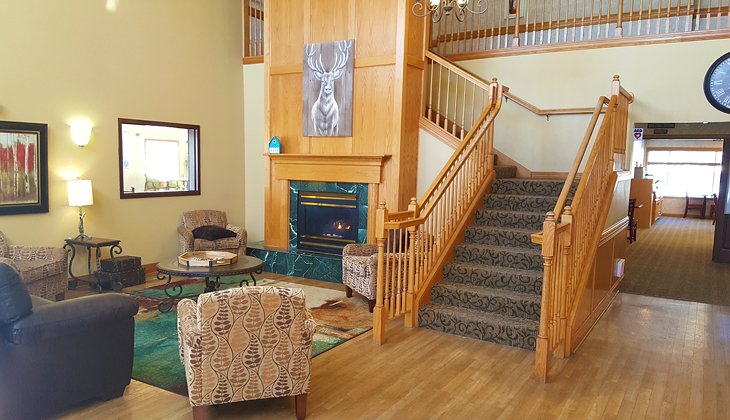 Popular for its location next to Chippewa National Wildlife Refuge, Country Inn Walker also offers plenty of fun things to do on-site. Highlights include fishing and a variety of water sports such as kayaking, canoeing, boating, sailing, and waterskiing. Swimming is also available both in the lake and in the resort's large, heated indoor swimming pool (there's also an adjacent hot tub).
In addition to exploring the nearby parks on foot, guests can participate in other fun activities, including biking and golf in the summer season. And come winter, cross-country skiing, snowshoeing, and snowmobiling become the top things to do at the resort. A nice perk is the inclusion of a hearty homemade breakfast with your stay.
The standard hotel rooms are comfortable and include such features as mini-fridges and microwaves, coffee makers, large screen HDTVs, and spacious bathrooms. Larger suites are also available and include upgrades such as separate living areas with pullout couches, jet tubs in the bathrooms, and lake views. Some pet-friendly units are also provided (be sure to check availability when booking).
Accommodation: Country Inn Walker