12 Best Castle Hotels in Ireland
The green hillsides of the "Emerald Isle" are dotted with castles, many of which have been turned into luxury hotels. These magnificent castle hotels, surrounded by courtyards, labyrinthine gardens, glittering lakes, and woodland grounds, were once the homes of the rich and powerful.
With renovations that have restored these castles to their former glory and turned them into opulent escapes, you can now have your fairy-tale getaway in Ireland. And don't worry, you might be staying in a centuries-old castle, but you will be pampered with modern luxuries and excellent service.
For a truly special holiday with your loved one, choose a luxury suite at the five-star Dromoland Castle Hotel, and if you are bringing your kids, opt for Ashford Castle, where they can enjoy falconry and tree climbing. And don't forget to bring your camera to capture living like royalty, even for a few days. If you've always dreamed of a fairy-tale wedding, then there is no match for castles in Ireland.
Plan an enchanting vacation with our list of the best castle hotels in Ireland.
1. Ashford Castle, Cong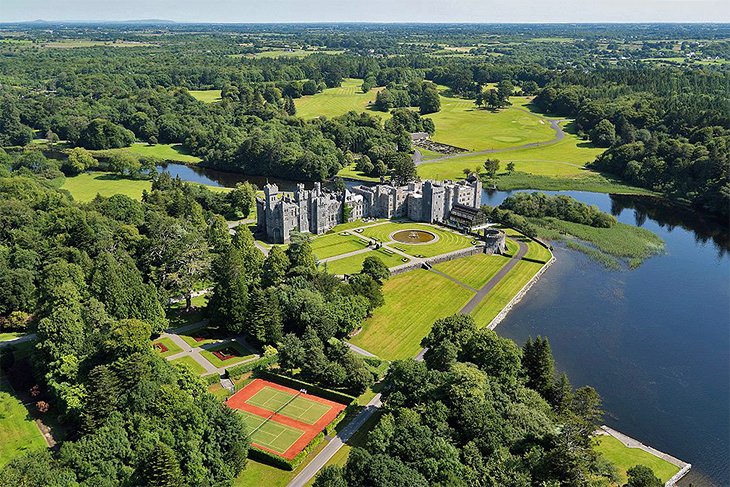 Accommodation: Ashford Castle
Looking out to the deep blue waters of Ireland's second largest lake, Lough Corrib, Ashford Castle is an imposing structure complete with ramparts, watchtowers, and turrets.
Construction of this magnificent building began in the 13th century by the de Burgo family, and in the centuries that followed, it housed many families, including the Guinness family, which occupied the castle from 1852 to 1930 and spent a significant amount of money refreshing the property.
Today, the 83-room palatial splendor is often ranked among the best castle hotels in the U.K. Located on the western coast in County Mayo, this five-star hotel sits on 350 acres of woodland and boasts a spa housed in the conservatory, an indoor pool, dining room, billiards room, nine-hole golf course, tennis courts, and a private cinema among other amenities.
Rooms are complemented with antique rosewood furniture, luxurious canopy beds, custom-made carpets, flat-screen TVs, and free Wi-Fi. Guests can enjoy activities like boating, clay shooting, ziplining, and falconry, and retreat to the Victorian-era drawing room for afternoon tea after all that action. The castle hotel is a 10-minute walk from the Gothic Cong Abbey.
Address: Ashford Castle Estate, Cong, Co. Mayo, F31 CA48, Ireland
2. Dromoland Castle Hotel, County Clare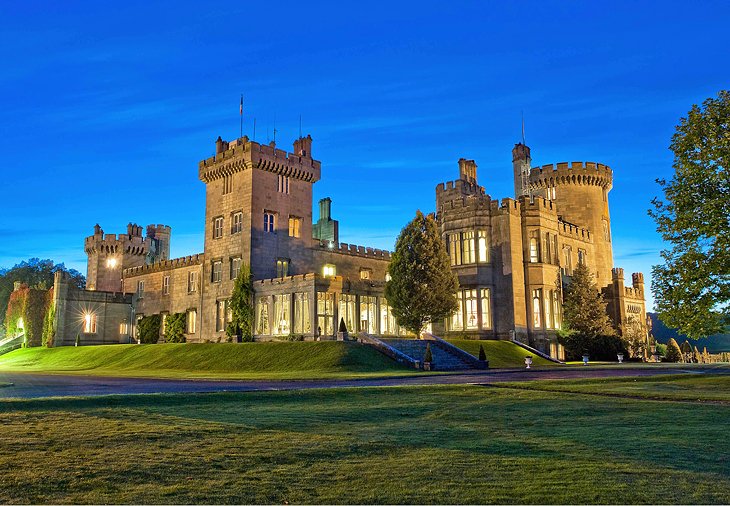 Accommodation: Dromoland Castle Hotel
Dromoland Castle Hotel, housed in a 16th-century palace of the Dromoland O'Briens, the Kings of Thomond, offers a wonderful five-star experience on the western coast of Ireland. Situated an hour from the iconic Cliffs of Moher, this glamorous hotel, surrounded by picturesque countryside, features an upscale Earl of Thomond restaurant serving Irish feasts, and elegant indoor spaces complete with grand staircases and antique chandeliers.
You can take up archery and falconry, go fishing, explore the 400-acre grounds, and play golf. After a day of gallivanting, you can retreat to the castle to relax by an ornate fireplace on a plush sofa or get a soothing treatment at the posh subterranean spa.
Rooms overlook the loch and feature classic furnishings, smart TVs, and Wi-Fi; suites have four-poster beds and separate living areas. The hotel is a short drive from Shannon International Airport, and guests get free parking and complimentary breakfast.
Address: Newmarket on Fergus, Co. Clare, V95 ATD3, Ireland
3. Lough Eske Castle, a Solís Hotel & Spa, County Donegal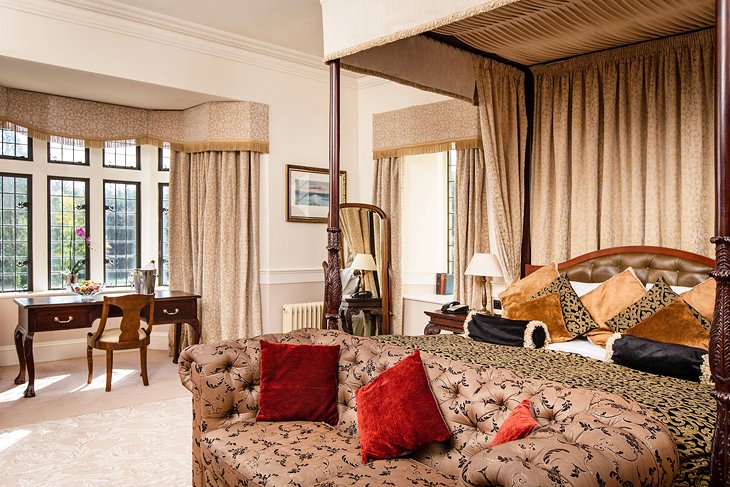 Accommodation: Lough Eske Castle
Located in northwestern Ireland in County Donegal, Lough Eske Castle sits on the shores of the serene Lough Eske, surrounded by the Blue Stack and Tawnawully Mountains.
This Solís Hotel & Spa is a five-star property that has a history dating back to the 14th century. The current iteration is a combination of its 19th-century rebuild and a 2007 construction followed by a fire. Decked with oil paintings and featuring dark oak furniture, the hotel is similar to other castle hotels, but with a modern twist, offering polished rooms with neutral tones and a sleek feel.
Each of its 96 rooms and suites is spacious and comes with a four-poster bed, soaking tub, flat-screen TV, and Wi-Fi. Guests can catch trout and salmon and have the hotel staff prepare a meal. The hotel has an upscale restaurant, a spa, exercise room, and an indoor pool overlooking a lovely garden.
Compared to other castle hotels in Ireland, the rooms tend to be more affordably priced, and the hotel has seasonal deals.
Address: Lough Eske, Donegal, F94 HX59, Ireland
4. Adare Manor Hotel and Golf Resort, County Limerick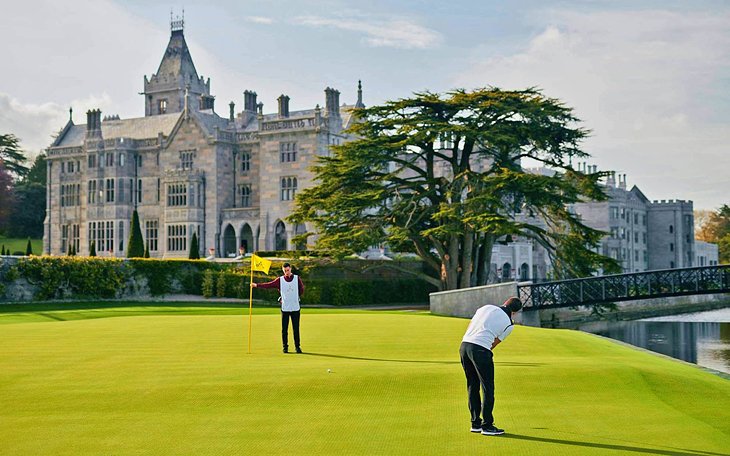 Accommodation: Adare Manor
Set on 840 acres in County Limerick, the Neo-Gothic Adare Manor Hotel and Golf Resort features 104 recently upgraded rooms. Villas and townhouses on the property come with full kitchens, making this a family-friendly hotel.
Rooms feature four-poster beds, claw-foot tubs, antique furniture, and fireplaces. In addition to a spa, golf course, exercise room, and an indoor pool, the hotel has a library, formal gardens, and bike rentals to explore the surrounding grounds.
Also on-site, the first Michelin-starred restaurant in Limerick, The Oak Room, has a seasonal menu, and guests can enjoy a delicious meal with views of the beautiful grounds.
Address: Adare, Co. Limerick, V94 W8WR, Ireland
5. Castlemartyr Resort, County Cork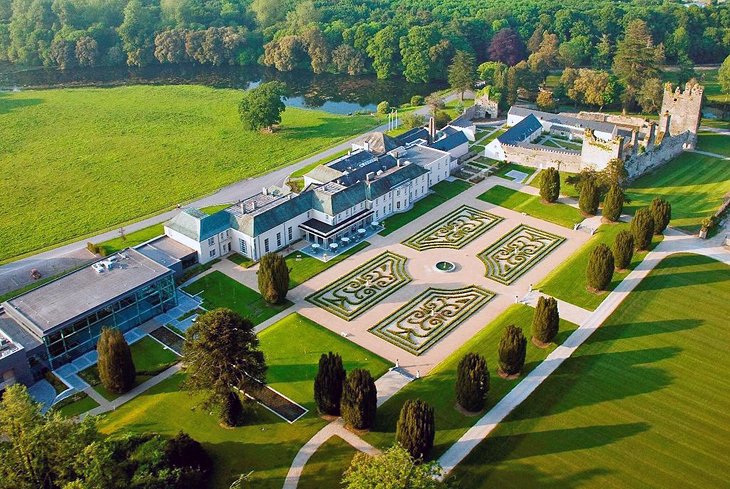 Accommodation: Castlemartyr Resort
Rumor has it that Kim Kardashian and Kanye West honeymooned at Castlemartyr Resort following their Italian wedding. The ruins of a fortress built by the Knights Templar in 1210 sit separate from the five-star hotel portion of Castlemartyr Resort in Cork in southern Ireland. The 17th-century manor house was built by Richard Boyle, Earl of Cork.
The resort has staterooms in the restored manor house, as well as more modern rooms in the new wing. They feature flat-screen TVs, marble bathrooms, rainfall showers, and mini-fridges. Suites have separate living and sleeping areas; some even come with balconies.
The resort's spa has an indoor pool, fitness center, sauna, and steam room. Guests can dine at the Bell Tower and Franchini's Italian restaurants, and have afternoon tea overlooking the formal gardens. As with most castle hotels in Ireland, this, too, has a golf course, so you can play a round in a gorgeous setting.
Address: Castlemartyr, Co. Cork, P25 X300, Ireland
6. Kilronan Castle Estate & Spa, County Roscommon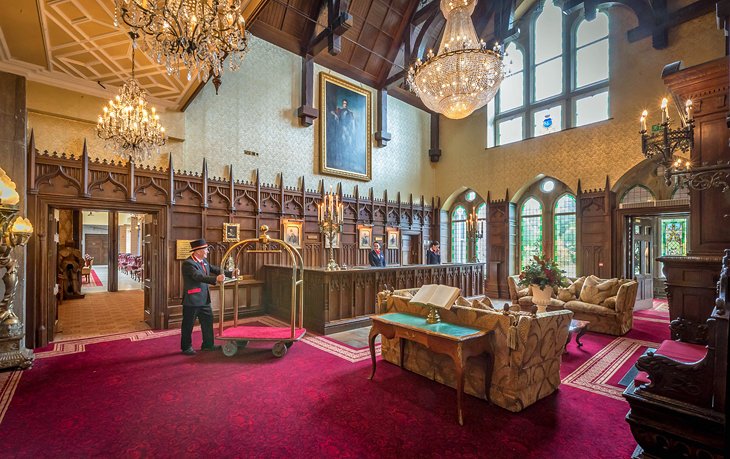 Accommodation: Kilronan Castle Estate & Spa
Another castle hotel that offers great value is the Kilronan Castle Estate & Spa, built in the 18th century and located in County Roscommon in the western part of Ireland.
The meandering driveway through an ancient forest leads to the 40 acres of lush castle grounds, where the imposing castle stands majestically overlooking the massive lawn and a bridge over Lough Meelagh. This former ancestral royal home turned hotel provides sophisticated rooms with breathtaking views, a luxurious spa, and fine dining at its on-site restaurant.
The castle makes for a perfect setting for a fairy-tale wedding. Guests can choose from spacious rooms or suites that come with modern amenities. The hotel also has cottages with living rooms and kitchenettes for large groups and families.
On-site, you'll also find a gym, an indoor pool, and a large conference room.
The castle hotel is a short driving distance to the national heritage site of the Kilronan Mountain Bog.
Address: Castletenison Demesne, Ballyfarnon, Co. Roscommon, F52 R867, Ireland
7. Waterford Castle Hotel & Golf Resort, Waterford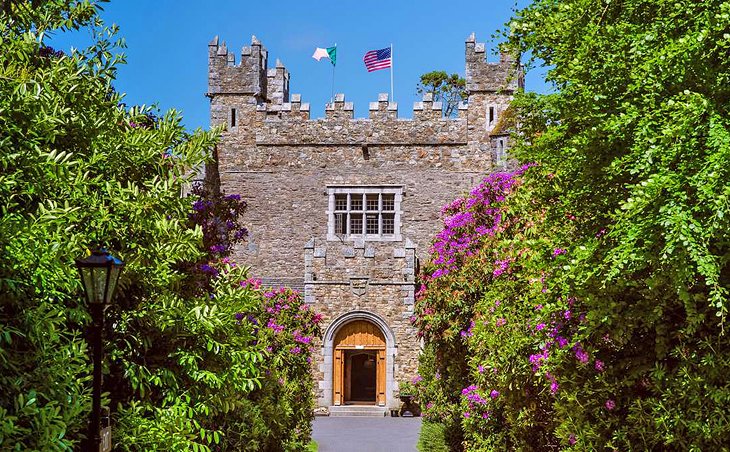 Accommodation: Waterford Castle Hotel & Golf Resort
Vine-clad stone walls and a scenic background make Waterford Castle Hotel a gorgeous setting for a wedding or a romantic getaway. Waterford Castle and Golf Resort is a resorted, 16th-century, Gothic-style castle that sits on a small private island off the River Suir in southeastern Ireland. Guests can access the hotel via a short ferry ride.
Though the castle is imposing, it only has 19 elegant rooms and suites, where you can choose to make friends with fellow guests or enjoy the serenity of not having to share the space with too many people. Rooms overlook the gardens and have flat-screen TVs, coffee and tea makers, and bathrooms with claw-foot tubs.
The hotel boasts an 18-hole championship golf course and a Michelin-starred restaurant, The Munster Room. If you aren't into golfing, you can partake in falconry, clay pigeon shooting, or have a picnic on the hotel grounds.
Address: The Island, Ballinakill, Co. Waterford, X91 Y722, Ireland
8. Ballynahinch Castle Hotel, County Galway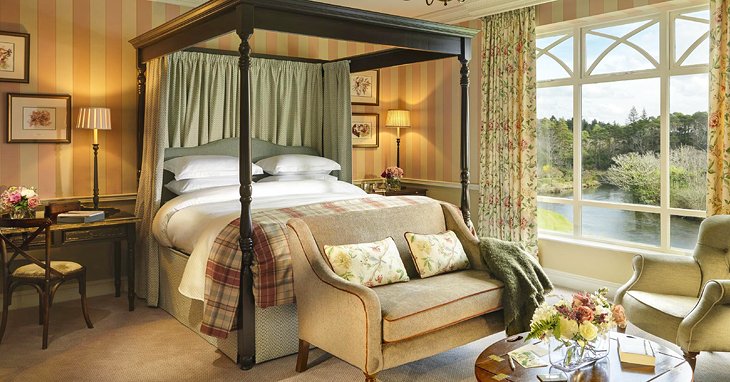 Accommodation: Ballynahinch Castle Hotel
In true royal fashion, guests at Ballynahinch Castle Hotel in County Galway can experience the luxuries and activities in an opulent setting. The 18th-century riverfront manor, located an hour from Galway, sits majestically on a 450-acre estate at the foot of the beautiful Twelve Bens Mountain range.
During your stay here, you can enjoy salmon river fishing on the Owenmore River, hike the rugged mountains, go biking, and play tennis. Guests can enjoy a proper Irish meal at The Owenmore, which looks out onto the river and the estate grounds.
The castle hotel boasts 48 uniquely decorated country-style guests rooms, outfitted with fireplaces, canopy beds, and windows overlooking the river.
Address: Recess, Connemara, Recess, Co. Galway, Ireland
9. Lismore Castle, County Waterford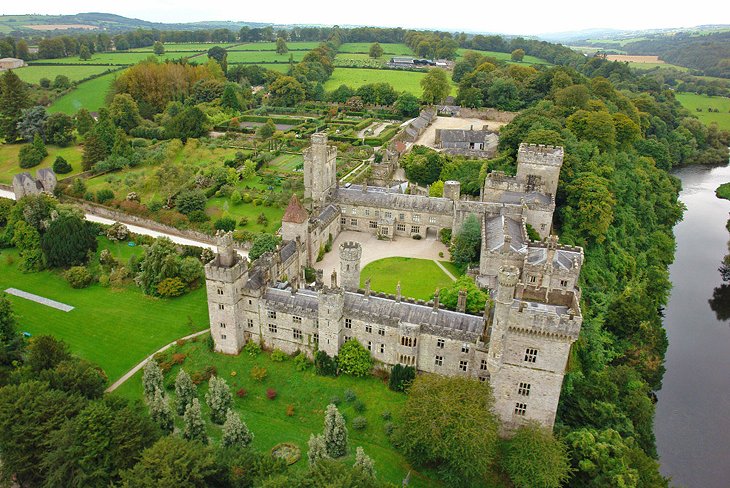 The Duke of Devonshire's family owns the Lismore Castle, a stunning property on the banks of the River Blackwater in County Waterford. The castle dates back to 1170 and was once owned by Sir Walter Raleigh, an English gentleman known to have brought potatoes and tobacco to Ireland.
Lismore Castle is old, but don't let its age fool you. The space is renovated and features modern amenities like Wi-Fi, ensuite bathrooms, and refined furnishings.
Lismore Castle makes a great choice for family gatherings and small weddings, as it can sleep eight to 27 guests. Guests will be attended by private staff led by the castle's butler, who has been in service for more than 35 years. The castle also boasts a contemporary art gallery, Pugin Banqueting Hall, and a cinema room.
Address: Lismore, Co. Waterford, Lismore, Co. Waterford, Ireland
10. Castle Leslie Estate, County Monaghan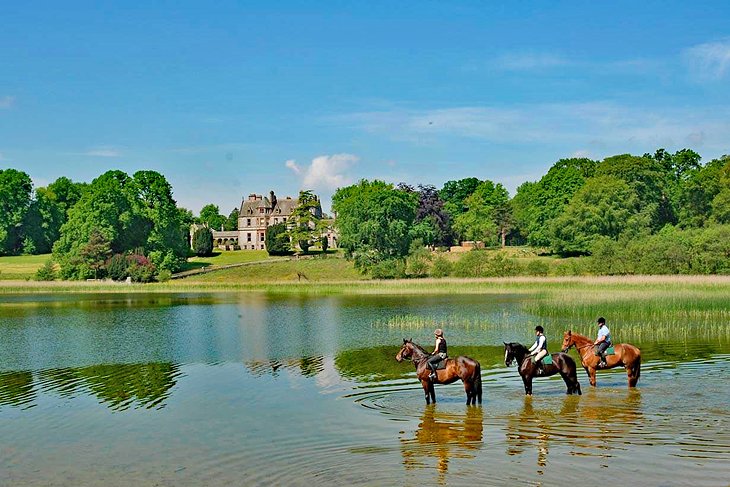 Accommodation: Castle Leslie Estate
Guests can choose from a variety of accommodations: the 20 Castle rooms have no TVs or radios and are ideal for unplugging, although the public areas have Wi-Fi. The rooms in the Lodge are country-style and come with smart TVs, Victorian roll-top baths, and walk-in showers. You can rent the Old Stable Mews or the Village Cottages for family gatherings and friends' getaways.
After undergoing major renovations, the elegant Castle Leslie in County Monaghan stands out for its sheer size of the grounds and several lodging options.
Sitting on a private 1,000-acre estate, the royal hotel is 60 minutes from Belfast and 80 minutes from Dublin. It features an equestrian center, luxurious spa, and plenty of space for gatherings and special events.
In your leisure time, you can explore the grounds on horseback or on foot, or go fishing in nearby lakes.
Address: Castle Leslie Estate, Glaslough, Co. Monaghan, Ireland
11. Lough Rynn Castle Estate & Gardens, County Leitrim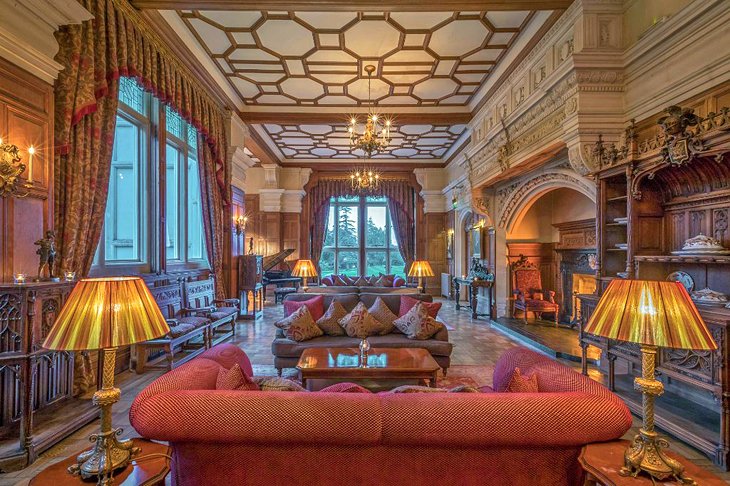 Accommodation: Lough Rynn Castle Estate & Gardens
The 19th-century restored Lough Rynn Castle is an off-the-beaten-path destination hotel worth the journey of a two-hour drive from Dublin. Once owned by the Clements family and the legendary Lord Leitrim, the castle estate sits on 300 acres on the shores of Lough Rynn.
Walled gardens lead to the idyllic lake, and a peaceful setting awaits at the John McGahern Library (built in honor of Lord Leitrim's novelist son), with plush couches, artwork, and wood-paneled walls. A crackling fire welcomes guests at the Baronial Hall.
Featuring antique furniture, freestanding tubs, air-conditioning, Wi-Fi, TVs, DVD players, heated floors, and full kitchens, the cottages are ideal for a family getaway. Rooms still display original features and are decorated with luxurious fabrics.
In addition to rooms in the castle, you can choose from luxurious accommodations in the former stables and peasantry. The property offers fine dining at the Sandstone Restaurant and serves afternoon tea in the reception lounge.
Location: Mohill, Leitrim, Ireland
12. Kilkea Castle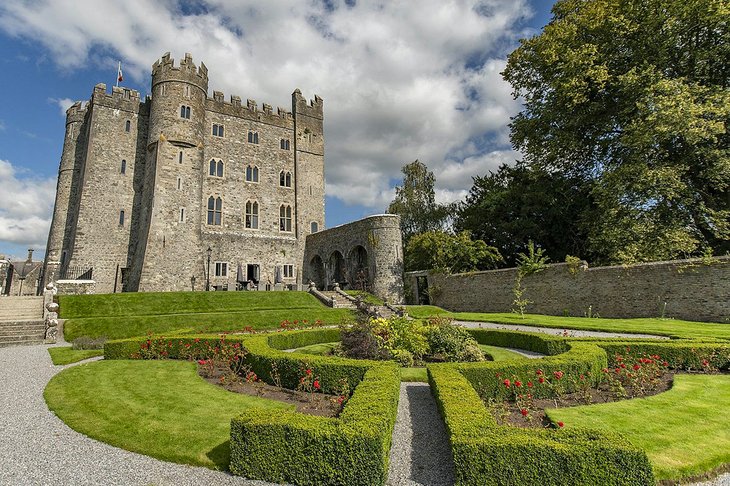 Accommodation: Kilkea Castle
This beautiful hotel offers the Irish castle experience at mid-range prices. Kilkea Castle, built in the 12th century, is in County Kildare in the Castledermot area, about an hour from Dublin. The castle is set on a 180-acre estate, which includes its own 18-hole championship golf course along with gardens and forests to explore.
The hotel offers a wide range of on-site activities including shooting, archery, fishing, equestrian pursuits, and more. There are tennis courts, off-road vehicles and adventures, and even a falconry program. Guests can participate in a curated wellness experience with a special menu and personal trainers and then enjoy the Kilkea's large, luxurious ELEMIS-branded spa.
There are a range of accommodations available at Kilkea Castle. You can stay in the castle itself in an appropriately sumptuous room or in the adjacent carriage house. There are also one-, two-, and three-bedroom lodges on the property, which are more like self-contained apartments with their own kitchens and other amenities. You can even rent the entire 11-bedroom castle if you're coming with a family or group.
The castle's culinary team sources the food from local and ethical sources with an emphasis on fresh, seasonal products. Dining options include en-suite dining or eating at Restaurant 1180, which is in the castle dining room. The golf course clubhouse has two additional restaurants, a bistro and Hermione's, which serves dinner daily and lunch on the weekends.
Location: Castledermot, County Kildare, Ireland
Map of Castle Hotels in Ireland