12 Top-Rated Resorts in Fort Myers, FL
We may earn a commission from affiliate links ()
If you are planning a trip to the sun and sand of Fort Myers look no further than Estero Island and Fort Myers Beach. The top resorts are found here along with numerous restaurants and water-focused activities. The beach sits on the island's southwest coast fronting the Gulf of Mexico, and this is where many of the resorts are also located.
While the views are lovely from nearly any spot, prime rooms face the beach to the west for dolphin watching in the morning and amazing sunsets each evening. These full-service resorts provide guests with everything they need to have a great vacation, but those who want to explore the island without having to worry about finding parking, can use the Beach Trolley, which stops at all the major resorts and attractions, including Lovers Key State Park, Times Square, and South Fort Myers.
The beach resorts are also convenient to mainland Fort Myers attractions, and are a great place to stay while enjoying the excitement of major league baseball spring training for the Boston Red Sox and Minnesota Twins.
Resorts are located up and down Estero Island, if you like to be close to the action and most of the restaurants, choose one near the northern end of the island by Times Square.
Below are a list of some of the best resorts, including favorite family destinations and places for couples looking for a romantic getaway.
1. Pink Shell Beach Resort & Marina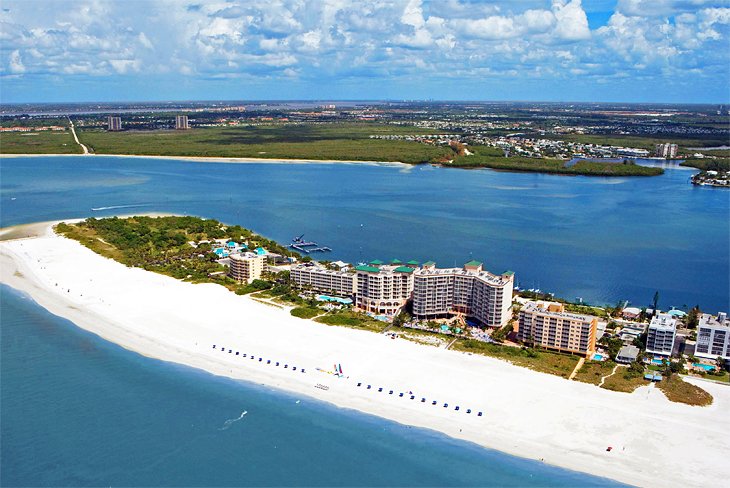 Accommodation: Pink Shell Beach Resort & Marina
The 12-acre Pink Shell Beach Resort & Marina sits at the north end of Fort Myers beach at the edge of San Carlos Bay, offering suites and studios with guaranteed beach views. Guests are provided with a complimentary lounge chair and umbrella rental each day, and they can rent cabanas for extra sun protection or a fire pit for s'mores at sunset on the palm-lined beach.
Rentals are also available on the beach for a variety of water sports, including sea kayaks, stand up paddleboards, and parasailing, and the marina offers pontoon boat and sailboat rentals, as well as sailing lessons. For those who prefer the pool, the resort has three, including an octopus-themed lagoon with a waterfall as well as a splash zone for little ones.
Kids will also enjoy the activities, like arts and crafts, and the whole family will love the guided nature walks, volleyball, and bike rentals.
Guests can easily enjoy their entire vacation right at the resort with complimentary breakfast, two excellent restaurants, a resort store that stocks everything from toiletries to beachwear, and even a grocery delivery service.
The resort is located about half a mile from Times Square.
2. GullWing Beach Resort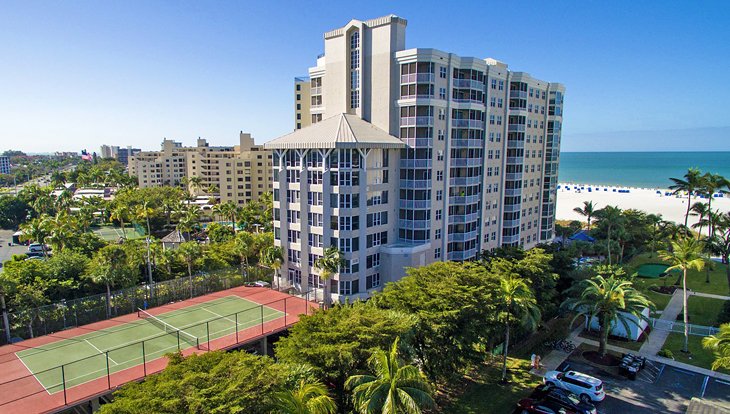 Accommodation: GullWing Beach Resort
The GullWing Beach Resort sits on Estero Island's widest stretch of sandy beaches, offering one- to three-bedroom suites with beach, island, or bay views.
Each suite comes with a fully equipped kitchen and dining area; washer/dryer; living room with sleeper sofa; and fully furnished, screened-in balconies.
Resort amenities are generous, including complimentary breakfast, an outdoor barbecue deck for guest cookouts, a beachfront pool & hot tub with snack bar, a large fitness center, and free parking. For a day at the beach, you can rent chairs and umbrellas for lounging or be more adventurous with a water sports rental.
The resort also offers recreational facilities, including beach volleyball and an elevated tennis court with lovely views. The resort is located a fair distance from the island's attractions. For those who want to explore, the resort is happy to lend guests a bicycle, or you can take the local trolley, which stops at the property.
3. DiamondHead Beach Resort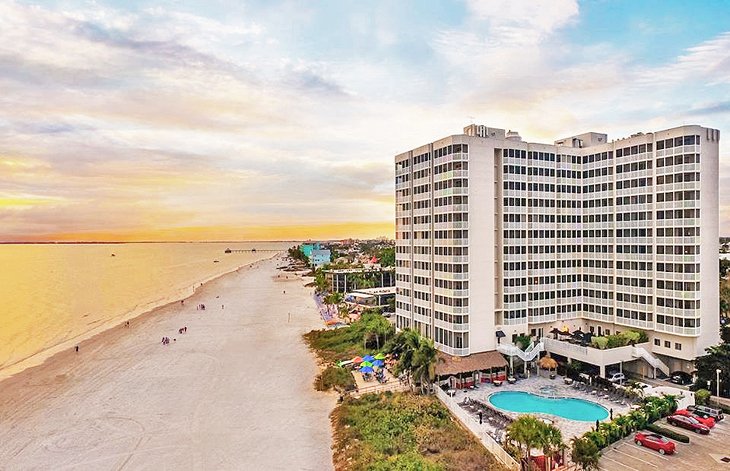 Accommodation: DiamondHead Beach Resort
The beach concierge service at DiamondHead Beach Resort is just one of the services that make this such a popular resort. With most of the activities launching right from the resort's beach, it is a convenient way to arrange tours and water sports, like a jet-ski dolphin tour or parasailing adventure.
Resort activities include kids' programs, yoga, volleyball, bike rentals, and of course, relaxing on the beach all day with refreshments and great food at Cabañas Beach Grille. Beach chairs and umbrellas are available, and towels are provided for use at the hotel's beachfront pool and hot tub, which has a spacious sand-free sundeck and plenty of pool toys for younger guests to use.
To keep your beach body at its best, you can use the well-equipped fitness center and then spend some time rejuvenating at the on-site Esterra Spa.
Suites are well-appointed, with a convenient full kitchen, pullout couch, and a minimum of two televisions. Each suite also features a balcony that overlooks the beach, Gulf, or pool.
DiamondHead enjoys a great location just far enough from the hustle and bustle of Times Square, but close enough to still feel like you are part of the action.
4. Best Western Plus Beach Resort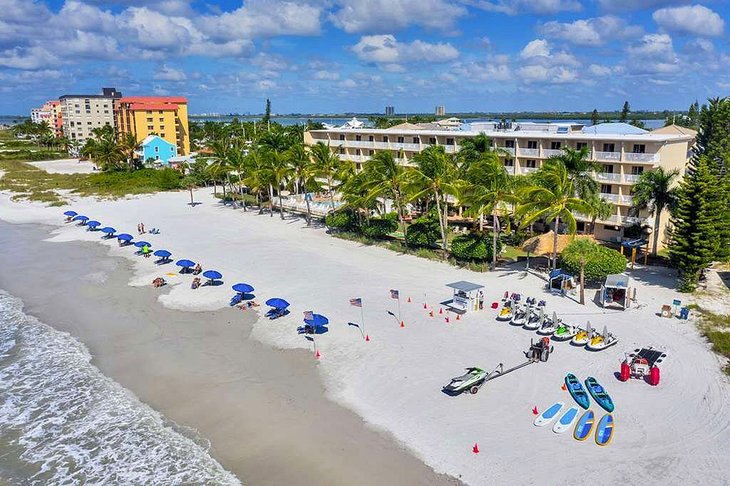 Accommodation: Best Western Plus Beach Resort
Huge balconies await you at the Best Western Plus Beach Resort. Sip your morning coffee as you gaze out over the crystal-clear waters of the Gulf of Mexico and watch the waves roll in. A good mid-size property, this four-story beachfront resort has large rooms that have been updated and equipped with all the modern conveniences demanded by today's discerning traveler.
Take a dip in the warm waters of the Gulf of Mexico, or float about peacefully in the large heated pool mere steps from the sandy beach beyond. The hotel is ideally located at the north end of the island, away from the crowds and noise but close enough to walk in for dinner or lunch.
No need to leave your four-legged friend at home – the hotel is pet friendly. The resort is just under half a mile north from the Fort Myers Fishing Pier and the shops and restaurants of Times Square.
5. Edison Beach House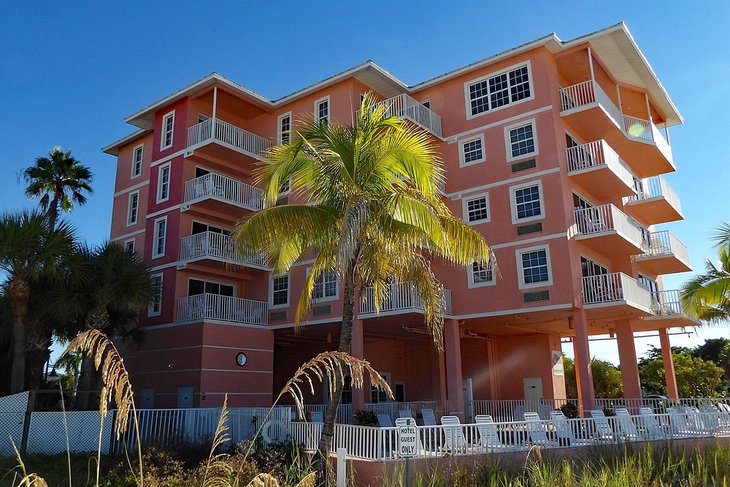 Accommodation: Edison Beach House
If you are looking for a smaller property but still want amazing views and to be close to the action of Times Square, consider the Edison Beach House. Only 24 units make up this exclusive and luxurious accommodation option.
Large suites can accommodate anywhere from three to seven adults, and all include full kitchens, laundry, HDTVs, Wi-Fi, and expansive patios. If the wind is up, just close the giant sliding glass doors and lounge on the couch while looking out.
Do your own catering, or order in from any one of the many great restaurants on the island. If you'd rather dine out, Times Square is mere minutes away.
The Edison Beach House has a small beachfront pool.
6. Pointe Estero Beach Resort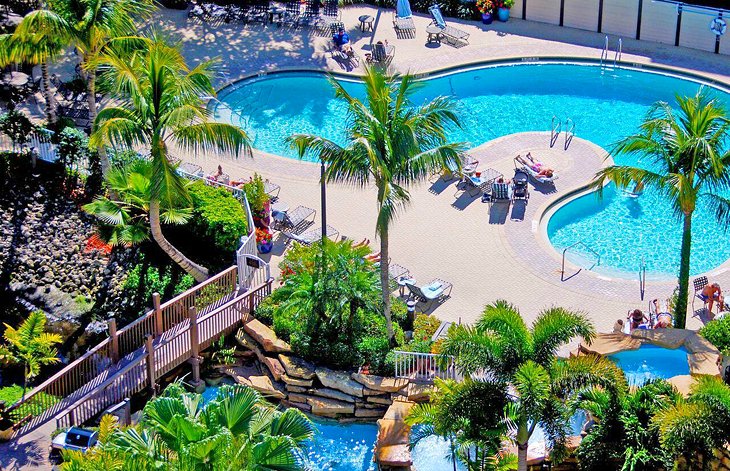 Accommodation: Pointe Estero Beach Resort
This condominium-style resort offers one- and two-bedroom suites that are perfect for a stress-free vacation, complete with kitchen, washer/dryer, private screened balconies, large bathrooms, and even newspaper delivery. Penthouse suites feature a private rooftop sundeck, and housekeeping services are available for all rooms.
Guests are also welcome to cook and dine in the grill area, which is equipped with kitchen facilities, including a fridge and sink, with both indoor and outdoor seating for a home-cooked meal by the pool.
For those who love the beach, there are lounge chairs and umbrellas available for relaxing; beach volleyball and sand-cruiser bikes for the more active; and water sports equipment rentals for the adventurous including kayaks, paddleboards, and wave-runners.
For sand-free swimming and sunbathing, the resort features a large pool with a snack bar, as well as a tropical pool area with peaceful pools, waterfalls, and grass hut cabanas that sit like little islands in the lush green surroundings. The resort also has a tennis court, badminton, and cornhole, as well as game board and movie rentals for rainy days.
The Pointe Estero Beach Resort is located in the southern end of Estero Island in a lively area that has quite a few restaurants and shops.
7. Sandpiper Gulf Resort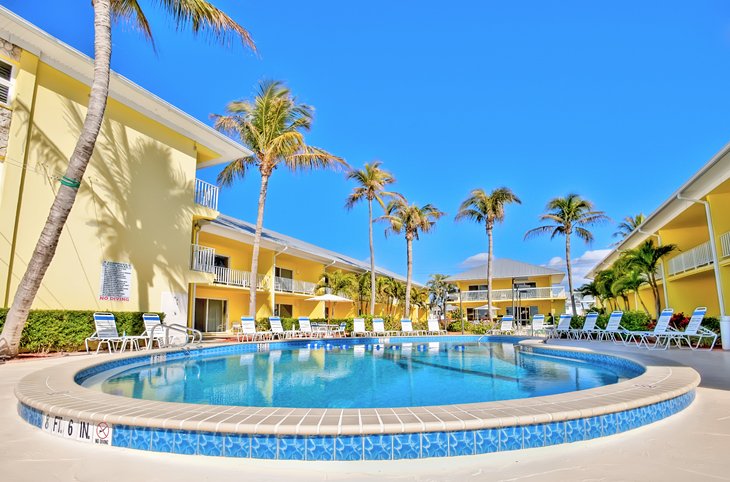 Accommodation: Sandpiper Gulf Resort
Both families and vacationing adults can be content at the Sandpiper Gulf Resort thanks to its two pools, one reserved for adults only. This newly remodeled beachfront resort offers plenty for everyone, from shuffleboard and beach volleyball to jet ski rentals, dolphin watching, and parasailing adventures.
All guest suites are equipped with a balcony, kitchenette with a two-burner stove and full-size fridge, sleeper couch, and daily newspaper. Additional guest conveniences include the use of a pool and beach towels, poolside gas grills, a complimentary coffee bar, coin-operated laundry, free parking, and Wi-Fi.
The Sandpiper Gulf Resort is about three miles south from the Fort Myers Fishing Pier and Times Square. You won't find many restaurants or shops in this area, however, the large Publix grocery store is nearby.
8. Lovers Key Resort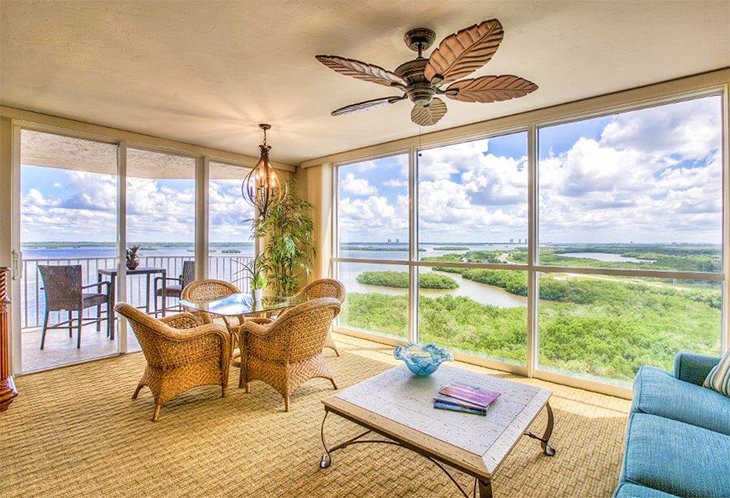 Accommodation: Lovers Key Resort
Located on the northern tip of Lovers Key State Park, this resort has a uniquely private and scenic setting that is perfect for seclusion-seekers and those who prefer to enjoy the solitude of a private beach. All condo-style lodgings include daily housekeeping service, a private deck or balcony, laptop-sized safe, kitchen, and Wi-Fi.
On-site guest amenities include a self-serve laundry, fitness center, babysitting, car services, and a lovely lagoon-style pool and hot tub area complete with a relaxing waterfall.
The on-site Flippers on the Bay restaurant is open for three meals a day, seven days a week, providing a wide range of cuisine.
In addition to resort facilities, guests can enjoy the many activities at the adjacent state park, including birdwatching, kayaking, hiking, fishing, and guided tours.
9. Outrigger Beach Resort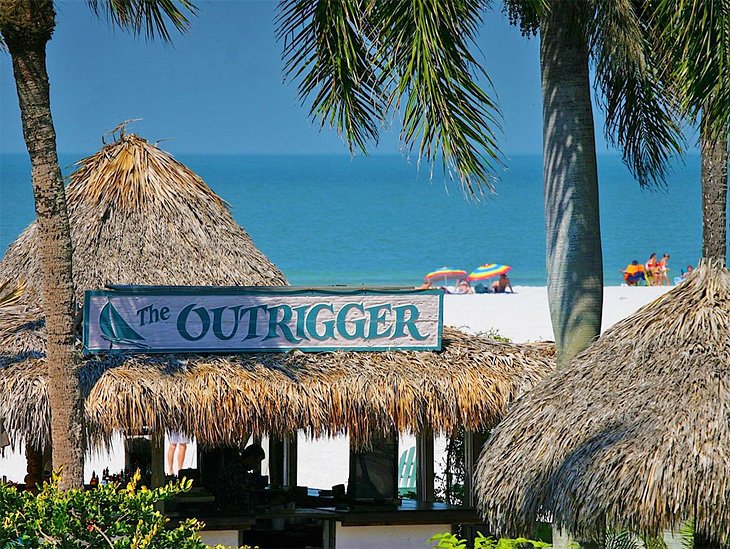 Accommodation: Outrigger Beach Resort
The Outrigger provides guests with plenty of lounge chairs for looking out over the sand to the water and amazing Gulf sunsets.
The resort's Tiki Deck is a favorite spot, filled with fun tropical décor, refreshments, and live music, while the Deckside Café delivers right to your chair by the pool. Two-person beach cabanas are available for guests to rent, as well as bicycles for exploring the island.
Lodgings are available to suit a variety of needs, from standard hotel-style rooms to efficiency suites with full kitchens.
Centrally located, the resort provides easy access to activities like boat tours, water sports, and rentals, and it's within walking distance of Fort Myers Beach shopping and restaurants.
10. The Neptune Resort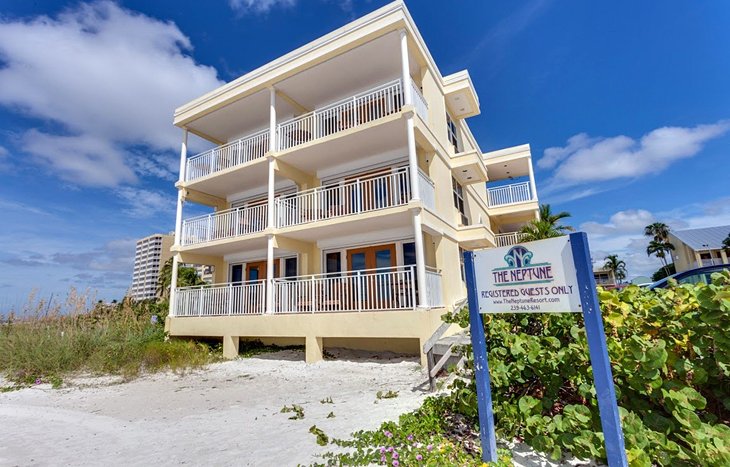 Accommodation: The Neptune Resort
The Neptune is an all-suite, beachfront resort hotel that is perfect for water bugs with its two large heated swimming pools and sandy beach. Poolside, there are several covered seating areas for shady comfort, and all guests are welcome to borrow chairs, umbrellas, and even oversized towels for use on the beach.
Resort grounds are lined by picturesque palm trees and include a beachfront boardwalk, guest grill, picnic area, and shuffleboard courts. A fitness center, self-service laundry, business center, and resort shop that carries necessities like sunscreen and ice-cream are also on-site.
Guest suites are available, with either kitchenettes or full kitchens, and vary in size and amenities to fit your needs and budget. No matter where your room is situated, there are ample chairs on the west-facing porch for enjoying stunning sunsets each evening.
The attractions of Times Square and the Fort Myers Fishing Pier are just under a mile walk.
11. Matanzas Inn Bayside Resort and Marina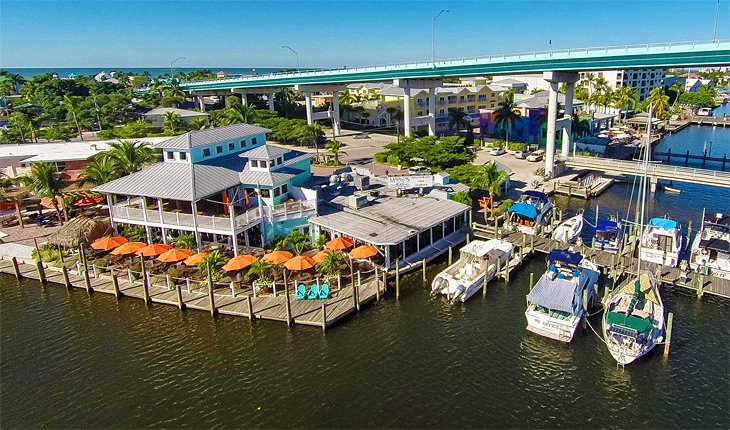 Accommodation: Matanzas Inn Bayside Resort
Nestled on the east side of Estero Island's downtown district, just across Matanzas Harbor from San Carlos Island, this small pet-friendly resort offers personal service in the heart of the action.
In addition to a range of room and suite options, it is also a full-service marina with deep water slips equipped with electrical service for guests who are cruising through.
Facilities include an on-site laundry, pool, and hot tub. Guest rooms are equipped with full or smaller kitchens and standard amenities, including free movies.
The resort is also home to two excellent harborside restaurants, including Petey's Upper Deck and Matanzas on the Bay.
12. The Lighthouse Resort Inn and Suites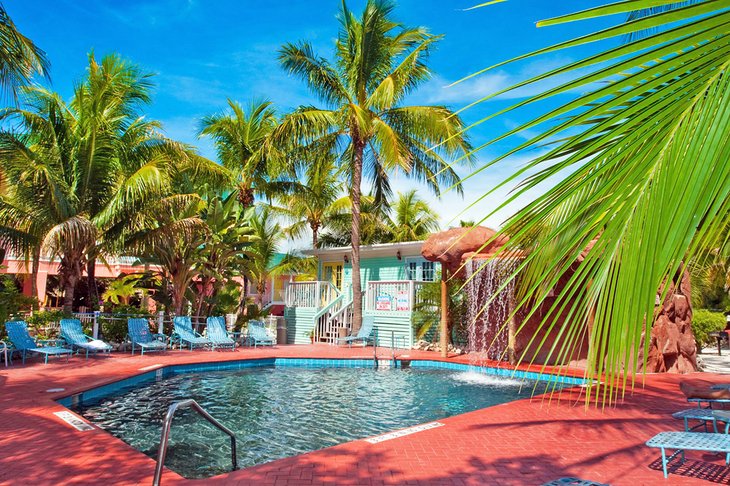 Accommodation: The Lighthouse Resort Inn and Suites
Just 200 feet from Fort Myers Beach, The Lighthouse Resort Inn and Suites is another top-rated option on Estero Island. Located in the Times Square entertainment district, it is also within walking distance of numerous shops and restaurants.
The resort features clean, comfy and colorful rooms and suites with kitchenettes and private balconies. There are also family rooms available if you're traveling with the kids.
For amenities there are multiple swimming pools, including one with a waterfall. And there is often live music at night at the restaurant next to the main swimming pool.