Where to Stay in Quebec City: Best Areas & Hotels
The best place to stay in Quebec City is in Old Quebec City, also referred to as old town, near the main attractions and historic sites. This area is easily explored on foot, and a funicular makes the trip from the lower to the upper neighborhood much easier.
The Vieux Port/Montcalm (Old Port) neighborhood on the northern edge of the city center is a more relaxed area, ideal for people-watching and strolling from shop to shop, and has some great family hotels, while the Haute-Ville neighborhood on the southern side is a lovely theater district with several museums, boutiques, and sights.
Where to Stay in Quebec City for Luxury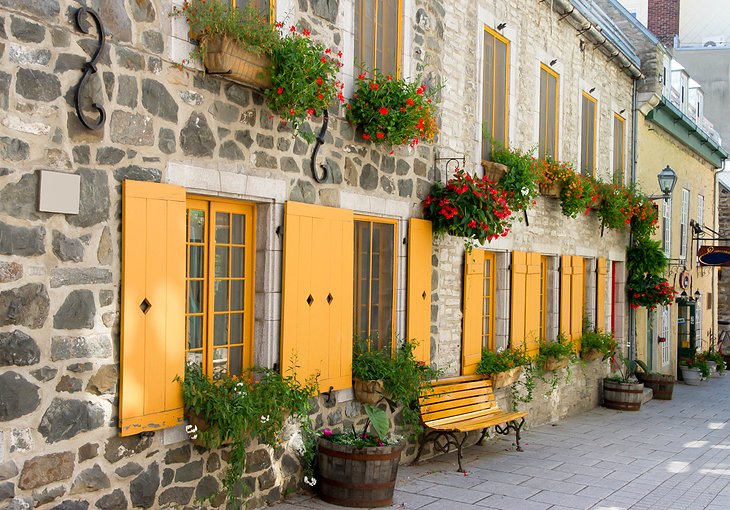 Sitting in a perfect spot by a park overlooking the river, Auberge Saint-Antoine is a unique mix of the old and new, with modern furnishings juxtaposed with its rustic, exposed stone walls and original wood plank flooring. The hotel itself is like a museum, displaying artifacts from the property in both public areas and private rooms, and it is located next door to the renowned Musée de la Civilisation.
Rooms are spacious and well-appointed, with generous amenities and luxurious heated floors in the bathroom, and the hotel's restaurant has a romantic ambience with its fireplace and exposed wooden beams.
Located a few blocks to the north on Rue Saint-Paul, in the less-touristy Vieux Port area, the Hotel Le Germain Quebec is surrounded by boutiques and antique shops. The elegantly modern rooms have views of the river or the old town, and the hotel offers full services, including a fitness center, complimentary breakfast, and room service.
For those who enjoy being in the center of lively tourist activity, the Hotel Manoir Victoria sits among dozens of restaurants and shops and is within easy walking distance to many Old Quebec City attractions, including the Basilique Cathedrale.
The hotel has two restaurants, a European-style spa, indoor pool and sauna, and fitness center. The high-end luxury suites offer extras like whirlpool baths and ambience fireplaces to make your stay extra special.
The Hilton Quebec, which is conveniently located next to the Parliament Building, offers the use of an exclusive lounge to occupants of the Executive Suites. Rooms are exceptionally spacious, with views that look out over the city and the many surrounding parks, including the Parc de l'Esplanade. This clean, modern hotel has full amenities and services, including a heated outdoor pool and sun deck, which are open year-round.
Where to Stay in Quebec City: Mid-Range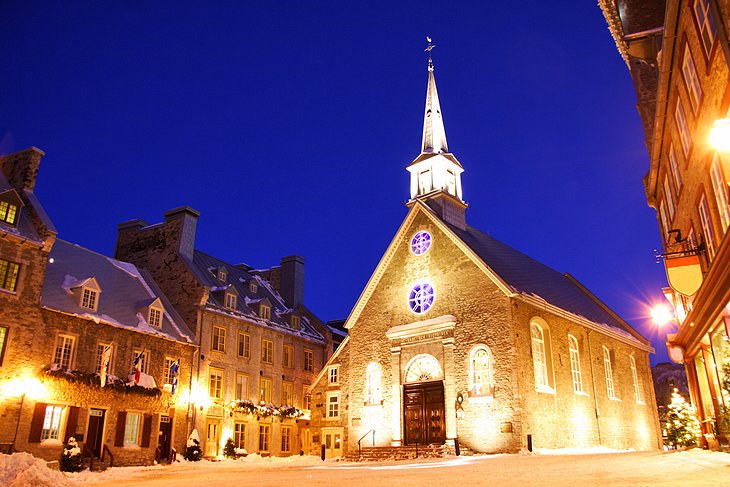 The small boutique Hôtel Nomad - l'esprit de curiosite has stylish but homey rooms with an unexpected but attractive selection of art and furniture chosen for each. The owners are happy to cater to families, and the hotel's location in the heart of Old Quebec City, across from Parc du Cavalier-du-Moulin and close to the Citadel, makes it ideal for sightseeing.
Just down the street, the Maison du Fort has a bed-and-breakfast feel, housed in a historic 1851 Georgian-style building that has been lovingly restored to celebrate its exposed brick and stone walls and hardwood floors. The resident cat, Oscar, will often be found lounging on the antique furniture in this warm, quiet getaway.
Auberge Saint-Pierre is popular with families as well as couples because of its friendly, accommodating staff and its location adjacent to the Musee de la Civilisation, just a few minutes' walk to the Rue St. Pierre shopping district and the Place Royale. Rooms include complimentary bottled water and a made-to-order breakfast and are housed in a centuries-old building with exposed stone and parquet floors.
For dependable service and an ideal location near Parliament and the Québec City Convention Centre, Quebec City Marriott Downtown is a good option. Amenities and services include an in-room fridge; ergonomic workstations; high-speed Wi-Fi; and babysitting, so parents can enjoy a night out.
In the charming old port area, Hotel Le Priori has a great location for wandering on foot. This trendy boutique property sits on the oldest street in North America and occupies a historic home that once belonged to famed local architect Jean Baillairgé. The hotel has contemporary rooms and suites with a black, white, and chocolate brown color scheme.
Amenities include a free breakfast that can be taken in your room. There is no on-site restaurant, but the concierge can make recommendations and reservations.
Where to Stay in Quebec City on a Budget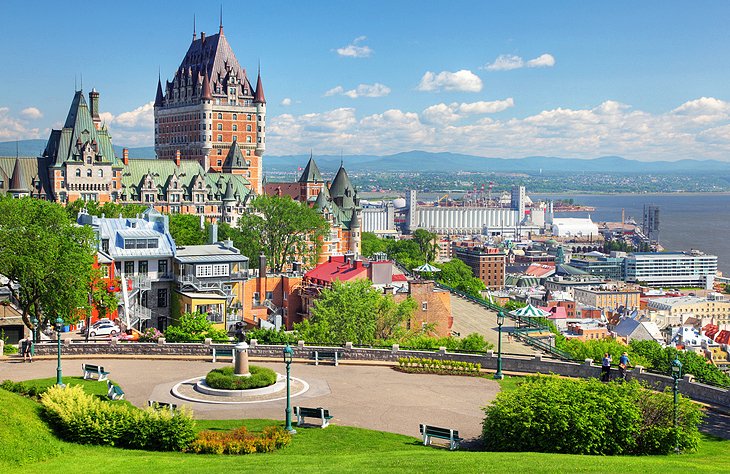 Just one block from the Citadel and close to Winter Carnival activities, Le Chateau de Pierre is a reliable budget hotel in the Old City. Each room is decorated with its own personality and many have excellent views of Château Frontenac.
North of the city, on the main road and convenient to Montmorency Falls Park, the Hotel Motel Le Chateauguay is a good option for those with a rental car. This is an ideal spot for families with its affordably priced suites with kitchenettes, self-serve laundry, a large indoor pool and hot tub, and complimentary continental breakfast.
Outside of the city center and a 20-minute drive to the old town, Hotel Repotel Henri IV is close to the airport and several restaurants. It offers clean rooms, self-serve laundry, as well as free parking, breakfast, and Wi-Fi.
Also near the airport, the Quality Inn has simple but well-equipped rooms with mini-fridges and microwaves, and offers free coffee in the lobby all day. Parking is included, and there are a few fast food restaurants within walking distance.
Where to Stay in Quebec City for Couples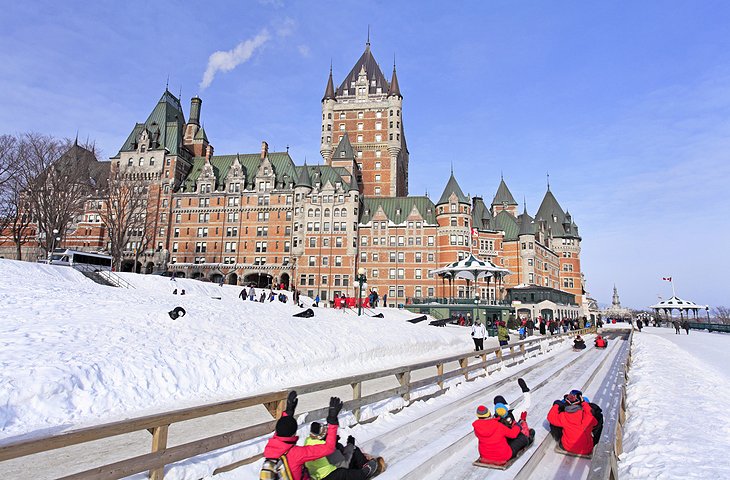 Environmentally-conscious couples will fall in love with the Old City's Hotel du Vieux-Quebec, which takes hospitality industry sustainability to a new level, with solar power, a rooftop garden with its own honey bees, and organic locally sourced beauty products.
Sleep in and stay in your pajamas, because a continental-style picnic basket breakfast is delivered to your door each morning. In the lounge, guests can help themselves to fresh fruit and veggie snacks and a pick-me-up at the espresso/cappuccino machine, and there is also free popcorn to take back to your room with one of the hundreds of DVDs available on loan at the front desk.
The Art Deco boutique hotel Le Manoir d'Auteuil is housed in a historic stone building in the old town, and has an updated but classic interior. After enjoying a breakfast of French crepes on the terrace overlooking the Parc de l'Esplanade, you can easily walk to the Morrin Center, the Citadel, or the Museum of Fine Art.
For those seeking a truly fairytale experience, the Fairmont Le Chateau Frontenac is one of the most romantic hotels in the world. This massive palace sits on stately grounds in the heart of Old Quebec City, on a bluff above the St. Lawrence River.
Suites are huge and elegant, and the building is adorned with inlaid marble floors, murals, carved ceilings, chandeliers, and even a red carpet that leads up sweeping staircases. Both guests and visitors can book a tour of this historic landmark, which is a destination in its own right.
The Hotel des Coutellier is another romantic option in a great location in the heart of the Old City. They often run romance packages for couples as well. The hotel has rooms and suites that don't break the bank but still have charm.
There is a restaurant on-site that does a complimentary breakfast. Breakfast can also be served to your room. Should you wish to be pampered, couples massages are offered.
Where to Stay in Quebec City for Families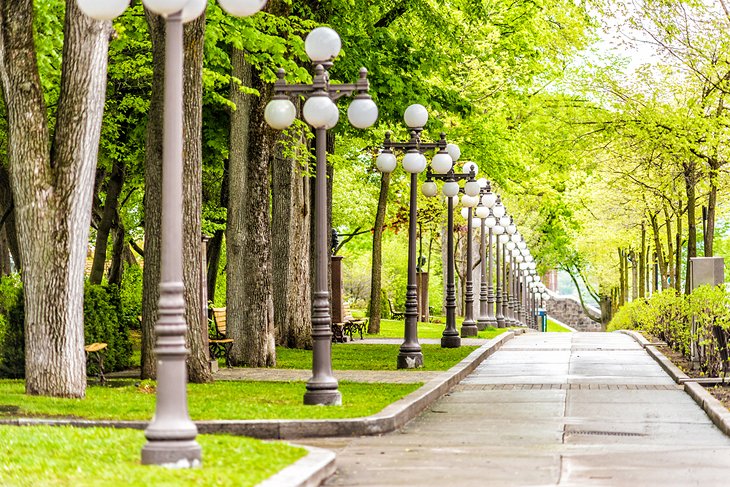 Auberge Aux Deux Lions is a quaint choice for families in the hip Saint-Jean-Baptiste neighborhood that is about a 15-minute walk from Old Quebec City. The small hotel has the feel of staying in a private home with its just 14 rooms and suites. Each features unique decor and some rooms have exposed brick walls that add extra character.
Families will like the suites that add kitchenettes and living space. But even if you stay in a regular room all guests have access to the communal kitchenette that includes a microwave and fridge.
Hotel 71 has a great location in the Old Port district. It is inside a 19th-century Neoclassical building that used to serve as the headquarters for a bank. The 60 rooms and suites are elegantly decorated and feature high ceilings, hardwood floors, Nespresso machines and comfy beds topped with expensive cotton linens.
For families, the suites have the most space with separate living areas. You could also go all out with the penthouse suite that comes with its own rooftop terrace and fabulous views. A continental breakfast is included in the rate and there is also a restaurant and gym onsite.
Le Champlain Hotel is a good choice for families who want to be inside the historic walls of the Old Town. The mid-range property features clean and comfortable rooms that all come with mini-fridges and fireplaces among other amenities.
The suites are a good choice if you want some space from the kids as these have living rooms with pull out sofas and separate bedrooms as well as kitchenettes. Other perks parents will like include a complimentary continental breakfast and free espresso served 24 hours a day!
Another family friendly choice is the Quebec City Marriott Downtown, which boasts a beautiful lobby area with a grand staircase. It also features modern rooms that are clean and comfy and suites with sleeper sofas and fabulous city views from living rooms. Also onsite is a French restaurant and a gym that stays open 24 hours.
Where to Stay in Quebec City near the Airport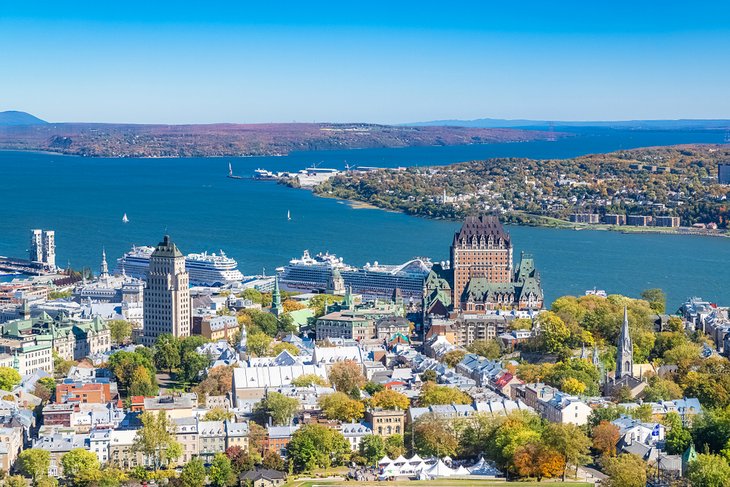 For stylish digs right by the airport, Hotel Cofortel is a great option, with a wide variety of room choices. From spacious luxury suites with huge soaking tubs to efficient yet well-appointed standard rooms, Cofortel provides dependable, clean lodgings with convenient amenities like a laptop safe and a comfortable work desk.
Right next door, Hotel Must offers up a lively and unique atmosphere, with a focus on families and kids. Along with all the conference facilities and amenities standard at an airport hotel, this property goes above and beyond to ensure that kids can have a blast during their stay.
All ages will love this hotel's pool, which also offers a large hot tub and a kids' water-play area that includes a waterslide, splash fountain, and other features for younger guests. There is also a large on-site arcade that offers virtual reality "rides," games, and play areas for the little ones–as well as a sweet shop that's been named the "Carie Factory."
Both of these hotels offer free Wi-Fi and secure parking, as well as complimentary breakfast, and baggage storage is available so that you can make the most out of your trip.
Hotel Quebec Inn is another excellent choice near the airport that offers far more than you might expect. It's decked out in a tropical theme, with a central indoor courtyard that makes you feel like you're on an island vacation. Courtyard-facing rooms have furnished balconies overlooking the lush pool area, which is surrounded by palm trees and grass-thatched umbrellas, and the hotel's dining areas are equally lovely with more greenery and koi ponds.