12 Top-Rated Tourist Attractions in Sainte-Anne de Beaupré
The little monastery town of Sainte-Anne de Beaupré is situated on the banks of the St. Lawrence River, only 40 kilometers northeast of Québec City. The town's best known attraction is the Basilica of Sainte-Anne-de-Beaupré, a pilgrimage site for roughly half a million visitors each year. Also located nearby is Canyon Sainte-Anne, an impressive gorge crossed by suspension bridges.
The dramatic landscape is waterfall country, with falls that include Sept-Chutes, Chutes Montmorency, and Chutes Ste-Anne. Find the best places to visit in this charming town with our list of the top attractions and things to do in Sainte-Anne de Beaupré
1. Basilica of Sainte-Anne-de-Beaupré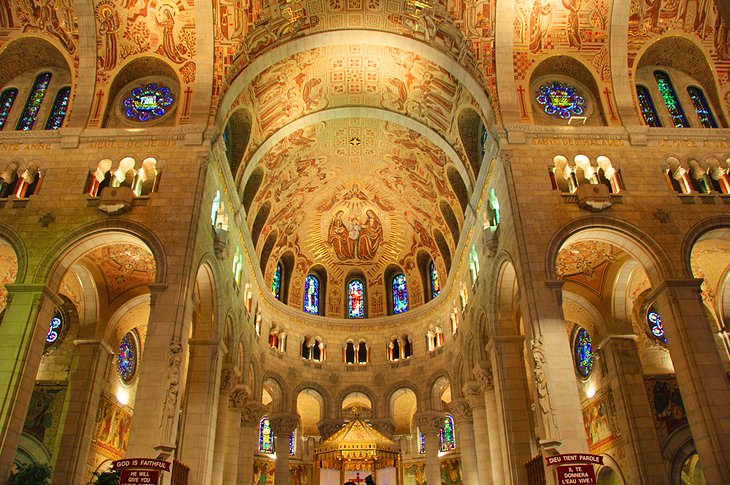 The Catholic Church has credited St. Anne with many healing miracles, and that has made Basilica of Sainte-Anne-de-Beaupré a huge draw for pilgrims. The first chapel dedicated to St. Anne was built here in the 17th century, quickly becoming a place of pilgrimage following reports of miraculous events.
In 1661, a new stone-built chapel was erected on the valley side, only to be replaced 15 years later. A fire destroyed an 1872 basilica here, and the present neo-Romanesque church, was completed in 1923.
The church was designed by the Parisian architect, Maxime Roisin, and constructed by Louis Audet, a master-builder from Sherbrooke. Among the most pleasing features are the mosaics, colorful stained-glass windows, and fine sculptures and paintings by European and Canadian artists.
On the way up to the chapel on the hillside (this one built in 1878), the Stations of the Cross are marked by beautifully executed life-size metal figures.
Address: 10018 Ave Royale, Sainte-Anne-de-Beaupré, Québec
Official site: www.sanctuairesainteanne.org
2. Canyon Sainte-Anne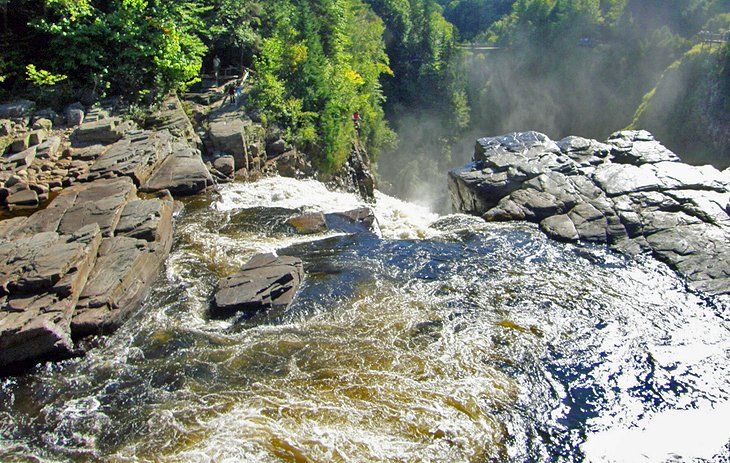 Some seven kilometers north of Ste-Anne de Beaupré, the Sainte-Anne River has carved a romantically wild gorge through the foothills of the Laurentians on its way down to the St. Lawrence Estuary. Sainte-Anne Falls, locally known as Chute Sainte-Anne, is just one of the reasons the canyon is popular with tourists.
Known as the "Grand Canyon of Québec," Canyon Sainte-Anne offers plenty of things to do. Visitors can admire the falls from the numerous hiking trails (all of which are dog-friendly), and those who are not afraid of heights can get a better look from the three suspension bridges that span the gap.
True thrill-seekers can experience the rush of a zipline across the gorge, or rappel down the sides of the canyon. There is also a two-person seated zipline that crosses the canyon, allowing you to share the experience with a friend or loved one.
Address: 206 Route 138 Est, Sainte-Anne-de-Beaupré, Québec
3. Chutes Montmorency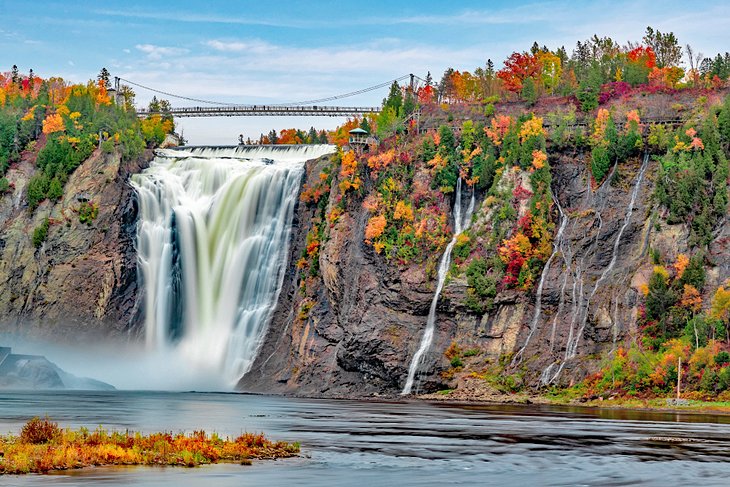 A bare ten kilometers north of Québec City, the Montmorency River plunges over an 84-meter-high escarpment, 30 meters higher than Niagara Falls. There are trails, stairways, and viewing platforms, which allow tourists to admire the falls from multiple vantage points. A cable car also runs to the top of the falls, offering excellent views of the surrounding landscape.
Visitors can also cross the Montmorency River to île d'Orléans via a pedestrian suspension bridge. In the 1790s, Maison Montmorency (also known as "Kent House") was a great favorite of the Duke of Kent, and today it contains a restaurant and interpretive center.
Address: 5300 boulevard Sainte-Anne, Sainte-Anne-de-Beaupré, Québec
4. Parc du Mont Sainte Anne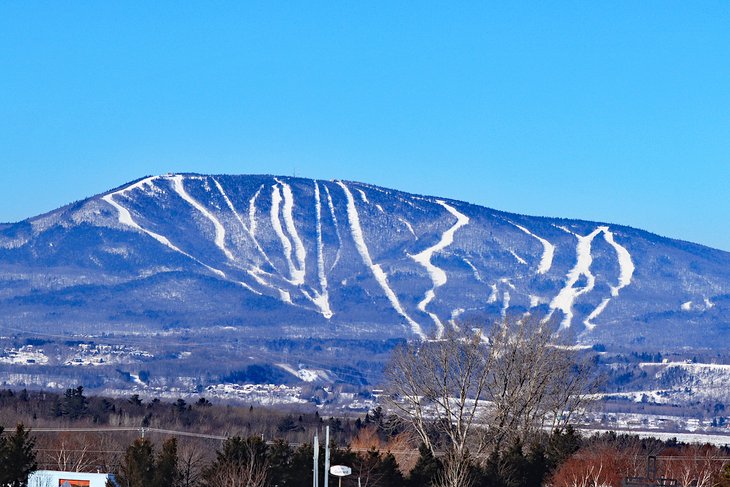 Half an hour by car northeast of Québec City is the glorious scenery of Mont Ste-Anne, a favorite summer and winter recreation area for the people of Québec, dotted with tourist attractions.
Mont Sainte Anne is best known for its downhill and cross-country skiing and other winter sports. Summer facilities and activities include a large campground, mountain biking, and a golf course. The mountain also operates a gondola, which affords panoramic views and allows visitors to easily reach trails at the top of the mountain.
There are many chalets and holiday homes, plus the resort community has a strong reputation for gourmet food. The pretty landscape features wildly romantic rivers, Black Forest-type mountains, and valleys good for grazing dairy cattle and raising livestock.
Official site: http://mont-sainte-anne.com/
5. Edison Phonograph Museum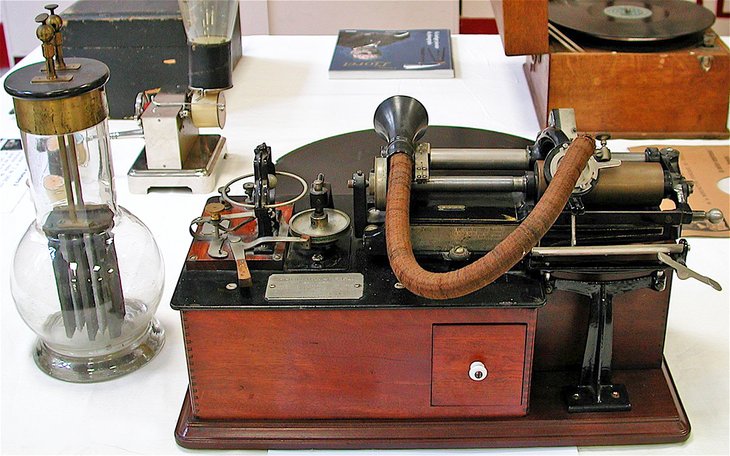 The Edison Phonograph Museum began as Jean-Paul Agnard's hobby, but quickly grew into a collection of over 200 historic phonographs, many rare specimens. The museum's largest collection is its 42 Edison phonographs, and includes exhibits about Edison's invention and development of the cylinder phonograph.
The collection also includes numerous Columbia Gramophones, as well as antique phonographs made in England, Germany, Switzerland, and France.
One of the museum's most interesting collections are the talking dolls, also developed by Edison. Among its most significant pieces is an 1889 Edison Talking Doll, which was operated by a hand-crank.
Address: 9812 rue Royale, Ste-Anne-De-Beaupre, Quebec
Official site: www.phono.org/beaupre-en.html
6. Île d'Orléans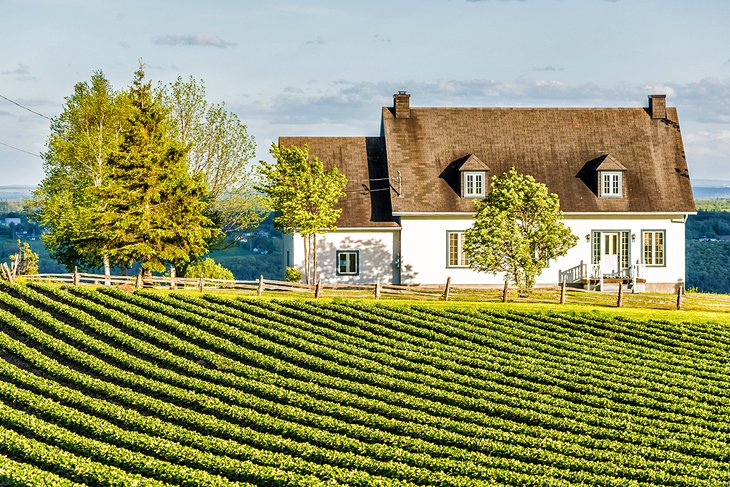 Just across the St. Lawrence River sits Île d'Orléans, an island which is also Québec's largest historic district. There are over 600 historic buildings and sites on the island, including La Maison de nos Aïeux, which houses a museum dedicated to the region's history and the island's founding families.
In addition to a multitude of historic homes dating back to the early 1700s, the island is well known for its agritourism. The island's products are so distinguished that they boast exclusive certification as Savoir-faire île d'Orléans, and among these products you will find cheeses, honey, maple syrup, and a variety of fruits and vegetables.
7. Cap Tourmente National Wildlife Refuge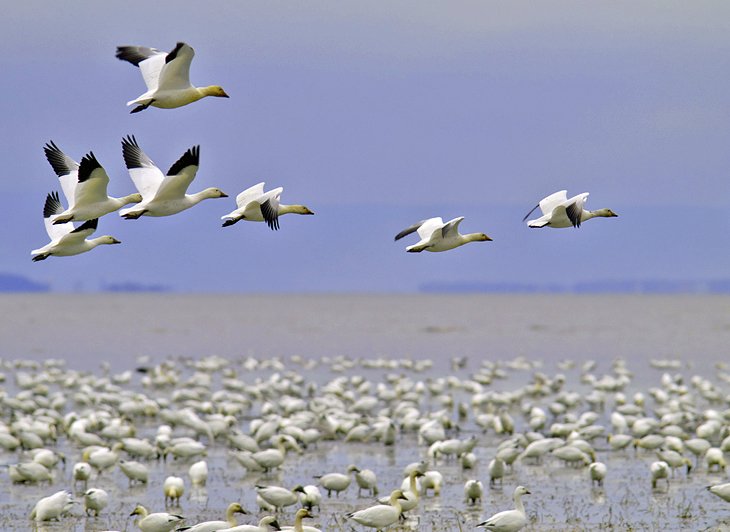 About ten kilometers east of Sainte-Anne-de-Beaupré, at Cap Tourmente, a wildlife reserve has been established on the northern shore of the St. Lawrence Estuary. Here, each spring and autumn, thousands upon thousands of migrating snow geese stop to take a break from their long northward or southward journey, resulting in a magnificent sight.
Other migratory birds can be seen here as well, including the pileated woodpecker, indigo bunting, scarlet tanager, and more; year-round residents include the barred owl, blue jay, and black-capped chickadee, as well as mammals like white-tailed deer, red foxes, and black bear.
The refuge is also home to several at-risk species, most notably the peregrine falcon. The refuge has a total of 20 kilometers of hiking trails, an educational interpretive center, and organized activities led by naturalists.
Address: 570 chemin du Cap-Tourmente, Saint-Joachim, Québec
8. Côte de Beaupré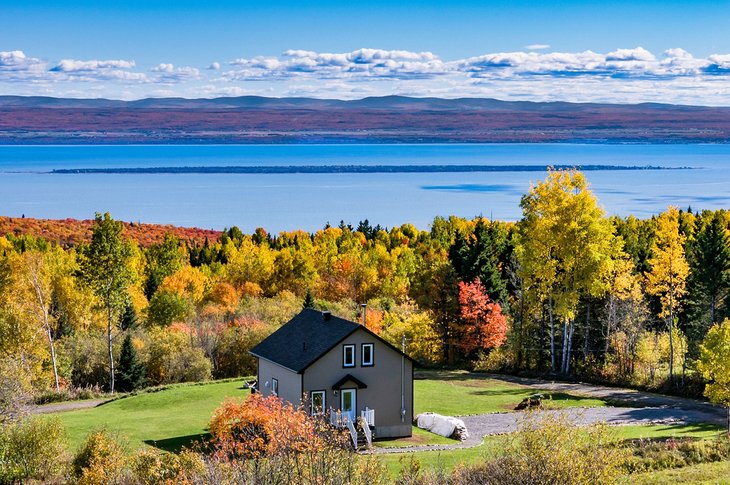 Beyond Montmorency, the road passes through the agricultural "garden" of Québec, known as Côte de Beaupré. This is a countryside blessed with a particularly favorable local climate and dotted with old mills, farmsteads, and unusual cellars half-buried in the valley sides. At some of the attractive old farmhouses and country inns, tourists stopping for a welcome rest can savor the local produce (especially the bread, butter, and maple syrup).
The region is also renowned for its artistic heritage, and is home to several excellent museums and galleries including Atelier Paré, a museum and artist-owned workshop specializing in woodcarvings and sculpture.
For an in-depth look at the region's history, visit the exhibits and archaeological digs at Aux Trois Couvents and La Grande Ferme. Visitors will gain an understanding of the culinary history of "New France," and have the opportunity to dine on traditional dishes.
9. Go Dogsledding and Meet the Pack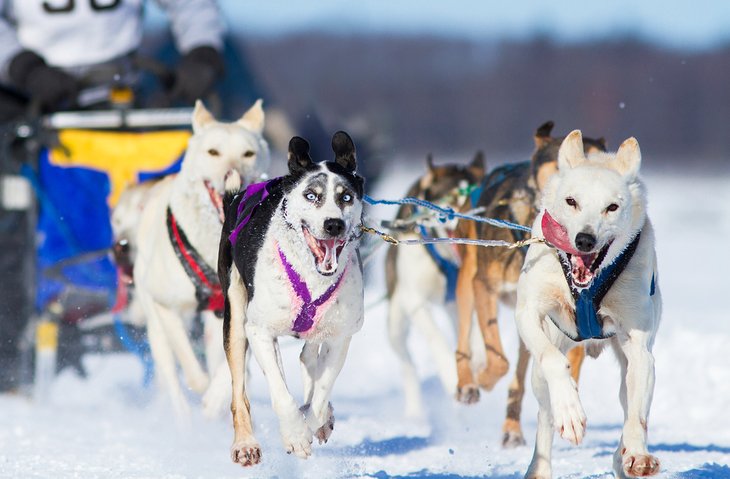 If you're visiting Sainte-Anne de Beaupré in the winter, be sure to save time for a dogsledding adventure. Secrets Nordiques is located on the lower, more gentle slopes on the northern side of Mont Ste-Anne. Here, their team of more than five dozen Nordic dogs are eager to take you on a wintry adventure.
If you're around in the off-season, don't worry. Tourists who are curious about the training and upbringing of the sled dogs can visit them and meet the energetic fluff-balls. At the Canine Village, you can stop by in the off-season on Fridays through Sundays to meet the pack. You can ask questions, watch them play, and even give them hugs and belly rubs.
10. Go Hiking at Mount Sainte-Anne

If you're an avid hiker, you will want to check out the trails on and around Mount Saint Anne, many of which are best suited for advanced-level enthusiasts. The Mount Saint Anne Circuit is one of the most popular, bringing hikers up to the peak and then down again via another route for a total of 5.1 miles.
If you're looking for something a little easier, try the Chutes Jean Larose trail in nearby St-Ferrol-les-Neiges. This three-mile loop trail is good for intermediate hikers, and a great option if you are hiking in summer and want to take a dip at the Jean Larose Falls. Tip: Hike the trail counter-clockwise to take the trail's 400 steps down instead of up!
For novice hikers and those who just want a pleasant low-key trail to explore, the Canyon Sainte-Anne trail is an easy one-mile loop that will reward you with views of the canyon.
11. Atelier Paré Museum of Wood Sculpture
Inspired by sculptor Alphonse Paré, this unique museum is home to a collection of both contemporary and traditional pieces of wood sculpture, including both decorative and functional pieces.
In addition to exhibits and a Sculpture Garden, visitors also have the opportunity to watch master craftspeople at work. Museum visitors can ask questions of the artists and hear about the creative and technical processes, as well as touch and examine the works in progress.
Address: 9269 av. Royale, Ste-Anne-De-Beaupre, Quebec
Official site: http://atelierpare.com
Map of Tourist Attractions in Sainte-Anne de Beaupré
More Related Articles on PlanetWare.com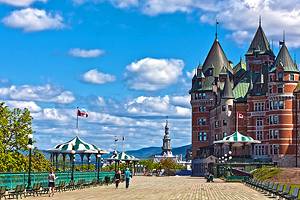 The Heart of Québec: There are many things to see and do in the province of Québec, from its big cities to the small-town natural spaces. French-speaking Québec City is the capital, home to numerous historic and cultural tourist attractions including Place Royale, the old fortifications and citadel of Québec, and the world-class Musée de la Civilisation.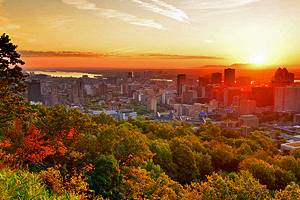 Montréal: The largest of Québec's cities, Montréal offers a wide range of attractions, including many excellent museums like the Musée des Beaux Arts (Museum of Fine Arts), the history-rich Pointe-à-Callière (Museum of Archaeology and History), and the McCord Museum. Old Montréal is where you will find most of the city's historic sites, including the Old Port, Notre-Dame Basilica, and the stunning Place d'Armes square.