8 Top-Rated Tourist Attractions in Ste-Anne de Beaupre
The little monastery town of Ste-Anne de Beaupré is situated on the banks of the St. Lawrence River, only 40 kilometers northeast of Québec City. The town is best known for the Basilica of Sainte-Anne-de-Beaupré, a pilgrimage site for roughly half a million visitors each year. Also located nearby is Canyon Sainte-Anne, an impressive gorge crossed with suspension bridges. The dramatic landscape is waterfall country, with falls that include Sept-Chutes, Chutes Montmorency, and Chutes Ste-Anne.
1 Basilica of Sainte-Anne-de-Beaupré
The Catholic Church has credited St. Anne with many healing miracles, and that has made Basilica of Sainte-Anne-de-Beaupré a huge draw for pilgrims. The first chapel dedicated to St. Anne was built here in the 17th century, quickly becoming a place of pilgrimage following reports of miraculous events. In 1661, a new stone-built chapel was erected on the valley side, only to be replaced 15 years later. A fire destroyed an 1872 basilica here, and the present neo-Romanesque church, was completed in 1923. The church was designed by the Parisian architect, Maxime Roisin, and constructed by Louis Audet, a master-builder from Sherbrooke. Among the most pleasing features are the mosaics, colorful stained glass windows, and fine sculptures and paintings by European and Canadian artists. On the way up to the chapel on the hillside (this one built in 1878), the Stations of the Cross are marked by beautifully executed life-size metal figures.
Address: 10018 Ave Royale, Sainte-Anne-de-Beaupré
2 Chutes Ste-Anne
Some seven kilometers north of Ste-Anne de Beaupré, the Ste-Anne River has carved a romantically wild gorge through the foothills of the Laurentians on its way down to the St. Lawrence Estuary. Although certainly impressive, the Ste-Anne's Falls scarcely deserve the accolade of "Grand Canyon of Québec." Still, a series of suspension bridges provide a fun way to cross the river gorge. A few kilometers beyond Chutes Ste-Anne are the equally impressive seven waterfalls of Sept-Chutes (access from mid-May to mid-October). There are a number of fine viewpoints and nature trails. A large hydroelectric station has been built to harness the energy of the falls.
Address: 206 Route 138 Est, Beaupré
3 Chutes Montmorency
A bare ten kilometers north of Québec City, the Montmorency River plunges over an 84-meter high escarpment. Trails with many fine views and attractive picnic places have been marked out in the vicinity of the falls. Despite being 30 meters higher than Niagara Falls, the Chutes Montmorency are not nearly so spectacular. In the 1790s, Maison Montmorency (also known as "Kent House") was a great favorite of the Duke of Kent (father of the Victoria who later became Queen). From the house there are more photo-worthy views.
Address: 5300 boulevard Sainte-Anne, Québec
4 Cap Tourmente National Wildlife Refuge
About ten kilometers east of Ste-Anne, at Cap Tourmente, a wildlife reserve has been established on the northern shore of the St. Lawrence Estuary. Here, each spring and autumn, thousands upon thousands of migrating snow geese break their long northward or southward journey.
Address: 570 chemin du Cap-Tourmente, Saint-Joachim
5 Côte de Beaupré
Beyond Montmorency, the road passes through the agricultural "garden" of Québec, known as Côte de Beaupré. This is a countryside blessed with a particularly favorable local climate and dotted with old mills, farmsteads, and unusual cellars half-buried in the valley sides. At some of the attractive old farmhouses and country inns, tourists stopping for a welcome rest can savor the local produce (especially the bread, butter, and maple syrup). This is a part of Québec also popular with artists.
6 Parc du Mont Ste-Anne
Half an hour by car northeast of Québec City is the glorious scenery of Mont Ste-Anne, a favorite summer and winter recreation area for the people of Québec dotted with tourist attractions. The pretty landscape features wildly romantic rivers, Black Forest-type mountains, and valleys good for grazing dairy cattle and raising livestock. But Mont Ste-Anne is probably best known for its ski hill and other winter sport facilities. There are many chalets and holiday homes, plus the resort community has a strong reputation for gourmet food.
7 Cyclorama
Painted in the 1880s, this intriguing oddity in Ste-Anne de Beaupré consists of a huge 360° panorama of Jerusalem on the day of the Crucifixion. It shows the places where Christ paused on the way to Golgotha.
Address: 8 Rue du Sanctuaire, Sainte-Anne-de-Beaupré
8 Scala Santa
Another important attraction, the Scala Santa Chapel (Chapel of the Holy Steps) was built in 1871. The steps replicate the stairs that Christ climbed when he was taken before Pontius Pilate.
Where to Stay in Sainte-Anne-de-Beaupré for Sightseeing
We recommend these convenient hotels in Sainte-Anne-de-Beaupré with easy access to the St. Lawrence River and the Basilica of Sainte-Anne-de-Beaupré: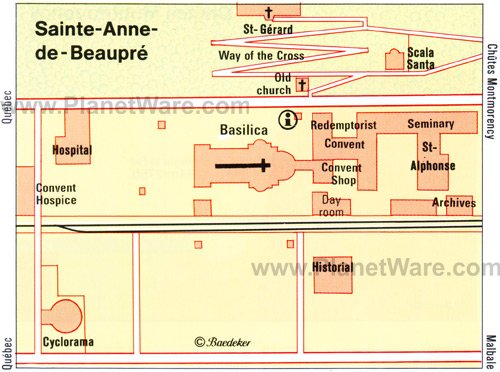 Ste-Anne de Beaupre Map - Attractions
Want to use this map on your web site?
Copy and Paste the code below:
More on Canada