12 Top-Rated Resorts in Muskoka
Affectionately referred to in Ontario as "cottage country," Muskoka has been a summer playground for North Americans looking for an authentic Canadian vacation for well over a century. Drawn to this sprawling region for its clean lakes, thick forests, and abundant wildlife, the first tourists to the region stayed at rustic log hunting and fishing lodges.
Today, many of these same old lodges have morphed into massive developments known the world over. One of the best known, Deerhurst Resort in Huntsville, is in fact famous for having hosted Canada's G8 Summit in 2010.
From luxury brands like the JW Marriott The Rosseau Muskoka Resort & Spa to charming family-run resorts, such as Severn Lodge and Port Cunnington Lodge, to exquisite wilderness experiences, such as beautiful Arowhon Pines (one of only three accommodations allowed to operate in the vast Algonquin Provincial Park), Muskoka delivers no end of great places to stay and play, whatever the season.
Choose the best base for your next vacation or weekend getaway with our list of the top resorts in cottage country Muskoka, Ontario.
1. JW Marriott The Rosseau Muskoka Resort & Spa, Minett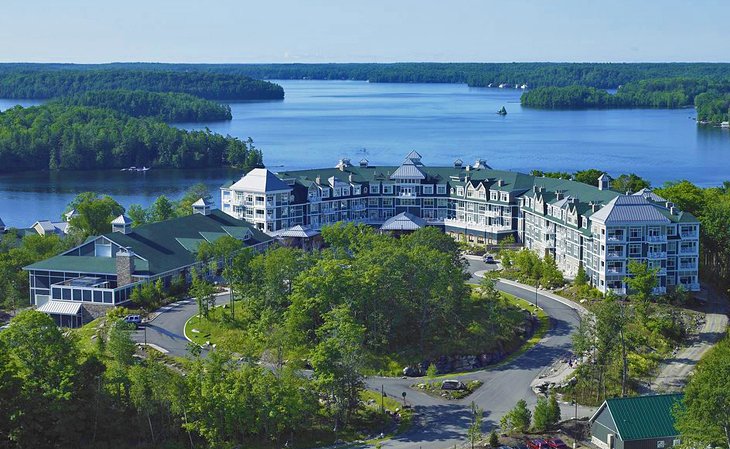 Accommodation: JW Marriott The Rosseau Muskoka Resort & Spa
One of only three Canadian resorts given the distinction of being under the JW Marriott luxury brand (the others are in Vancouver and Edmonton), the JW Marriott The Rosseau Muskoka Resort & Spa is one of the newest large resorts in cottage country. Since opening in 2008, this huge 4-star resort property overlooking Lake Rosseau - summer home to billionaires and celebrities - regularly ranks on lists of Canada's top luxury resorts.
Entry-level luxury at The Rosseau includes studio and deluxe rooms, each with living and dining areas (and windows that actually open), while those needing a little more room can opt for the even larger one- and two-bedroom units. The latter range in size and boast additional features such as a private balcony or patio and separate dining and living areas.
A highlight of a stay is simply soaking up the views, whether from your spacious room or suite, from the resort's restaurants, or from its huge outdoor patios. On-site amenities include an all-season, indoor/outdoor swimming pool (plus separate pool for the kids), plus the full-service Spa Rosseau with its plunge pools, therapy baths, and comfortable lounges (go for the couple's massage).
There are plenty of outdoor adventures to experience. These include canoe and kayak excursions; access to endless hiking and biking trails; nature programs, including astronomy and wildlife tours; plus a private sandy beach and boat slips.
This is also very much an all-seasons resort, too. In winter, popular activities include skating, snowshoeing, ice fishing, snowmobiling, and cross-country skiing, while in September and October tourists flock to Muskoka for its magnificent fall colors.
Address: 1050 Paignton House Road, Minett, Ontario
2. Taboo Muskoka Resort & Golf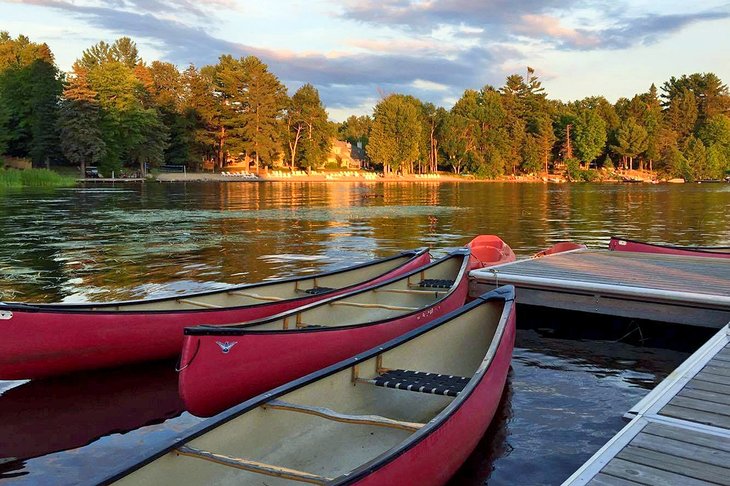 Accommodation: Taboo Muskoka Resort
Considered one of the top golf resorts in Ontario, 4-star Taboo Muskoka Resort & Golf is located on the south shores of Lake Muskoka in Gravenhurst. Recently refurbished, some of the best rooms in fact come with stunning lake views (be sure to check availability of these popular accommodations when making your reservation).
Even without the views, the rooms are nice and come with a patio or balcony. Standard features include bright, modern décor; comfortable beds; HDTVs; mini-fridges; coffee makers and supplies; and spacious showers with rainfall showers. Some of the larger units also feature fireplaces.
In addition to the award-winning Taboo golf course, guests have a variety of other great amenities to try out. These include tennis courts, a great sandy beach, outdoor swimming pools, and the use of bikes and kayaks. There's also an extensive trail network, and in winter guests can tackle them with cross-country skis. On-site dining is also available.
Address: 1209 Muskoka Beach Road, Gravenhurst, Ontario
3. Arowhon Pines, Algonquin Park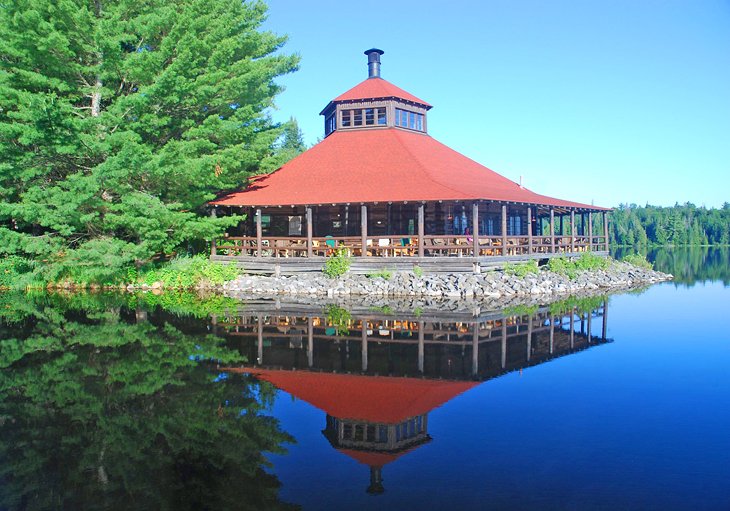 Accommodation: Arowhon Pines
One of only three resorts allowed to operate in Algonquin Provincial Park, 4-star Arowhon Pines offers a phenomenal all-inclusive experience that's particularly popular for those wanting to get a taste of Canada's vast wilderness... but with all the home comforts included.
A highlight of a stay is the wonderful food. Prepared fresh daily using locally sourced and foraged seasonal produce, your all-inclusive stay includes three sumptuous daily meals served in the resort's massive octagonal log dining room - and while no two meals are ever the same, they're always delicious. Best of all, second-helpings are encouraged!
The fun stuff includes use of the resort's extensive collection of canoes and kayaks, perfectly suited for exploring the many lakes, streams, and rivers in Algonquin (guided day-long tours can be arranged, as well as lessons if needed). Stand up paddleboards (popular for on-water yoga) are also available, and permits can be acquired for those wanting to try a little fishing. The resort also puts you within easy distance of many of Algonquin's best hiking trails and other attractions.
All accommodation includes three meals daily and consists of a mix of private and shared log cabins, each with its own wood-burning fireplace and private deck. Closed in winter, the resort generally runs from the May long weekend to Thanksgiving.
Address: Algonquin Provincial Park, Huntsville, Ontario
4. Deerhurst Resort, Huntsville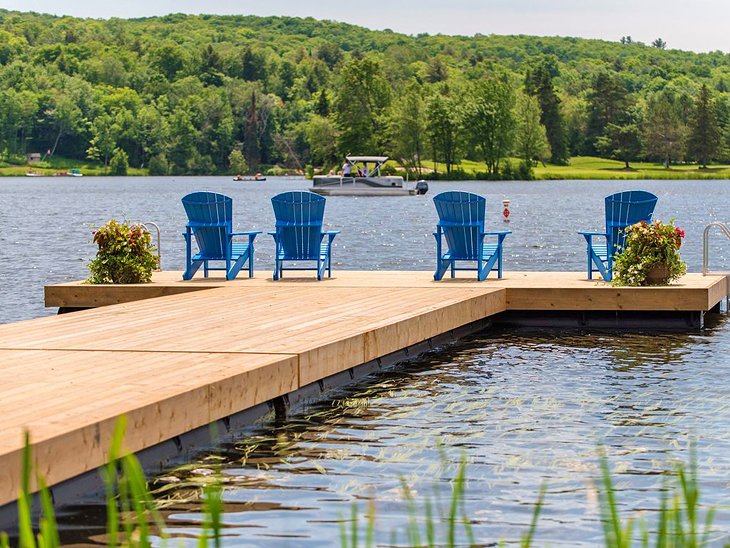 Accommodation: Deerhurst Resort
Not only is Huntsville's Deerhurst Resort one of Muskoka's oldest vacation properties, it's also one of the largest. Established in 1896 as a lodge to serve the numerous wealthy sportsmen visiting the area from Toronto and northeastern USA, this popular all-season resort today covers over 800 acres of prime lakefront real estate and can handle more than 1,000 guests.
Accommodation options include a choice of hotel rooms and suites, some of them open-concept affairs with king or double queen beds, separate living areas, mini fridges, and good-sized outdoor seating on your own private balcony or terrace. Larger units include sumptuously decorated one-bedroom suites with kitchenettes plus separate living rooms with cosy fireplaces. For those needing more space, two- and three-bedroom condo-style units are also available, each with full kitchens and additional bathrooms.
Deerhurst has also built a solid reputation for fun and relaxation. Outdoor activities in the summer months include swimming (there's a beach as well as indoor and outdoor pools), hiking and biking trails, off-road adventures, golf at the resort's two courses, a treetop trekking adventure course, boat and jet ski rentals, and horseback riding.
Come winter - the snow flies here usually from November to past March Break - the outdoor fun switches to downhill skiing at nearby Hidden Valley, as well as cross-country skiing, snowshoeing, ice-skating, and snowmobiling. Year-round indoor activities include a rock climbing wall, tennis and squash courts, a fitness center, and a play zone for the kids. The resort also has a full-service spa, along with excellent dining, including casual and fine dining options.
Address: 1235 Deerhurst Drive, Huntsville, Ontario
5. Residence Inn by Marriott Gravenhurst Muskoka Wharf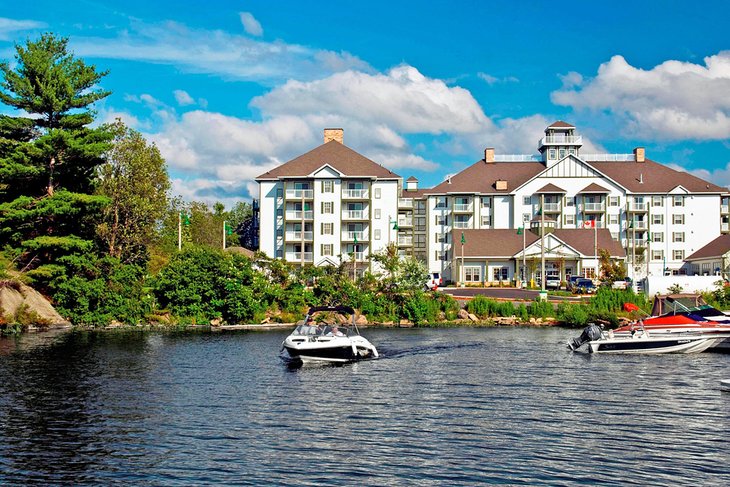 Accommodation: Residence Inn by Marriott Gravenhurst Muskoka Wharf
Located in the heart of the multi-million dollar Muskoka Wharf project in picturesque Gravenhurst, the popular 3-star Residence Inn by Marriott is one of the busiest hotels in cottage country year-round.
Just steps away is everything that makes a cottage country vacation memorable, including direct water access on lovely Lake Muskoka, with its great boating (kayaks, canoes, personal watercraft, and boats can be launched or rented just meters away from the hotel, and in winter, snowmobile trails pass directly by the hotel).
The Residence Inn is also close to a variety of world-class attractions, including North America's oldest still-operating steamship, the RMS Segwun, and the Muskoka Boat and Heritage Museum, with its fascinating displays of the region's boatbuilding heritage. Other standout features include delicious homemade cooking at European-influenced establishments like The Blue Willow Tea Shop, and great shopping at The Shipyards, a permanent "pop-up" store showcasing Muskoka-crafted goods and foods.
With over-sized rooms and suites - including some larger one- and two-bedroom condo-style units - a stay at the Residence Inn also offers plenty of in-room amenities designed to make your stay comfortable. Highlights include well-equipped kitchens, king and queen beds, pullout sofas, gas fireplaces, and balconies or terraces (most with lake views).
A number of pet-friendly and accessible rooms are also available. Other perks include use of an indoor swimming pool and gym, free Wi-Fi, and complimentary breakfast.
Address: 285 Steamship Bay Road, Gravenhurst, Ontario
6. Severn Lodge, Port Severn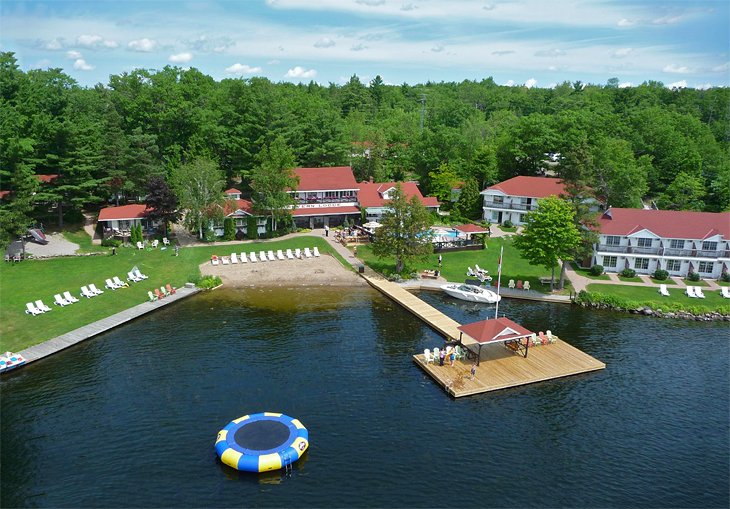 Accommodation: Severn Lodge
Family owned and operated, Severn Lodge is a traditional Muskoka all-inclusive resort that places an emphasis on fun. Located on the beautiful Georgian Bay area of cottage country, 3-star Severn Lodge is the perfect location for those wanting to get a taste of Ontario's rugged natural beauty - and all within an easy drive of Toronto, just 150 kilometers to the south. The resort has more than 700 meters of lakefront to enjoy, ensuring plenty of fun water-based activities, from swimming and kayaking to waterskiing.
Other resort activities available for guests include kids' programs, tennis and badminton courts, basketball hoops, shuffleboard, a games room, and a heated outdoor swimming pool and hot tubs. For those wanting some motorized adventure, jet skis are available for rent, and classic boat cruises or float plane tours of the area can also be booked.
Accommodations are well suited to families and larger groups. Particularly popular are the spacious two-bedroom suites and lodges with separate bedrooms, living rooms (with pull-out couches), and kitchens, along with large decks and screened porches overlooking the lake. Seasonal packages are available for spring and fall getaways (the resort is closed in winter).
Address: 116 Gloucester Trail, Severn, Ontario
7. Sherwood Inn, Port Carling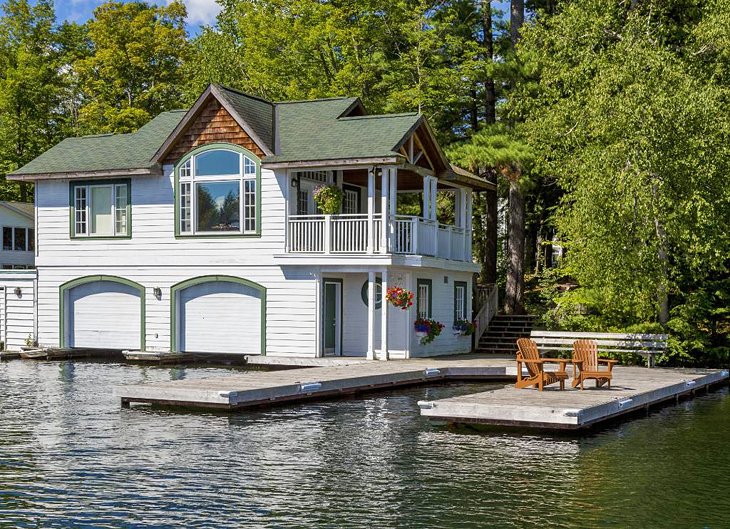 Accommodation: Sherwood Inn
Another of Muskoka's historic resorts, 3-star Sherwood Inn was built in 1939 and has been providing guests with an upscale vacation experience ever since. Situated on beautiful Lake Joseph - another popular cottage destination for the rich and famous - Sherwood Inn is just minutes from the delightful village of Port Carling. This small summer town is known for its boutique stores, art and craft galleries, as well as its great dining options.
This charming year-round waterfront destination offers a mix of traditional hotel-style rooms and stand-alone cottages. Consisting of a queen bed and bathrooms with separate tiled showers, each room also comes with pleasant garden views. Larger luxury suites are also available with living areas, pull-out couches, and balconies.
Other accommodation options include quaint bedsitting cottages situated along the lakeshore, each with a wood-burning stove, and the boathouse, a spacious suite with king bed, separate seating area with a pull-out sofa, fridge, large jet-tub, fireplace, and private deck.
There's much to do around the resort, too, including indulging in some pampering at the full-service Beginnings Spa; playing table tennis, darts, or shuffleboard in the games room; working out in the gym; and on-site dining. Outdoor activities include golf at any one of a number of great courses, including The Rock, plus kayaking and canoeing, paddleboarding, waterskiing, and boat rentals.
Address: 1090 Sherwood Road, Port Carling, Ontario
8. Touchstone Resort, Bracebridge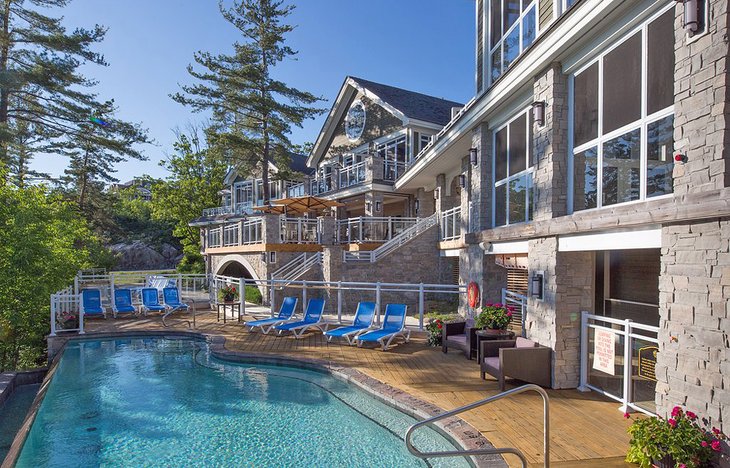 Accommodation: Touchstone Resort
At the higher end of the 3-star resort category, Touchstone Resort brings a distinct touch of modernity to Muskoka with its contemporary and classy design. Located on Lake Muskoka, this architecturally pleasing development is one of the region's newest and chicest vacation properties.
A mix of resort-style holiday accommodations and luxury real estate offerings, Touchstone offers a variety of bright, spacious suites and condo-style accommodations. Couples can enjoy the privacy of a king room featuring a kitchenette, fridge, and balcony, while larger groups can opt for a two-, three-, or even four-bedroom unit. These larger units feature everything needed to be completely self-sufficient while vacationing, including kitchens, pull-out beds, and large decks with their own barbecues.
There's much to do around the resort, too. Fun for active individuals during the warm summer months includes swimming at the private beach, volleyball and tennis courts, a jungle gym, nature trails, and a soccer pitch. Also available are Jet Ski and boat rentals, a spa, infinity edge swimming pool, dining, a fitness center, and fire pits.
Come winter, guests can enjoy the many winter festivals in nearby towns like Bracebridge and Gravenhurst, and enjoy fun family activities during the popular February Family Day weekend including skiing, pond hockey, snow tubing, and cross-country skiing.
Address: 1869 Muskoka District Road 118 West, Bracebridge, Ontario
9. Hidden Valley Resort, Ascend Hotel Collection, Huntsville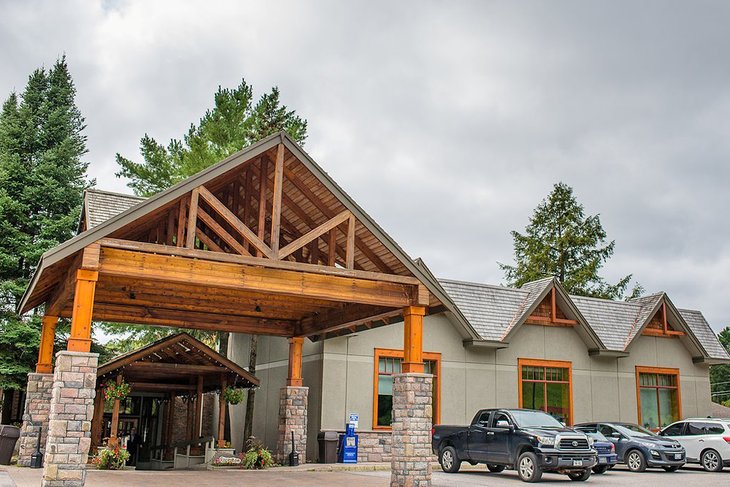 Accommodation: Hidden Valley Resort, Ascend Hotel Collection
Located on Peninsula Lake just a few minutes' drive from the attractive tourist town of Huntsville - popular for its shopping, dining, galleries, and live theater - Hidden Valley Resort has the distinction of being Muskoka's only ski resort. Now a member of the Ascend Hotel Collection, this popular 3-star resort has a long-tradition as one of cottage country's top year-round vacation destinations.
Winter activities include both downhill skiing and snowboarding, along with cross-country skiing and snowshoeing on nearby trails. The resort's summer guests enjoy access to a swimming pool, a private beach (with water toys), kayaks and canoes, tennis, a fitness area, and a sauna. An on-site restaurant provides daily meals, while nearby Deerhurst Resort offers a number of other dining options, along with two golf courses.
A variety of hotel-style accommodation options are available, one of the most popular being the comfortable Hillside Rooms. Finished in warm earth tones and natural wood, these spacious rooms include an oversized bathroom area, seating, a fridge, and HD TV.
Address: 1755 Valley Road, Huntsville, Ontario
10. Sir Sam's Inn & Spa, Eagle Lake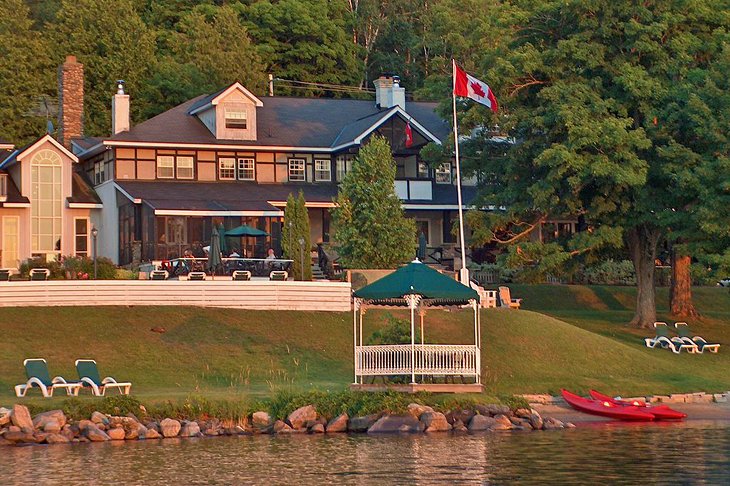 Accommodation: Sir Sam's Inn & Spa
Although not strictly speaking in Muskoka, the 3-star adults-only Sir Sam's Inn & Spa Eagle on Lake has built up such a solid reputation over the years that it's certainly worthy of a mention (the surrounding area, the Haliburton Highlands, is in itself a very popular cottage destination). Open year-round, the inn is a great place for couples to relax, unwind, and reconnect, and offers fun seasonal packages including a great New Year's Eve event.
And when it's time to get outdoors and play, options include a secluded beach for sunbathing and swimming; water activities such as canoeing, kayaking, and boat tours; hiking and biking; and tennis. Also fun is the neighboring Sir Sam's Ski/Ride Park, which includes six lifts, ski rentals, and a ski school in winter, while summer focuses on seasonal activities including mountain biking.
Other must-dos include spending time at the inn's spa, which offers private treatment rooms for massages and other services, and enjoying a meal in the on-site restaurant. And when it comes time to bed down for the night, guests are spoiled for choice.
Accommodations include everything from luxurious rooms in the main inn - most with patios or balconies overlooking Eagle Lake and genuine wood-burning fireplaces - all the way up to two-level suites with cathedral ceilings. There are also a number of well-equipped stand-alone cottages.
Address: 1491 Sir Sam's Road, Eagle Lake, Ontario
11. Windermere House, Windermere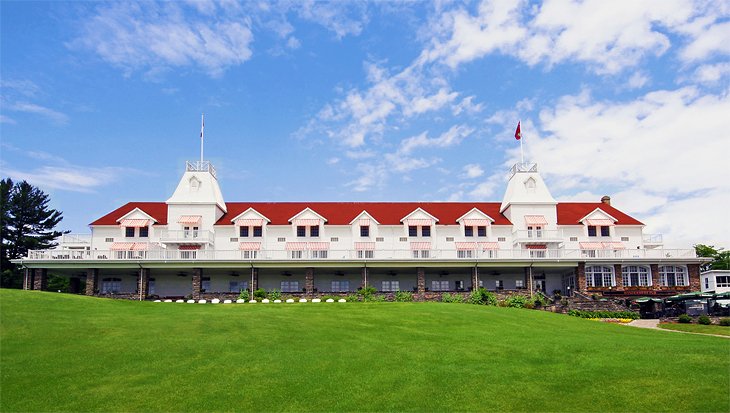 Accommodation: Windermere House
One of the best known of Muskoka's resorts - and one that's frequently visited by celebrity cottagers staying on lovely Lake Rosseau - Windermere House gives the distinct impression you've arrived in a corner of "olde England." Perched overlooking the public beach and docks of this quaint village setting, Windermere House has been welcoming guests looking for a classy getaway since it opened in 1870.
Highlights of a stay at this high-end 3-star resort include wonderful lake views from the resort's large wraparound veranda; a heated outdoor pool; a full-service spa; gym facilities; and a number of dining options, including al fresco on the patio and in-room catering (be sure to order one of the picnic hampers, a real treat as you explore the region).
Consisting of 56 luxury accommodations, guests can choose from elegantly furnished hotel rooms with lake views and private balconies, all the way up to gorgeous four-bedroom, four-season cottages with kitchens, screened porches, and beach access.
Off-site sports activities include a classic 18-hole golf course (literally across the road), tennis and badminton courts, volleyball and basketball, bike rentals, and canoes. There's also a handy full-service marina nearby with boat rentals and slips.
Address: 2508 Windermere Road, Windermere, Ontario
12. Port Cunnington Lodge & Resort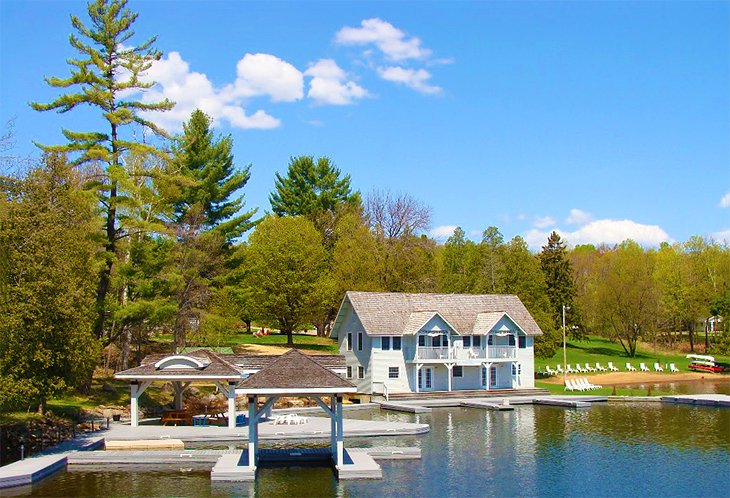 Accommodation: Port Cunnington Lodge & Resort
Owned by the same team behind the prestigious Bigwin Island Golf Club (rated one of Canada's top golf courses and just a boat ride away), historic Port Cunnington Lodge has stayed true to its roots as a family vacation destination.
Located on the lovely Lake of Bays, this traditional 3-star lodge offers everything needed for families to kickback and reconnect, from campfires and sing-alongs to tennis and basketball courts, watercraft such as kayaks and canoes, and plenty of quiet corners to hunker down and unwind. On-site dining is included in the cost of your stay.
When it comes to accommodations, a popular choice for large family groups is to opt for one of the larger cottages. Options include the Ptarmigan Cottage, consisting of a beautiful two-story-tall stone fireplace, two upper bedrooms featuring a shared balcony with lake views, and two main floor bedrooms.
Also popular are the open-concept Peregrine Cottage, also boasting four bedrooms plus two full bathrooms, and the Sandpiper, comprising a mix of one- and two-bedroom suites.
Address: 1679 Port Cunnington Road, Dwight, Ontario