12 Best Resorts in Hot Springs, Arkansas
We may earn a commission from affiliate links ()
The city of Hot Springs and the adjacent Hot Springs National Park has a long history of attracting visitors. The lush Ouachita Mountain landscapes and abundance of geothermal springs still draw quite a crowd today. One of the best ways to experience Hot Springs is to spend the night at one of the luxurious resorts in the area.
While many resorts are located near historic Bathhouse Row at the edge of the national park, plenty of other great places to stay are found a little farther south, overlooking the waters of Lake Hamilton.
Whether you want to stay in lakeside accommodations, or you choose to be closer to the hot springs, it's recommended you check out everything this rich Arkansas environment has to offer.
Find a great place to stay for your next vacation with this list of the best resorts in Hot Springs, Arkansas:
1. Lookout Point Lakeside Inn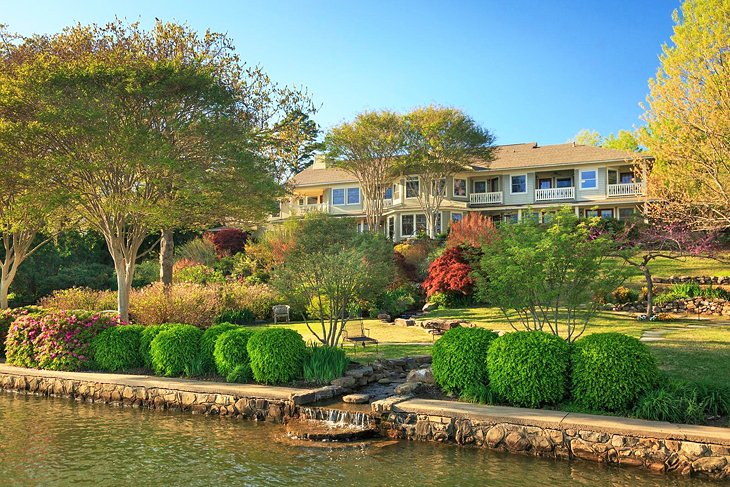 Accommodation: Lookout Point Lakeside Inn
An enticing honeymoon destination or romantic weekend getaway for couples, Lookout Point Lakeside Inn is one of the most luxurious resorts in Hot Springs. The entire property is backdropped by a beautiful view of Lake Hamilton and the Ouachita Mountains, and the scenic charm extends throughout the lakeside inn.
Queen rooms, king rooms, and king suites are available at Lookout Point. Each accommodation is furnished with unique décor that adds to a comfortable visit. Each room also comes with a view and walkout balconies. King rooms come with the choice of a whirlpool or soaking tub. The suites at Lookout Point feature ample space and a stately ambience.
The included breakfast at Lookout Point is reason enough for a visit and is made fresh each morning, garnished with herbs from the garden outside. What really makes Lookout Point a welcoming experience are the Innkeepers who greet guests upon arrival and ensure the rest of your stay lives up to a high standard of comfort.
Address: 104 Lookout Cir, Hot Springs, Arkansas
2. The Wharf Resort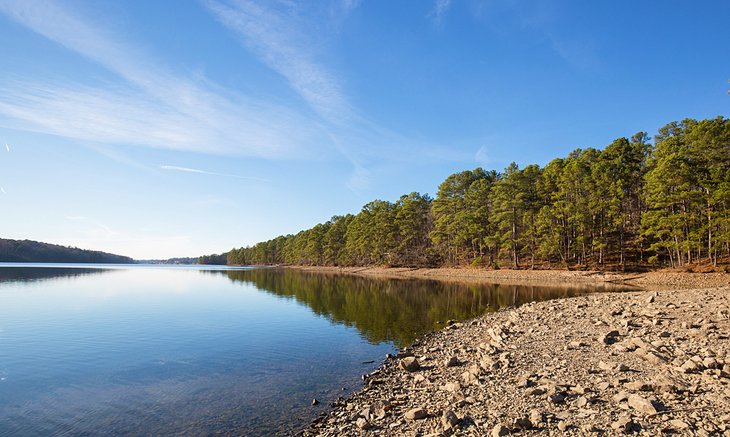 Accommodation: The Wharf Resort
The Wharf Resort is on the shores of Lake Hamilton, south of the city proper. Every unit at The Wharf Resort is a two-bedroom, two-bath condominium with a full kitchen, wood-burning fireplace, and master bedroom. These spacious accommodations cater towards perfect family vacations.
Each unit at The Wharf Resort also comes with a view of the Ouachita Mountains from a private balcony. Outside the rooms, the friendly staff will direct you to many fun on-site attractions, including a swimming pool, two tennis courts, and barbecue grills.
Another popular thing to do at The Wharf Resort is simply sit back and watch the sun set over Lake Hamilton.
Address: 408 Long Island Drive, Hot Springs National Park, Arkansas
3. The Waters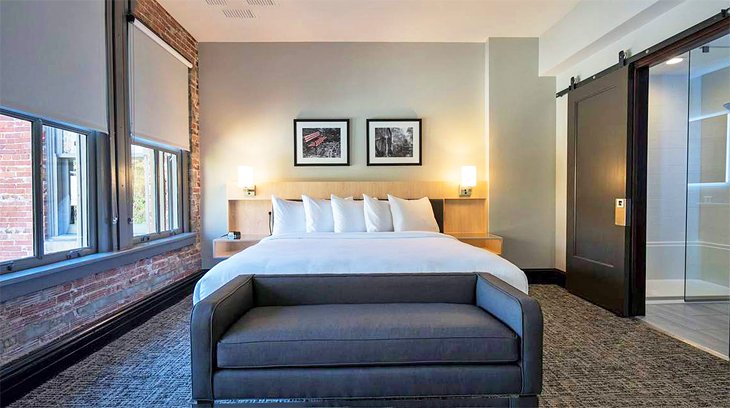 Accommodation: The Waters
The Waters is a historic boutique hotel filled with modern amenities. Just outside the front doors, visitors will find the historic Bathhouse Row and the rest of the surrounding Hot Springs National Park. With chic accommodations and décor, the hotel also features complimentary Mountain Valley Spring Water in all 62 rooms.
The Waters offers king and queen rooms, and each features modern décor and a simple yet sharp sense of style. The best rooms at The Waters are arguably the king rooms with a city view, which provide great overlooks of Central Avenue and Bathhouse Row. Every room at the hotel is non-smoking and includes complimentary wireless internet access.
Local art is also on display throughout the entire property, including the comfortable community spaces, like the bay-windowed lobby.
The on-site The Avenue Restaurant features gourmet southern artisan-style entrees and a great ambience. Special packages offered by the resort include Golf & Spa, National Park Touring, Garden Gazing, and Motor Coach Tours.
Address: 340 Central Avenue, Hot Springs, Arkansas
4. SunBay Resort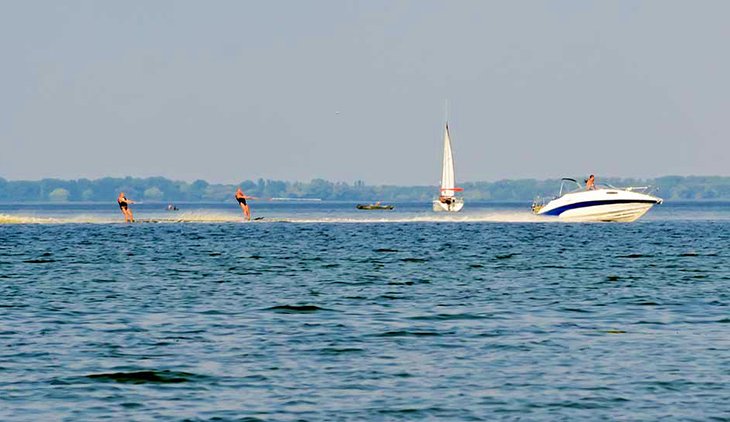 Accommodation: SunBay Resort
Located near the waters of the Ouachita River and Lake Hamilton, SunBay Resort provides a long list of amenities with each stay. Salon services, professional massages, three different swimming pools, and on-site dining at the Back Porch Grill provide plenty of reasons to never leave the property.
This lakefront resort also encourages exploration on the water. SunBay features an inviting Lake Hamilton Cruise that departs from the hotel's dock. Other popular activities at SunBay are swimming; fishing; and relaxing in the outdoor pavilion complete with grills, canopies, and deck chairs.
Overnight options at SunBay include studios, suites, and villas. Most accommodations face the lake, and many include whirpools tubs, fireplaces, and a fully equipped kitchen. Some condos are also available for extended stays.
Address: 4810 Central Ave, Hot Springs, Arkansas
5. Arlington Resort Hotel & Spa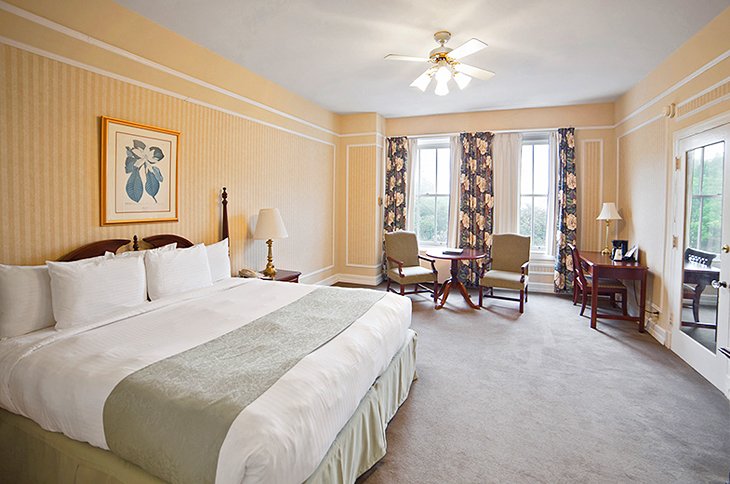 Accommodation: Arlington Resort Hotel & Spa
Hosting people overnight since 1875, the Arlington Resort Hotel & Spa has a long history of front-door access to the neighboring Hot Springs National Park. The historic Bathhouse Row can be found within a short walk, and visitors can enjoy a thermal water spa treatment at the Arlington Thermal Bathhouse & Spa.
The different rooms to choose from include historic rooms; parlor suites; and mineral water rooms, where spring water is piped directly into a tub and shower. A visit to the historic crystal ballroom should be required with each visit, and the twin outdoor pools provide a great place to cool off during the summer.
Address: 239 Central Ave, Hot Springs, Arkansas
6. Hilltop Manor Bed and Breakfast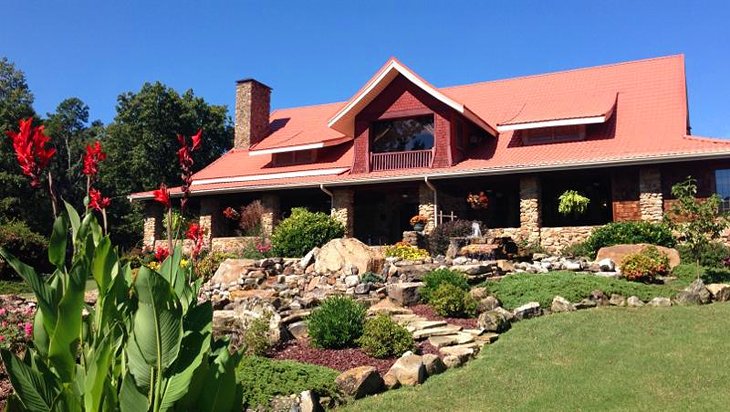 Accommodation: Hilltop Manor Bed and Breakfast
Located on the northern edge of Hot Springs National Park, Hilltop Manor Bed and Breakfast provides quiet surroundings and cozy accommodations. Visitors have five guest suites to choose from at the historic Hilltop Manor. All five suites include hardwood floors, stone fireplaces, and unique décor, as well as a home-away-from-home sense of comfort and privacy.
Enjoy a made-to-order breakfast in the morning while staying at Hilltop Manor, and spend the afternoon exploring the five-acre estate. The manor, itself, is a historic artifact that is fun to explore, including the sprawling porch overlooking a waterfall.
Special packages are available for a romantic retreat at Hilltop Manor Bed and Breakfast. Other packages include the couple's massage and a Hot Springs Holiday package, which includes admission to nearby attractions. This photogenic place to stay also specializes in custom wedding packages.
Address: 2009 Park Ave, Hot Springs, Arkansas
7. Emerald Isle Resort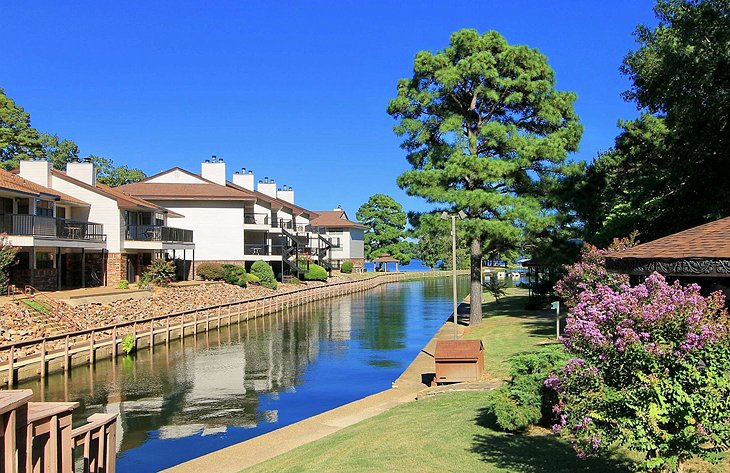 Accommodation: Emerald Isle Resort
For a true home away from home in Hot Springs, the two-bedroom, two-bath condos at Emerald Isle Resort include everything to make the whole family happy. Located on the shores of Lake Hamilton, each condo can sleep six and is equipped with a fully stocked kitchen, air conditioning, and 12,000 square feet of space.
It's the amenities outside the condos that are the real appeal, though, including the lakefront access and aesthetically pleasing landscape. Popular attractions on the resort grounds include a private swimming pool, large fire pit with seating, and access to a sandy beach.
With close access to Lake Hamilton, Emerald Isle Resort is only a fifteen-mile drive from Hot Springs National Park.
Address: 5371 Central Ave, Hot Springs National Park, Arkansas
8. Comfort Suites Near Hot Springs Park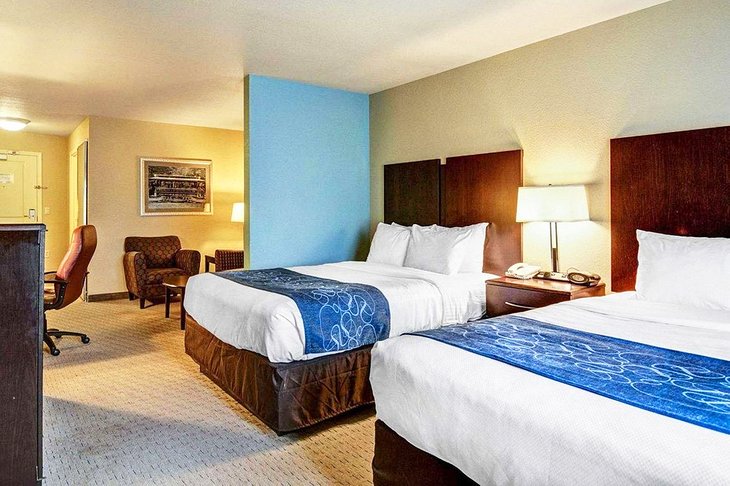 Accommodation: Comfort Suites Near Hot Springs Park
This Comfort Suites property is located just three miles from Hot Springs National Park off Highway 70. The 3-star hotel has a number of different room configurations, and all feature lots of space and partial room dividers.
If you are traveling with the family, kids stay free. Families will also appreciate the pull-out sofa bed in the living area. There are also options for rooms with two queen beds. Decor is updated with some nice pops of color, and rooms come with work desks and chairs, as well as fridges and microwaves.
A complimentary hot breakfast is served each morning. There is also a coffee shop on-site. For dining, the Comfort Suites is less than a mile drive from multiple restaurants. You can swim year-round thanks to a heated indoor swimming pool. There is also a hot tub and fitness center on the grounds. Vending machines and laundry services are also offered.
Address: 320 Nash Street, Hot Springs, Arkansas
9. Embassy Suites by Hilton Hot Springs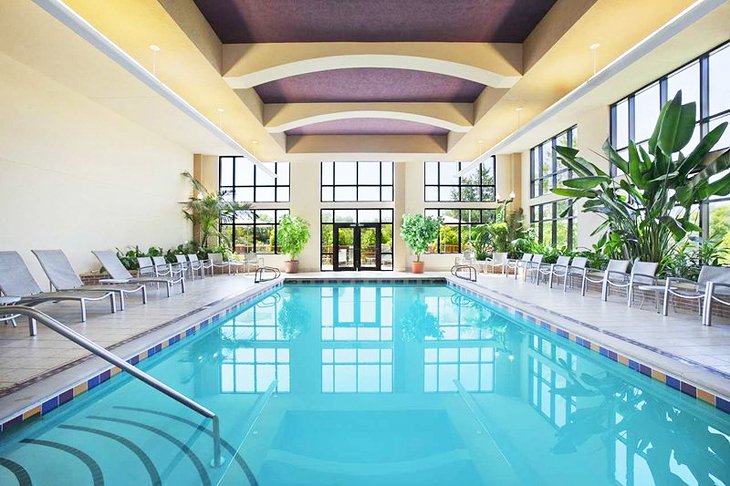 Accommodation: Embassy Suites by Hilton Hot Springs
This reputable hotel is located just south of the national park and Bathhouse Row. Featuring a beautiful and tastefully decorated lobby, the Embassy Suites by Hilton greets guests with a comfortable atmosphere upon arrival. And the comfort continues after check-in at this suite-exclusive hotel.
Suites feature private bedrooms and separate sitting areas, as well as kitchenettes, two flat-screen TVs, and comfortable furnishings perfect for lounging. The hotel offers quick access to area attractions including Bathhouse Row and The Gangster Museum of America.
The Embassy Suites is connected to the Bank of the Ozarks Arena and the Hot Springs Convention Center. This arena and meeting space is home to big shows and conventions throughout the year. While families enjoy the clean and comfortable facility, the adjacent convention center often makes the Embassy Suites a top choice for business travel.
Address: 400 Convention Blvd, Hot Springs, Arkansas
10. Long Island Lake Resort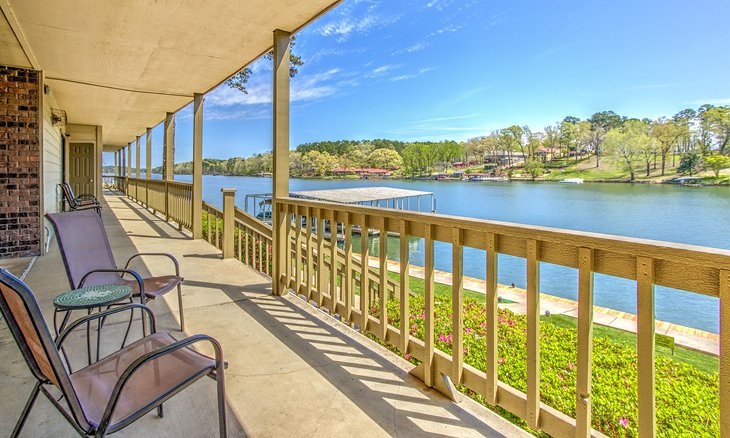 Accommodation: Long Island Lake Resort
As one of the few resorts on Lake Hamilton that rents boats to their guests, Long Island Lake Resort is a great place to enjoy the water. In addition to the pontoon boats that you can captain for up to 48 hours, the spacious rooms and full kitchenettes also make this a popular resort.
Alongside views of the lake, the rooms at Long Island Lake Resort feature amenities like two-burner stoves, cookware, and satellite television. The resort is also popular with pet owners, as select rooms welcome small breed dogs.
During their stay, guests have access to barbecue grills, a swimming dock, and a lighted pavilion right next to the water. One of the most popular things to do is simply sit on the private patios found with each room and enjoy the quiet lake surroundings.
Address: 320 Long Island Drive, Hot Springs, Arkansas
11. The Hotel Hot Springs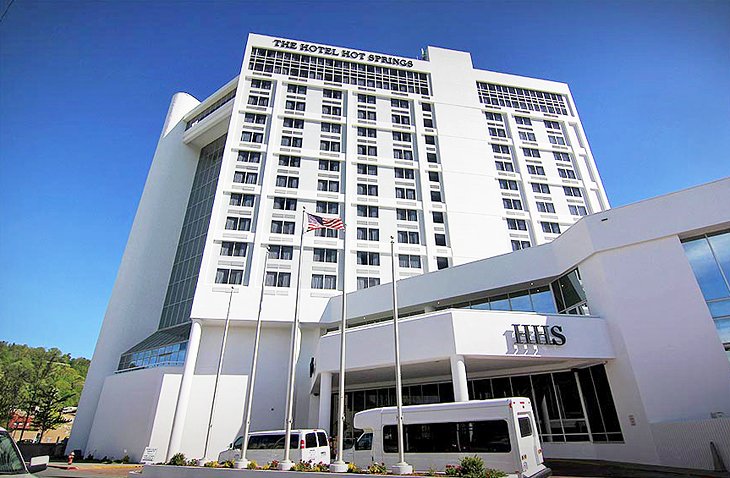 Accommodation: The Hotel Hot Springs
After recent million-dollar renovations to all 14 stories and 200 guest rooms at The Hotel Hot Springs, this skyrocketing hotel has rebuilt itself as one of the best places to stay in the area.
Guests at The Hotel Hot Springs have the choice between modern king or double queen rooms, as well as executive suites for additional space. Each overnight space is decorated with contemporary furniture and a unique sense of style.
The Inside Track Grill within the hotel offers Akashi beef burgers and more than 40 television screens to grab your attention. As part of the remodel, The Hotel Hot Springs also features a mineral-water spa and state-of-the-art pool and fitness center. The hotel is attached to the Hot Springs Convention Center, and the hotel itself offers over 7,000 square feet of meeting space.
Address: 305 Malvern Avenue, Hot Springs, Arkansas
12. Country Inn Lake Resort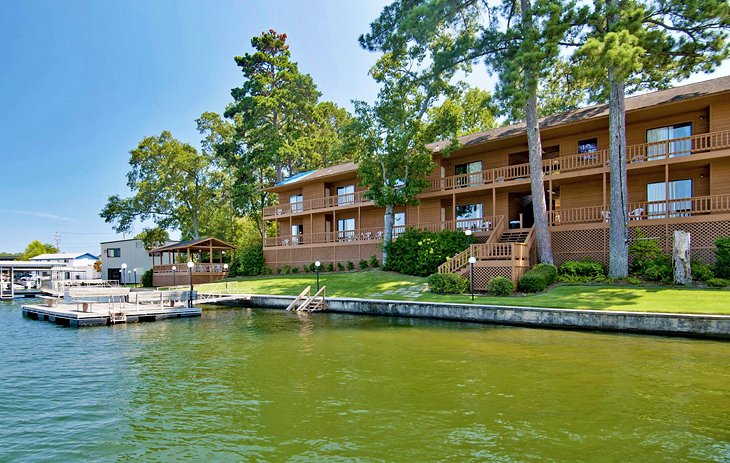 Accommodation: Country Inn Lake Resort
Overlooking the shores of Lake Hamilton, Country Inn Lake Resort is ideal for couples, families, or anyone looking for a weekend getaway.
Rooms are split between kitchenette units with lake views and motel rooms with quick access to the water. The comfortable furnishings within Country Inn Lake pair nicely with the fun activities outside.
The central location provides easy access to adventures in the area. Hot Springs National Park is accessible from the resort with a 10-minute drive.
Guests at the resort can swim in the lake, fish off the dock, and use the on-site cleaning station and grills. Taking in the westward view at the end of each day is also a popular part of every visit.
Address: 1332 Airport Road, Hot Springs, Arkansas
More Related Articles on PlanetWare.com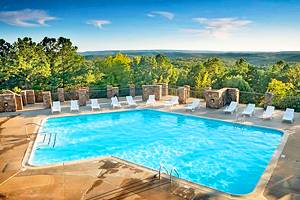 Other Resorts and Cities to Visit in Arkansas: For a look at resort offerings throughout the state, check out our article on the best resorts in Arkansas. Other cities in Arkansas beckon for weekend visits, and if you enjoy the Ouachita Mountains of Hot Springs, the equally stunning city of Eureka Springs is right up your alley. The state capital of Arkansas, Little Rock, also provides many things to do and places to visit.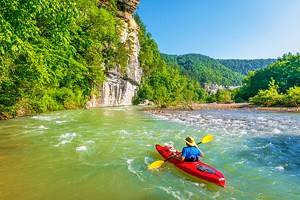 More to Explore in Arkansas: Alongside Hot Springs National Park, other top attractions of Arkansas include the Arkansas Air Museum, Craters of Diamonds State Park, and the Clinton Presidential Center. For some aquatic attraction in the state, our guide to the best lakes in Arkansas feature great places to boat, fish, and swim. Other interests are served with our guide to Arkansas in Pictures: Most Beautiful Places to Photograph.