12 Top-Rated Resorts in Antigua
We may earn a commission from affiliate links ()
If you're seeking the ultimate Caribbean beach vacation, Antigua is your perfect destination. Locals claim there are 365 beaches on the island, providing a different one to explore each day of the year. Most of the island's beaches are dotted with beachfront resorts, many concentrated around the capital city of St. John's.
These idyllic beaches are about a three-hour flight from Miami with frequent direct flights available. Find the perfect base for your next beach vacation on this beautiful island with our list of the best resorts in Antigua.
Note: Some businesses may be temporarily closed due to recent global health and safety issues.
1. Jumby Bay Island - an Oetker Collection Hotel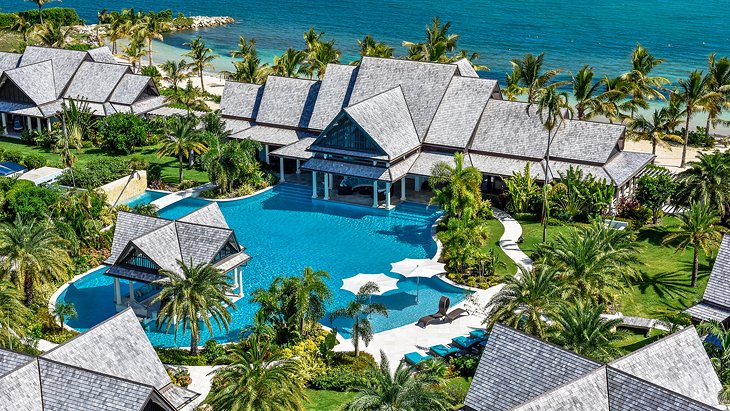 If you want to vacation with billionaires and millionaires, Jumby Bay is the place to do it. This ultra-exclusive, all-inclusive, beyond-luxury 300-acre resort is on its own lush private island right off the coast. There are only 40 rooms and suites, which are joined by a group of private homes. There are also 15 individual villas, each with private pools and ocean views.
Jumby Bay is constantly ranked as the top hotel in Antigua and the top hotel in the Caribbean. A vacation here can cost as much as a small car, but the combination of fine dining; warm, beyond-personal service; and extreme luxury is truly unsurpassed.
The Estate House is the resort's fine-dining restaurant, considered one of the best places to eat in the Caribbean. The Jumby Bay Veranda is a casual, all-day dining venue, and there's also a pool grill and a beach shack for snacks and hot dogs.
There are three pools to enjoy plus the full range of water sports. Instructors are always on hand to help out with things like windsurfing, sailing, or stand up paddleboarding. You can also just relax on the beach or hit the spa for a beauty treatment or massage.
Address: Jumby Bay Island, St. John's, Antigua
Accommodation: Jumby Bay Island - an Oetker Collection Hotel
2. Sandals Grande Antigua Resort & Spa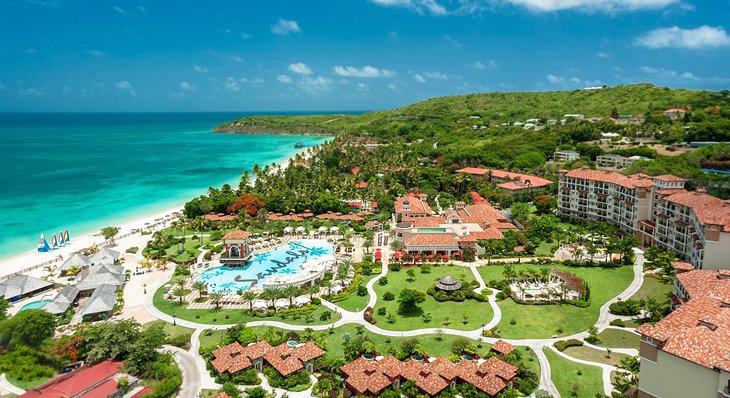 This all-inclusive, adults-only resort is right on Dickenson Bay, considered the island's best and most beautiful beach. It's like a small city with differently themed accommodation options. You can stay in the Caribbean Beachfront Village, with on-the-sand, island-style villas, or in the Mediterranean Oceanview Village, which offers 5-star luxury hillside apartments. There are other themed buildings that also have ocean views.
Aimed specifically at couples in love, Sandals is great for honeymoons or romantic getaways. Rooms and suites have luxury amenities like butlers, four-poster beds, oversized balconies, whirlpool bathtubs, and separate rain showers.
The stay really is all-inclusive, things like in-room Wi-Fi, gratuities, and even airport transfers are all part of the package. All your water sports are included, too, even scuba diving (with equipment) and motorized sports like Jet Skis.
There's a full menu of entertainment, too, from beach gatherings to nightly musical performances, talent shows, karaoke, and game nights. Sandals has eleven different dining options, all included with your stay. They offer various cuisines with atmospheres ranging from English pubs to sushi bars.
Address: Dickenson Bay, St. John's, Antigua
Accommodation: Sandals Grande Antigua Resort & Spa
3. Ocean Point Resort & Spa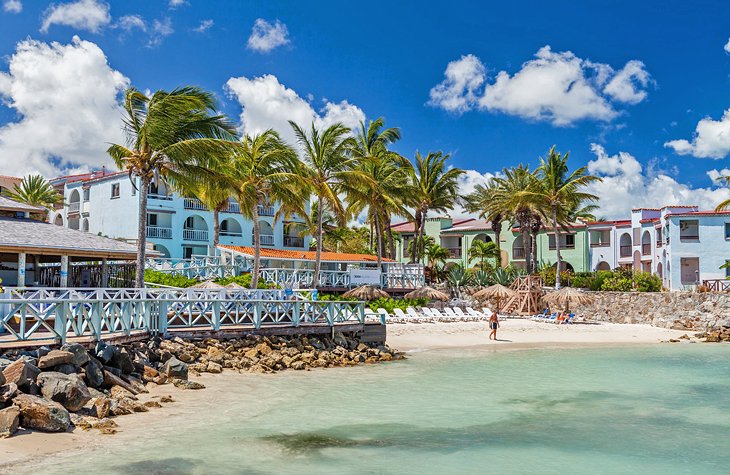 This all-inclusive resort sits on picturesque Hodges Bay on the north shore of the island in St. John's. The resort is adults-only, suggesting a minimum guest age of 16. The rooms and suites have a Mediterranean style, and all feature a private veranda or balcony. For those seeking the best Antigua vacation deal, Ocean Point also has some garden-view rooms. They are only offered with just bed and breakfast or as room-only during the off (summer) season.
The resort has a big outdoor swimming pool and sits on two beautiful beaches with a jetty separating them. There's an intimate spa with open treatment areas overlooking the ocean.
The main restaurant is called the Sottovento Beach Club, and it has an Italian menu (the resort is owned by an Italian family) with island influences. There's a buffet that's open for breakfast, lunch, and dinner, and an a la carte section, which is open for lunch and dinner.
Address: Hodges Bay Main Road, St. John's, 12034 Antigua
Accommodation: Ocean Point Resort & Spa
4. The Verandah Resort & Spa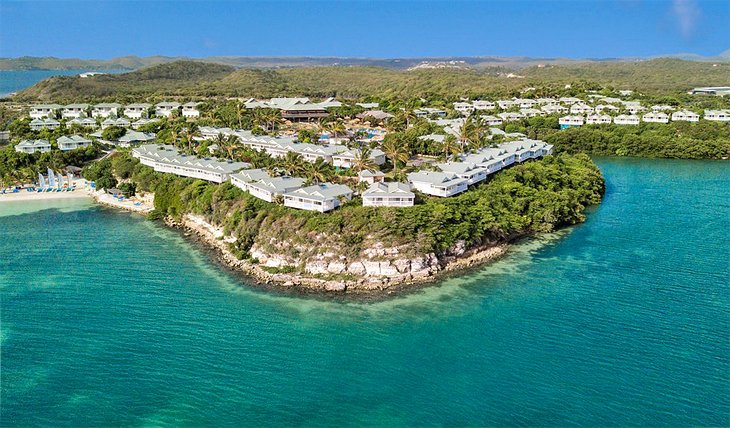 This luxurious, all-inclusive family resort is on Long Bay in Saint Philip on the eastern coast of the island. It's a large resort, covering 30 acres of a peninsula. The accommodations at the Verandah Resort are villa style, and they're all on a bluff overlooking the ocean. The resort's private beach is a short walk away, through the gardens. The 186 units have one and two bedrooms and can accommodate up to six people.
The resort caters to kids and teens with supervised activities for both. A popular one is kids' dinner and a movie, leaving time for mom and dad to enjoy dinner on their own. Teens have dances, karaoke, and their own movie nights.
Families love playing the 18-hole mini golf course or enjoying one of the many included water sports. It's all part of the all-inclusive experience-everything is included, from snorkeling gear to Hobie Cat sailboats that fit four people. You can also try windsurfing or kayaking or just relax in a water hammock (a hammock set up in the shallow water) and enjoy the sunshine. You can also get a massage in the spa or work out in the large fitness center.
There are a few choices when it's time to eat: There's an all-day buffet restaurant, a fine-dining option, a very casual beach café, and a beach snack shack.
Address: Long Bay, Saint Philip, Antigua
Accommodation: The Verandah Resort & Spa
5. Galley Bay Resort & Spa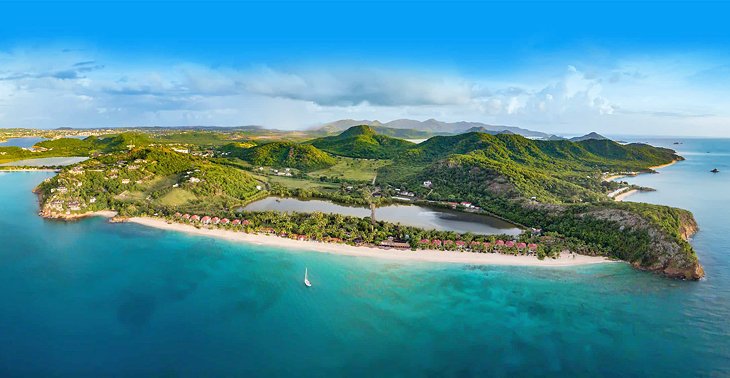 Another all-inclusive, adults-only resort, Galley Bay Resort & Spa is practically surrounded by water. It sits on a thin strip of land, with the ocean on one side and a lagoon on the other. You have just under a mile of white, sandy beach to enjoy with current-free, aquamarine-colored water. It's perfect for swimming or snorkeling.
Rooms and suites at the Galley Bay Resort are bright and airy, done in a modern Caribbean design. They're spacious, with vaulted, wood-framed ceilings. Many have ocean views, and some have direct beach access. The resort has a spa with a range of body and beauty treatments, many incorporating locally sourced products and ingredients.
Three open-air restaurants tempt your tastebuds, all with farm-to-table menus using the freshest of local products. Or forget your diet and go for a classic burger and fries at the Barefoot Grill.
Address: Gray's Farm Main Road, Five Islands Village, Antigua
Accommodation: Galley Bay Resort & Spa
6. Hermitage Bay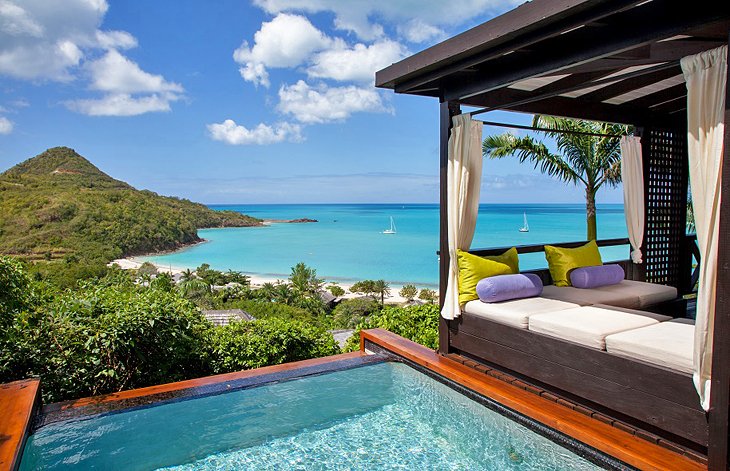 This eco-luxury, all-inclusive, boutique resort has only 30 suites. It's on the southwest coast of Antigua, secluded but only 30 minutes from St. John's. Named for the beautiful bay by which it sits, Hermitage Bay offers a peaceful vacation experience fronting a wide stretch of natural beach.
The resort has nine beachfront suites and four garden suites, each with a split-level living space and a large patio. Go for one of the 17 hillside suites, as they each have private plunge pools. If you stay three nights or more, the resort throws in free Wi-Fi and free airport transfers to add to the convenience.
You can play in the water, relax on the beach, or go fishing. The resort also offers some foodie-focused activities like cooking classes and tours of the local organic farm where much of its produce is sourced. Wellness is also a focus here with a large spa; a fitness center; and yoga, pilates, and meditation classes.
The menu of the resort restaurant (which has live music each night) showcases local products with things like fresh-squeezed juices and locally grown produce. You can also get snacks at the poolside grill.
Address: Jennings New Extension, Saint Mary's, Antigua
Accommodation: Hermitage Bay
7. Siboney Beach Club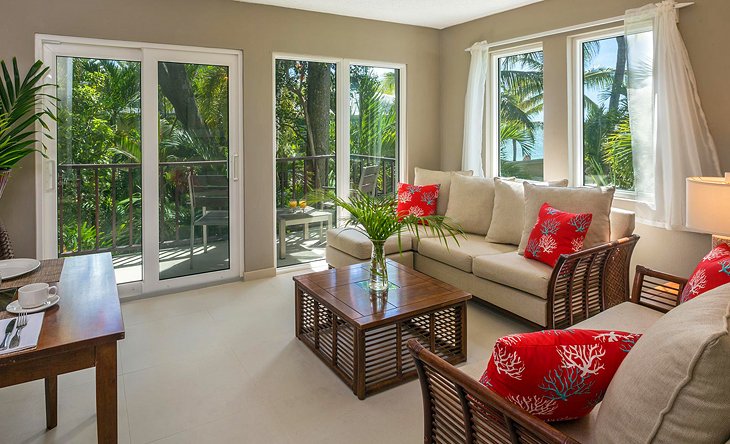 Another resort on beautiful Dickenson Bay, the Siboney Beach Club is an affordable holiday option. There are 15 rooms and suites; some have garden views, and some face the ocean. The style is modern Caribbean, and all are air conditioned. The suites give you a separate bedroom and a kitchenette. All the units have either patios or balconies.
The resort's Coconut Grove restaurant has a Caribbean menu. They serve a casual breakfast and lunch and get a bit more formal (island formal) for dinner.
Address: Dickenson Bay, St. John's, Antigua
Accommodation: Siboney Beach Club
8. South Point Antigua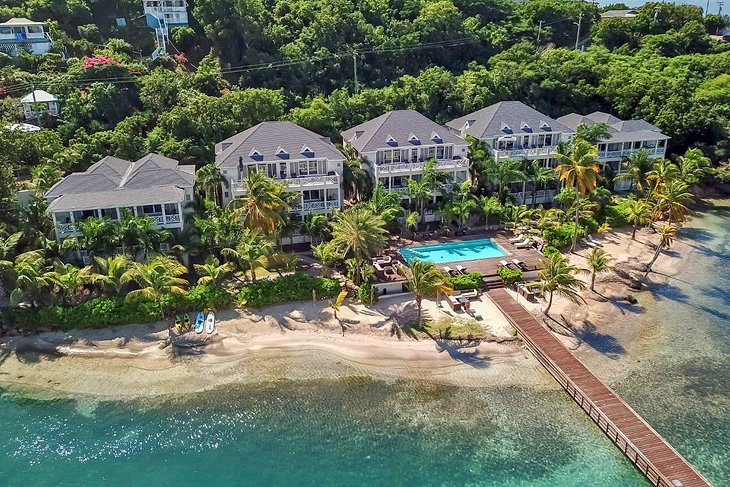 This boutique hotel is part of the Antigua Yacht Club Marina in Falmouth Harbour. You have beautiful views of the bay and marina, which are especially good in the winter, aka "yacht season."
The all-suite hotel has a very chic, urban vibe, a unique thing in Antigua. There are 23 open-plan units, some with one and some with two bedrooms. The units feel more like luxury loft apartments than hotel rooms. They all have large terraces and fully-equipped kitchens. The resort's private chef can cook you a meal in yours.
The resort restaurant has a Mediterranean and Middle Eastern-inspired menu, as well as a sushi bar. A continental breakfast is included in your room rate.
There's a harbor-side swimming pool and a small, private beach in front of the hotel with various water sports available. The resort can set up diving, fishing, or island tour excursions.
Address: Yacht Club Drive, English Harbour, Antigua
Accommodation: South Point Antigua
9. Keyonna Beach Resort Antigua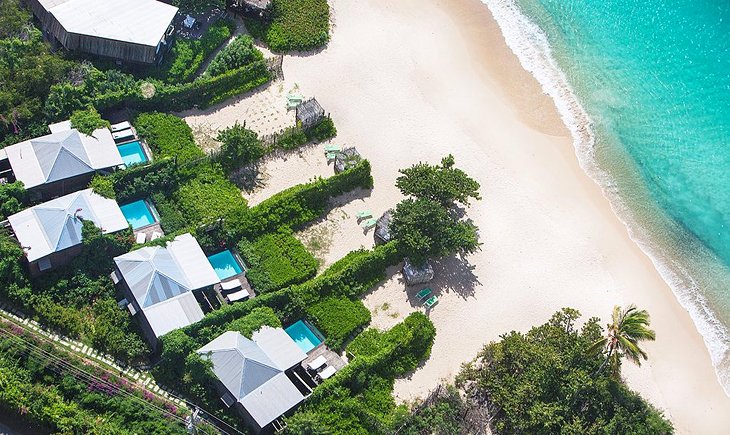 If you're coming to Antigua for your honeymoon, the Keyonna Beach Resort is a wonderful place to stay. It's a couples-only, all-inclusive beachfront boutique hotel located on the southwestern coast of the island. It's on what is called Turner's Beach and is a collection of luxurious cottages located a few steps from the sand.
The romantic design of the accommodations includes four-poster beds, his and hers outdoor showers, and the absence of a television (so you can focus on each other). Each cottage has a private veranda with deck chairs to enjoy the sunset. Many of the cottages have their own private plunge pools. There are also deluxe rooms (less expensive than the cottages), available in the main building.
The beach, which is never crowded, is lined with Bali Beds for two. It's the perfect way to enjoy the sunshine or relax after a snorkeling session. Bali Beds are reserved and assigned to each accommodation, so there's always one waiting for you.
The Keyonna's beachfront restaurant has a West Indian menu with a lot of fresh-caught seafood. Although all-inclusive, there are no buffets here-all the meals and the service is a la carte.
Address: Johnson's Point West Indies, Turners Beach, Antigua
Accommodation: Keyonna Beach Resort Antigua
10. Nonsuch Bay Resort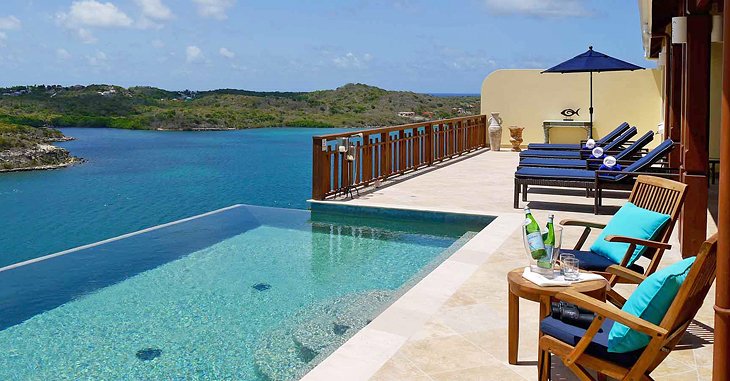 This all-inclusive beach resort is on 40 lush acres of a gentle hillside, sloping down to a beautiful, private beach area. The lack of sandbars here gives the ocean a deep green color. It's perfect for swimming, snorkeling, and diving.
Nonsuch Bay is in the southeastern part of the country, a bit less developed and less crowded than some of the resorts near St. John's. The resort welcomes couples and families and offers a lot for each.
There are three infinity pools to swim in, and a compact spa. The beach offers a range of fun water sports like kitesurfing, windsurfing, and stand up paddleboarding. Nonsuch Bay Resort is a popular destination for sailing enthusiasts, and the resort has a fleet of 30 sailboats for guests' use. They also have some excellent instructors and an on-site sailing school should you wish to learn to sail.
The Bay at Nonsuch is the on-site restaurant. They have an excellent buffet for breakfast and lunch, followed by an a la carte dinner. At an all-inclusive resort, that means you get to order off a menu with table service.
Address: Hughes Point, Freetown po 2208 Antigua
Accommodation: Nonsuch Bay Resort
11. COCOS Hotel Antigua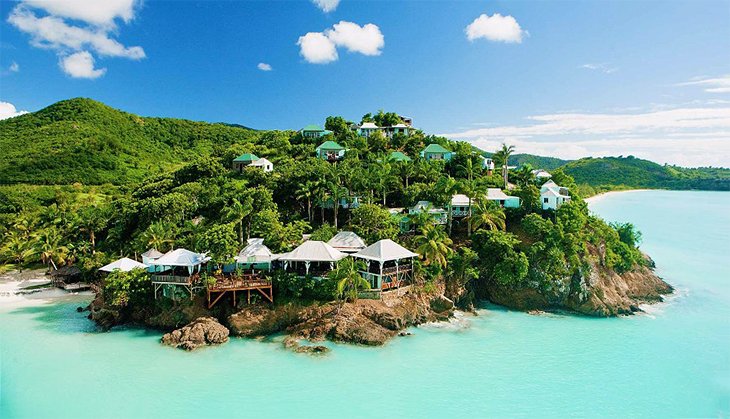 Visually, this hillside luxe resort's location is one of Antigua's most beautiful. The sand is as white as snow and the shallow water, with that bright sandy bottom, is an otherworldly aqua blue. COCOS is adults only and couples only; no single guests are accepted. There are 34 rustic yet luxurious cottages perched on a hillside.
The cottages all have their own wooden decks, complete with hammocks and deck chairs, and those decks all provide seriously awesome ocean views. Some cottages even have their own cliffside infinity pools. The resort has a small, private beach with various ways to play in the water.
There's a small restaurant on-site with a Caribbean menu using locally sourced produce and products.
Address: Valley Church Road Bolands, Jolly Harbour, Antigua
Accommodation: COCOS Hotel Antigua
12. Hammock Cove Antigua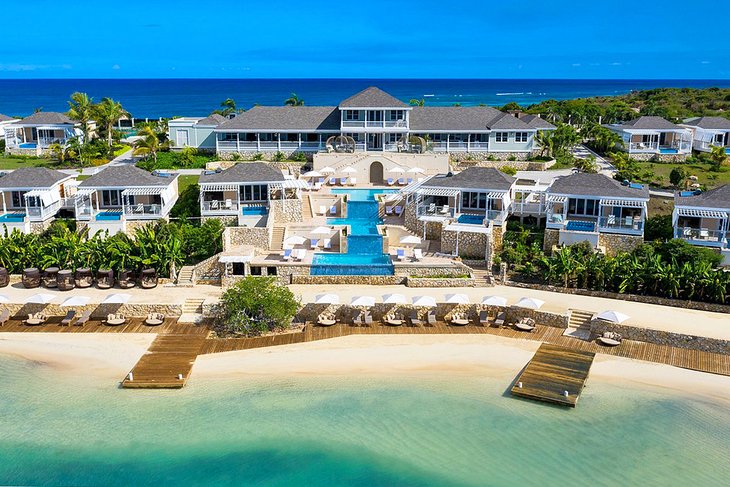 One of the newest properties on the island, Hammock Cove Antigua is a luxury, all-inclusive, adults-only resort in a beautiful location. It's set right on the beach and within walking distance of the rock formations at Devil's Bridge National Park (which can be seen from some rooms).
Accommodation is in spacious villas. These feature modern Caribbean decor with dark wood floors and cathedral ceilings. They are airy and bright with lots of sliding glass doors opening onto a private deck. Each villa has its own plunge pool. Butler service is also included.
Meals are included, and the food at the restaurant is very good. Dietary restrictions are accommodated, and the head chef goes out of his way to make sure guests are happy. Other amenities here include a spa with a full range of treatments; a fitness center with yoga and other classes; and, of course, direct beach access. All sorts of activities, including snorkeling, diving, fishing, and walking tours can be arranged.
Address: Devil's Bridge Road, Antigua
Accommodation: Hammock Cove Antigua
More Related Articles on PlanetWare.com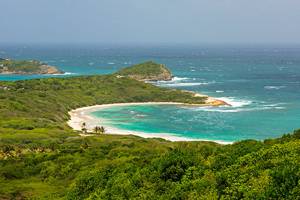 Exploring the Islands: While it's tempting to spend all your time at a luxury resort, you may want to consider seeing some other destinations in the area. Both Barbuda and Antigua are known for incredible beaches, and the capital, St. John's has a number of attractions and shopping. For ideas on what to do, see our list of Top Tourist Attractions in Antigua and Barbuda.