Best Time to Visit Koh Samui
Thailand's islands are among the most beautiful in the world. With hundreds of islands in both the Andaman Sea and the Gulf of Thailand, the country has enough islands to keep travelers busy for a lifetime. Koh Samui, in the Gulf of Thailand, is the second largest island in the country, as well as one of its most beautiful and most popular to visit.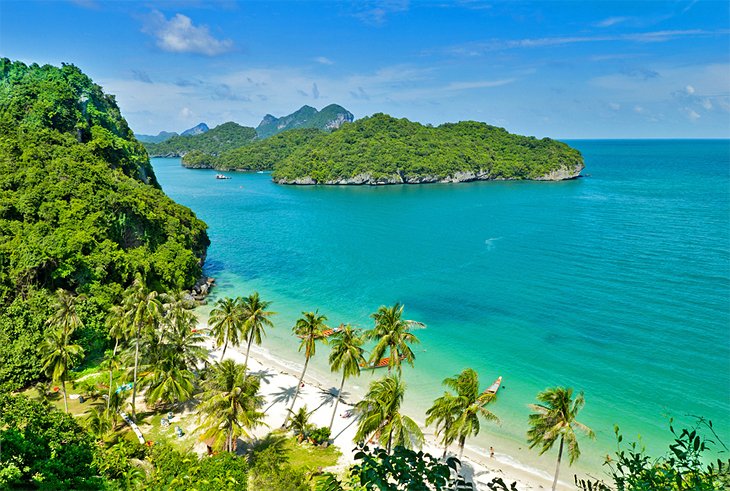 But just because Koh Samui is an idyllic tropical island does not mean it's ideal to visit year-round. As is common with tropical destinations, some seasons are better than others, and it all depends on what you're looking for. Koh Samui offers plenty to see and do year-round, but there may be times of the year when it's far more suitable for whatever kind of trip you have in mind.
The majority of travelers are looking to visit Koh Samui when it's warm, sunny, and dry – and preferably when the crowds are at their lowest. But while the monsoon rains might sound like a deal-breaker, the truth is that tropical storms are usually short, and you can still have an amazing trip, even if you have to seek refuge indoors for a couple of hours now and then.
Whether you're a backpacker, a luxury traveler, a diver, or a sun worshipper, Koh Samui has a time of year that is perfect for you. Whatever your plans are, here's a breakdown of the best times to visit Koh Samui.
Best Time of Year to Visit Koh Samui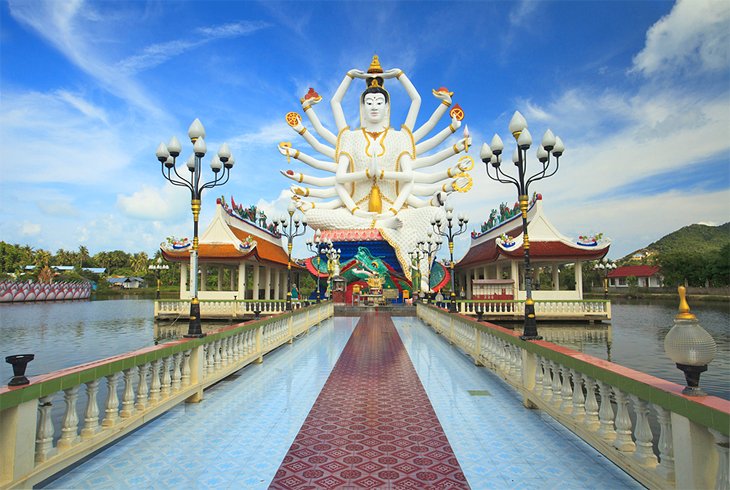 Koh Samui, as with most places in southern Thailand, has two seasons – dry and wet. Koh Samui also has different weather patterns than the islands on the other side of the coast, so just because it's a good time to visit Phuket and Krabi does not mean it's the best time of year to visit Koh Samui.
If you want sunshine and pleasantly warm weather, the best time to visit Koh Samui is from December to February, which is the dry season. But dry season, understandably, is also high season, so it will also be busy during this time. That said, you won't see any rain. If you want to jump into the sea, explore the surrounding islands, or get on a boat for a tour, this is definitely the best time of the year to visit.
If you have a budget in mind and want to avoid the crowds, then you might want to arrive during the hot or the rainy season, which chase many visitors away but offer better prices and better deals.
Best Month to Visit Koh Samui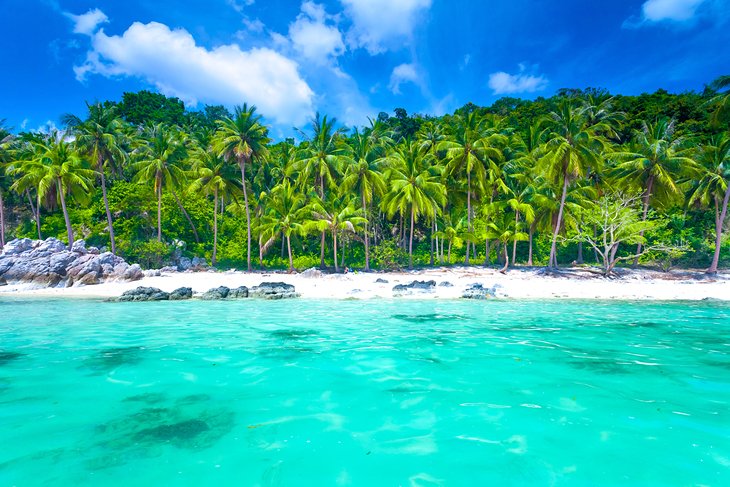 Koh Samui has much to offer no matter when you arrive on the island, but each month also brings some unique festivals and a change in the weather.
January: January in Koh Samui is top peak season, as the weather is at its most pleasant in the mid-20s Celsius. You'll get plenty of sun without feeling suffocated by the heat and also very little rain, making your chances of getting a really great suntan better than ever.
The Chinese New Year usually falls in late January, and the island goes all out with celebrations, with reds and golds adorning every little corner. The large Sino-Thai community in Koh Samui is large and very active and you'll see lots of Chinese tourists coming over to celebrate on the island. This translates to hotels that are often fully booked, higher airfare, and group tour companies being busier (and charging more) than usual. If you want peace and quiet while on Koh Samui, skip the second half of the month and especially the week around the Chinese New Year celebrations.
February: February is Koh Samui's driest and less humid month, perfect for spending time at the beach without having to worry about afternoon downpours or melting under the sun. The month is only slightly warmer than January and still prime tourist season. When the Chinese New Year falls in early February, you'll run into big crowds, street parties, and lots of fireworks as well, but after the 15th of the month, the island quiets down considerably.
March: Very little rain and almost no clouds make March a good time to visit, before things get really hot in April. Keep in mind that March also means "spring break," so you'll find lots of young people, especially near the beach and the main tourist areas.
April: April is Koh Samui's hottest month. Since it's also one of the most humid months, not even the sea breeze feels enough, and air-conditioned places to escape to are a must. Songkran, the Thai New Year, falls in mid-April. Although it's technically just one day, the celebrations last longer than that. The main festivities concentrate on Chaweng Beach Road, and the temples around the island, and mainly consist of people attacking each other with spray guns in epic water battles. Being a foreigner is no excuse-in fact, it will likely make you more of a target-so come prepared to be constantly wet for at least a couple of days.
May: May is just as hot as April but a little more rainy, with about nine wet days in the month. That usually means short but intense downpours in the late afternoon-a short relief before the humidity kicks up again. With the rains come mosquitoes, though, so evenings out are a little less comfortable. If you happen to be on the island for the Koh Samui Regatta (which happens in late May or early June and is the largest of its kind in Asia), plan on spending some time near the marina watching the amazing display of yachts racing against the horizon.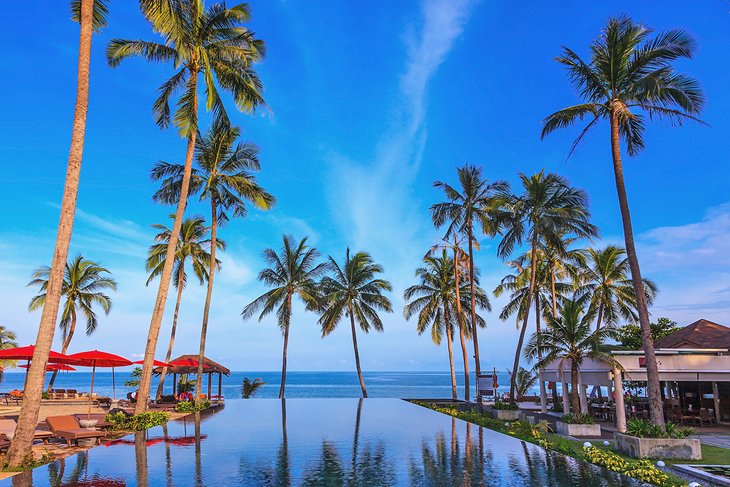 June: June is actually a lovely time to visit Koh Samui. The rains are not as fierce as they will be later in the year. The days will be hot and sunny, with an average temperature of 29 degrees Celsius. The water temperature reaches 28 degrees Celsius, so if you can't stand the heat, June may not be the month for you. Still, June does see its fair share of tourists – especially at the end of the month when school has let out. Planning some indoor activities is just as important as your time on the beach. June is a great month for water sports, as moving will at least provide some relief because of the breeze.
July: While other Thai islands, including popular Phuket, see a lot of rain in July, Koh Samui remains mostly dry, except for the rare but intense tropical storm. This, coupled with temperatures that remain in the 30s Celsius most of the time, means that you'll see more tourists on the island-simply because the choices for tropical destinations are fewer in July for tourists escaping the rain. July is also wedding season in Koh Samui, which means lots of Europeans coming over to say "I do" on the beach-and as a result, busier beaches and hotels and slightly higher prices.
August: August sees some rain (about 10 days out of the month) but not enough to keep visitors away, especially since it's still very hot and the rains tend to be very short. This is also the last very busy month until the high season starts in December, as people are still out on their summer break and heading to the beach.
September: Since kids go back to school in September, you'll see the crowds thin out, and the beaches become quieter this month. Arrive at your favorite beach early in the morning, and chances are you'll have the place all to yourself. This is the best time to travel if you want peace and quiet, and you don't mind some rain here and there (there are more sunny days than rainy ones, though, so don't worry).
October: October is technically part of the rainy season in Koh Samui, but the rough weather doesn't arrive till the second half of the month-and even then, it's just in the form of short afternoon rains, not all-day wet affairs. October tends to be cloudy, though, which can be good or bad depending on how much sun you're yearning to see-and don't worry, you'll still get a tan on cloudy days, as Koh Samui's tropical location means strong sunshine all year long.
November: November is Koh Samui's wettest month, with dramatic monsoon rains hitting the island about 15 days out of the month. Temperatures remain high at an average of 27 degrees Celsius, and so does the humidity index at 85 percent. Loi Krathong (also known as "the festival of lights") falls in November, and it involves the practice of releasing little boats made of banana leaves and holding a candle into rivers or the ocean. Thousands of flames flickering over the water is a sight to behold and one of the highlights of November.
December: Your chances for sunshine are better in December, with an average of just nine days of rain compared to half a month in November. Humidity stays high at 85 percent, though, and will continue at that level until the dry season arrives in March. December is one of the "coolest" months of the year, with an average temperature of 27 degrees Celsius. By the second half of the month, the cloud cover is starting to open up, and the island sees more sunshine.
Best Season to Visit Koh Samui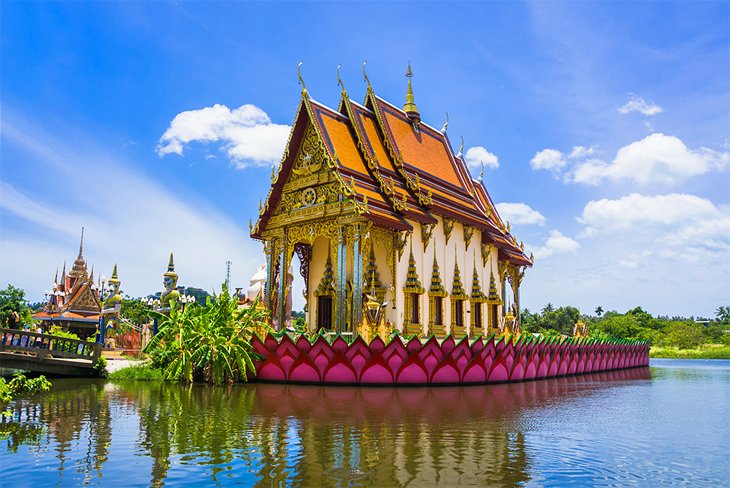 The best season to visit Koh Samui is entirely dependent on what you're looking for and what kind of adventure you want to have. The kind of budget you're working with and your tolerance of crowds can also factor greatly into the decision.
Dry Season (December to February): Dry season is also high season in Koh Samui, when rains stay away, and the temperatures are slightly lower (think 28 degrees instead of 35 degrees Celsius). This also translates to calmer waters, perfect for swimming and kayaking. Expect fully-booked hotels and lots of people on the beach.
Hot Season (March to August): Hot season means 30-plus-degree heat all the time and high humidity, with longs hours of sunshine and very little cloud cover. Though it rains in Koh Samui starting in May, it's usually in the form of short showers. This is the best time for snorkeling, diving, and kayaking and your best chance to spot whale sharks.
Rainy Season (September to November): The off-peak season in Koh Samui coincides with the monsoon season, when strong tropical storms hit the island regularly. September is still relatively dry, but during October and November, it can rain for several days in a row, though there are usually many breaks in between, when the sun still comes out, so you can head to the beach to work on your tan. But for many people, a raging tropical storm is exciting, peaceful, and the perfect excuse to catch up on a good book while having views of the downpour from a dry, covered balcony. Many kayaking and snorkeling tour companies close during this season, as the waters get rough, and the Angthong Marine Park, a nature reserve, does not allow visitors in November and December.
Cheapest Time to Visit Koh Samui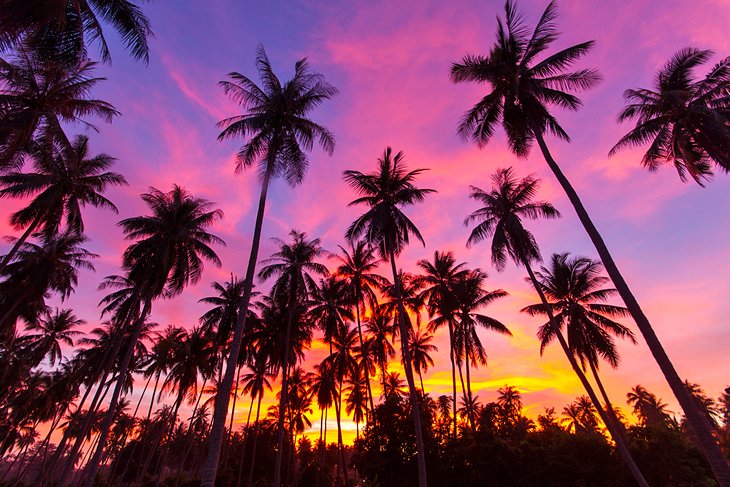 October and November are the two cheapest months to visit Koh Samui, as most people stay away when the tropical storms arrive. As a result, hotels offer the best specials and there are plenty of airline discounts. If you're after the best deals, you might want to take a chance on the rainy months – monsoon rains come in short bursts and it doesn't rain every day, so you'll still get plenty of beach time.
The next best option for good deals is the heart of the hot season, especially the months of April and May. Humidity is high, and you might need to escape indoors for a while at the peak of the heat, but the hot weather also means smaller crowds and no rain, so you'll have much of the beach to yourself in the morning and late evenings.
More Related Articles on PlanetWare.com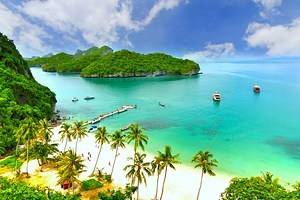 Getting to Koh Samui: Most people coming to Koh Samui arrive in Bangkok first. From here, you can choose land or air to get you to the island, with a ferry or boat connection along the way. Take a look at your transportation options on our article, From Bangkok to Koh Samui: Best Ways to Get There.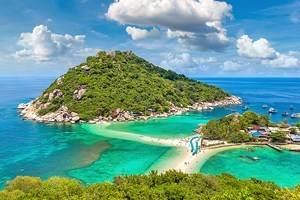 Making the Most of Your Stay: No matter when you're going to Koh Samui, planning accommodations in advance is key to making sure you're in the perfect spot to enjoy both the town and the sea.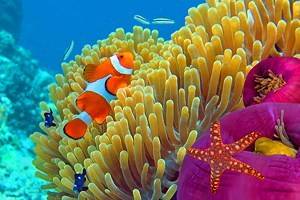 Exploring the Island: Koh Samui beaches are considered some of the best in the country, as you can see in our list of the Top-Rated beaches in Thailand. Need tips on what else to do besides working on your tan? See what else Koh Samui has to offer in our piece on the Top-Rated Attractions & Things to Do in Koh Samui.