Best Time to Visit Miami, FL
Glitz, glam, and a whole lotta beaches await visitors to Miami. A vacay playground for everyone, from A-list celebs to toddler-toting families, Miami is the place to be if you're hoping for sun, sand, surf, excitement, or just relaxing at a beach resort.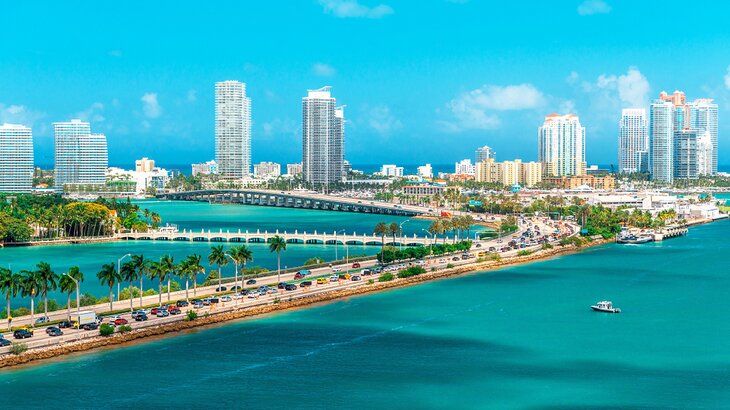 During this popular time to travel to Miami, you'll find festivals galore, exceptional food from every culture, and shopping to rival any other American (or European) metropolis. As long as you time your trip well, you're guaranteed to have an incredible holiday filled with sightseeing and enough beach lounging to eliminate all stress in this South Florida gem.
Miami is uber sunny, with an average of 249 days packed with UV rays each year. That said, some of these days are so hot and humid, you'll wish you were anywhere but here. There's also that little thing called hurricane season, which we're pretty sure you're going to want to avoid. That means June through October are out.
With that in mind, the best time to travel to Miami is between mid-February and the end of May, not surprisingly, this is pretty much the best time to visit Florida.
Before booking your trip, check out this list to help choose the best time to visit Miami.
Best Month to Visit Miami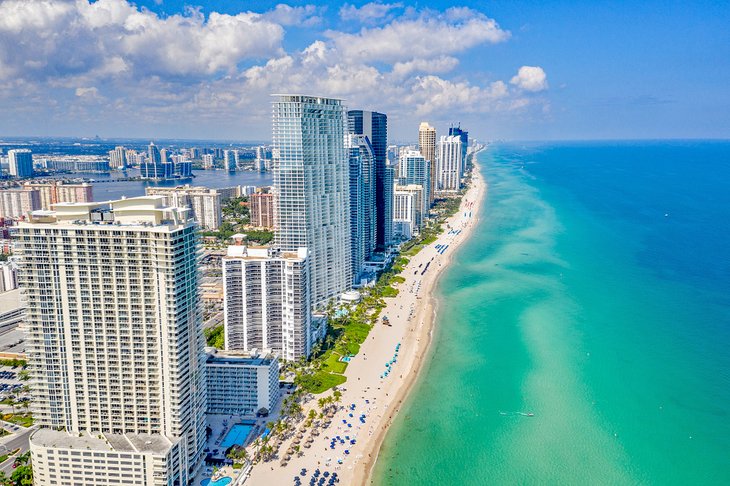 It's hard to pick only one month to visit Miami. They're all pretty spectacular for a variety of reasons. Since we must pick one, we're voting April the best month to visit Miami.
With the exception of the super-packed and pricey Easter break, April is your best bet for fantabulous weather. We're talking the endless blue skies you dream about, warm waves, and a breeze just cool enough to be refreshing but warm enough to prevent goosebumps once you've left the water.
Once Easter's behind you, the tourists will be, too. And with their departure, you'll experience a drop in things like airfare, hotel rooms, and tickets to attractions.
In terms of temperature, April's highs sit comfortably in the low 80s Fahrenheit, and it doesn't usually drop below 68. That means you'll only need a light jacket when dining al fresco at night. During the day, all you'll need is a bathing suit, sunblock, and a hat.
For even lower prices and warmer temps that are still shy of your melting point, choose to visit Miami during May. While technically still the high season, prices really start to drop during this month, while the barometer soars to highs of 87 and drops only to the low 70s.
Best Time of Year to Visit Miami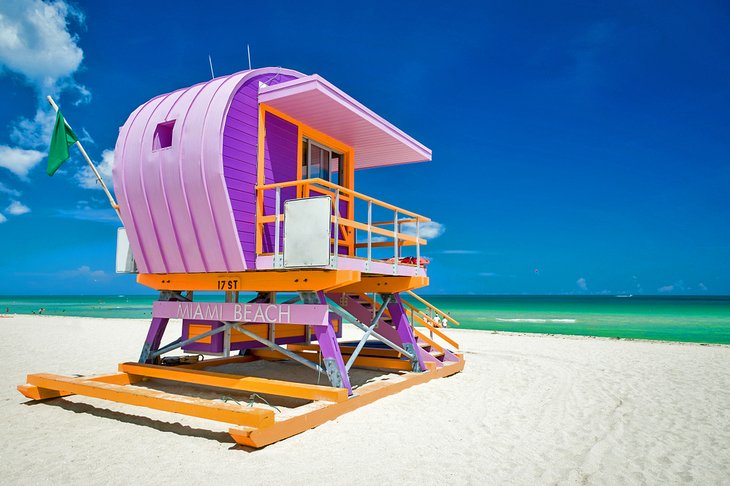 If you're planning a vacation packed with plenty of sunshine, endless entertainment, and festivals galore, the best time of year to visit Miami is spring.
March through May are considered high season (as are the winter months of December through February), which means you should expect crowds of tourists splaying themselves on Miami's best beaches, as well as increased rates on things like hotel rooms and local attractions. You may also need to call in advance to book a dinner reservation.
During spring, you can expect beautiful weather. With highs in the high 70s and low 80s Fahrenheit, it's not too hot, nor is it too humid. Plus, spring offers a slew of events to keep visitors busy. From tennis tournaments to outdoor concerts to food festivals, you won't be lacking in fun things to do.
This time of year is also free of the intense rains and pesky insects that plague the sticky summer months, as well as the hurricanes that hit during late fall.
A word of advice: Avoid spring break; unless you're a fan of all day (and all night) parties, screaming youth, and bikini contests. Prices go up during this popular holiday and so does the noise level!
Easter is another time to steer clear of Miami if you're hoping to avoid crowds and keep your costs low.
That said, those traveling with kids will love the festive activities on offer at many of the area hotels during Easter. Plus, this popular travel time gives their little ones a chance to find fun, holiday-based things to do, and allows them to make friends in Miami's top kids' clubs. The Ritz-Carlton Key Biscayne is one of the best resorts in Florida for many reasons — its fab Ritz Kids program is just one of them.
Worst Time to Visit Miami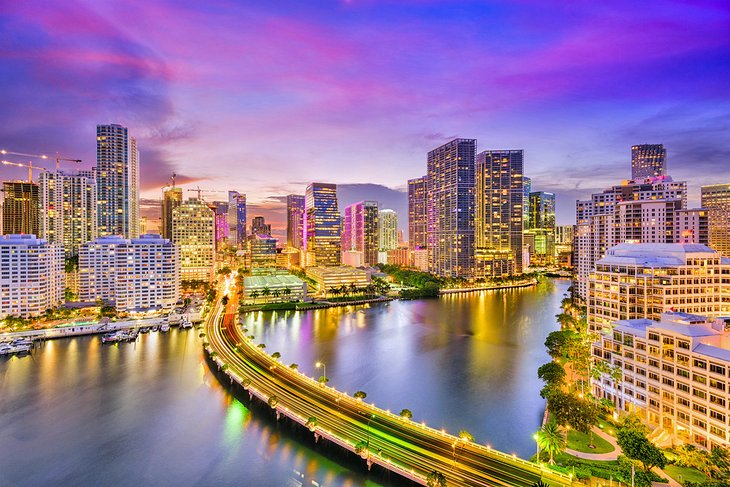 Unless you're a fan of sweating into submission, the worst time to visit Miami is from June through October. July and August in particular present visitors with such drastic heat, they'll favor standing in front of an open freezer to "lying on a beach perpetrating their tans."
Add to this the insane amount of humidity that creeps over the area, and the only good thing you can focus on is the extra calories you'll sweat off by merely crossing the street to buy more water.
Summer also presents travelers with unpredictable rainstorms. These tropical downpours come in strong, personified by their monsoon-like rains. The good news? They'll help cool things down, and they leave almost as quickly as they arrive. As many say, "if you don't like the weather in Florida, wait a minute." In the wake of their departure, though, lies a heavy film of humidity that's tough to break.
You're also going to have a lot of insects to deal with during this time, especially during July and August. They're tiny, quick, and they can't wait to bite! So, be sure to pack bug spray along with your raincoat.
Hurricane season peaks from mid-August through mid-October. Traveling during this time means you're dramatically upping your chance of witnessing a massive storm up close. That's fine for those who like to live on the edge, but those traveling with families may want to choose a less risky time to visit Miami.
Cheapest Time to Visit Miami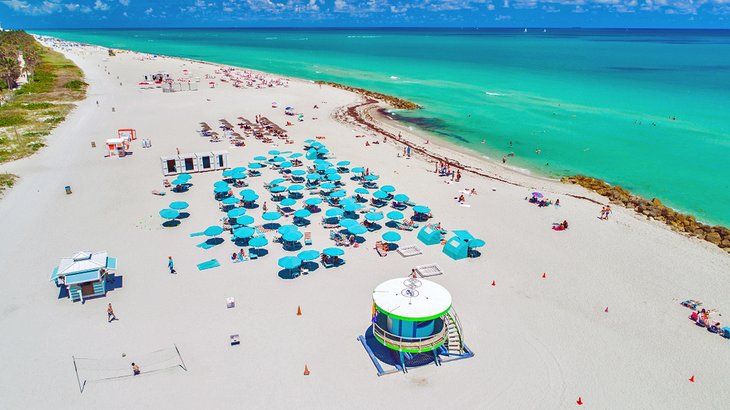 Now that we've got the weather-bashing out of the way, Hurricane Season (especially September through November) does offer a few great perks to brave travelers. Combined, these perks make fall the cheapest time to go to Miami.
These bonuses come in the form of less expensive hotel rooms and few other people willing to brave the beach during the rain and wind. That means you won't have to fight for a space on South Beach or call a month in advance to book a reservation at Miami's best restaurants.
Another bonus: the awesome deals you can find while shopping for clothes, accommodation, entertainment, and food won't leave you with an empty wallet.
Weather in Miami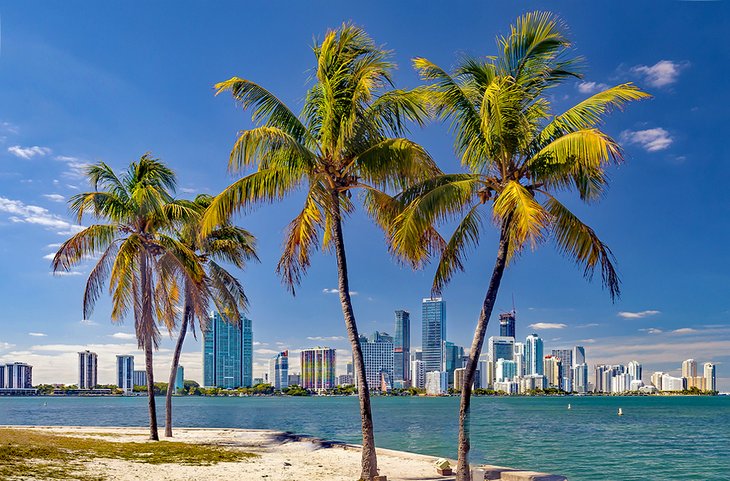 Year round, Miami's weather beats most places in the United States. Known for its abundant sunshine and year-round warmth, it's no wonder so many people flock to this Sunshine Coast superstar for a vacation. Here's what to expect from each season:
Winter: December through February lies within Miami's high season. The highs lie in the upper 70s Fahrenheit with lows reaching between 60 and 63 degrees. This is the driest season, with an average of seven days of rain in December, six in January, and five in February.
Spring: March, April, and May are overwhelmingly sunny and warm, with highs in the low to high 80s Fahrenheit and lows reaching no lower than 65 degrees. May is the wettest of the spring months, with an average of 10 days of rain.
Summer: The least bearable season weather wise, June through August are incredibly hot and humid, with more rain than other months. Highs can reach the mid-90s Fahrenheit, and the humidity is super high and uncomfortable. When the rains arrive, and they will, you'll want to run for cover quickly. They come down hard and fast, disappearing almost as quickly as they arrive, but leaving a torrent of water (and even more humidity) in their wake.
Fall: Temperatures start to drop slightly from September through November, with highs reaching the mid-80s and lows falling into the high 60s or low 70s. Summer's humidity is still clinging on during this month, and you've now got hurricanes to be wary of. Peak hurricane season runs from mid-August to mid-October, so you may want to avoid traveling during these times.
Festivals in Miami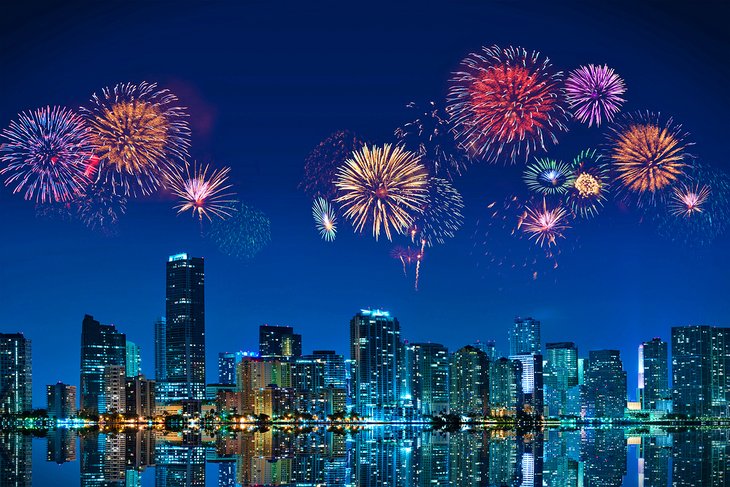 There's always something to do in Miami, and these festivals and events are a blast!
January: South Beach Jazz Festival is unlike any jazz festival you've attended. At least one musician in every act has a disability, and the music is fantastic! Featured on various stages throughout the city, including the Colony Theater and Temple Emanuel, these jazz groups are as inspiring as they are talented.
Miami is known for its incredible architecture. The well-loved Art Deco Weekend celebrates the city's incredible artsy vibe with live music, fashion shows, a dog show, car show, and so much more - all for free!
The Beaux Arts Festival of Art takes place over two days in mid-January. Held on the University of Miami Campus, the festival contains an immense showing of talent from some of the city's top student artists. The art will be judged, so stay tuned for the winners.
Coral Gables is transformed over two days at the end of January in preparation for a weekend celebrating the area's most impressive artists. Taking place over one weekend, the Coral Gables Festival of the Arts features all forms of art — from sculpture to oil painting to food to fashion shows. Kids and pets are welcome, with many booths catering just to them.
February: The Coconut Grove Arts Festival has been held in Coconut Grove for over 56 years. Over a span of three days each February (usually mid- to late-month), this sunny suburb is transformed into an outdoor gallery. Everything from art to sculpture to painting to photography to jewelry is on display. Plus, there are plenty of tasty dishes on hand, as well as family-friendly activities and live music.
March: Love films? Head to the Miami Film Festival, a must-stop for those who want to channel their inner Spike Lee or Meryl Streep. Held in early March, this is a fun way to escape the sun while soaking up some incredible onscreen talent.
April: During one weekend in April, the vibrant Wynwood Life Street Festival turns a popular and lively neighborhood into a pulsating quarter you won't want to leave. Closed to traffic, the area is transformed into a shining stage for local artists, fashionistas, musicians, DJs, jewelry-makers, and chefs.
May: Florida Supercon is an event where one can truly nerd out. Held over three days at the Miami Beach Convention Center, visitors can meet celebrities, comic creators, and so very many interesting people dressed in all sorts of eclectic costumes.
Wynwood is having another moment. This hip neighborhood also plays host to the uber-popular, Mega Rumba Latin Music Festival. Timed to celebrate Columbia's Independence Day, this hyped up event will get everybody moving. Dance to Latin pop, cumbia, or salsa and enjoy a bevy of delicious Columbian treats.
Embrace your inner Latin king or queen at the Miami Salsa Congress. Held over a week in late July, this festival is guaranteed to get you swaying your hips, tapping your feet, and gyrating across the dance floor. Sign up for a workshop, enroll in a master class, or attend one of the many salsa-themed parties. Kids are welcome, too. There's even a competition just for them.
August: Mango lovers unite! Finally, people are recognizing the awesome qualities of this favorite fruit. The South Beach Mango Festival devotes an entire day in early August to celebrate the sweet qualities of this local food. Held in Lummus Park (beside Ocean Drive) in South Beach, the tasty festival offers samples galore, as well as cooking classes, competitions, a farmers market, and craft and artist vendors.
Miami Spice tops off the summer's numerous events. A treat for gastronomes, this summer culinary festival offers visitors (and locals) discounted prices and prix fixe menus at some of the city's top restaurants. It lasts for a full two months (usually from August 1st through September 30th).
November: Luminosa is a magical experience you won't want to miss. This Chinese Lantern Festival begins in November and spans 90 nights. The festival features one million LED lights shimmering over 13 acres, as well as a boatload of festivities. Watch acrobats fly through the air, see life-sized Chinese Lanterns, listen to live music, and soak up the incredible ambience that starts at Jungle Island.
December: Art lovers would hate to miss Art Basel. A phenomenal art fair, this extensive festival offers visitors an intimate look at art created by everyone from internationally acclaimed 20th-century masters to some of today's leading Modern and Contemporary artists. Multiple galleries throughout Miami present works that will inspire, intrigue, and move each viewer. Faena Miami Beach is one of the best resorts in Miami Beach, made popular for its high-end luxury offerings, creative décor, and fab restaurants. It opened during Art Basel in 2016.
More Related Articles on PlanetWare.com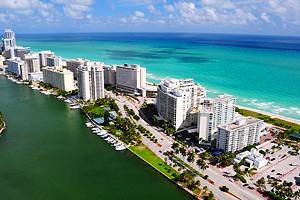 Things to Do in and near Miami: While famous for its luxurious sandy strand and vibrant boardwalk, Miami is so much more than its famous beach. With a ton of tourist attractions (including the nearby Everglades National Park), you'll never be short of entertainment. Have a bit more time? Head out on one of these fun day trips to see the best the area has to offer.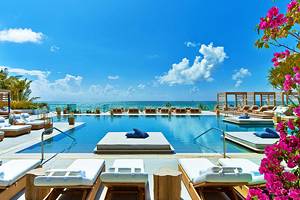 Where to Stay in Miami: Now that you know when to visit Miami, it's time to figure out where you should stay. Check out these awesome Miami resorts. From super high-end luxury to historical charm, there's something for everyone.