Best Time to Visit Prague
Picturesque Prague often feels like an open-air museum, filled with church spires, castles, and medieval architecture. No matter what time of the year you're visiting, the sun over Charles Bridge and the Castle is always spectacular, the architecture is always out of a fairy tale, and the views from the rooftops of Old Town Prague never disappoint.
For most people, the best time to visit Prague is early fall. The city is vibrant year-round, but the months of September and early October offer mild weather in the 18 to 20 degrees Celsius range. This is perfect for outdoor activities and exploring the crooked little streets that make up this ancient city.
If you're willing to skip the warmer months and visit Prague in the winter, however, you're in for a treat of cheaper prices, snow-covered rooflines, and some of the best Christmas markets in Europe.
Best Time of Year to Visit Prague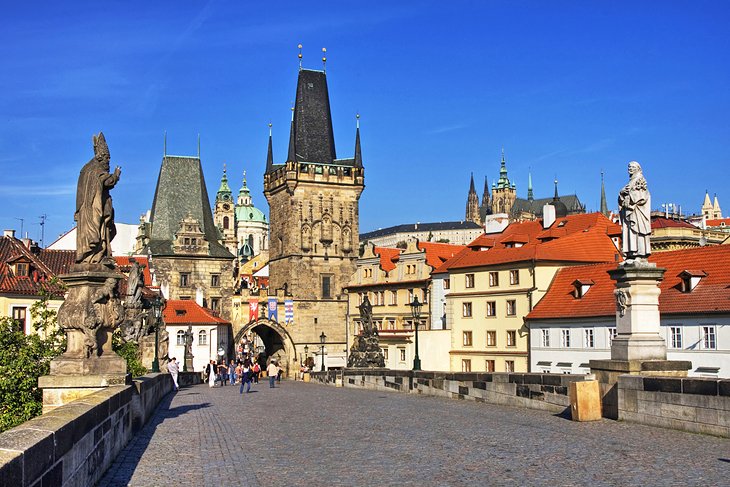 Prague is magical year-round, so picking the best time to visit can be tricky. Fall is arguably the best time to visit. While you might encounter some rain in spring and fall, these are ideal months for sightseeing, as there are fewer tourists around, and you don't have to deal with the humid heat of the summer months. Bonus points for spring and fall offering better prices and a few interesting festivals to explore.
Best Month to Visit Prague
There's always something going on in Prague, and each month brings plenty of festivals and things to do.
January: January 1st used to mean massive fireworks displays organized by the city, but these were banned in 2018 (to protect the wildlife that inhabits the river) and replaced by spectacular 3D mapping and laser shows projected on the river and some of the Old Town buildings.
The Christmas markets remain open till the first week in January, so if this was on your list of top things to do in Prague in winter, you can still cross it off, even if you arrive after the holidays. With the big crowds of tourists gone after New Year, this is a great month for quiet exploration and to catch special sales, but it's also the coldest month of the year, so come prepared.
February: More daylight, slightly warmer temperatures, and prices still low make February a good choice for those who aren't scared of spending some wintertime outdoors. Two of Prague's oldest festivities take place in February: Masopust, the Czech version of Carnival, is a stunning display of giant costumes, ceremonial processions, and mask parades and balls similar to the ones you'll find in Venice.
St. Matthew's Fair, which runs between February and April (and is one of the very few winter fairs in Europe), has been in operation for over 400 years, although a visit today is much different and full of adrenaline-pumping rides, virtual reality machines, a house of horrors, and bouncy castles.
March: March tends to be cloudy, but the days are warming up, with temperatures in the mid-teens. Prague is host to the world's largest human rights documentary festival, Film Festival One World, in March. Prague's International Film Festival Febiofest and the Irish Music Festival (which coincides with St. Patrick's celebrations) also happen in March.
April: Easter means lots of small markets selling wooden Easter eggs and handcrafted eggs, as well as the Burning of the Witches, a pagan festival characterized for lots of bonfires and the burning of hay witches and brooms. Though April sees more frequent rain, it's also much warmer than March, and all you need for a day out is a light jacket.
May: Warmer, sunnier May is a good time to visit Prague, before prices increase in June. Rain showers are common, but they're usually short; however, this is the time of the year when the weather is known for changing abruptly-sunny and crisp one minute, rainy and cool the next-so wear layers and bring an umbrella.
The Prague Food Festival, held in the royal gardens of Prague Palace in May, offers an array of traditional foods, dishes from the city's best restaurants, and plenty of free tastings.
June: Days are long and hot in June, and you'll see sunlight between 5am and past 9pm. The open-air music festival United Islands of Prague and the Metronome Festival (a major music festival that attracts big names from both the Czech Republic and abroad) both happen in June.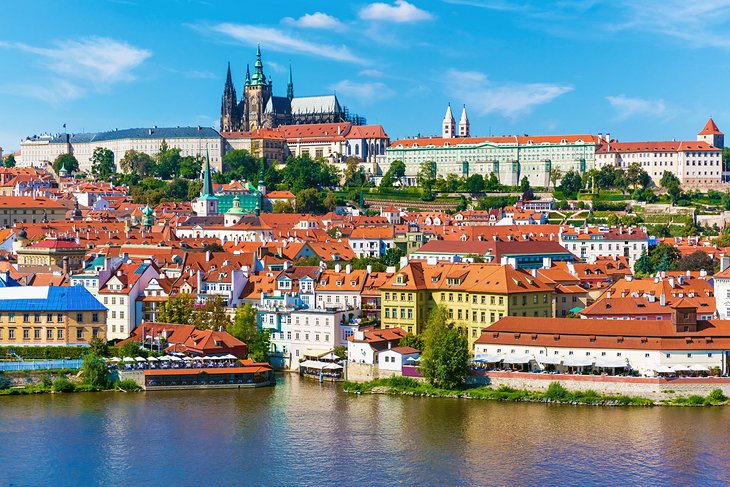 July: The Prague tourist season is at its strongest in July, which also happens to be the wettest and most humid of the summer months-you can expect up to 18 days of rain in July, though this could mean anything from proper rain to a 10-minute evening shower. It does cool down in the evenings (sometimes as low as 15 degrees Celsius).
August: August is Prague's hottest month, though evenings can feel chilly. One of Prague's most unusual festivals, the International Festival of New Circus and Theater, starts in mid-August and lasts for two weeks. It brings a mix of acrobatics, magic, cabaret, and all kinds of fun shows to several venues around the city (some paid, some free), as well as street performances and even a parade.
September: September 28th is Saint Wenceslas Day, which usually translates to special concerts of choral and gospel music in churches, chapels, and even formal gardens around the city. With little rain and temperatures much more comfortable than in summer, this is the perfect time for an evening concert or stroll along the river.
October: October is one of Prague's most beautiful months -with so many parks around, you'll have plenty of photo opportunities as the fall colors take over the city. The sun goes down by 4:40pm in October, and you'll find this month much chillier than September, but as long as you layer up, you'll find that October is perfect for walks in the warm sun.
The Signal Light Festival in mid-October is a stunning showcase of video-mapping, laser projections, and light installations that take over some of the most beautiful buildings and parks in Prague.
November: The Autumn colors are still around in November, though the weather will be decidedly colder, with an average high of just 5 degrees Celsius. Not a lot of rain but snow, though rare, is a possibility-so think scarves, hats, and a nice coat if you plan on spending a lot of time outdoors.
St. Martin's Day in mid-November is an old celebration that is now mainly about food-think of it as something similar to Thanksgiving, with lots of food, and families often heading out to restaurants for a feast.
December: One of the top things to do in Prague in December is to visit the Christmas markets. The largest one is at Old Town Square and features a massive Christmas tree, a few hundred stalls selling handmade items and festive food, live carolers, hot drinks, and as many sweets as you could ever want. The actual Christmas celebrations last three days in Prague, starting on the evening of December 24th. Expect shops to be closed and things to work a little more lazily than usual during that time.
On December 5th, Czechs also celebrate St. Nicholas Day, when you're likely to run into mischievous figures of Czech folklore (including an angel and a demon) handing out candy to children.
Best Season to Visit Prague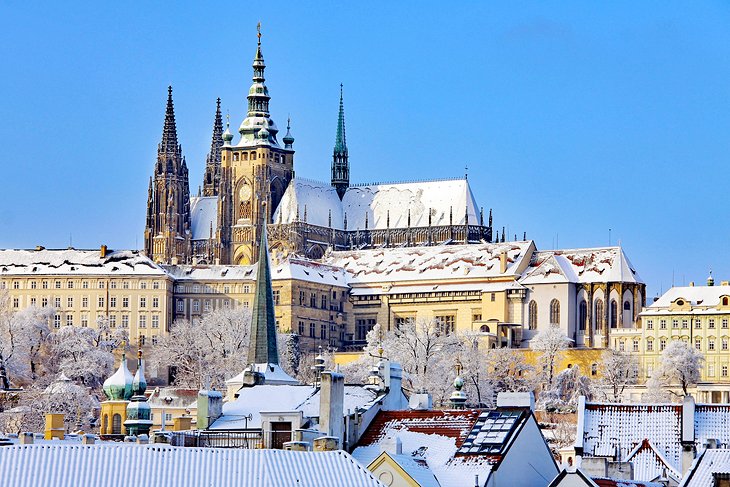 Winter: Winter is not bitter cold in Prague, but temperatures are often in the negatives, and the wind chill means you'll need to layer up in waterproof clothing and cover hands and head in order to be comfortable outdoors. January sees the most snow, which turns the rooflines of Prague and the Old Town Center into a winter wonderland.
Winter months tend to be cloudy and short-and while that means a lot of grayness, it also means some beautiful postcard-worthy fog covering the river and the medieval Charles Bridge.
At the top of the list of best things to do in Prague in winter is a visit to the Christmas markets in December (which last from late November till the first week of January). This is a busy time in Prague, but the rest of winter is quiet with smaller crowds and lower prices. This translates to shorter lines to get in anywhere, no pushing and shoving to get great pics from the bridge, and some of the best hotel deals you'll get in the city.
This is also the best time to visit Prague Castle, since not only will there be fewer people around, but there's also a small arts and crafts Christmas market on the palace grounds.
Spring: After a cold, dark winter, Prague residents take to the streets with ardor as soon as spring arrives. Flowers start to pop up in parks in mid-March, and by mid-April, the entire city is already green and fragrant. For locals, that means lots of outdoor activities, including concerts, picnics, and bike rides.
Early spring can still be cold in Prague, and you might see some snowflakes here and there, but you'll also get a lot of sun and occasionally temperatures in the mid-20s Celsius. Even better, by April you'll see 13 hours of daylight, compared to the short eight hours you get in winter.
Summer: Summer is high season in Prague, when the bigger crowds arrive, and prices for hotels and flights skyrocket. The main attractions, such as the Prague Castle and Charles Bridge, either experience long waiting lines or are bulging at the seams, though visiting early in the morning instead of sleeping in certainly helps.
While summers used to mean temperatures in the high 20s, the past few years Prague has experienced summer temperatures in the mid to high 30s-which, paired with the fact that public transportation and many indoor attractions don't have air-conditioning, can become uncomfortable. On the other hand, summers are sunny, and the skies remain light till after 9pm, giving you plenty of time to explore.
Prague has a lively outdoor culture during the summer, with many food and music festivals happening on Naplavka, the riverside embankment in the heart of the city. Riverboat cruises on the Vltava River, park concerts, and tons of garden and open-air festivals happen between June and August, many of them free.
Fall: If you don't mind cooler weather with temperatures in the high teens, Autumn is the best time to travel to Prague. A city full of trees-including Pruhonice Park, a UNESCO World Heritage Site just 15 minutes from the heart of the city-Prague turns into a watercolor of reds and yellows by mid-October.
Many restaurants and cafés keep their patios open in the fall, adding outdoor heaters, and this is the perfect time to try some of the famous Czech soups, such as the Bramboracka, a potato, meat, and mushroom soup served in a bread bowl.
Fall is also a good time to find cheap flights to the Czech Republic and good deals on hotel rooms. Even group tours are less crowded during the fall months, so your trip will feel more intimate and relaxed, even if you're joining other tourists to discover the city.
Cheapest Time to Visit Prague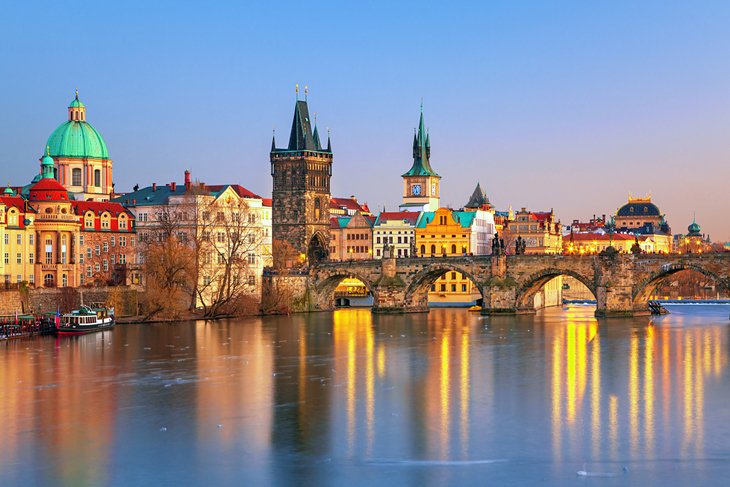 Summer and early winter (late December) are the most popular times to visit Prague, which means prices are higher, hotels get fully booked faster, and you won't find many deals on flights and tours. The cheapest time to go to Prague is late winter — January and February offer plenty of deals, as the great Christmas markets are over, and Prague is cold and dark (the sun goes down by 4pm in early January), keeping tourists away.
Don't let that put you off, though — there are plenty of things to do in Prague in winter, and many of them are free. This includes joining Masopust (carnival) celebrations and parades; trying the ice-skating rinks around the city (many offer free "rental" of skates for an hour); and catching budget-friendly performances of classical music at churches around Prague, including the Basilica of St. George inside Prague Castle grounds.
You can find good deals in late spring as well, as the influx of tourists is still low, and airlines and hotels offer good deals to entice visitors to brave the cool, rainy weather. The one exception is the week around the Easter holidays, a popular time for European tourists to arrive in Prague.
If the idea of chilly Prague seems unappealing, your next best option is May and September, when prices are still low, and the weather is mild (and in September, also dry), with temperatures around 15-18 degrees Celsius. You might have to carry an umbrella in May, but September tends to be dry and sunny and perfect for exploring the city on foot.
More Related Articles on PlanetWare.com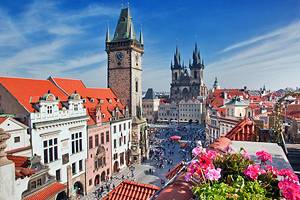 Discovering What Prague Has to Offer: Once you've picked the best time of the year to go to Prague, it's time to make a list of the must-see attractions. If you're only in Prague for a short time, start with our article: 1-Day, 2-Day & 3-Day Prague Itineraries for Travelers for tips on how to make the most of your stay. Also see our guide to shopping in Prague and tipping in Prague.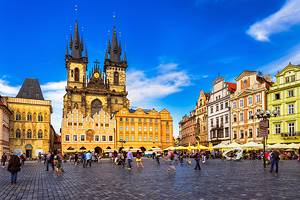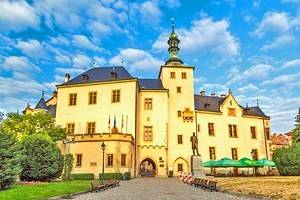 Exploring Beyond the City Limits: Thinking about day trips? Prague is a great starting point to explore other destinations in the Czech Republic. For a quick half-day trip, take a look at From Prague to Kutna Hora: The Complete Day Trip Guide. Or spend a full day exploring a fairy-tale town with tips from our article: Day Trip to Cesky Krumlov from Prague - The Complete Guide.