14 Best Hotels in Sister Bay, WI
We may earn a commission from affiliate links ()
The village of Sister Bay in Door County Wisconsin is only three square miles, but it is one of the top vacation spots on the peninsula, with plenty of lodging to accommodate the visitors who come to enjoy the quiet waterside community.
All the hotels, bed and breakfasts, resorts, and locally owned inns reflect an old-school cottage community charm to help you unwind, but they also have modern conveniences to keep you connected when you need it.
Staying in Sister Bay keeps you close to the Peninsula State Park and Newport State Park. It is also where you catch the ferries to Washington Island. If you are looking for a romantic getaway, you can enjoy a waterfront room to watch a sunrise over Green Bay from your private patio.
Families will appreciate the family room accommodations, which offer kitchenettes and bunk beds for convenience. Many of the hotels and lodges are open year-round. Find a favorite place to stay, and make returning to Door County an annual tradition with our list of the best hotels in Sister Bay, Wisconsin.
1. The Dorr Hotel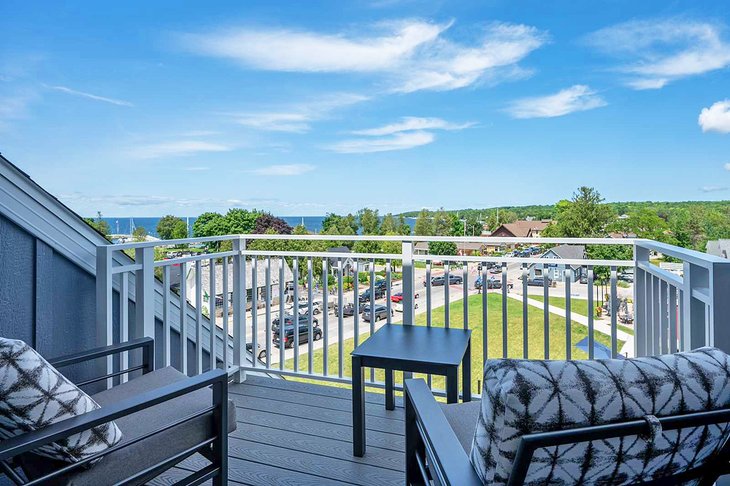 The hotel is nestled between orchards, quiet roadways, and nine beaches that surround the peninsula. It is a great base if you plan to explore Door County and take advantage of what the peninsula has to offer.
The contemporary rooms all have comfortable amenities and balconies. There are several King suites with an additional sitting area and sofa, a private patio or balcony, a mini-refrigerator, and stunning views of Sister Bay.
2. Country House Resort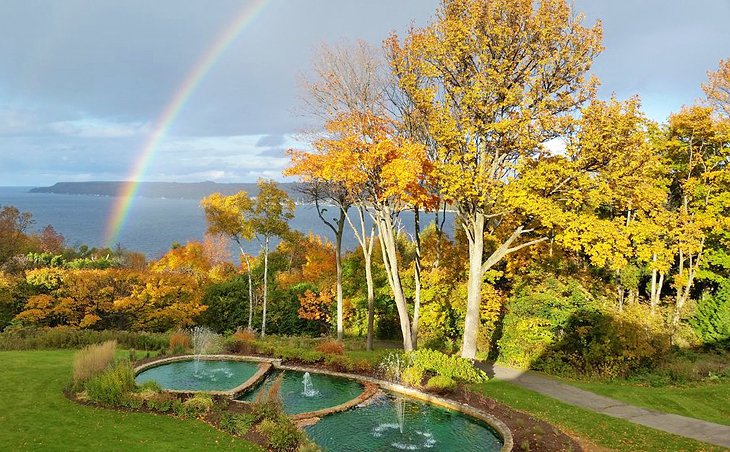 The rooms have private balconies, so you can enjoy the waterfront location with a cup of coffee in the morning. Rooms come with refrigerators and microwaves. Some rooms are available with whirlpool baths and gas fireplaces. The property has an outdoor pool and whirlpool, gardens, nature trails, and a dock available for guests to use.
3. Open Hearth Lodge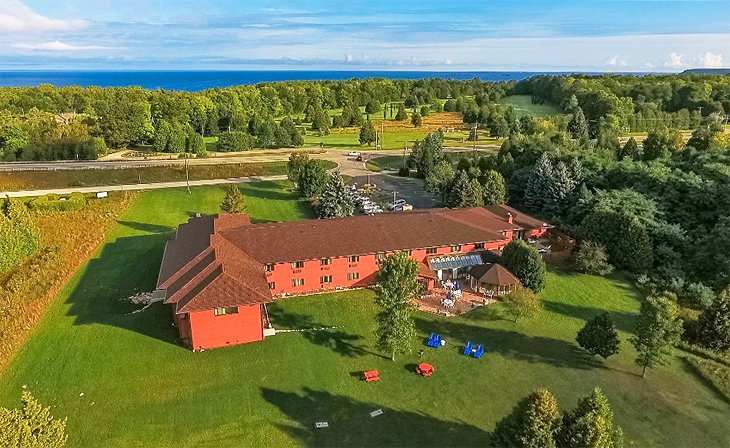 There are several communal areas at the lodge for guests to use throughout their stay like the stone fireplace lounge, a breakfast lounge, computer area with games available, and an outdoor patio with a grill. The lodge has a fitness center, and guests traveling with pets can request a pet-friendly room.
4. Coachlite Inn of Sister Bay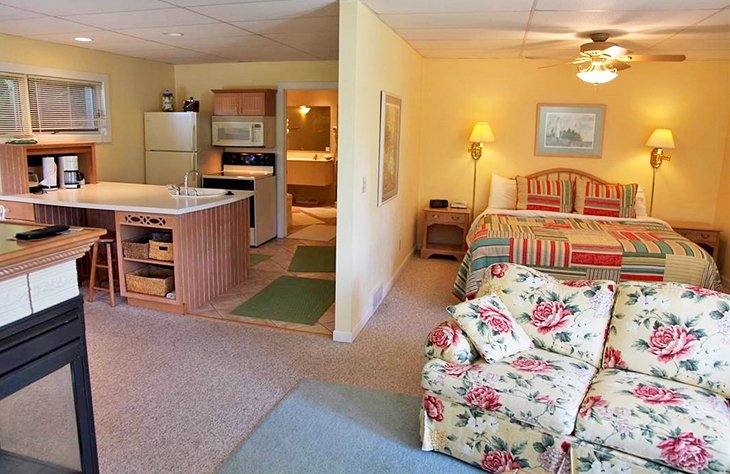 The Inn is less than a mile from galleries, golf courses, theaters, and the Washington Island ferry. All of the rooms and suites have microwaves, refrigerators, and coffee makers. Some suites also have fireplaces and double whirlpool tubs or kitchenettes.
Two suites offer exceptional extras for special getaways: The Private Pond Suite has a king bed and sofa bed plus a full kitchen and spacious living and dining areas. The suite has a whirlpool, private parking, fire ring, grill, and secluded yard.
5. Pheasant Park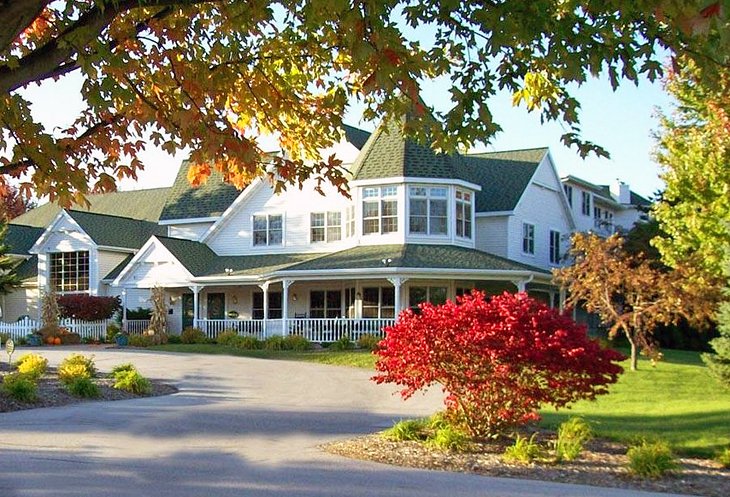 Pheasant Park is close to many outdoor activities, including golf courses, paddleboat rentals, state parks, and fishing. The resort has two- and three-bedroom suites that include a whirlpool tub and a full kitchen. There are plenty of activities to do on-site if you do not feel like leaving the property.
6. The Inn at Little Sister Hill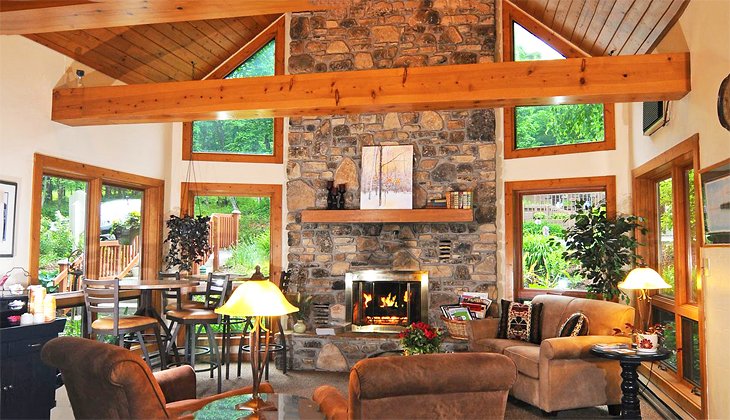 There are several types of suites available, from one and two bedrooms to options that have a loft, private patio, and private balcony. All of the suites come with full kitchens, a living room, and dining area.
The property has a heated outdoor pool and gas grills that guests can use, as well as free Wi-Fi and laundry facilities available. There is a picnic area and fire pit on the grounds, and guests are welcome to borrow complimentary bicycles to explore Sister Bay on two wheels.
7. Nordic Lodge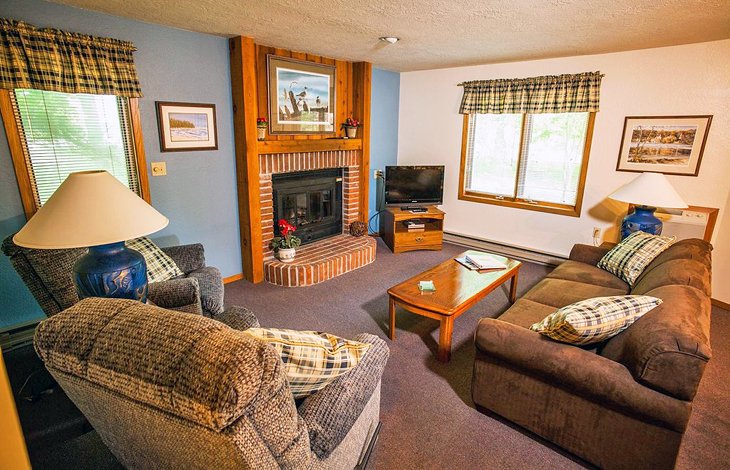 It is also only two miles from the village of Ephraim and the famous 1906 Wilson's Ice Cream Parlor that is a Door County must-try. All of the Nordic Lodge rooms have a microwave, refrigerator, coffee maker, and private deck.
8. Scandinavian Lodge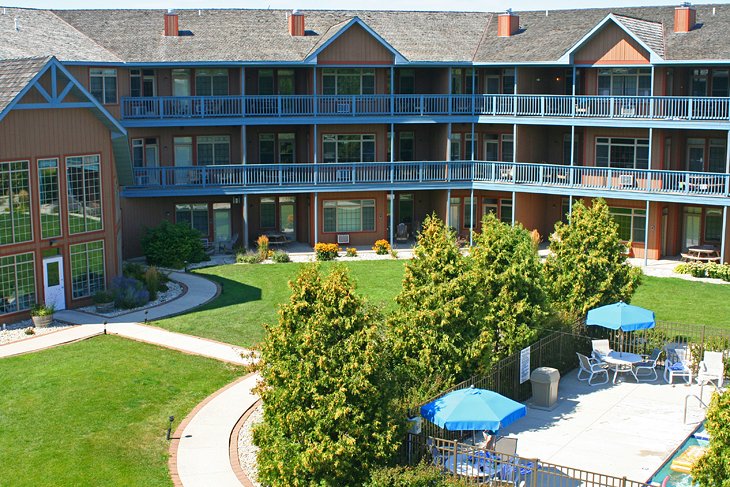 The Scandinavian Lodge has bikes that guests can rent to use around the village or spend the day riding on one of the local bike trails. All of the condominium suites have full kitchens, a living room, dining area, whirlpool, and gas fireplace.
There are even designated one-bedroom condos that are great for romantic getaways because they only accommodate two people and have Jacuzzi tubs and a cozy fireplace. Larger condominiums for families or couples traveling together come with two or three bedrooms.
9. Sister Bay Inn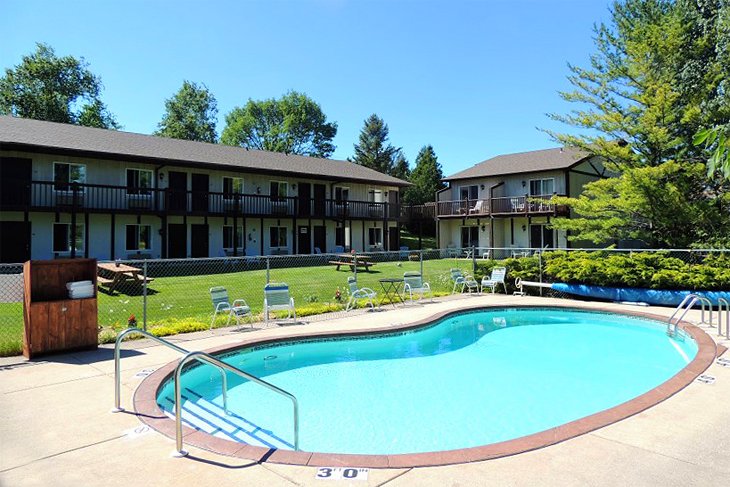 The Sister Bay Inn rooms have the basics, with one or two beds, free WiFi, refrigerators, coffee makers, and televisions. Guests have access to the heated outdoor swimming pool and whirlpool. All guest stays come with a complimentary continental breakfast.
10. Goose & Twigs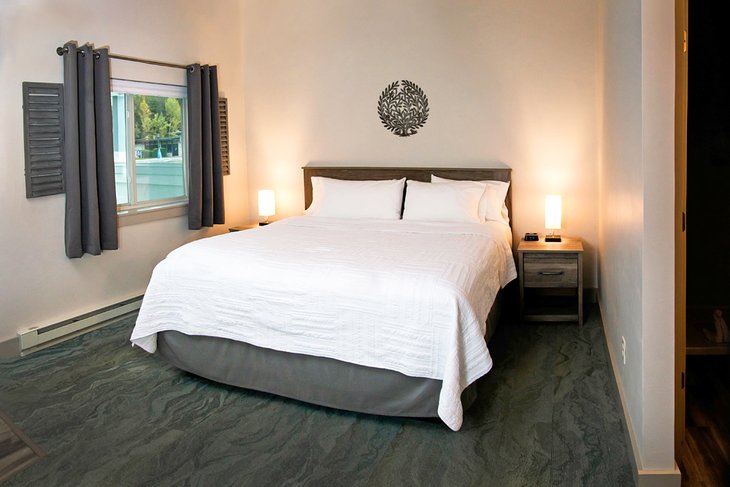 Rooms have basic amenities, and suites come with extras like a kitchenette, living room, and free Wi-Fi. King and Queen rooms are available with one or two beds or a bed and sofa bed. Guests receive complimentary breakfast and there is a coffee shop on-site.
11. Birchwood Lodge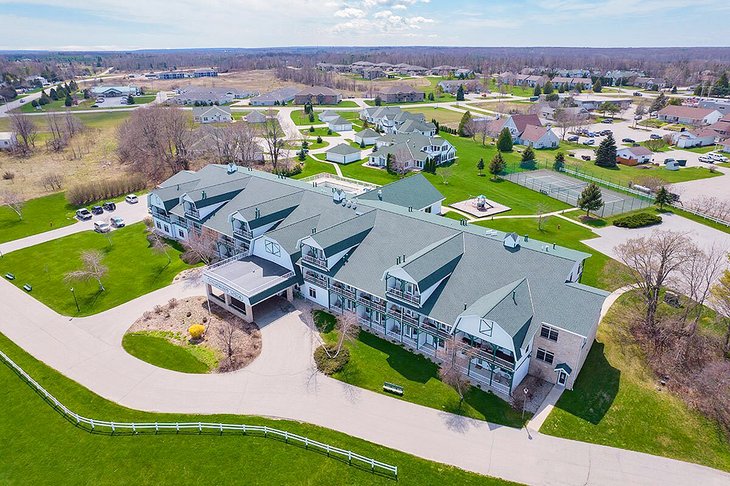 All the lodge guest rooms have two-person Jacuzzis, a kitchen or kitchenette, a fireplace, and a deck. The Birchwood Homes are available on-site for larger groups or families that need more space and combined lodging.
Guests staying at the Birchwood Lodge can enjoy the indoor or outdoor pools, whirlpool, fitness room, comfortable lobby with sitting areas, tennis courts, game room, and a playground for kids.
12. Village View Inn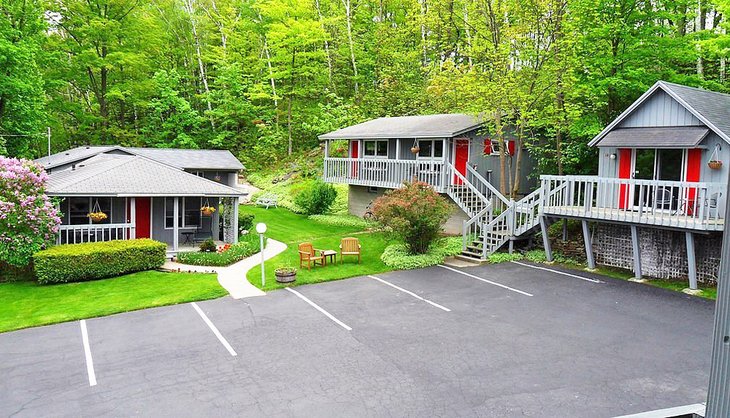 The two-level inn has plenty of green space for quiet evenings relaxing watching the sunset or for taking a morning walk with coffee. Guests can enjoy the outdoor seating in the gardens.
13. The Eagle Harbor Inn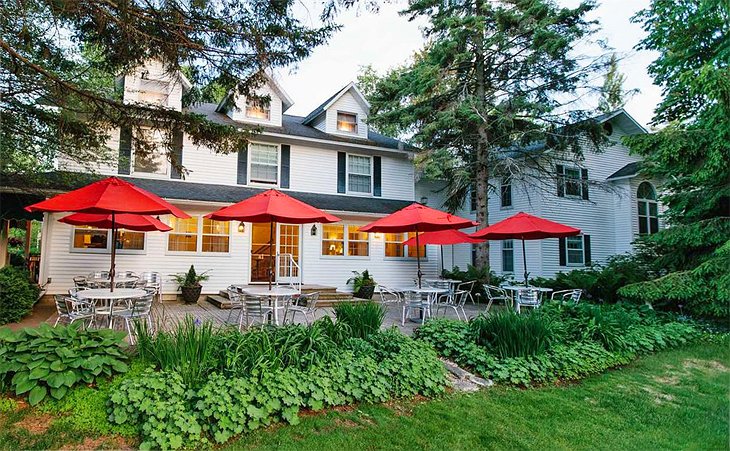 There are lodge rooms and separate cottages with whirlpool suites if you are looking for added privacy or a celebrating a special getaway. All the rooms and suites in Eagle Harbor Inn are uniquely decorated with antique furniture and have sitting areas and private bathrooms.
Breakfast is included, with a menu of locally sourced food or, if you prefer to sleep in, you can upgrade to have a Breakfast Basket for two delivered to your room.
The inn has indoor and outdoor pools, a fitness center, and free Wi-Fi. Main lodge guests get complimentary breakfast, and all of the guests are welcome to enjoy the afternoon treats that are made fresh daily.
14. Bay Breeze Resort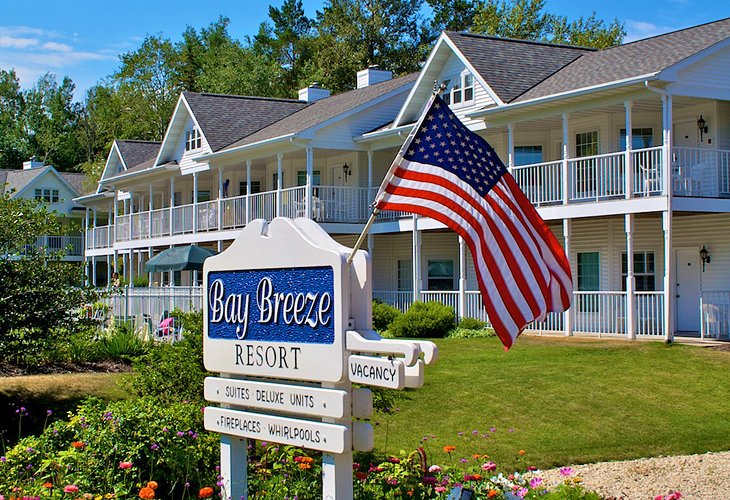 It is only a short drive to Sister Bay, and staying in Ephraim will enable you to also explore this historic district, which has a number of original cottages in the area. The Bay Breeze Resort is 3.5 miles from Peninsula State Park, where you can catch a performance by the Northern Sky Theater.
The Bay Breeze Resort guest rooms have microwaves, refrigerators, and free Wi-Fi, and they offer views of the gardens or the bay. All the rooms have different amenities that you can select from, like whirlpool tubs, Kohler rain showers, and gas fireplaces.
More Related Articles on PlanetWare.com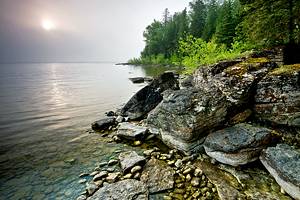 Door County: Exploring Door County is a fun and easy vacation no matter where you choose to stay. Whether you are looking for a romantic getaway or exploring the great outdoors on the peninsula, there is a village and an experience to fill your time. In fact, there are 19 villages in Door County, a few that are among the best small towns in Wisconsin. Explore Peninsula State Park or one of several state parks along the 70-mile stretch of peninsula. Take a kayaking trip along stretches of the 300 miles of coastline that take you into the waters of Green Bay or Lake Michigan.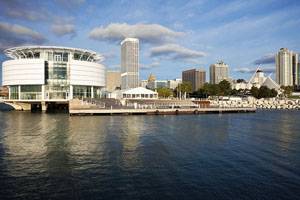 Day Trips from Door County: Door County is a great place to set up a home base if you want to vacation in the peninsula and plan day trips to some of Wisconsin's other great cities. Some of the best day trips from Door County include Milwaukee, which is less than three hours from Sturgeon Bay, and Green Bay, which has several historical sites, museums, and Lambeau Field.