11 Best Mountain Resorts in Virginia
Virginia is a majestic land filled with impeccable beauty. Its towering Blue Ridge Mountains and verdant Shenandoah Valley aren't to be missed, especially if you're a fan of outdoor sports. Whether you're looking to bike, hike, fly fish, or ski the slopes, there are fabulous mountain resorts waiting to welcome you to this captivating Virginia landscape.
Rest your head in a plush suite at the only five-star resort in Virginia's mountain region, enjoy a relaxing treatment at a first-rate mountain spa, zipline through the trees, or dine on gastronomic delights while gazing at the stellar views. The amenities at Virginia's best mountain resorts won't disappoint.
Use our list of the best Virginia Mountain Resorts to choose the perfect spot for your next vacation.
1. Salamander Resort & Spa, Middleburg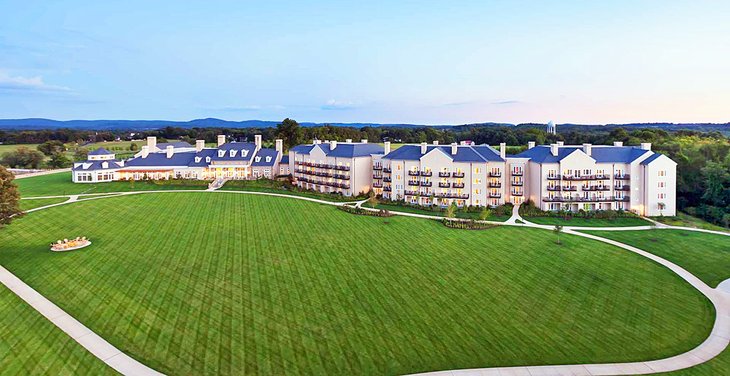 Accommodation: Salamander Resort & Spa
A five-star retreat awaits visitors who prefer to enjoy their vacation with a side of opulence. This luxurious Virginia Mountain Resort lies on 340 verdant acres in the foothills of the Blue Ridge Mountains.
All 168 rooms are as elegant as you'd expect from a top resort in Virginia. They're spacious, well decorated, feature comfortable linens, twice-daily cleaning service, and some boast fireplaces. Live it up in a larger suite, which comes with a furnished balcony, more space, and bucolic views. Not up for the extra cost? The guest rooms also include a private stone balcony or terrace and ample space.
The daily resort fee includes transportation to local attractions, family activities, workout classes, tennis racket and golf club rentals, fishing gear rentals, as well as access to yoga mats, ping pong, snow sleds, and snow tubes, among other sport-related gear.
An equestrian center is on-site as is a fabulous spa, outdoor and indoor swimming pools, hiking trails, a fire pit, I-Spy Scavenger hunt game in the library, and a fishing pond. At this fab family destination kids will love the lawn games, meet and greet with Cupcake the miniature horse, disc golf, archery, and axe throwing among other fun kid-friendly activities.
Grab a bite at the on-site restaurant or enjoy room service. Or sign up for a private Chef's Table dinner (and cooking classes) in the Harriman's Cooking Studio.
Address: 500 North Pendleton Street, Middleburg, Virginia
2. Primland Resort, Auberge Resorts Collection, Meadows of Dan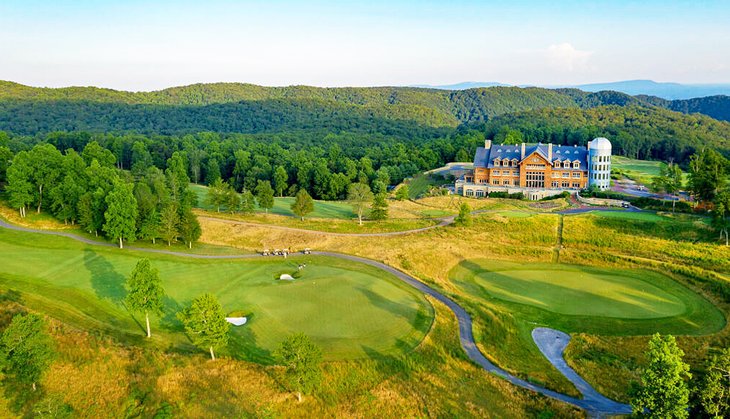 Accommodation: Primland Resort, Auberge Resorts Collection
A stay at the remarkable Primland Resort is an unforgettable experience. Whether you choose to room in a charming log cottage or a majestic treehouse hovering above the Dan River Gorge, the beautiful accommodations are both romantic and relaxing. No matter what type of holiday you're looking for–a romantic escape or an action-packed adventure–you'll find the perfect place to rest your head at the end of a busy day.
Nestled in the Blue Ridge Mountains, this vast, 12,000-acre property is captivating in its beauty. Private cottages make it easy to feel alone in the splendor, while the plush rooms and suites located in the Lodge are as comfortable and spacious as you'd hope. They include private balconies and deep soaking tubs. Can you say, ahhh?
Speaking of the Lodge, this is where you'll find the spa, restaurant, Great Hall (with two fireplaces) and the impressive observatory–the optimal spot for stargazing. Fine dining can be enjoyed at Elements restaurant, while more casual fare is offered in other on-site eateries.
Popular activities include lounging on your private balcony, enjoying a treatment in the spa, challenging your partner to a game of golf, mountain biking through the pastoral setting, fishing, paddleboarding, hiking the winding trails, and horseback riding.
Address: 2000 Busted Rock Road, Meadows of Dan, Virginia
3. House Mountain Inn, Lexington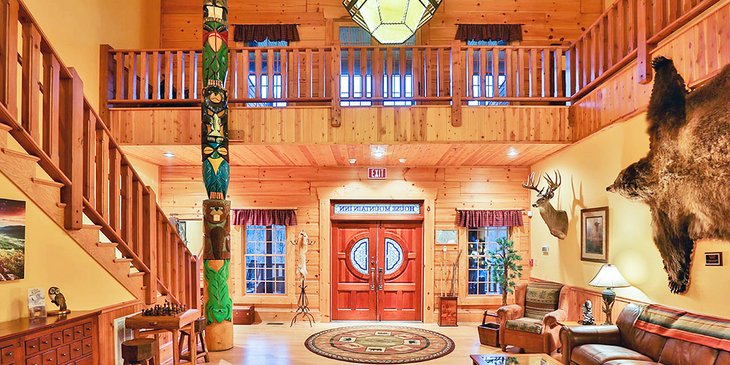 Accommodation: House Mountain Inn
House Mountain Inn is the perfect place to become one with nature. A delightful Virginia mountain resort in Lexington, this quaint retreat is set on 1,000 acres of breathtaking grounds.
There are only nine guest rooms and suites at this small and intimate resort, but they are all spacious, rustically charming, and romantic. Each room boasts either an outdoor hot tub or an indoor Jacuzzi tub, a gas fireplace, and a private porch. Pets are welcome to join you during your stay–even horses–just call the resort to discuss their stay before arriving.
Activities include hiking, horseback riding, biking, fishing, and mountain climbing nearby. Winter sports like skiing can also be enjoyed in the area. Your daily rate includes breakfast, an afternoon snack, and a three-course dinner for two. Be sure to book your dinner time between 6 and 8pm.
Address: 455 Lonesome Dove Trail, Lexington, Virginia
4. The Red Fox Inn & Tavern, Middleburg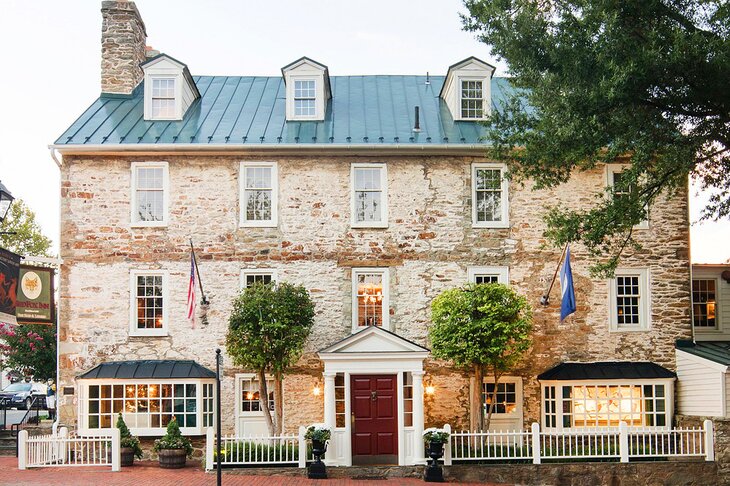 Accommodation: The Red Fox Inn & Tavern
The 22 rooms on offer at the Red Fox Inn & Tavern are spread between five buildings on a sprawling estate in central Middleburg. Historic accommodations can be found in the charming Red Fox building, where five rooms stretch across two floors above the restaurant.
A more secluded retreat awaits couples who book a stay at the Middleburg Cottage section of the resort, while deluxe suites are available in the Carriage House. Fox Den and the Stray Fox also boast comfortable rooms and suites. Some feature private patios.
No matter which building guests choose for their stay, they'll be spoiled, with daily breakfast delivered to their room, freshly baked cookies, pillow-top mattresses, and the best seats reserved at the on-site Tavern restaurant.
Planning a big event like a wedding? Why not rent out the entire inn for a romantic event you won't forget.
Address: 2 East Washington Street, Middleburg, Virginia
5. The Omni Homestead Resort, Hot Springs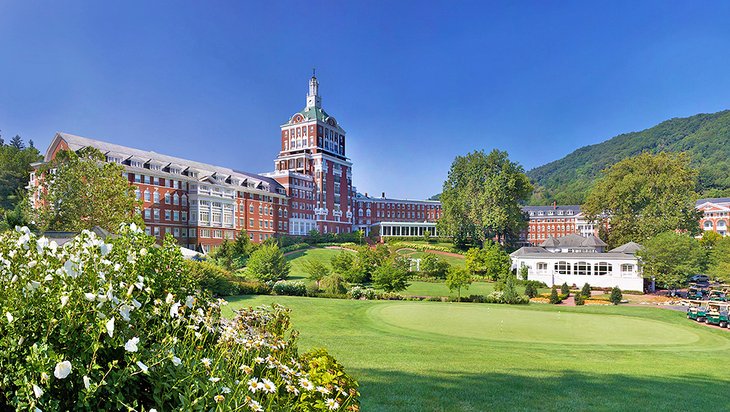 Accommodation: The Omni Homestead Resort
There's a lot to love about the Omni Homestead Resort in Hot Springs. Set in a historic building that oozes Southern charm, this four-star beauty knows how to treat its guests.
Searching for a place to host your next work retreat? Look no further. This fabulous Virginia mountain resort is home to 72,000 square feet of meeting space and enough activities to keep everyone happy when they finally get a break. A spacious spa, fitness center, two outdoor pools, and a spring-fed indoor pool make it easy to unwind.
Those who prefer to keep things active will enjoy the summertime activities like horseback rides, golfing, fly fishing, and ziplining. Winter at this resort offers endless opportunities to ski, snowboard, ice-skate, and snow tube.
Bring the kids to join in the fun and sign them up for the Homestead Adventure Kids program. This awesome kids' club keeps little ones between five and 10 happily occupied for hours.
When it comes time to rest, head back to one of the 483 luxurious guest rooms and suites, which feature soft, first-class linens and fluffy pillows. Many of the larger suites offer a private patio, fireplace, and separate living area, as well as picture-perfect views of the Allegheny Mountains.
Address: 7696 Sam Snead Highway, Hot Springs, Virginia
6. Boar's Head Resort, Charlottesville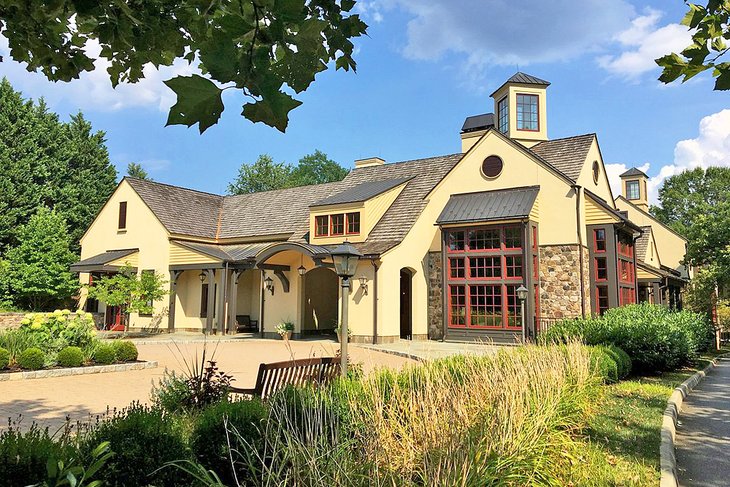 Accommodation: Boar's Head Resort
You can do pretty much everything at the AAA four diamond Boar's Head Resort in Charlottesville. Take a hot air balloon ride, unwind in the spa, play a game of tennis, golf on a three-par course, sweat it out at the Sports Club, play pickleball or squash, watch a falconry show, throw an axe, or swim in the numerous outdoor pools.
Between November 26th and January 30th, guests can enjoy the Winter Wander Trail, a festively lighted walk along the Heritage Lake. An easy walk, this trail loops for almost a half mile. Don't be surprised if you bump into the Colonial Singers of Williamsburg or other vocal groups giving a live concert.
Choose from 168 lush rooms and suites, which are both charming and luxurious. In-room tablets are available to guests, as are private balconies or patios, a fireplace, and plush furnishings. Love to exercise? Opt for the Peloton King room, A fitness-friendly accommodation, each of these rooms comes with exercise equipment (like hand weights) and a Peloton bike.
Grab some nosh at one of the indoor and outdoor dining establishments. The multiple eateries range from quick bites to gastronomic delights.
Address: 200 Ednam Drive, Charlottesville, Virginia
7. Wintergreen Resort, Wintergreen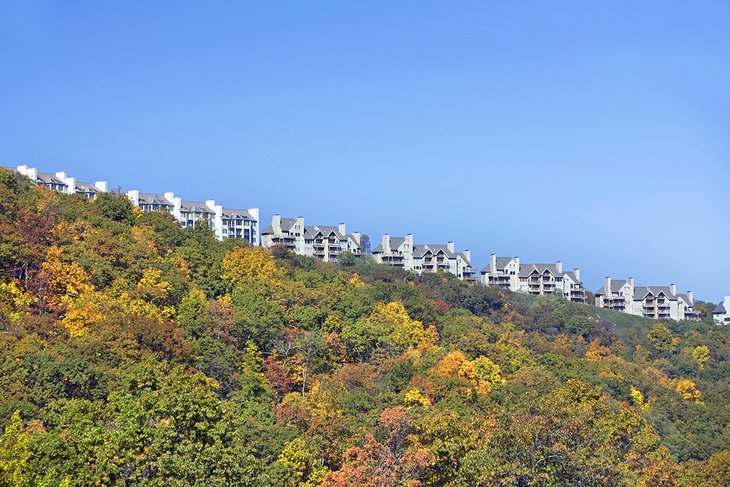 Accommodation: Wintergreen Resort
It's easy to feel at home at Wintergreen Resort. Its 230 villa-style condos and rental homes come with fully equipped kitchens and a living room area. Most also include fireplaces to help you get warm after a long day spent on the slopes. A balcony or private deck offer guests a chance to relax outdoors with a warm cup of tea while admiring the gorgeous scenery.
The best part about staying here is the unlimited access to activities. From summer sports like golf (the resort boasts 45 championship-level holes) and tennis to winter mountain sports like skiing, snowboarding, and snow tubing, you'll never be bored.
Wintergreen Resort is also one of the best ski resorts in Virginia, which means you're in for a ton of winter fun, including jumps, a terrain park, and well-groomed runs.
With 11,000 verdant acres sprawling through the Blue Ridge Mountains, there's plenty of space and over 30 miles of hiking trails to explore. There's also free access to the Aquatics & Fitness Center and Lake Monocan Park, which has a 20-acre lake in Stoney Creek.
A 900-foot zipline, summer tubing, a climbing wall, and bungee trampoline at the Discovery Ridge Adventure Center ensure you always have something to do. When you're up for a break, head to the spa for a body wrap or reflexology treatment. Four on-site restaurants provide a vast array of tasty choices to tempt your palate.
Address: Route 664, Wintergreen, Virginia
8. Massanutten Resort, Massanutten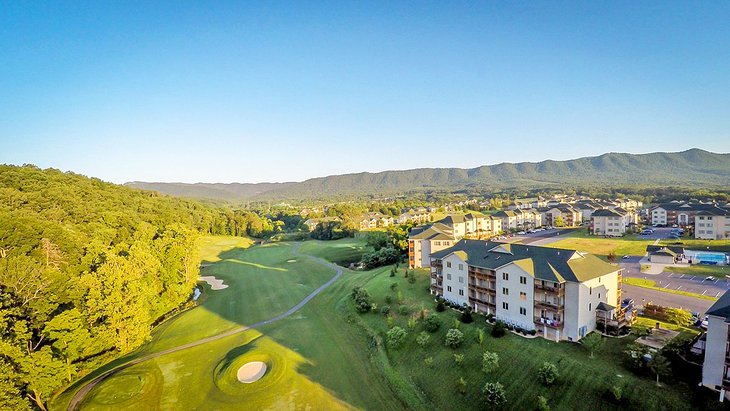 Accommodation: Massanutten Resort
Massanutten Mountain is another of Virginia's best ski resorts. It offers a bevy of year-round activities that include skiing, snowboarding, snow tubing, and ice-skating in winter, as well as hiking, biking, horseback riding, fishing, and golf in summer. All these activities and the massive on-site water park are available to guests of the Massanutten Resort.
With a variety of accommodation options on offer, you're sure to find the perfect place to put your feet up at the end of the day. Choose from hotel-style rooms, condos, or full home rentals.
Hotel rooms sleep up to four people and include a fridge, balcony, and sitting area. The Eagle Trace condos can sleep up to 12 people in either one or two bedrooms, while the two- and four-bedroom condos at The Summit are well suited to larger parties. These are extremely close to the ski slopes.
Address: 1822 Resort Drive, Massanutten, Virginia
9. Montfair Resort Farm, Crozet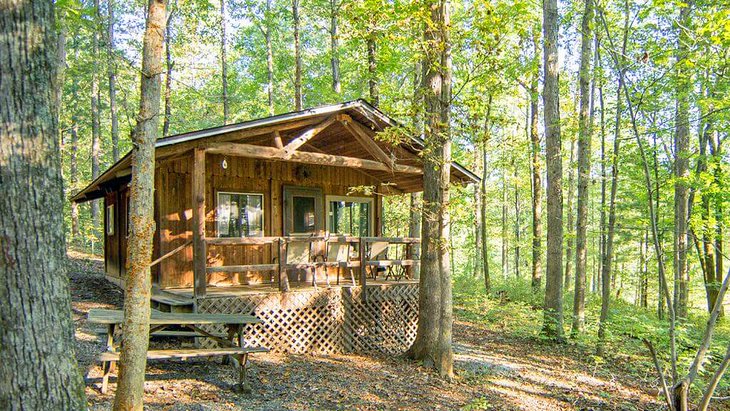 Accommodation: Montfair Resort Farm
The Blue Ridge Mountains form the spectacular backdrop of the laid-back Montfair Resort Farm. Home to 129 acres in Crozet, a mere 30 minutes from Charlottesville, this quiet resort is an ideal place to unplug and get back to nature.
If you're looking for five-star luxury, you won't find it here. But we promise you won't miss it when you're snuggled into your comfy bed, listening to the wind whistling through the trees.
Instead of contemporary design and top-notch furnishings, you'll find a stunning environment, comfortable wood cabins (with fireplaces), and friendly staff dedicated to making sure you enjoy your time at their much-loved resort.
Three ponds are on the property, willing guests to try their luck at fishing, and mountain bikes and canoes are on offer for those who'd like to enjoy even more time outside. Guests will find winding trails to wander, thousands of stars to search for at night, and the pretty Pasture Fence Mountain to hike.
There's an events lodge available for those looking to host an event. Lounge on your outdoor patio, make S'mores at a lakeside campfire, or cook a meal in your fully stocked kitchen. There are also grills on-site.
Address: 2500 Bezaleel Drive, Crozet, Virginia
10. Mountain Lake Lodge, Pembroke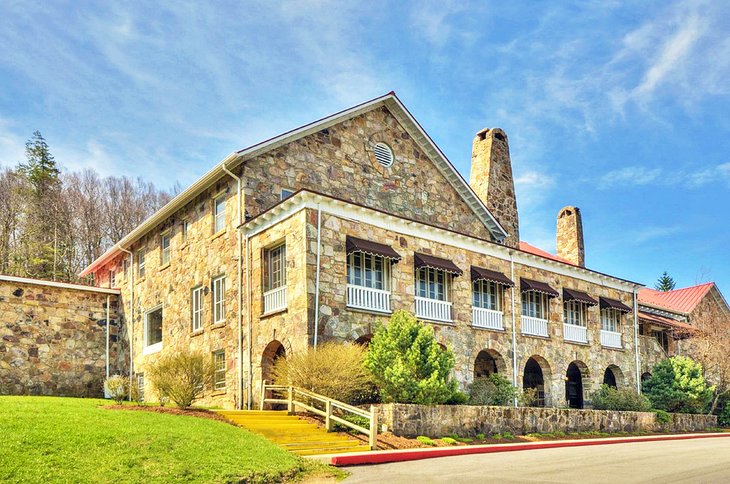 Accommodation: Mountain Lake Lodge
The magnificent Appalachian Mountains tower around the historic Mountain Lake Lodge in Pembroke. This cozy spot offers a variety of accommodations ranging from guest rooms and suites in the Main Stone Lodge to rustic cabins and more expansive cottages, perfect for those traveling with friends or family. The rooms don't have televisions, which is a blessing for those who prefer to unplug and enjoy the spectacular surroundings.
Can't make a break from technology? Book one of the 16 recently renovated Chestnut Lodge accommodations. These are larger than the rooms and suites found in the Main Stone Lodge and feature a television, free Wi-Fi, a wood-burning fireplace, and a living room.
Making the most out of their beautiful and expansive outdoor space, Mountain Lake Lodge offers a slew of fun activities to its guests. Climb through the trees on a rope climbing adventure; go ziplining; play archery tag; or play a super fun, all-body form of soccer called Bubble Ball–where you're the ball (don't worry, you're encapsulated in a giant inflatable ball).
The main lodge is where you'll find the most action. An enclosed porch beckons visitors to take a load off while enjoying the view. The dining room offers tasty fare, and the cozy log fire warms your body and your soul.
Address: 115 Hotel Circle, Pembroke, Virginia
11. Bluegreen Vacations Shenandoah Crossing, Gordonsville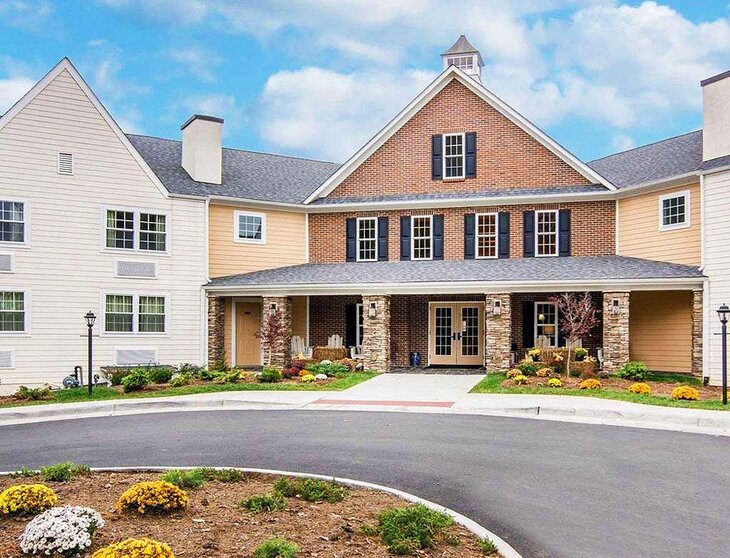 Accommodation: Bluegreen Vacation Shenandoah Crossing
Summer is the best time to visit Bluegreen Vacations Shenandoah Crossing. That's when tourists can best enjoy the outdoor pool, playground, and equestrian center at this fun resort for families. There's even a splash zone, activity pool, and two hot tubs to appreciate.
If that isn't enough to keep your party occupied, there are plenty of other fun activities to choose from, including horse-drawn carriages, fishing, an indoor pool, mini golf, and specialized kids' events. Plus, there are more than 1,000 acres of beautiful grounds, including a large lake, to explore.
Guests can choose from two- and three-bedroom cabins and a one-, two-, or three-bedroom townhouse. Or they can enjoy a more outdoorsy experience in a luxury yurt. Perfect for those with little ones in tow, these come with either one or two bedrooms.
All accommodations include a kitchen and private balcony or porch. Some also boast a cozy fireplace.
Address: 174 Horseshoe Circle, Gordonsville, Virginia
Map of Mountain Resorts in Virginia