10 Top-Rated Tourist Attractions in Nunavut
Officially established in 1999, Canada's Nunavut Territory is an administrative unit that was once part of the former Northwest Territories. And it's a very big place. Nunavut covers the whole of the eastern section of northern Canada and is a wonderful place to learn about the attractions, history, culture, nature, and best places to visit in Canada's Far North.
With an area of 1.9 million square kilometers, Nunavut is almost eight times the size of the United Kingdom and covers roughly one fifth of the total area of Canada. Its southern border is the 60th parallel, while the north extends to within about 800 kilometers of the North Pole. Most of the Territory is situated above the tree line, in a region of predominantly treeless tundra with dwarf shrubs, grasses, mosses, and lichens. Fjords cut deep inland from the coast.
Craft- and handicraft-based businesses have achieved extraordinary success here. Produced mainly in small workshops, the territory's leather goods, jewelry, and ivory work have great appeal for tourists visiting this and other regions of Canada. Hence, in addition to meeting the demand from the as-yet small number of tourists who visit the Far North, there is a lively "export trade" to the major tourist centers of the Canadian South, including Québec, Toronto, and Vancouver.
For inspiration and ideas about fun things to do when it comes to planning your northern Canadian adventure, refer often to our handy list of the top tourist attractions in Nunavut, Canada.
1. Baffin Island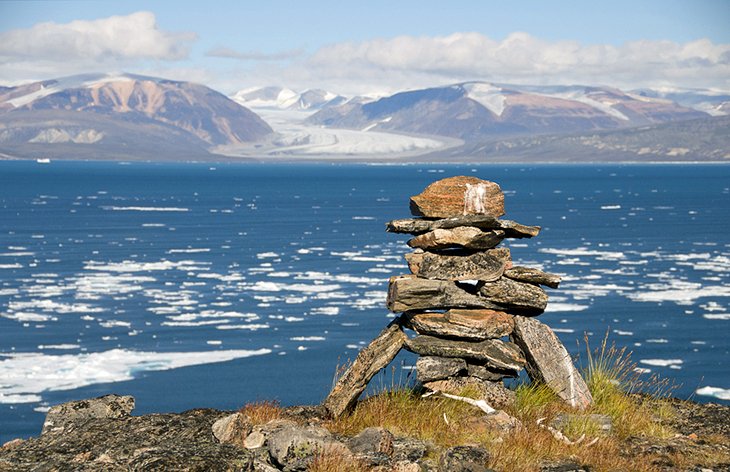 With its breathtaking landscape, the warm hospitality of the Indigenous Inuit people, and the numerous opportunities for a unique holiday experience, Baffin Island is a strong draw for tourists. But it can hardly be said that it suffers from invasions of visitors, which is perfect for those who enjoy extremely remote, nature-inspired adventure travel.
The island is the fifth largest in the world, with a coastline and landscape that vary considerably. One of the best areas to visit is the island's eastern coast. It in fact shares a scenery that's very similar to Norway, with its steep fiords and small offshore islands, boasting a long, narrow alpine-like mountainous zone that reaches heights of 2,591 meters in Auyuittuq National Park on the Cumberland peninsula.
The main administrative town is Iqaluit on Frobisher Bay. The only way to get to the far north island is by air, which can be rather expensive. The cost of living is high, and the climate very "unfriendly," not to mention the hordes of insects that descend on the unfortunate traveler in summer. All in all, however, the region is perhaps somewhere for the travel specialist seeking a unique (and unforgettable) Canadian vacation adventure.
2. Auyuittuq National Park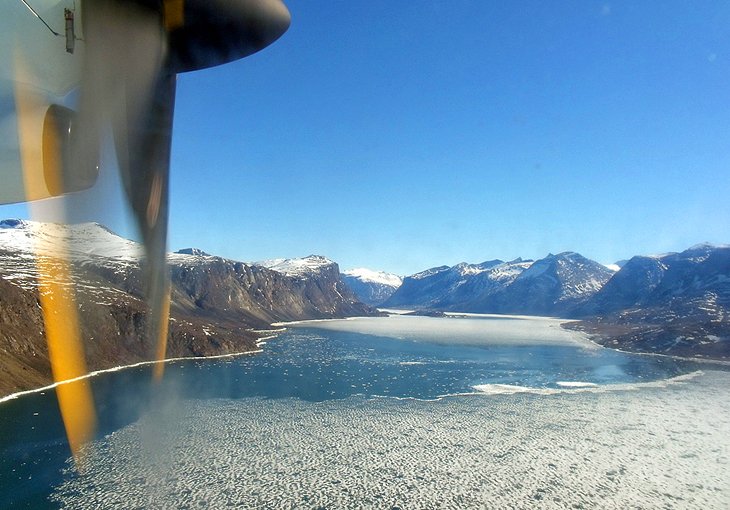 Literally translated as the "land where it never thaws," Auyuittuq National Park sits on the Cumberland Peninsula in the southeast of Baffin Island. The Penny Ice Cap, a remnant of Ice Age glaciations, takes up a large portion of the park.
The landscape is characterized by broad valleys and rugged mountains with vertical walls rising up to 1,200 meters in heigh. Of these, Mount Asgard is particularly impressive. Pangnirtung Pass is the best route through the park ending at the Pangnirtung Fiord.
Among extreme adventurers, the park is also known for its hiking. Of these, perhaps the best can be experienced on Mount Thor, a 1,675-meter-tall mountain peak that's known for its rock climbing. A word of caution: if you're contemplating such an adventure, you're first required to register with Parks Canada (see the website below for details).
Official site: www.pc.gc.ca/en/pn-np/nu/auyuittuq
3. Iqaluit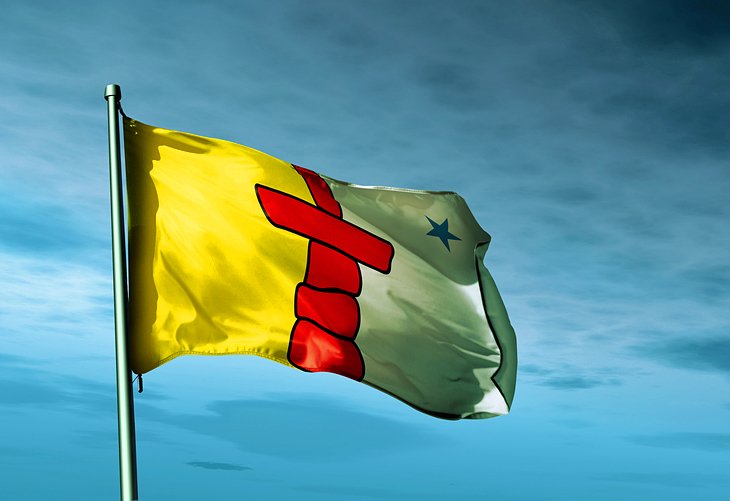 For many years, whalers, scientists, traders, and missionaries frequented Iqaluit, located at the end of Frobisher Bay. It was long known as the gateway to Baffin Island, and the Inuit name of Iqaluit means "many fish."
However, it was only in 1942, when the area was developed as a U.S. military airfield, that the community began to grow in size. Now the service and administrative center of the Baffin Region, Iqaluit is a modern town with a complete infrastructure and is home to the Nunavut Legislative Assembly, as well as hotels, schools, a hospital, and cathedral. There's also a weather and radio station, as well as a camping site.
Iqaluit is also where you'll find the Unikkaarvik Visitor Centre. This modern facility is a good place to gather information and learn more about this remarkable community. Also worth a visit is the Nunatta Sunakkutaangit Museum. Located in a former Hudson's Bay Company building, it's dedicated to the preservation of local Inuit art and culture.
4. Ellesmere Island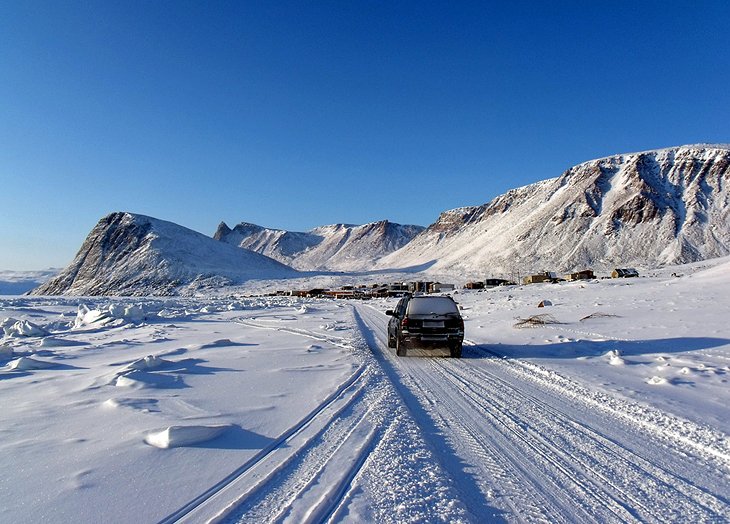 Ellesmere Island lies in the extreme north of Canada, and is the second largest island - after Baffin Island - on the Canadian archipelago. It was from Ellesmere's Cape Columbia that American explorer Robert Peary set out in 1909 to walk to the North Pole.
In the extreme north of the island, you'll find Quttinirpaaq National Park. This spectacular mountainous and glaciated region has a number of hiking trails known to serious backpackers and adventure seekers. There's plenty of wildlife spotting opportunities here, too. Tourists often post pictures of sightings of seals and walrus, musk ox, wolves, arctic hare and, from a safe distance, polar bears.
At the south end of Ellesmere Island is Grise Fiord. This very small community boasts good hunting conditions and a beautiful Arctic landscape that can be viewed during canoe or snowmobile tours.
5. Quttinirpaaq National Park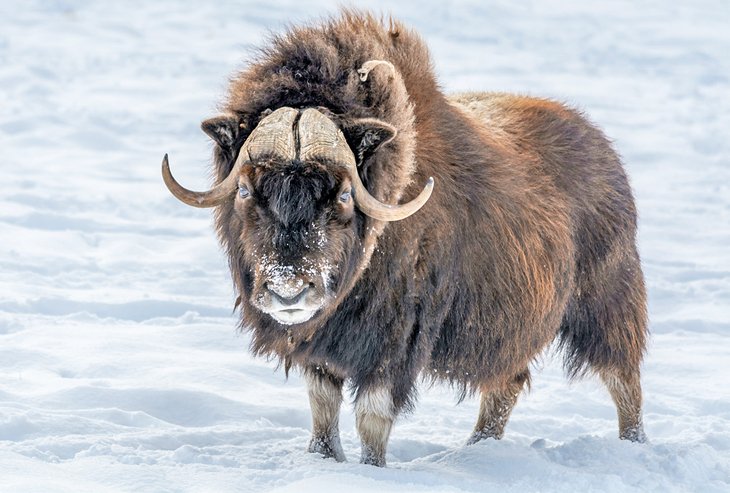 Located in the extreme north of Ellesmere Island is Quttinirpaaq National Park. This extremely mountainous and glaciated region is popular with hikers with a penchant for adventure, drawn here for its remoteness and a number of hiking trails that are known to serious backpackers.
In this predominantly dry Arctic climate, pockets of (relatively) warm and moist temperatures enable plants to grow and animals to exist, such as in the area around Lake Hazen. Here, you'll see everything from muskoxen, Peary caribou, arctic foxes and wolves, lemmings, and more than 30 species of birds. Most trips to Quttinirpaaq begin in Resolute Bay.
Official site: www.pc.gc.ca/en/pn-np/nu/quttinirpaaq
6. Sirmilik National Park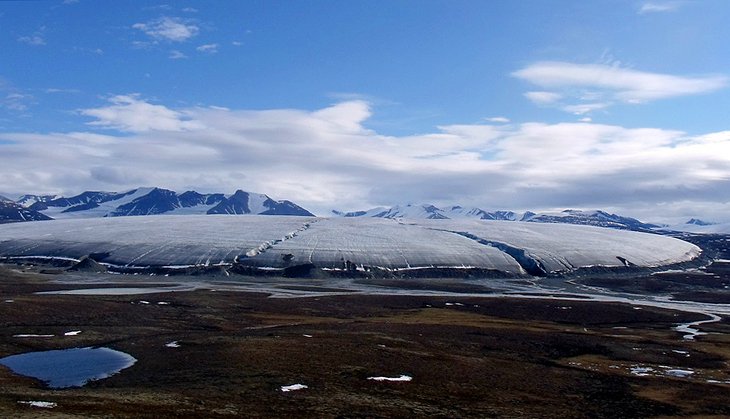 Soaring mountains, rugged glaciers, and a wide variety of wildlife perfectly describe Sirmilik National Park. This beautifully rugged area is one of Canada's most remote and northern national parks, encompassing Bylot Island, Oliver Sound, and the Borden Peninsula.
The land is made up of beautiful mountains, glaciers, ice fields, and coastal lowlands. While some visitors come here for boating and kayaking adventures, it's important to note that the coast is normally not free of ice until mid-July. During ice break up and freeze up, travel to the park is not possible.
Official site: www.pc.gc.ca/en/pn-np/nu/sirmilik
7. Naujaat (Repulse Bay)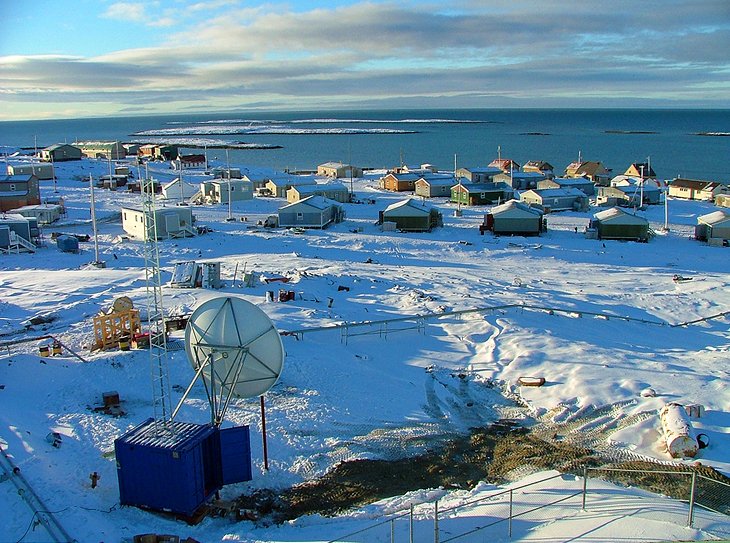 Reached only by plane, Naujaat - known as Repulse Bay up until 2015 before reverting to its native name - thrives on tourism. The big draw? Tourists come in search of land and sea adventures under the wisdom of Inuit tour guides.
The European chapter of this part of Canada's history opened in 1741, when Captain Henry Middleton sailed into the deep bay - known to the Inuit as "Naujaat" (gulls' nesting place) - in search of the Northwest Passage. In his disappointment of not finding the Arctic route, Middleton christened the place Repulse Bay.
8. Belcher Islands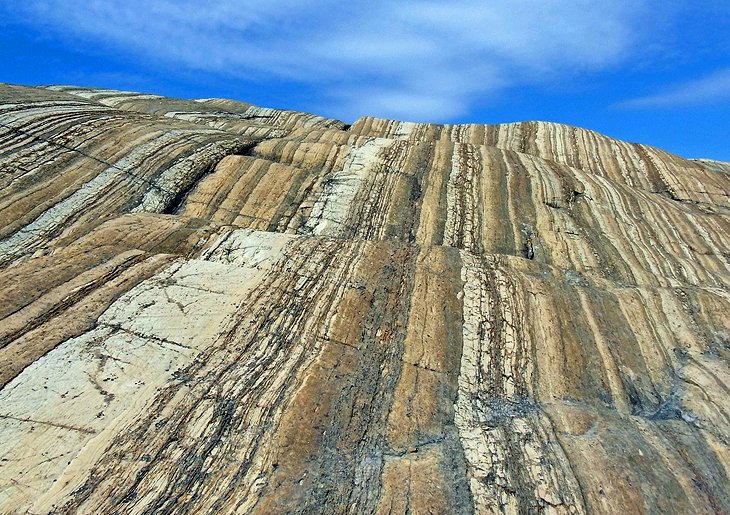 Off the Hudson Bay coast lie the barren Belcher Islands, another potential tourist destination in Nunavut. Known to the Inuit as Sanikiluaq, the islands support polar bears and an abundance of marine life, including beluga whales and walruses in the surrounding waters.
While some adventure travelers come here to kayak, the Belcher Islands are, however, extremely remote and see very few visitors each year. There is an airstrip in Sanikiluaq, which services the area, but most who visit arrive by boat..
9. Pond Inlet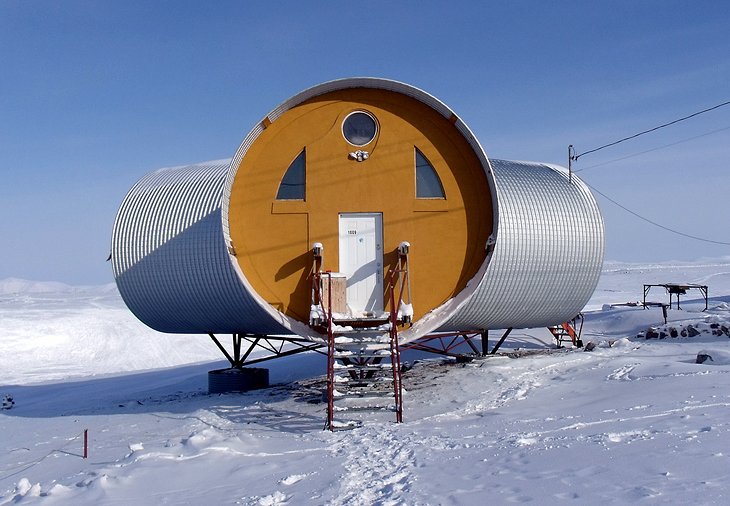 Set on the Baffin Island coast, Pond Inlet - or Mittimatalik in Inuit - is an Inuit village to the west of a rugged mountainous terrain. It attracts visitors for its natural beauty and culture, though the region is extremely remote and therefore costly to access.
One of the top tourist attractions in the community is the Nattinnak Centre. Part museum, part visitor center, the facility features fascinating displays on the history, geography, and wildlife of the region.
10. Qaummaarviit Territorial Park
Qaummaarviit Territorial Park, once home to the Thule People and known as the "place that shines," is a rugged destination located on an island. Accessible by ski, dogsled, or snowmobile during the winter months, and by boat during the open-water season, here visitors can see the remains of the old Thule sod houses and artifacts dating back more than 750 years ago.
Also of interest are the many features that point to evidence of Inuit settlement and culture dating as far back as the 1600s. (Editor's Note: No camping is allowed, so plan to visit as part of a day trip to the island.)
Map of Tourist Attractions in Nunavut
More Related Articles on PlanetWare.com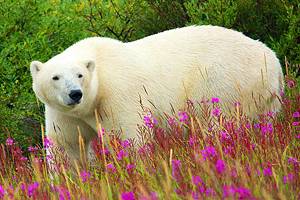 Explore Canada's Great White North: While planning your Canada travel itinerary, be sure to consider some of the great attractions and destinations in the Far North. A few of our favorites include exploring Hudson Bay, known for its spectacular landscape and plentiful wildlife (yes, including polar bears), and the Northwest Territories, a vast region many times the size of the UK, which stretches toward the North Pole and is known for its abundant flora and fauna, as well as its capital city, Yellowknife, popular for its scenic drives and hikes.